Brief Introduction of Yumen Pass, Dunhuang
The Yumen Pass (玉门关), or called Jade Gate Pass, the Jade Gate, Yumen Guan, Yumenguan Pass in Dunhuang, was an key strategic pass in Western Hexi Corridor during Han Dynasty. It was named for serving as the import pass of jades from the west regions. Located in the south of Sule River and northwest desert of downtown Dunhuang, Yumen Pass used to be a boundary of central China and the west regions more than 2,000 years ago, and played same significant role on the "Silk Road" as Yangguan Pass did. The ruins now recognized as the best-preserved, the most complete type and a UNESCO Cultural Property on "Silk Road" by recording the traffic management system and the Great Wall defensive system of Han Dynasty.
>> 4 Days Classic Dunhuang Tour (with More Free Time)
>> 5 Days Silk Road Tour from Xian to Dunhuang
The History of Yumen Pass (Jade Gate) Dunhuang
Looking back in history, ethnic tribes Yuezhi (月氏) and Wusun (乌孙) resided in Yumen Pass area successively long before the 8th century, but both moved westwards farther later.
When it came to the early period of Emperor Wu of Han Dynasty (138 BC), to expand the territory and pacify the northwestern border, the ambitious ruler, Emperor Wu sent Zhang Qian to travel west, persuade the tribe Yuezhi in the west to make alliance and extirpate Xiongnu in the north. Zhang Qian's first journey started from Chang'an (now Xian) and reached Hexi Corridor via Yumen Pass.
In the many years followed during Han Dynasty, Yumen Pass witnessed a large number of great historical events, including the brave generals' suppression of frontier harassment, Zhang Qian's second contact of East-to-West, splendid development of Dunhuang culture, flourishing trade and culture exchange between China and Eurasia.
From late 19th cenutury to early 20th century, British sinologist Stein visited Yumen Pass lots of times privately. In 1907, he found a Han Dynasty bamboo book marked "Yumen Duweifu" in Small Fangpan Castle, and assumed the palace is the location of real Yumen Pass. During the middle of 20th century, more Han Dynasty bamboo slips were founded there, thus, Yumen Pass ancient site was firmly confirmed.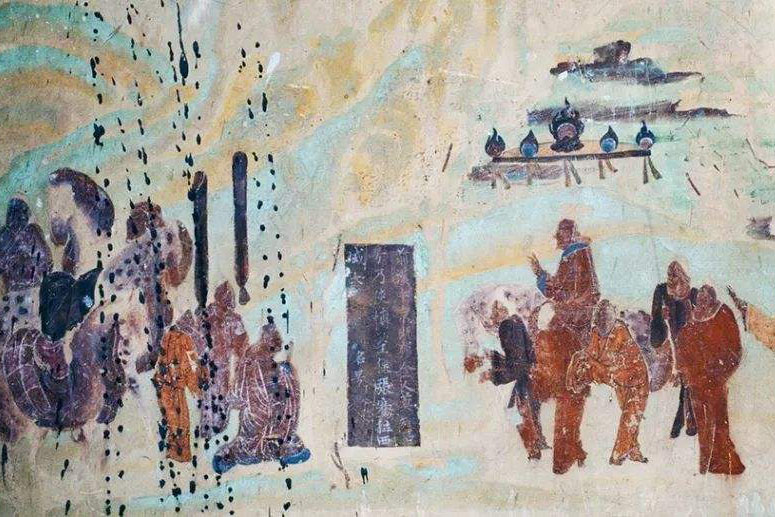 Mural Of Zhang Qian's Travel in Mogao Caves
What to See in Yumen Pass
In a broad way, the Yumen Pass currently has several historical sites, like Small Fangpan Castle (小方盘城), Big Fangpan Castle (大方盘城), Great Wall of Han Dynasty, Beacon Towers, etc. In a narrow sense, the Yumen Pass merely refers to the fortress site.
Small Fangpan Castle 小方盘城
As time goes on, the authentic Yumen Pass constructed in around 111 BC has been severely damaged and only a square rammed earth left in vast desert, which is now commonly known as Small Fangpan Castle.
Holding the entrance tickets, all visitors can first learn detailed introduction and relative history background of Yumen Pass in a specialized exhibition hall in the Yumen Pass Tourist Service Center. The explanation is about 15 minutes.
Then you can walk or take a charged tourist bus to reach the Small Fangpan Castle. The remaining part is about 24 meters long, 26.4 meters wide and 10 meters high. There is a east-west wooden path in the north slope, which was former channel and postal route from central plains to the west regions. Visitors can clime up to the top through the bridleway in the northeast corner. Two gates are opened in the west and north for interior sightseeing.
Big Fangpan Castle 大方盘城
Hecangcheng Relic Site (河仓城遗址), or called Big Fangpan Castle, is built in Western Han Dynasty. It it located about 15 km east of the Small Fangpan Castle, about 30 minutes by car. The Hechangcheng Relic Site is the oldest, largest quartermaster depot along the northwestern Great Wall frontier in ancient China. The spot you can see is a south-north oblong group of earth mounds, where most walls has collapsed, except the north wall in a relative better condition.
Great Wall of Han Dynasty 汉长城遗址
The Great Wall of Han Dynasty was built much earlier than the nowadays famous Mutianyan, Badaling, Jinshanling Great Walls of China (there all are part of Ming Dynasty Great Wall). The older Great Wall is situated about 6 km west of Small Fangpan Castle, nearly 8 minutes'by the scenic tourist bus.
Constructed in the early period of Emperor Wu, the Great Wall started from west Dunhuang, winded more than 1, 000 km eastward via Yumen Pass, Zhangye, Shandan, Wuwei and terminated in Ningxia. A few dilapidated walls on the soft Gobi and gravel hills are the only remains you can see after over 2, 000 years' erosion. Though the site has no many things to see, the objects in the old days were primary military defensive system and a outstanding miniature of traditional defense project in northwest China.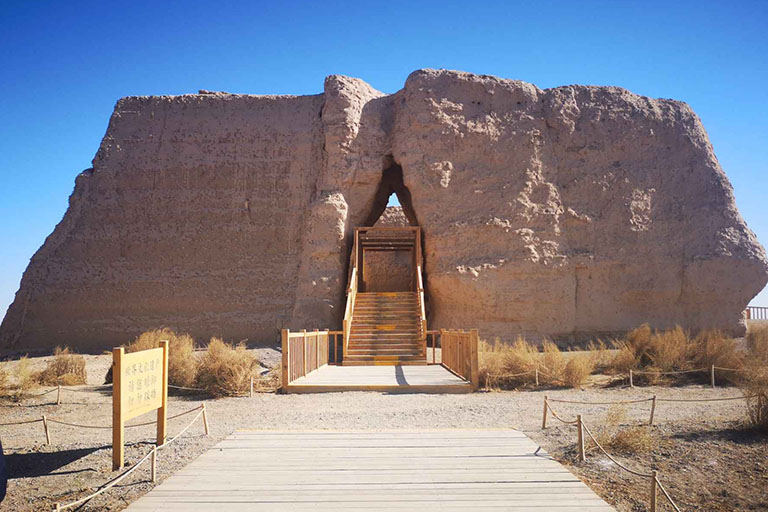 Small Fangpan Castle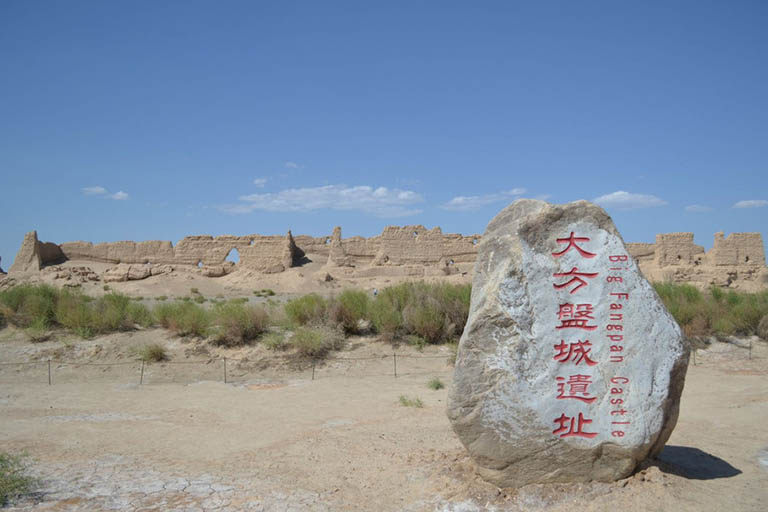 Big Fangpan Castle (Hecangcheng)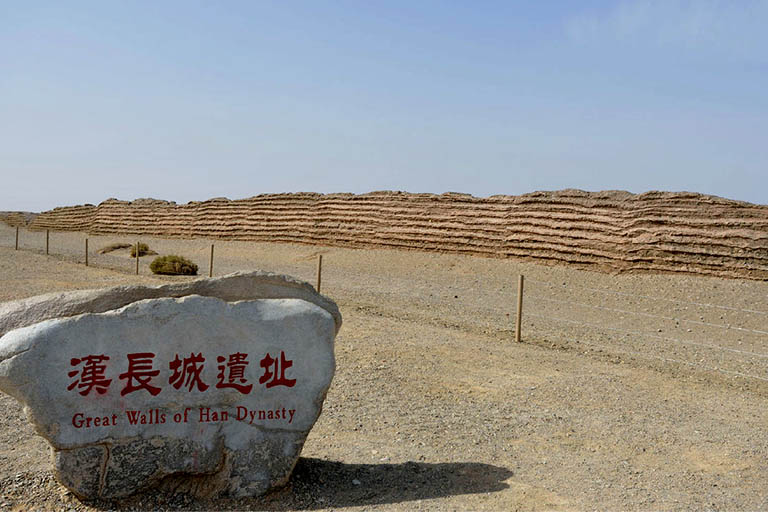 Great Wall of Han Dynasty
Attractions Nearby to Travel with Yumen Pass
Nearly all travelers make a trip to Dunhuang to closely look the remarkable Buddhist sculptures and mural in Mogao Caves, and enjoy amazing breathtaking desert landscape of Mingsha Mountain & Crescent Lake by the way. The tour of the two best highlights takes around 1 to 2 days. If time permits, some tourists may spend another day to discover the western Dunhuang, to Yardang National Geopark passing the midway Yumen Pass and Great Wall of Han Dynasty, Yangguan Pass together.
In the morning, you will be driven from Dunhuang city center to visit the Yumen Pass in the northwest suburb, then have a short-distance transfer to catch a glimpse of the Great Wall of Han Dynasty. After the quick visit, your next destination is the 80 kms' away Yardang National Geopark, where stands variety of wind-erosion dunes in interesting shapes, nature magic is perfectly proved here. In the afternoon, you will return to downtown Dunhuang and have a side trip to Yangguan Pass en route. Know more historical history and information of China's Silk Road opening and international contact to the west lands.
Recommended Tours:
>> 4 Days Classic Dunhuang Tour (with More Free Time)
>> 5 Days Silk Road Tour from Xian to Dunhuang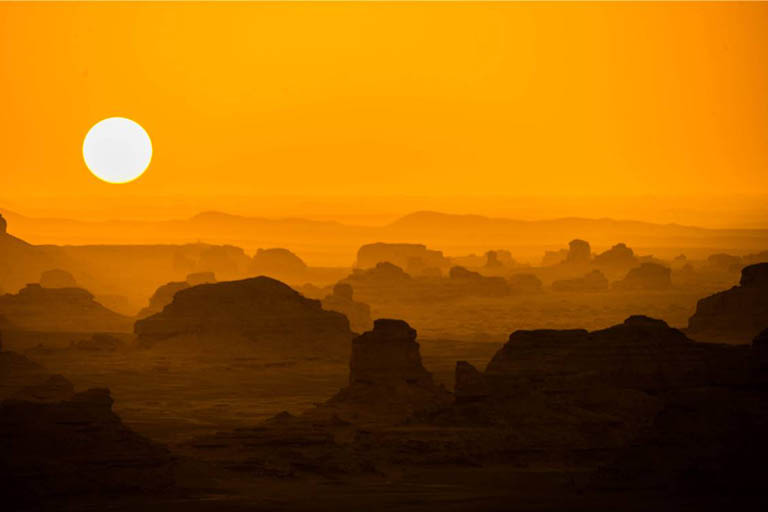 Breathtaking Sunset in Yardang National Geopark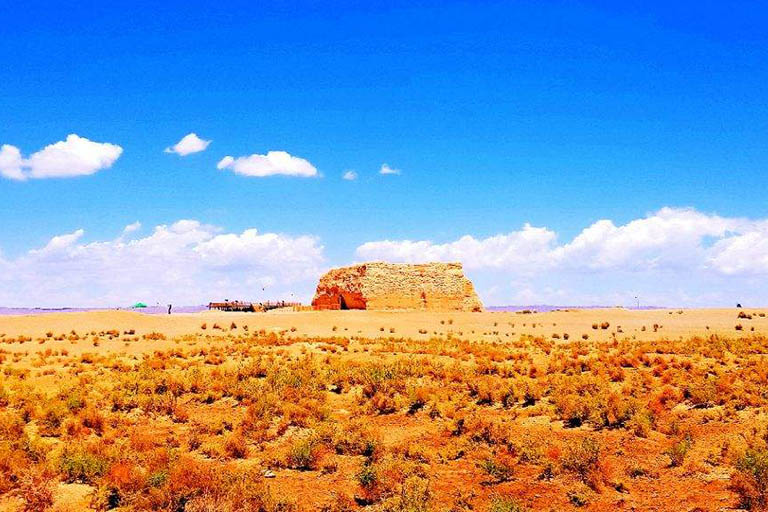 Yumen Pass under the Blue Sky
How to Get to Yumen Pass from Dunhuang
Yumen Pass is located about 90 km northwest of Dunhuang City, the northwest of Gansu, instead of Yumen City closer to Jiayuguan City. Due to Yumen Pass, Yangguan Pass, Yardang National Geopark all are in the western rural areas, without any public transportation, most people would rent a minibus or book a local tour to visit the sites together.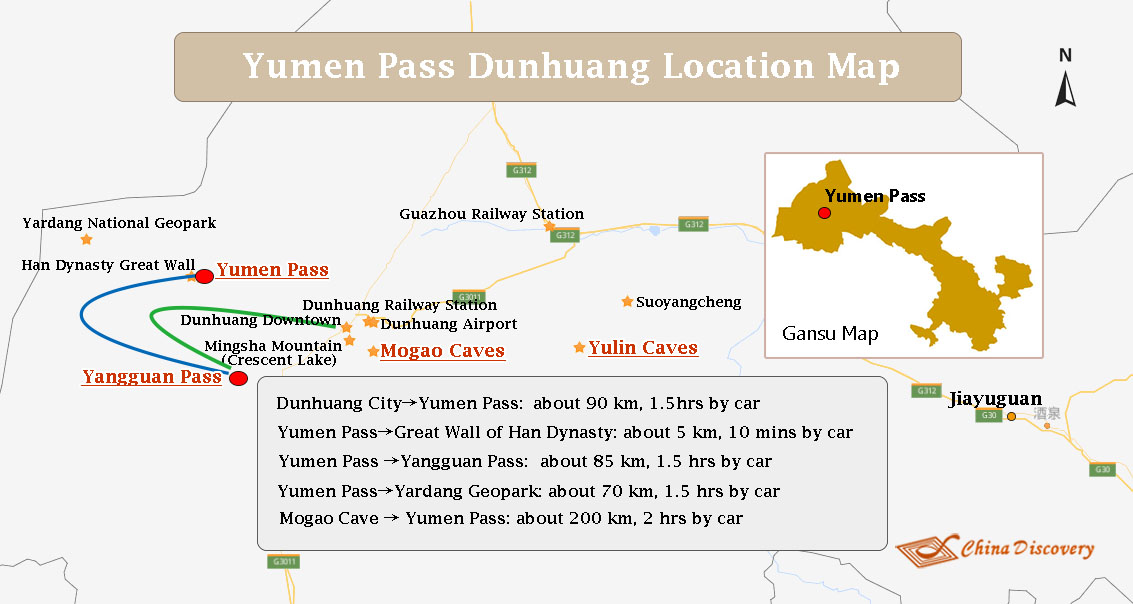 Dunhuang Yumen Pass (Jade Gate) Location Map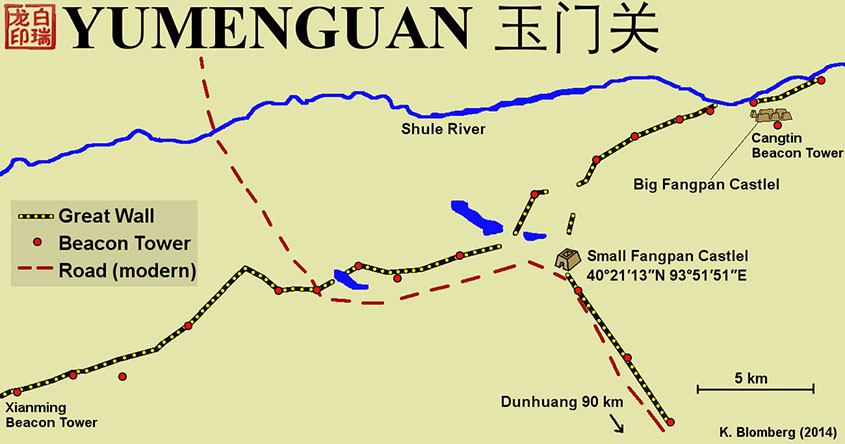 Dunhuang Yumen Pass Attractions Map
● Dunhuang City to Yumen Pass: about 90 km, 1.5 hours' driving
● Yumen Pass to Great Wall of Han Dynasty: about 5km, within 10 minutes by car
● Yumen Pass to Yardang National Geopark: about 70 km, 1 hour by private car
● Yumen Pass to Yangguan Pass: about 85km, 1.5 hrs by car
● Yumen Pass to Mogao Caves: about 120 km, 2 hours' driving
Useful Travel Tips of Yumen Pass
1. Ticket: The Entrance Ticket includes the sightseeing ticket (¥40, including Yumen Pass, Great Wall of Han Dynasty, Big Fangpan Castle) and tourist bus fee (¥50) from Yumen Pass to the Great Wall.
Independent travelers are strongly suggested to buy the tourist bus, since it takes a long time from the ticket office to Yumen Pass, and from Yumen Pass to another spot by walking.
2. Tourist Bus Running Route: North Gate (Tourist Service Center) ---13 km (0.5 hour)---> Hecangcheng Relic Site --- (18 km, 0.5 hour) ---> Great Wall of Han Dynasty --- (5 km, 10 minutes) ---> North Gate (Tourist Service Center)
Tips: You may wait for the tourist bus for quite a long time in peak season, and spend limited time (10 -15 minutes or so) for sightseeing each spot.
3. Tourist Service Center: You can buy simple food and drinks, creative souvenirs in the tourist center.
4. Weather & Climate: It's quite windy and burning in Northwestern China, summer will be very hot, bring suitable clothes and hat against the strong sunlight and prepare enough water as well.
Travel Dunhuang with China Discovery
China Discovery is an experienced, professional and considerate travel companion. Travel with us, you can enjoy well-organized tour services in the most convenient way, including the pick-up, local tour guide and drive, thoughtful accommodation, dining and worry-free transportation between each site and the ticket booking, etc. With our help, you can fully focus on the sightseeing journey using the minimum cost of time and energy. According to your itinerary and hobbies, you may choose from our popular Dunhuang Tours or contact us to customize a special one.
More Top Things to Do in Dunhuang
Useful Dunhuang Travel Guide
Most Popular Dunhuang Tours
Recommended Dunhuang Tours
Top 3 Dunhuang tours chosen by most customers to explore Dunhuang in the best way. Check the detailed itinerary, or tailor your own trip now with us.
8 Days Beijing Xian Dunhuang Epic Silk Road Culture Tour

Beijing / Xian / Dunhuang
5 Days Silk Road Tour from Xian to Dunhuang by Flight

Xian / Dunhuang
Start planning your tailor-made holiday to China by contacting one of our specialists. Once inquired, you'll get a response within 0.5~23.5 hours.
Customize a Trip
Have a question? Get answers from our travel experts or guests
Your Question:

Your Name:

Your Email: