Brief Introduction of Yangguan Pass, Dunhuang
Yang Guan, or Yangguan, Yang Pass, Yangguan Pass, Sun Pass (阳关), a mountain pass in south of Yumen Pass (玉门关), was the throat land of ancient China's outbound traffic and the necessary pass of the southern " Silk Road" after Dunhuang. Its military function was replaced by economic connection between China and Eurasian countries gradually. Now Yangguan Pass is a national AAAA scenic area reconstructed and based on the ancient fortress, where exhibits previous beacon towers, Han Dynasty style architectures and vast desert scenery around.
>> 4 Days Classic Dunhuang Tour (with More Free Time)
>> 5 Days Silk Road Tour from Xian to Dunhuang
The History of Yangguan Pass, Dunhuang
In the early period of Emperor Wu of Western Han Dynasty, Zhang Qian was sent to open the "Silk Road"to unite the Yuezhi (月氏) against the Hun (northern tribe - Xiongnu). He returned via Yangguan Pass to capital Chang'an (now called Xian) and made a second travel to the west again through Yangguan Pass.
In 121 BC (period of Emperor Wuof Western Han Dynasty), the government established Zhangye, Dunhuang, Wuwei and Jiuquan, four prefectures and two defensive barriers (Yangguan Pass and Yumen Pass) in the Hexi Corridor to fight against the frequent harassment of Xiongnu. Since then, Yangguan Pass and Yumen Pass have been served as crucial passes in western Hexi Corridor, northwestern China.
Historical records show, Yangguan Pass has been a militant stronghold in many feudal dynasties since the Western Han Dynasty, and it witnessed numerous merchants, monks, envoys, travelers going out and in. It even was the inspiration for lots of literati and poets who left emotional poems. During Tang Dynasty, Xuanzang, a famous Chinese Buddhist monk, went back to Chang'an via Yangguan Pass after he traveled overland to India. As the Silk Road declined in later Song and Yuan Dynasty, Yangguan Pass therefore sadly withered.
Top Highlights to See in the Yangguan Pass
Currently, the old Yangguan Pass has been rebuilt and expanded into a huge tourist attraction imitating ancient frontier scenes. The overwhelming red glow of sunset, a lonely and giant border pass lying between Gobi and desert, a towering pass with watch tower, flowing battle flag and echoing drums, all brings you back to the valiant ancient battle field of Han and Tang Dynasties.
There are plenty of cultural relics inside the present Yangguan Pass scenic area, including the Ancient Yangguan Pass Fortress, Yangguan Beacon Tower, Yangguan Ancient Path, Shouchang City Ruins, Ancient Tombs, Yangguan Pass Museum (the largest scenic museum in Northwestern China covering an area of 100,000 square meters) and many other sites of Han Dynasty. In Yangguan Pass, tourists can visit historical spots, view exhibitions, climb high and look afar, walk on Yangguan path, make adventure in desert, taste local food, try shooting and riding like soldiers, enjoy amazing and capacious nature and simple, rough local customs and culture both.
Yangguan Beacon Towers 阳关烽燧
Lighting smoke and setting fires on the beacon tower is the fastest and most efficient way to deliver military information in ancient China. The beacons worked as alarm system, which were usually co-built with Great Walls as a complete military defense. After going through two thousand years in windy and sandy condition, the original Yangguan Pass has already no more exist, except over 10 beacon towers left. You can take a tourist bus to the tower. The square Yangguan Beacon Tower on the north mountain of Antique Beach (古董滩) standing the highest is called "Ear and Eye of Yang Guan Pass". It is the landmark part of Yangguan Pass and has very high historical study value as the only remaining relic of Yangguan. Looking to the distant, you will be impressed by the desolate vast desert landscape.
Yangguan Pass Museum 阳关博物馆
Yangguan Pass Museum is a huge Han Dynasty style architectures complex, located about 1,000 meters north of Yangguan Pass Beacon Tower. The relic museum consists of 9 major areas, including the Silk Road Exhibition Hall, Yangguan Research Center, Yangguan & Yumen Passes Han Dynasty Frontier Exhibition Hall, Han Dynasty Style Residence Street, tourists handiworks, etc. There are over 4,000 cultural relics displayed in the museum, like the bronzes, pottery, jade and stone stools, hemp and weapons, which aims to show a real history on this point of Silk Road and distinctive regional culture.
Other Han Dynasty Style Buildings
The ancient Yangguan Pass is wildly thought as a Chinese traditional cultural symbol, where people bid his country and family for going on a long journey and expressed infinite sorrow of parting. The imitated Yangguan Fortress (仿汉阳关关城) is constructed in original layout according to historical documents. Besides, there is a angguan PathY (阳关道), a hope road showing good wishes, and tourists can experience activities like going custom clearance to go west, drinking wines and saying goodbye to friends, watching Dunhuang singing and dancing, etc.
Moreover, the scenic area has a Han Dynasty Two Frontier Passes Exhibition Hall (两关汉塞厅) proving the construction history and effect the passes brought in the past, grandiose imitated Han Dynasty Gate-Tower Building (汉阙牌楼) built in reference of related mural in Dunhuang Mogao Caves, imitated Han Dynasty Barracks (仿汉兵营) where sets up camps, training ground and army-related facilities reappearing hardship of ancient military life.
The large group of Han Dynasty architectures are good carriers for you to see and to learn the border military culture and history. If get more time, go around the pass to enjoy rare forest park in the northwest, taste local family-made dishes and sweet rapes in the "Ten-Miles Corridor". Prepare to be shocked by the bleak sights and brave story of battles to guard their homes.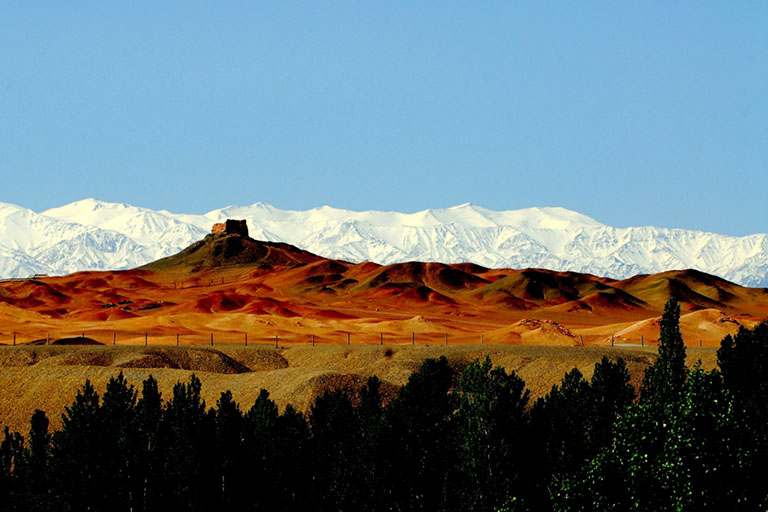 Yangguan Pass Beacon Tower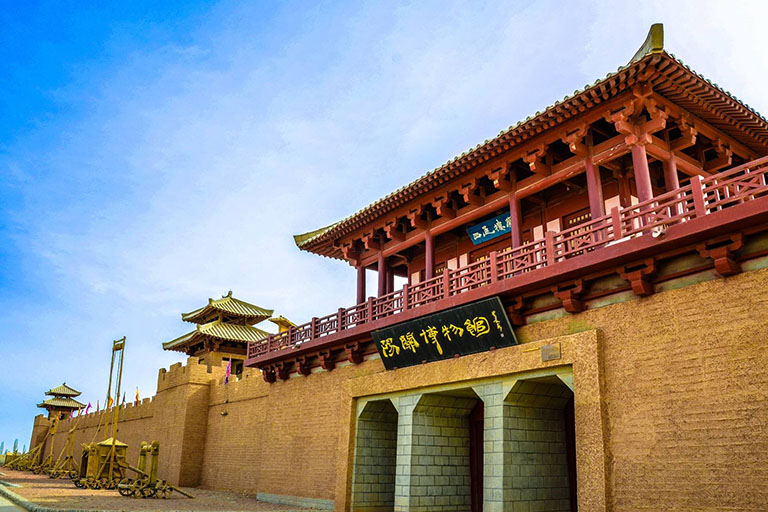 Yangguan Pass Museum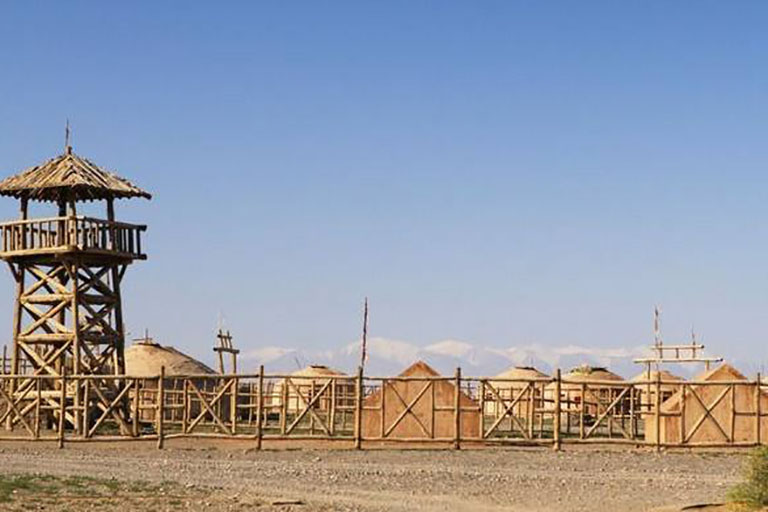 Han Dynasty Barrack Camps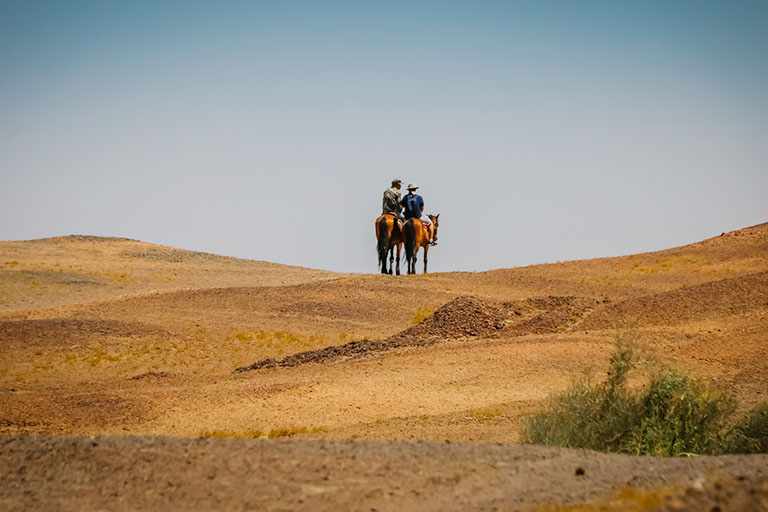 Horse Riding in Yangguan Pass
Attractions Nearby to Travel with Yangguan Pass in Dunhuang
Usually, it takes about 1 to 2 days for a Dunhuang Mogao tour with Mingsha Mountain & Crescent Lake. When time permits, you may have an Dunhuang in-depth side trip to the west areas. Yangguan Pass Scenic Area is situated in the southwest suburb of downtown Dunhuang, a single trip may takes about half a day including transportation and time stay within the attraction. The Yardang National Geopark, Yumen Pass and Han Dynasty Great Wall are rightly in the west suburb of Dunhuang, thus, most travelers like to spend one full day to tour the 4 sites in one combined trip.
First, transfer from downtown Dunhuang to visit Yuman Pass and Great Wall of Han Dynasty nearby. From the defensive ruins, you can image the rough battlefield during Han Dynasty. Then move westward further to Yardang National Geopark to view exotic Yardang land-formation and unlock the mysterious "Devil City". Finally, drive back to Dunhuang City and visit Yangguan Pass by the way, spend some time to see the vast desert and catch more cultural and historical information of Han Dynasty's territory expansion.
Recommended Tours:
>> 4 Days Classic Dunhuang Tour (with More Free Time)
>> 5 Days Silk Road Tour from Xian to Dunhuang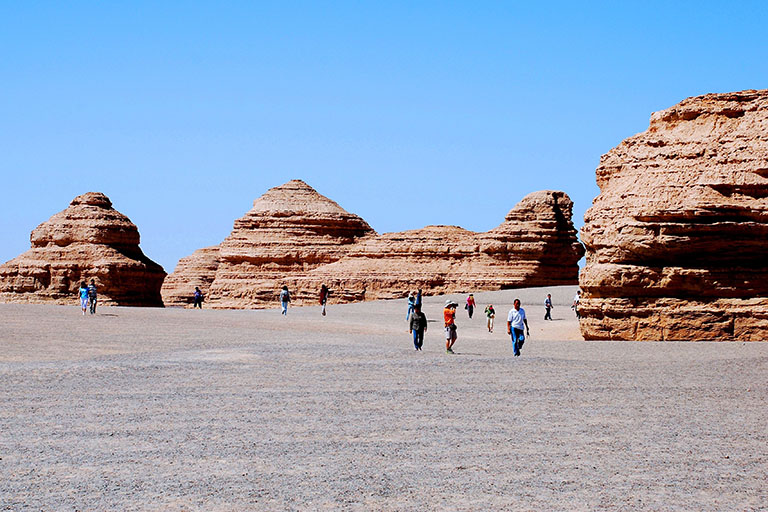 Mushroom-like Dunes in Yardang National Geopark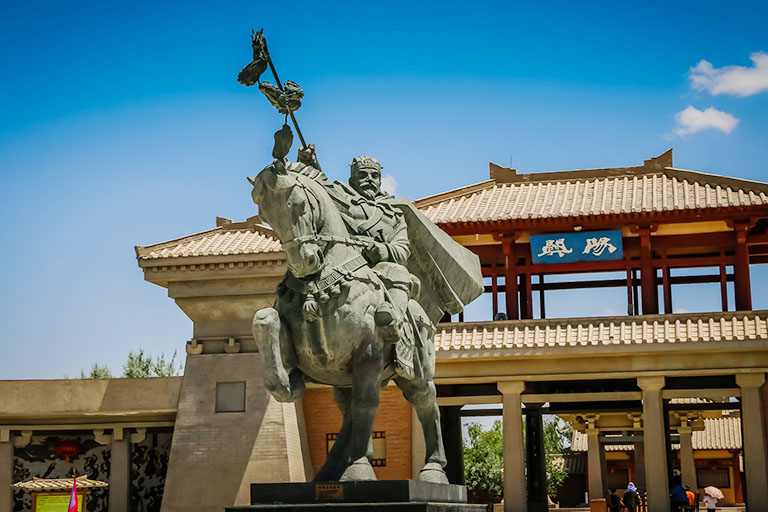 Statue of Zhangqian in Yangguan Pass
How to Get to Yangguan Pass from Dunhuang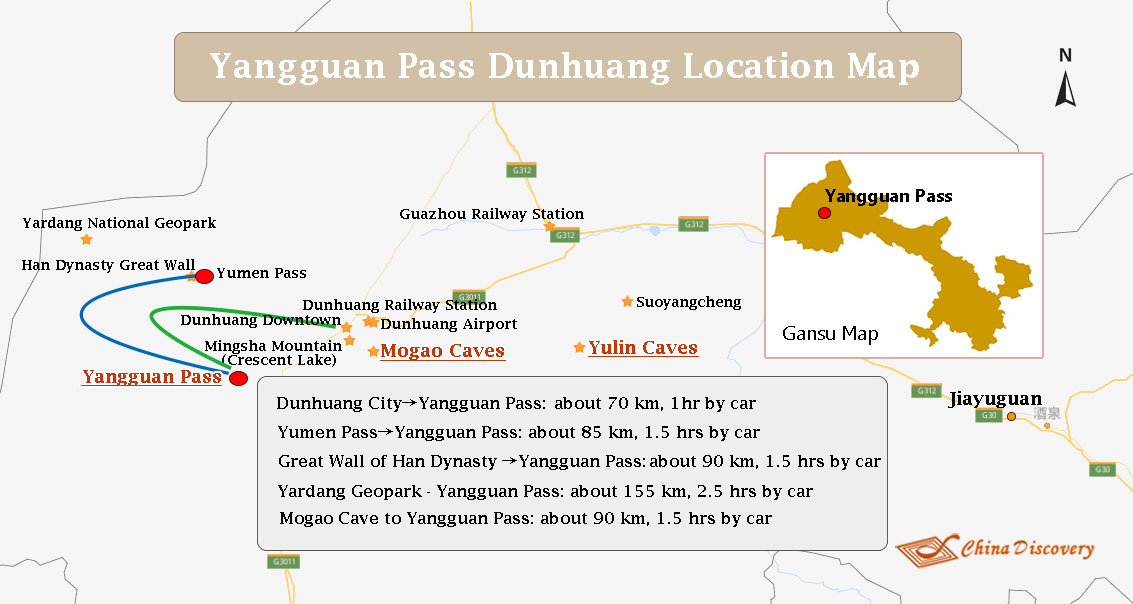 Dunhuang Yangguan Pass Location Map
Yangguan Pass is in 70 km southwest of Dunhuang, a little far form the downtown area. There is no direct bus or train you can take from Dunhuang city center or other attractions to get to Yangguan Pass. The most convenient way is to travel with China Discovery, enjoy our private transfer service with professional tour guide and experienced local driver. The whole ride costs nearly 1 hour. Another advantage is we can arrange you a package to tour Yardang National Geopark and Yumen Pass & Great Wall of Han Dynasty.
● Yumen Pass to Yangguan Pass: about 85 km, 1.5 hrs' driving
● Great Wall of Han Dynasty to Yangguan Pass: about 90 km, 1.5 hrs' driving
● Yardang National Geopark to Yangguan Pass: about 155 km, 2.5 hrs' driving
● Mogao Caves to Yangguan Pass: about 90 km, 1.5 hrs' driving
Plan B for Independent Travelers: You can pay to charter a minibus from Dunhuang downtown to visit the Yangguan Pass. It is more budget to share the bus with other tourists, otherwise the fare might be little high for you.
Travel Dunahuang with China Discovery
China Discovery is an experienced, professional and considerate travel companion. Travel with us, you can enjoy well-organized tour services in the most convenient way, including the pick-up, local tour guide and drive, thoughtful accommodation, dining and worry-free transportation between each site and the ticket booking, etc. With our help, you can fully focus on the sightseeing journey using the minimum cost of time and energy. According to your itinerary and hobbies, you may choose from our popular Dunhuang Tours or contact us to customize a special one.
More Top Things to Do in Dunhuang
Useful Dunhuang Travel Guide
Most Popular Dunhuang Tours
Recommended Dunhuang Tours
Top 3 Dunhuang tours chosen by most customers to explore Dunhuang in the best way. Check the detailed itinerary, or tailor your own trip now with us.
8 Days Beijing Xian Dunhuang Epic Silk Road Culture Tour

Beijing / Xian / Dunhuang
5 Days Silk Road Tour from Xian to Dunhuang by Flight

Xian / Dunhuang
Start planning your tailor-made holiday to China by contacting one of our specialists. Once inquired, you'll get a response within 0.5~23.5 hours.
Customize a Trip
Have a question? Get answers from our travel experts or guests
Your Question:

Your Name:

Your Email: