Brief Impression about Mogao Caves
Mogao Caves, also known as Thousand Buddha Caves or Mogao Grottoes, is a group of ancient caves which were built in different dynasties. It is famous for exquisite murals and various sculptures kept inside the caves. With 735 caves, more than 45,000 square meters of murals, 2,415 colored sculptures of different size, Mogao Caves is one of the greatest repositories of Buddhist art in the world from which you can trace the development of Chinese art over 1,600 years from one dynasty to the next because each dynasty built own caves to record its own features. The site along with Longmen Grottoes, Yungang Grottoes and Maijishan Grottoes are four greatest Buddhist grottoes in China.
More than 50,000 collections emerged from the discovery of the so-called "Library Cave" in 1900, and were dispersed around the world. So far, most of the its manuscripts and relics are collected by museums and libraries in Beijing, London, Paris, Paris, St . Petersburg and Japan.
In 1987, the UNESCO listed the Mogao Caves as the World Heritage Sites. It declared -"As evidence of the evolution of Buddhist art in the northwest region of China, the Mogao Caves are of unmatched historical value. These works provide an abundance of vivid materials depicting various aspects of medieval politics, economics, culture, arts, religion, ethnic relations, and daily dress in western China."
★ Recommended Dunhuang Tours including the Mogao Caves
>> 4 Days Classic Dunhuang Tour
>> 4 Days Jiayuguan and Dunhuang Tour(Silk Road Short Break)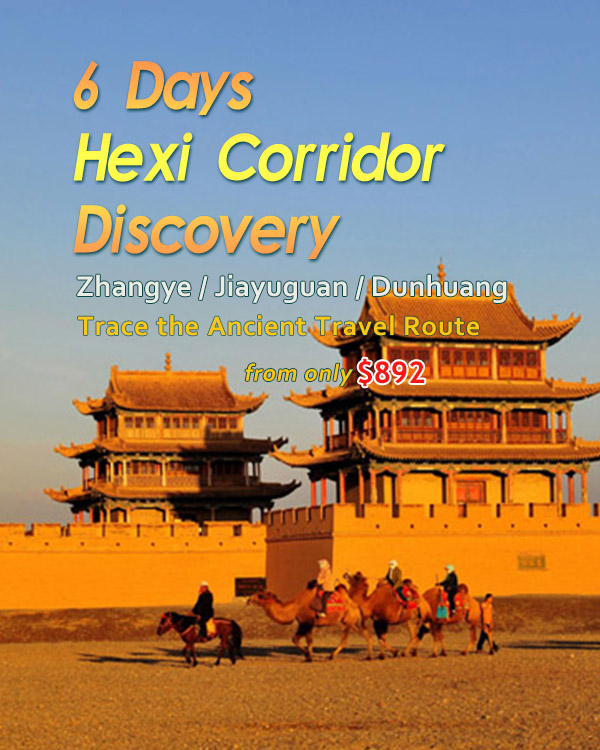 Where is the Mogao Caves Located?
Mogao Caves is located in Mogao Town, about 25 kilometers southeast from Dunhuang City central area. This area used to play an important stopover of the ancient Hexi Corridor which is one of the most important sections of ancient China Silk Road. Another affiliate site of Mogao Caves – Dunhuang Mogao Caves Digital Exhibition Center is 10 kilometers away from Dunhuang city.
25 km from Dunhuang City
16 km from the Mogao Caves Digital Exhibition Center
Mogao Caves Location Map (Click to Enlarge)
How to Get to the Mogao Caves
Travelers usually transfer to Mogao Caves from Dunhuang City where better accommodation and dinning are offered. Firstly, driving about 10 kilometers along Yangguan Avenue to the Mogao Caves Digital Exhibition Center where you will watch some documentary movies about Mogao Caves. After then transfer about 16 kilometers to Mogao Caves by sightseeing shuttle bus. Both the Dunhuang Airport and Dunhuang Train Station are situated near to the Digital Exhibition Center. So if your arrival time is early enough, you can go to visit the Digital Exhibition Center and Mogao Caves immediately.
For independent travelers, you can take public bus from Dunhuang Hotel which departs every half hour and charges 8 RMB. Taxi is also available, and may charges about 40 RMB.
▶ Useful Link: >> How to Get to Mogao Caves | >> Dunhuang City to Mogao Caves
Mogao Caves Digital Exhibition Center
Sightseeing Shuttle Bus
History of Mogao Caves
Continuous Construction of More Than 1600 Years
Around in 111 BCE, the emperor Wuding of Han Dynasty established Dunhuang as a defensive strategy to protect against the Xiongnu. As the time passed by, Dunhuang also became an important trade center also a meeting place of culture and religions along the Silk Road.
The original construction of Mogao Caves can be traced back to the fourth century CE. In 366, a Buddhist monk called Le Zun traveled in Dunhuang. One day he came across a mountain above of which there are thousands of Buddhas bathing in the golden light. He decided to build a cave for meditation here. After the first cave built by Le Zun, many other monks joined Le Zun, and later in Northern Liang formed a small community of monks. As the site became more and more famous, ruling families of later dynasties, such as Northern Wei, Northern Zhou, also joined the constructions of caves. The construction of Mogao Caves flourished during Sui Dynasty as a large number of caves were built by both ruling families and folks. The Tang Empire was the heyday when the amount of caves exceeded any other dynasties with more than a thousand caves. Later as the decline of Silk Road in Yuan and Ming Dynasties, the Mogao Caves were almost abandoned, only served as worship site for local pilgrims.
The Mogao Caves originally consisted of meditation caves for Buddhist monks, but later many other kinds of caves were built. The most important ones are the consecrate caves which are themed by Buddhism, including Chinese Buddhism, Tibetan Budhism, Indian Buddhism, etc. The caves, sponsored by important clergy, local ruling elite, even the Chinese emperors, have large space inside, and were exquisitely painted to represent famous events and stories of Buddhism.
★ Recommended Dunhuang Tours including the Mogao Caves: >> 3 Days Memorable Dunhuang Tour of Art and History
Colored Sculptures in Mogao Caves
Beautiful Murals in Mogao Caves
Discovery and Revival
The northwestern region of China attracted many Western explores to discover. Dunhuang was one of the hot spots. While the discovery of the hidden Library Cave by the Taoist Wan Yuanlu was the fuse to make Mogao Caves known around the world.
Around in 1892, the Taoist Wang Yuanlu traveled to Mogao Caves, and found the site abandoned and out of maintenances. He decided to stay here, and guarded the caves. On June 25, 1900, Wang Yuanlu found a hidden cave behind a main cave while he was cleaning the sand. Inside the small cave were enormous manuscripts, paintings and other relics. Considering the preservation of such as large treasure and seeking for support, Wang took some manuscripts to the local officials. But none of officials took it seriously. The governor of Gansu order Wang to reseal the cave in 1904.
Wang Yuanlu's discovery spread into an archaeologist group led by the Hungarian-British archaeologist Aurel Stein. In 1907, Stein visit Wang and bought a large number of manuscripts with a very low price since Wang had trouble with raising funds to build a Taoist temple. Other groups of explores came one after another. In 1908, the French Paul Pelliot spent little money buying more than 10,000 items from Wang. The plunder didn't stop that explores from Japan and Russia took thousands of other manuscripts from Mogao Caves in 1911 and 1914. The rest of manuscripts were escorted to Beijing, and now are kept in China National Library.
Until now, many museums and libraries in Beijing, London, Paris, St. Petersburg and Japan are collecting most of its manuscripts and the relics.
▶ Read More about: >> Mogao Caves Facts
★ Recommended Dunhuang Tours including the Mogao Caves: >> 3 Days Best Dunhuang Culture and Scenery Tour
Mogao Caves on the Cliff
Wang Yuanlu (left) and the French Archaeologist Paul Pelliot in the Library Cave
Sites to See – Travel Routes
Before seeing the Mogao Caves, travelers who hold Ticket A/D will first visit the Dunhuang Digital Exhibition Center where two wonderful documentary movies are showed. Then take sightseeing shuttle bus from the center to the caves area. After then, explore the museums in front of the caves.

Visiting Route Map for Ticket A/D
Dunhuang Digital Exhbition Center
The Exhibition Center is the first stop of Mogao Cave's visiting. Travelers will firstly be led to watch a film "Thousand-Year Mogao" which introduces the origin and development of Mogao Caves in 20 minutes. Second movie is the "Dream Buddhist Land" which presents some of most outstanding caves in a large dome screen. Travelers can see the clear details of the caves, including the colors of paintings, varies shapes of sculptures from the screen.
Mogao Caves
So far, there are in total 492 caves built in different dynasties with different features. Murals, colorful sculptures are the best highlights of each cave. The Followings are some most outstanding caves which are open for publics.
★ Recommended Dunhuang Tours including the Mogao Caves: >> 2 Days Dunhuang Short Stay Tour
Ball-Screen Movie at Digital Exhibition Center
Nine Storey Temple - Facade of Cave No.96
Notice of 2019 Opening Caves
Mogao Caves has adjusted the caves opened to the public. In the whole year of 2019, there are 40 caves opened for tourists. Usually, visitors would be divided into groups in the tourist spot and lead by the scenic tour guide to visit about 7-8 caves. If you want to see more other caves, you could do it by your own or follow other groups. However, please note there would be some slight change of the cave number according to practical situation when you visit there in site.
▶ Opening Caves: No.9, No.16, No.17, No.25, No.29, No.46, No.55, No.61, No.71, No.94, No.96, No.171, No.334, No.148, No.202, No.203, No.231, No.237, No.244, No.246, No.249, No.251, No.257, No.259, No.292, No.296, No.314, No.329, No.332, No.335, No.340, No.341, No.384, No.397, No.407, No.409, No.420, No.427, No.428, and No.445.
▶ Opening Hours: ❶ Magao Caves Digital Exhibition Center: 07:30 - 15:00 (Apri 1st to Oct. 31st ); 08:30 - 15:00 (Nov. 1st to Mar. 31st) ❷ Mogao Caves Area: 08:00 - 18:00 (Apr. 1st to Nov. 30th); 09:00 - 17:30 (Dec. 1st to Mar. 31st)
No. 148 – located on the southern cliff, this cave was built during late Tang Dynasty, and houses a giant sleeping Buddha which is 16 meters in length. Many sculptures of important figures in Buddhist legends standing behind the Buddha statue and showing different expressions.
No. 96 – this is the symbolic cave of Mogao Caves. Exterior is the famous 9-storey tower, while inside the cave is the highest Buddha of Mogao Caves which is 33 meters high and expresses the beauty standard of Tang Dynasty – chubbiness and elegance.
No. 16 & 17 – unique cave-in-cave structure. The No.16 cave is usual, the only feature is the exterior of three-storey tower hanging on the cliff. The northern corridor of No. 16 is the No. 17 Cave – the famous Library Cave which used to house more than 50,000 items of manuscripts and relics.
So far, only about 40 caves are open for tourists. Apart from above caves, there are also some unique caves. The No. 323 described the historical event of Zhang Qian's diplomatic mission to Xiyu (the Western Regions). The No. 237 has the mural of Playing Lute with Backhands.
★ Recommended Dunhuang Tours including the Mogao Caves: >>3 Days Dunhuang Highlights Tour with Camping Experience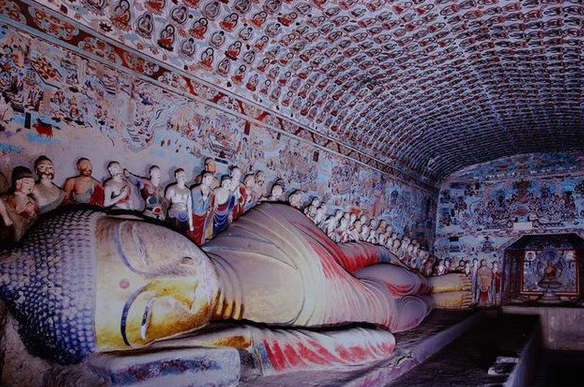 Reclining Buddha Statue - Cave No.148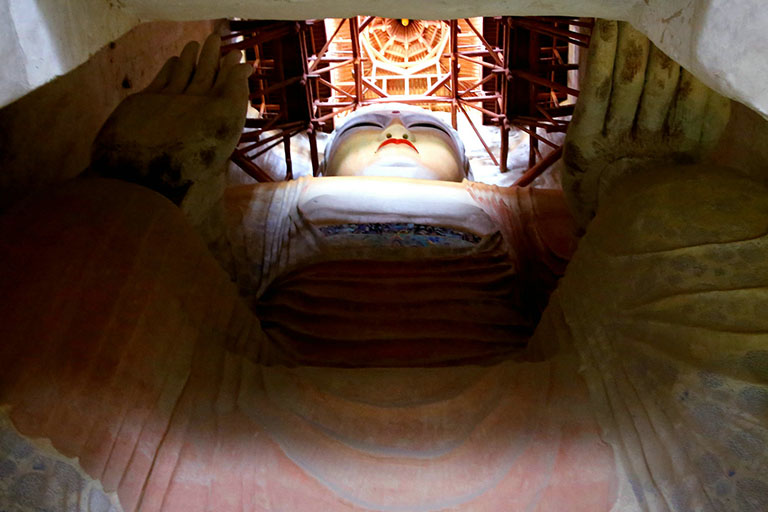 Giant Buddha Statue - Cave No.96
Museums and Relics
Mogaoku Museum was built in 1920 by the donation of Japan Government. It is a semi-basement museum which large space inside. The museum exhibits the discovered artifacts, ancient silk and other relics. The museum also introduces the great events of the archaeological excavation, preservation projects, Mogao study and researches, international co-operative programs, etc.
One of another highlight of Mogaoku Museum is the Mogao Caves Duplication Exhibition. There are 8 caves duplicated by 1:1 proportion. Not only the size, but also the decoration, sculptures and murals were perfectly represented in the new caves.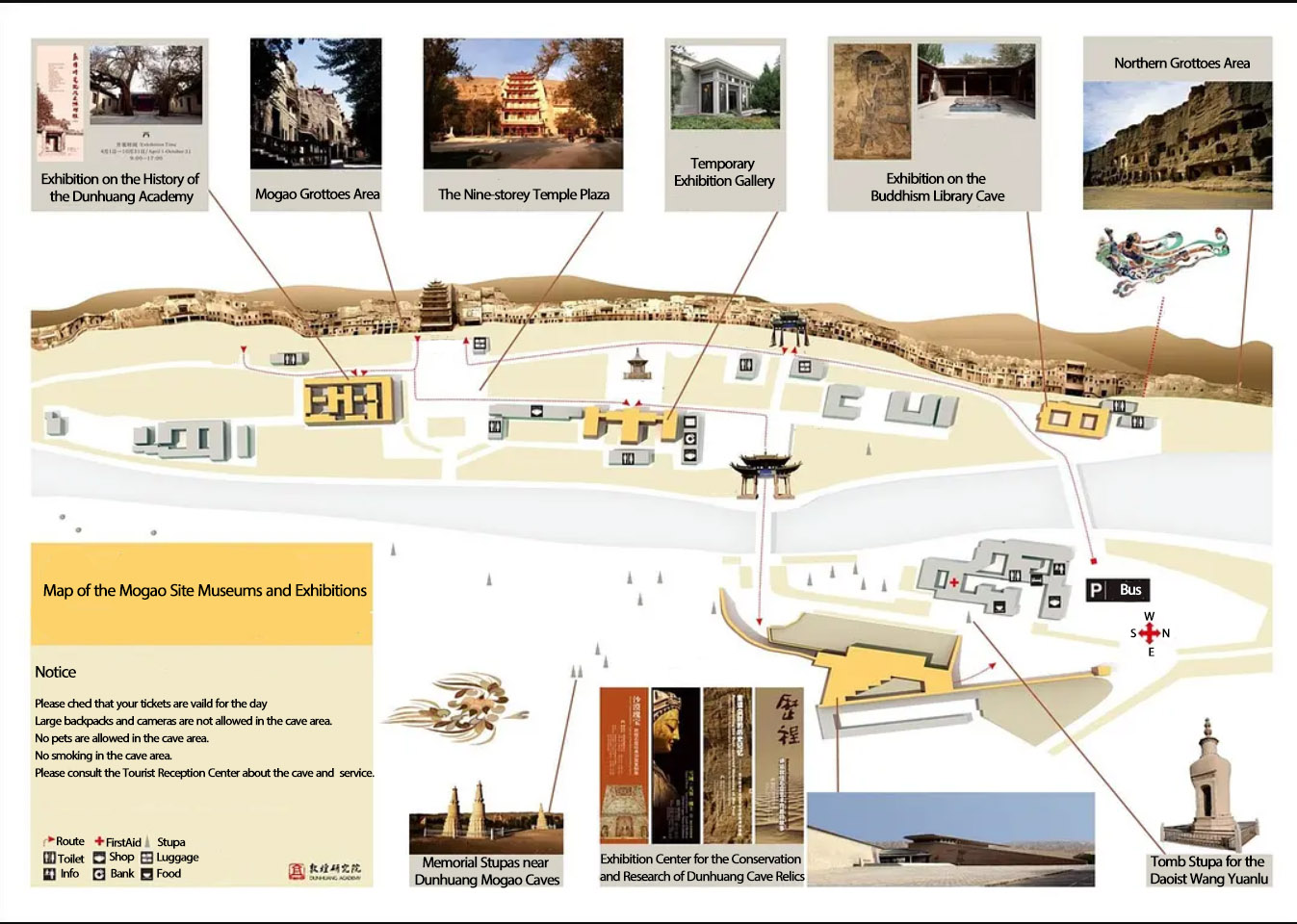 Map of the Mogao Site Museums and Exhibitions (Click to Enlarge)
Reservation Required
To visit the Mogao Caves, travelers need to make a reservation. Only 6,000 visitors are allowed each day (the tourist capacity might be enlarged in peak season). The visiting time in the caves is about 75 minutes. Well, don't have to worry, your rest time will be fully used to visit the museums and the Digital Exhibition Center.
Independent travelers can not make the reservation online or by telephone, which is so far only available for Chinese. So foreign travelers need to contact a foreign-concern travel agency to make the reservation.>> Learn More about Mogao Caves Tickets
★ Recommended Dunhuang Tours including the Mogao Caves: >> 4 Days Jiayuguan Dunhuang Tour (Silk Road Short Break)
Special Caves
Besides the essence in the Digital Exhibition Center, Museum, and caves area in Mogao Caves, there are now 10 special caves in this tourist area. These special caves open to the public during some months to avoid too many visitors for they are comparatively older and need better protection.
Notice of 2019 Opening Special Caves: Special caves opened are No.45, No.57, No.156, No.158, No.217, No.220, No.254, No.275, No.321, and No.322. After visiting the common caves, you could also visit some special caves with extra fees. Please know the detailed charge of each cave in site. However, please note there would be some change of the cave number according to practical situation when you visit there in site.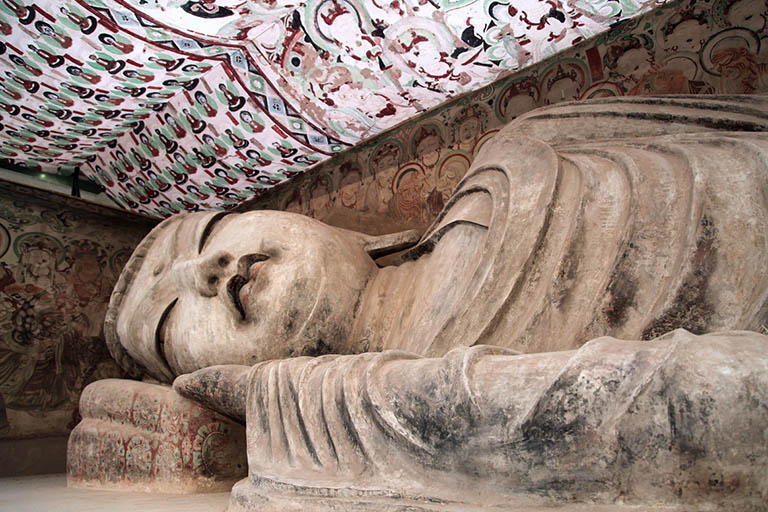 Reclining Buddha Statue - Special Cave No.158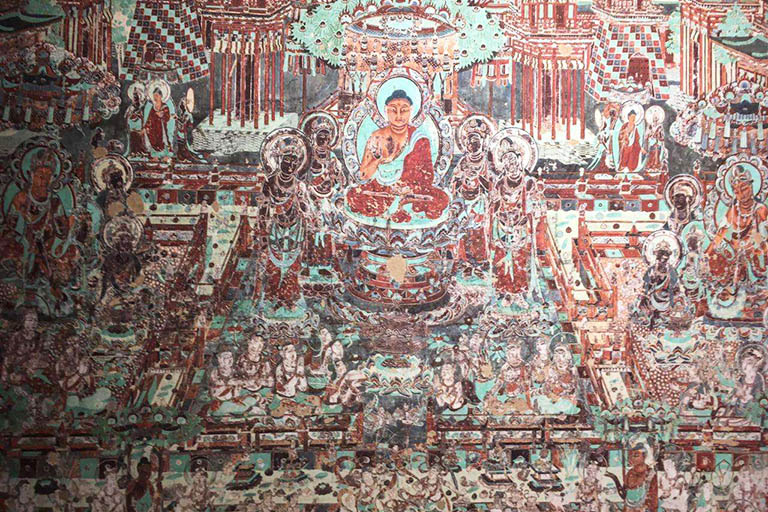 Delicate Mural Paintings - Special Cave No.217
Visiting these precious caves, you can appreciate the very ancient but still fantastic statues and frescoes with abundant colors from Tang dynasty and the Northern and Southern Dynasties. Such as the most beautiful Buddha and Bodhisattvas among all caves, lifelike statues and portraits of Bodhisattva and other paintings expressing the life situation of that period, and the perfect carving of faces, bodies, clothes and gestures making each statue a perfect artwork in Cave 45; the fantastic sculpture of Buddha Nirnava in Cave 158, which is the largest one and represents the outstanding skill of Buddha sculpture works in the middle Tang Dynasty; the fabulous paintings of princes from various countries visiting the very prosperous ancient China in Tang Dynasty in Cave 220, which indicated that China was not only in very good prosperity but holding an open heart to the outside regions during then; Cave 275 tells about the stories of Buddhism and the clothes as well as ornaments on the figures reflects the frequent communication between Chinese people and the Western countries.
Moreover, you can pay more visits to admire the famous most beautiful Bodhisattva in Cave 57, featured paintings still in bright color of mountains and water styles in Cave 217, etc.
▶ Note: Visiting the special caves does not need a reservation in advance. If you want to enjoy the special caves with China Discovery, tell our travel guide or the guide in Mogao Cave Tourist Area when you are in there, and they will arrange the visit for you. Although the special caves could be accessible in both peak and off seasons, they might not open if there are too many visitors during July and September or other protection work to preserve these gems.
Useful tips
① Best Time to Go - Seasonal Advice
Dunhuang has a typical continental arid climate. It is dry, and has little rain all year around. There is large temperature gap between daytime and night. Summer and autumn(May to October) are best season for travel Dunhuang, because there usually sand storm in spring. And it is too cold in winter. Whenever you are planning to visit Dunhuang, be fully prepared for the strong sunlight and wind.
② Ticket & Fee
There are 6 types of tickets selling at the Mogao Caves Digital Exhibition Center. Ticket A/B/C is for the peak season (April 1st to November 30th ); while ticket D/E/F is for the off-season (December 1st to March 31st), and ticket price ranges from CNY 238 to CNY 48. Please note only ticket A/B/D/C includes cave visiting. >> Learn More about How to Book Mogao Caves Tickets
If you are interested in these gem relics in the special caves, just contact our Travel Consultant to book the ticket for you in advance. Only watching the special caves, you don't need to pay the ticket of Mogao Caves
Important Notes: 1)daily allowed visitors are limited (6,000), so it is required to make the reservation at least 7 days in advance; 2) the price includes tour guide arranged by the site.
③ No Photography in Caves
Taking photo is not allowed when visiting inside the caves and Mogaoku Museum. But you can take photos of outside the caves.
④ Dunhuang and the Mogao Caves Resources
Before your visit to Dunhuang, here are some recommended books, websites and films related to Dunhuang and the Mogao caves. You can check those websites and watch the documentary on your way to get to know the culture and facts about the Mogao Caves.>>Dunhuang Resources
⑤ Prepare Some Light to Visit the Special Caves
To well protect the historical relics, it is very dark in the special caves. And you can take your electric torch to see the paintings and statues clearly.
Since every special cave needs some time to enjoy its essence, it is advised to visit only about 3 to 4 caves in one day in order not to be so tired. And if you like these grottos very much, you can go there the next day(s).
How to Plan a Dunhuang Tour
It usually takes 2~4 days to cover the main highlights in Dunhuang. Just like the Terracotta Warriors in Xi'an, the 2000-year-old Mogao Grottoes is the essence in a Dunhuang trip. Here you can admire thousands of colorfully painted Buddhist statues and have an eye-feast on the exquisite mural paintings. After that, you can go to the Echoing Sand Mountains to have fun in the vast desert and find out why Crescent Lake has never dried up for so many years. On the next day, go explore the remote wild Gobi desert landscape and several legendary historical sites such as Yumen Pass (Jade Gate Pass) which used to be a military defensive pass as well as an important border for international trade along the ancient Silk Road, and Yadan National Geological Park which features Yardang landforms in distinct shapes as you can imagine like Mongolian Bao, Stone Bird, Peacock and others. If you have more days, you can take an in-depth Gansu tour to Lanzhou, Zhangye, Jiayuguan or travel a little farther to the beautiful Xian, Qinghai, Urumqi, and Kashgar.
★ Top-Recommended Dunhuang Tours
>>2 Days Dunhuang Short Stay Tour (Classic Itinerary, Money-saving, Flexible)
>>3 Days Best Dunhuang Culture and Scenery Tour
Travel Dunhuang with China Discovery
Want to travel in and around Dunhuang but don't know how to arrange your day by day itinerary? Travel Dunhuang with us, and all of your problems will be solved. In every city, our professional local guide and driver will escort you from your hotel, train station, airport to all attractions with comfortable private licensed car and let you catch the highlights of every site and city, so you can get really relaxed on the way and focus on what you are interested in. The tour can be tailor made according to your plan, time and interests and demands. If you are interested, please feel free to contact us and tell us your needs, and we will customize a memorable tour for you!
We have helped many global travelers enjoy their memorable wonderful trips to Gansu for the past few years. Among them, Marcin and his friends traveled with us and spent 13-Day to explore the Silk Road from Lanzhou to Kashgar, visiting Zhangye, Jiayuhuan, Dunhuang... in Gansu province, and shared us their special travel story! Travel with China Discovery to create your great China trip memories!
Recommended Dunhuang Tours
Top 3 Dunhuang tours chosen by most customers to explore Dunhuang in the best way. Check the detailed itinerary, or tailor your own trip now with us.
8 Days Gansu Highlights Tour

Lanzhou / Xiahe / Jiayuguan / Dunhuang
4 Days Jiayuguan Dunhuang Tour (Silk Road Short Break)

Jiayuguan / Dunhuang
Start planning your tailor-made holiday to China by contacting one of our specialists. Once inquired, you'll get a response within 0.5~23.5 hours.
Customize a Trip
Have a question? Get answers from our travel experts or guests
Your Question:

Your Name:

Your Email: