Overview of Dunhuang Museum
Dunhuang Museum is free to the public. Tourists can get a ticket at the ticket office with a valid ID card or passport. This museum is built in 2011 with an area of 16000 ㎡. The overall architectural appearance and color integrates several cultural symbols such as the Great Wall, beacon tower, and ancient castle, forming a solemnly beautiful style.
It mainly presents more than 10000 Chinese and Tibetan items in the more than 2000 years' history of Dunhuang. People can learn a lot about Dunhuang and Silk Road in this informative museum. What's more, there is replication of the Mogao Cave and some exquisite murals. As taking photos is not allowed in Dunhuang Mogao Caves, tourists can take some photos here instead.
What to See in Dunhuang Museum
Dunhuang Museum is well laid out in a chronological order. There is one Preface Hall and five Exhibition Halls. Tourists can visit these halls one by one to know the history of Dunhuang from prehistoric times to the Qing Dynasty.
Preface Hall - A City Where China and the World Meet
Preface Hall mainly introduces the prehistoric civilization of Dunhuang. With the theme of "A City Where China and the World Meet", this hall presents reliefs, cultural relics distribution map, chronology, and system evolution of Dunhuang to show the audience the life of ancient Dunhuang people and other people from the Western Region that lived in Dunhuang.
Exhibition Hall 1 - Dunhuang in the Han Dynasty (202 B.C. – A.D. 220)
Han Dynasty is a new era of Dunhuang because of the ancient Silk Road. Through a large number of plates and unearthed cultural relics, the prosperity of the Silk Road in the Han Dynasty was displayed. Visitors can enjoy the spectacular scene of silk trade and understand the development of military, politics, economics and culture in Dunhuang in the Han Dynasty. It is a true representation of the life of Dunhuang people at that time and also shows how the Buddhism was introduced to the east.
Exhibition Hall 2 - Dunhuang in Wei, Jin, Southern and Northern Dynasties (A.D. 220 - 589)
Wei, Jin, Southern and Northern Dynasties is a very important historical period in Dunhuang's history. Its flourishing culture is well reflected by the unearthed tiles, soldiers' implements and daily necessities. What are unearthed in this period have their own characteristics such as the exquisite and unique tomb jars, colorful chicken head stoves, bronze crossbow machines used by ancient border officers and soldiers, pottery warehouses reflecting the real life conditions of ancient times, and gorgeous silk… Among all of them, the mural bricks are the most representative ones.
Exhibition Hall 3 - Dunhuang in Sui and Tang Dynasties (A.D. 581 - 907)
Sui (A.D. 581 - 618) and Tang (A.D. 618 - 907) Dynasties are the most glorious period of Dunhuang with social production, economy and culture reaching the summit. Dunhuang has become an important transportation hub between China and the West. The unearthed precious cultural relics, such as material beads, weiqi, jade, pottery and camel pulling figurines fully illustrate the historical facts of Dunhuang being an important business town and international market.
Exhibition Hall 4 - Dunhuang from Five Dynasties to Ming (A.D. 907 - 1644)
This part focuses on the history and culture of Western Xia (A.D. 1038 - 1227), whose overall style is rough and bold. After the Song Dynasty (A.D. 960 - 1279), with the decline of the Silk Road, Dunhuang's prosperous economy and culture were also on the wane. But in the Yuan Dynasty (A.D. 1271 - 1368), Dunhuang, the gateway to the Western Region, opened again. Here you can see some items at that period such as hauberk and porcelain rooster.
Exhibition Hall 5 - Dunhuang in the Qing Dynasty (A.D. 1644 - 1911)
This hall tells people the development of Dunhuang and the discovery of the Sutra Cave in Mogao Grottoes in the Qing Dynasty. With many cultural relics and pictures, it focuses on the collection of Dunhuang scriptures to show people the artistic charm of Dunhuang studies.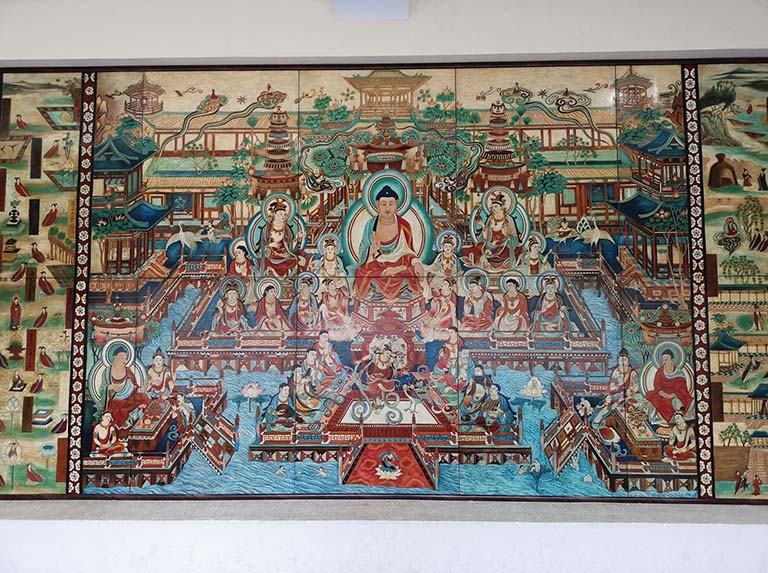 Colorful Mural in Dunhuang Museum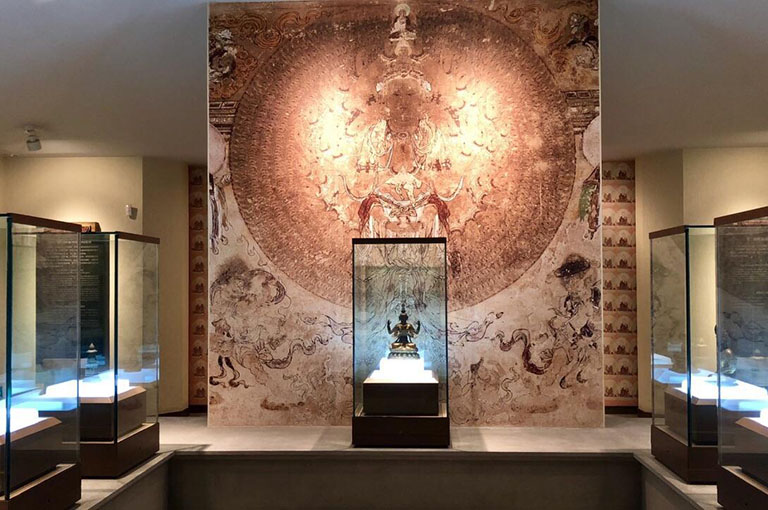 Buddha Sculpture in Dunhuang Museum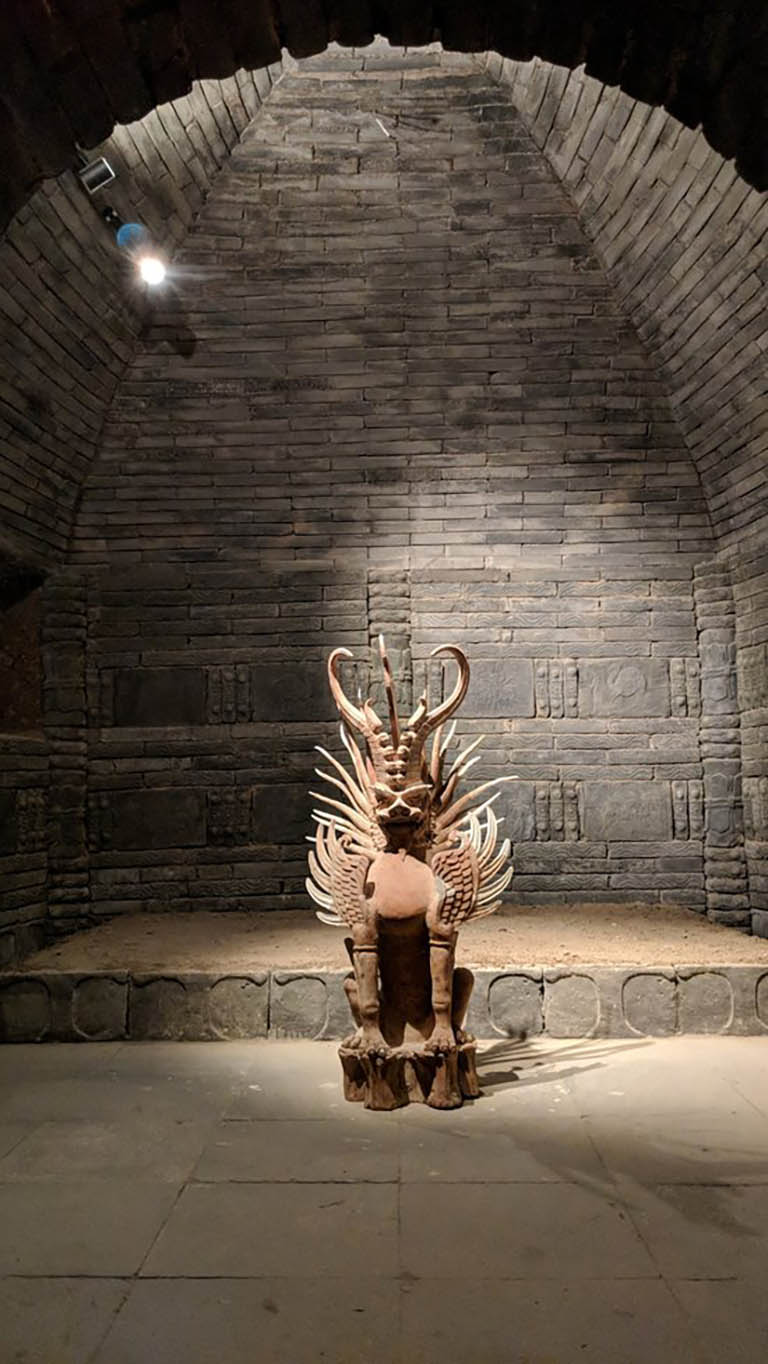 Tomb-guardian Beast
Where is and How to Get to Dunhuang Museum
Dunhuang Museum is located in No. 1390 Mingshan North Road, Dunhuang City (敦煌市鸣山北路1390号), only 2.5km from Dunhuang downtown. So if you take a taxi to get there from downtown, it will not be more than CNY 10. What's more, Dunhuang Museum is on the way to Echoing Sand Mountain and they are about 4km away. You can stop by at the museum if time permits.
Travel with ChinaDiscovery
If you want to get rid of the hustle of public transportation and troublesome navigation, you can book a private tour package which covers sightseeing, dining and transfer from us. Our knowledgeable local tour guide and skilled driver will escort you to Dunhuang Museum with speed and convenience, and take care of all the details. You just need to focus on sightseeing.>>Contact Us Now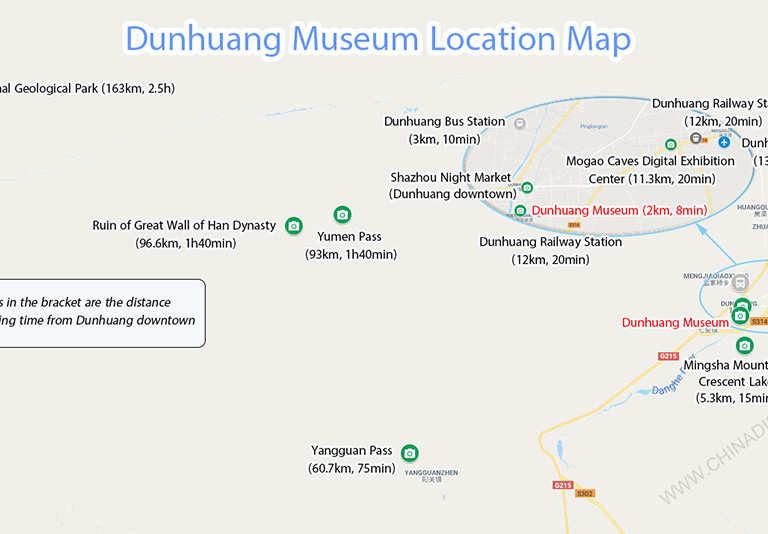 Yadan National Geologic Park Location Map
How to Plan a Dunhuang Museum Tour
It usually takes at least 2 days to cover the main highlights in Dunhuang. Just like the Terracotta Warriors in Xi'an, the 2000-year-old Mogao Grottoes is the essence in a Dunhuang trip. Here you can admire thousands of colorfully painted Buddhist statues and have an eye-feast on the exquisite mural paintings. After that, you can go to the Echoing Sand Mountains to have fun in the vast desert and find out why Crescent Lake has never dried up for so many years. And on the way you can make a stop at Dunhuang Museum. On the next day, go explore the remote wild Gobi desert landscape and several legendary historical sites such as Yumen Pass (Jade Gate Pass) which used to be a military defensive pass as well as an important border for international trade along the ancient Silk Road, and Yadan National Geological Park which features Yardang landforms in distinct shapes as you can imagine like Mongolian Bao, Stone Bird, Peacock and others. If you have more days, you can take an in-depth Gansu tour to Lanzhou, Zhangye, Jiayuguan or travel a little farther to the beautiful Xian, Qinghai, Urumqi, and Kashgar.
★ Top-Recommended Dunhuang Tours
>>2 Days Dunhuang Short Stay Tour (Classic Itinerary, Money-saving, Flexible)
>>3 Days Best Dunhuang Culture and Scenery Tour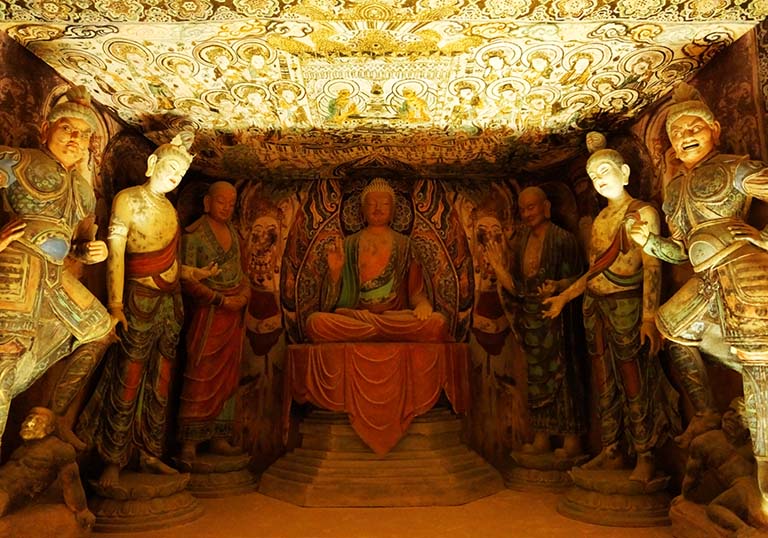 Mogao Caves No.45
More Top Things to Do in Dunhuang
Useful Dunhuang Travel Guide
Most Popular Dunhuang Tours
Recommended Dunhuang Tours
Top 3 Dunhuang tours chosen by most customers to explore Dunhuang in the best way. Check the detailed itinerary, or tailor your own trip now with us.
8 Days Gansu Highlights Tour

Lanzhou / Xiahe / Jiayuguan / Dunhuang
4 Days Jiayuguan Dunhuang Tour (Silk Road Short Break)

Jiayuguan / Dunhuang
Start planning your tailor-made holiday to China by contacting one of our specialists. Once inquired, you'll get a response within 0.5~23.5 hours.
Customize a Trip
Have a question? Get answers from our travel experts or guests
Your Question:

Your Name:

Your Email: