The Came Ride route starts from the foot of Mingshashan near the entrance of Mingshashan & Crescent Lake Scenic Area, goes up along the zigzag edges of sand dunes to reach the top of Mingshashan Mountain, then descend the mountain and finish the Mingshashan Mountain foot area near Crescent Lake, with a riding length around 3km (1.9mi). The round trip camel ride takes around 1.5 hours, including riding, sightseeing and optional activities. After reaching the top of Mingshashan, you will get off your camel and have about 30 minutes to enjoy desert views and take part in desert adventurous, such as Sand Sliding, Quad bikes, Motor Bikes, Sand SUV even a helicopter. These activities can also be enjoyed around the Crescent Lake. Please note you cannot choose to take only one-way ride.
Mingshashan Camel Ride is available all year around, usually starting before sunrise and closing around sunset. The actual operating hours are subject to change by seasons. You are suggested to ride camel and visit Mingshashan and Crescent Lake in early morning or late afternoon when the sunlights are not very strong and temperatures are lower.
The Price of Camel Ride
The price of Mingshashan Camel Ride is ¥100 / per person / per camel all year around, excluding the entrance fee and other activities in Mingshashan & Crescent Lake Scenic Area. If you want to take camels to watch sunrise, you have to pay extra ¥10 . Plus the entrance fee which is ¥120 in peak season / ¥60 in off season, the total cost is ¥220 in peak season and 160 in off season. The camel keepers also provide photography service (with your device) which charges ¥20/per person.
★ Recommended Dunhuang Tour: 3 Days Dunhuang Mogao Caves Yulin Caves Tour (optional camping)
Useful Tips about Camel Ride
1. One adult ride one camel. Kids under 1.4 meters can share camel with adult with a supplement of ¥50; Seniors over 75 years old are not recommended to join in the camel ride.
2. The camels are equipped with a saddle-like rigging, covered by a rug, with a metal bar to hold on to during the riding. Be careful to keep balance when your camel stands and sits.
3. Camels are divided into groups; every group has 5 camels led by a camelman. Every camel has a number to match the ticket number. You and your family may be separated into different groups. If you are separated from your family, you can try to negotiate with the staff to arrange your family in same group, but it will not work every time.
4. The camelman usually cannot speak English. You can observe and follow the Chinese tourists' doings. Don't worry too much. The whole ride is easy and simple, as riding up to the mountain where stop around 30 minutes, then ride back.
5. The desert is always hot, windy and dry. Remember to bring sunscreen, sunproof wearings and lippie.
6. Bring a plastic bag to protect your camera from sands;
7. Sandproof shoe covers rental is available at the entrance area.
★ Recommended Dunhuang Tour: 4 Days Classic Dunhuang Tour (optional camping)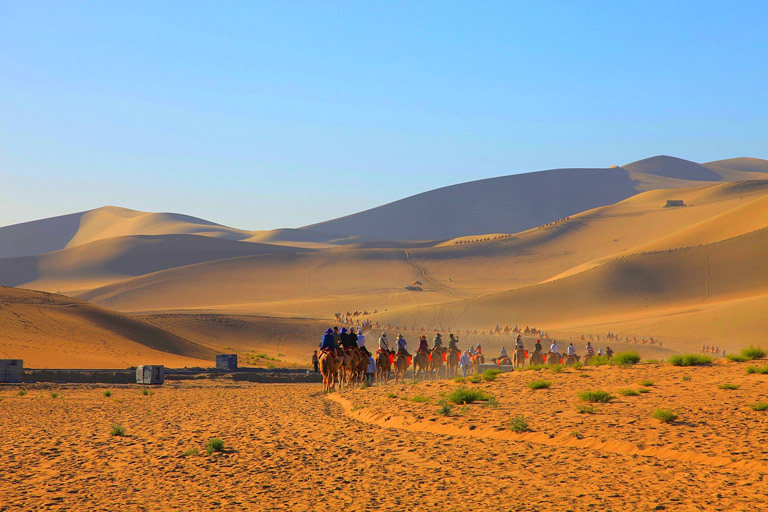 Flat part of the camel ride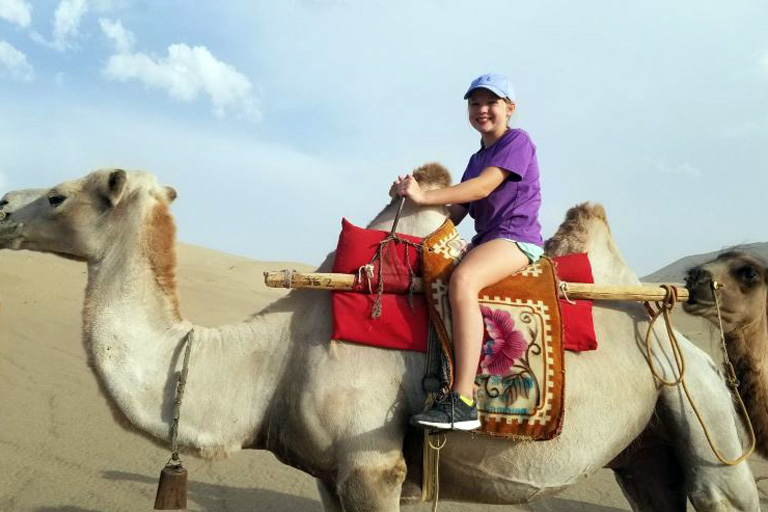 Little girl rode camel at Mingshashan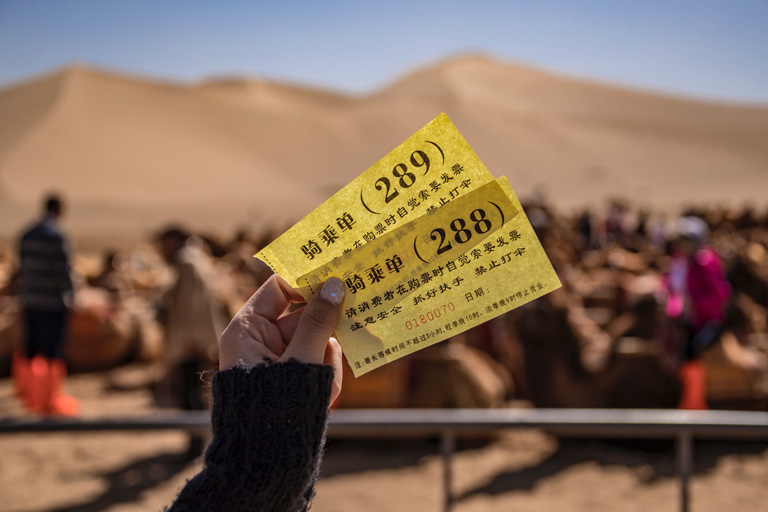 Camel ride ticket
Ascend Mingshashan Mountain
Ascend Mingshashan Mountain