Brief Introduction of Bingling Temple Grottoes
Bingling Temple Grottoes is along Yellow River bank, on the west cliff of Dasigou on Jishi Mountain in Yongjing County, Linxia Hui Autonomous Prefecture, Gansu.
It was firstly built in A.D. 420 at the end of Western Qin, then the work continued and more caves were added. "Bingling" in Tibetan means "Thousand Buddha", so Bingling Temple Grottoes are also called Thousand-Buddha Caves. At present, there are four layers in total with 183 caves and niches, 694 stone statues, 82 clay sculptures, and 900 square meters of murals.
On June 22, 2014, at the 38th session of the World Heritage Committee of UNESCO held in Doha, Qatar, Bingling Temple grottoes were successfully included in the world heritage list as a site of the "Silk Roads: the Routes Network of Chang'an-Tianshan Corridor" jointly applied by China, Kazakhstan and Kyrgyzstan.
>>3 Days Lanzhou Short Break with Bingling Temple Grottoes
What to See in Bingling Temple Grottoes
Bingling Temple Grottoes is famous for its multiple stone sculptures and time-honored murals. Besides, as Bingling Temple Grottoes is accessible by boat, the Yellow River scene is also a delight to eye.
Stone Sculptures in Different Dynasties
Unlike most grottoes in Gansu Province which feature in clay sculptures, Bingling Temple Grottoes have a wide range of stone sculptures. They were made in different dynasties, hence present different styles.
Cave No. 169, 192 and 195 made in the Western Qin Dynasty (A.D. 385-431) show an obvious artistic style of Buddhism in the Western Regions. Most of the stone sculptures are fierce and vigorous. Cave No. 125, 128 and 132 are representatives of Northern Wei Dynasty (A.D. 386-534), which fully reflect the Central Plains Buddhist art style of fine and delicate features. From Northern Zhou (A.D. 557-581) to Sui (A.D. 581-619), the statues turned into an elegant and polished style with a well-shaped body.
Then in Tang Dynasty (A.D. 618-907), Buddhism reached its heyday. Actually about 2/3 of the caves in Bingling Temple Grottoes were made at that time. The statues emphasize the beauty of healthy and plump body, pay more attention to the dynamic rhythm of the image, subtly showing the internal vitality. In Cave No. 171 sits the Great Maitreya Buddha. The 27m Buddha is carved on the mountain surface. Though partly damaged, it still has Tang Dynasty sculpture characteristics with a plump smiling face, amiable manner and well proportioned body. Such a huge sculpture is difficult to achieve without superb techniques.
Murals of the Sixteen States Period (A.D. 304-439)
Although there are not many murals in Bingling Temple Grottoes, they are precious legacy reflecting the social features, music, dance and decorative art in the northwest of China during Sixteen States Period (A.D. 304-439).
Special cave No. 169, the essence of Bingling Temple Grottoes, is the largest and earliest cave with most abundant treasures. It was built in A.D. 420, 50m above the ground. It is a naturally formed stone cave, 26.75m wide, 15m high, and 19m deep with 24 niches in total. Inside are many valuable sculptures and murals reflecting the social images at that time.
Apart from that, murals from other dynasties can be found in more caves, such as Cave No. 008 of Sui (A.D. 581-619), Cave No. 003 of Yuan (A.D. 1271-1368) and Ming (A.D. 1368-1644), Cave 168, 172 of Ming. Some of the mural techniques still inherit the tradition of Tang (A.D. 618-907) and Song (A.D. 960-1279) dynasties.
>>4 Days Lanzhou Labrang Monastery Tour with Bingling Temple Grottoes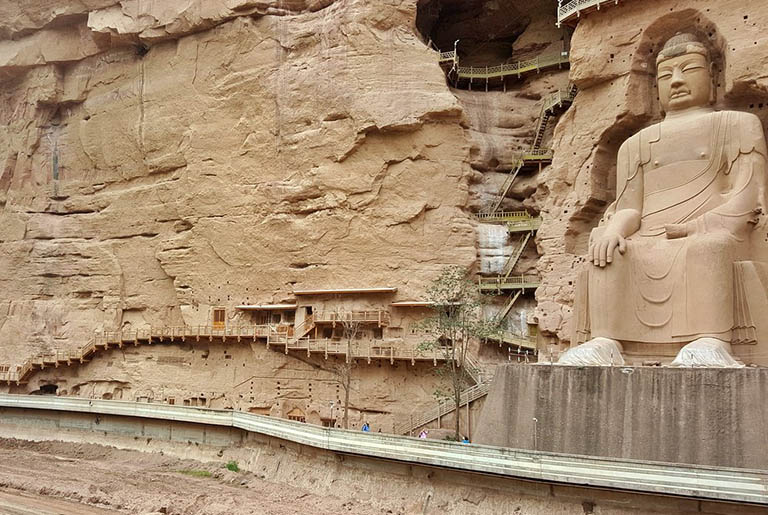 The Great Maitreya Buddha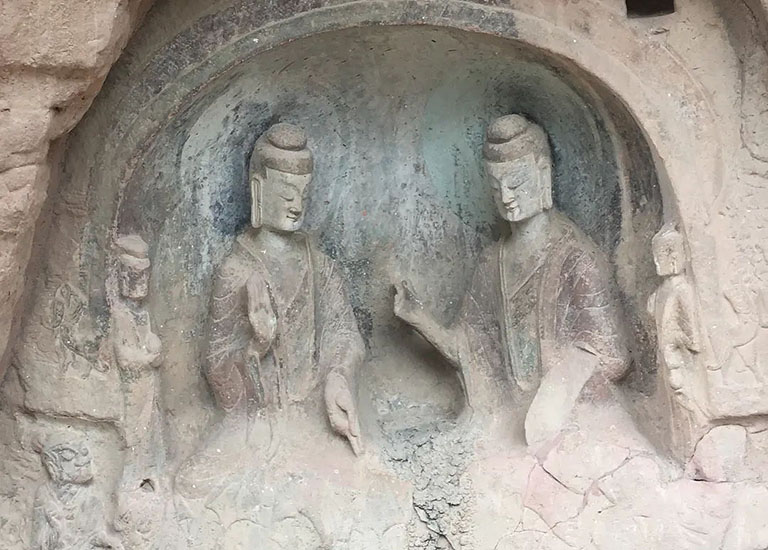 Cave No. 125, Northern Wei Sculpture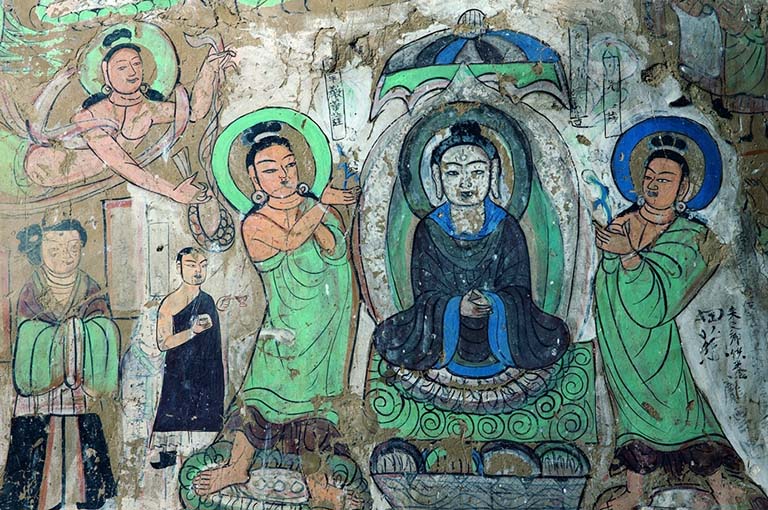 Mural in Cave No. 169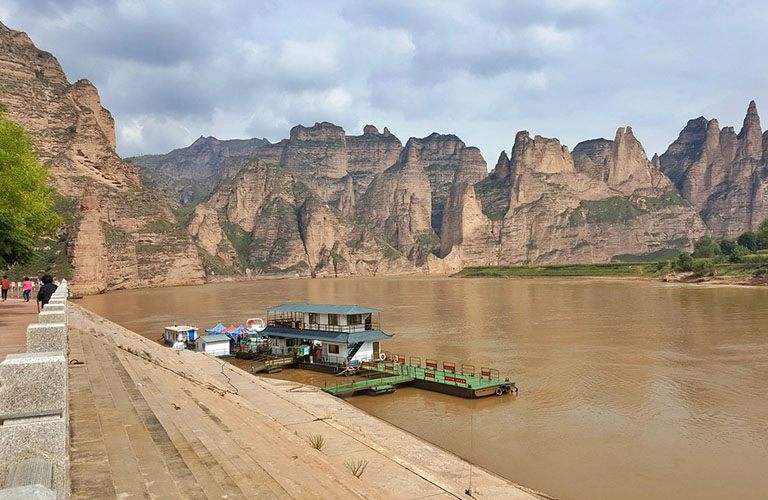 Taking Boat to Bingling Temple Grottoes
How to Get to Bingling Temple Grottoes
Bingling Temple Grottoes is on Liujiaxia Reservoir. To get there, you need to get to Liujiaxia Dam first. As Liujiaxia Dam is about 77km southeast of the transportation hub Lanzhou, it is most recommended to visit Bingling Temple Grottoes from Lanzhou.
For independent travellers, you need to take a bus from Lanzhou West Bus Station (兰州汽车西站) to Liujiaxia Dam, which is about 2h. Then take a speedboat (CNY 160 per person for a round trip), about 50 minutes to the grottoes. Normal boat is also available but not recommended because it will take 2-3 hours. When you get to the grottoes, there is 1.5 hours' visiting time. Then you need to get back to the speedboat and return to Liujiaxia Dam.
Travel with China Discovery
If you want to avoid all the transfer troubles, you can consider travelling with us China Discovery. Our professional local guide and driver will escort you from your hotel, train station, airport to all attractions with comfortable licensed private car, so you can get really relaxed on the way and focus on what you are interested in. The tour can be tailor made according to your plan, time and interests and demands. If you are interested, please feel free to contact us and tell us your needs, and we will customize a memorable tour for you!>>Contact Us Now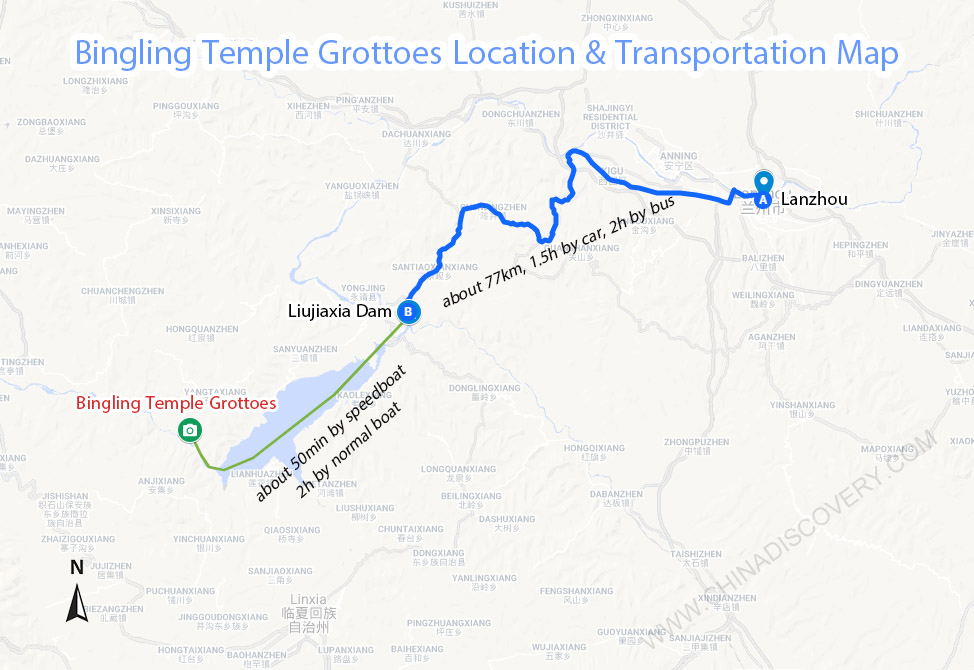 Bingling Temple Grottoes Location & Transportation Map
Warm tips:
1. Opening hours: Generally speaking, Bingling Temple Grottoes is open from 08:00 - 18:00. But as it needs to be reached by boat, it may be closed due to continuous rain or other reasons.
2. Special Caves: The entrance fee CNY 50 only covers the common caves. In order to protect cultural relics, the following special caves will need an extra fee. Cave No. 169 and 172: CNY 300 per person; Cave 126: CNY 80 per person; Cave 128: CNY 60 per person; Cave 132: CNY 90 per person.
How to Plan a Bingling Temple Grottoes Tour
To enrich your Bingling Temple Grottoes trip, you can visit there from Lanzhou, the capital and important gateway of Gansu Province. You can set aside a day to hike up White Pagoda Mountain, visit Zhongshan Bridge on Yellow River, appreciate the beauty of oriental women from Yellow River Mother Statues, learn more about Gansu history and culture in the Gansu Provincial Museum, etc. Then on the next day, go for a side trip to Bingling Temple Grottoes and return to Lanzhou in the afternoon.
If you have more days, it is also a good choice to visit the Maijishan Grottoes in Tianshui, Labrang Monastery in Xiahe, or to more cities in Gansu such as Zhangye, Jiayuguan, and Dunhuang.
If you have more questions or ideas about a Bingling Temple Grottoes tour, please feel free to contact us. We can provide you with customized tours according to your own interests, requirments, travelling time and budget, etc.
★ Recommended Bingling Temple Grottoes Tour:
>>4 Days Grottoes & Lanzhou Culture Tour
>>8 Days Gansu Highlights Tour (Lanzhou / Xiahe / Jiayuguan / Dunhuang)
Once in a Lifetime Gansu Trip
Keep Reading
Recommended Gansu Tours
Top 3 Gansu tours chosen by most customers to explore Gansu in the best way. Check the detailed itinerary, or tailor your own trip now with us.
Lanzhou / Xiahe / Jiayuguan / Dunhuang
Lanzhou
4 Days Lanzhou Labrang Monastery Tour

Lanzhou - Xiahe - Linxia - Lanzhou
Start planning your tailor-made holiday to China by contacting one of our specialists. Once inquired, you'll get a response within 0.5~23.5 hours.
Customize a Trip
Have a question? Get answers from our travel experts or guests
Your Question:

Your Name:

Your Email: