Wonder's 3 Days Amazing Mt. Emei Hiking Tour from Chengdu
Departure Date

2013-11-15

Travel Length

3 Days

Travel Theme

Nature, Hiking, Friends

Group Size

3

Travel Route

Chengdu - Mount Emei

Highlights

Golden Summit, Wannian Temple, Leidongping, White Dragon Cave, Qingyin Pavilion, Baoguo Temple...

Story Tags

#Mount Emei#Mt. Emei#Emeishan#Emei Mountain #Golden Summit#Wannian Temple#LeidongpingWhite Dragon CaveQingyin PavilionBaoguo Temple
Due to the New Coronavirus, we now have more time to learn about our culture and history about China Tourism. Also we have more time to share some stories about our trip in China in the past.
I have been to Mt. Emei 7 years ago which really impressed me with its Cloudy Sea, Sunrise, Monkeys, Blue Sky, etc. I would like to share with you more about my trip to Mt. Emei and hopefully this will be helpful for those who're interested in Mt. Emei trip.
Day 1 Train from Chengdu to Mount Emei
This trip was done in middle Nov, 2013. One the 1st day, I have taken the regular train from Chengdu to Mt. Emei on Friday night after work (The bullet train doesn't run at that time and now it is available which is much faster and convenient). On the first night, I stayed overnight at the hostel near the train station.
Day 2 Mount Emei Hiking
The next morning, I have taken one taxi to the Emei Mountain Tourist Center to meet my local two friends who lived there where we will take an Eco-Bus which will take us up to the mountain top area in 1.5~2 hours.
Once reaching at Leidongping (2400m), we have taken some snacks at Leidongping before setting out for the hiking to the mountain top. This hiking from Leidongping to Golden Summit is about 7.5km long (around 2 hours' hiking).
As you could see, there are some hotels and restaurants at Leidongping. You could also have lunch at the local restaurant which will be more expensive than the one at the foot of Mt. Emei.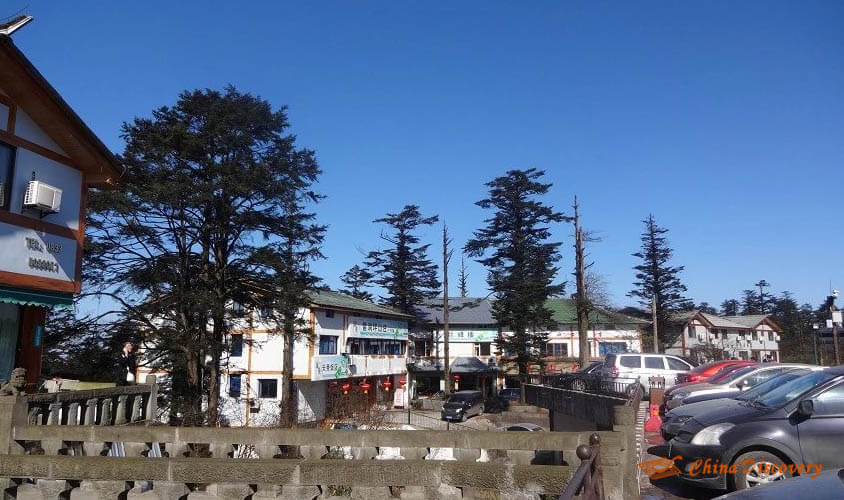 Leidongping
After lunch, keep on walking about 30mins (around 1.5KM) along stone steps to the cable car station, along which you will have chance to see the wild monkeys.
Mt. Emei is well known for the monkeys and those monkeys are greatly loved by the visitors. These monkeys live in the forest or beside the cliffs and springs. They are not afraid of touching people and always demand food from the visitors very boldly and full of interest.
I would like to share with you about some monkeys I saw on the way which is indeed very interesting.
Two Monkeys are looking forward to tourists' food. I have to say they're growing really well! Possibly they're husband and wife.
One Monkey is standing on the shoulder of one male tourist. I will not tell you this man is nearly hurt by this monkey when another monkey is trying to climb up to his shoulder also few minutes later. Possibly the two monkeys are fighting for territory. So do remember Don't tease the monkeys because it is very dangerous though they look harmless! Once they get angry, you will find it is very terrible! If you ever go there, please remember this!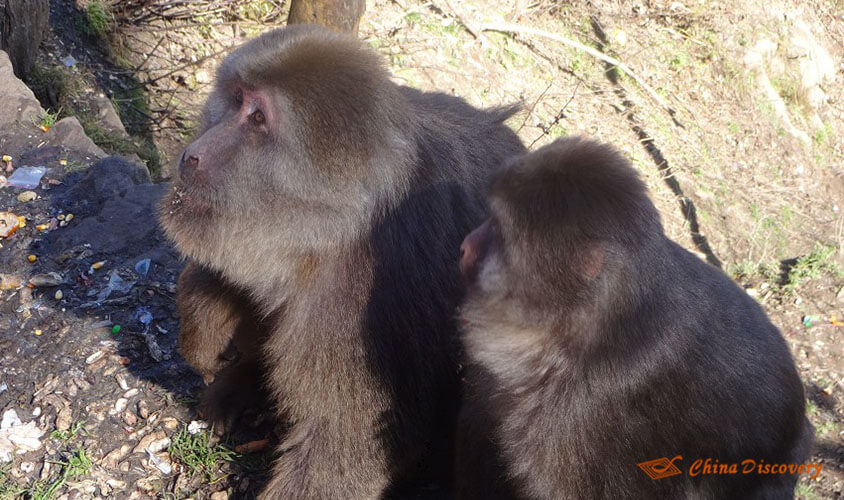 Monkeys in Mount Emei
One Monkey is standing on the shoulder of one male tourist. I will not tell you this man is nearly hurt by this monkey when another monkey is trying to climb up to his shoulder also few minutes later. Possibly the two monkeys are fighting for territory. So do remember Don't tease the monkeys because it is very dangerous though they look harmless! Once they get angry, you will find it is very terrible! If you ever go there, please remember this!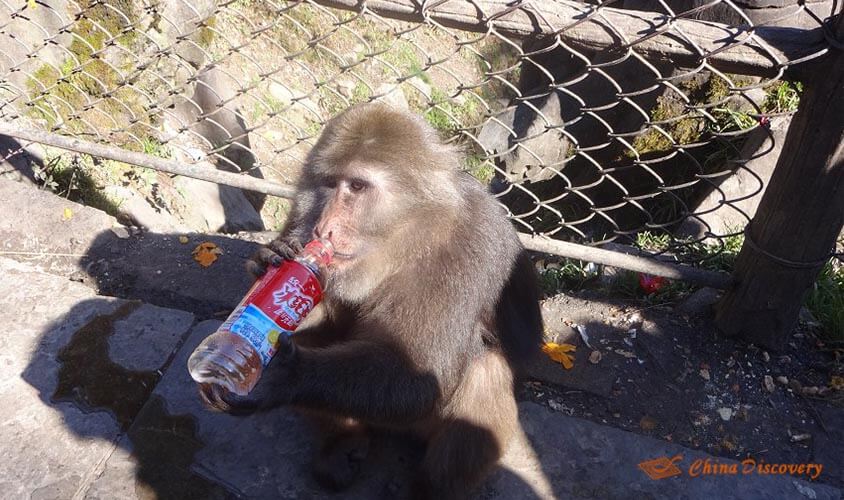 Monkeys in Mount Emei
This 30 minutes walking is very interesting and the road is also relatively flat which is easy without many ups and downs.
And then, you will arrive in Jieyin Hall which is also the Cable car station where regular tourists will take cable car up to Golden Summit with only 5 minutes. From Jieyin Hall to the Golden Summit is the hardest part for hiking.
Some sections are very steep. One has to walk carefully and slowly. However, don't worry too much as all steps are well-paved. Because the time I went there was during winter time, so you will find some frozen water and icicle.
Icicle which you could see everywhere on the way to the Golden Summit.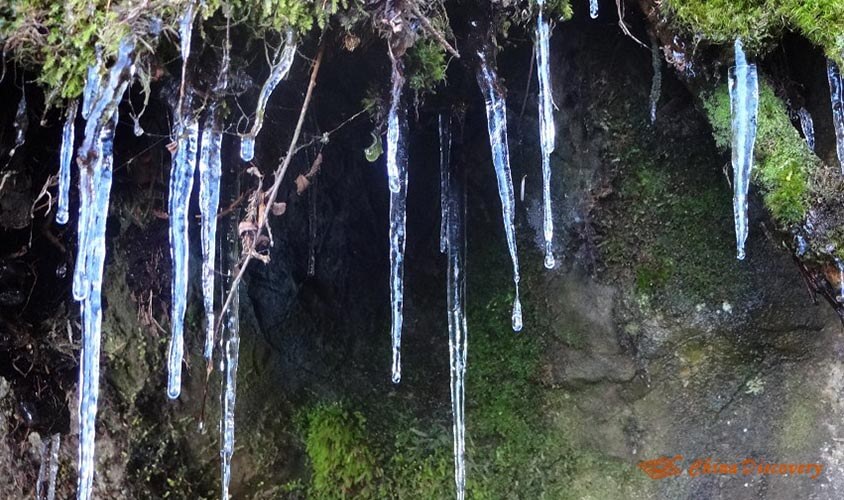 Frozen Icicle
Frozen waters as you could see everywhere. So it is very slippery on the road and you need to be careful if you're doing this hiking tour in winter time. If you want to see some snowy sightseeing, you could come in Dec or Jan which will be extremely beautiful. I plan to visit Mt. Emei again in some nearly winter time.
On the way, you will also see some ancient trees or some pavilions for people to rest. If you look carefully, you will find me sitting at the foot of the tree!
After getting to Taizi Ping, the paths get flat with little uprising, leading you to Golden Summit along beautiful wild forest. It will take around 30 minutes (around 1KM) from Taiziping to Golden Summit.
Before we go the Golden Summit, we're very lucky to see the Cloud Sea which is really amazing!
With time passed, we also see the sunset at the Cloudy Sea which is really a surprise!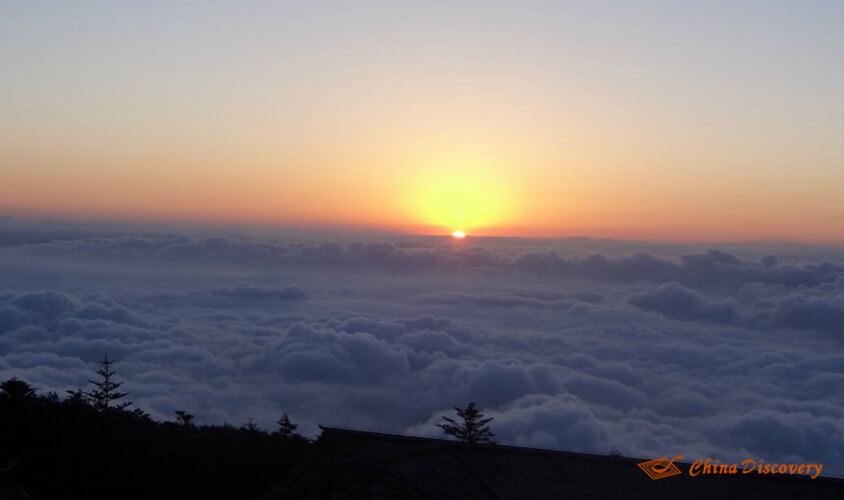 Sunset of Mount Emei
The sun finally disappear and the cloud is getting dark also.
Before the day is getting dark, we went to Golden Summit quickly. Once you get to the Golden Summit, the first view appearing in front of you is a towering multi-faced golden statue (48m) of Samantabhadra Bodhisattva.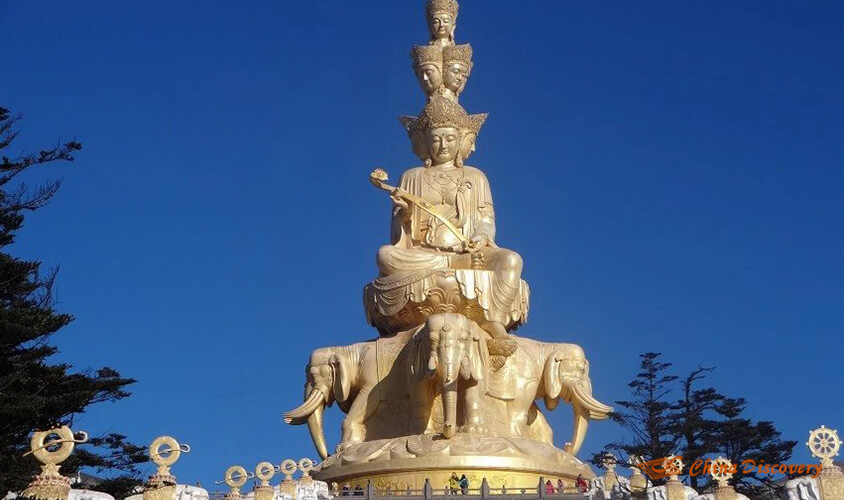 Multi-faced Golden Statue of Samantabhadra Bodhisattva
The Golden Summit (altitude: 3,077m) is absolutely the highlight of every Emei Tour. There are three main temples on Golden Summit. They're Golden Temple, Silver Temple and Bronze Temple.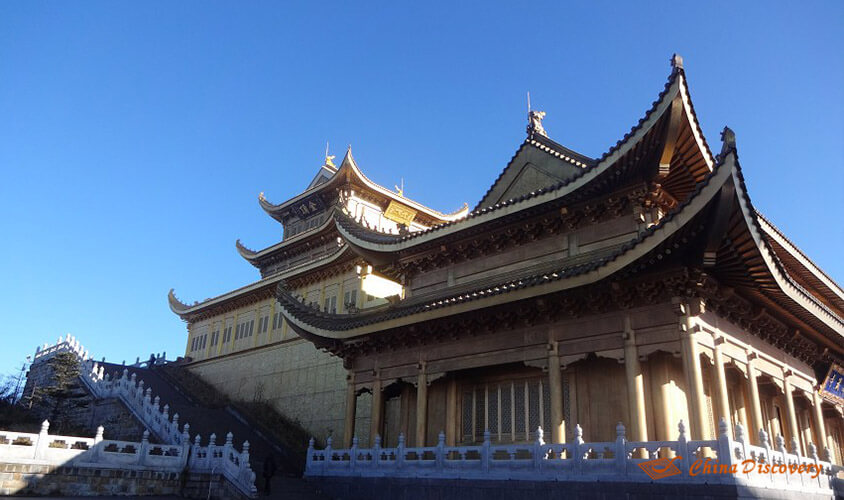 Golden Temple which is called Golden Summit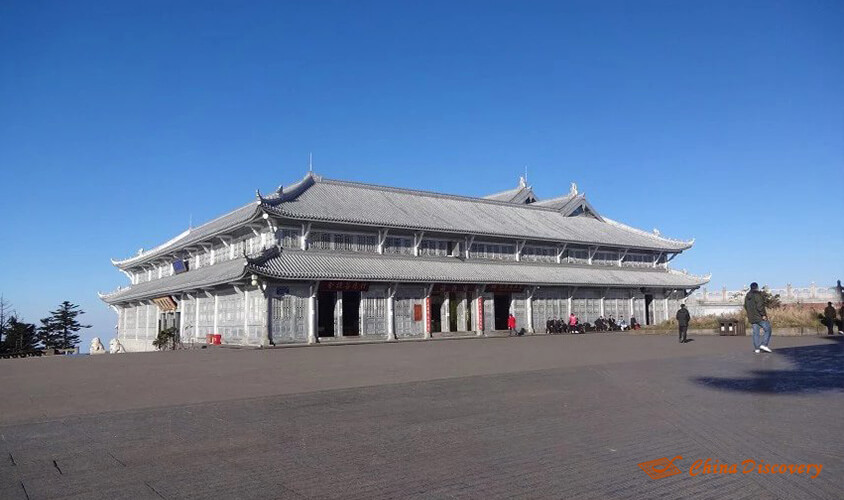 Silver Temple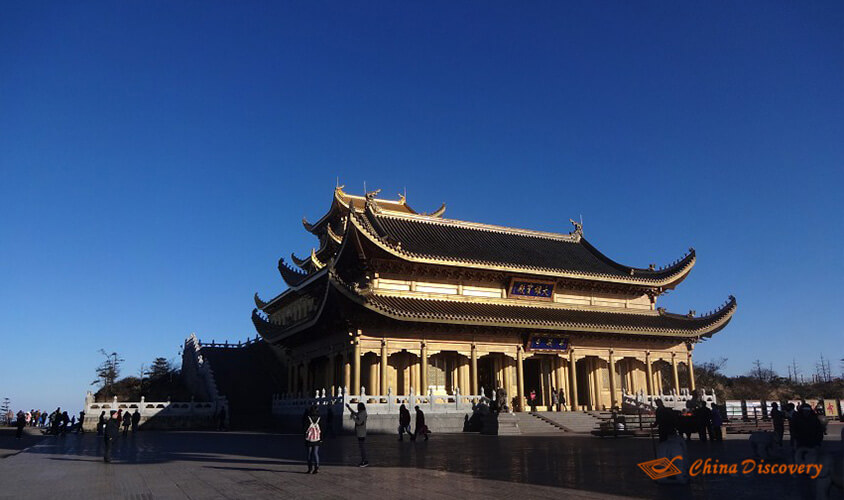 Bronze Temple
Bronze Temple, also is called Huangzang Temple which is the first temple established on Mount Emei whose history can be traced back to 1st century CE.
If you're interested in Buddhism culture, you could consider visiting these three temples if time allows or hire one local tour guide who will surely give you more explanation and knowledge about it.
Because there are only several 3-star hotels on Golden Summit, so we have decided to stay overnight in the local hostels or strictly speaking only local farmers' house in Taizi Ping. After spending some time on the golden summit, we walk down for around 30 minutes to Taizi Ping Hostel. Because it is during the shoulder season, so there are still beds available. In peak season, it could be sold out any time and it is not allowed to make the reservation in advance. The hostel's condition is very basic, no place for shower or no private toilet. Of course, it is also very cheap which will only cost around RMB60 per bed. I have to say I feel a little uncomfortable for the high altitude (around 3000KM) and also the extremely cold temperature there. I thought coldness is the most important reason I feel uncomfortable because the altitude isn't very high. If budget allows, I still recommend to stay overnight at the hotels on Golden Summit which will be much more comfortable.
Day 3 Mount Emei Hiking
Time passes slowly under this condition. Finally it's around 5 o'clock in the morning and we get up and start the hiking from Taizi Ping to Golden Summit. Before that, we have simple breakfast in the hostel which is called Poached Egg in Fermented Glutinous Rice Soup. This is one of the local foods for Sichuan People or for part of Chinese people.
After around 30 minutes hiking from Taiziping, we come back to the Golden Summit again. Now we just need to wait for the sunrise's coming!
It's almost dawn. Though the weather looks great, it's difficult to say if we could see the sunrise. If the cloud is too thick, you may not see the sun.
This is a different place to watch the Cloud Sea compare to the Cloud Sea I took yesterday afternoon time.
Finally the sun comes out!! Now it's time for me to take photos quickly from different angels because the sunrise will only last for few minutes.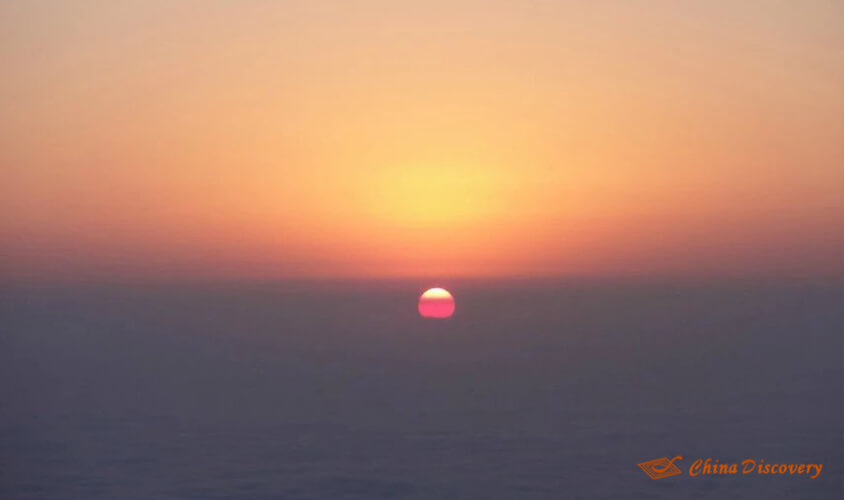 Silver Temple
Now it's time to say goodbye to the sunrise. You will also find a lot of people shooting photos in the early morning.
After that, I walk down with another 1.5 hours from Golden Summit to Leidongping. And then take the Eco-Bus to Wannian Temple Parking lot. From the Parking lot to Wannian Temple, you will pass by some stone carving about the inscription of the famous calligrapher in ancient time. Or you could also choose to take cable car to Wannian Temple from the parking lot which will only take around 10 minutes. The road from the Parking lot to the temple is easy and relatively flat which will take around 1 hour (around 2KM).
Also, this route is called Xiaoping Route. Comrade Deng Xiaoping, vice-chariman of the Control Committee of the Party, who inspected the Shuangshuijing Well, Wannian Temple and Qingyin Pavilion Scenic Area of t Mt. Emei on 5th to 9th, July, 1980. He highly commended Mt. Emei as a scenic area of culture-type and demanded us to protect it well and develop rationally for the next generations.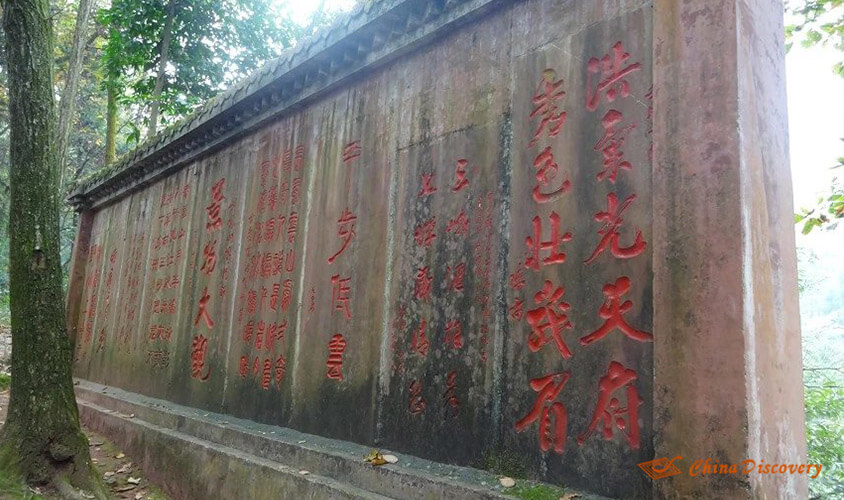 Bronze Temple
After around one hour hiking, I finally arrive at Wannian Temple. Wannian Temple, one of the oldest ancient temples in Mount Emei, Sichuan, is said to be the Buddhist temple of the old man who took medicine in the Han dynasty. To know more culture and history about this temple, it's better to hire a local tour guide.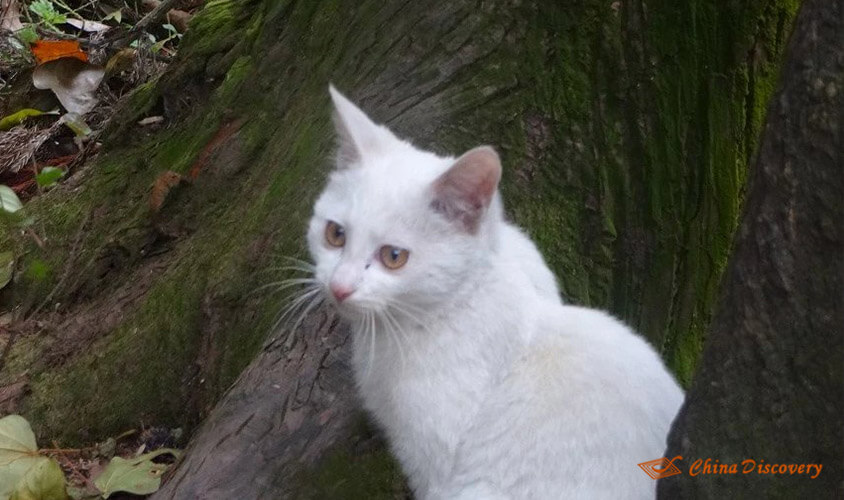 One white cat near Wannian Temple
From Wannian Temple, I plan to go to Wuxianggang Parking Lot. On the way, I have passed by White Dragon Cave, also called White Dragon Temple. Behind the temple, there were two caves on the top and bottom of the White Dragon which is said to be the place where Bai Niangzi cultivated. In the past, the word "Bailong Cave" was carved on the white rock on the right side of the temple, but now the entrance to the upper cave has been submerged, and the entrance to the lower cave has been closed naturally too. I haven't gone inside. Instead, take one picture from the outside.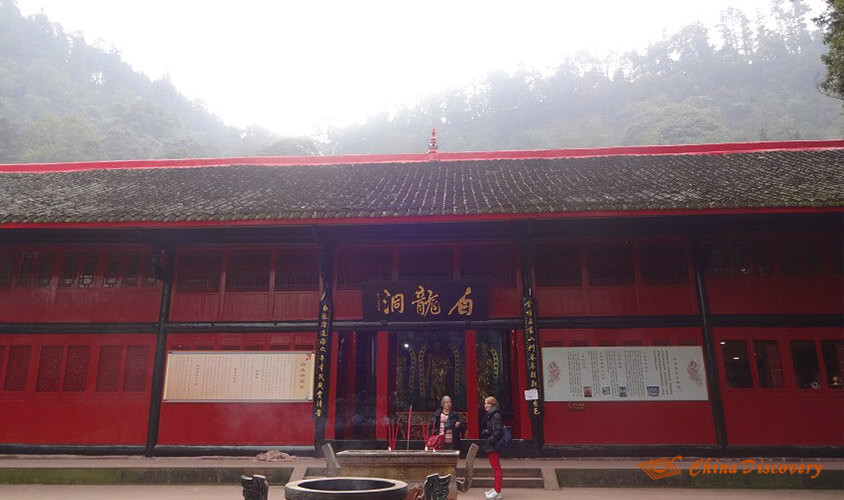 White Dragon Cave
Keep on moving, you will see Qingyin Pavilion which is also one temple. As you could see, there are many steps if you want to visit it. So I didn't go there also because I have visited too many temples before. For someone who is interested in Buddhism culture, it is still worth visiting.
After passing the rivers, suspension bridge, pavilion, etc and I don't remember how long it takes. I finally arrive at Wuxianggang Parking Lot.
From Parking Lot, I have taken the Eco-bus to Baoguo Temple Tourist Center. By the way, I would like to mention there is also an Ecological Monkey Zone, not far from Qingyin Pavilion. Because I have seen the monkeys near Leidong Ping, so didn't go there again.
After the foot of Mt. Emei, I have visited some Buddha statues.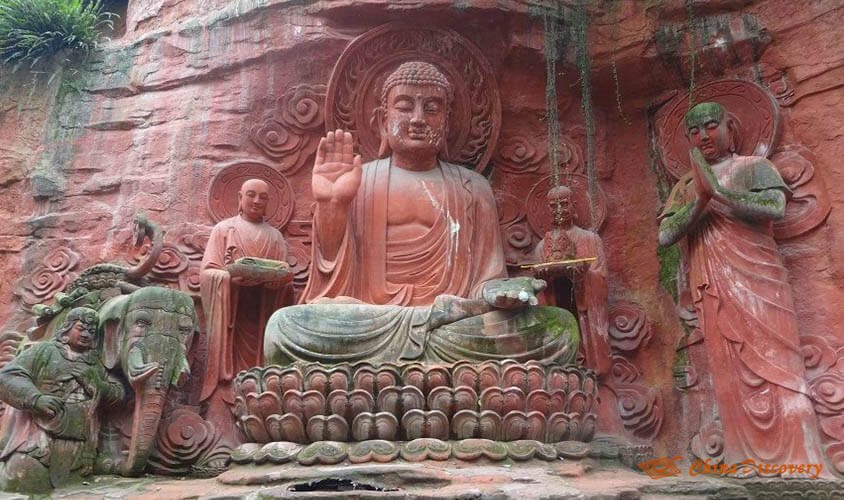 Buddha Statues
The environment around is also very good with green trees and water falls.
And then take a walk to Baoguo Temple.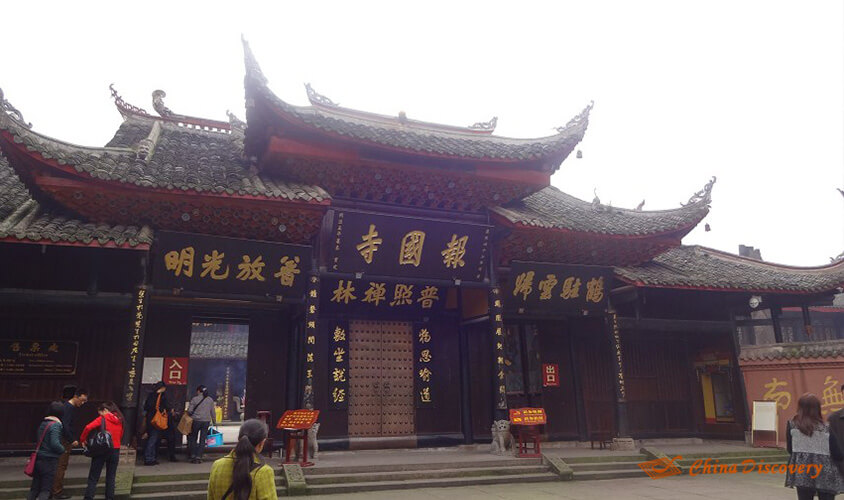 Sunrise from the Cloud Sea
If you're interested in more temples, you could also consider Fuhu Temple(伏虎寺)which isn't far from Baoguo Temple.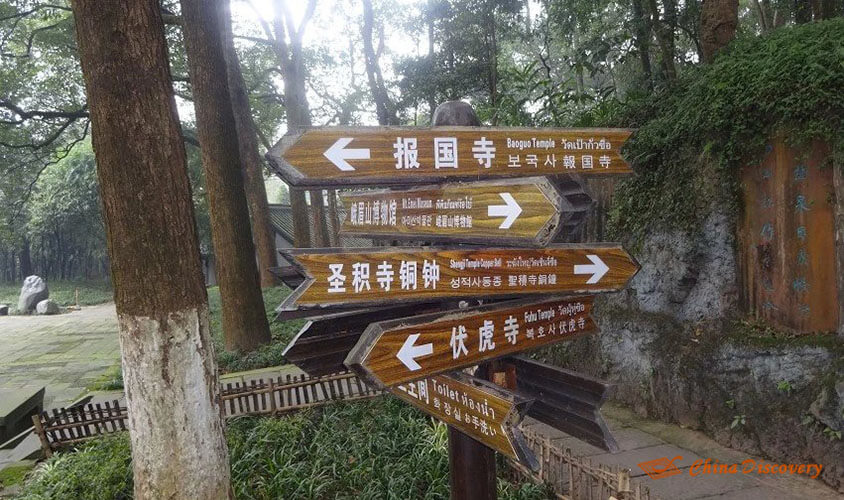 Signs
There is also a place called THE WORLD CULTURAL & NATURAL HERITAGE where you could know some history about Mt. Emei.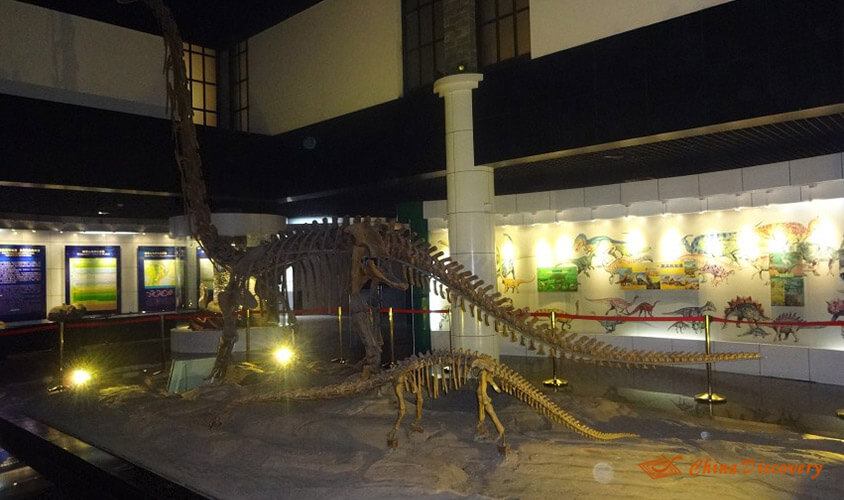 Dinosaur Specimen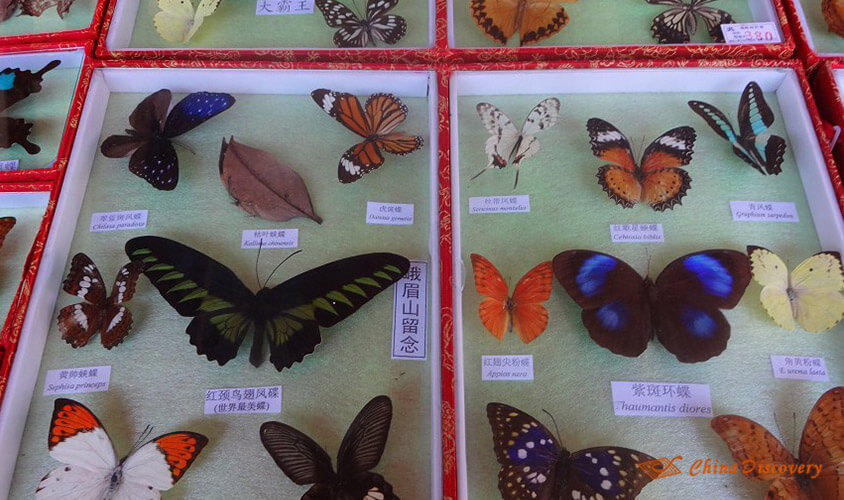 Butterfly Specimen
I also tried some local food like Mixed Fried Vegetables with Potatoes and Tofu Jelly.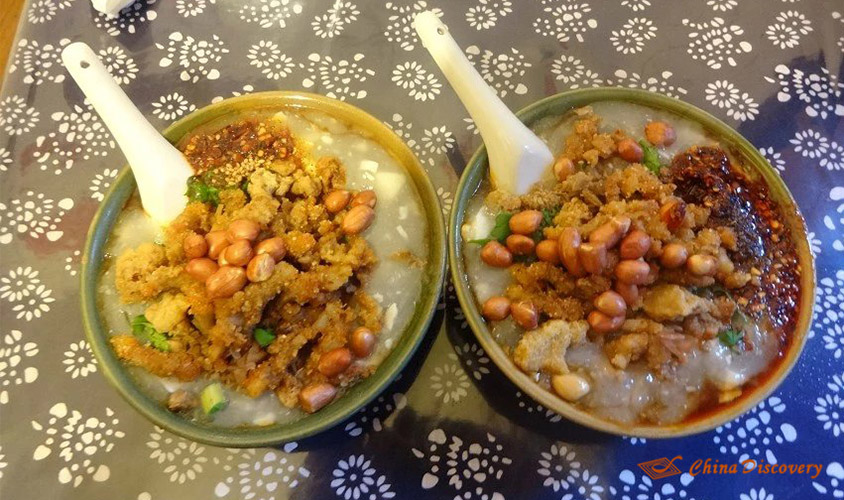 Butterfly Specimen
To know more local snacks and food about Leshan and Mt.Emei, you could also check Leshan Food.
This 3 days' Mt. Emei Hiking Trip finally finished and I have taken the train back to Chengdu the same day.
Travel with Me
Hi, I'm Wonder. Are you interested in my 3 Days Amazing Mt. Emei Hiking Tour from Chengdu? Feel free to contact me, and I will be glad to tell you more stunning stories about the places I have visited. Or, if you want to customize a tour on your own, I'm always ready to help at any time. With my passion, knowledge and understanding of the essence of travel, I promise I will try my best to make the tour memorable and meaningful for you.
Wonder

Travel Consultant
Recommended Tours
Top 3 tours chosen by most customers to explore in the best way. Check the detailed itinerary, or tailor your own trip now with us.
2 Days Mount Emei Leshan Giant Buddha Smart Tour

Chengdu / Mount Emei / Leshan Giant Buddha / Chengdu
7 Days Sichuan Discovery Tour

Chengdu / Leshan / Emei / Chengdu / Jiuzhaigou
Have a question? Get answers from our travel experts or guests
Your Question:

Your Name:

Your Email: