3 Days Pleasant Guilin & Yangshuo Trip with Family from Chengdu
Departure Date

2019-11-22

Travel Length

3 Days

Travel Theme

Nature, Cruise, Family, Food

Group Size

5

Travel Route

Chengdu - Guilin - Yangshuo - Chengdu

Highlights

Reed Flute Cave, Elephant Trunk Hill, Guilin Rice Noodle, Li River Cruise, Ten-mile Gallery, Big Banyan Tree, Yulong River, Moon Hill, Impression Liusanjie, West Street, Xingping Ancient Town

Story Tags

#Guilin#Yangshuo#Chengdu#Reed Flute Cave#Elephant Trunk Hill #Li River#Ten-mile Gallery#Yulong River#Moon Hill#Xingping Ancient Town
Because of the limited vacation time, we only have 3 days for this trip including the arrival and departure date. But as a professional travel consultant, it's a piece of cake to prepare one wonderful trip for my family within this limited time.
On Day 1, we have taken 7 hours high speed train from Chengdu to Guilin. To catch the earliest train, we have to take the earliest subway too. My 5 month daughter must be wondering "where I am and why I need to get up so early this morning!" For her, this is the first travel!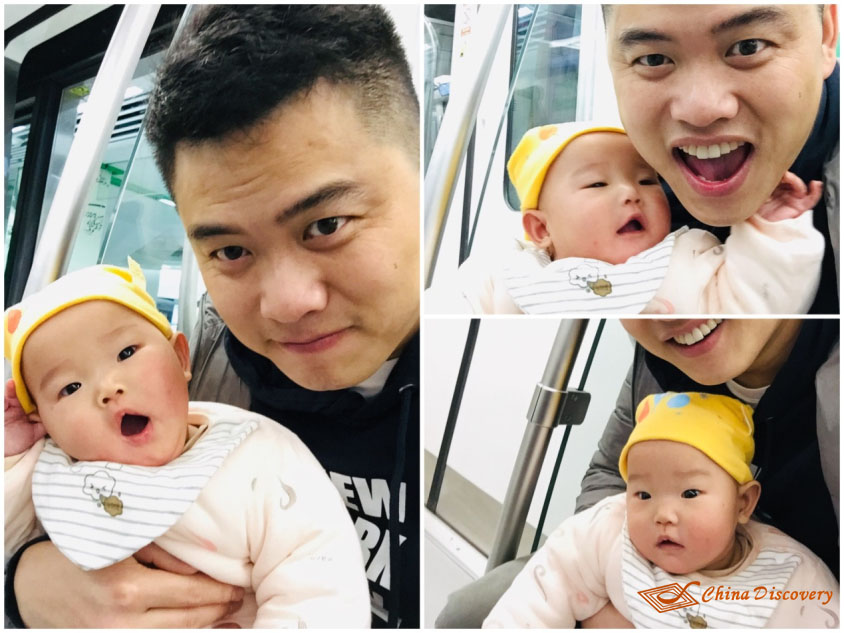 Selfie with My Baby Girl on the Earliest Subway in Chengdu
About the high speed train between Chengdu and Guilin, now there are only D high speed trains available between Chengdu and Guilin. We have taken 2nd class seat which is kind of crowded even for bigger person like me. Here below are the photos I taken in the 2nd class and 1st class carriages with the information on our website as your reference.
A second class carriage has five seats (each one is about 45cm in width) in a row - two at one side and three at the other side of the aisle, like the layout on some airplanes. Although those seats have low prices, passengers can still enjoy roomy leg space and feel much more comfortable than on the plane. The seat is adjustable backwards to 5-24 degrees, and the arms between two seats can be folded up. On the back of every seat are a tray table, a hook and a bag, cleaning bag and magazine, etc. Also, there is one socket under your or the front seat in a row for your charging up your mobile phones and other devices.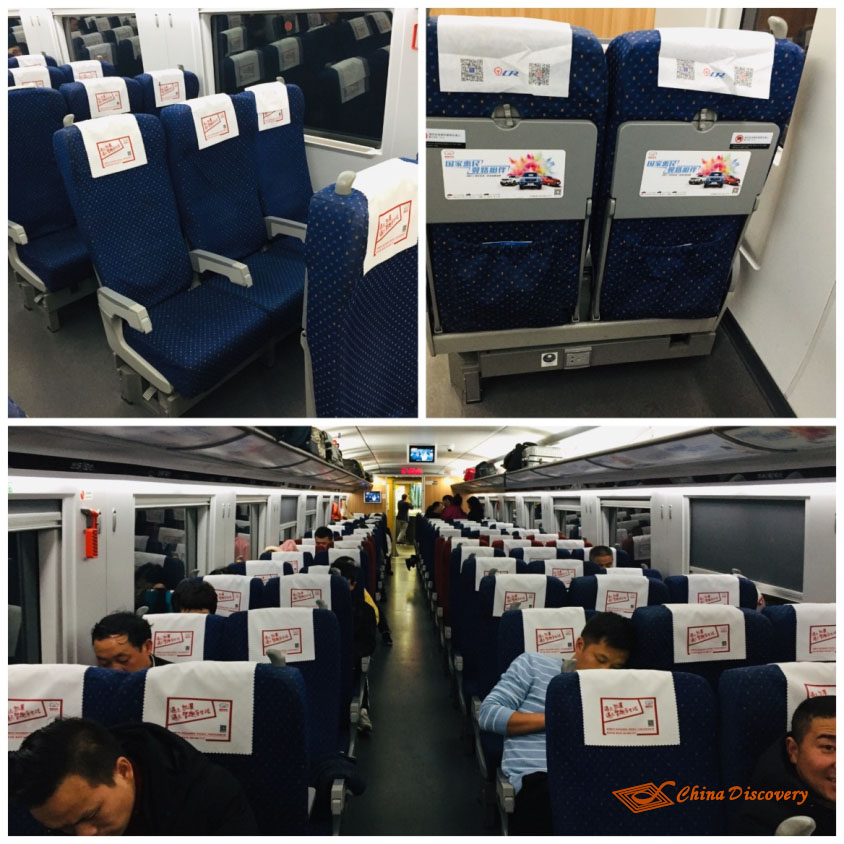 Second Class Seat of China High Speed Train
The first class seat is about 48cm wide and more personal space for your arms and legs. In the First Class Carriage, there are four seats in a row - two on both sides. The seat can be adjusted backwards better to a comfortable angle for your rest, within 5-32 degrees. The tray table is much wider than that for the Second Class Seats, which is in the arm of each seat, and you can pull out and unfold it for some reading, dining or placing your belongings.
Besides the facilities and items for Second Class Seats, First Class Seats additionally offer a pillow on your seat for a better sitting trip, more electrical outlets installation on both sides of every row, adjustable footrest to relax your feet, electric socket for earplugs or earphones for music, etc. As the First Class Seat Carriage is designed with lesser capacity and more space for passengers, you can enjoy a quieter and more comfortable environment easily through the high speed train riding.
First Class Seat of China High Speed Train
During the 7 hours' high speed train journey, the train will go through many caves and I believe you will marvel at China's high-speed rail technology. Also you will watch various natural sceneries during this train journey. To make your train journey less boring, you could take a book or download some movies or videos to watch the way. For me, I am always busy with my 5 month baby girl.
Upon arrival in Guilin North Station, we take one taxi to Reed Flute Cave (around 20 minutes), a majestic underground palace with sparkling different colors. The magical Mother Nature condenses millions years of natural efforts to form the incredible stalactite, stalagmite, stone shield and stone waterfall of different sizes and shapes. I have been to 2 caves before in the past and one is the famous Jiuxiang Cave in Kunming, Yunan. This time, I have to say "Wow, it's so magnificent and exquisite!!" Though the one in Kunming is larger and longer, my family and I still very impressed by this 500m long cave.
Your guide will explain the strange shape of the cave in vivid words. Here below are the some photos as your reference. Please forgive my bad photography skills.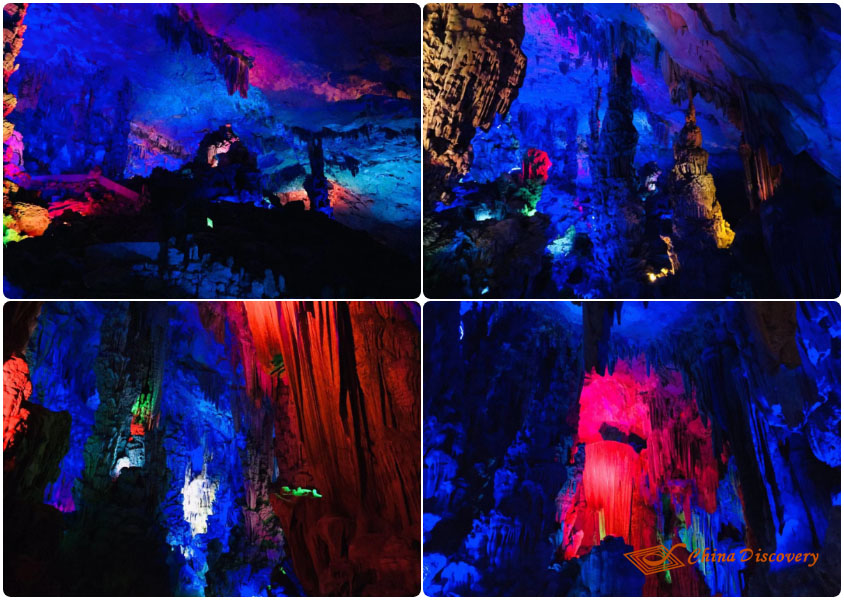 Reed Flute Cave
When you get to center of the cave, there will be two clips of image on the cave and one is about the ballet and another is about the geological history.
Here below is the photo of ballet as your reference. The picture is very beautiful.
Walking out the cave and the sunshine make you feel very warm and you will found many trees parasitic by ferns.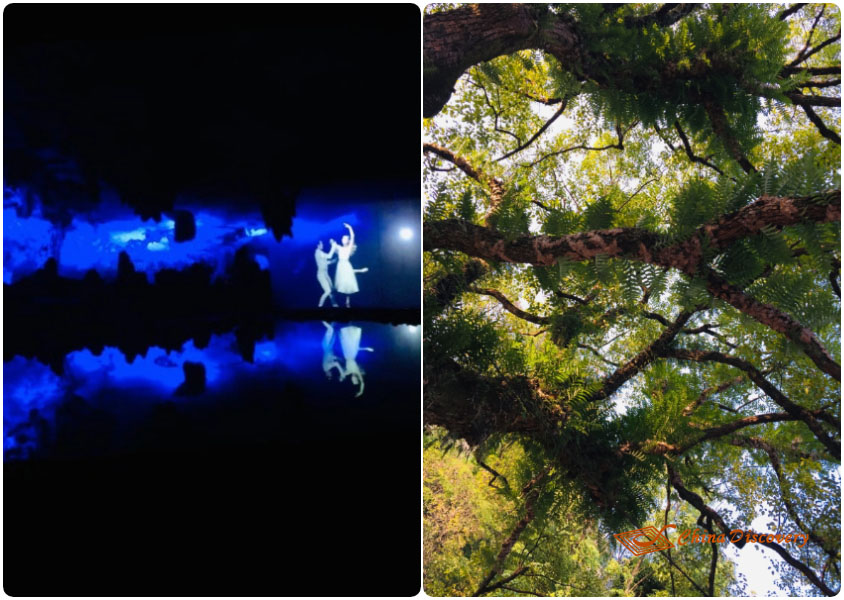 Inside and Outside the Reed Flute Cave
Continue taking taxi to the Elephant Trunk Hill. A giant rock hill vividly shapes like an elephant which is drinking water. Besides, there are many historical sites here for you to explore, such as stone carving, Buddhist temple, relic exhibition, etc. For me, this place is just fine. Because of the limited time, we didn't go inside and you could also see it from the outside.
After that, we have taken a short rest in our hotel near the Elephant Trunk Hill. Now it's time for searching for the food.
We have walked to Zhengyang Street which is a popular shopping street for local people and also for tourist. There we have tried to like Guilin Rice Noodle.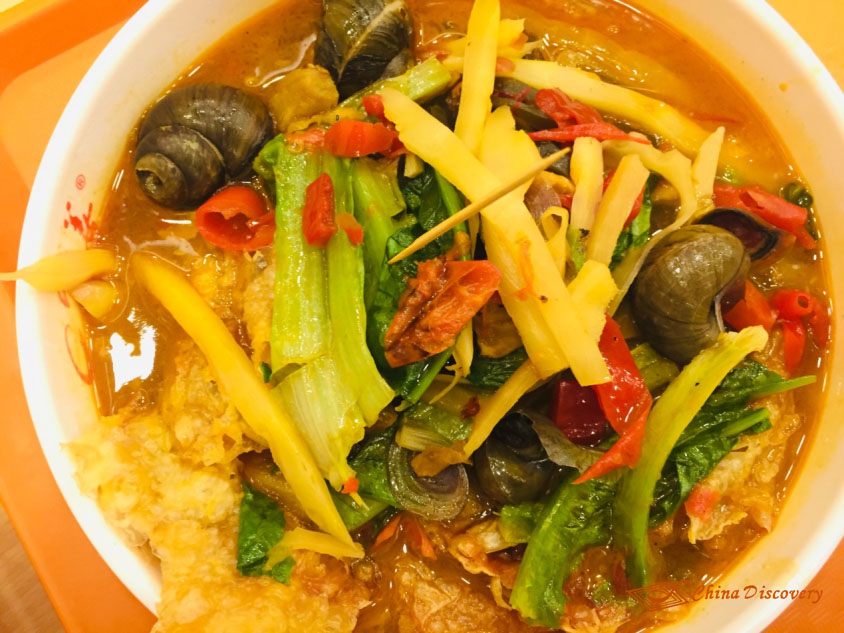 Guilin Rice Noodle
Compare to Zhengyang Street, I like the East and West Street more. Here you could see many antique buildings and various snacks. Also you could see many colorful and different shapes of lanterns.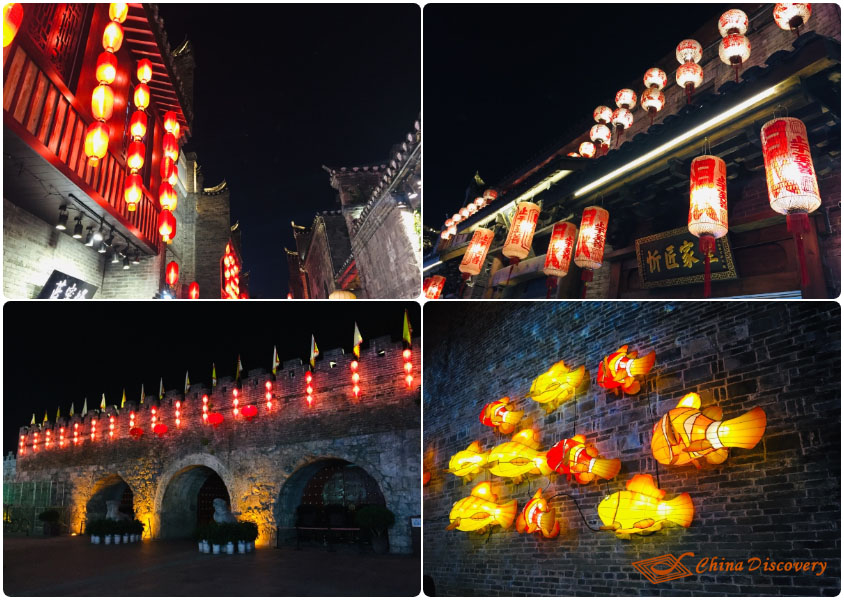 Zhengyang Street at Night
After a good rest, now we're ready for the most beautiful part of this trip. Take taxi (around 1 hour) from the hotel to Mopanshan Port where we board the Li River Cruise.
The cruise will take around 4 hours from Guilin to Yangshuo. This is also the most enjoyable time during the whole trip to Guilin.
In my side, I have divided this trip to three parts.
The first part is the beginning of sailing. With the clean water, blue sky and green mountains, you will immerse yourself into this cruise. At the beginning, there aren't many karst mountains, but you could see some shoals and shrubs.

Picturesque Landscape Along Li River
The second part is the foreshadowing of the most beautiful part of Li River. Now you will see many karst mountains.

Beautiful Karst Mountains
The third part is the most beautiful part and also you could see the scenery printed CNY 20 cash.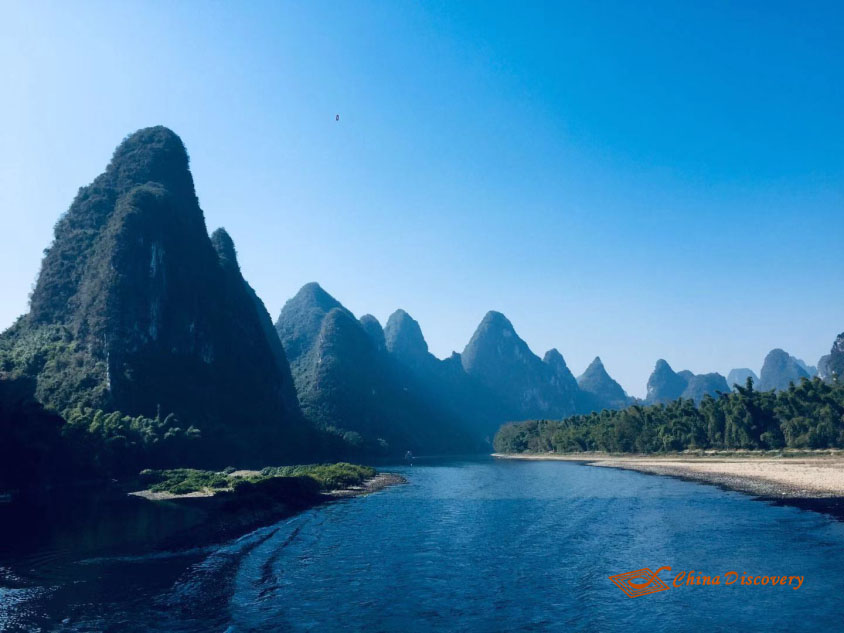 The Scenery Printed on CNY 20 Cash
Now it's time to say good bye to the Li River Cruise. Before that, the cruise will provide one lunch box with simple Chinese food.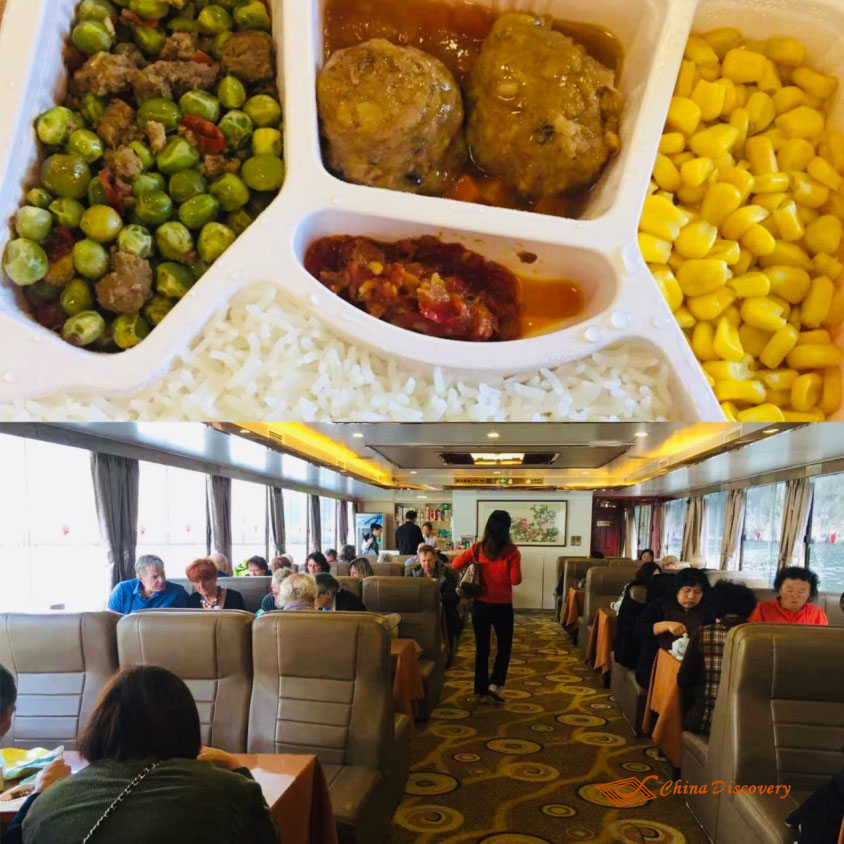 Lunch on the Cruise Ship
After get off the ship, it will take around 20 minutes by walking from the port to the place to take the eco-bus to Fengming Tourists Service Center (around 15 minutes) where you need to change the sightseeing bus to get to Ten-mile Gallery.
In Ten-mile Gallery, we have visited the Big Banyan Tree.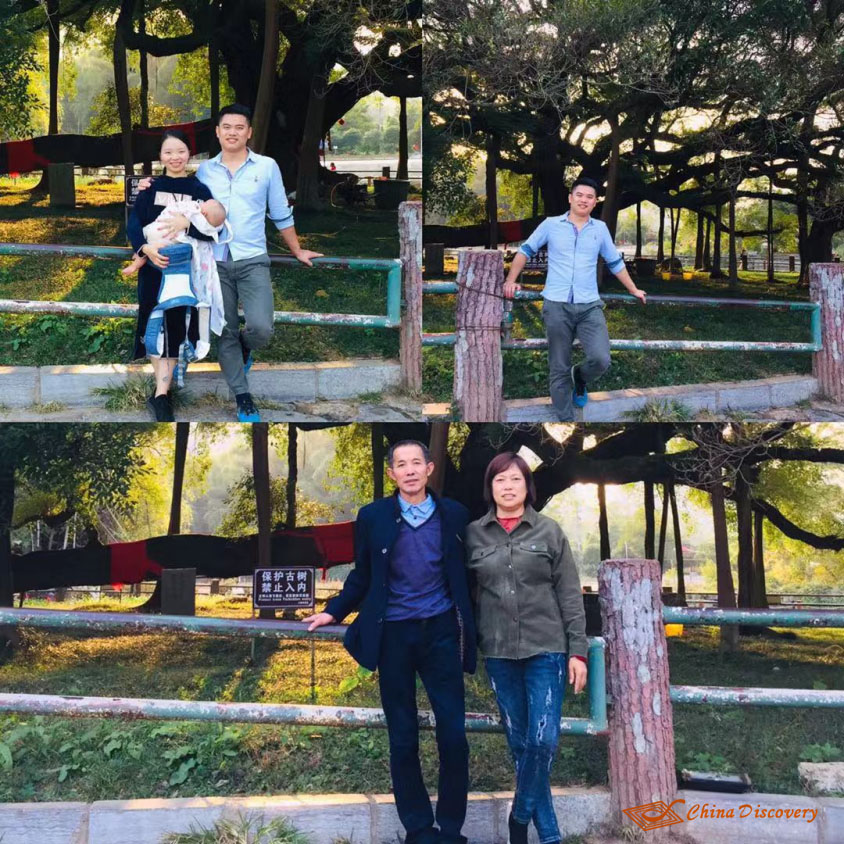 Family Photos with Big Banyan Tree
After that, you could take the sightseeing bus to Moon Hill. Because the time we get to the Ten-mile Gallery is a little late. We didn't climb the hill and only take a photo from afar.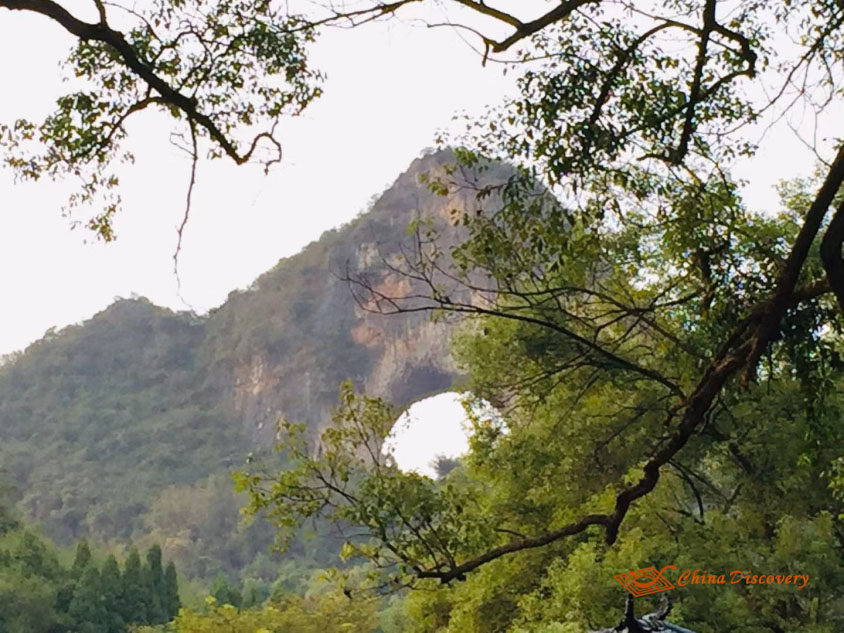 Moon Hill
After that, we have taken some photos at Gongnong Bridge where you could see some bamboo rafts on Yulong River. Yulong River is indeed very beautiful and if time allows, you could choose to stay overnight there for one night and I believe you will like Yangshuo more. If time enough, you could take the Bamboo Rafts and also other exciting activities in this area.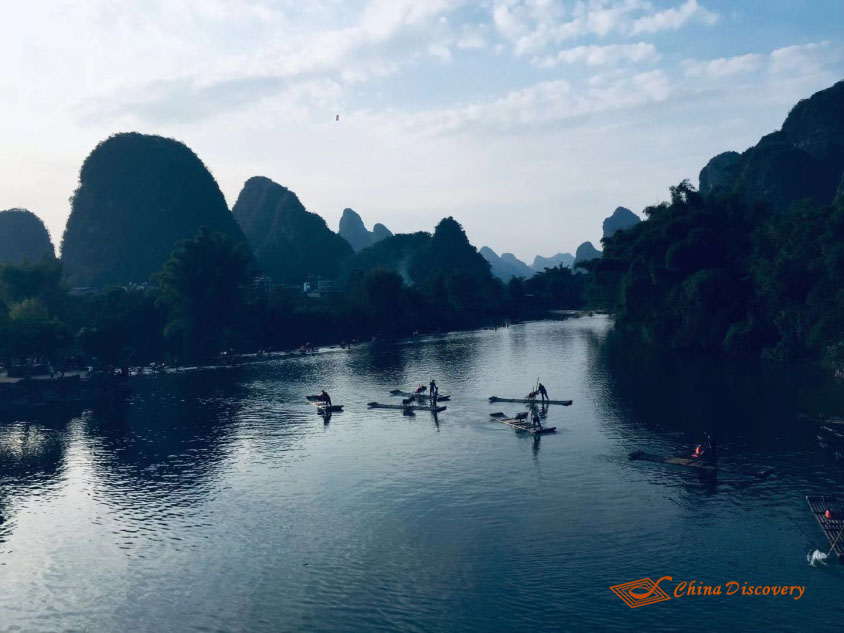 Bamboo Rafts on Yulong River
After a quite tight schedule today, we have enjoyed a local special which is called Beer Fish and other food near our hotel.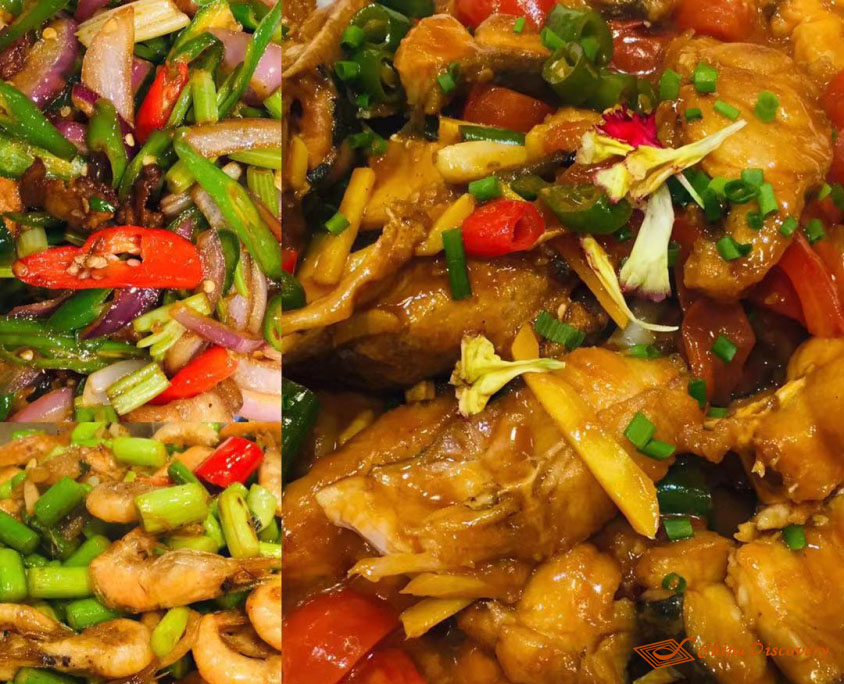 Local Cuisine - Beer Fish
After that, we take one taxi to watch the famous Impression Liusanjie Show directed by famous director - Zhang Yimou. If you're interested in night show, this is surely worth seeing. The performance combines of classic folk songs, national customs, Lijiang fishing and fire.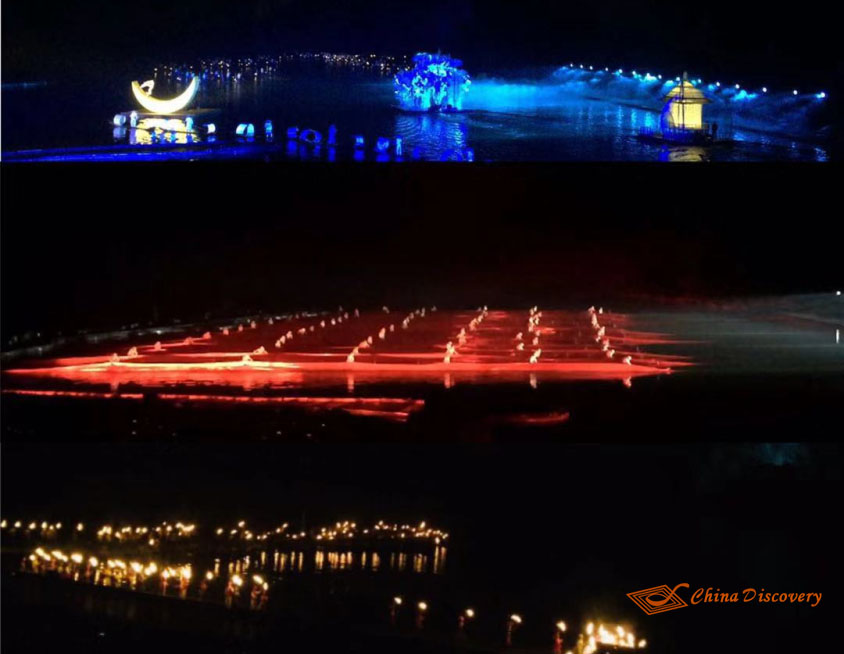 Impression Liusanjie
After that, we take taxi to West Street and it is so crowded. If you would like to try some local snacks or buy some local stuff, you could go there. If you prefer quiet environment, it's better to stay in the hotel. After some walking time in the west street, we walk to our hotel near the West Street.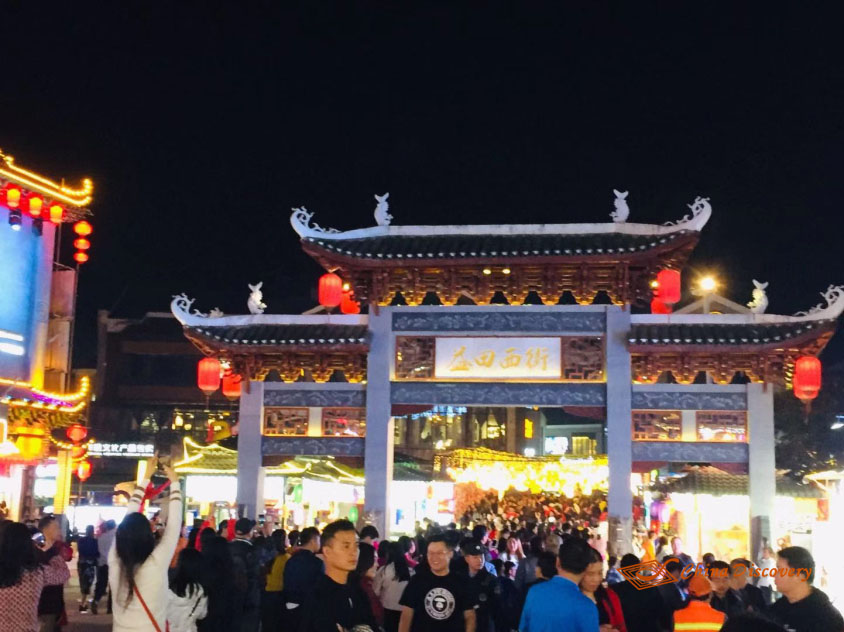 West Street
On the third day, we have taken one taxi to Xingping Ancient Town. I have to admit this town is more commercial than I thought. If you have been to many ancient towns in China, this town isn't very recommended. But taking a photo with cormorant is interesting.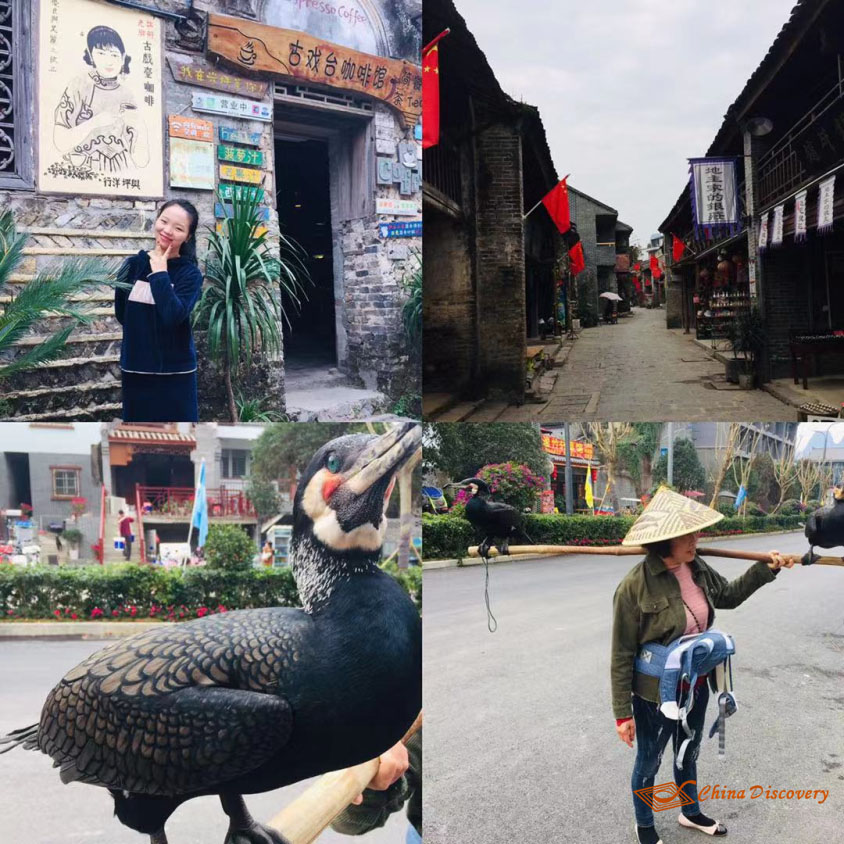 Xingping Ancient Town
After around 1 hour short time in Xingping Ancient Town, we have taken one taxi to Yangshuo Station (only around 20 minutes) to take the high speed train back to Chengdu.
If you're interested in Guilin & Yangshuo trip, please feel free to contact Wonder to know more information.
Travel with Me
Hi, I'm Wonder. Are you interested in my 3 Days Beautiful Guilin Exploring Tour? Feel free to contact me, and I will be glad to tell you more stunning stories about the places I have visited. Or, if you want to customize a tour on your own, I'm always ready to help at any time. With my passion, knowledge and understanding of the essence of travel, I promise I will try my best to make the tour memorable and meaningful for you.
Wonder

Travel Consultant
Recommended Tours
Top 3 tours chosen by most customers to explore in the best way. Check the detailed itinerary, or tailor your own trip now with us.
4 Days Guilin Highlights Tour (Li River, Yangshuo & Longji Terraces)

Guilin / Yangshuo / Longsheng
3 Days Classic Guilin Tour - Guilin Brief Vacation

Guilin / Yangshuo
5 Days Best Guilin In-depth Vacation (Li River, Yangshuo & Longji Terraces)

Guilin / Longsheng / Guilin / Yangshuo
Have a question? Get answers from our travel experts or guests
Your Question:

Your Name:

Your Email: