Wonder's 1 Day Mount Qingcheng Hiking Tour (Back Mountain)
Departure Date

2016-5-15

Travel Length

1 Days

Travel Theme

Nature, Hiking, Family

Group Size

2

Travel Route

Chengdu - Mount Qingcheng - Chengdu

Highlights

Back Mountain of Mount Qingcheng

Story Tags

#Qingchengshan#Qingcheng Mountain #Back Mountain of Mount Qingcheng#Mount Qingcheng#Mount Qingcheng HikingMount Qingcheng Trekking
My Second visit to the Back Mountain of Mount Qingcheng since 2016.
After 2 month's effort of the government and everyone in China, the COVID-19 situation is finally stable at the end of March in most cities of China, including Chengdu where we live and work. Many tourist sites are also open to tourists one by one.
So we have decided to take a short hiking trip to Back Mountain of Mount Qingcheng. I have been there with my wife in May of 2016 when really impress me.
Day 1 Drive to Mount Qingcheng from Chengdu & Mount Qingcheng Hiking
Before you start your trip, you need to make the reservation in advance and they have the following special requests:
First, only 2000 people are allowed to visit per day;
Second, tourists need to make reservation online in advance, otherwise, you're not allowed to go inside;
Third, tourists need to apply for a health code in advance; Also, to enter the scenic area, you must wear a mask, take a temperature measurement, and present a "health code" (or related health certificate). If abnormal body temperature or other emergencies are found, they must cooperate with the inspection at the temporary isolation point.
Fourth, Decentralized tours are implemented with no more than 30 people entering the park at a time.
After everything is ready, 5 of us drive for around 1.5 hours from Chengdu downtown to Back Mountain of Mt. Qingcheng.
On the way, we have visited the Peach Blossoming in Huatianrenjian Scenic Area. Due to the COVID-19, only few people are there. If you come one week earlier, it will be more beautiful. Now many flowers are turning withered. But it is still beautiful and worth visiting.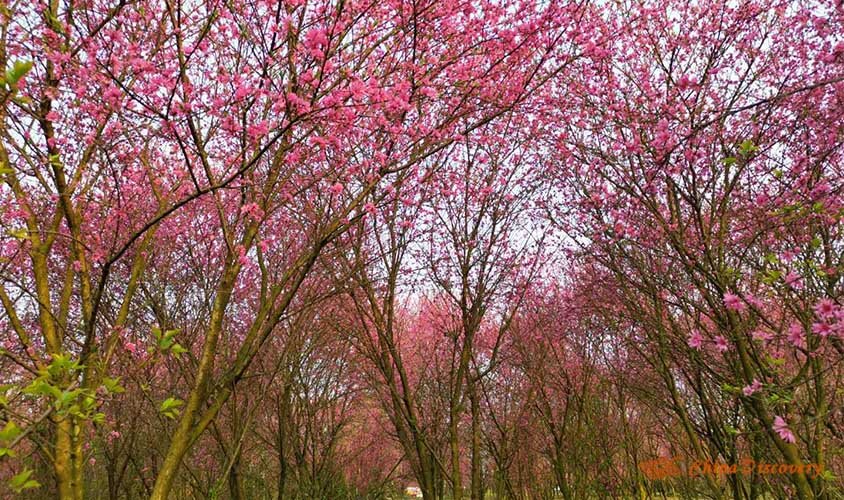 Peach Blossoming in Huatianrenjian Scenic Area
After that, keep driving for around 1 hour and arrive the Parking lot of Mt. Qingcheng. Photos took in May, 2016.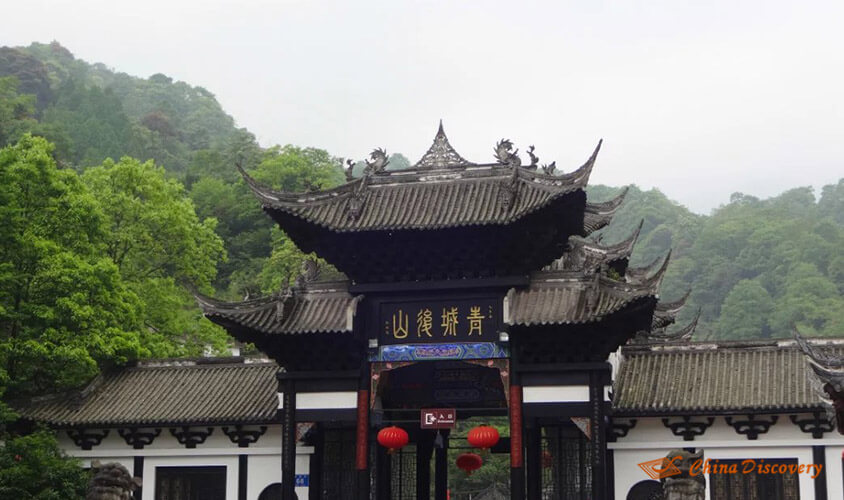 Entrance Gate of Mount Qingcheng (Back Mountain)
It is sunny today and it is very warm, or even a little hot when you start to climb the mountain. From the parking lot to the place where you start to climb the mountain, you will pass by many Magnolia tree. It is now the best time to enjoy the blossom.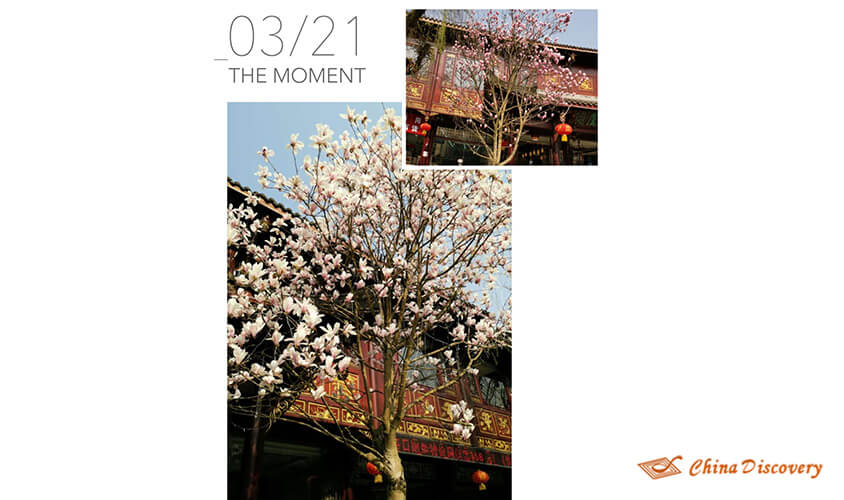 Flowers
It will take around 30 minutes or so from the Parking lot to the place where you start to hike. When you go inside, you will feel it is much cooler.
On the way, you will pass by Taian Ancient Town where you could taste some local snacks or buy some souvenirs. For us, we have been to too many ancients towns in China and to be frank they're quite similar. So we didn't spend time there this time.
I would like to share some photos about the local food in 2016. We especially like the Qingchegn Bacon and Toufu.
Qingcheng Bacon is made of pork and this is one of the favorite foods for Sichuan people.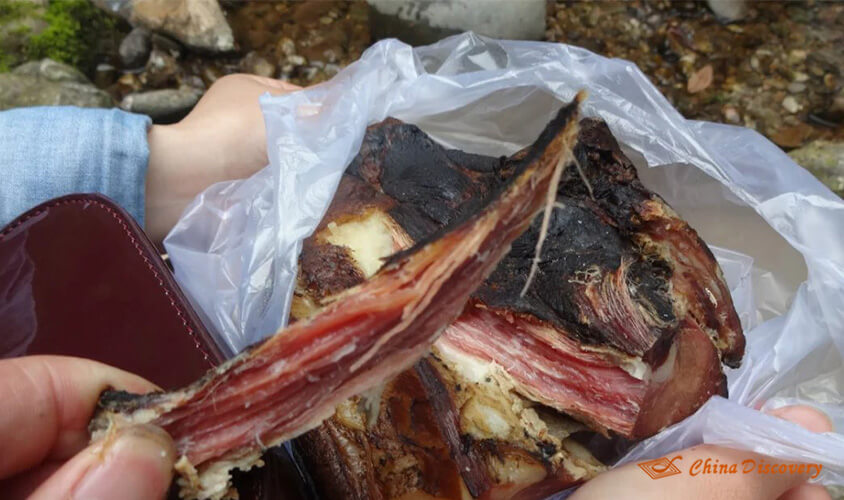 Qingcheng Bacon
Here below is the picture Tofu Nao. In Chinese, it is 豆腐脑 which is made of Tofu and also some chili, pea, shallot, etc.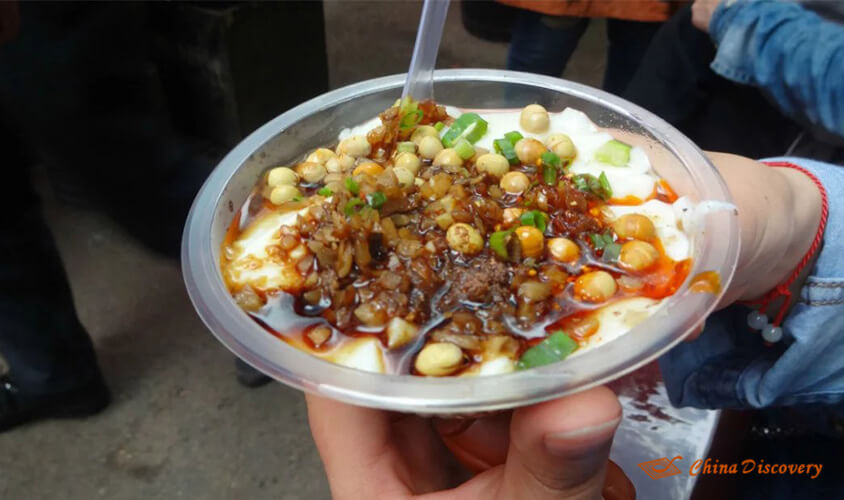 Tofu Nao
The hiking total takes around 3 hours from the foot to Youyi Village. On the way, you will visit the wild flowers, green trees, clean waters and also enjoy the soft and warm sunshine. You don't need to be hurry, but could walk slowly to take some photos. It is quite enjoyable!
Here below are some of the wild flowers I took. If you know me, you will know I am a person who has deep affection for plants and animals.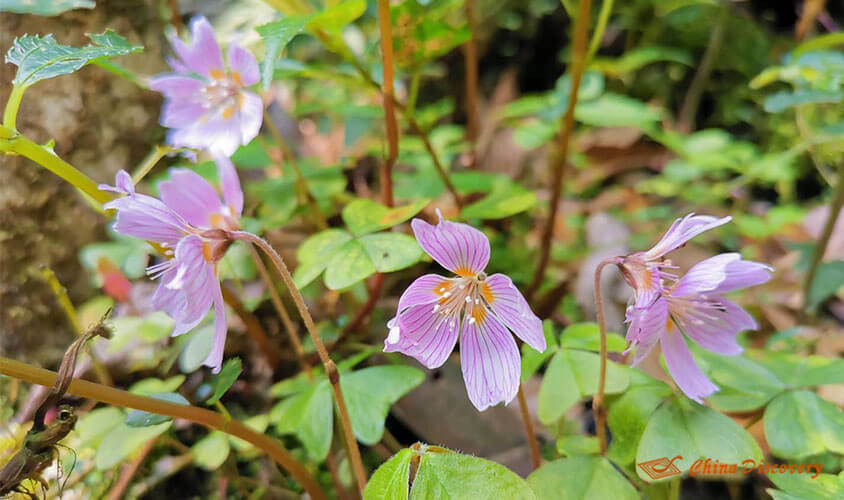 Flowers Captured on the Way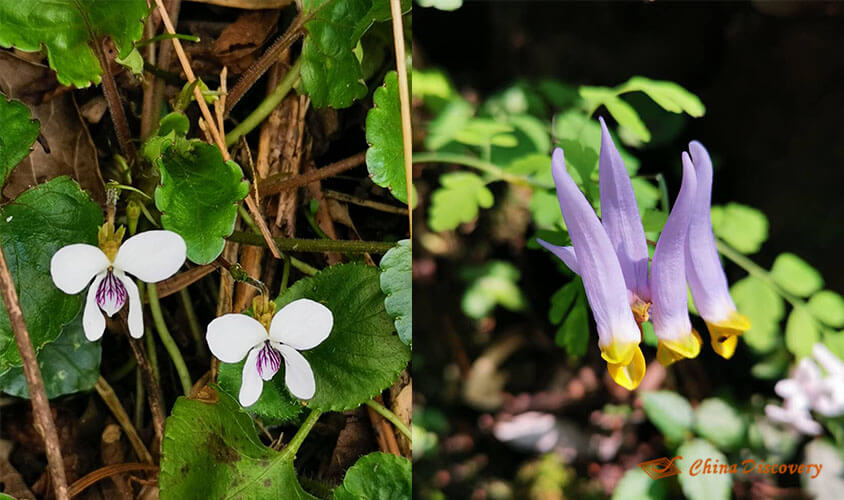 Flowers like Butterflies & Little Birds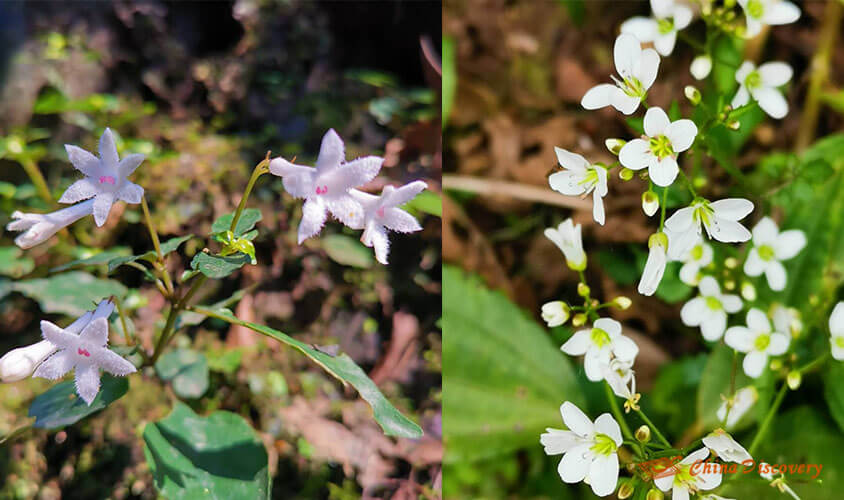 A Bunch of Small White Flowers
Also you will pass by some small waterfalls which will bring you a cool feeling. Here below are some photos I took in May, 2016 and also March, 2020. You will find the view in May is indeed a better compare to March. So if time allows, you could go there in April or May or summer time should also be a good time.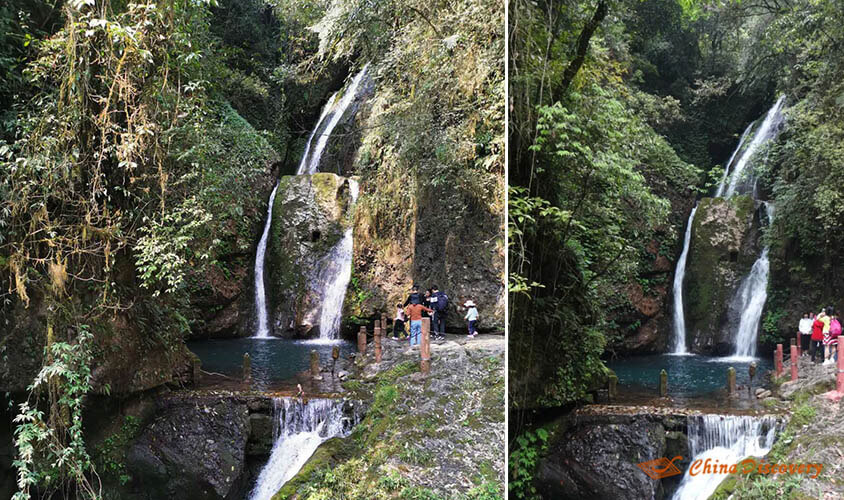 Photo took in March, 2020(Left) and May, 2016(Right)
With the sunshine, water and plants, you could feel the fresh air inside the mountain.
There are also different kinds of roads on the mountain which is good place to take photos.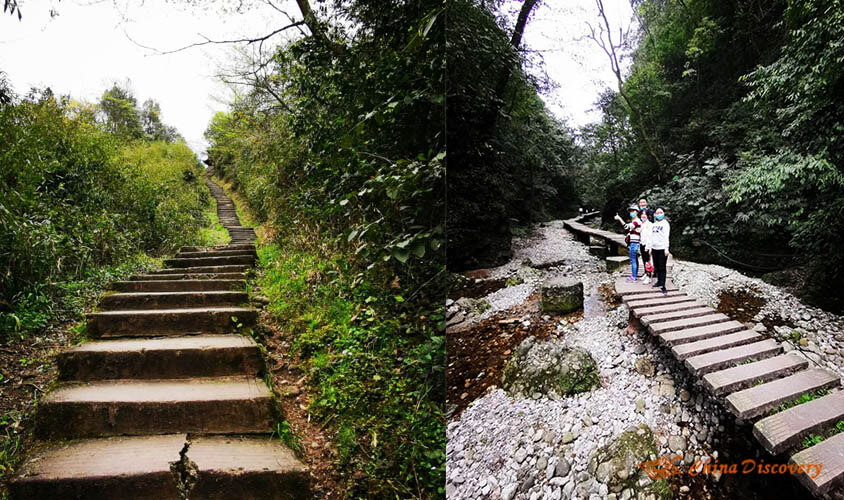 Mount Qingcheng Hiking
On the mountain, there are some trees also blossom, like wide cherry trees and some tress I don't know.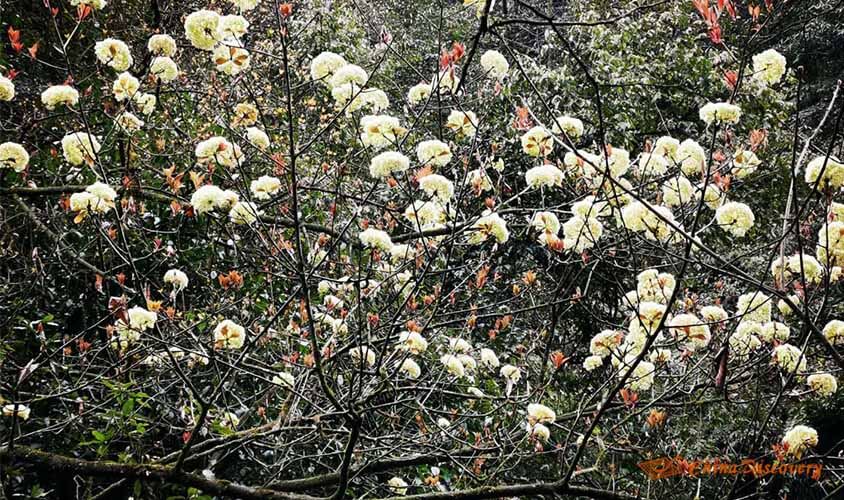 Flowers Captured on the Way
After a long time walking, take a sit by the rock and have some snacks, fruits which are really enjoyable.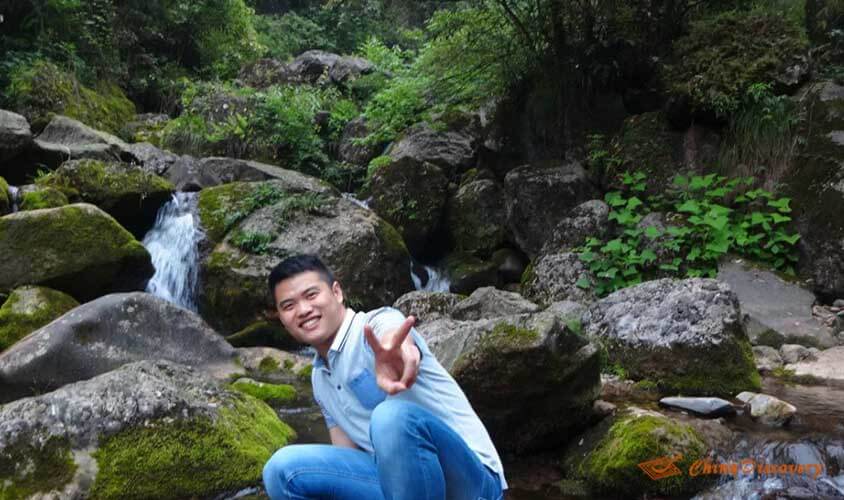 Take a Break
After 3 hours' hiking, finally you get to half of the Mountain which is called Youyicun Village. There, you could choose to take cable cars up to Baiyun Temple and get a better view. Or you could choose to walk from another way to get down the mountain. We choose the second option.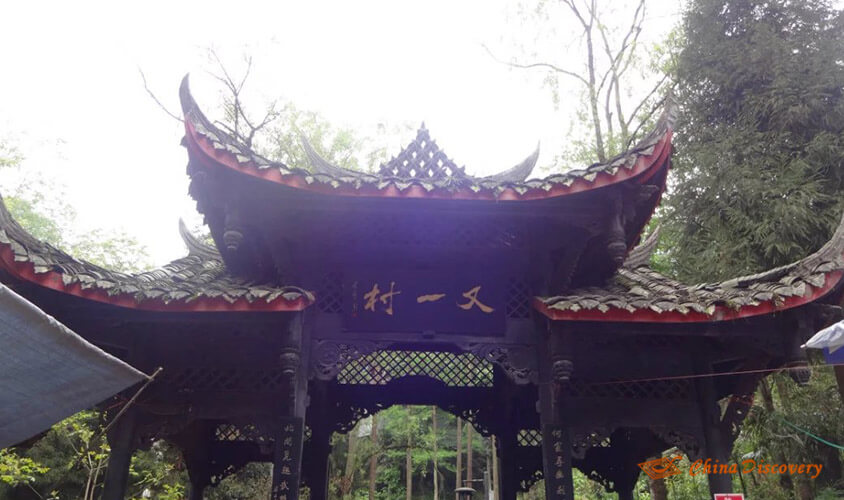 Youyicun Village
From Youyicun, it will take around 2 hours to get down the mountain by walking. You could also choose to take cable cars down. The cable car station is around 30 minutes by walking from Youyicun. We choose to walk down by ourselves which isn't difficult for us. But I do feel it is harmful for your knees when you walk down the mountain for a long time. So I still recommend you to take cable cars if you want a better experience. The sightseeing along the way down the mountain is very similar to the one when we climb up to the mountain.
After get down the mountain, we walk to the parking lot and drive back home. All in all, it is still a very great experience after a long time staying at home during the COVID-19 period.
If you're interested in a relaxing hiking trip, Back Mountain of Mt. Qingcheng will be surely a great place you could consider. If you're interested in culture and natural tour, I recommend Front Mountain of Mt. Qingcheng more. No matter which one you prefer, whenever you plan to a trip around Sichuan, please never hesitate to contact Wonder at China Discovery!
Travel with Me
Hi, I'm Wonder. Are you interested in my 1 Day Mount Qingcheng (Back Mountain) Hiking Tour? Feel free to contact me, and I will be glad to tell you more stunning stories about the places I have visited. Or, if you want to customize a tour on your own, I'm always ready to help at any time. With my passion, knowledge and understanding of the essence of travel, I promise I will try my best to make the tour memorable and meaningful for you.
Wonder

Travel Consultant
Recommended Tours
Top 3 tours chosen by most customers to explore in the best way. Check the detailed itinerary, or tailor your own trip now with us.
9 Days East China & Mt. Huang Tour by High Speed Train

Shanghai / Suzhou / Hangzhou / Mt.Huang
7 Days Shanghai Hangzhou Mt. Huangshan Tour Package

Shanghai / Hangzhou / Huangshan
6 Days Shanghai Yellow Mountain Tour with Water Town Visit

Shanghai / Huangshan
Have a question? Get answers from our travel experts or guests
Your Question:

Your Name:

Your Email: