Travel with Wing: 5 Days Natural Cultural & Historical Yangtze River Cruise on Victoria Jenna
Departure Date

2019-11-28

Travel Length

5 Days

Travel Theme

Nature, Cruise, Culture

Group Size

1

Travel Route

Chengdu - Yichang - Chongqing - Chengdu

Highlights

Yangtze River Cruise, Jade Emperor Scenic Spot, White Emperor City, Qutang Gorge, Goddess Stream, Wu Gorge, Three Gorges Dam

Story Tags

#Yangtze River Cruise#Chongqing#Yichang#Three Gorges Dam#White Emperor City#Goddess Stream
Day 1, Chengdu to Yichang
First I take a high-speed train from Chengdu to Yichang, it's not a short journey for about 6.5 to 7 hours' ride. Along the train ride, there are so many tunnels so the single is not good. Knowing this information beforehand, I prepare a book and some snacks, fruit to kill the time, it turns out a good way to read a book. In general, I don't recommend this train ride for you, for it takes a little long time, I set out in the morning, and arrives in Yichang in the late afternoon. A little tired and waste of time, but if your itinerary is not so tight, it's not that bad anyway.
Upon arrival in Yichang, go downstairs by 2 elevators, then you can exit the Yichang East Railway Station. It's not a big city, so this train station is also a little small. Go out of the train station, on your right side, you can see the information consultation room, where you can line up to collect your bus ticket with your ID card or passport, better leave a cellphone number with the work staff here, so that he or she can contact you if there's any change or inform you the boarding time. Usually, you have to wait for about 0.5 to 1 hour, for the bus will not leave until almost the whole bus is full of passengers. So if you don't want to wait for that long, you'd better book a private transfer. This free transfer is arranged by ship company usually from 16:30-20:00 (this time is subjecting to changing from time to time in different seasons, in general, more buses will be arranged in peak seasons from April to October, and fewer buses will be arranged in off-seasons from November to March.) So better enquire beforehand and leave more time for this transfer service.>>Yichang to Chongqing Yangtze River Cruise
I take the bus finally at the Yichang Three Gorge Terminal Center at around 7:40 pm and arrives at the Maoping Port at around 9:00 pm, about 1.5 hours' drive. When I get off the bus, the working staff of several cruise ships already wait for us here holding a board or a flag with the ship's name on it. Then follow the guidelines of the working staff, we go upstairs to the ship, we go to Victoria Jenna through the deck of Yangtze Gold 1 and Century Glory, for the 3 ships moors together next to each other tonight at the Maoping Port.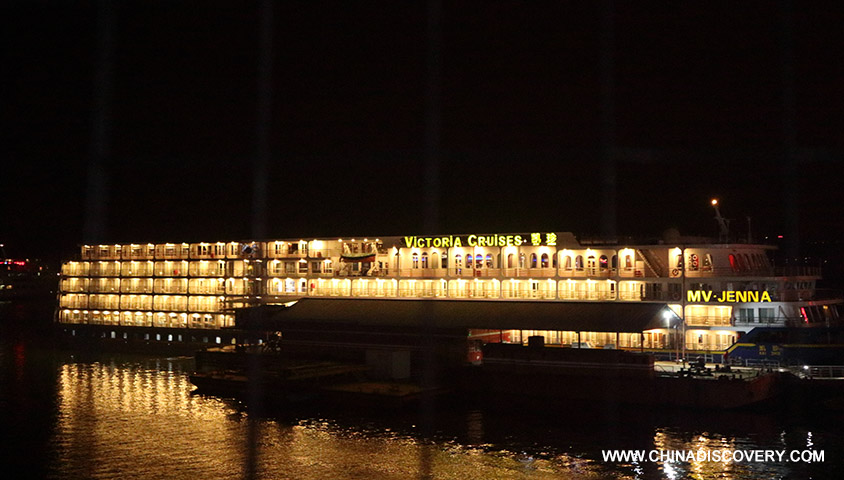 Beautiful Victoria Jenna at Night
Go through the security with your Credit Card or passport, you can go to your ship, it takes me about 7 to 8 minutes to do the process described above.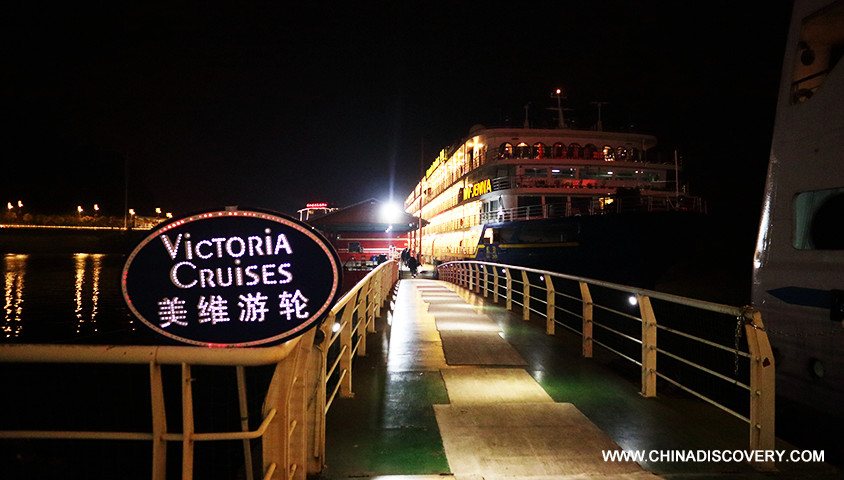 The Way to Board Victoria Jenna
Along the way, working staff are reminding you to watch your step and welcome you to take this ship. Then check in on the front desk also with your credit card or passport, you will get your door access card and your itinerary file concerning your schedule for the next day. I was arranged on the 4th floor maybe for the reason that I board the ship a little late, usually, it takes about an extra cost of RMB 150 per floor to upgrade your cabin to a higher floor from the 2nd floor. It's lucky to save this money. So suggest you upgrade the floor when checking in on the ship, for you don't know beforehand which floor you will be allocated.
Then I take the elevator to the 4th floor from the 2nd floor where the front desk is. Go into the cabin, find the room is larger than I thought, for I heard before that the size of the room and bed in Victoria cruise is a little small. Anyway, it's better than I thought and the amenities are well equipped. Except for toothbrush, toothpaste, and comb you need to ask the front desk for them, you can easily find other amenities in your cabin, such as hairdryer, shampoo, sleepers, etc. Also, there are safe box and mini bar, it's a good experience to drink a cup of cold drinks in your cabin or your private balcony out of your cabin. And it's considerate that you can control the separate light beside your bed, also you can adjust the brightness of the bedside lamp.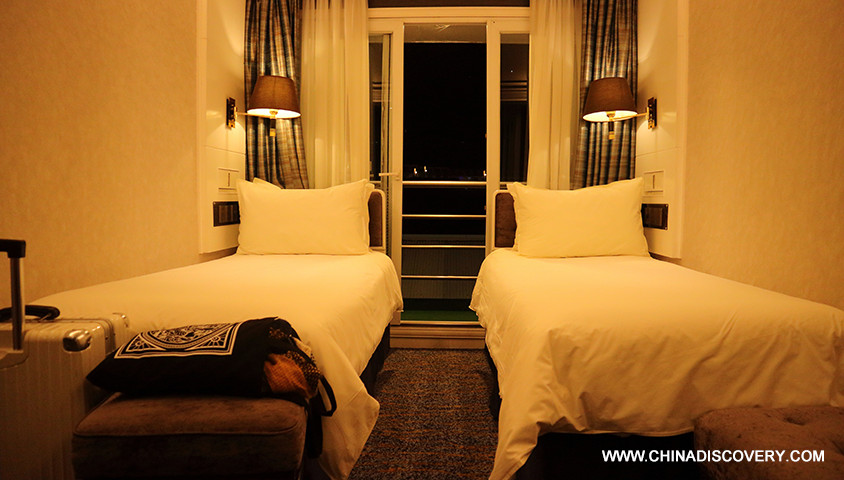 Comfortable Cabin of Victoria Jenna
The size of the bed is indeed a little small I think for those who are tall and strong, but for me and most of the Asian people, I think it's enough. The bed is soft and clean and the working staff will clean your bed and room every day.
It's also good to have a private balcony on your own, you can do some reading and drink a cup of tea here to relax and have enjoyed some leisure time out of your busy life. With your friend, you can enjoy a happy together time and on your own, it's a good time to think and pay attention just to yourself, who you usually overlooked in such a bustling world.
Day 2, Visit The Three Gorge Tribe & Three Gorges Dam
Have a good rest after a long train journey, the ship will not sail on the first night. And in the early morning of the next day, you can get up and have a good breakfast from 07:00 am to 08:00 am. The type of breakfast is abundant from western to eastern type, you can choose the one you prefer. All the meals on board will be Chinese and Western buffet, except for the farewell dinner on the 4th night for the upstream cruise. On the first morning, we have potatoes, fried egg, scramble egg, breakfast sausage, steamed twisted roll with jam, bake toast, English muffin, blueberry muffin, Doughnuts (sugar, chocolate), butter, several kinds of fruits, Chinese noodles, orange and apple juice, bacon, fried green vegetable, strawberry jam, marmalade jam, 2 kinds of congee, etc.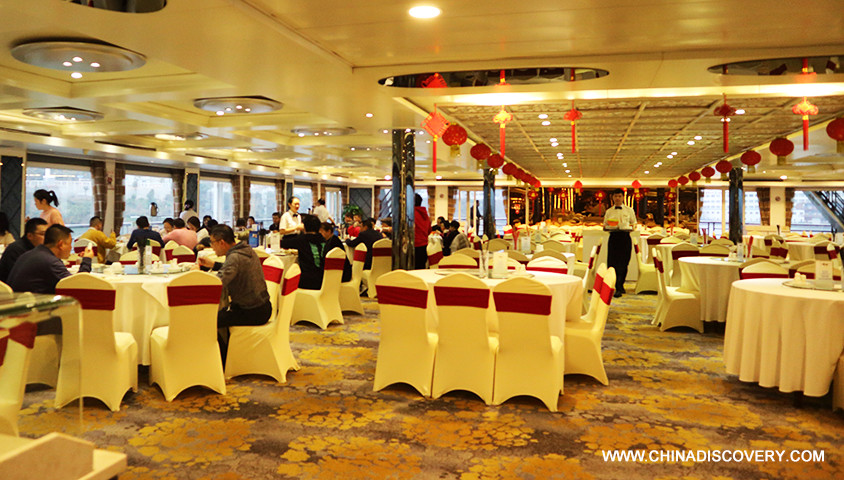 Dining Hall at Victoria Jenna
Then soon after breakfast, we set out for our first shore excursion---The Three Gorge Tribe of Yangtze River Cruise. I heard good feedback from our guests and colleagues of this site, so I choose it as one of my itineraries today. It's not included in the cost of the train tickets, so I was charged an extra cost of RMB 295 for it, it turns worthwhile for me. We set out at around 08:30 am and arrive there at around 09:20 am, about 1 hour's drive distance.
It is located in the hinterland of Xiling Gorge between the Three Gorges Dam and Gehzouba Dam. Being the "Two Dams, One Gorge" tourist line, It is the only large scenic spot which would not be influenced by the Three Gorges Dam, so it remains the original Three Gorge views. Embarking the ship, after about 1 hour's drive, we are transferred to the Three Gorge Tribe by bus.
Tribe of Three Gorges features unique geology embedded with ancient Ba and Chu culture, together with Tujia ethnic minority folkways. Here multiple landscape elements are harmoniously combined, which includes rocks, waterfalls, caves, and springs.
This is a good place to take photos and you can easily get wonderful pictures here. Apart from appreciate picturesque scenery and take good pictures, you can also watch an interesting show of Tujia wedding performance. The local Tujia minorities wear their festival costumes singing and dancing and preparing a wonderful show for you exhibiting you their wedding custom. I am so impressed in her dulcet voice.
There's an interesting custom that about one month before the wedding, the bride needs to start to cry to show that they are reluctant to leave their own home. It's said that if the cry harder their mother-in-law will be happier, for they believe that the bride's crying will bring good luck. It's a little different from our customers in other areas like ours in my hometown, we are all in a happy atmosphere for these happy moments.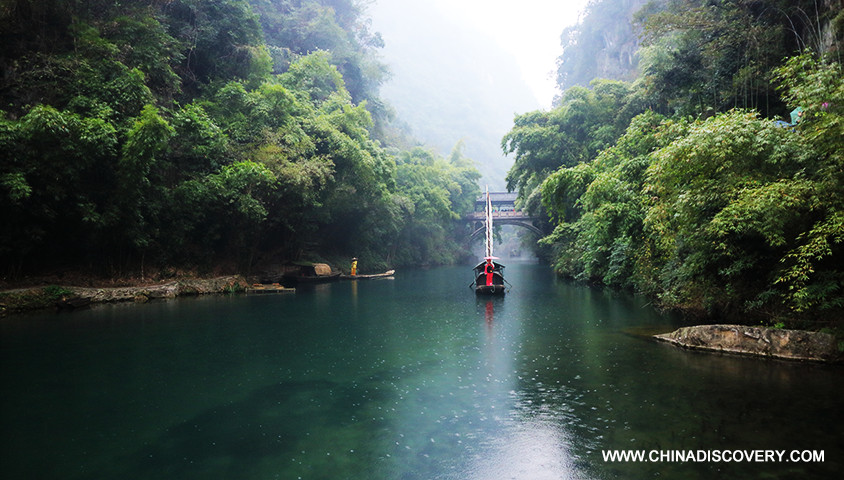 The Three Gorge Tribe
After the impressive relaxed shore excursion to "Tribe of the three gorges", we are transferred back to the ship by the same comfortable bus at around 12:00 am. Followed is buffet lunch at around 12:30 pm. For lunches, usually a salad, appetizers, bread, soup, vegetable, dessert, fresh fruit, soft drinks are provided, and the main courses usually are such as grilled chicken with paprika and garlic, beef braised with carrot, German deep-fried pork chop, etc.
After lunch, at around 14:20, we set out for afternoon shore excursion--- Three Gorge Dam. Also after about 1 hour's drive, we arrive at the dam, where we should go through a security pass. After the security pass, we get to our destination.
The Three Gorges Dam, situated in the Yichang, nearby the Xiling Gorge, is the biggest dam in China and the world's largest hydroelectric station for the usage of flood control and power generation. Followed our tour guide's step we appreciate the largest Dam in different angles, our tour guide also introduce some background history and basic advantages of the dam, and basic principles of how it works.
It is spectacular and impress us a lot of its good of mankind. After about 1.5 hour's visit, we gather together at around 4:40 pm, to board the bus and get back to the ship at around 5:30 pm.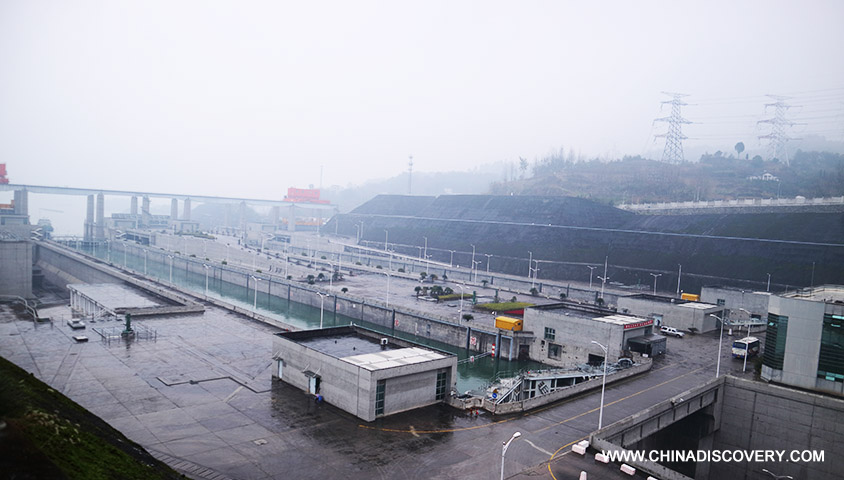 Visit Three Gorges Dam
Dinners start at around 19:30 pm, after dinner, you can have a good rest on your own at your cabin, private balcony, or watch a Chinese Dynasties Show, featuring a variety of traditional Chinese costumes from all regions and periods of Chinese history.
Night falls and good night.
Day 3, Shennong Stream, Gorges, and Victoria Jenna Crew Show
Here we welcome the 2nd morning in peaceful sunlight.
For today's breakfast, there are corn flakes, all bran, rice porridge, vegetable porridge, milk, yogurt, fried egg, noodles, Doughnuts (sugar, chocolate), fried green vegetable, baked potato with butter, coffee, tea, etc.
After breakfast, we set out for today's highlight shore excursion---Shennong Stream, a tributary of Yangtze River between Wu Gorge and Xiling Gorge, at 08:10 am. With a distance of 60 km, Shennv Stream, Just like a dragon meandering through the forests at a height of 3000m above sea level, rushing southward between mountains and cliffs. Therefore, it fascinates the tourists with its special virtue of serenity, uniqueness, primitiveness, and wilderness.
In Golden Autumn, you can see green trees turn golden or red. High mountain along the stream dotted with colorful trees, like a beautiful young girl wearing flowering clothes and see herself in the mirror of the water. In this season, the water of the Shongnong stream is emerald green. Sitting in the boat and listen to the introduction by the local tour guide or you can appreciate the beautiful views at the front deck, it's a really relaxing and enjoyable.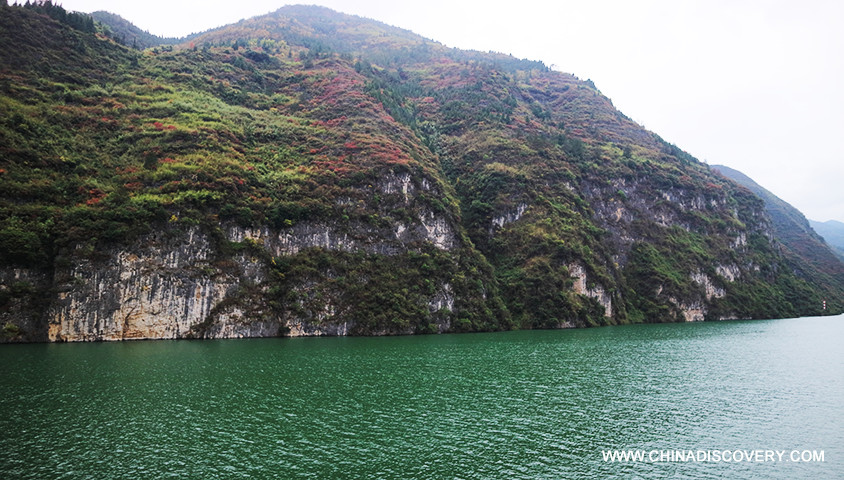 Emerald Shennong Stream Stream
And on the way back to the ship from the Shennv Stream, the local sweet tour guide sang a beautiful local song. Beautiful melody reverberates in the boat and then out of the boat, rippling on the surface of the stream water, we appeared in a picture. Not only the picturesque natural scenery, but also there are historic relics - mysterious ancient coffins suspended high on the cliff. Suspending coffins on the cliff is one of the funerary styles of ancient ethnic minorities in South China. It is a kind of cliff burial. Without modern tools, it seems an impossible mission to put the coffin in such a high cliff, so it's still a mystery to us how could it be.
At around 10:30, we returned to our ship, after some break, we went upstairs to the Sundeck, for at that time, Victoria Jenna sailed through the scenic parts of the Wu Gorges, the second of the Three Gorges, considered the most beautiful of the Three Gorges. The "Goddess Peak" is the best known of its 12 peaks. The river guide gave a commentary through the radio and the best viewpoint is deck 6th. Wuxia is beautiful and deep, famous for its beauty.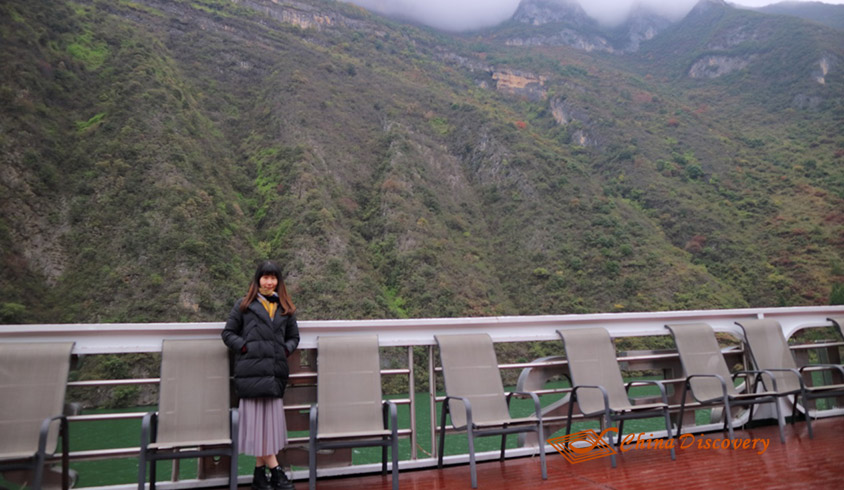 My Photo with Wu Gorge
On both sides of the Gorge, there are green mountains, and the peaks are like a screen. The boat sails through the gorge. Sometimes, the mountains are full of doubts. Sometimes, there is no way for the stone fortress. Sometimes, the peak turns around, and the clouds open for another day, just like a circuitous gallery.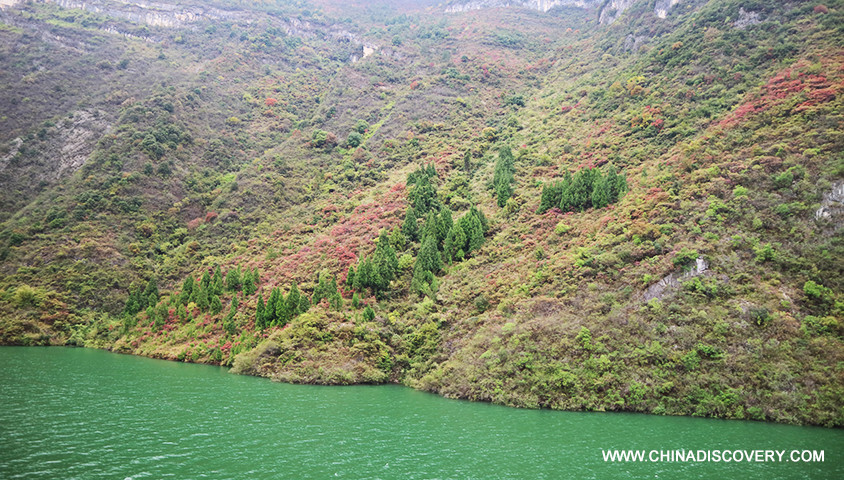 Cruise Ship Sailing Through The Gorges
Then after lunch, there's a Captain's welcome reception. Captain Zhao invited us for appetizers and refreshments.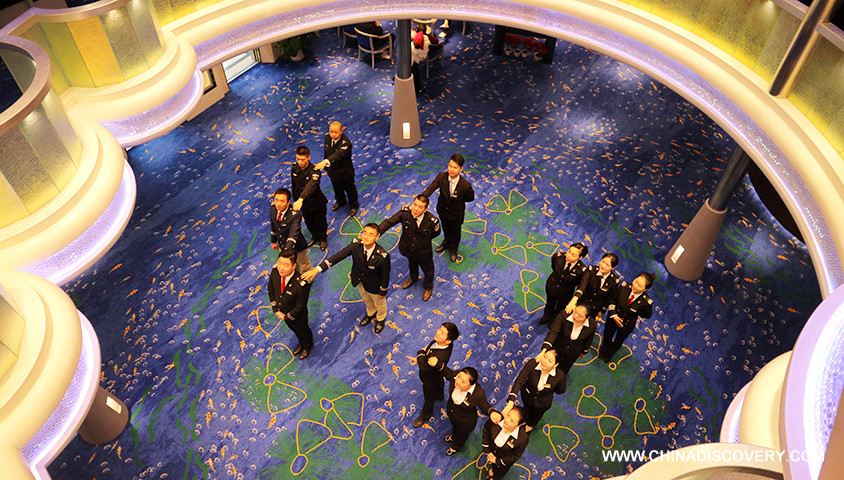 Welcoming Staff on the Ship
In the evening after dinner, we enjoyed a Victoria Jenna Crew Variety Show, the talented crew offered us many ethnic dances and entertainments. We enjoyed ourselves in a very happy and joyful atmosphere.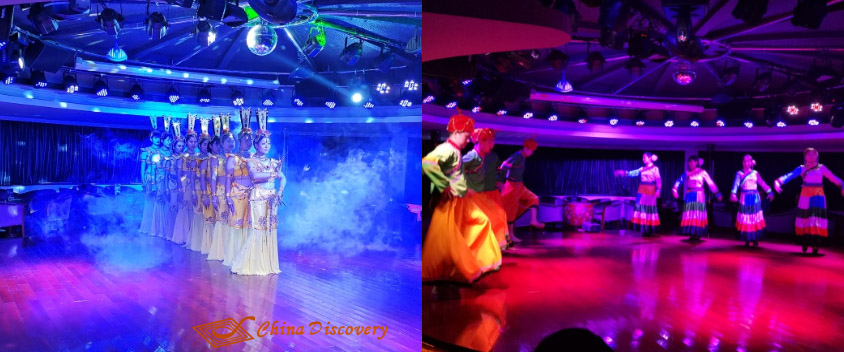 Enjoying the Show on Victoria Jenna
After it, went back to our own cabin, standing on our private balcony, I happed took picture of the amazing night view of Fengjie county. Truly beautiful, right?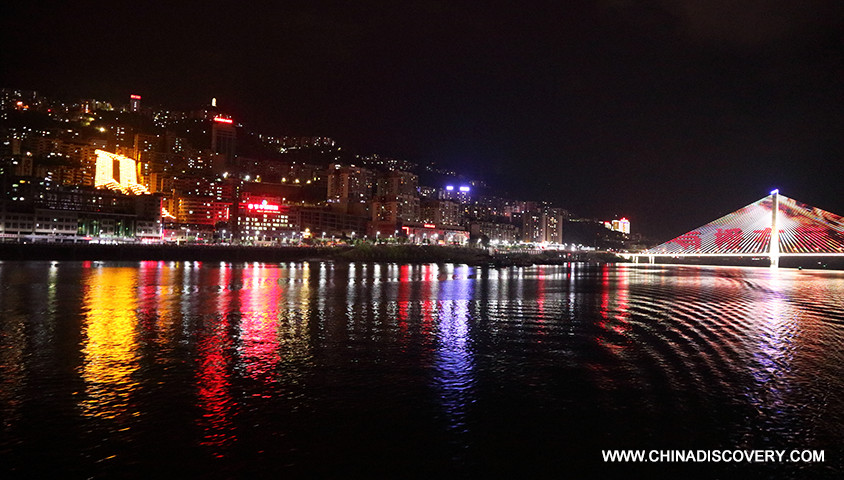 Nightscape of Fengjie City
Day 4, Jade Emperor Scenic Site & Captain's Farewell Banquet
On this 4th morning, I woke up on a peaceful morning. Feeling a little tired for these days' sightseeing, I quit the chance of optional shore excursion this morning. And choose to sit down on my private balcony for some quiet reading.
With the ship slowly sailing through the Yangtze River, breathing the cool and fresh air in the morning, it's very enjoyable and relaxed to do some reading.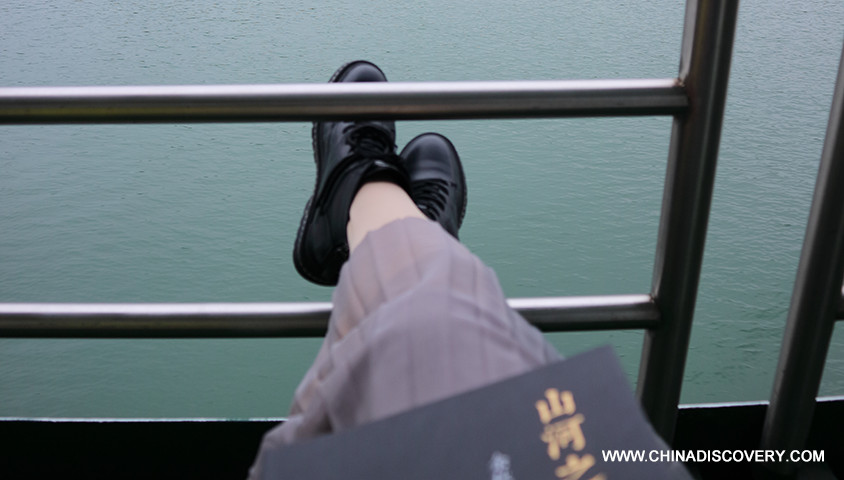 Reading a Book in the Morning
Later in the morning, some seagull gathering around the ship looking for food, if you have some bread, you can feed them for a while.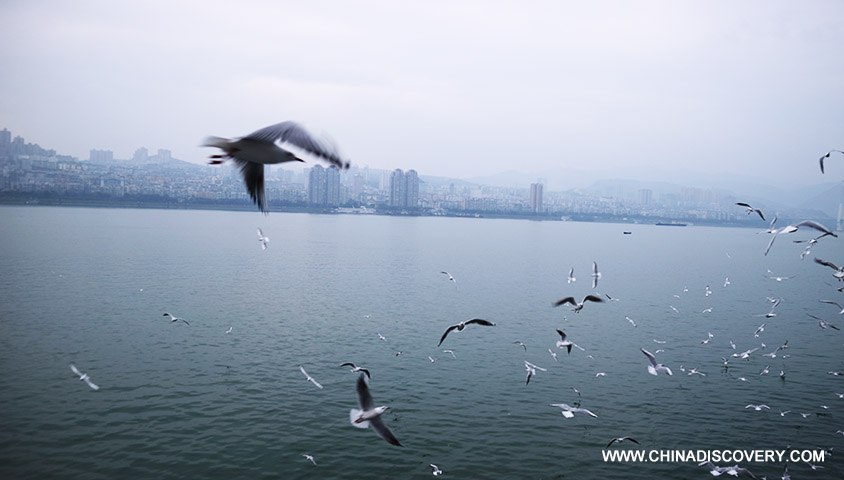 Gulls Gathering Around the Ship
If you don't like reading, you can either find some other activities to join on the ship. For me, after reading, I stroll around the ship and went to the gym for some working out. Then go to the reading room for a look, in the closet of the ready room are mostly foreign books. Or you can either to upstairs to the sundeck to review the sceneries along the way.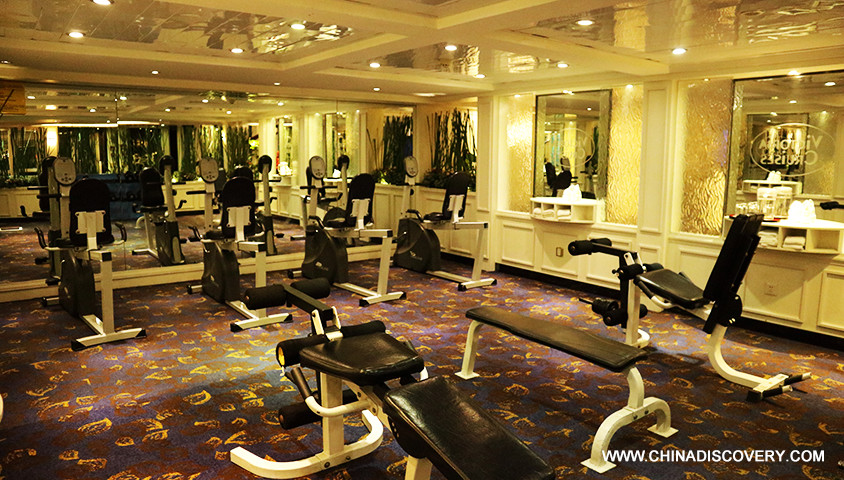 Gym of Victoria Jenna
After lunch at around 13:30 pm, we went to the included shore excursion---the famous Jade Emperor Scenic Site. It takes the Chinese root culture "Tao" as the core, to show the traditional cultural value of "Buddhist heart".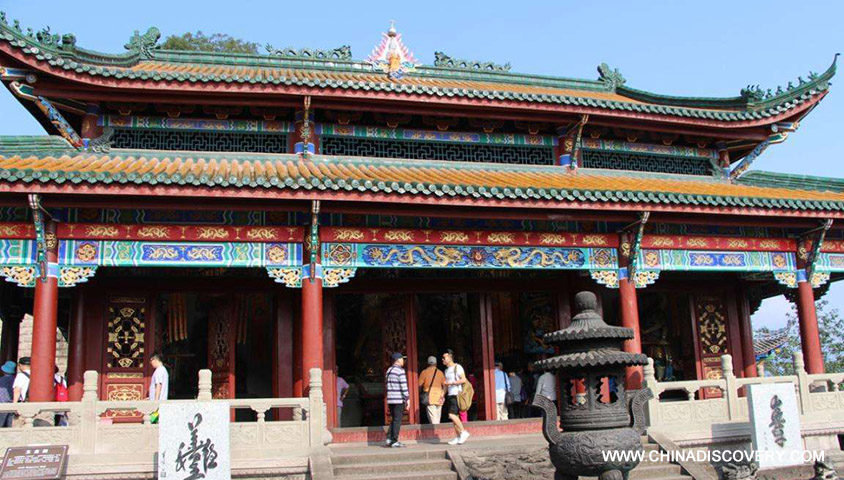 Jade Emperor Scenic Site
For today's dinner, it's captain's farewell banquet, dinners are arranged in Chinese sit-down style. The dishes are rich and delicious. After dinner, you can go to the bar on the ship to have a drink if you want. There you can find cocktail, sparkling wine, champagne, liqueur, coffee, beer, juice, etc. You can invite your friends or families here, drinking and chatting, to enjoy a wonderful time together.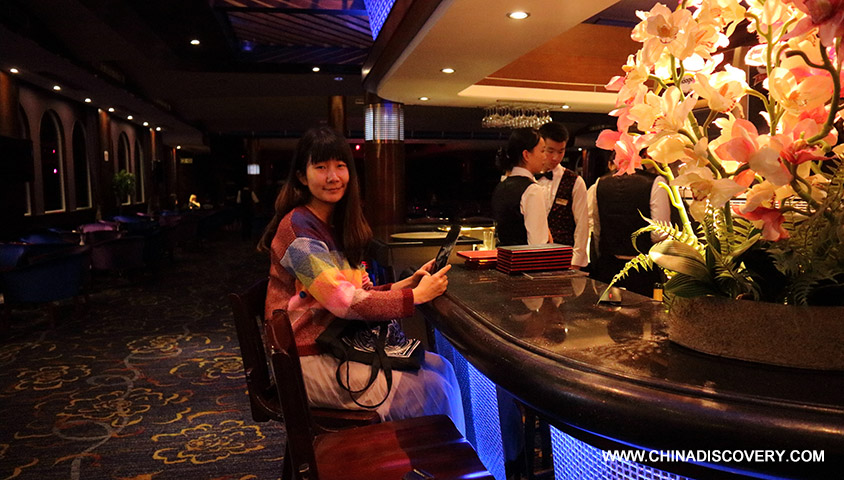 Captain's Farewell Banquet
Day 5, Disembark the Ship in Chongqing
Today after breakfast, it's time for us to disembark the ship in Chongqing. Packing up and say goodbye to the wonderful Victoria Jenna and the hospitable crew, porters were waiting for you at the exit door of the ship to offer their service. Short bargaining and make a deal and a porter help me with my suitcase as 10 yuan per luggage. If your luggage is heavy, I suggest you hire a porter, for there is a not very short way to the shore, and there are dozens of steps with no elevation available.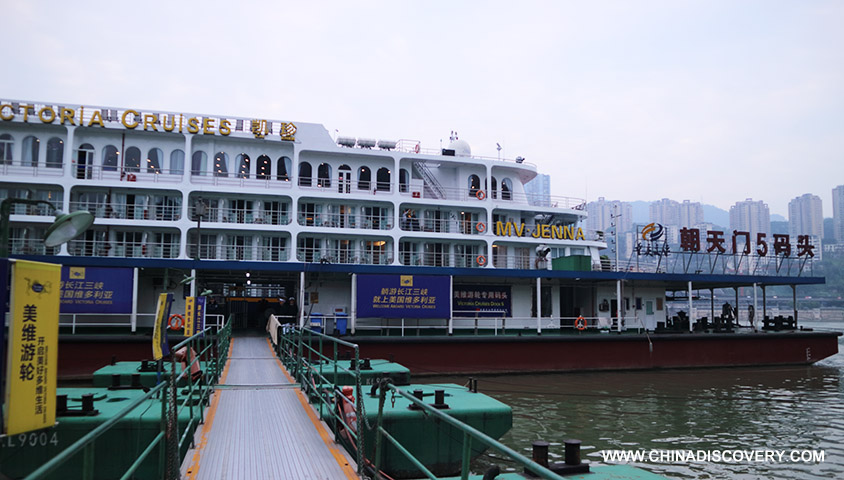 Disembark the Cruise Ship
Overall, it's a special tour experience for me to take the Yangtze River Cruise on Victoria Jenna, I must credit them for their considerate service. Though it's in late autumn and a little cold, I am still deeply amazed by the picturesque scenery of the Yangtze River. Undoubtedly, this Yangtze River Cruise memory with Victoria Jenna will not elapse for my life. You must come one day!
Travel with Me
Hi, I'm Wing. Are you interested in my Five Days Yangtze River Cruise? Feel free to contact me, and I will be glad to tell you more stunning stories about the places I have visited. Or, if you want to customize a tour on your own, I'm always ready to help at any time. With my passion, knowledge and understanding of the essence of travel, I promise I will try my best to make the tour memorable and meaningful for you.
Wing

Travel Consultant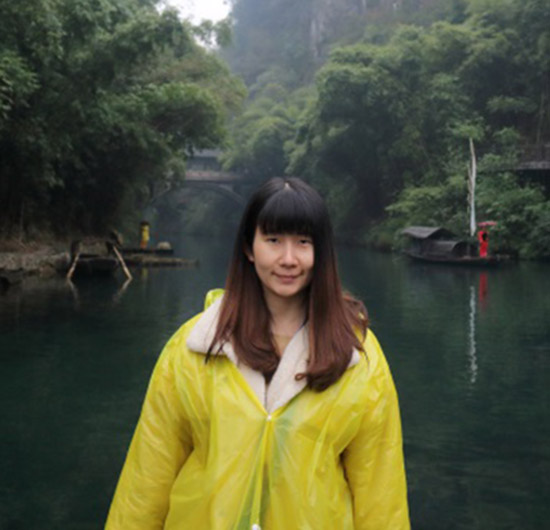 Recommended Tours
Top 3 tours chosen by most customers to explore in the best way. Check the detailed itinerary, or tailor your own trip now with us.
5 Days Relaxing Yangtze River Cruise Tour (Yichang - Chongqing)

Yichang / Yangtze Cruise / Chongqing
12 Days Classic China Tour with Yangtze Cruise

Shanghai / Yichang / Yangtze Cruise / Chongqing / Xian / Beijing
4 Days Chongqing Essence Tour with Yangtze River Cruise

Chongqing / Yangtze Cruise / Yichang
Have a question? Get answers from our travel experts or guests
Your Question:

Your Name:

Your Email: