Travel with Wing: 4 Days Tour to Dali & Lijiang of Yunnan Province
Departure Date

2016-9-10

Travel Length

4 Days

Travel Theme

Nature, Culture, Sightseeing

Group Size

3

Travel Route

Chengdu - Dali - Lijiang - Tiger Leaping Gorge - Chengdu

Highlights

Dali, Lijiang, Erhai Lake, Tiger Leaping Gorge

Story Tags

#Yunnan#Yunnan Tour#Dali#Lijiang#Erhai Lake#Tiger Leaping Gorge
For Yunnan province, people say, after the trip there, you would say "I have been to a place better than a paradise".
It is adjacent to Guizhou and Guangxi in the East, Sichuan in the north, Tibet in the northwest, Myanmar in the west, Laos, and Vietnam in the south. The total area of Yunnan Province is 394100 square kilometers. It's such a vast area, so it has a variety of different landscapes from east to the west and different climate in the north and south areas. And you can experience more in comparatively a short time. With Yunnan's unique climate and access year round, it's easy to keep exploring.
For Yunnan province, I've only been to Dali and Lijiang so far. And Dali is my favorite city that perched at the foot of the towering Cangshan Mountains and overlooks lovely Erhai Lake. Maybe there are far more beautiful cities or towns, but for now, I like Dali best, especially Erhai Lake there. Dali has a long history and is one of the earliest cultural birthplaces in Yunnan. It's home to 25 ethnic minority groups and it's an artistic and romantic place, which abounds with many cultural gems such as original ethnic music, traditional craftsmanship Tie-dye and wood carving, quaint architect Bai national residence construction, and abundant tourist resources.
When I first arrived in Dali by flight, we took the airport bus to Dali ancient city. The melody of Huang Bo's song "going to Dali" echoed in my mind, my first impression of Dali is the tourist city and cool air. Through the misty windows, there is the ocean of umbrella and Bai characteristic buildings, clothes, and restaurants.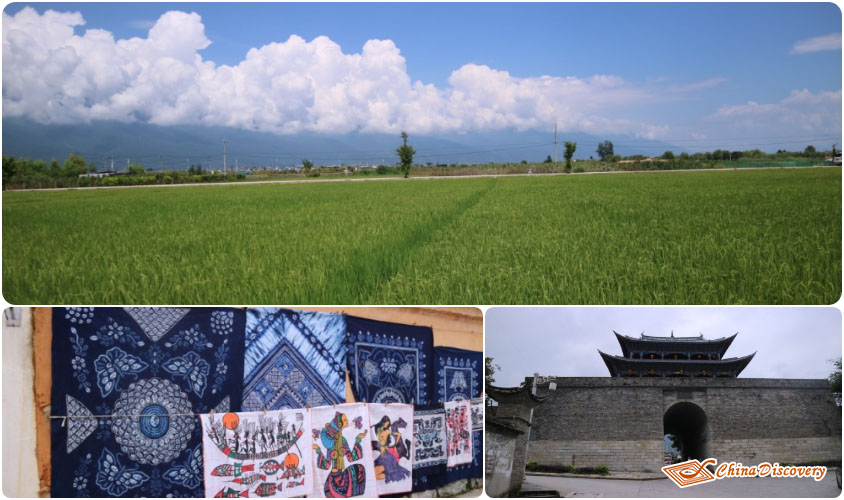 Getting to Dali and Traditional Tie-dyed Cloth
Then we proceed to Chongsheng Temple of Dali, very grand and domineering! It is the "Tianlong Temple" in Jin Yong's martial arts novel "Tianlong eight parts". It is well-known for the Three Pagodas in the temple, the most famous landmark in Dali. The three towers stand at a triangle point, the Qianxun tower is in the middle, and the two small towers are accompanied in the north and the south. They are magnificent and show the outstanding achievements of the ancient craftsman in the construction. The height of the big tower is about 70 meters, and that of the small tower is about 40 meters. And the Chongsheng Temple is only about 10 minutes' walk from the north gate of Dali ancient city.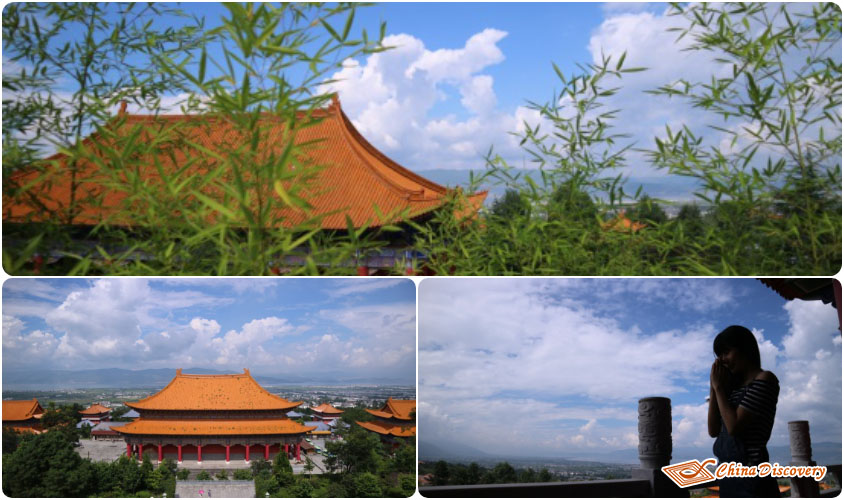 Chongsheng Temple of Dali
Our guide told us that many tourists only know that there are three pagodas, but they miss the royal temple behind them. Chongsheng Temple gradually declined after vicissitudes. The existing temples are reconstructed on the basis of the original site according to historical records. The king of Dali has the custom of becoming a monk because Dali has the social ideology of "establishing and governing the country with Buddhism", and "the whole people believe in Buddhism". Duan Yu (originally called Duan Zhengyan) is the longest-reigning emperor in Dali.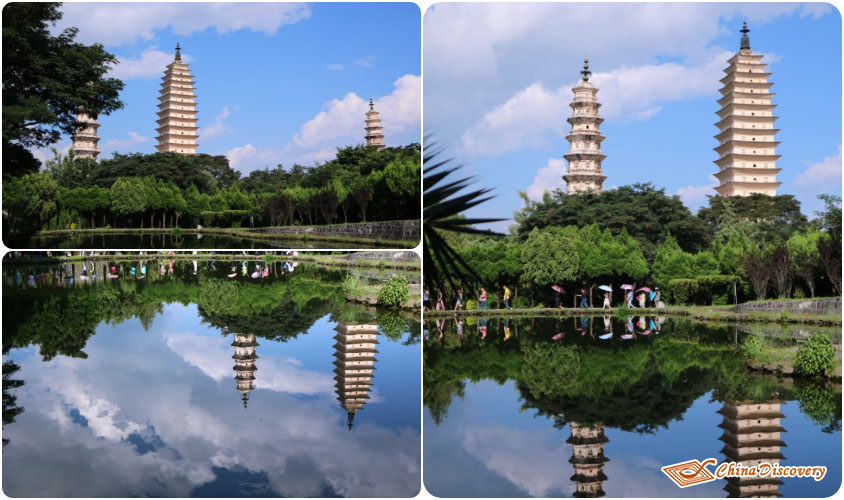 Three White Pagodas and Beautiful Reflection
The next day, we rented our electric motor to travel around Erhai West Road. The beauty of Erhai is shocking for us who are usually surrounded by concrete block buildings. It seems that we suddenly walk into the light from the dark place, and big clouds like cotton candy piled up in the clear blue sky. Under the sky are green rice terraces and endless Sunflower fields, red-billed gulls hovering over Erhai Lake, fishing boats floating on Erhai Lake, all of which add luster to the beauty of Erhai Lake.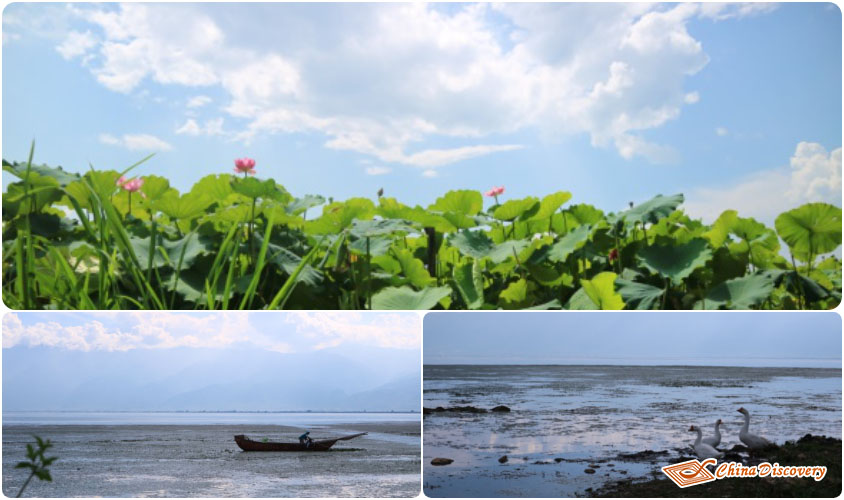 Peaceful Erhai Lakeside with Blooming Flowers
The beauty here also attracts many happy couples to take wedding photos. I can imagine that people who see the photos may ask, "ah, this is ps, it looks fake." Yes, Erhai Lake is a bit unreal. In good weather, ferries are a wonderful way to see the lake and the surrounding mountains. The ferries cost from ¥50 to ¥70. And you can't miss the Erhai moon, which is one of the four famous sceneries in Dali. If you paddle a boat in the late on the 15th of the lunar calendar when there's a full moon on that night, you will find the moon is so bright and round that the scene is extremely fascinating: you can't tell whether the moon falls into the lake or the moon rises into the sky from the lake.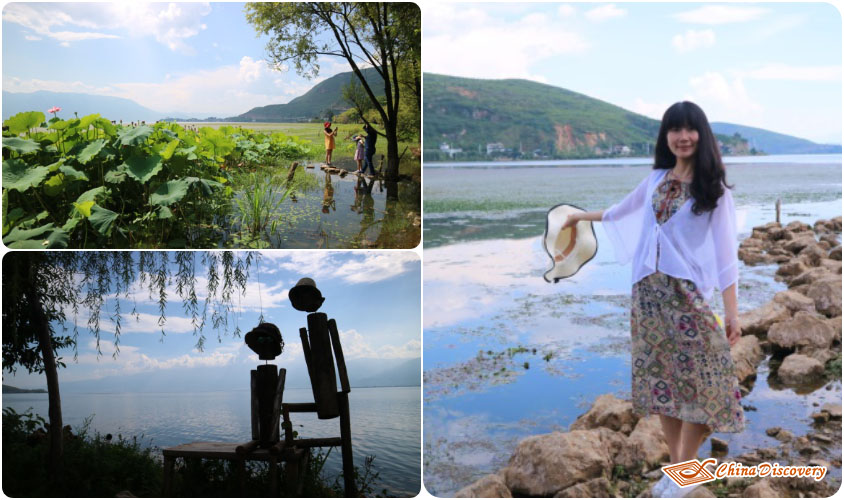 Standing by Erhai Lake
After the Erhai Lake excursion, we got back to our hotel in Dali Ancient Town. It's really a cute town with diversified colorful fruits, local special food. And have you eaten flowers before? Here flowers are used to cook dishes, and make cakes. The flower cakes are really delicious, I recommend you to bring some with you as gifts to your families or friends, they will definitely like them.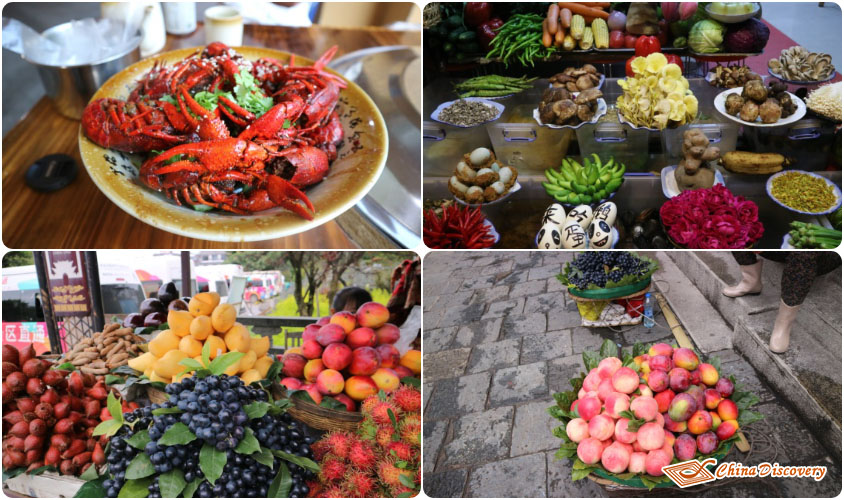 Dali Ancient Town and Flower & Food Market
The following cool cat named "Suancai" (Chinese sauerkraut), it belongs to the guesthouse of our hotel.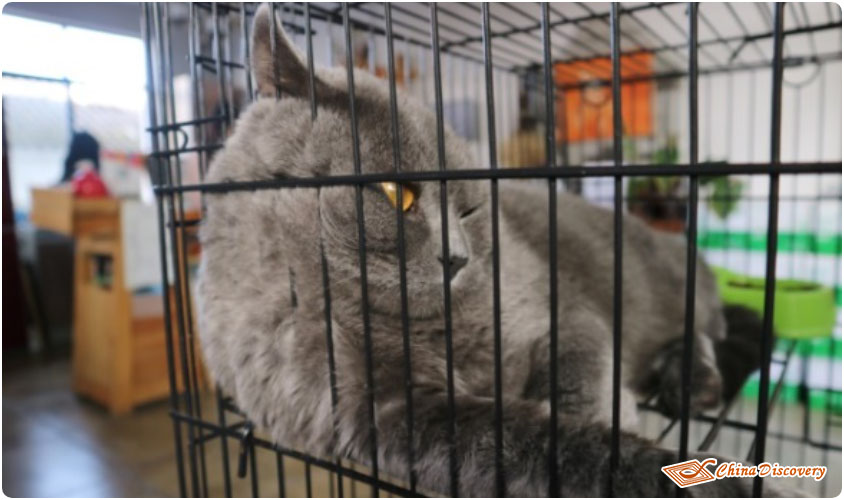 Sassy Cat of the Guesthouse
On the third day, we left the ancient city of Dali for Shuanglang of Dali. There is the other end of Erhai Lake. We ring the East Erhai road from here. I heard that Erhai Lake in the east is different. Erhai Lake in the west is more elegant and exquisite, while Erhai Lake in the East is broader and more atmospheric. It's nice to sit along the lake and go for a blow.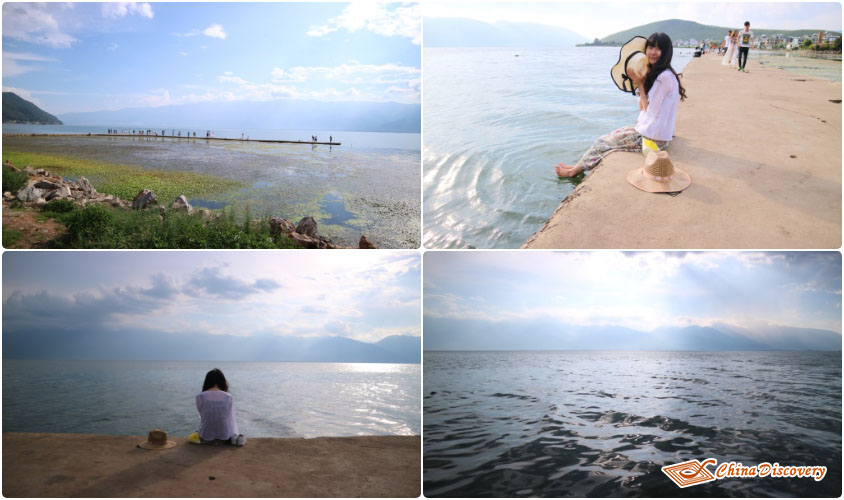 Beautiful Erhai Lake and Putuo Island
Here's a Little Putuo Island, because the shape of the island and pavilion is quite similar to the Putuo Mountain of South China Sea in Chinese mythology—hence the name. Although the island is not high, there are many grotesque rocks. Trees grow in the cracks. The branches and leaves are luxuriant. The trees and pavilions match each other like a natural bonsai.
And also from here, we ascend the Nanzhao style island in Dali, the island is surrounded by water on all sides. You can take a ferry to the island at the ferry terminal on the south side of Shuanglang town, about 5 minutes' voyage. The views here are beautiful and there are some interesting statues, with which you can take photos.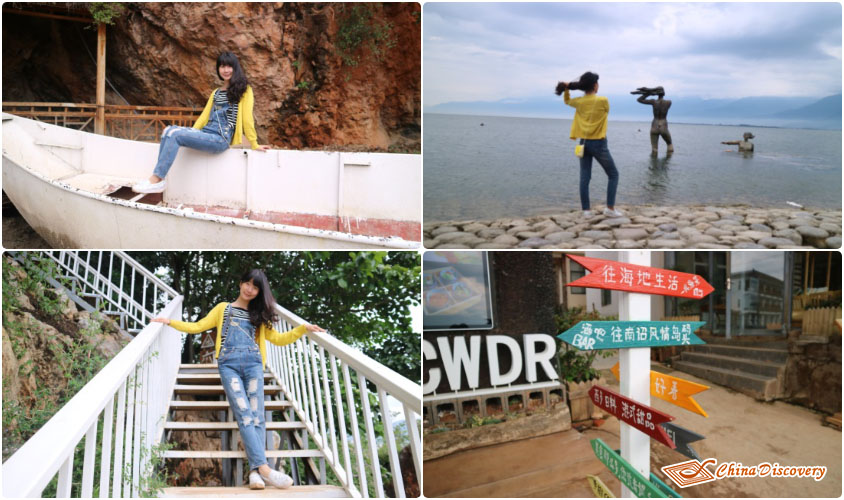 Having Fun on Nanzhao Island
The next morning, we went to the Xizhou morning market in Xizhou town, about 20 km (12 miles) north of Dali. It's a pretty town with abundant Bai ethnic architecture and culture. The tie-dyed cloth, colorful dry fruit, local rustic people in traditional customs, it seems that you can read the whole history of Yunnan from their faces, and rural landscapes all are extremely attractive and adorable.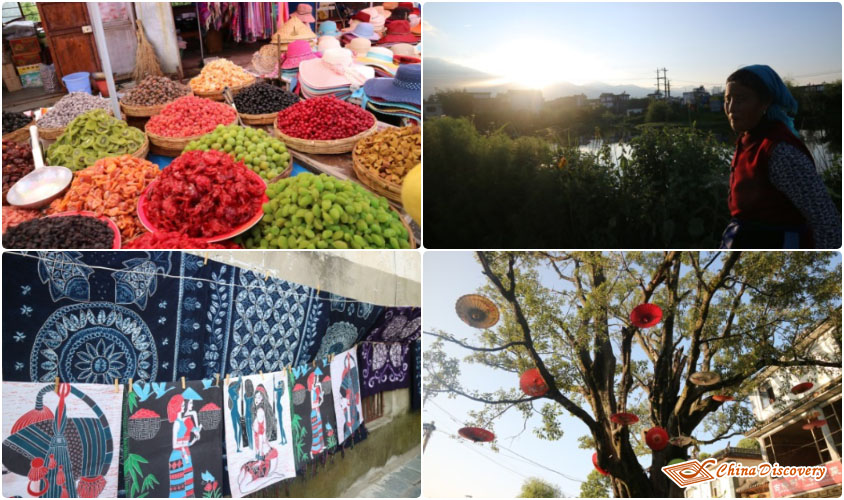 Visiting Xizhou Morning Market
In the afternoon, we set off for Lijiang by public bus. We arrived in Lijiang at night, and then we go to the ancient city of Lijiang, the city has a large number of ancient buildings in the Qing Dynasty and the Republic of China. Almost every restaurant has a singer playing guitar, a euphonic song floating from one by one restaurant.
There is a large variety of handcrafts with Lijiang characteristics for sale here, such as shawls, hand drums, engraved key chains, handmade wallets, sketches, and so on. It's a pity that the Lijiang ancient city is commercialized. It reminds me of Chunxi Road in Chengdu, but the artistic atmosphere here is still strong. There are songs and beats of drums everywhere. The ancient city of Lijiang is very lively at night as a sleepless market.
And there's an interesting place you can't miss if you have time, a wax museum, it's the first wax museum in Yunnan Province. There are more than 50 wax figures of celebrities in sports, politics, performing arts, and other industries around the world. You can take "close photos" with celebrities from all walks of life and meet your favorite idols here.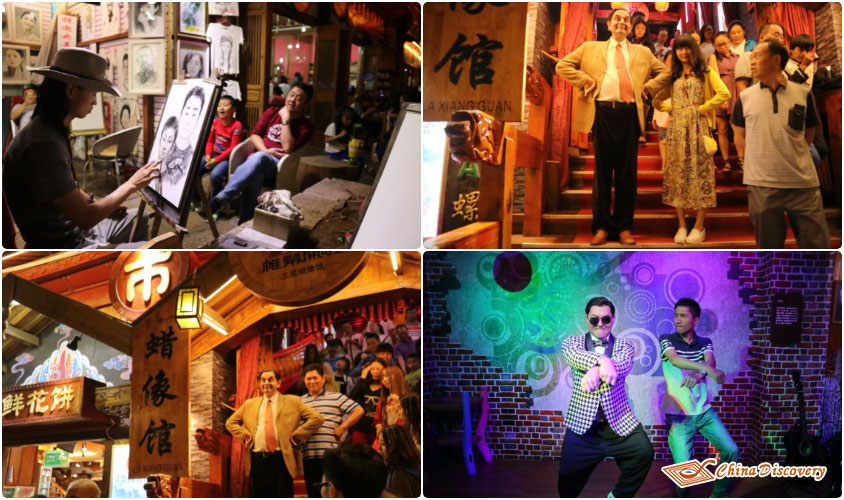 Visiting Lijiang Ancient City
The next day, we have a full day hike to Tiger Leaping Gorge, the world's deepest gorge offers intrepid travelers two treks—the gorge takes its name from a tiger who, legend has it, leaped across to evade a hunter. The Tiger Leaping Gorge is composed of 3 parts, upper, middle, and lower parts. We choose the lower part as our hiking route, but finally, we find it is very steep and strenuous, so if you are not a keen hiker, I suggest you choose the upper or middle parts. There are guesthouses scattered along the trail. The Tiger Leaping Gorge is truly breathtaking.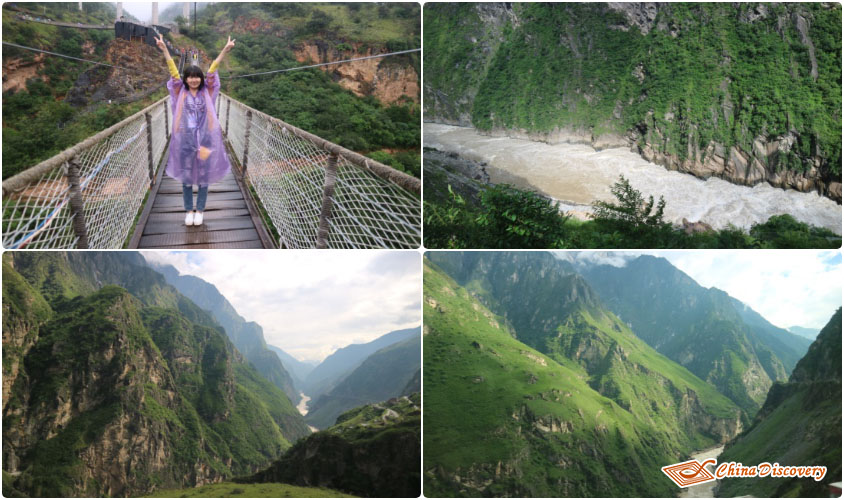 Hiking to Tiger Leaping Gorge
For me, though it's a tourist province and attracts numerous travelers all year round, it is comparatively a secluded countryside like a village. Different from many other skyscrapers filled metropolis, it's quaint and picturesque, giving rise to my desire of revisiting constantly. And even make me consider moving here to spend the autumn of my life one day if possible. It's a place favored by gods and has substantially diversified landscapes and intriguing culture. I think I will never be bored even live here through all of the four seasons.
Travel with Me
Hi, I'm Wing. Are you interested in my 2 Days Yunnan Tour including Dali and Lijiang? Feel free to contact me, and I will be glad to tell you more stunning stories about the places I have visited. Or, if you want to customize a tour on your own, I'm always ready to help at any time. With my passion, knowledge and understanding of the essence of travel, I promise I will try my best to make the tour memorable and meaningful for you.
Wing

Travel Consultant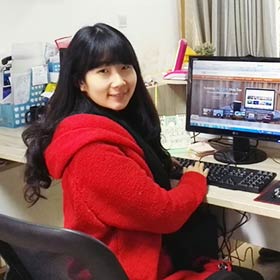 Recommended Tours
Top 3 tours chosen by most customers to explore in the best way. Check the detailed itinerary, or tailor your own trip now with us.
6 Days Yunnan Essence Tour (Kunming, Dali & Lijiang)

Kunming / Dali / Lijiang
8 Days Classic Yunnan Tour

Kunming / Dali / Lijiang / Shangri-La
Have a question? Get answers from our travel experts or guests
Your Question:

Your Name:

Your Email: