Travel with Wing: 2 Days short Tour to Xian from Chengdu
Departure Date

2019-1-1

Travel Length

2 Days

Travel Theme

Culture, Food, History

Group Size

1

Travel Route

Chengdu - Xian - Chengdu

Highlights

Muslim Quarter, Bell Tower, Xian City Wall, Terracotta Warriors

Story Tags

#Xian#Muslim Quarter#Bell TowerXian City WallTerracotta Warriors
Xian, in central-northwest China, is one of the birthplaces of the ancient Chinese civilization. It's bursting at the seams with colorful over 3,000 years' history. In that time, the city spent over a millennium as the capital city to ancient dynasties. And 13 dynasties capitalized in Xian in the history in total.
Now with the development of high-speed railway , it's far more convenient to travel around, takes less time, and saves energy. This time we take a high-speed train from Chengdu to Xian, only a 3.5hrs' ride takes us to our destination. It's during our New Year's Day holiday, it's getting colder from as we are proceeding to our destination, we catch glimpse of houses capped of snow from the train's window.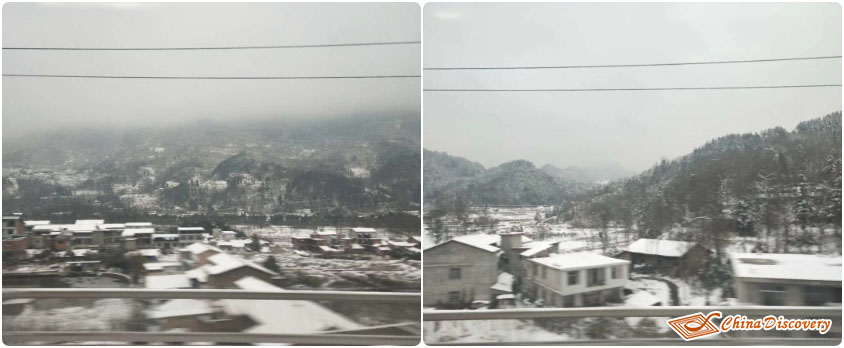 Snowscape outside the train's window
We start off in the afternoon so we arrived in the evening, so we go to find some delicious food at Huimin Street - Muslim Quarter, a famous food culture block, and a snack block in Xi'an. In front of Huimin Street, it's the Bell tower, the intersection of the four streets in the Ming city wall, is the largest and most complete bell tower in China. Now the light is already on and the bell tower is bright and impressed against the black curtain of night.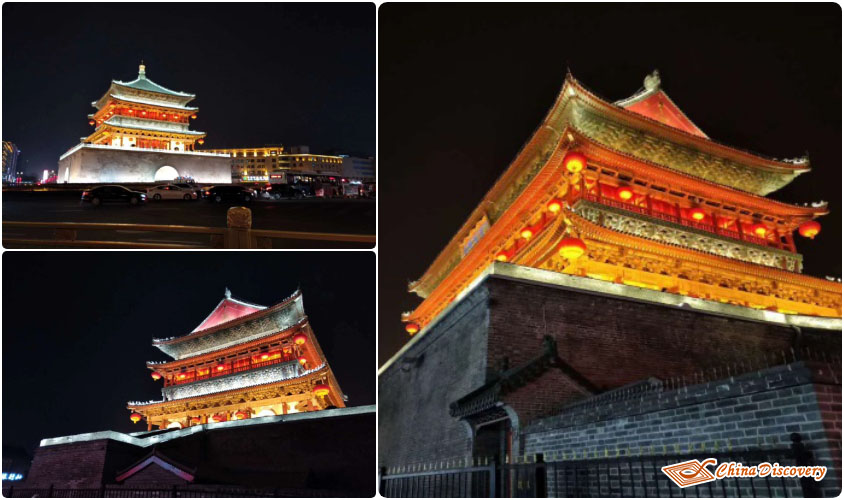 Bell Tower and Drum Tower
Pass the Bell Towel, we get to our first destination---Huimin Street. At present, there are more than 60000 Hui Muslim communities here. Many streets in the block have a strong Islamic style. Huimin Street is famous as a place where food is concentrated. Although it is regarded as a tourist attraction for foreign tourists, the local residents always regard it as the main place for snacks, shopping, and leisure, especially in the summer night market.
As we come here during New Year's Day, the street is crowded with many tourists from everywhere, it turns out that this place is truly attractive, and delicious food can unite people from different places with different culture and custom.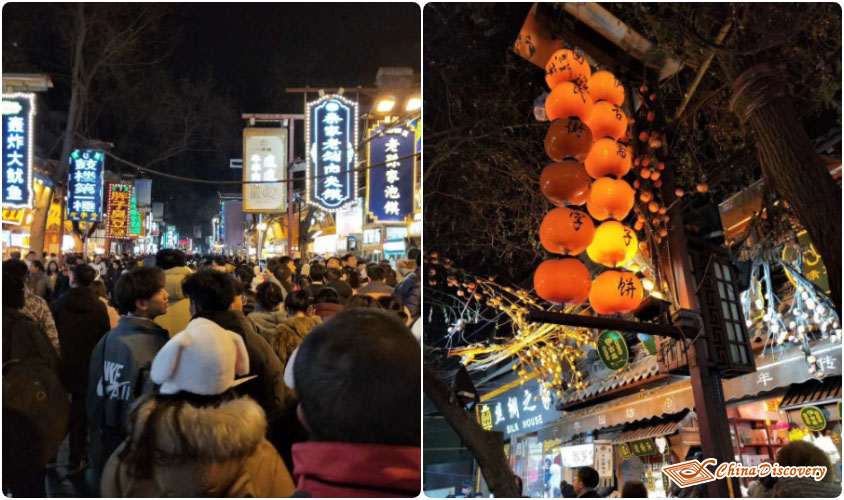 Hui Muslim Street - Night Market
We try many local delicious foods. Steamed bun, with glutinous rice and red dates as raw materials, they are stacked alternately, with three or four layers of bright color, red and white, sticky, and sweet taste. Beef and mutton kebab, grilled-Fresh-Squid, dried persimmon, biangbiang noodles, and so on. Huiming District is really a paradise for a foodie like me.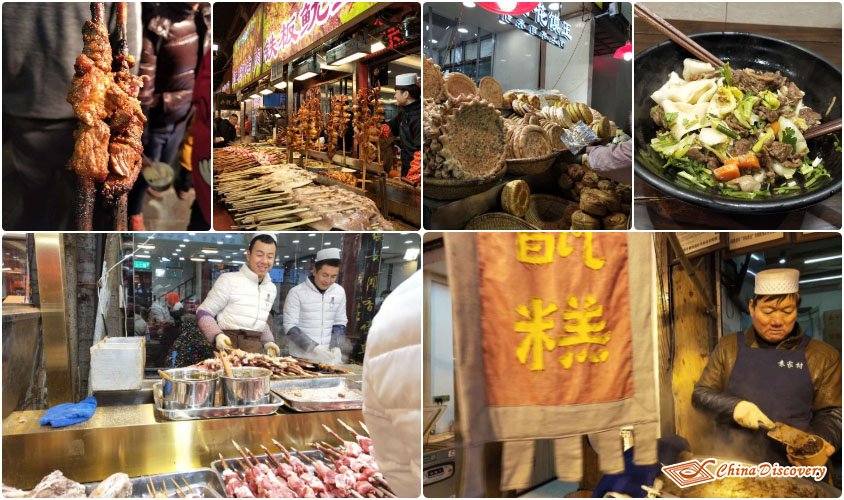 Various Snacks Found on Muslim Street
Along the street, there's a Gao's Courtyard, if you are interested in traditional Chinese culture, you can pay a visit inside. Here you can appreciate Ming and Qing architectural art, folk paper-cut, shadow puppets, celebrity calligraphy and paintings, and so on. Since it's a little late, we don't go inside and it's a little pity to miss the shadow puppets show.
After dinner, we stroll to Xi'an city wall, also known as Xi'an Ming city wall, which is the largest and most complete ancient city wall in China. It's beautiful at night. We don't go up to the wall for it's a little late, if you come during the day, you can go up and have a walk or ride a bike. It's also a good experience.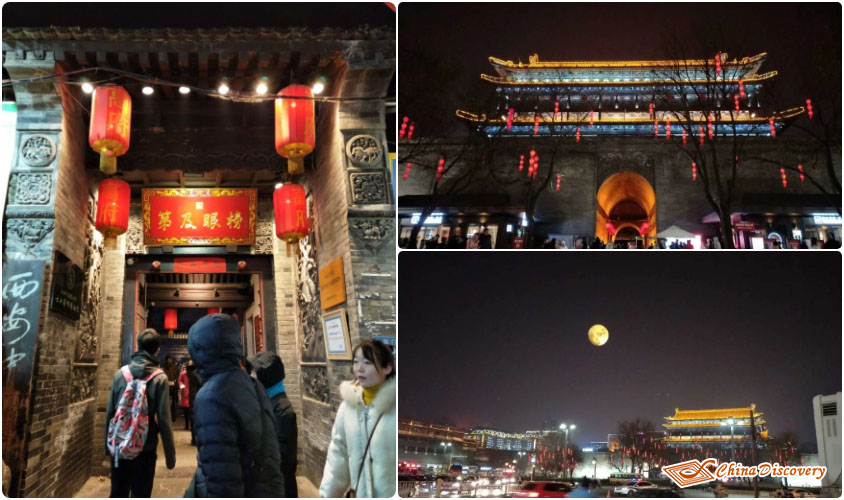 Xian Ancient City Wall at Night
The next morning, we go to our final destination, Xian's main attraction - Terracotta Warriors Museum. Discovered in 1974 by farmers digging a well, this UNESCO World Heritage site includes more than 7,000 terra-cotta soldiers standing guard over the tomb of Qin Shihuang, the first emperor of a unified China.
The terracotta army is one of the funerary tombs of the first emperor of Qin. The scenic spot and Mausoleum of the first emperor of the Qin Dynasty have one vote system. But the mausoleum was not developed, so the appearance was generally chosen. There are No.1, No.2, and No.3 pits and large-scale painted copper chariots and horses hall in the Terracotta Warriors Museum.
The first discovered pit 1 was a rectangular one with more than 8000 terra cotta warriors and four sloping doorways. At the east end of Pit 1 are 210 warriors in full robes, and the rest are 68 in each row. There are 204 soldiers in front, back, left, and right rows, forming the defenders of the square array. In the middle of the pit, a column of 38 chariots and infantry formed the main body of the army.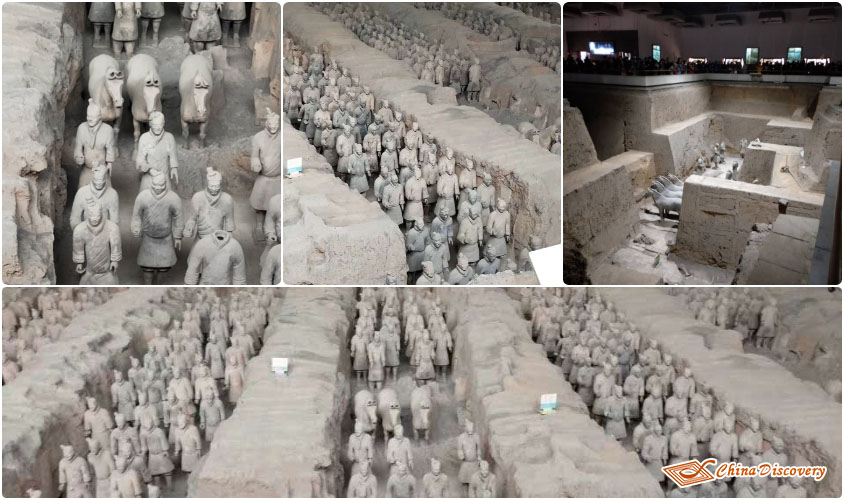 Thousands of Terracotta Warriors in Pits
There is a terracotta pit on the left and right sides of the first pit, which is called the second pit and the third pit. There are more than 1300 terracotta figures, more than 80 chariots, and tens of thousands of bronze weapons in Pit 2. Among them, the terracotta figures of generals, saddles, and kneeling archers are found for the first time.
From the internal layout of Pit 3, it should be the headquarters of pit 12. No. 3 pit is the only one of the three pits that has not been burned by the fire, so there are many colorful paintings left on the terracotta figures when they are unearthed. The terracotta figures unearthed in the terracotta pits were originally colored. Most of the colors had fallen off when they were unearthed. There were only mottled remains on the terracotta figures, and the colors of individual terracotta figures with more colors were as new as before.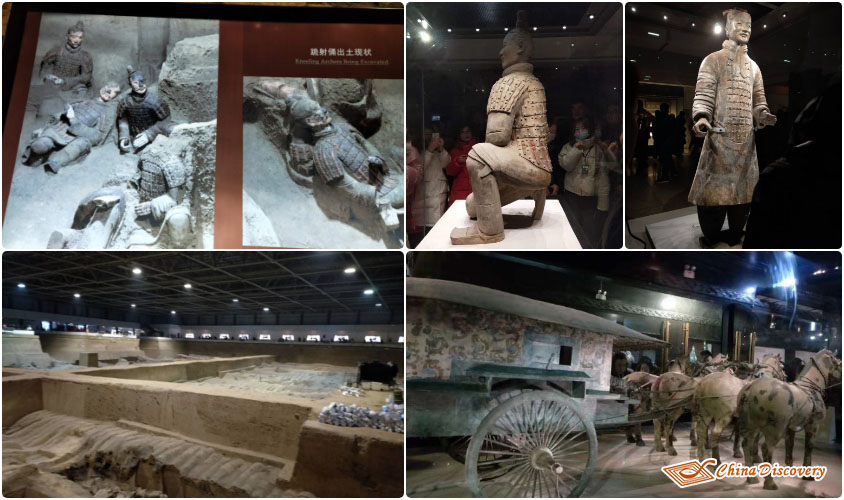 Terracotta Warriors in Different Pose
This exhibit is the bronze ware of the Qin Dynasty. The No.1 copper carriage of Qin mausoleum is a "standing carriage", which is an ancient single shaft double wheeled carriage and is made according to the proportion of 1 / 2 of the real carriages and horses of the Qin Dynasty. It is largest, most complex and most complete ancient vehicle and horse unearthed in the history of Archaeology in China, known as the "crown of bronze".
We enjoyed our tour to Xian a lot and want to come back again one day in the future. You should not miss Xian and don't hesitate to put it into your travel list.
Travel with Me
Hi, I'm Wing. Are you interested in my 2 Days Xian Tour from Chengdu? Feel free to contact me, and I will be glad to tell you more stunning stories about the places I have visited. Or, if you want to customize a tour on your own, I'm always ready to help at any time. With my passion, knowledge and understanding of the essence of travel, I promise I will try my best to make the tour memorable and meaningful for you.
Wing

Travel Consultant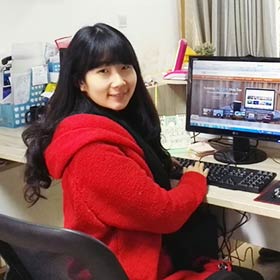 Recommended Tours
Top 3 tours chosen by most customers to explore in the best way. Check the detailed itinerary, or tailor your own trip now with us.
Have a question? Get answers from our travel experts or guests
Your Question:

Your Name:

Your Email: