Travel with Wing: 2 Days short Tour to Mountain City - Chongqing from Chengdu
Departure Date

2019-11-10

Travel Length

2 Days

Travel Theme

Cityscape, Culture, Food & Sightseeing

Group Size

2

Travel Route

Chengdu - Chongqing - Chengdu

Highlights

Huangjueping, Sichuan Academy of Fine Arts, Erling Park, Chongqing Hot Pot

Story Tags

#Chongqing#Huangjueping Street#Liangjiang Pavilion#Chongqing Hot Pot#Yangtze River Cableway
Chongqing, with only a one and a half's high way distance, we plan a 2-day tour there on one weekend. I found Chongqing is so charming and attractive to me, not because it's close to my home in Chengdu, but for it's really artistic, lively, and unique.
The "Mountain City", Chongqing, as it is known, is much more three-dimensional than another metropolis, so prepare for plenty of hills and stairs. Though it may take you more energy, it is just the glamour of this city. Wander off the main pedestrian and shopping drags, get lost in its alleys and local neighborhoods, and dive right in, you will fall in love with this city the same as me.
Our first destination is Huangjueping graffiti art street, with a total length of 1.25 kilometers, which is the largest graffiti artwork group in China and even in the world. More than 800 workers, students, and artists participated in the production of the whole graffiti project.
And don't forget to stop and have a taste of local delicious food - "pig-knuckle soup". Many people from distant places come here to taste this well-known dish.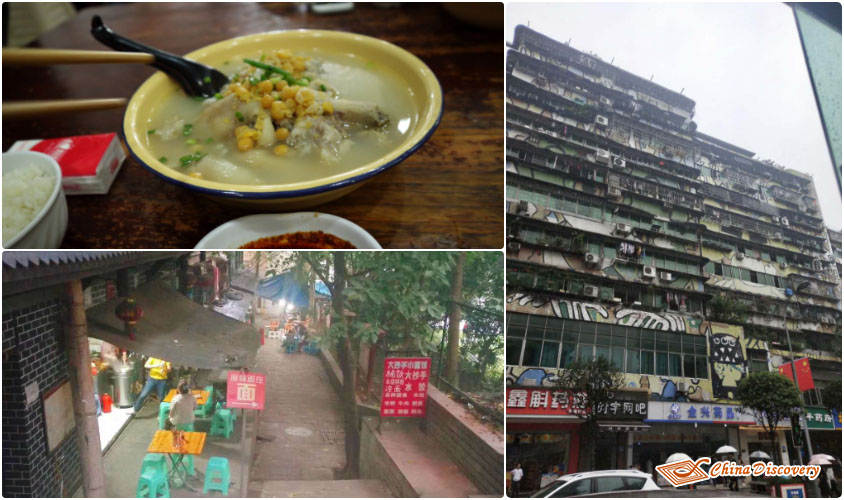 Having Pig-knuckle Soup at Huangjueping Street
If you have time, you can also stroll into the nearby Sichuan Academy of Fine Arts. There are two places you can't miss in the Academy, one is the art gallery, the other is the tank warehouse. The atmosphere here is similar to Beijing 798, which can surprise you now and then. Here you can also taste some delicious and inexpensive food, such as Chongqing's characteristic Tofu pudding (Douhua), little breakfast noodles (Xiaomian), and so on.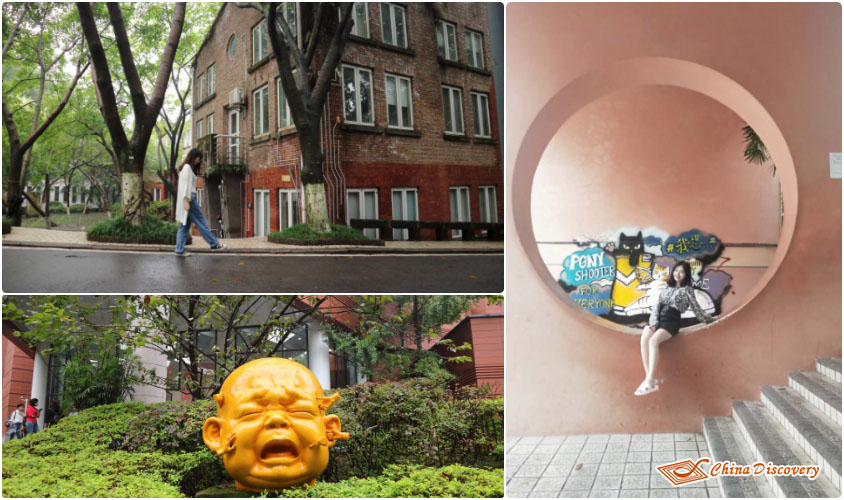 Sichuan Academy of Fine Arts
Left the art street, we head for Erling Park, composed of several landscapes such as stone rope bridge, Yihui garden, and Kanshenglou is the earliest private garden in Chongqing. In 1958, it was officially named Erling Park and opened to tourists. Here you can enjoy a 360-degree night view of Chongqing. The best scenic spot is Kanshenglou.
Kanshenglou, also known as Liangjiang Pavilion, is located in the northeast end of Erling park. The building is 41.44 meters high and 380 meters above sea level. It is a seven-story tower building, which can be viewed layer by layer. From here, you can overlook the outline of Chongqing city and the Jialing River. And when it's getting dark, the light of the whole city is on, Chongqing is also famous for its night view, you will not regret the waiting time.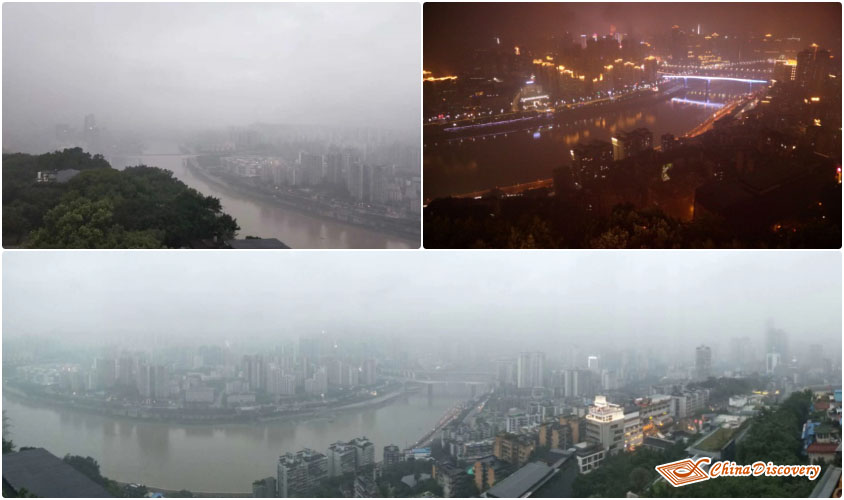 Overlooking the Cityscape of Chongqing and Jialing River
Descending the tower, we go to have our spicy Chongqing hot-pot dinner. Chongqing hot-pot is well known for it's so spicy and delicious, be careful if you can't eat pepper.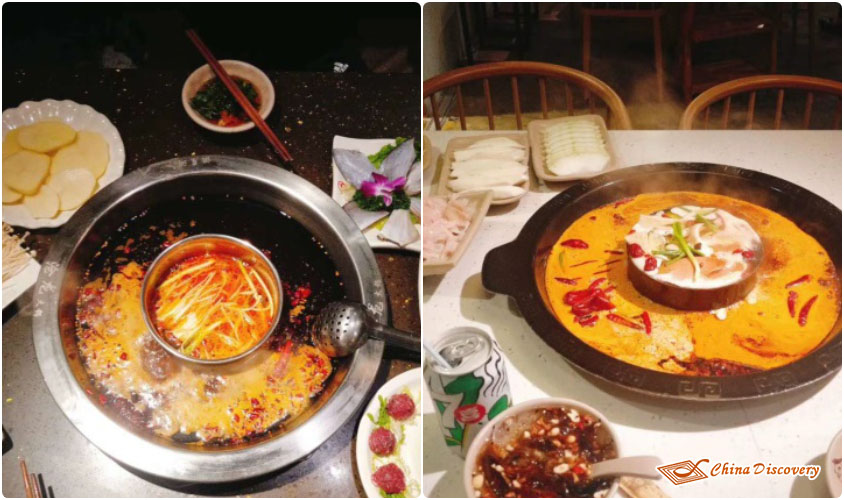 Spicy Chongqing Hot Pot
After the dinner, we decide to take the Yangtze River Cableway to back to our hotel on the other side of the river, the cable car is 1166 meters in length and 4 minutes in operation, connects Yuzhong District and Nan'an District of Chongqing. It is the second cross-river cableway in Chongqing (the first is Jialing River cableway (demolished), which has been in operation for more than 30 years and is known as "the first air corridor along the Yangtze River" and "mountain city airbus".
The Yangtze River cableway has become a "city card" of Chongqing and a favorite of many directors. You can find it in many famous movies such as "Crazy Stone", "Curiosity Kills cats", "Zhouyu's Train" and so on….Not just the Yangtze River cableway, many other tourist attractions in Chongqing can be found in more and more movies. It's a darling of directors.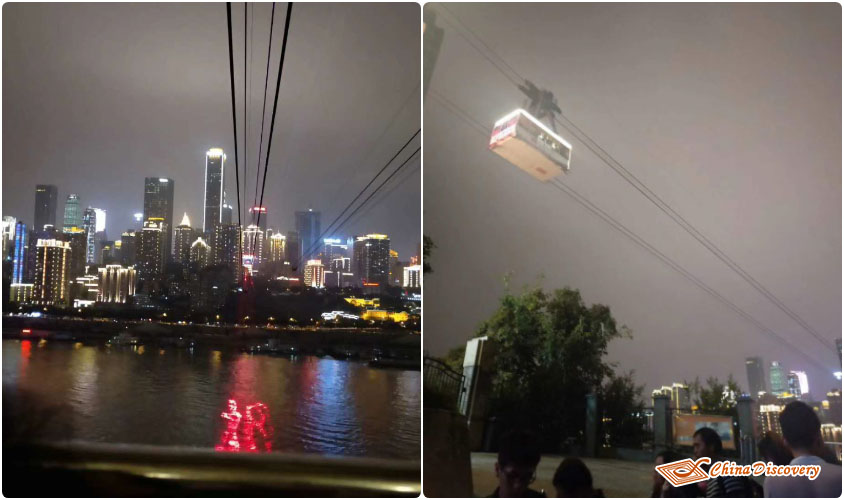 Yangtze River Cableway
Travel with Me
Hi, I'm Wing. Are you interested in my 2 Days Chongqing Tour from Chengdu? Feel free to contact me, and I will be glad to tell you more stunning stories about the places I have visited. Or, if you want to customize a tour on your own, I'm always ready to help at any time. With my passion, knowledge and understanding of the essence of travel, I promise I will try my best to make the tour memorable and meaningful for you.
Wing

Travel Consultant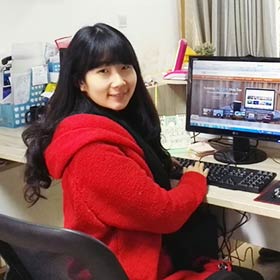 Recommended Tours
Top 3 tours chosen by most customers to explore in the best way. Check the detailed itinerary, or tailor your own trip now with us.
4 Days Chongqing Essence Tour with Yangtze River Cruise

Chongqing / Yangtze Cruise / Yichang
3 Days Chongqing & Wulong Karst Landscape Exploration Tour

Chongqing / Wulong / Chongqing
2 Days Chongqing City Tour with Dazu Rock Carvings

Chongqing/Dazu
Have a question? Get answers from our travel experts or guests
Your Question:

Your Name:

Your Email: