My First Skiing Trip - Xiling Snow Mountain
Departure Date

2019-2

Travel Length

1 Day

Travel Theme

Nature & Sightseeing

Group Size

2

Travel Route

Chengdu - Xiling Snow Mountain - Chengdu

Highlights

Xiling Snow Mountain

Story Tags

#Xiling Snow Mountain#Xiling#Ski
For those of us who were born and raised in the south of China, we are always yearning for the snow-capped, frozen and snowy scenery in the north. Luckily, only 95 kilometers away from Chengdu, in Dayi County, there is such a place that can fulfill my wishes in an easier way. This place is the Xiling Snow Mountain in the west of Chengdu. It is named after the ancient quatrain of Du Fu, a great poet of Tang Dynasty. This poet highly praised the fabulous scenery of Xiling Snow Mountain so give it the name. There are snow-capped mountains in the scenic area, with an altitude of 5364m, the first peak in Chengdu.
So on one weekend of February in the winter of last year, I invited my friends to Xiling Snow Mountain for a visit, which I have been longing for a long time. We took a public bus from the southeast gate bus station of Chengdu. After about 2 hours' drive, we arrived at Xiling Snow Mountain scenic spot. We come here in winter. Now it's a world covered in silver. It's said that Rhododendron blooms all over the mountains in spring. In summer, it's lush trees all over the mountain with colorful waterfalls hang rainbow all day. Autumn is the world of red maple. After getting off the bus, we began to enjoy the rare ice and snow scenery in the south.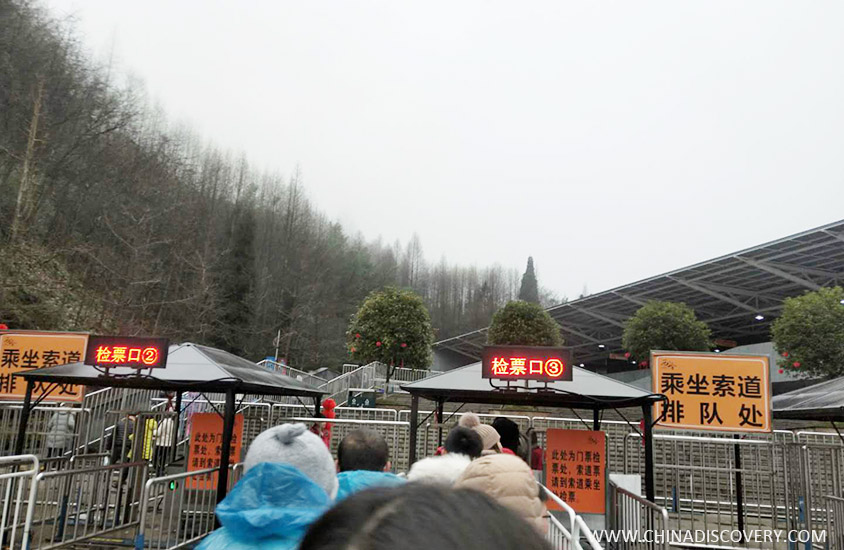 Lining Up to Take the Cable Car to Xiling Snow Mountain
Xiling Snow Mountain covers a total area of 482.8 square kilometers, which can be toured from front of the mountain and back of the mountain. The front mountain is a scenic spot where you can only walk and hike while there is a ski resort in back of the mountain. If you don't want to do mountain climbing, it's suggested to take a cable car from the back of the mountain. You can snow ski in winter and grass ski in summer. After the skiing, you can then decide whether to go to the front mountain according to your physical strength and time, in case you are too tired. The back mountain and the front mountain are connected. If you have time and you are interested, you can go to the front mountain to see the scenery. If you are going to hike in the front mountain, it is recommended to prepare enough food, because the whole journey will take about 5 hours to complete.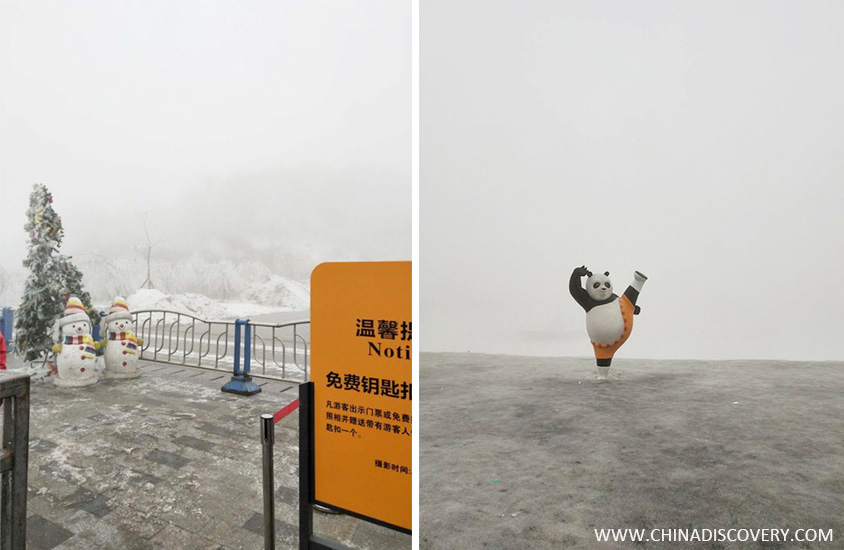 Say Hello to Kungfu Panda
Please know that there are only a few hotels within the scenic area, such as Skandina, Maple Leaf, Sunshine, Yingxue, etc. You can enjoy the snow for a longer time if you live within the scenic area, but in winter, especially the peak season for skiing from December to February, the prices of accommodation here within the scenic area are relatively expensive and even may not available, so it's better to book in advance. And also accommodation conditions are very basic, you need know this as well beforehand.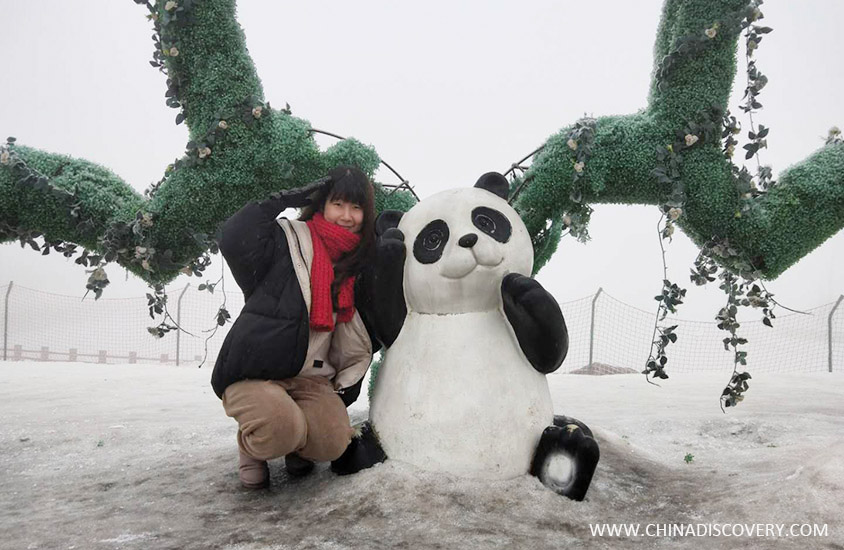 Taking a Picture with the Panda Statue
We booked a small hotel at the foot of the mountain outside the scenic spot. Due to the limited time, we didn't go to front Mountain, after staying at the foot of the mountain for one night, next morning we took the cable car and went straight to the ski resort at the back of the mountain. Taking the cableway up the mountain is a wonderful experience. The cableway car is transparent, you can overlook the beautiful snow below from the cable car's window. After going up the mountain, a white fairy tale world came into our first sight. We seldom see the accumulated snow, so I can't wait to step on the snow, make a slight creak, and print one deep footprint after another. The children's excited laughter came from every side. They took the snowball clips, shovels and other tools they bought in twos and threes and began to build their own imaginary snowmen. The more excited children had a snowball fight. There are also some statues of cartoon characters, such as Kung Fu Panda, Disney Princess, snowman, igloo, and so on. Everyone rushes to take photos with them excitedly.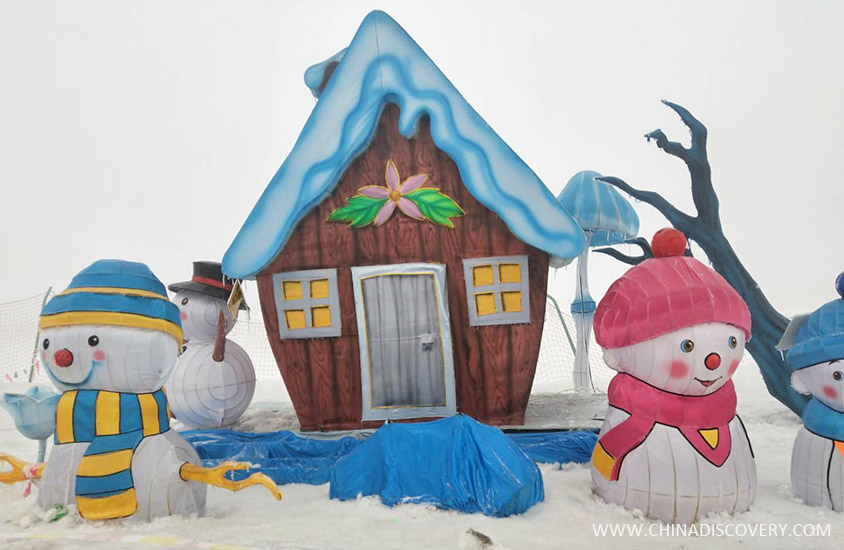 The Snowman Family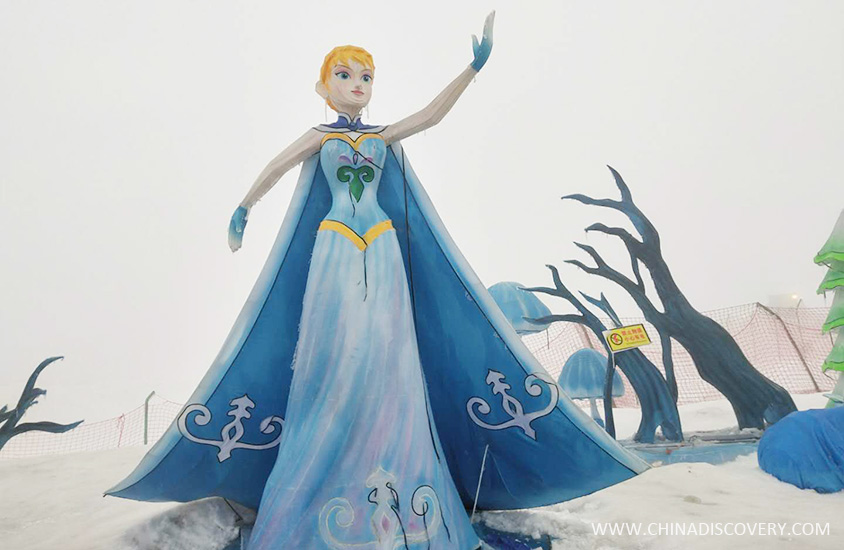 "The cold never bothered me anyway" - Princess Elsa
The ski resort is located on the half hillside of Xiling Snow Mountain, which is the size of several football fields. In addition to skiing, there are many snow entertainment items, such as snowmobiles, ice and snow Great Wall, etc., but the most attractive one is skiing. After buying the skiing ticket and changing into skiing equipment, we entered the ski resort. This can be regarded as my first official skiing, so we hired a skiing coach. We did a simple warm-up preparation, the coach taught us some basic skills, such as how to brake and so on, then teach us to do some exercises, after that we go to ski on our own. There are in general two paths, one with a sharp slope, suitable for skiers, and the other one with a slight slope, suitable for beginners. We went to a ski path suitable for beginners. For it's the peak season, you need to line up to take the magic carpet to the top of the ski resort, and then slide down. There were a lot of people, so it took us about half an hour to queue. After reaching the highest point, I began to slide down. It was a little more difficult than I thought. I can't brake well in the first try so I fell down several times. Fortunately, it didn't hurt too much. I felt very exciting. It's a new and interesting experience for us skiing beginners.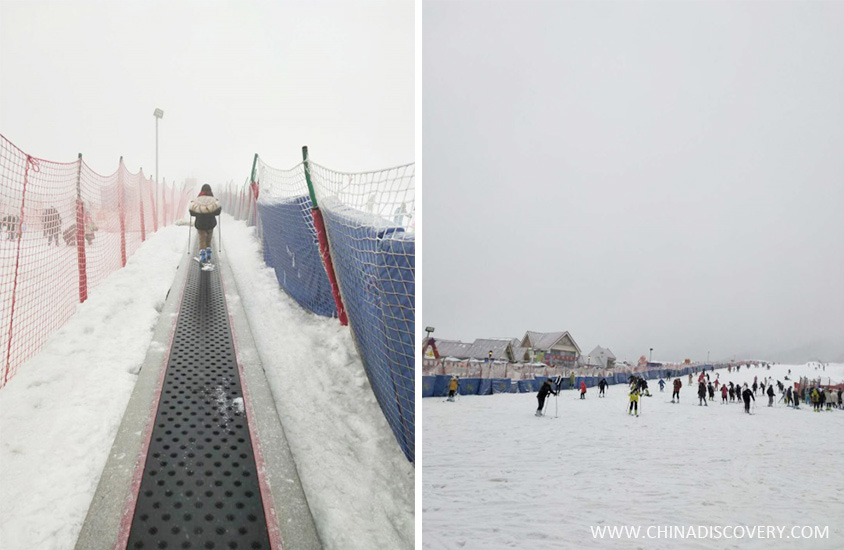 Xiling Snow Mountain Ski Resort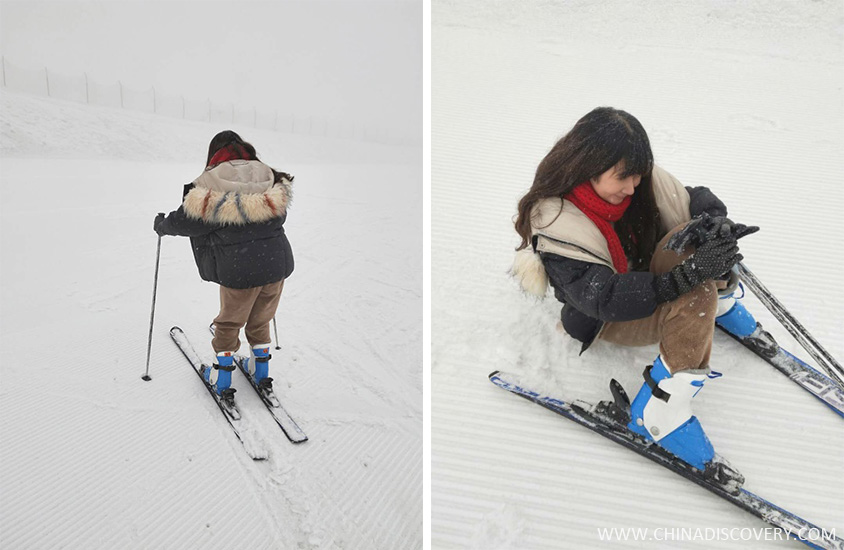 Go Skiing with Me
After nearly 2 hours of skiing, we are a little tired as beginners. So we left the ski resort and go on to enjoy the snow. The branches of the dead tree are also hung with snow, which makes the snow the shape of the tree. Some of them are also hung with red lanterns. At this time, the street lights are on. The snow world is dotted with yellow lights and red lanterns, which give us a faked warm feeling. The lake is frozen, walking on the trestle around the lake, and looking at a gray bridge across the lake in the distance, like a freehand Chinese landscape painting, none of which is redundant and all of these are full of poetry.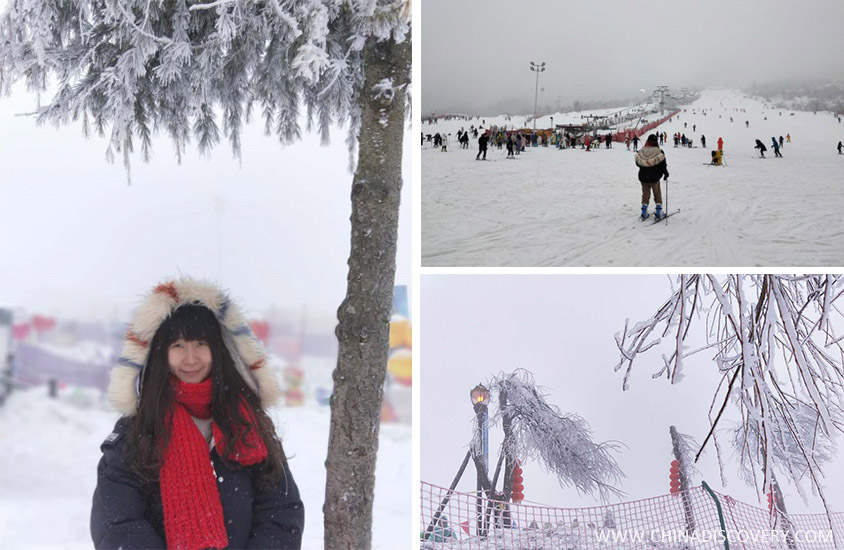 I am in a Silvery World
On the slope beside the bridge, people choose to slide the snow with boards or large plastic bags. For children and people who can't ski, it's also a good choice. It's not only good experience of happy skiing, but also without danger and isn't too exciting.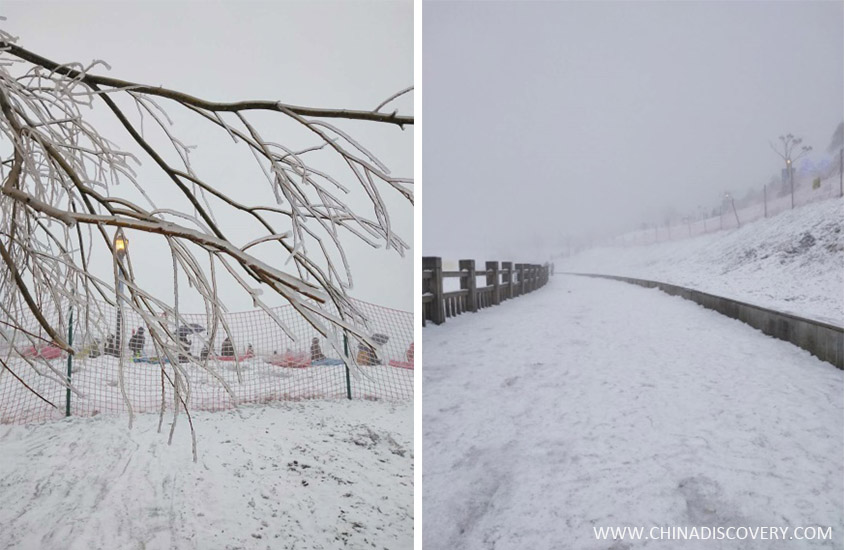 My Xiling Snow Mountain Trip is Coming to an End
Unconsciously, it's getting dark, and we are going down the mountain to leave. This time, we only arranged a day and a half's trip here. So we are in a hurry. We are going to come back again with more time next time. Take a look at the legendary yin-yang realm. It is said that the yin-yang realm is a wonderful scenic spot of Xiling Snow Mountain. It is not only a mountain peak, but also a watershed of two different climates. On the one hand, there is a clear sky and a clear blue sky; on the other hand, there are clouds and mists, which give visitors infinite and mysterious reverie. You can also experience some other skiing events, such as snowboarding, snowplowing, etc. In addition, you can have a hot spring experience in the nearby Huashuiwan hot spring. I'm already looking forward to my next trip.
Travel with Me
Hi, I'm Wing. Are you interested in my 1 Day Xiling Snow Mountain Tour from Chengdu? Feel free to contact me, and I will be glad to tell you more stunning stories about the places I have visited. Or, if you want to customize a tour on your own, I'm always ready to help at any time. With my passion, knowledge and understanding of the essence of travel, I promise I will try my best to make the tour memorable and meaningful for you.
Wing

Travel Consultant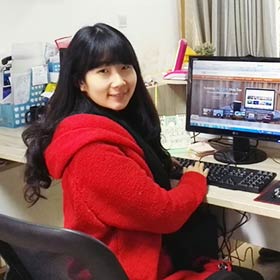 Recommended Tours
Top 3 tours chosen by most customers to explore in the best way. Check the detailed itinerary, or tailor your own trip now with us.
2 Days Xiling Snow Mountain Ski Tour from Chengdu

Chengdu / Xiling Snow Mountain / Chengdu
4 Days Chengdu & Xiling Snow Mountain Winter Tour

Chengdu / Xiling Snow Mountain / Chengdu
4 Days Chengdu & Xiling Snow Mountain with Anren Ancient Town

Chengdu / Xiling Snow Mountain / Dayi / Chengdu
Have a question? Get answers from our travel experts or guests
Your Question:

Your Name:

Your Email: