5 Days to the UNESCO World Heritage Site - Huangshan
Departure Date

2019-11-10

Travel Length

5 Days

Travel Theme

Nature, Culture, Hiking, Food

Group Size

2

Travel Route

Chengdu - Huangshan - Tunxi - Chengkan - Tangmo - Mt. Huangshan - Hongcun - Lucun - Xidi - Huizhou - Chengdu

Highlights

Mt Huangshan, Tunxi, Chengkan, Tangmo, Hongcun, Lucun, Xidi, Huizhou

Story Tags

#Mt. Huangshan#Yellow Mountain#Hiking#Ancient Villages#Hongcun#Xidi
There is an old saying in China "黄山归来不看山", which means one who has returned from Huangshan (Yellow Mountain) thinks nothing of other high mountains.
Located in Anhui Province, China, Huangshan has always been reputed for its natural beauty of the mountains and the peaceful ancient villages with unique Huizhou style architecture, you'll see black and white buildings with exquisite carvings of wood, stone or brick whichever village you visit. 
The 12th Auhui International Culture and Tourism Festival opened on Nov.11th this year and it was via this chance that I and my workmate had 5 days exploring this beautiful place. 
Day 1 Huangshan arrival + Tunxi Old Streets
We arrived in Huangshan in late afternoon, after checking into the hotel and having a nice dinner, we headed to the 900-year old Tunxi Ancient Streets in the city center. Different from other ancient streets in China that are filled with food/ clothes/art wares, you can find that in the ancient Tunxi Ancient Streets, except for a few stores with local specialties, more shops here are selling writing brushes, ink sticks, paper and inkstones, "the Four Treasures of Calligraphy "in ancient China. People here keep very good awareness of the inheritance of traditional culture.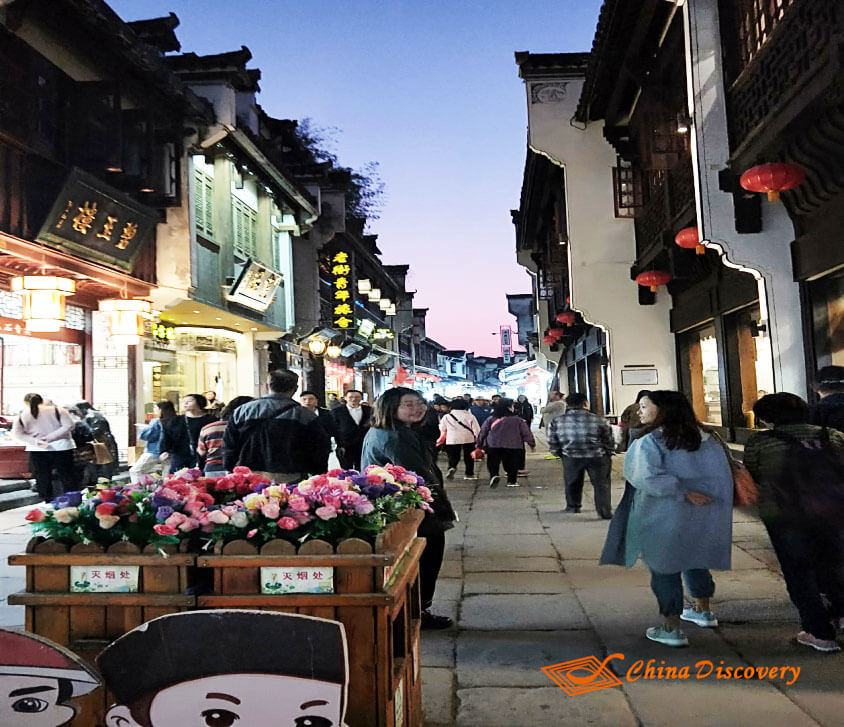 900-year-old Tunxi Ancient Streets
Day 2 Ancient Villages in Shexian County - Chengkan and Tangmo
After breakfast in the hotel, the first thing we did is to attend the Opening Ceremony of the 12th Auhui International Culture and Tourism Festival, and in the afternoon, we set off for the exploration of the ancient village in Shexian County, which is 30 km, around 1 hour's driving, from Huangshan downtown (Tunxi). 
Cheng Kan is our first destination. With the history of 1800 years, it is one of the most completely preserved ancient villages in China and there are in the village more than 150 historical buildings dated back to the dynasties of Song, Yuan, Ming & Qing, etc. In addition to the classic Huizhou architecture, the layout of Chengkan architecture has to be mentioned. If you don't have a tour guide, most people will easily get lost because the entire town was built according to the Chinese gossip chart, and the name "Bagua (gossip chart) Village" comes from this. If you come here in the fall, September to November, you'll have a great chance to see the harvest displayed on the square.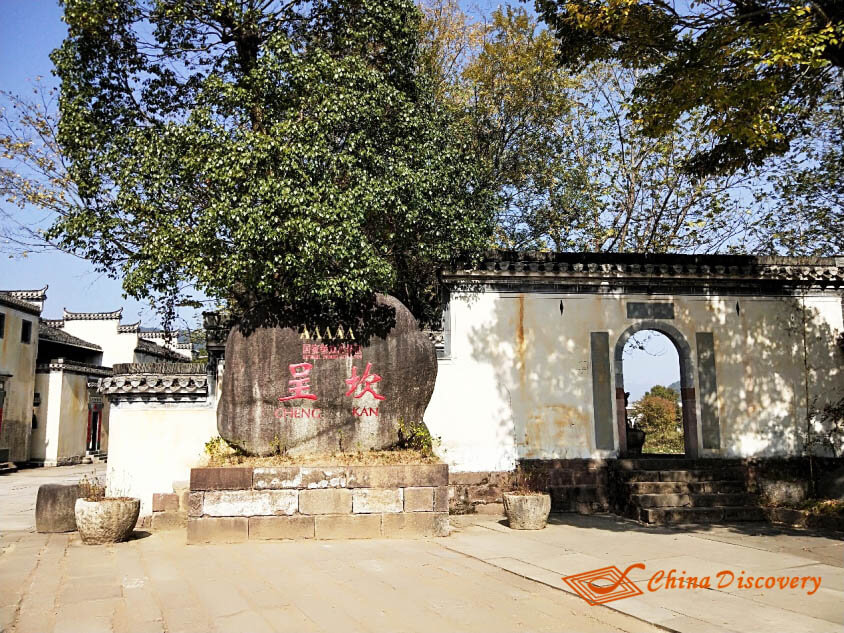 Chengkan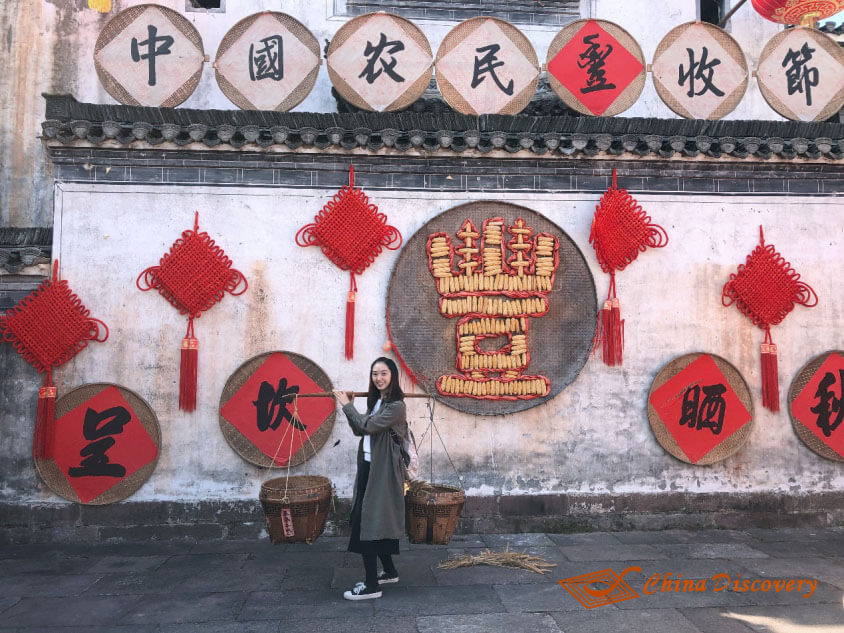 In Ancient China, People Use This Tool to Carry Things
After Chengkan, we headed to Tangmo, a smaller village along a river. Word has it that it was a model village in China Tang Dynasty. Walking in the quiet village, you'll see from time to time some painters and students creating their works of the beautiful village in their eye.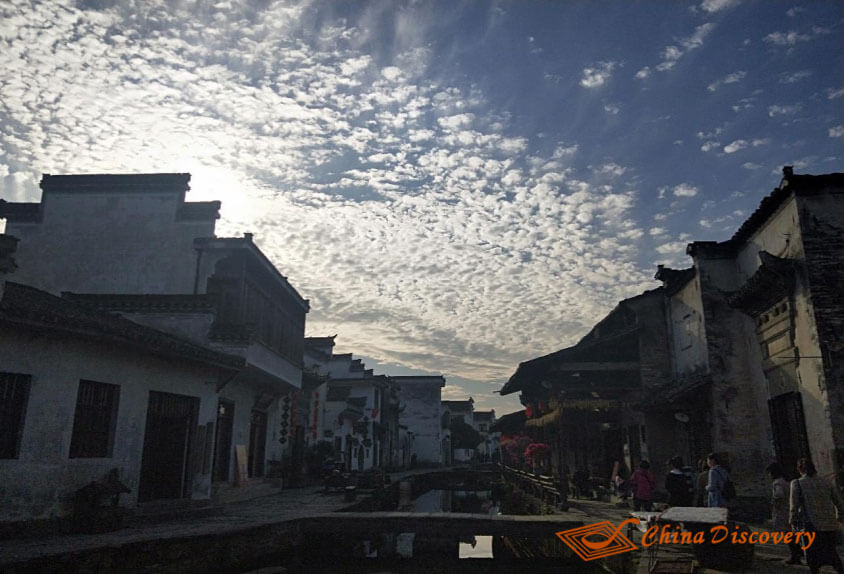 Tangmo Village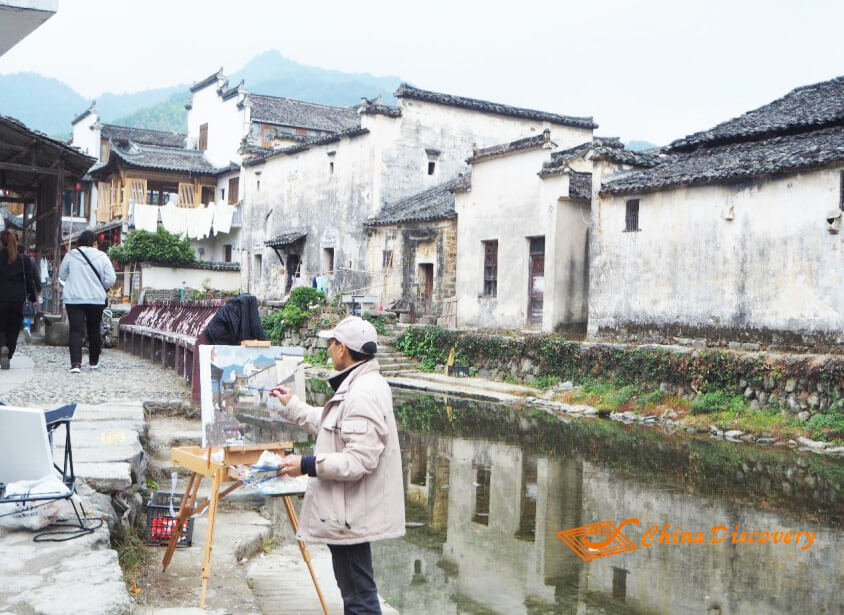 Tangmo Village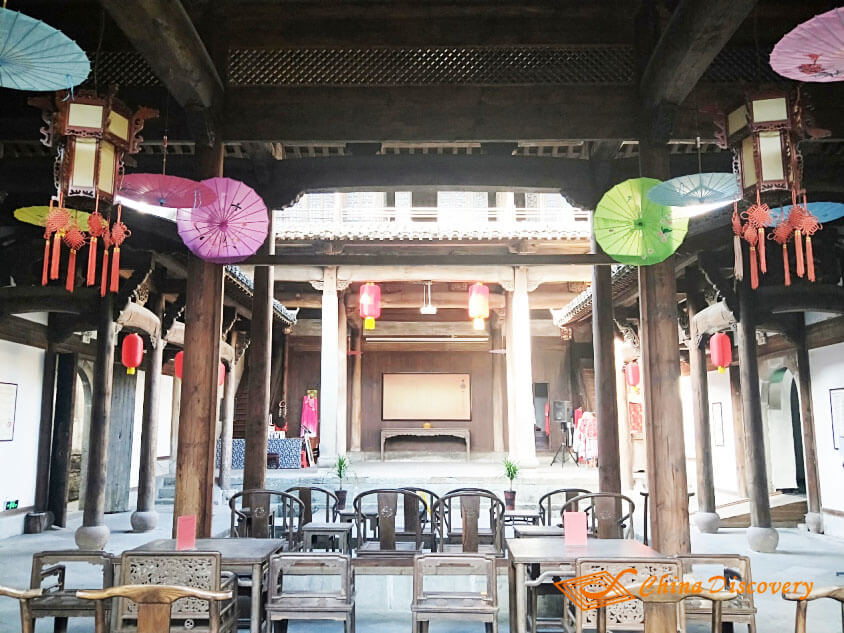 Tangmo Village
Day 3 Huangshan Mountains
In 1990, Mt. Huangshan was ranked as one of the few World Heritage Sites by UNESCO for both cultural and natural heritage. As one of the most beautiful mountains in China, it has been famed for wondrous pines and rock peaks, splendid sea of clouds, good hot springs & gorgeous landscape of snow in winter. 
It's 1.5 hours' driving from the hotel to the back mountains. Huangshan consists of the front Mountains and the back mountains, mostly, travelers visited the back mountains as if offers a more pleasant way to the top area and that's where the highlights are located. 
After arriving at the mountain foot, we got on a sightseeing bus at the back mountains to the Yungu Temple where the cable car took us up the mountains. It's followed by a 45 minutes' hiking to the Begin-to-Believe Peak. Then it took us approximately 40 minutes to reach the Beihai Hotel via Black Tiger Pine. Lunch was arranged in Beihai hotel, it's buffet, around RMB100 per person. 
In the afternoon, we went on hiking to the Dispelling Cloud Pavilion from which you can walk down to the West Sea Grand Canyon via the 1st & 2nd ring, usually, it takes 2 hours for the 1st Ring and 2.5hrs for the 2nd Ring. The narrow and steep stone steps make it a hard way down to the bottom. If you are afraid of heights, be cautious of your decision as the unfathomable cliffs are along the way. Due to constraints of the time, we just hiked down to the 1st ring and returned the other way. Eventually, we took the Taiping cable car at Purple Cloud Station down the mountains.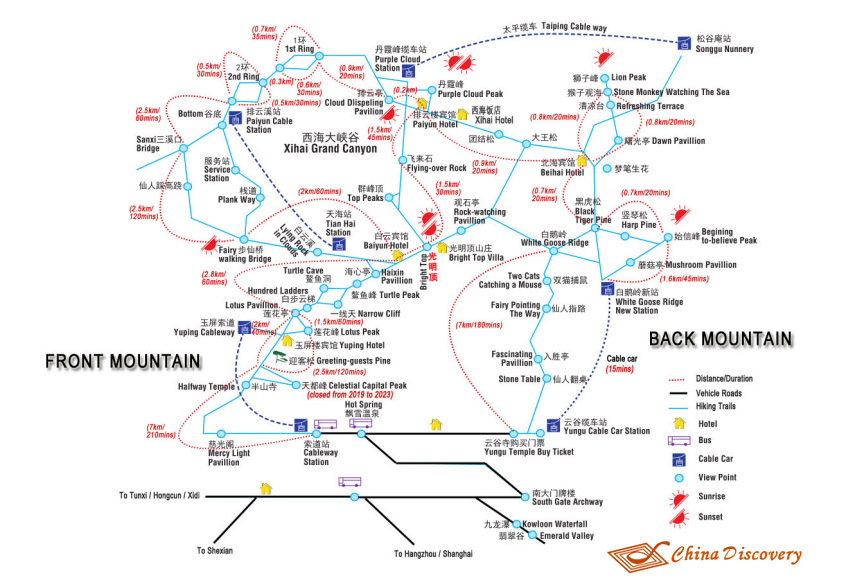 Hiking Map of Mt. Huangshan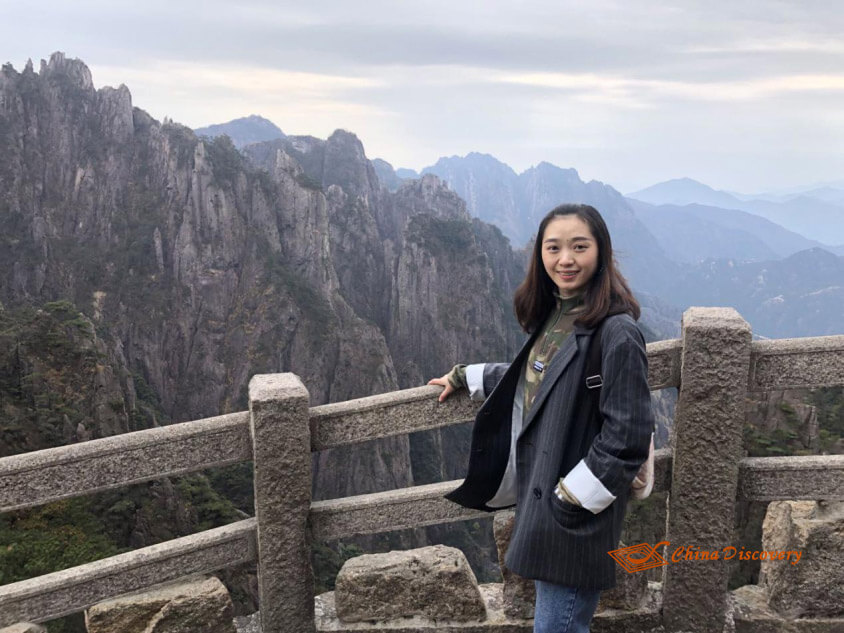 Wendy at Mt. Huangshan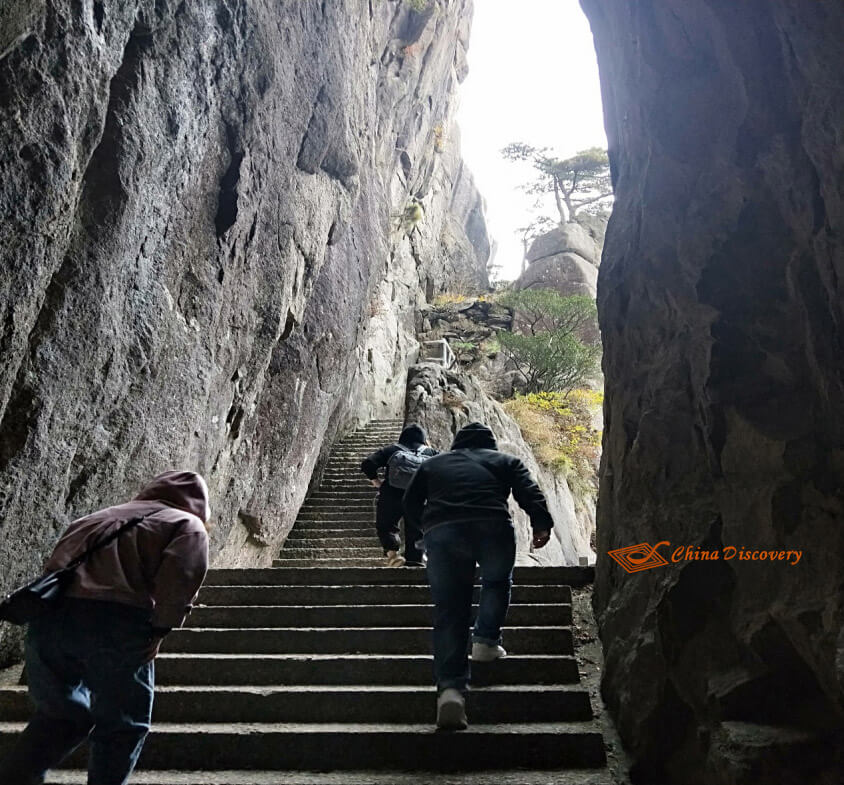 Narrow and Steep Steps at 1st Ring
Day 4 Hongcun & Lucun Ancient Villages at Yixian County
Today we first paid a visit to the intangible cultural heritage traditional craftsmanship exhibition that was held once in a year. Various handmade artworks were so attractive that all of us were reluctant to leave. 
After that, one hour's driving took us to the highlights for today, Hongcun Villages & Lucun villages. We visited Lucun first. "Cun" in Chinese means village, Lucun got its name as most people here have the family name of Lu. It should be the smallest village among all we visited in Huangshan, but the grand & exquisite buildings complex here ranks the top among the carved wooden architecture all over China.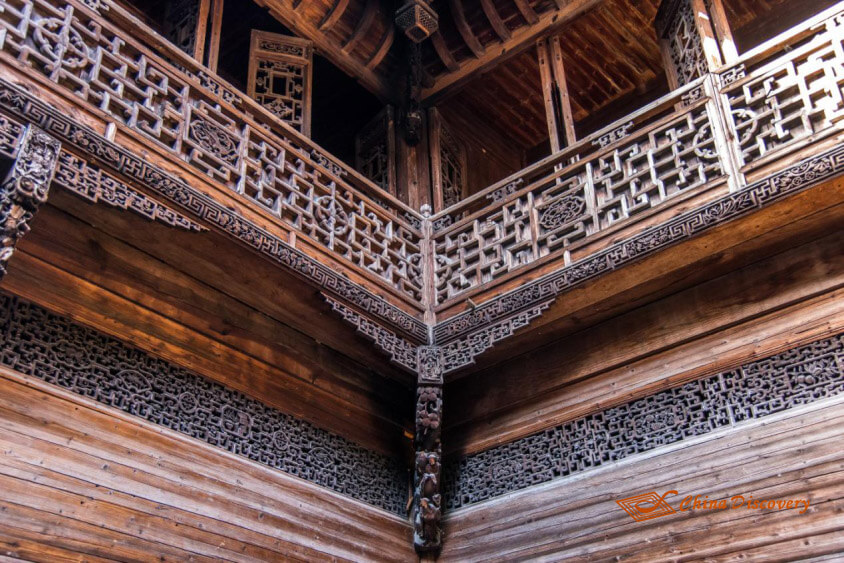 Exquisite Wooden Carvings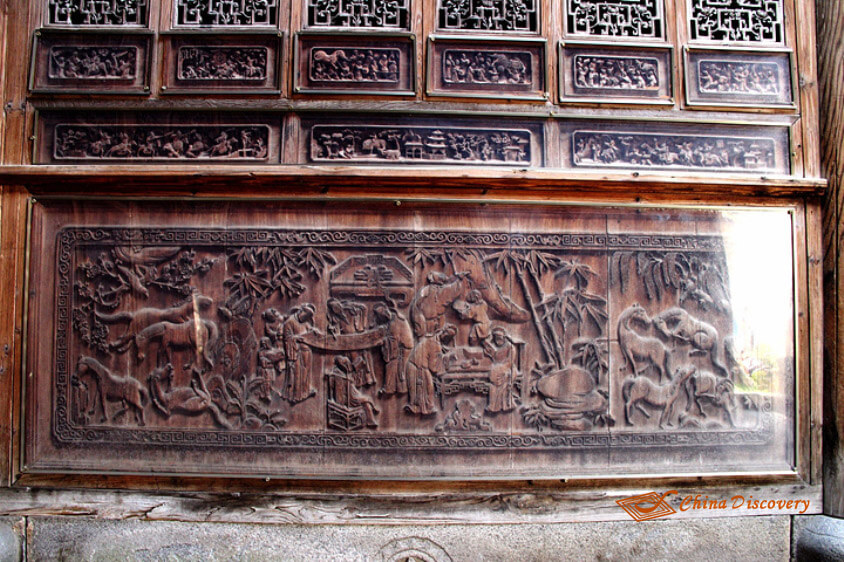 Exquisite Wooden Carvings Were Everywhere in the Village Architecture
Around 1 km from the Lucun, we came to the most beautiful village I've ever seen - Hongcun. Surrounded by a big river at the village entrance, it looks like a great painting by an outstanding master. You can find many more travelers here than any other village in Huangshan and it's indeed worthy of a visit. 
Located 18km away (30 minutes' driving) from Hongcun, there is another highlight - Xidi Old Village. Together with Hongcun, it was listed in UNESCO World Heritage Sites in 2000. Unfortunately, because of limited time, we missed the visit to the Xidi village.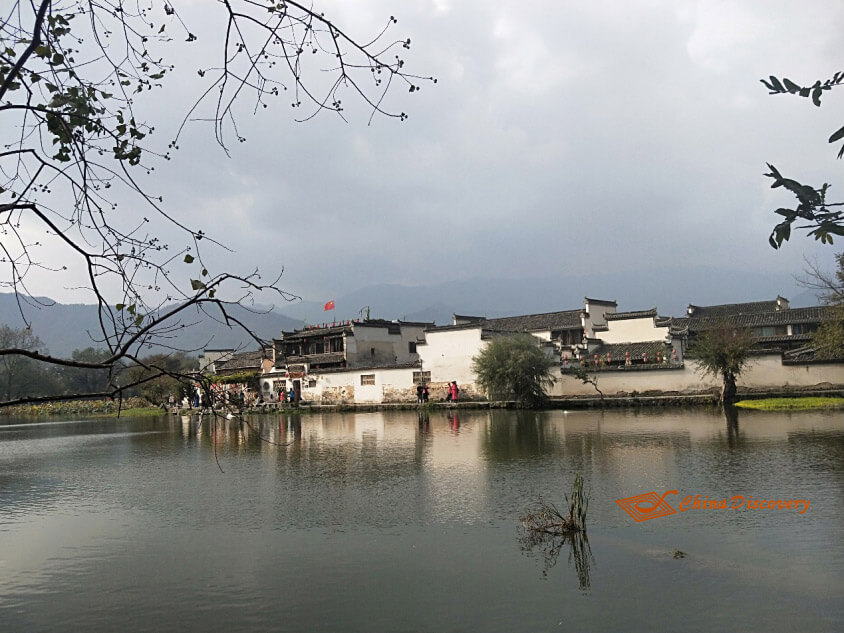 Picturesque Hongcun Village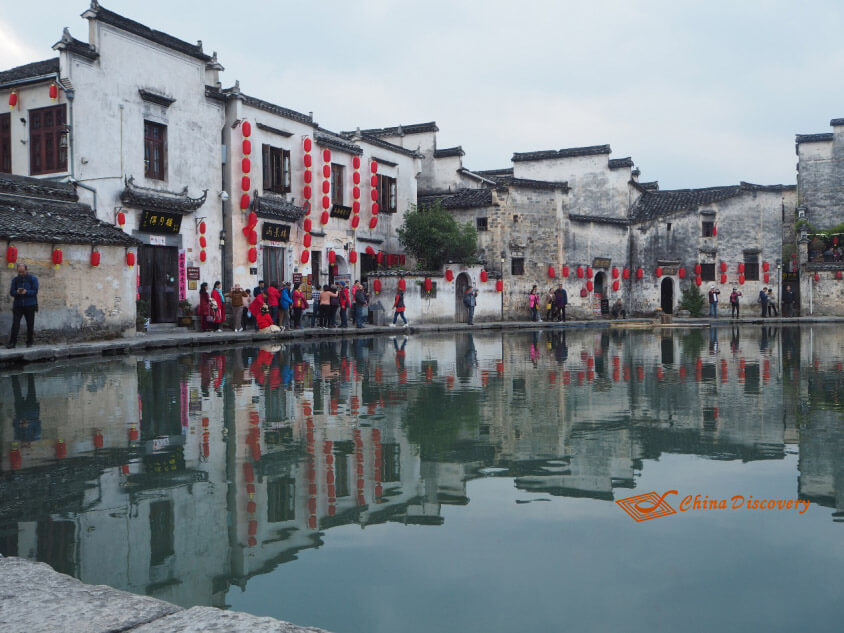 Picturesque Hongcun Village
In the evening, we watched the magnificent song and dance drama "Picturesque Huizhou". A variety of performance measures, including Epic scene, music, dance, acrobatics, modern Huizhou opera, Peking opera, flower opera, folk medley, song and dance set, etc. run through the whole performance to show the beautiful natural landscapes of Mt. Huangshan and the long history and profound culture in Huizhou.
Grand Huizhou Show
Day 5 Xin'an River Cruise & Huizhou Ancient Town, Departure
On the last day, we opted for the cruise on Xing'an River in the morning. It begins at 9 am and the disembarkation time is around 1 pm. During the 4-hour cruise, there are 4 stops, the ice house, Jiusha Harvest Display, the fishing show & the traditional wedding exhibition. The first was not so exciting, but the other 3 stops were worth visiting. 
It's followed by a visit to the Huizhou Ancient Town, one of the four well-preserved ancient cities in China where you can not only learn about the traditional Huizhou culture but also see the authentic living scenes of locals.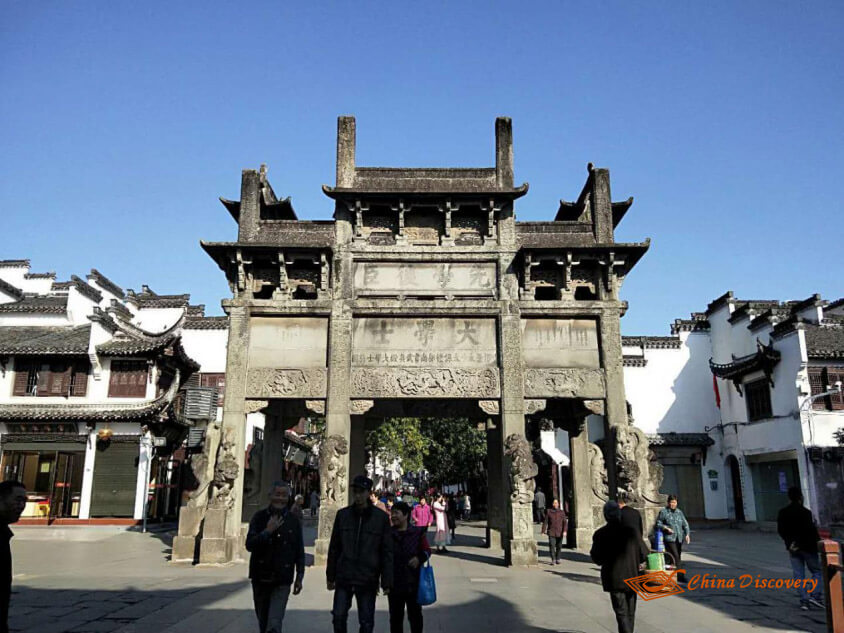 Quiet Huizhou Ancient Town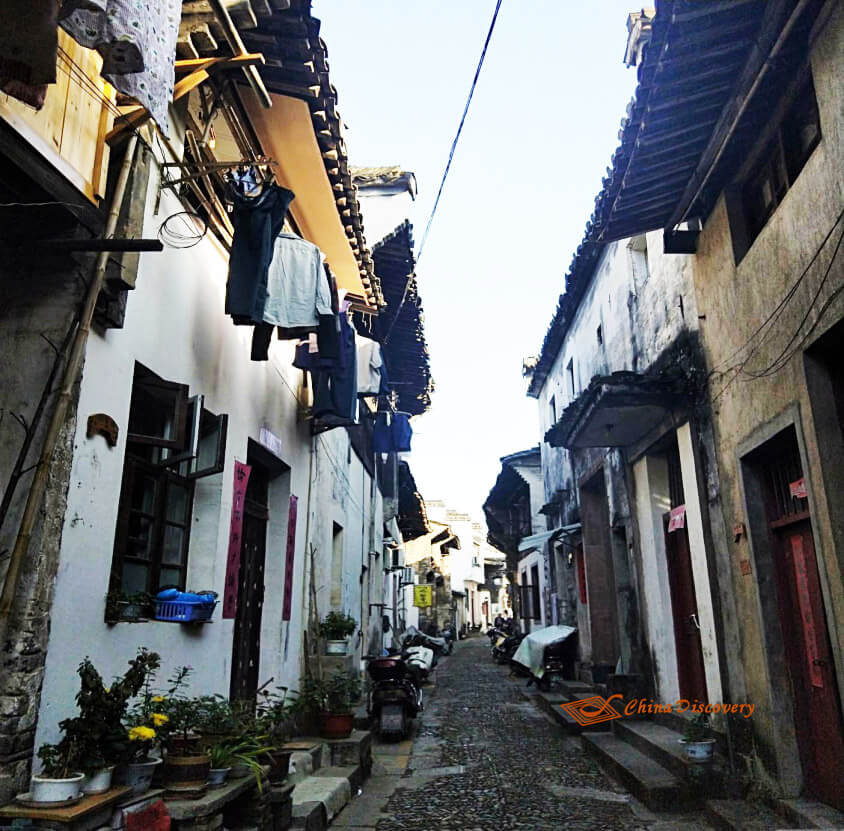 Authentic small alleys in Huizhou Ancient Town
Thanks to the delay of our return flight, we had a few additional hours in Huangshan, we paid a visit to the Hukaiwen Ink Factory, the location is right by the Tunxi Old Street. When customizing Huangshan tour plans, many clients told that they didn't want to visit the ink factory as they thought it was a shopping stop, but it is NOT true. It's a hard-to-be-seen factory where we can witness how the ink is made traditionally.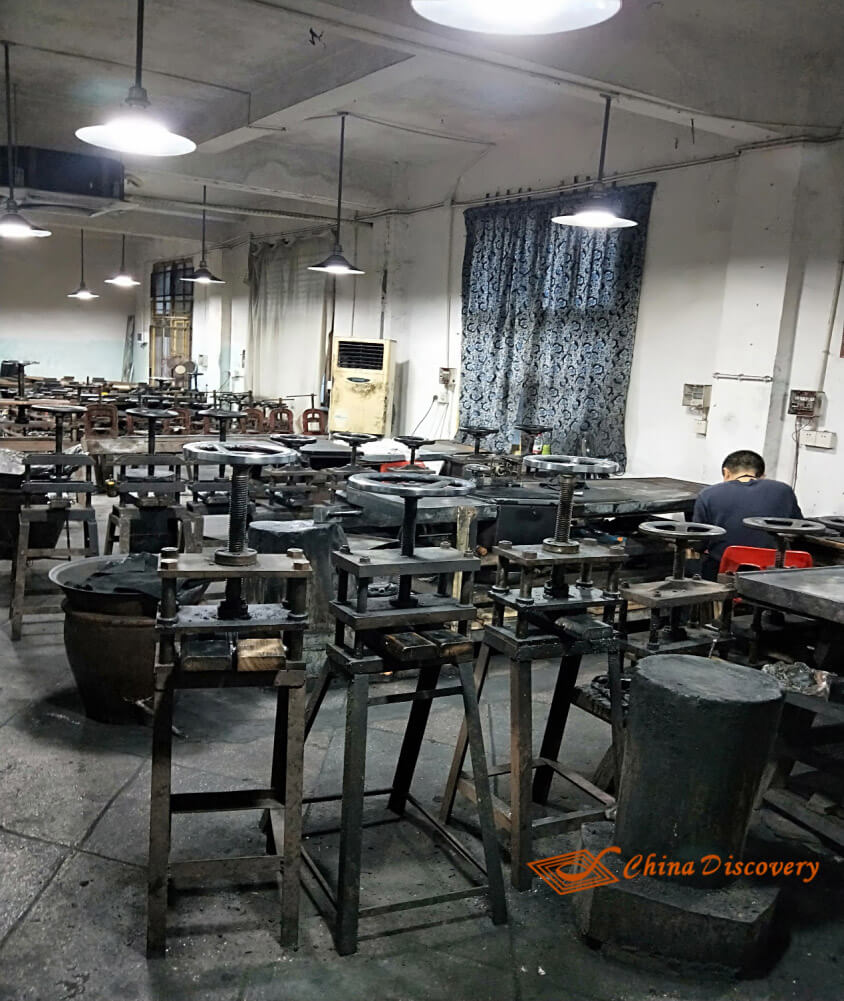 Hukaiwen Ink Factory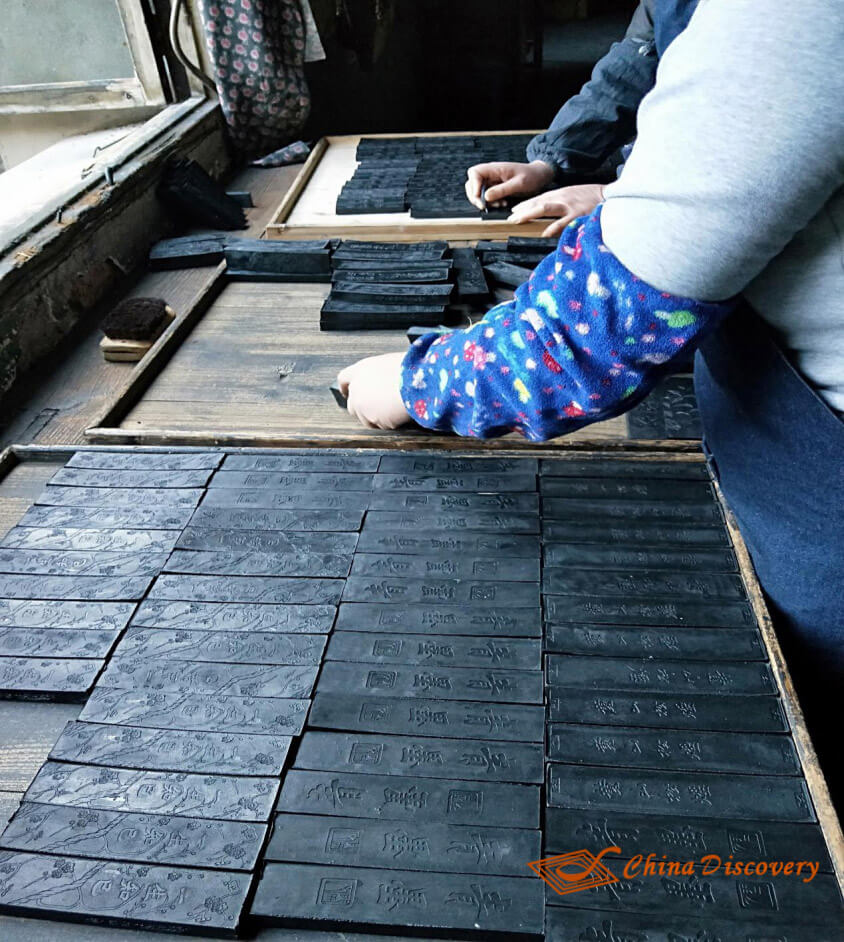 How the Chinese Ink is made in a Traditional Way
After the 5 days visit, we got back home in the late evening, tired but satisfied. Hiking on the beautiful mountains, wandering around the old villages, cruising on the quiet river, etc. all offer a rare opportunity to escape from the hustle and bustle of the metropolis and help us to find peace in the deep heart. 
Travel Suggestions
1. If you have limited time visiting Huangshan, this tour plan is strongly recommended to you:
>>4 Days Best Huangshan Tour with Hongcun & Xidi Ancient Villages
2. Special suggestions to food lovers who are going to Huangshan: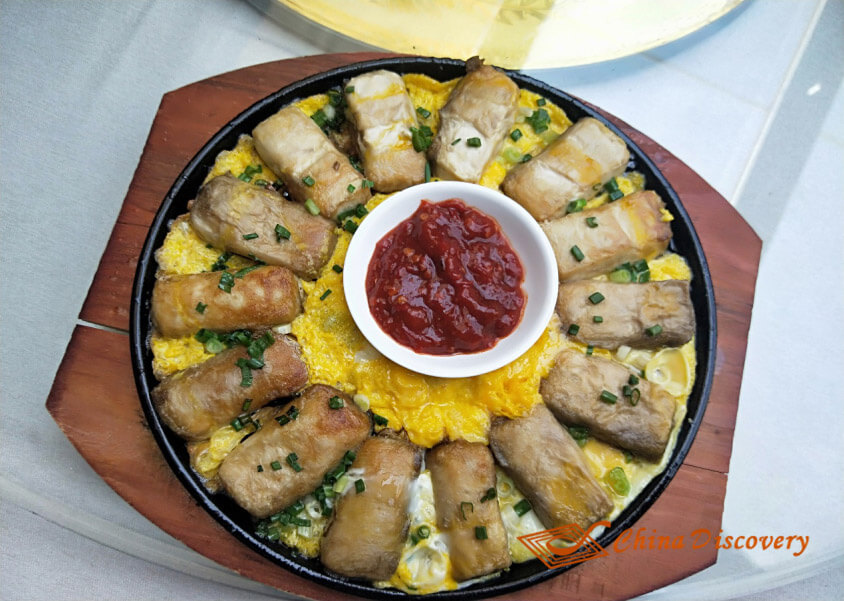 毛豆腐 Hairy Tofu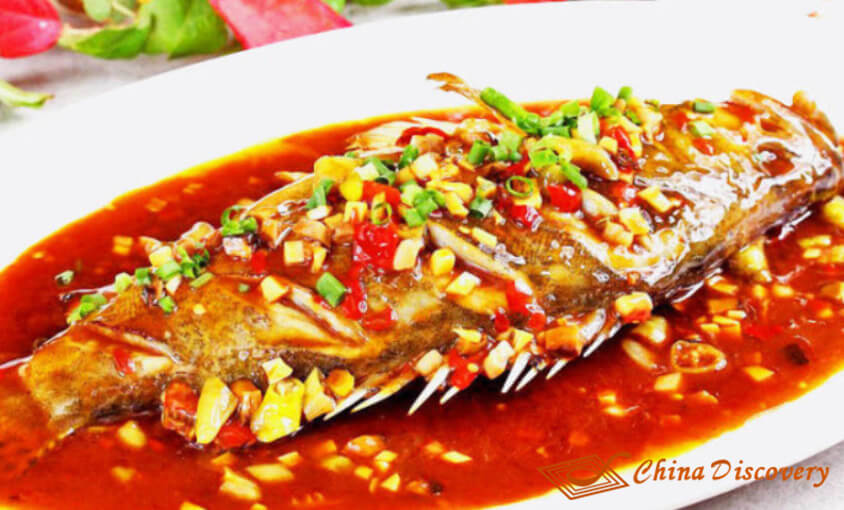 臭鳜鱼 Smelly Mandarin Fish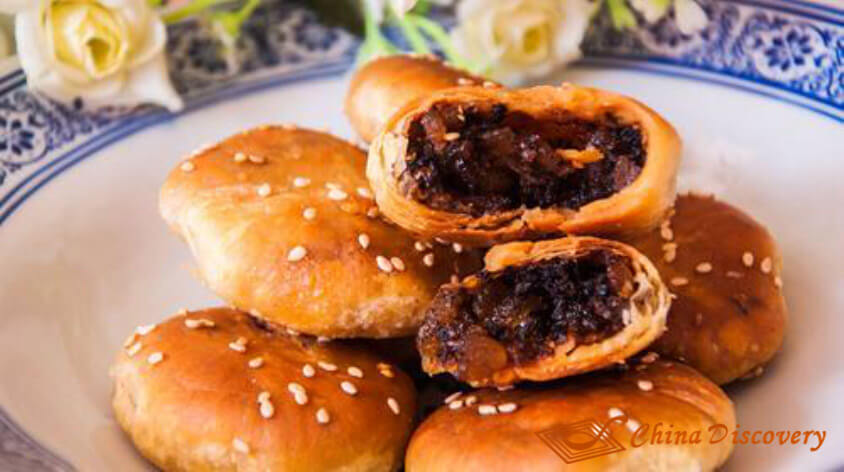 黄山烧饼 Huangshan Baked Wheat Cake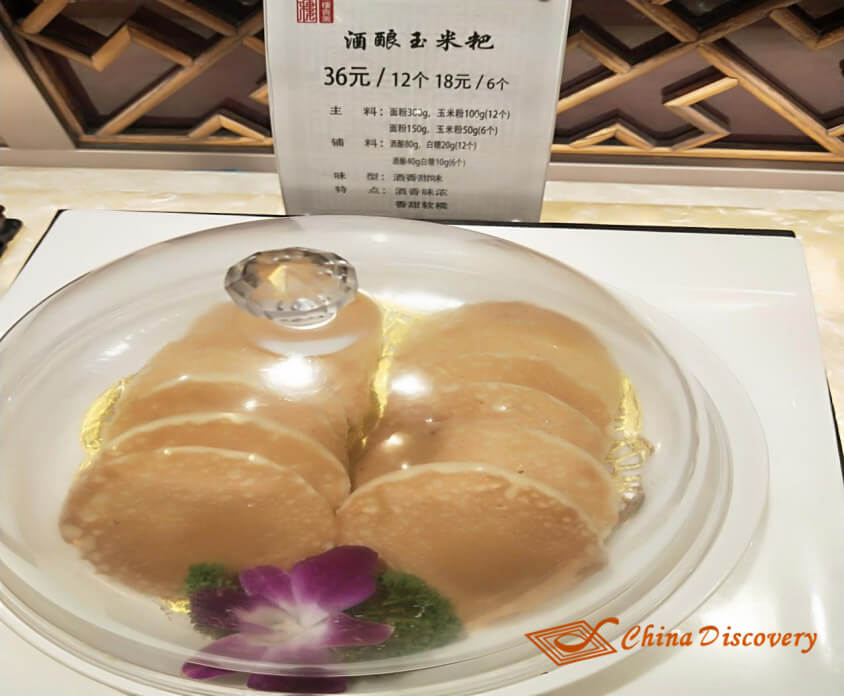 酒酿玉米粑 Chinese Bread Made of Corn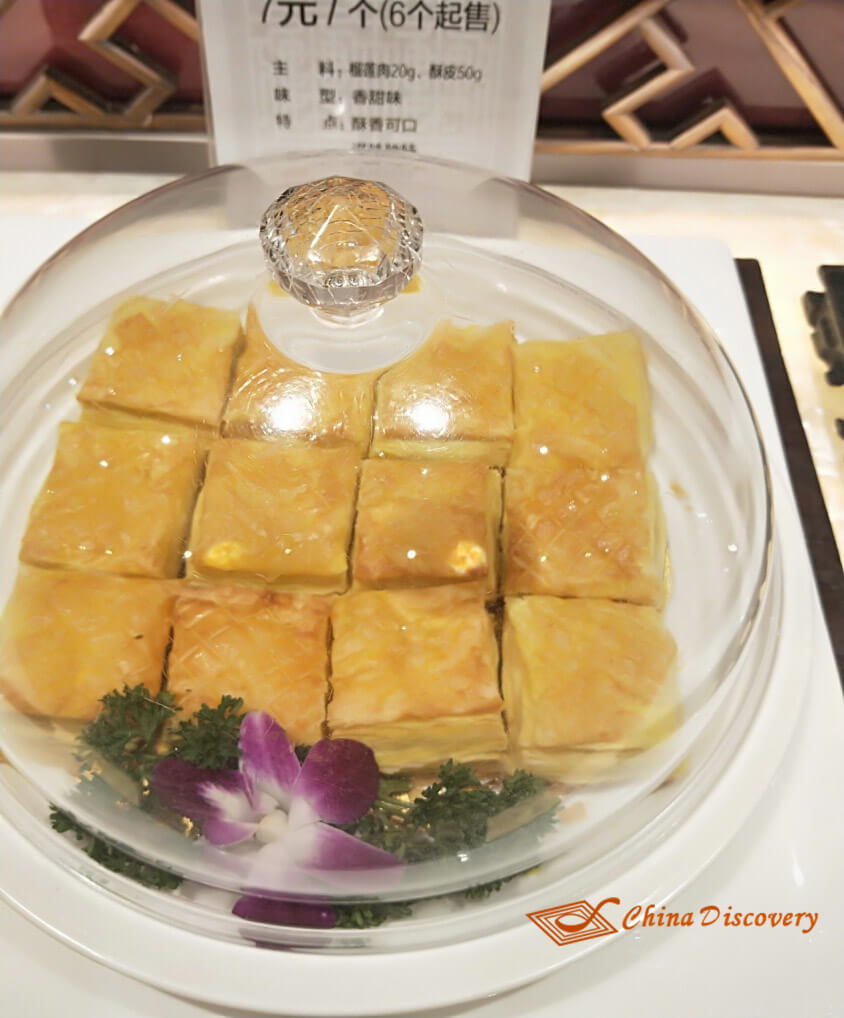 榴莲酥 Crispy Durian Cake
Travel with Me
Hi, I'm Wendy. Are you interested in my Five Days Huangshan Trip? Feel free to contact me, and I will be glad to tell you more stunning stories about the places I have visited. Or, if you want to customize a tour on your own, I'm always ready to help at any time. With my passion, knowledge and understanding of the essence of travel, I promise I will try my best to make the tour memorable and meaningful for you.
Wendy

Travel Consultant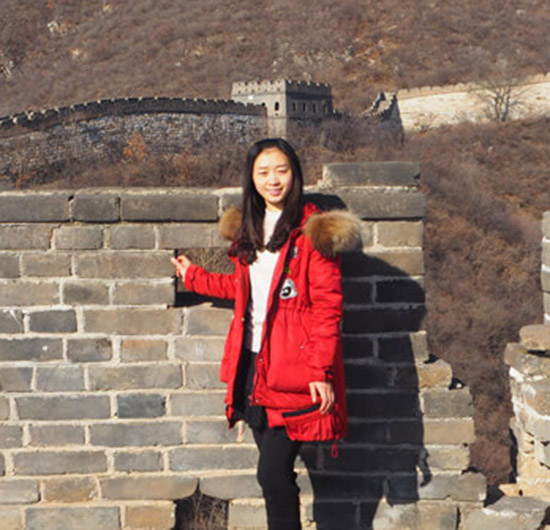 Recommended Tours
Top 3 tours chosen by most customers to explore in the best way. Check the detailed itinerary, or tailor your own trip now with us.
3 Days Huangshan Highlights Leisure Tour (Back Mountain + West Sea Grand Canyon)

Tunxi - Huangshan - Tunxi
4 Days Huangshan Mountain Tour with Ancient Villages Living Experience

Tunxi - Nanping - Hongcun - Huangshan Mountain
Have a question? Get answers from our travel experts or guests
Your Question:

Your Name:

Your Email: