Travel with Vivien: 5 Days Guilin Yangshuo Leisure Trip
Departure Date

2019-12-2

Travel Length

5 Days

Travel Theme

Nature, Cruise, Family, Food

Group Size

3

Travel Route

Chengdu - Guilin - Yangshuo - Chengdu

Highlights

Reed Flute Cave, Elephant Trunk Hill, Guilin Rice Noodle, Li River Cruise, Ten-mile Gallery, Big Banyan Tree, Yulong River, Moon Hill, Impression Liusanjie, West Street, Xingping Ancient Town

Story Tags

#Guilin#Yangshuo#Chengdu#Reed Flute Cave#Elephant Trunk Hill #Li River#Ten-mile Gallery#Yulong River#Moon Hill#Xingping Ancient Town
"Guilin's scenery is the best in the world". This is the saying every kid will learn in primary school. Is it really a truth? In the winter of the year 2019, I found the answer. 
Dec is the lower season for work so a good time to accompany the family. My parents and I plan a family trip to Guilin for 5 days. Generally speaking, Li River, Yangshuo, and Longji Terrace are the three most popular destinations in Guilin. Considering my parents prefer the leisure pace and relax tour, we skip the Longji Terrace this time which requires more walking and energy. 
Day 1: Chengdu Bullet Train to Guilin 
The bullet train from Chengdu to Guilin takes around 6 hours. And the first day also is very excited. It just likes a nap time and we arrive in Guilin. Today's highlight is Reed Flute Cave; which is one of the spectacular and picturesque caves in the area of Guilin and a 'must-see' scenic attraction for domestic and foreign visitors. My mom's favorite for today. 
Walking into Reed Flute Cave, you will be amazed at how radiant the dewy stalagmites look like. The rainbow lights and dazzling array of massive natural formations compose a dreamy wonderland. Listening to guide and giving the rein to your imagination, you will find how fascinating the cave is.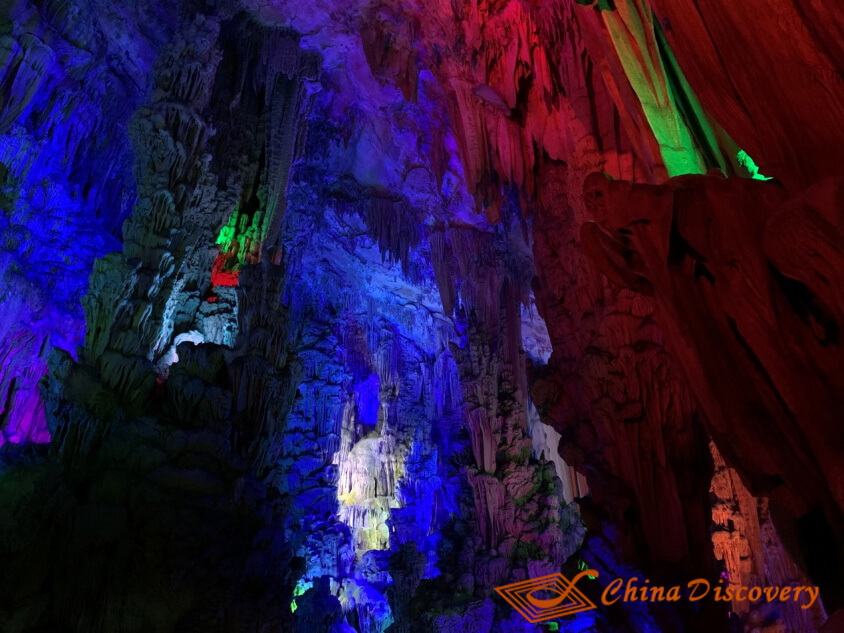 Reed Flute Cave
Day 2: Li River Cruise to Yangshuo – West Street – Impression Liu San Jie Show
Guilin is famous as "the finest scenery under heaven". Li River is famous as "the most beautiful part of Guilin". There is no double, Li River is the No.1 must-see in my list for this trip. 
If you want to cruise Li River with a more comfortable environment and convenient facility, a cruise boat is your first choice. The route for cruise boat is the essence of Li River, also called as full-section Li River Cruise. The whole cruise is about 4.5 hours. We choose the 3-star cruise which is good enough to experience the Li River. (There are 3 star and 4-star cruises options for you to choose) 
Personally, the highlights and best are Yellow Cloth in the Water; notable view printed on the back of the 20 RMB note and A Painting of Nine Horses. Today is Day 2 of my trip; but after the Li River cruise trip, I think I find my answer already.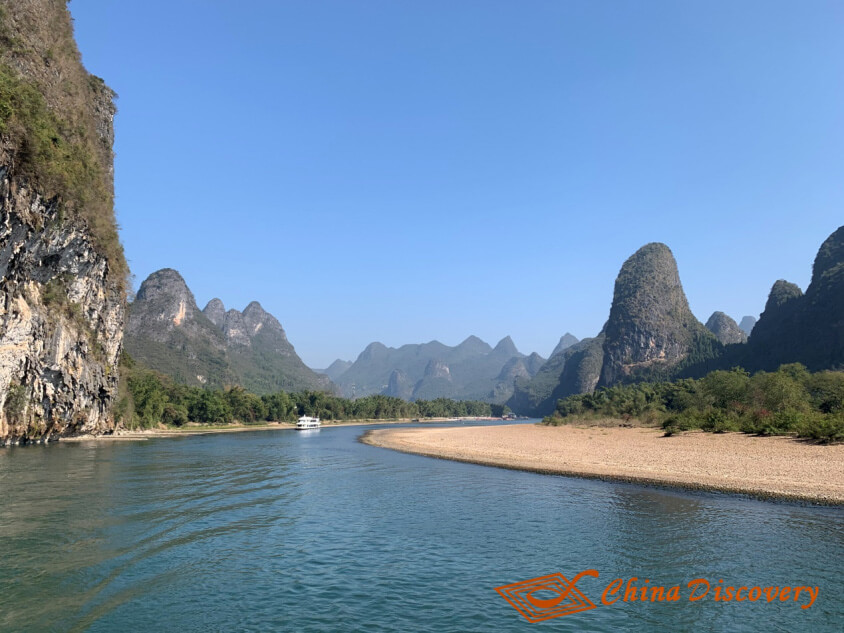 Picturesque Scenery Seen from the Cruise Boat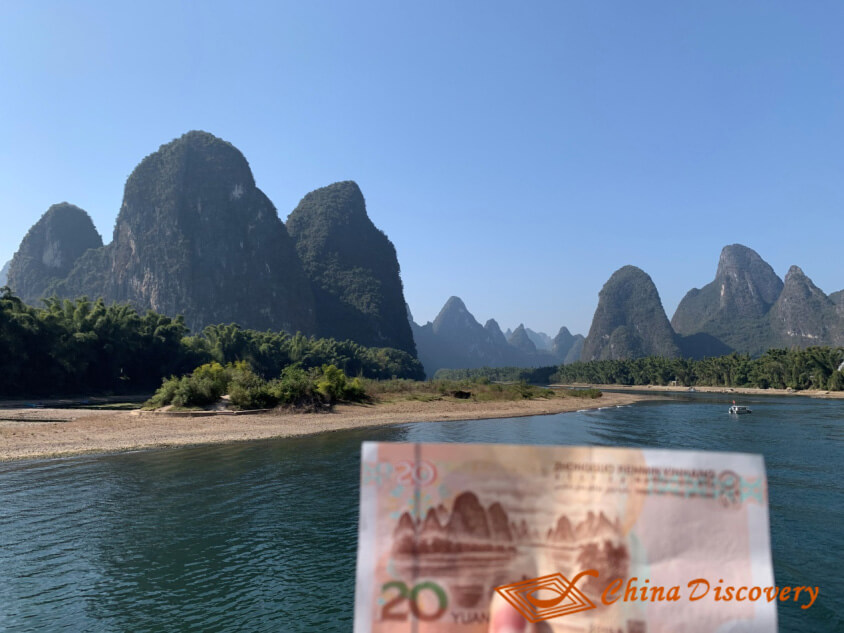 Notable View Printed on the Back of the 20 RMB Note
After the river cruise, we disembark in the Yangshuo pier. Our hotel tonight is in West Street which is walking distance from the pier. After check-in and a break, we start to walk leisurely in West Street. Taste some local food, or just experience the relaxing atmosphere, you get it here. 
Beer fish is the local specialist in Yangshuo. We choose one restaurant recommended by our local driver for an early dinner before our night show Impression Liu San Jie. 
Impression Sanjie Liu, with the nearby Li River waters as stage and 12 hills as backdrop, it is the world's largest open-air theatre in a beautiful natural setting.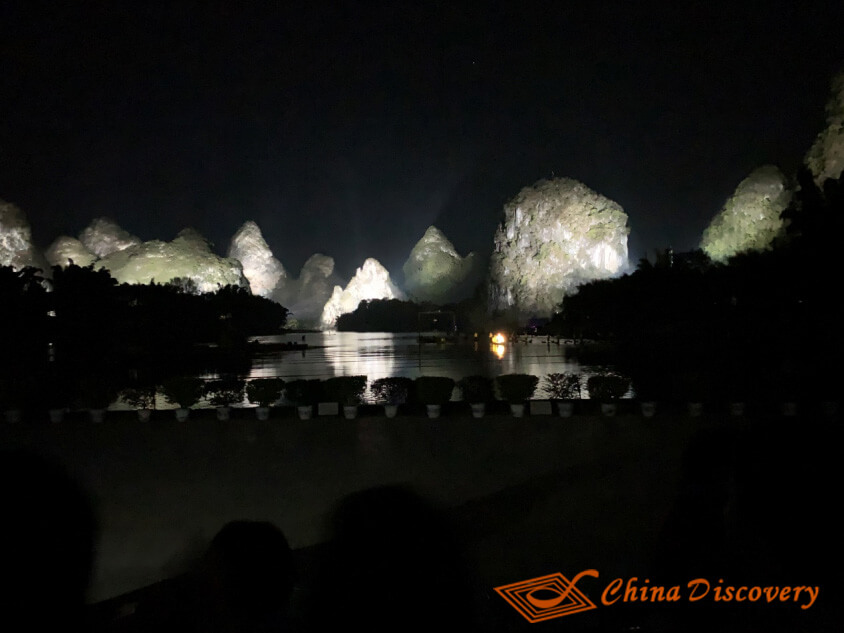 Impression Sanjie Liu
Impression Sanjie Liu always receives the applauses of audiences from every corner of the world to Yangshuo. If you come to Yangshuo, Guilin, take a visit, you won't regret. 
Day 3: Xianggong Hill - Cuiping Five Fingers Mountain
Today is a tough day for my parents because we need to conquer two mountains. Mt. Xianggong, it is the best place to shoot the full view of Li River. Take out your camera to shoot the best photos of the changing mists, winding Li River, various forms of Yangshuo Karst mountains, rural houses, boats shipping on the orange river, etc.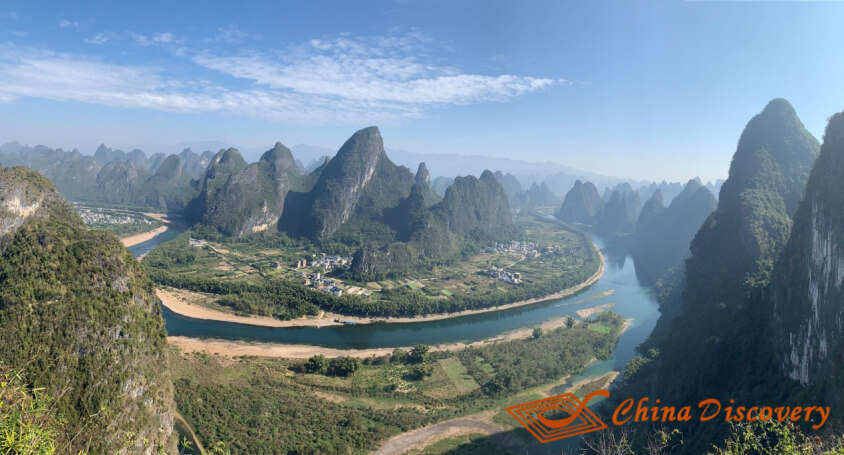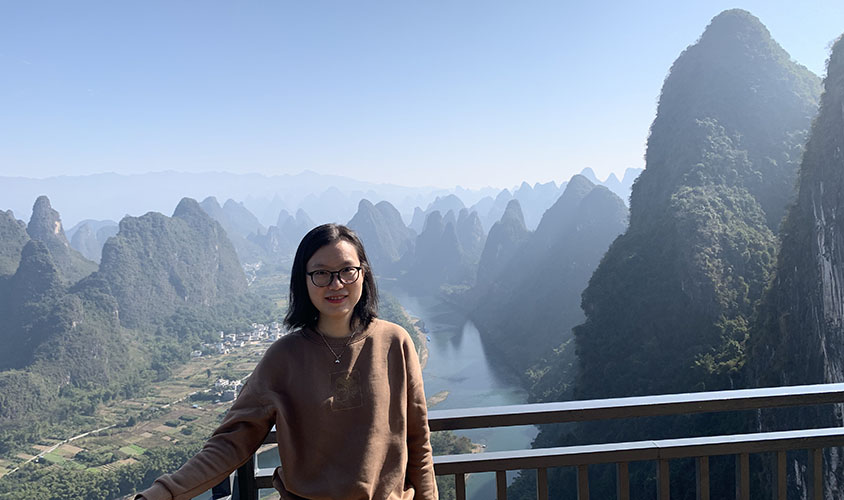 Panoramic View of Li River Seen from Mt. Xianggong
Cuiping Five Fingers Mountain, it is a great place to shoot the grand emerald Yangshuo countryside panorama like the fairy tale world and the dreamy sunset.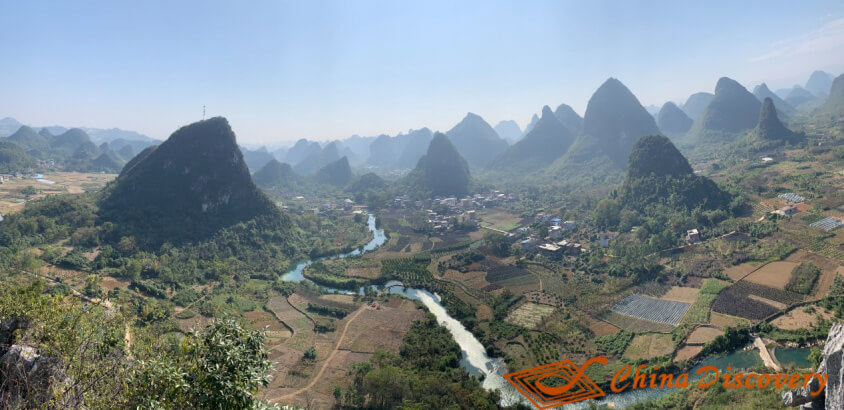 Cuiping Five Fingers Mountain
Day 4: Yulong River - Ten-mile Gallery
The Yulong River is a tributary of the Li River. There are some people say "Yangshuo is the best in Guilin; Yulong River is the best in Yangshuo." Then I got it, Yulong is best from the best. 
If you love natural scenery and peaceful classic countryside in Guilin, don't miss the Yulong River area.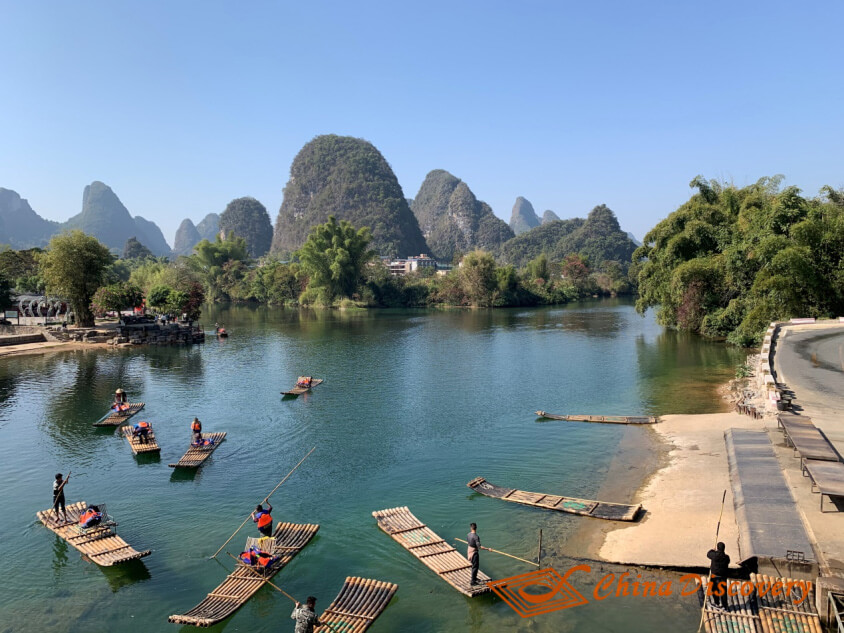 Bamboo Rafts on Yulong River
Ten-mile Gallery; which is a picturesque road stretching from the Yangshuo town area to Moon Hill, endowed with rolling hills, endless fields, idyllic villages and clear rivers on both sides. There are many scenic spots in the Gallery, for example, the Moon Hill and Big Banyan Tree, etc.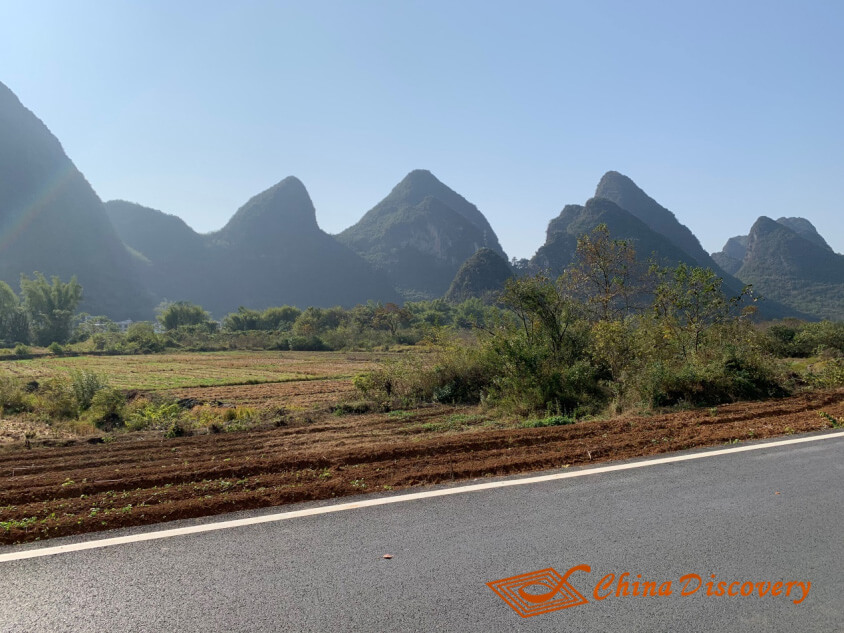 Ten-mile Gallery at Yangshuo
Day 5: Yangshuo bullet train to Chengdu
Our Guilin trip is about to end. It's time to say bye-bye to this beautiful scenery. In our 5 days tour, the weather is very good, sunny and warm. Did I find the answer to this question – Is it true that "Guilin's scenery is the best in the world"? 
YES, it is true. 
Travel with Me
Hi, I'm Vivien. Are you interested in my 5 Days Beautiful Guilin Exploring Tour? Feel free to contact me, and I will be glad to tell you more stunning stories about the places i have visited. Or, if you want to customize a tour on your own, I'm always ready to help at any time. With my passion, knowledge and understanding of the essence of travel, I promise I will try my best to make the tour memorable and meaningful for you.
Vivien

Travel Consultant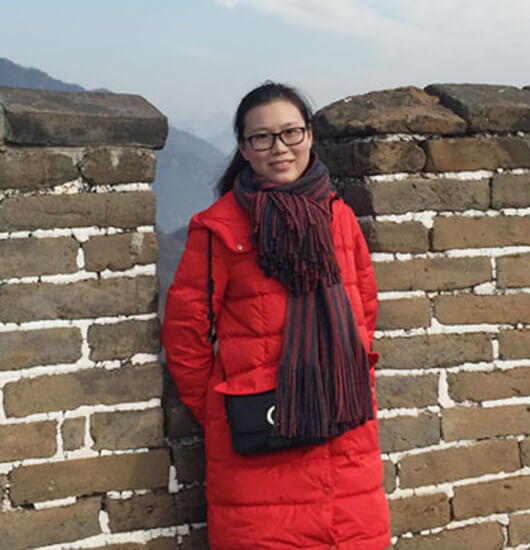 Recommended Tours
Top 3 tours chosen by most customers to explore in the best way. Check the detailed itinerary, or tailor your own trip now with us.
4 Days Guilin Highlights Tour (Li River, Yangshuo & Longji Terraces)

Guilin / Yangshuo / Longsheng
3 Days Classic Guilin Tour - Guilin Brief Vacation

Guilin / Yangshuo
5 Days Best Guilin In-depth Vacation (Li River, Yangshuo & Longji Terraces)

Guilin / Longsheng / Guilin / Yangshuo
Have a question? Get answers from our travel experts or guests
Your Question:

Your Name:

Your Email: