Vivien's 3 Days Trip to the Supernatural Jiuzhaigou
Departure Date

2014-05

Travel Length

3 Day

Travel Theme

Nature, Group

Group Size

3

Travel Route

Chengdu - Jiuzhaigou - Chengdu

Highlights

Jiuzhaigou Valley, Shuzheng Valley, Zechawa Valley, Rize Valley, Nuorilang Waterfall etc.

Story Tags

#Jiuzhaigou Tour#Visit Jiuzhaigou Valley#Sightseeing#Photography#Nature Tour
My trip to Jiuzhaigou happened few years ago. Recently I got a feeling and want to write down something for the places I've been visited, as memories maybe. It's been a while and honestly I can't remember many details, but it's better to do it now than tomorrow.
It was in my college age, the carefree age I cherished. One day some friends talked about a short trip somewhere the coming vacation. Initially we didn't have any ideas about where to go. Checking on line, Jiuzhaigou is a great place, and most importantly, it is affordable because it is in the lower season. So, we have time; we can afford it; a great place we've never been; then the other things went very fast. My Jiuzhiagou trip was settled.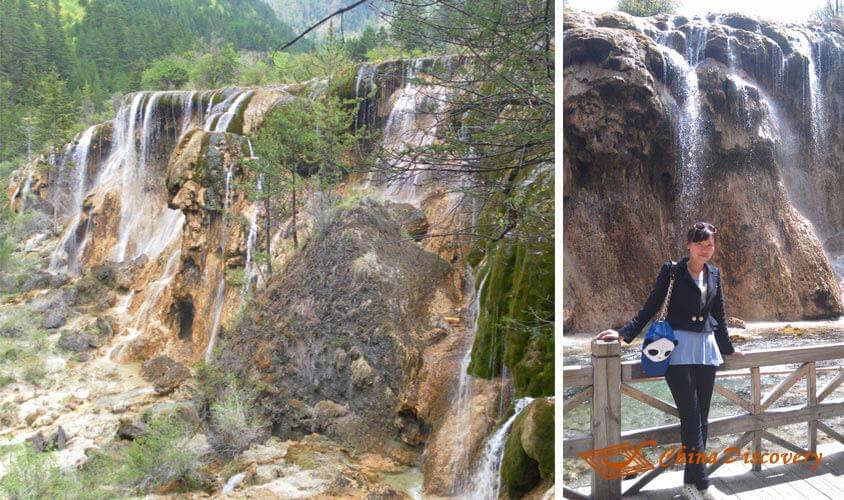 -Vivien Visiting Nuorilang Waterfall-
If you tell me now tomorrow I need to wake up at 4am to catch the join-in-bus, seriously I think you are out of mind. Maybe it is really because of young; we did getting very excited and met the group very early morning to start the 8 hours' drive to Jiuzhaigou. I won't let you know how many times I've got carsickness on that long drive, especially the altitude getting higher and higher when it gets closer. Really I don't know what faith I had that time to make me recover that fast once I knew I've been there and was going to visit Jiuzhaigou Valley the next morning.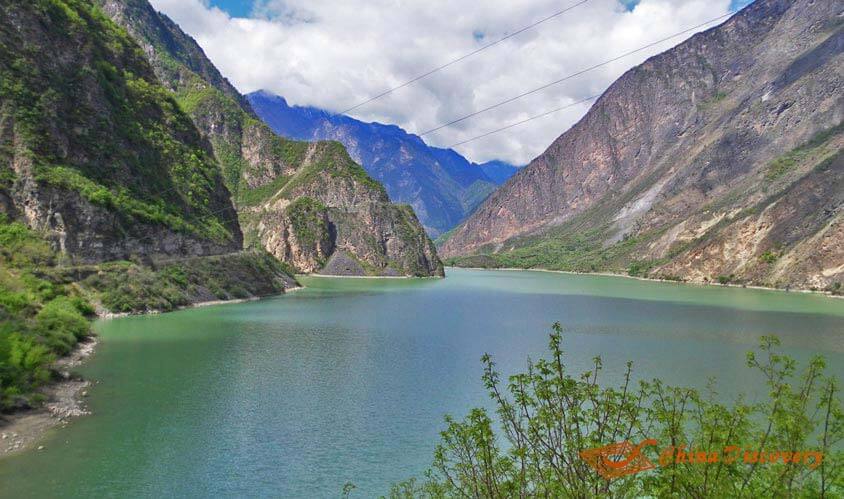 -Beautiful Landscape on the Way to Jiuzhaigou-
Finally, my blog comes to Jiuzhaigou. Although I can't remember many details, even now when I look at the photos I took, I can't figure out which picture is for which lake, I do remember it is super beautiful. The beauty of Jiuzhaigou is some kind of breathtaking. You don't need to try to remember anything intentionally. Once you have been there, she will prove you, conquer you. Many years passed, even you can't recall many things, just like me, what you know is that Jiuzhaigou is truly beautiful and it deserve its reputation.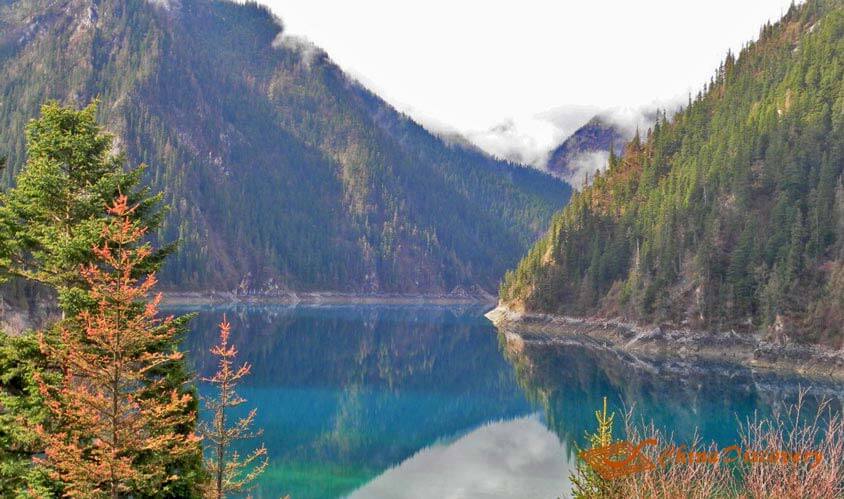 -Crystal Clear Lakes in Jiuzhaigou Valley-
Talking about Jiuzhaigou, it's hard to miss the two closes these years. In year 2017, Jiuzhaigou closed since Aug because of the damage after earthquake. The second close happened in July, 2018 after the serious mudslide disaster. Finally, under so many people's expectations, Jiuzhaigou reopen in Sep, 2019. The paradise on earth, she is back after the "make-up", eventually. I have to say I am very lucky that I had the chance to visit Jiuzhaigou before year 2017.
Jiuzhaigou is arranged in the Y shape with a total length of over 50 km. By consisting of three main valleys, called Shuzheng Valley (main gully), Zechawa Valley(left gully), Rize Valley (right gully) and the magnificent Nuorilang Waterfall, Jiuzhaigou has over 100 lakes and waterfalls.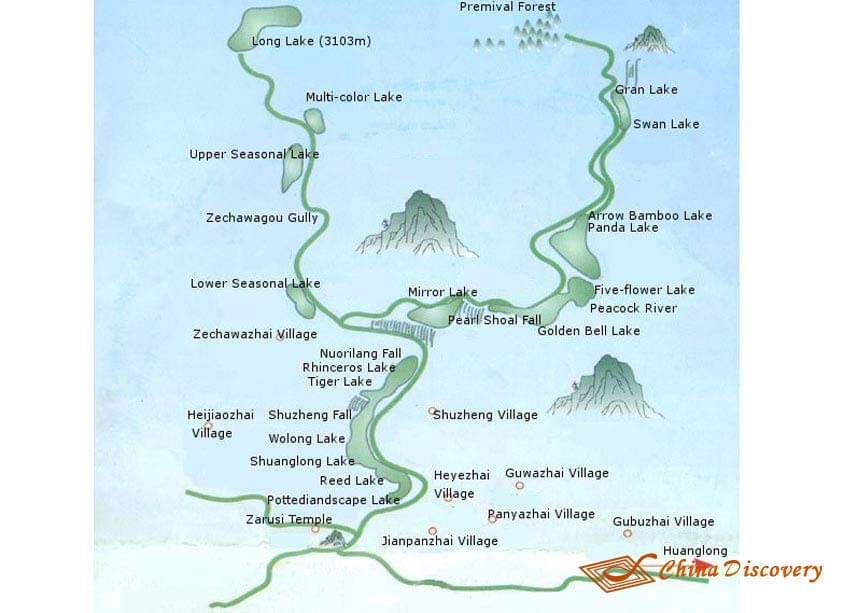 -Map of Jiuzhaigou Valley-
The main valley I go is Rize Valley, the right gully. The highlights of my trip are Shuzheng Lakes, Rhinoceros Lake, Nuorilang Waterfall, Mirror Lake, Pearl Shoal, Five Flower Lake, and Panda Lake. I would like to share some descriptions for those beautiful places. While considering my words may not enough to prove the beauty of them, I will extract some good introductions for you.
Shuzheng Lakes: Spreading over 5 km, it consists of Sparking Lake, Shuzheng Waterfall, Tiger Lake and about 19 lakes.
Rhinoceros Lake: It is the second largest lake. There is a saying about its name that a monk riding a rhinoceros was infatuated with the scenery and went to the lake with the rhinoceros. If you are lucky enough, you can see the rhinoceros in the bottom.
Nuorilang Waterfall: It is the symbol of Jiuzhaigou and it is the widest calcified waterfall in China. This majestic waterfall can be appreciated in different distance.
-Nuorilang Waterfall in Jiuzhaigou Valley-
Mirror Lake: like a mirror, the Mirror Lake reflects the surrounding peaks, plants into its quiet lake surface and changes the inverted images more beautiful than themselves.
Pearl Shoal: Known for its stunning views of wide waterfall. As the name suggested, under the sunlight, the water crashing rocks like a rope of pearl.
Five Flower Lake: as the essence of Jiuzhaigou, Fiver Flower Lake features different colors by the different angles of light refraction. Surrounded by yellow and green trees, this blue lake reflects more mixed colors when you view in different sides. With the clear water, you can even see old woods sink on the bottom.
Panda Lake: Features curious color patterns of blue and green, this lake was side the land where Giant Pandas came to drink.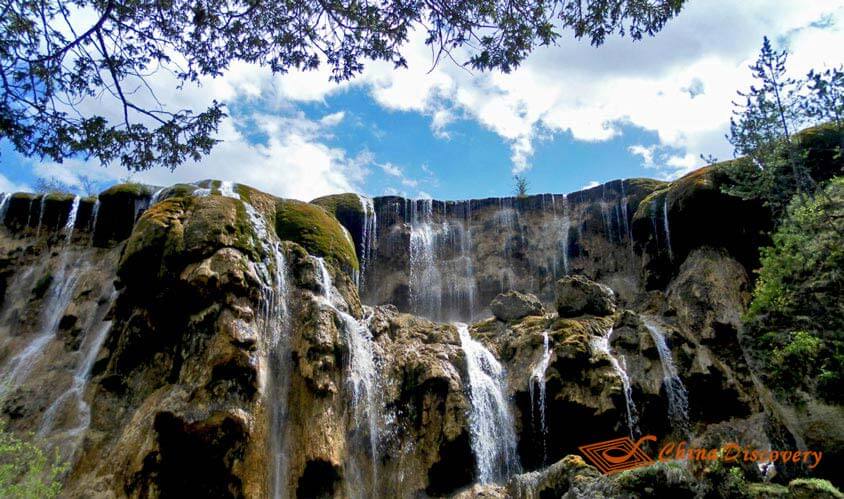 -Five Flower Lake in Jiuzhaigou Valley-
Jiuzhaigou is known as "the Most Beautiful Waterscape in China". All people who have been to Jiuzhaigou know all these reputation match the reality. If you have any chance, do come and have a visit. It won't let you down.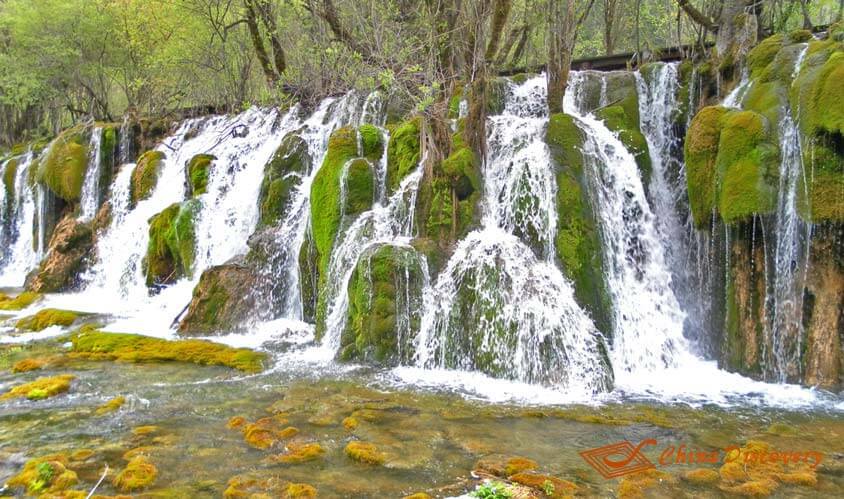 -The Most Beautiful Waterscape in China-
By the way, the hotels and foods there are not in the same level as them in other modern cities. I think it is kind of one level down, for example, you will find that the 4 star hotels there only match some 3 star hotels in other cities; and the foods there are simple and basic, otherwise more expensive if you want better. The temperature varies greatly from morning to evening even in summer, so don't forget to bring some warm clothes with you. And the altitude in Jiuzhiagou is high (2000-4000m), so mind out the high altitude sickness and make some preparations if you need. One other thing is the strong sunshine in plateau region, so the sun protection is really needed.
This blog is about to come to an end, as a memory for Jiuzhaigou. I think I am going to plan my second trip there soon. How about you? If you have not been there once, do make a trip. She deserves the reputation.
Travel with Me
Hi, I'm Vivien. Are you interested in my 3 Days Jiuzhaigou Wonderland Tour? Feel free to contact me, and I will be glad to tell you more stunning stories about the places I have visited. Or, if you want to customize a tour on your own, I'm always ready to help at any time. With my passion, knowledge and understanding of the essence of travel, I promise I will try my best to make the tour memorable and meaningful for you.
Vivien

Travel Consultant
Recommended Tours
Top 3 tours chosen by most customers to explore in the best way. Check the detailed itinerary, or tailor your own trip now with us.
3 Days Classic Jiuzhaigou Tour (Flight Arrival)

Chengdu / Huanglong / Jiuzhaigou
4 Days Jiuzhaigou Bus Tour from Chengdu

Chengdu / Huanglong / Jiuzhaigou / Chengdu
5 Days Jiuzhaigou Huanglong Dujiangyan Tour by Private Car

Chengdu / Chuanzhusi / Huanglong / Jiuzhaigou / Dujiangyan / Chengdu
Have a question? Get answers from our travel experts or guests
Your Question:

Your Name:

Your Email: