Vivien's 1 Day Flower Trip to Ximu Valley, Wenchuan
Departure Date

2016-11

Travel Length

1 Day

Travel Theme

Nature, Hiking, Friend

Group Size

2

Travel Route

Chengdu - Wenchuan - Chengdu

Highlights

Wenchuan, Shuimo Ancient Town, Minjiang River, Renji Ximu Valley, Sichuan Cuisine, etc.

Story Tags

#Wenchuan Tour#Visit Wenchuan#Renji Ximu Valley#Sightseeing#Photography#Hiking#Nature Tour
Talking about Wenchuan, the first impression of many people may be the Wenchuan earthquake in year 2008, but it is not my topic here as that is too heavy. We can see that Wenchuan has done well in the post-disaster reconstruction after the earthquake. Although there is no love in disaster; we have love in human's heart. When I write this blog, it is in year 2020, 12 years after the earthquake; in this year, human beings are facing another global problem-the covid-19. It is really a tough time for everyone, but no matter how difficult it is we will finally get through it. And people need to learn things from it.
Returning to today' blog, it goes to Ximu Valley, a flower valley in Wenchuan, northwest Sichuan, around 100km away from Chengdu. Renji Ximu , in Tibetan, means the view of an earthly paradise. Ximu valley is a scenic area famous for its natural landscapes and floral landscape. It is just a small place in Wenchuan; if you have any chance, take a trip to Wenchuan, where you will find the different beauty.
Before visit Ximu valley, we first go the Shuimo Ancient Town, where is only 1.5km away from Ximu valley. It is located on the banks of Shouxi, a tributary of the Minjiang River in the southern part of Wenchuan County, Sichuan Province. The combination of ancient and modern in both history and culture, and the integration of Tibetan and Qiang cultural styles make Shuimo ancient town to be praised as the first reconstructed town after the Wenchuan earthquake; It looks like an "ink and wash painting" with canyons, lakes, mountains, and ancient streets in it.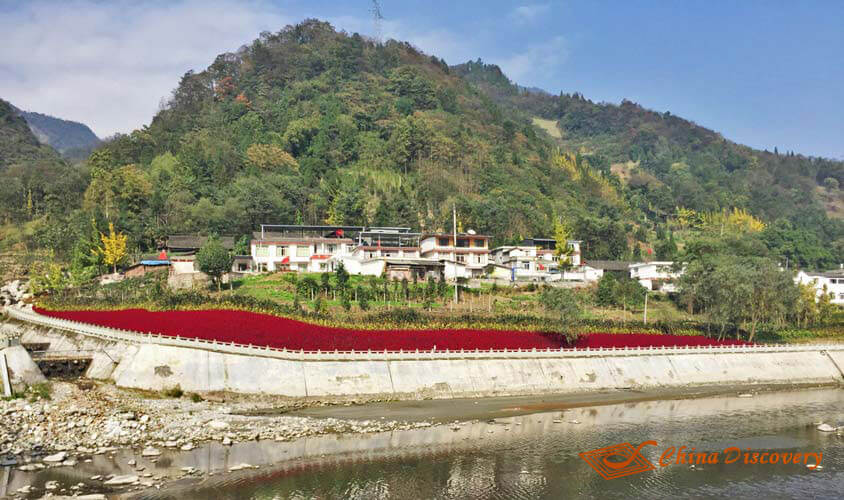 -Shuimo Ancient Town-
Aside from the picturesque scenery, what I most care is the local foods and snacks there which also are attractions to tourists. Sichuan Cuisine, or Sichuan Cuisine, Chuancai, Schezwan Cuisine, is one of the famous Eight Great Cuisines of China. There are hundreds of flavors in Sichuan cuisine and each dish has own unique taste and flavor. If you have never tasted Sichuan Cuisine before, find a chance to have a try - Sichuan Hot Pot, Mapo Tofu, Kung Pao Chicken, Twice Cooked Pork, Shredded Pork in Garlic Sauce, Sliced Beef/Beef Tripe/Ox Tongue in Chili Sauce; Water Cooked Meat/fish…… Sichuan is really a paradise for foodies. The lunch in the ancient town's local restaurant is so delicious. Once the dishes served, it looks like we can only see them, especially after 2 hours walking in the town that morning. It's a pity that I forgot to take some pictures for the Sichuan Cuisine dishes in lunch, so here below are only some snacks to share with you.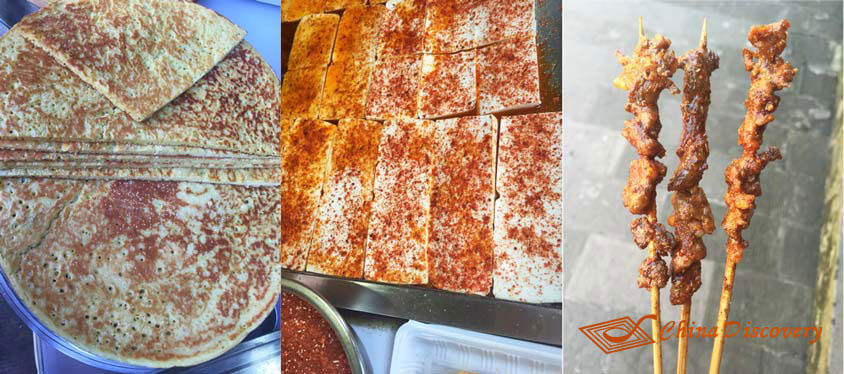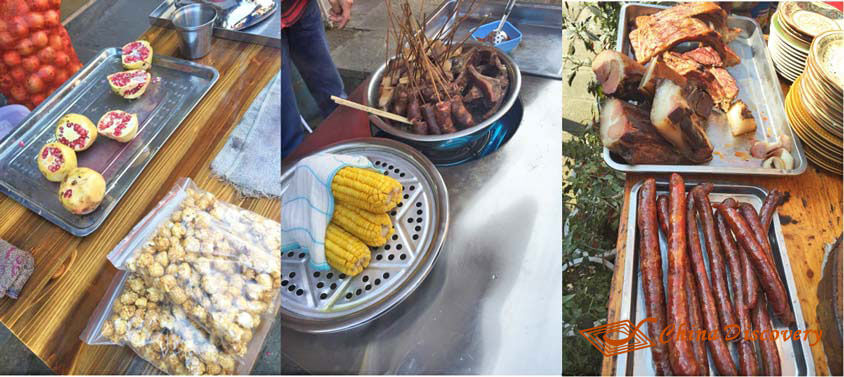 -Sichuan Cuisine-
After lunch, we were head to Ximu Valley. We walked across a bridge, not long but beautiful and decorated with many colors, and then see the entry of Ximu valley. This valley is a combination of natural landscape and floral landscape. Using the original ecological mountain stream and planting a variety of flowers, it has become a new popular scenic spot in Shuimo Town in recent years.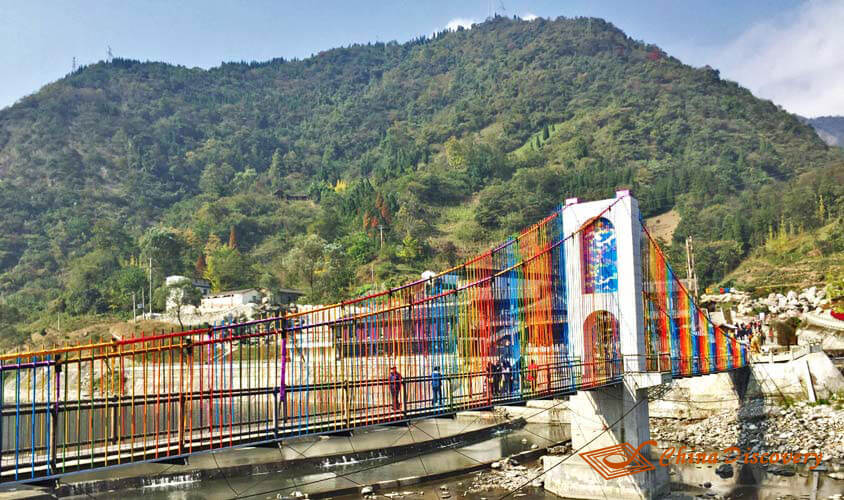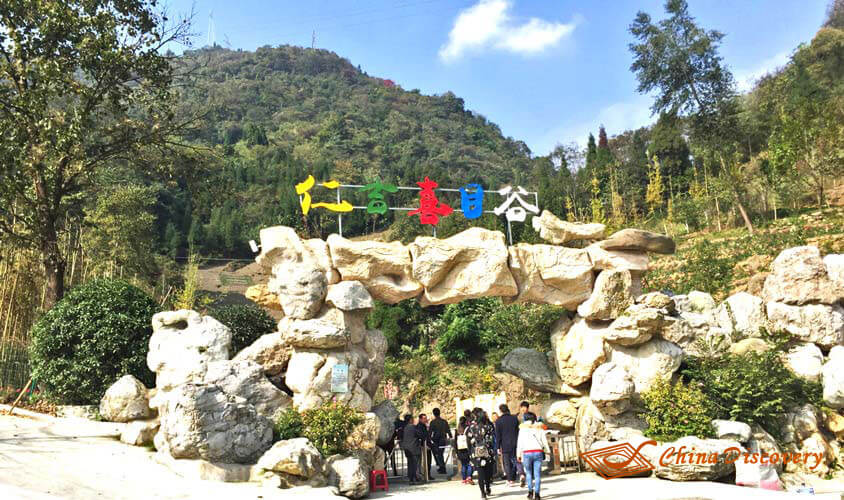 -Ximu Valley-
Renji Ximu valley is a comprehensive scenic spot with the main characteristic of mountain tour and flowers. It is a good place of being quiet. There are about three hundred thousand square meters of flowers, such as California poppy, Pea-flower, Snapdragon, Cornflower, Floribunda Roses, Windflower, Foxglove, Cirsium Japonicum, Corn poppy, Leucanthemum Paludosum Begonia, Chiba Shi, Scabiosa Atropurea Garden Nasturtium, Sagebrush, Iris Pteris, Canna and etc.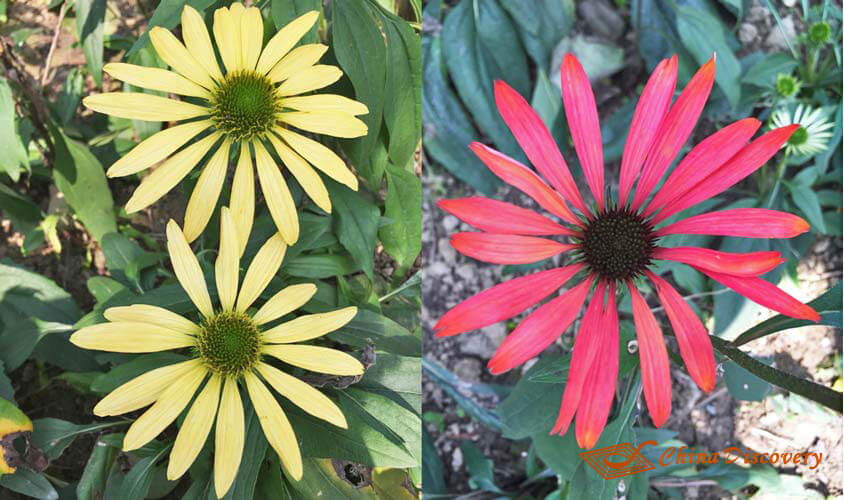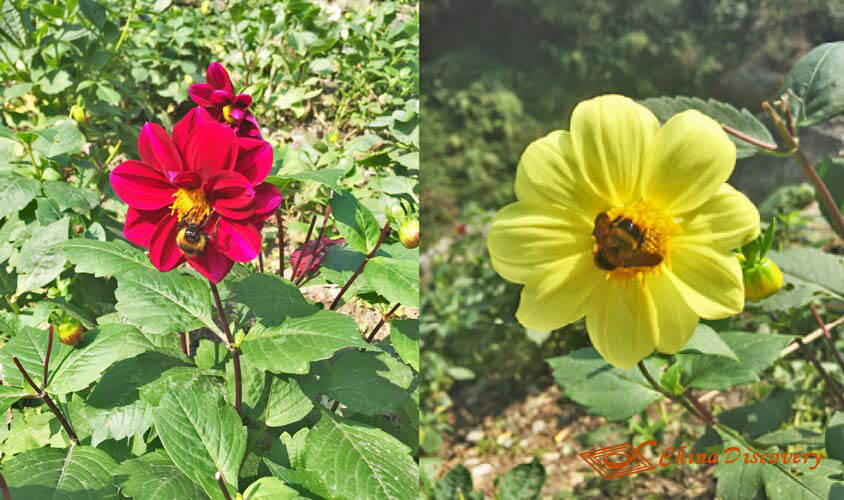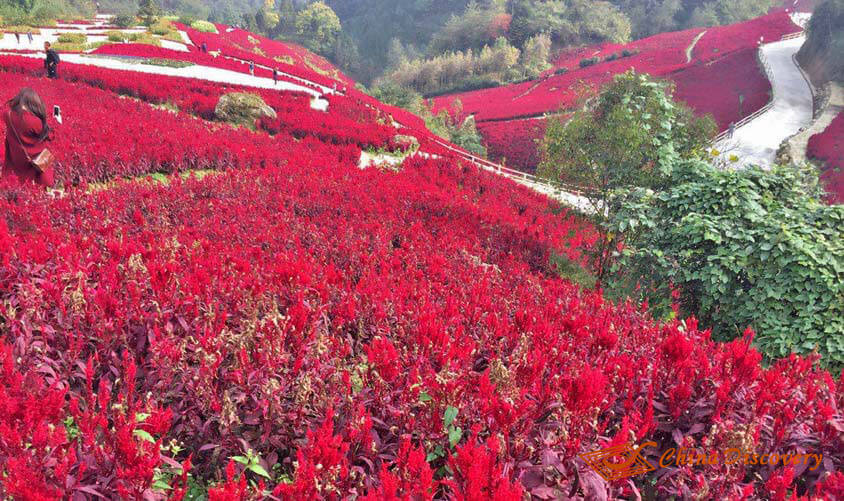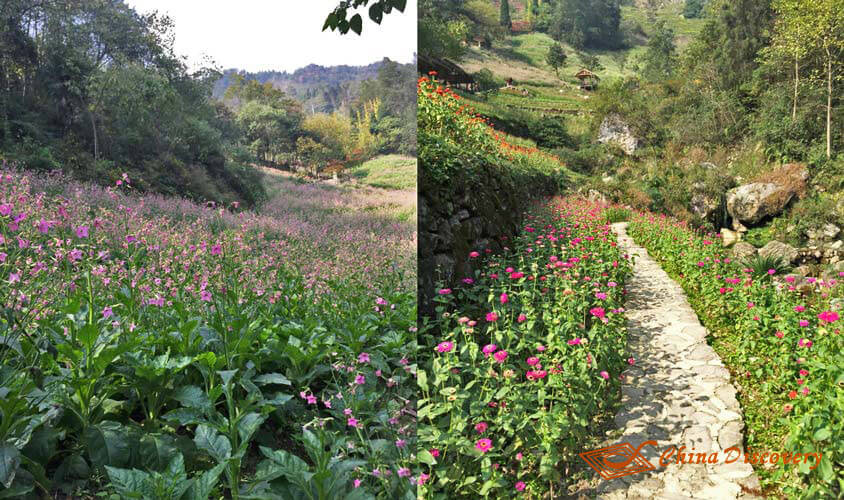 -Beautiful Flowers in Ximu Valley-
Although it was a bit tiring to climb the mountain, it is worth because of your good mood when you enjoy the shaded trees and the blossomed flowers. It is said that the road was originally a way for farmers to enter the mountains and work. After the earthquake, tourism was developed and the road was upgraded. The slab stones paved on the road are made of rubble generated after the earthquake, which is very original. We even saw some farmers working there. Talking with them, listening to some real stories happened in the earthquake. It seems that time slowed.
We didn't go down the same road but take the bus not far away from the peak to back to Chengdu. It's around 100km away from Chengdu city downtown, about 2 hours' drive, so it is easy to take a short day trip or 2 days trip in one of the weekend, together with your friends, your families, even your team as a company travel. It is in Nov when we took the trip, but you can see that there are still flowers that month. There are flowers there all over the mountain and flowers all over the year. If you want a place of quiet, then this is a good choice. Enjoying the variety of flowers, listening to the sound in nature, breathing in the fresh air, isn't it good?
Travel with Me
Hi, I'm Vivien. Are you interested in my 1 Day Wenchuan Ximu Valley Tour? Feel free to contact me, and I will be glad to tell you more stunning stories about the places I have visited. Or, if you want to customize a tour on your own, I'm always ready to help at any time. With my passion, knowledge and understanding of the essence of travel, I promise I will try my best to make the tour memorable and meaningful for you.
Vivien

Travel Consultant
More Travel Stories of Our Experts
More Travel Stories of Our Customers
Recommended Tours
Top 3 tours chosen by most customers to explore in the best way. Check the detailed itinerary, or tailor your own trip now with us.
2 Days Xiling Snow Mountain Ski Tour from Chengdu

Chengdu / Xiling Snow Mountain / Chengdu
2 Days Wolong Panda Volunteer at Shenshuping Base

Chengdu / Wolong / Chengdu
2 Days Classic Tea Culture Tour with Giant Panda Visit

Chengdu / Mengdingshan / Chengdu
Have a question? Get answers from our travel experts or guests
Your Question:

Your Name:

Your Email: