Vivien's 1 Day Qingcheng Back Mountain Hiking Tour
Departure Date

2020-06

Travel Length

1 Day

Travel Theme

Nature, Hiking, Solo

Group Size

1

Travel Route

Chengdu - Mount Qingcheng - Chengdu

Highlights

Mount Qingcheng, Qingcheng Front Mountain, Qingcheng Back Mountain, Wulong Valley, Feiquan Valley, Baiyun Temple, Tai'an Anicent Town etc.

Story Tags

#Mount Qingcheng Tour#Visit Qingchengshan#Mount Qingcheng#Sightseeing#Photography#Hiking#Nature Tour
Most people will associate with Taoism when talking about Qingcheng Mountain, because it is a famous Taoist mountain and also one of the cradles of Chinese Taoism. While actually the whole mountain can be divided into two parts, the front mountain and the back (rear) mountain. Qingcheng, literally translated in Chinese is "mountain of green". Personally, not like there are many historical and cultural sites (Taoist temples) in the front mountain, the back mountain is worthy of its reputation of "green", in other words, it is worthy of the reputation of being tranquil and secluded.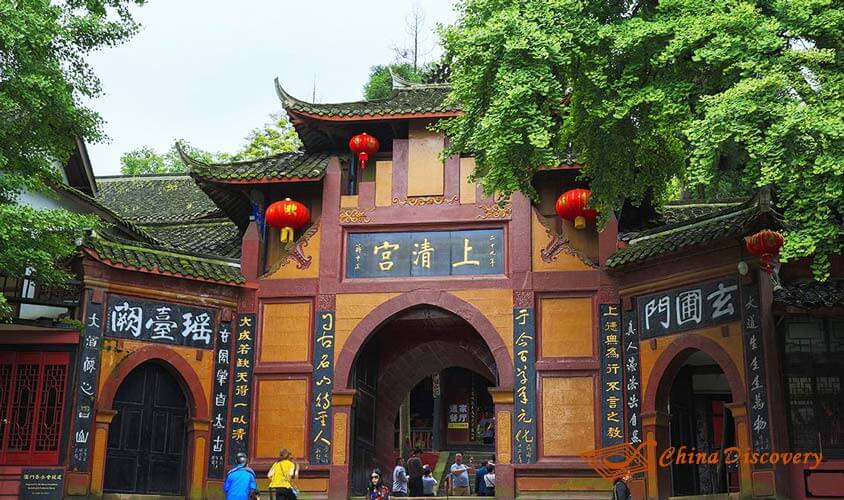 -Qingcheng Front Mountain-
The importance and meaning of Mount Qingcheng in Chinese Taoism is undoubtedly. As one of the cradles of Chinese Taoism, it has a great historical and artistic value in researching the Taosim philosophy of China. Aside from its cultural value, today I would like to write down something about the back mountain.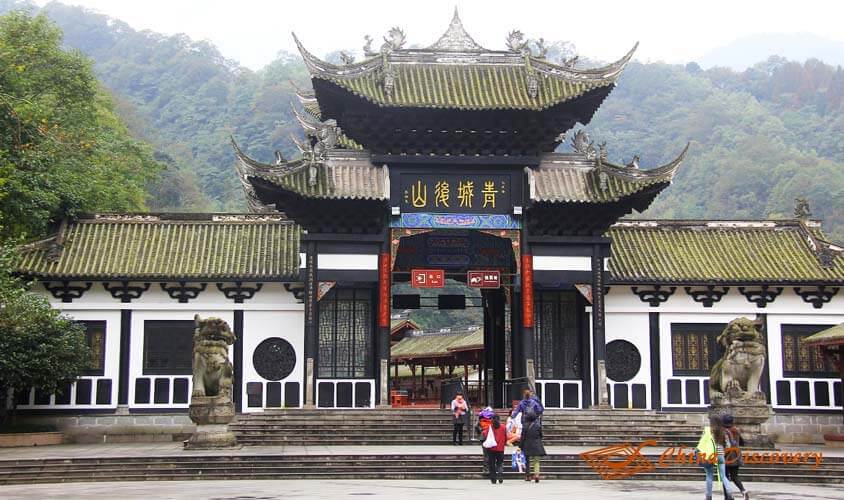 -Qingcheng Back Mountain-
The whole Back Mountain Scenic Spot, with an area about 100 square kilometers, looks kind of like a circle in the map, starting from Tai'an Ancient Town, with Wulong Valley on the left , Feiquan Valley on the right and Baiyun Temple on the top, and two cableways in it. The attractions here are mainly waterfalls, caves, primitive forest, etc. Normally, it will need around one day to visit there if you want a whole-mountain trip, or at least more than half day for a half-mountain trip. We choose a walking route: Tai'an ancient – Feiquan valley – Baizhang Bridge – Laifeng Pavillon – Wulong valley and back. For this route, we didn't take the two cable cars and it is just a half-mountain tour route. But it still takes us around 8 hours, from 8am to 4pm that day for this tour.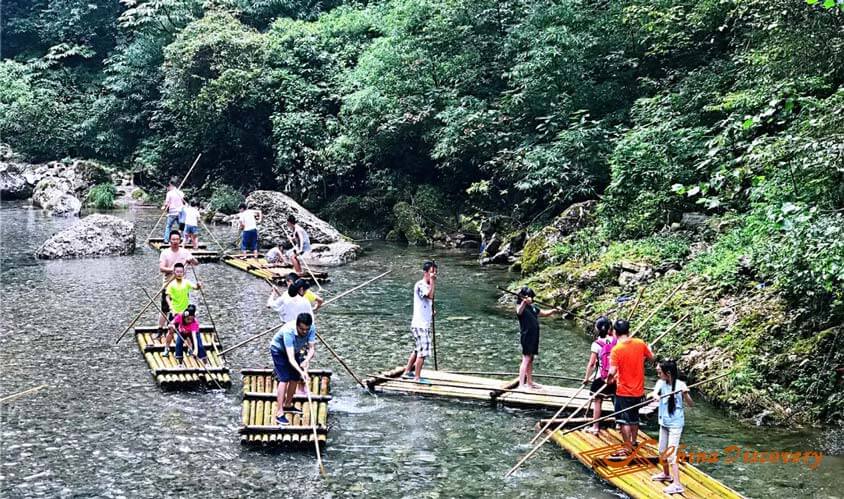 -Wulong Valley-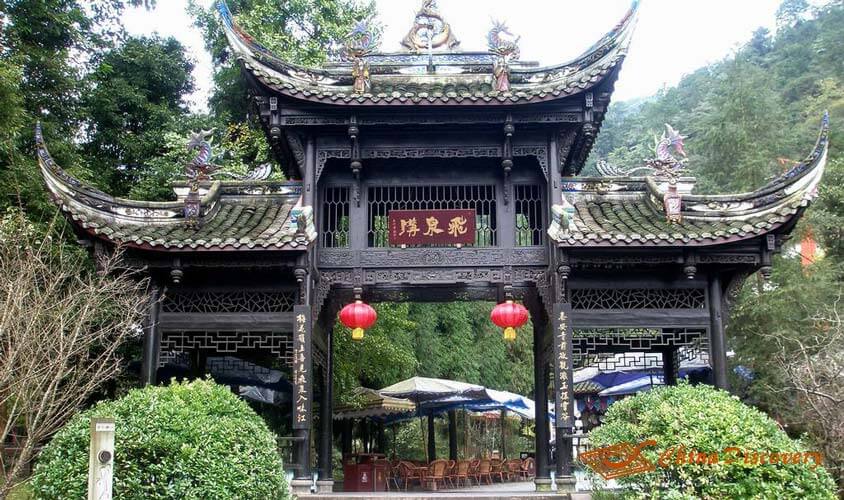 -Feiquan Valley-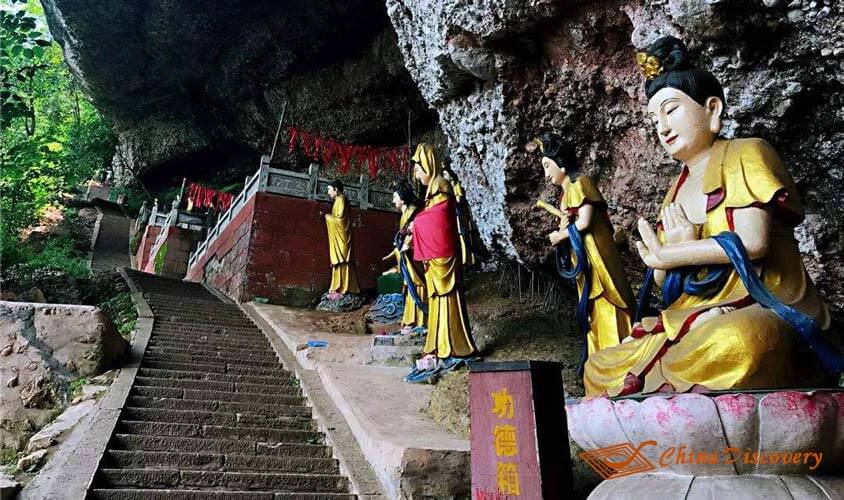 -Baiyun Temple-
If you also want a trip, here are some other routes for your reference. A: (half day trip) Tai'an ancient town – Wulong valley – Youyi village – Jili Cable car – back to Tai'an ancient. B: ( whole walking trip) Tai'an ancient town – Wulong valley – Youyi village – Baiyun temple – Feiquan valley – Tai'an ancient town. C: Tai'an ancient town – Wulong valley – Youyi village – Baiyun cable car – Baiyun temple – Baiyun village – Feiquan valley – Tai'an ancient and back. All these three routes are all loop lines, which you can take it in reverse. But actually, Wulong valley is steeper, it may be better for you to up than down. As for us, we choose to up from Feiquan and down from Wulong for my friends more like this way.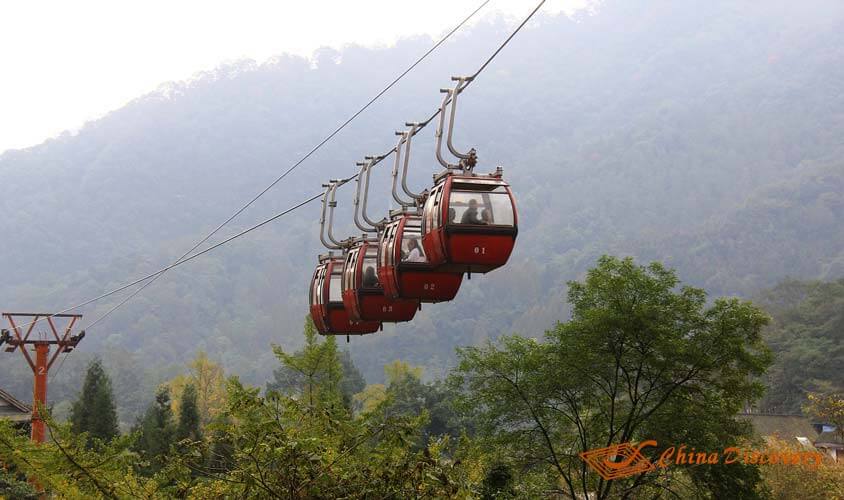 -Cable Cars in Qingcheng Mountain-
It is summer when we take this trip. Mount Qingcheng has a typical mountainous climate, and the annual average temperature is around 15℃, while the highest temperature in summer is about 30℃. And it has high air humidity. Summer is the best time to visit Mount Qingcheng. Personally, besides the snow-covered landscape in winter, the trees blossomed in summer looks best in mountain, which actually most shows the "green, quiet, secluded and beautiful" in Mt. Qingcheng.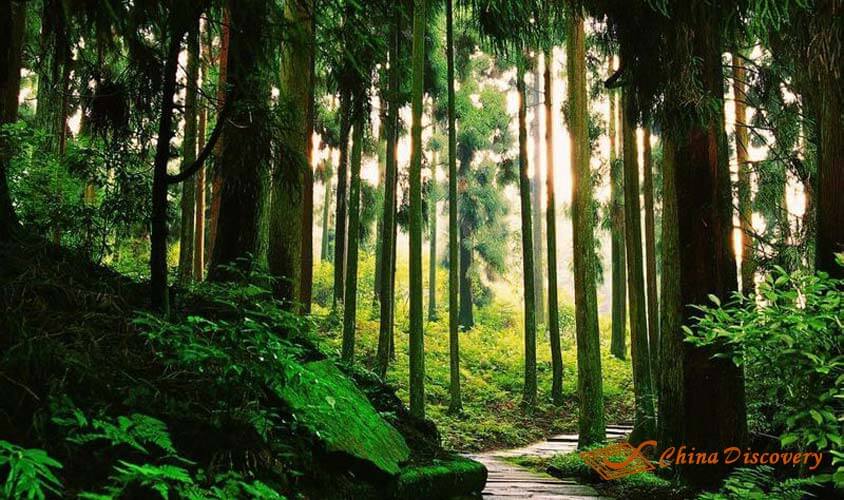 -Mount Qingcheng in Summer-
Actually, aside from the "green", I like the quiet and secluded there especially as I always need a quiet-time myself to away the hustle and bustle of the city. It can not only may me happy but also helps my heart to precipitate. I like the feeling of time slowed there. Looking around, eyes are filled with green; every tree, every stone step, every temple seems telling you some stories. I feel so tiny myself when I am in the mountain, just like I am as tiny as a leaf, stone, a single brick and tile. I feel peace, quiet, humble. This is more important than any others in this trip for me. It changed my mood naturally. Maybe you can get it, people are uptight unconsciously sometimes, and even just a little thing can lead to anger. It won't help no matter what comfort from others it is, you are still mad and in a bad mood for a while. Sometimes it may just because you are too tight in your mind. I think the back mountain of Qingcheng is a good place to be relaxed, to feel quiet and peace. It works for me.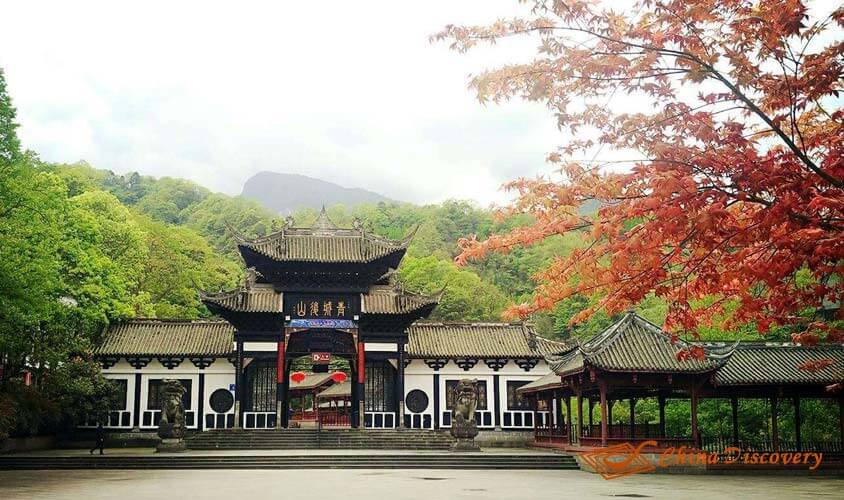 -Entrance of Qingcheng Back Mountain-
Some tips for the mountain trip: It's suggested to wear light and comfortable clothes; quick dry clothes are the best. For girls, it's better to wear trousers to protect your legs. It rains a lot in summer, so bring rain gear with you in summer. In the evening, the temperature may drop quite a lot comparing with the day temperature, so bring one more warm clothes. Roads near waterfalls are normally humid and slippery, so wear waterproof and antiskid shoes.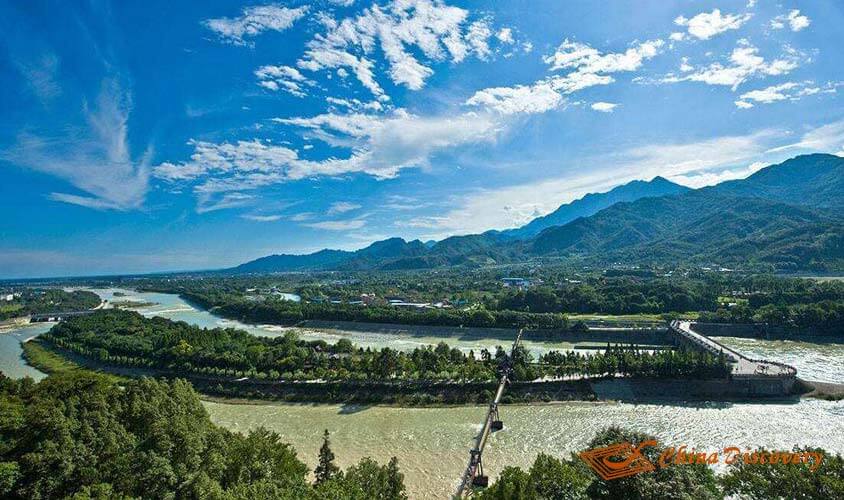 -Dujiangyan Irrigation System-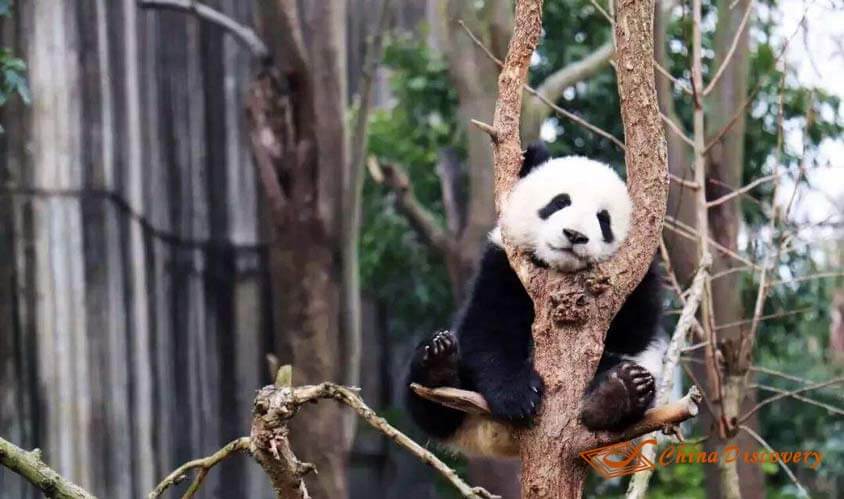 -Dujiangyan Panda Base-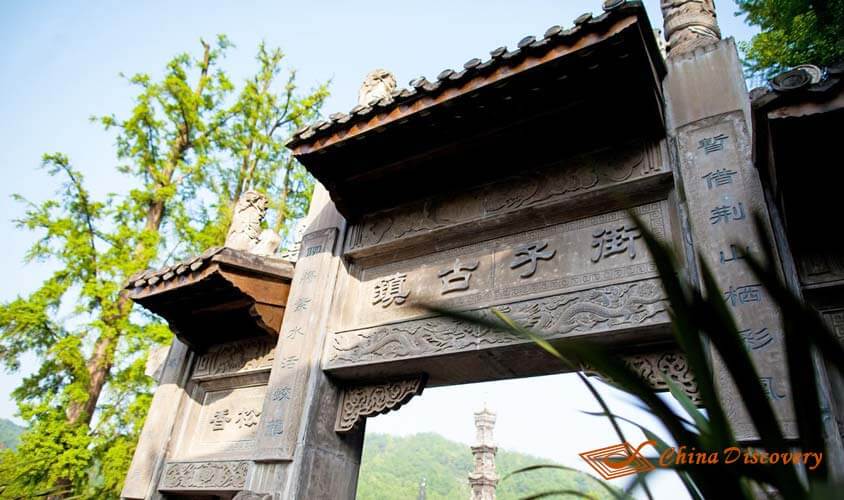 -Jiezi Ancient Town-
Mountain Qingcheng is 68km east of Chengdu city center, located at Dujiangyan City of Chengdu. If you plan to visit Mt. Qingcheng, give a thought to Dujiangyan Irrigation System, Jiezi Ancient Town and Dujiangyan Panda Base if you have enough time. I have visited all these places before, and wrote a blog about volunteering in Dujiangyan panda base before; if I can find some of my photos that trip, I am about to write a blog about the Dujiangyan Iririgation System and Jiezi ancient town. Dujiangyan is a popular tourist destination near Chengdu, so if you plan a Chengdu side tour, don't miss it.
Travel with Me
Hi, I'm Vivien. Are you interested in my 1 Day Mount Qingcheng Tour? Feel free to contact me, and I will be glad to tell you more stunning stories about the places I have visited. Or, if you want to customize a tour on your own, I'm always ready to help at any time. With my passion, knowledge and understanding of the essence of travel, I promise I will try my best to make the tour memorable and meaningful for you.
Vivien

Travel Consultant
More Travel Stories of Our Experts
More Travel Stories of Our Customers
Recommended Tours
Top 3 tours chosen by most customers to explore in the best way. Check the detailed itinerary, or tailor your own trip now with us.
1 Day Dujiangyan & Mount Qingcheng World Heritage Tour

Chengdu / Dujiangyan / Chengdu
1 Day Panda Tour with Mount Qingcheng

Dujiangyan
Have a question? Get answers from our travel experts or guests
Your Question:

Your Name:

Your Email: