The Panorama from Xianggong Mountain and Cuiping Mountain in Guilin
Departure Date

2019-12

Travel Length

1 Day

Travel Theme

Nature, Hiking, Family

Group Size

3

Travel Route

Chengdu - Guilin - Chengdu

Highlights

Guilin, Yangshuo, Mt. Xianggong, Mt. Cuiping, Li River, Yulong River, etc.

Story Tags

#Guilin Tour#Visit Guilin#Yangshuo Tour#Li River#Sightseeing#Photography#Hiking#Nature Tour
It's in the winter of year 2019 that I have visited Guilin with my parents, and I have written a blog of that trip. But in that blog it didn't mentioned too much about the Mt. Xianggong and Mt. Cuiping in Guilin, where I think they are really beautiful and now I want to write down some more about them here. "Xiangong" in Chinese actually is a call for husband in ancient time. Once I hear the name Xianggong Mountain, it seems many beautiful and sad love stories occur to me. However, of course, this is not the reason why it is so charming and be regarded as a beloved photography spot in Yangshuo, Guilin.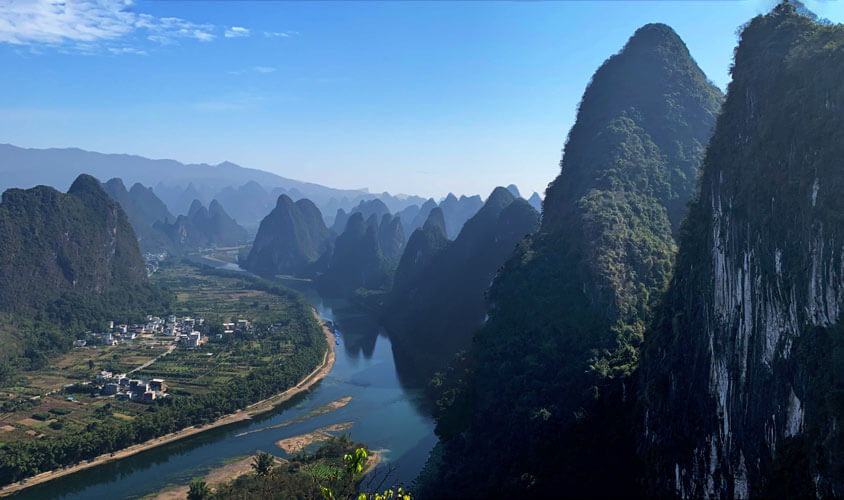 -Xianggong Mountain-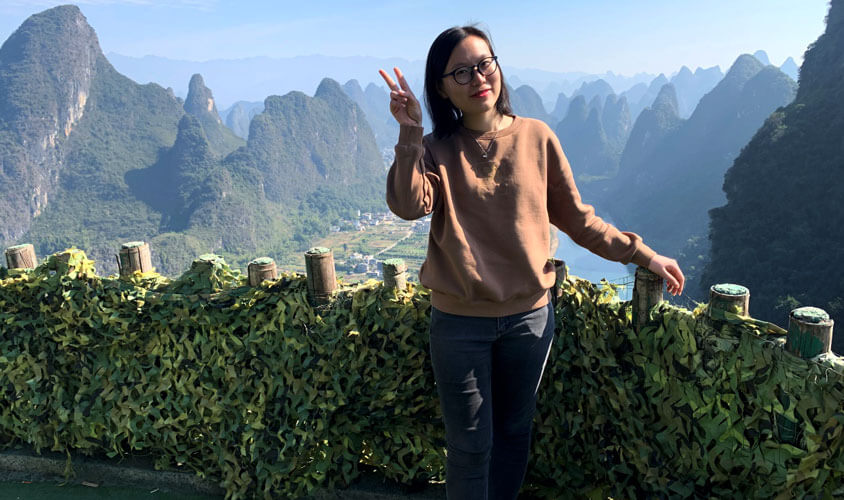 -Vivien is on the Top of Xianggong Mountain-
Then you will have the doubt why Xianggong Mountain is so popular in photographers? It is because of one photo – the one win the bronze prize on the 10th International Photography Exhibition. Since then, people start to know this place that has the ideal viewing spot to see Li River and the whole Yangshuo in a totally different angle. Xianggong Mountain has changed into a magnet for numerous visitors to enjoy their Yangshuo tour in an extraordinary way.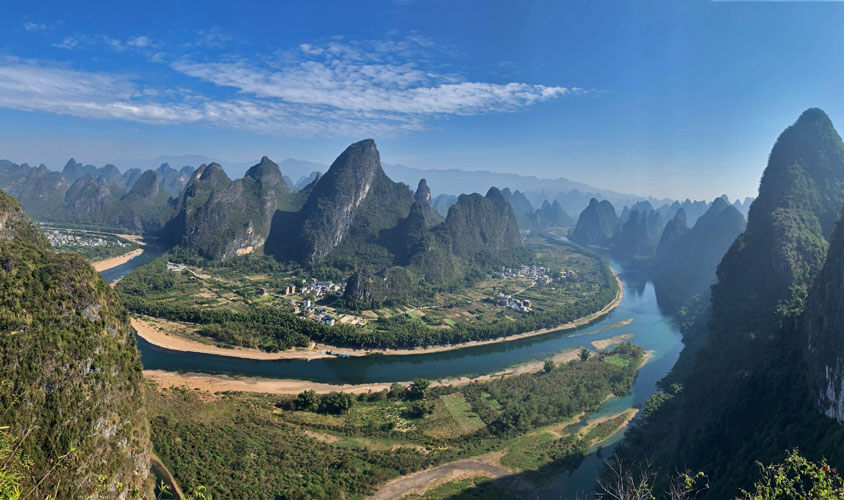 -The Panoramic View from Xianggong Mountain-
The best photography time to shoot from Xiangong hill is from April to November, and the famous scene shot from Xianggong Mountain is the sunrise. But actually it is Dec and morning time that I climb the Xianggong hill and take photos. It is still super beautiful, so I may say you can visit Xianggong Hill all year round to capture the different view of Li River. Offering the incredible site for savoring the panorama of Guilin Karst Landforms, winding Li River, gorgeous sunrise, sunglows, mists, sea of clouds and shadow, it attracts continuous photographers and travelers,. This is a place where it can even make you doubt if you are standing in the heaven.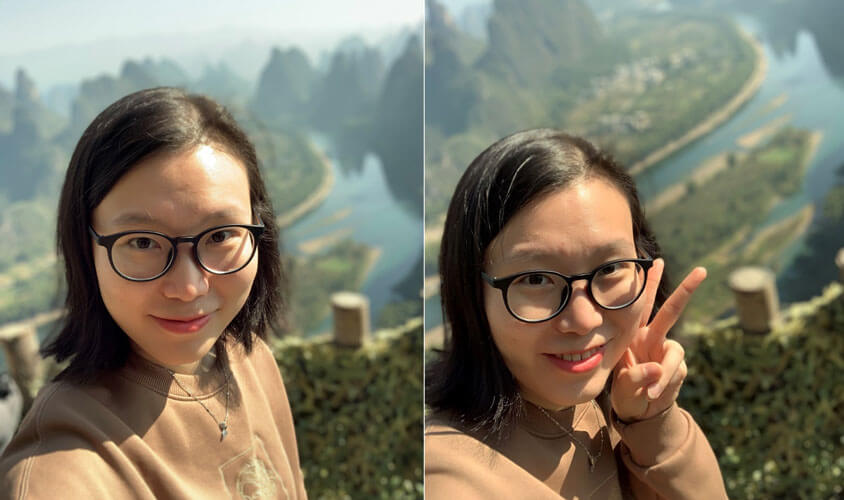 -Vivien is Taking Selfies on the Top of Xianggong Mountain-
It is around 20 minutes' climbing from the foot to the top of the hill. The stone steps up the hill are kind of narrow; personally, one person pass at a time is OK or mostly two persons pass from opposite direction because it is the same road for people up and down. Therefore please make sure to be slow and safe when you climb or go down from the mountain. On the mountain top, there is a viewing deck of 4 storeys. For the popularity, there will be many photographers gather there to shoot photos. And some photography tips may help: To get more satisfying photographs, you are suggested to prepare a tripod. Bugeye lens, wide-angle lens, medium telephoto lens, and standard lens are all suitable for your shooting.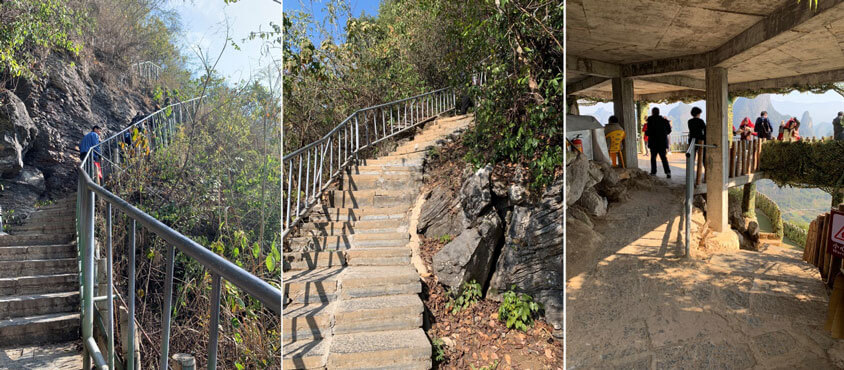 -Climbing from the Foot to the Top of the Hill-
Another good place to climb on the peaks to catch the panorama of the jagged Karst Mountains from where you stand to the far end is Cuiping Mountain in Yangshuo. Yangshuo's countryside view is really idyllic to match the lovely world in fairytales stories. Pieces of farming fields irrigated with water in different geometric shapes stitching one by one by the straight and winding countryside paths look like giant stunning silk covered on earth, especially lit by the warm rosy sunglows in the morning and dusk moments. Besides, with the emerald agricultural crops rising in spring and summer times, surrounding the scattered tiny black and white houses, the typical countryside landscape is extremely pleasant to create outstanding shooting works.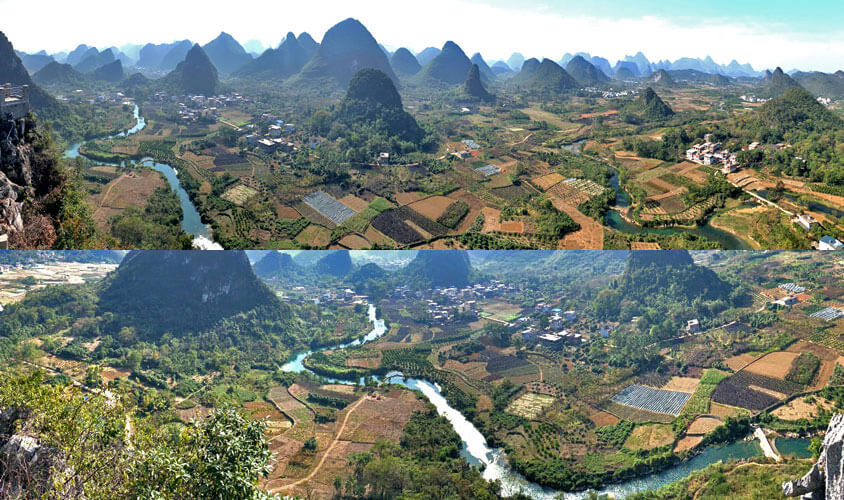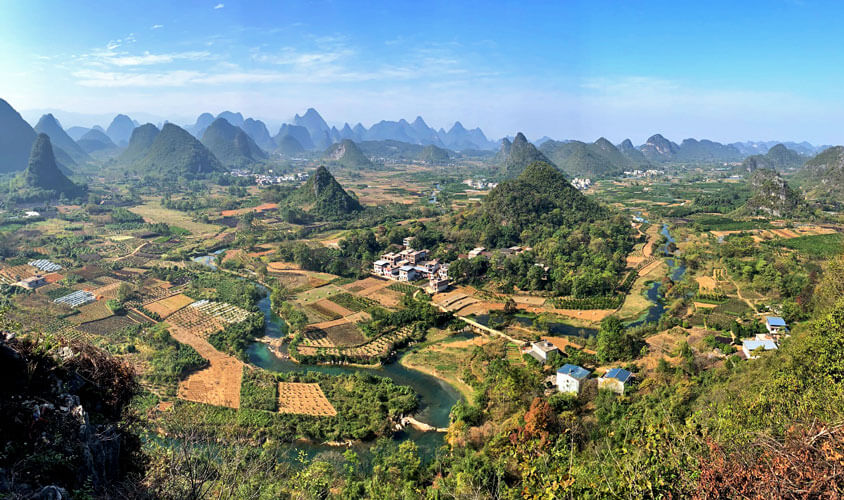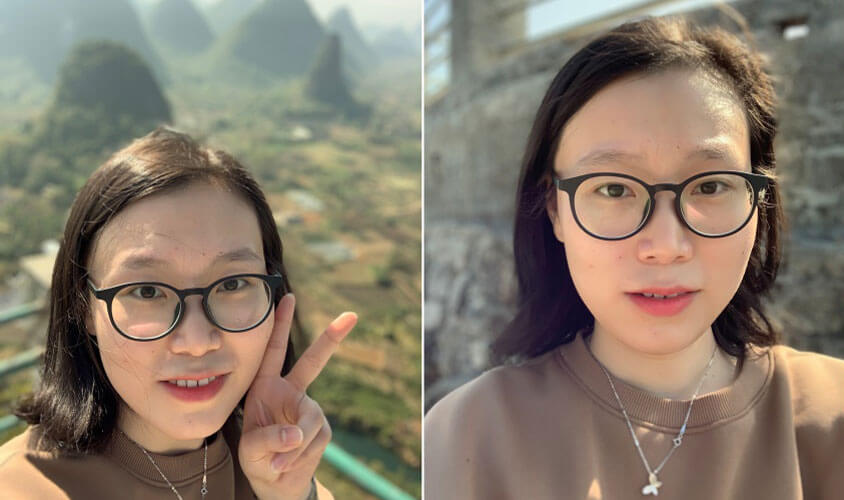 -The Panoramic View from Cuiping Mountain-
Sunset in Guilin is also a good theme for splendid photography works. And one of the top recommendations is Cuiping Hill in Yangshuo County, where you will be rewarded with the very fabulous sunset glow above the idyllic countryside view and Karst hill groups. As for me, taking a clear and beautiful photo in an afternoon on a sunny day in Dec in Cuiping Mountain after the Xianggong Mountain trip that morning is great enough.
Here is an interesting story that day I visited Cuiping Mountain. Actually Cuiping mountain is a new scenic spot not so famous, even though just as Xianggong mountain, it is a good place for the panorama view of Yangshuo, it is unfamiliar for tourists, even some locals. We go from the main road to the narrow country road; go from town to small village; after a long drive, when we looking around, the place was overgrown with grass and weeds. We assumed that we were went the wrong road and stopped a few times to ask some locals in that village and finally in the end of a small road we found it. After a second's relief, surprisingly we found that the scenic spot is closed already because of the lower season. What a pity if I can't take a visit after those efforts! Anyway, finally we found the staff there and open the door for us. But my parents decided not to climb it because they were too tired after that morning's visit. So finally I go myself to the Cuiping mountain; technically, I have the mountain myself! I can still remember clearly that the wind is high that day; all I heard on road is the wind and my breath. Actually, I would say not bad, haha…
Travel with Me
Hi, I'm Vivien. Are you interested in my 1 Day Guilin Mountains Tour? Feel free to contact me, and I will be glad to tell you more stunning stories about the places I have visited. Or, if you want to customize a tour on your own, I'm always ready to help at any time. With my passion, knowledge and understanding of the essence of travel, I promise I will try my best to make the tour memorable and meaningful for you.
Vivien

Travel Consultant
More Travel Stories of Our Experts
More Travel Stories of Our Customers
Recommended Tours
Top 3 tours chosen by most customers to explore in the best way. Check the detailed itinerary, or tailor your own trip now with us.
3 Days Classic Guilin Tour - Guilin Brief Vacation

Guilin / Yangshuo
2 Days Guilin Ideal Li River Cruise with Yangshuo Essence Tour

Guilin-Yangshuo
4 Days Li River Hiking with Yangshuo Highlights Tour

Guilin / Yangshuo / Guilin
Have a question? Get answers from our travel experts or guests
Your Question:

Your Name:

Your Email: