Vivien's 1 Day Fun with Panda - (Chengdu Panda Base)
Departure Date

2020-05-18

Travel Length

1 Day

Travel Theme

Nature, Solo

Group Size

1

Travel Route

Chengdu Research Base of Giant Panda Breeding

Highlights

Chengdu Panda Base, Giant Pandas, Red Pandas, Sunshine Delivery House for Giant Pandas, No. 1 Red Panda Enclosure etc.

Story Tags

#Chengdu Panda Tour#Visit Chengdu Research Base of Giant Panda Breeding#Chengdu Panda Base#Sightseeing#Photography#Nature Tour
Few years ago I got a chance for panda volunteer experience in Dujiangyan panda base. Personally, Dujiangyan panda base is more specializing in panda rescue and disease prevention, and the pandas there almost in their prime age and older age; It is such a great experience; I must said. However, I can't have a glance at the baby panda that base which leaves me another wish – someday I am going to have a close look at the tiny newborns and cuddly babies somewhere, and it keeps in my wish list until the other day I fulfil it in Chengdu Panda Base. That's where my blog start today.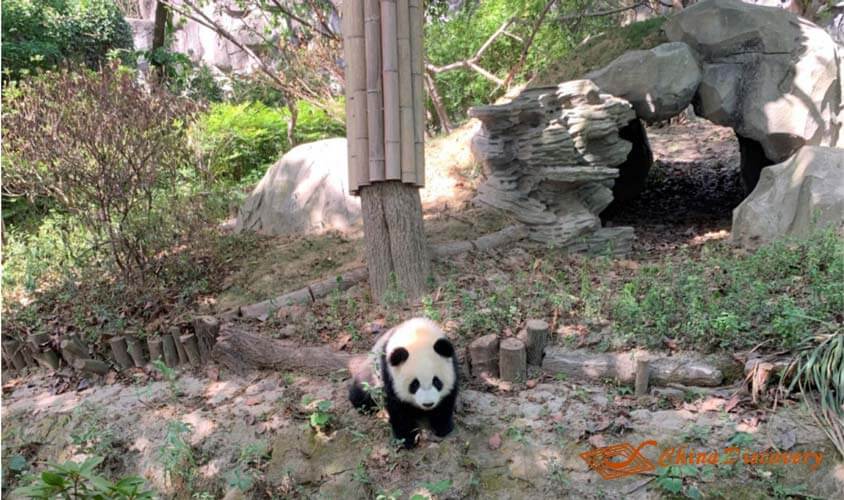 -Start my Panda Explore Tour in Chengdu Panda Base-
Chengdu Panda Base, also called Chengdu Research Base of Giant Panda Breeding, is the world's only museum that focuses entirely on the critically endangered giant pandas. It is reputed as the "Cradle of Giant Pandas" and now is the sanctuary of more than 150 giant pandas and also the world largest giant panda captive and scientific research base.
I always remember today my highlight will points to baby panda, so I firstly found myself a map leading me to those lovely little things. In my map, No. 11, Sunshine Nursery House for Giant Pandas; and No. 24, Moonlight Nursery House for Giant Pandas, are my destinations. And surely, I won't miss any chubby and lovable pandas on my way.
The route I go is No.9 ( No.1 Red Panda Playground) – No.12 (Giant Panda Cub Enclosure)– No. 13( Adult Giant Panda Enclosure) - No. 11 ( Sunshine Nursery House for Giant Pandas) – No.25 (No.2 Enclosure for Giant Pandas ) – No. 24(Moonlight Nursery House for Giant Pandas) as which you can found them in below map.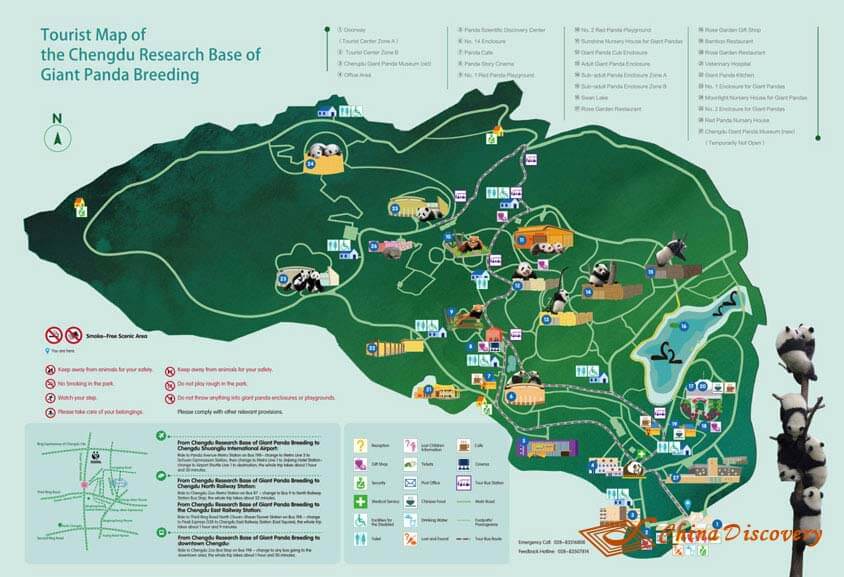 -Tourist Map of the Chengdu Research Base of Giant Panda Breeding-
It is such a bright sunny day and I forgot to wear any sunscreen or hat. There is no doubt that next time when I look at the mirror I will found myself a surprise. ☺The best time in a day to see the giant panda is in the morning; personally, the earlier, the better. Pandas are not afraid of cold, but can't stand summer heat. If you can get to the base once it opens, you will found it more pandas and less people. While for me, it is around 1.5 to 2 hours journey from my home to the base (walk + metro +shuttle bus), so when I get to the base at 9:10am, I found it more people and less pandas. But it is also fine for me in some ways; I don't need to find the pandas. I just go where some people gathering. That must be a panda nearby.
Chengdu Panda Base also holds some clever red pandas in the pleasant open enclosure. The red panda ranks as the world No.13 adorable animal species by CNN in 2013. I think they aren't good models because it's really not easy to put them in good post and clearly in your pictures. Here is a good one after so many tries.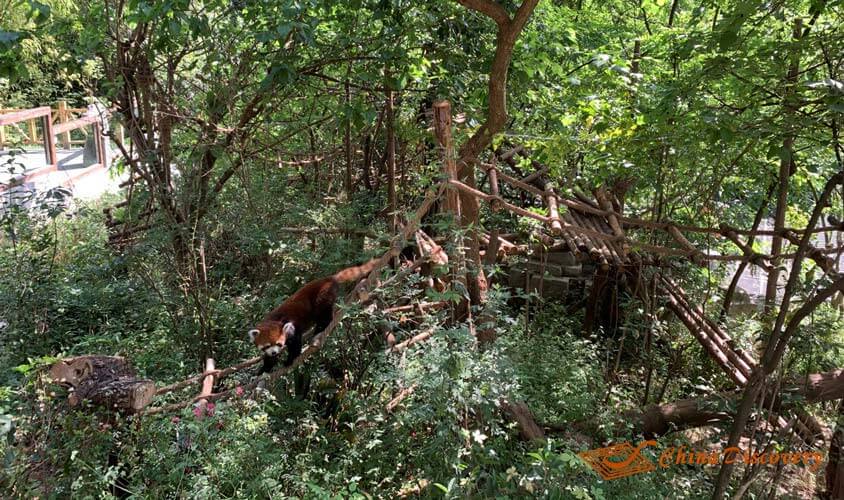 -Red Pandas in Chengdu Panda Base-
It is very interesting to watch the pandas eating bamboos (good appetite by the way), bathing in the pool (wow, really, sitting at where you drink), sleeping on the tree (nice posture), fighting each other (sorry we are too busy in taking videos to stop your guys), rolling down the slope (it was funny), and doing exercises (I bet you must want a good body shape).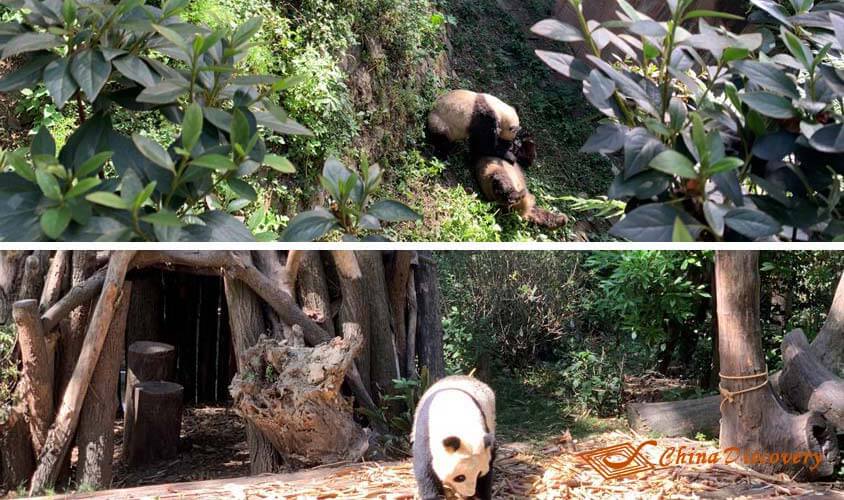 -Finding Bamboos to Eat & Fighting Each Other-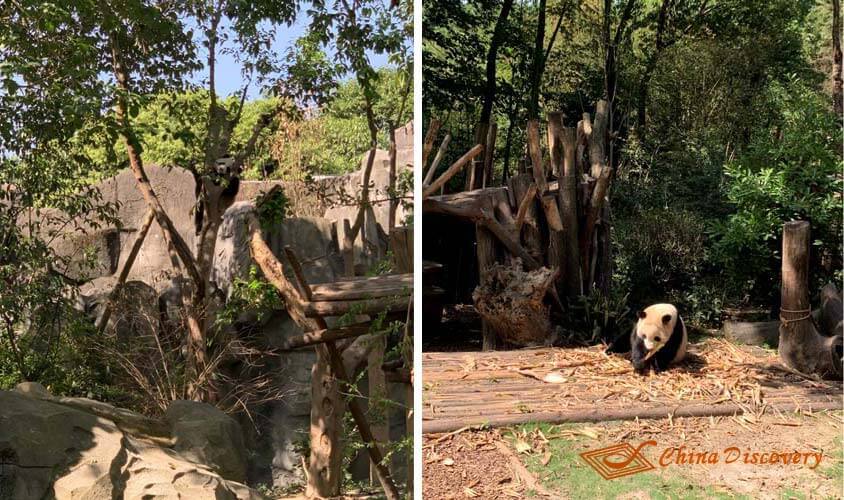 -Sleeping & Eating Bamboo-
Then come to the highlight of today – baby panda. March to May is the "falling in love" period for pandas. A baby panda stays in its mother's uterus for just 3 to 5 months. July to September is the born period for newborn panda babies. If you are lucky enough you can see tens of super cute pink pandas just a little larger than your palm lying in a row at Sunshine Nursery House and Moonlight Nursery House. Yes, the Sunshine and Moonlight Nursery House, they are my final destinations this trip.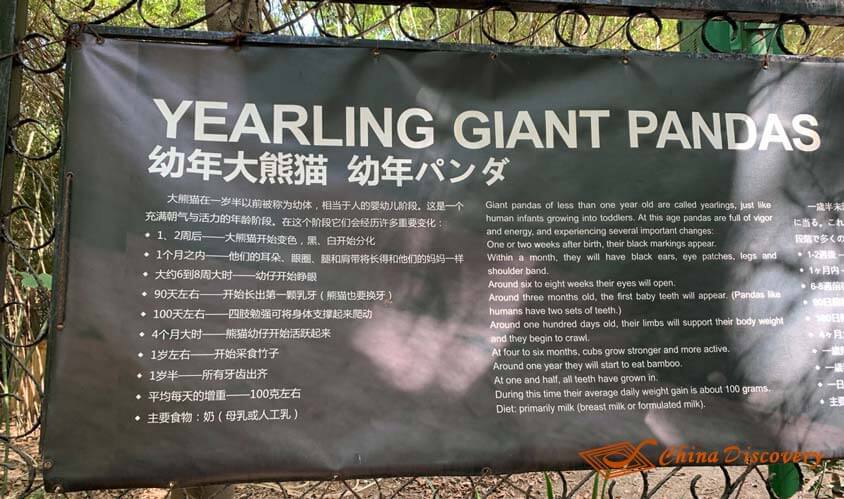 -Yearling Giant Pandas-
I went to the Sunshine Nursery House first. People line up to watch the baby panda sleeping on the other side of the glass wall. It is so small, so cute and we voice down and just watching it. It is only few seconds everyone because so many people behind you are in line and waiting to have a look at this little thing, therefore, remember to catch this few seconds to take some photos.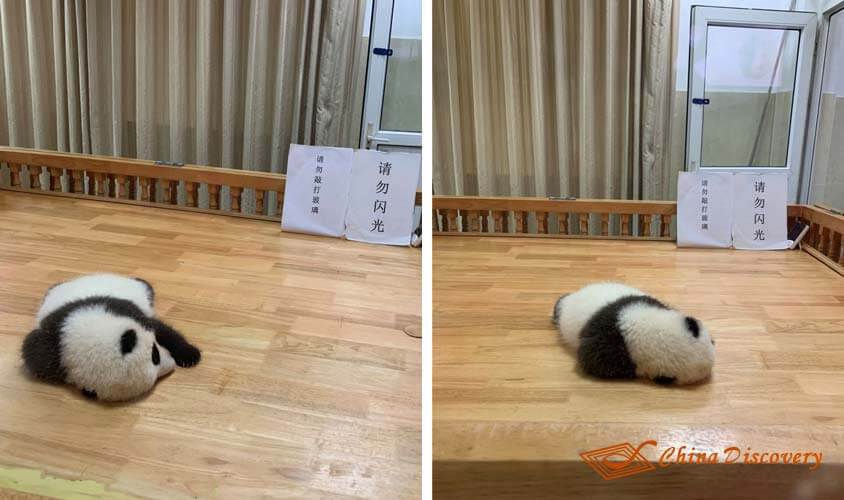 -Baby Panda in the Sunshine Nursery House-
It is only one baby panda open for visit that day in the Sunshine Nursery House; maybe it is because not the best time for it. If you come here from Aug to Oct, I think it will be more baby pandas in the Nursery House. But it's fine for me, and also leaves me another reason to come again!
After the Sunshine Nursery House, I came to the Moonlight Nursery House, which is far away from the doorway (around 20-30minutes walk), and in the mountain top. You can choose to take the sightseeing car or walk there. This baby panda is also sleeping there "comfortably", but Er.. what posture it is.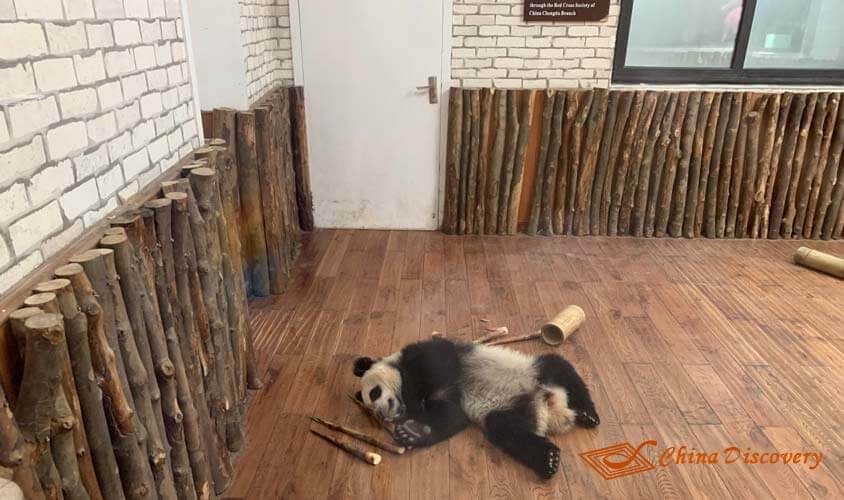 -Strange Posture of the Baby Panda-
My baby panda trip today is about to end. Oh, it is a big day – getting up early on Sunday, wearing no sunscreen and hat under sunshine, but it is to watch those lovely little pandas, so, 100% worthy.
Travel with Me
Hi, I'm Vivien. Are you interested in my 1 Days Chengdu Panda Base Tour? Feel free to contact me, and I will be glad to tell you more stunning stories about the places I have visited. Or, if you want to customize a tour on your own, I'm always ready to help at any time. With my passion, knowledge and understanding of the essence of travel, I promise I will try my best to make the tour memorable and meaningful for you.
Vivien

Travel Consultant
Recommended Tours
Top 3 tours chosen by most customers to explore in the best way. Check the detailed itinerary, or tailor your own trip now with us.
1 Day Chengdu Relaxing Panda Highlights Tour

Chengdu (Chengdu Banda Base, People's Park, Jinli Old Street)
3 Days Chengdu Highlights Tour plus Leshan Giant Buddha

Chengdu: Chengdu Panda Base, Leshan Giant Buddha, Jinli Street
2 Days Chengdu & Lifetime Panda Volunteer Tour

Chengdu / Dujiangyan Panda Base / Chengdu
Have a question? Get answers from our travel experts or guests
Your Question:

Your Name:

Your Email: