Tracy's 1 Day Mount Qingcheng (Back Mountain) Hiking Tour
Departure Date

2020-05

Travel Length

1 Day

Travel Theme

Hiking, Nature, Culture

Group Size

2

Travel Route

Chengdu - Mount Qingcheng - Chengdu

Highlights

Mount Qingcheng

Story Tags

#Mount Qingcheng#Mount Qingcheng Hiking
To begin with, I am not a person who like exercise and the only exercise of me is a 30mins' yoga as three times a week. But I decided to hike the back of Mt. Qingcheng. In my mind, it may be easy for hiking. However, I proved how naive I was to think so. Embarrassed.
A sunny day, I spent 6.5 hours finishing the hiking on Mt. Qingcheng ( back mountain) with a total length of 20km. Generally, the hiking course could be cut a half if you take cable car and a private car. But I took neither cable car nor a private car, made a challenge to myself.
The first cable car (Jinli cable car) is at the mountain feet and arrives in the middle of the mountain. The second cable car (Baiyun cable car) is on the 2/3 of right side, reaching to the 1/2 of left side. Besides, you can take a private car between Wulong Gou and Tai'an temple. For routes, they are all two-way roads and you can randomly choose. I simply hiked up from right side and went down from left side.
Useful Links: Mount Qingcheng Hiking | Mount Qingcheng Maps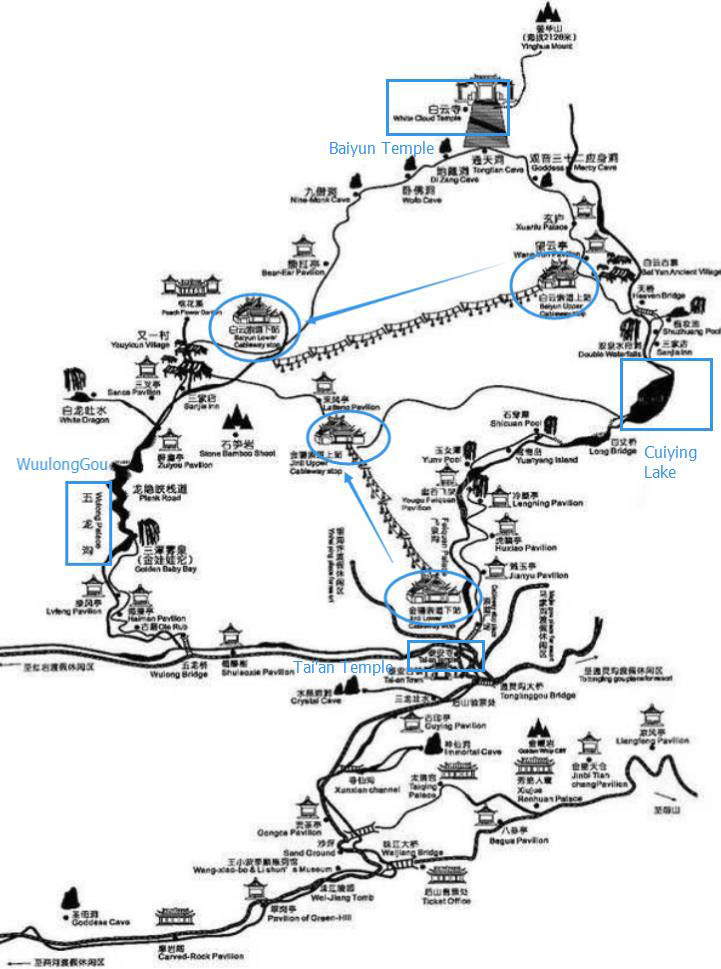 Mount Qingcheng Back Mountain Map
First thing morning, I took the inter-city train C6109 at 07:54am from Xipu station and arrived at Qingcheng Shan station at 08:35am. Out station, turned left and went straight about 2mins to the bus station for a shuttle bus (¥25 round way per person) to Qingcheng Shan(back mountain). The bus took 40mins one way.
After getting off the bus, I walked about 5mins and saw the gate of Qingcheng (back mountain).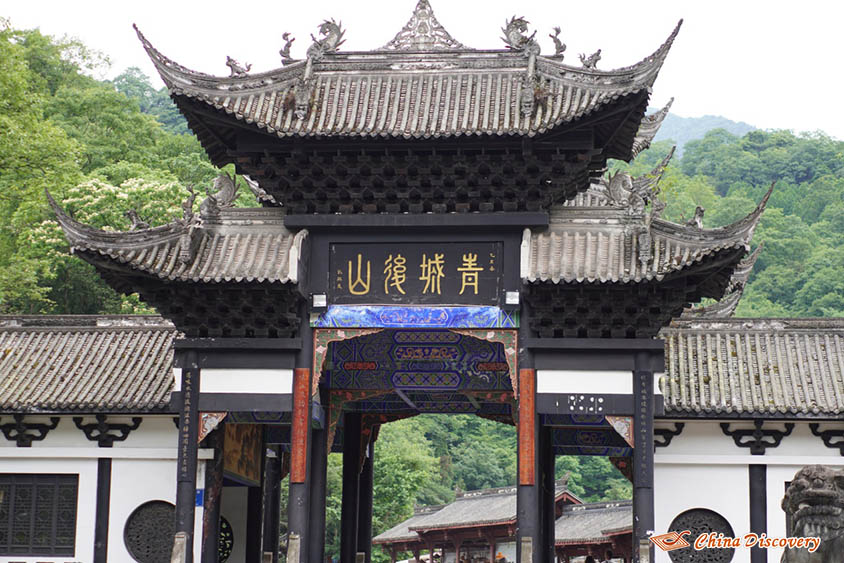 Gate of Mount Qingcheng (Back Mountain)
Went in, I came to the Tai'an old town and the historical Tai'an temple is inside, which is the starting point of hiking. And I started hiking at 10:00am.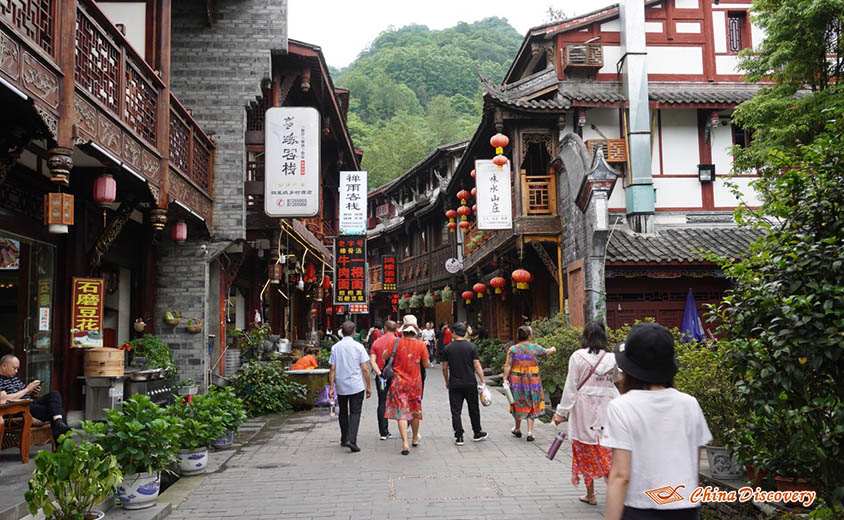 Tai'an Old Town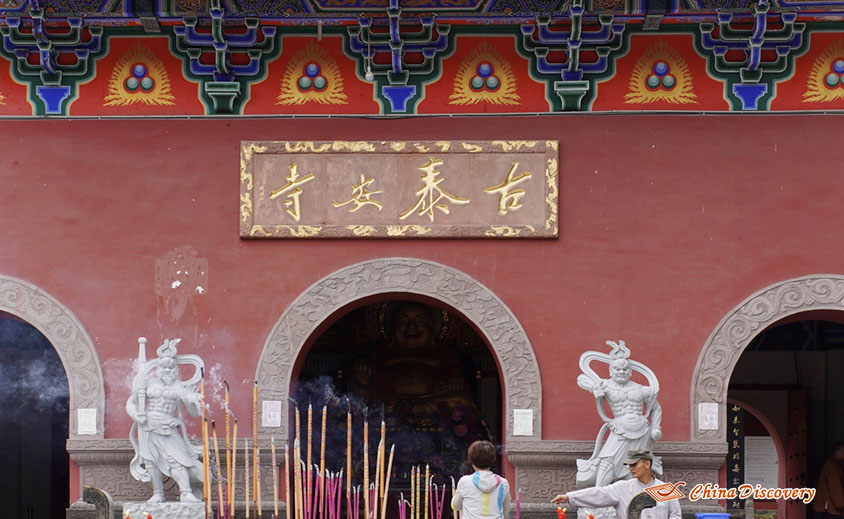 Tai'an Temple
The back mountain and the front mountain are two parts. The front mountain belongs to Daoism and exposed to the sun (ticket is¥80 per person). Differently, The back mountain belongs to Buddhism and the weather is quite cool here even in hot summer (ticket is¥20 per person).
Along the way of my hiking, I saw similar but different sceneries, quiet and beautiful. Temples are rather shabby on the back of Qingcheng Mountain but just appropriate for nature.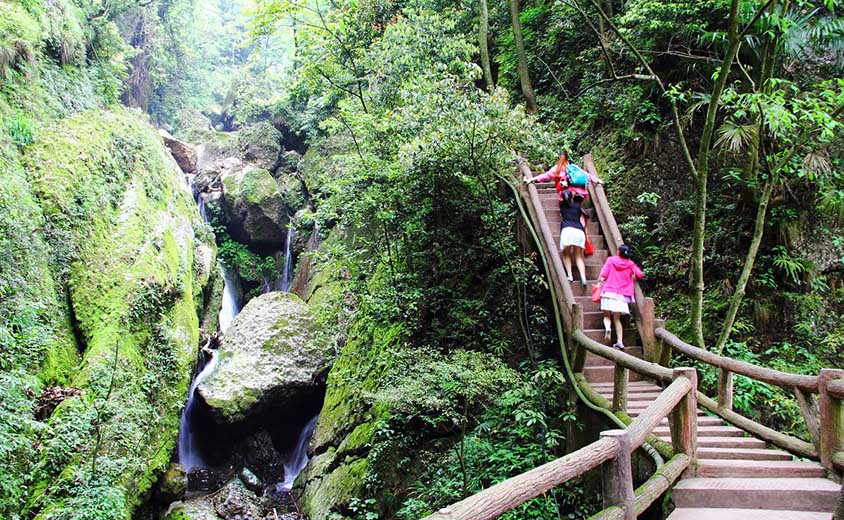 Hiking Mount Qingcheng
At 11:40am, I arrived at the Cuiying Lake and a boat ride is necessary to cross the lake, though it only took 5 mins (¥2/per person).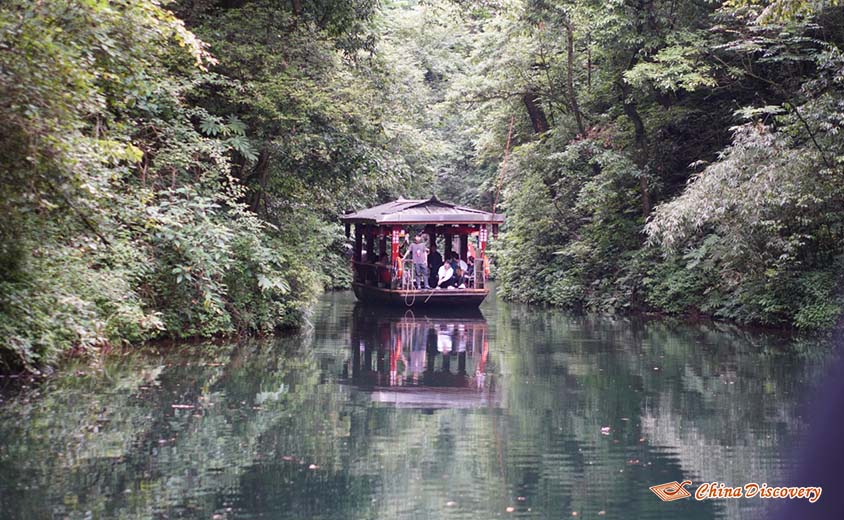 Boating to Cross Cuiying Lake
It may be not so difficult to reach Cuiying lake, but after it, it's just hard for me. The stairs are much steeper and often continuously long and steep stairs waiting for me…
When I went down from the left side, the situation is harder - my legs can't stop trembling and I felt they would kiss the ground every next second.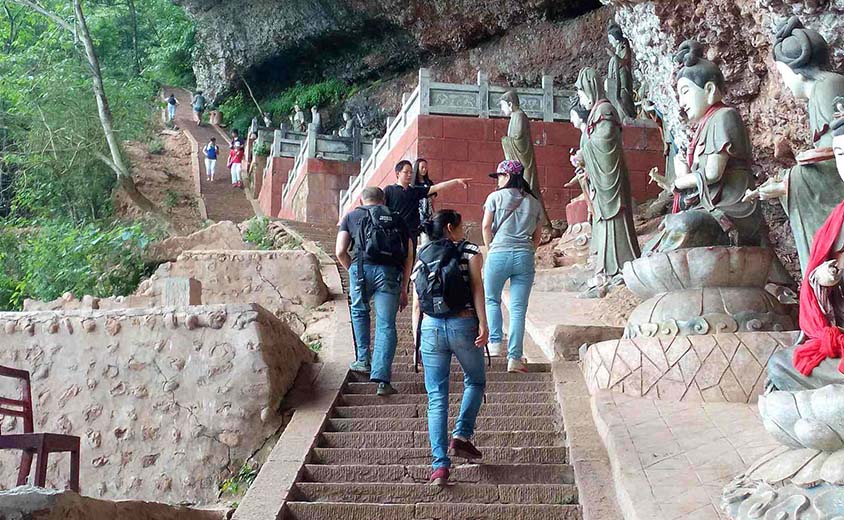 Lots of Stairs Ahead of Me
One hour later saying 12:40pm, I bought an instant noodle at a supply point as my lunch. There are supply points along the way, and you could have a seat. Importantly, I still have almost one hour to up to the top and I need some food and rest.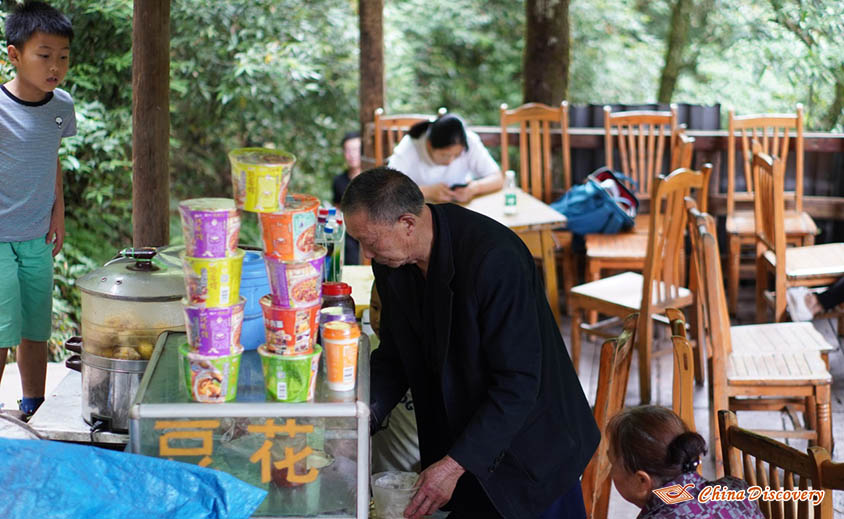 A Supply Point on the Way
At 13:30pm, I was on the top!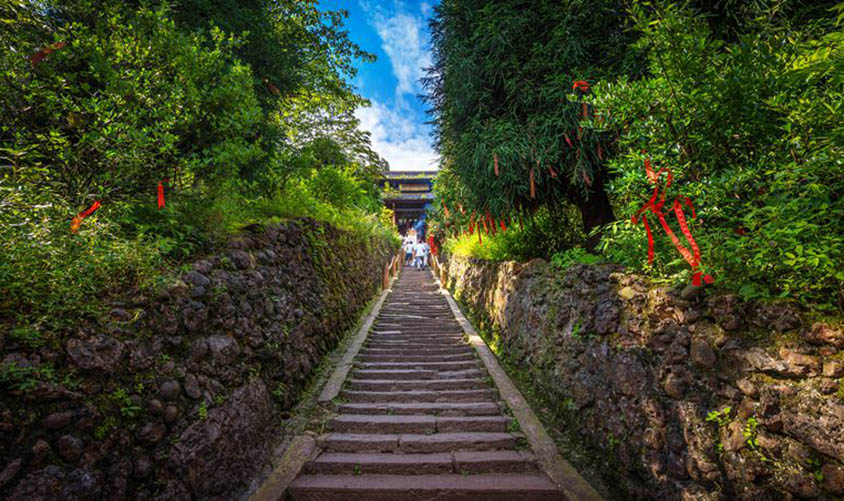 I Reached the Top Finally
Not easy, I thought I was on the top and there still a long and steep stair before me. Okay, just keep up!
The Baiyun temple is the most top place tourists can reach. And the stair is the only repeated road of my hiking, I need up and down.
Next, more difficult part began as I need go down from the left side, which takes me about 3 hours. Think seriously, the reason why I took neither cable car nor a private car down is that, I was kind of excited and felt ok when I met the chance to do them. Embarrassed again.
Like the right side, there are abundant vegetation and vital falls to make your hiking more fun.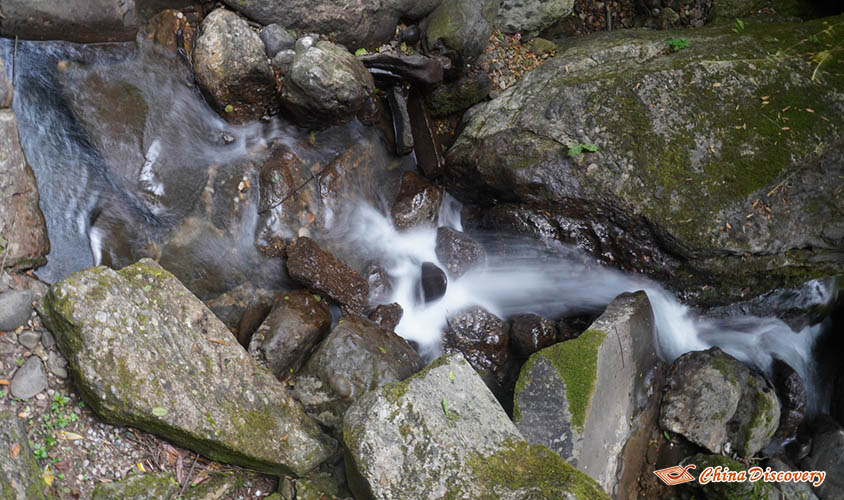 Hiking Down Mount Qingcheng
Okay, my tour of Mt. Qingcheng (Back mountain) is over. If you are energetic and love hiking, it may be a good choice. Good luck!
Travel with Me
Hi, I'm Tracy. Are you interested in my 1 Day Mount Qingcheng Hiking Tour? Feel free to contact me, and I will be glad to tell you more stunning stories about the places I have visited. Or, if you want to customize a tour on your own, I'm always ready to help at any time. With my passion, knowledge and understanding of the essence of travel, I promise I will try my best to make the tour memorable and meaningful for you.
Tracy

Travel Consultant
Recommended Tours
Top 3 tours chosen by most customers to explore in the best way. Check the detailed itinerary, or tailor your own trip now with us.
1 Day Dujiangyan & Mount Qingcheng World Heritage Tour

Chengdu / Dujiangyan / Chengdu
4 Days Chengdu & Dujiangyan All Bests with Panda Volunteer Tour

Chengdu / Dujiangyan / Chengdu
3 Days Chengdu & Mt. Qingcheng Taoism Tour with Mount Heming

Chengdu / Qingchengshan / Dujiangyan / Dayi / Chengdu
Have a question? Get answers from our travel experts or guests
Your Question:

Your Name:

Your Email: