Travel with Tracy: Getting to Know China's Greatest Poet, Du Fu
Departure Date

2020-6-6

Travel Length

Half Day

Travel Theme

Culture, Park, Gallery

Group Size

1

Travel Route

Du Fu Thatched Cottage

Highlights

Du Fu Thatched Cottage, Poems' Gallery

Story Tags

#Du Fu#Du Fu in Chengdu#Du Fu Thatched Cottage
From BBC documentary film - Dufu: China's Greatest Poet, Du Fu's poems "embody not only the feelings but the moral sensibility of a whole civilization". I was attracted by this point of view, and I decided to explore one of his stops in his wandering life- Du Fu Thatched Cottage in Chengdu.
In 759 during the An Lushan rebellion, Du Fu came to Chengdu as a refugee. With the help of an old friend, he could stay in a heavenly plot and built himself a thatched cottage. Almost four years, he lived here and composed many poems. 
When he left Chengdu, the thatched cottage was abandoned in ruin. However, it later has been rediscovered and renovated by another poet - Wei Zhuang for remembering Dufu. Next dynasties, the thatched cottage was continuing destroyed and restored, and finally became the Du Fu Thatched Cottage, the most famous place of literary pilgrimage today.
Du Fu thatched cottage museum has been divided into three functional areas: cultural relics scenic area (formerly thatched cottage), garden scenic area (mei yuan), and service area (cao tang temple). The formally thatched cottage is the core part and main attractions are arranged on the central axis, along with outbuildings on both sides. 
The day, I wandered in Du Fu thatched cottage to experience its quietness, to enjoy simple and natural away from busy urban life, and to imagine what kind of person Du Fu is...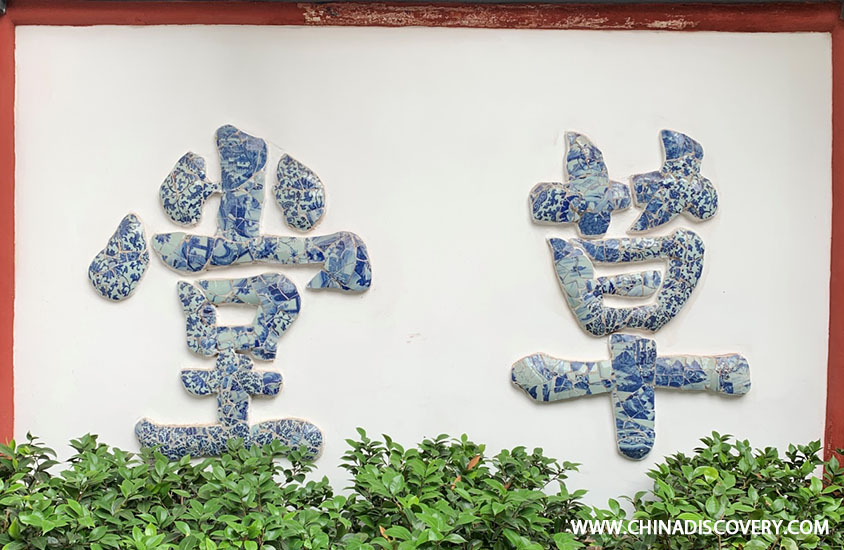 "Thatched Cottage" in Chinese
Ever since I got in from the south gate, the fresh and green scenery came over me. I could not help taking a deep breath and wanted to keep this moment in mind forever.
People scattered in the peaceful scene, chatting, giggling, and playing chess… I find a place to sit and to immerse myself in.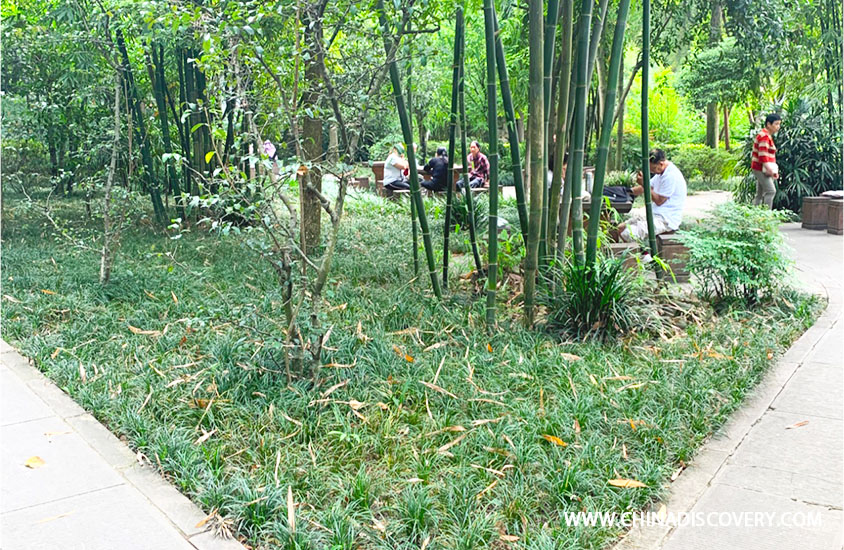 Peaceful Scene in Du Fu Thatched Cottage Park
Getting inside, I met the thatched cottage, not a long walk. Actually, it matched my imagination but still impressed when I saw it. Du Fu wrote many poems for ordinary people, worried about them, and spoke for them. However, just like everyone enjoying simple nature and being joyful with daily life, the miserable fate of ordinary people at that time was relieved from Dufu's mind temporarily.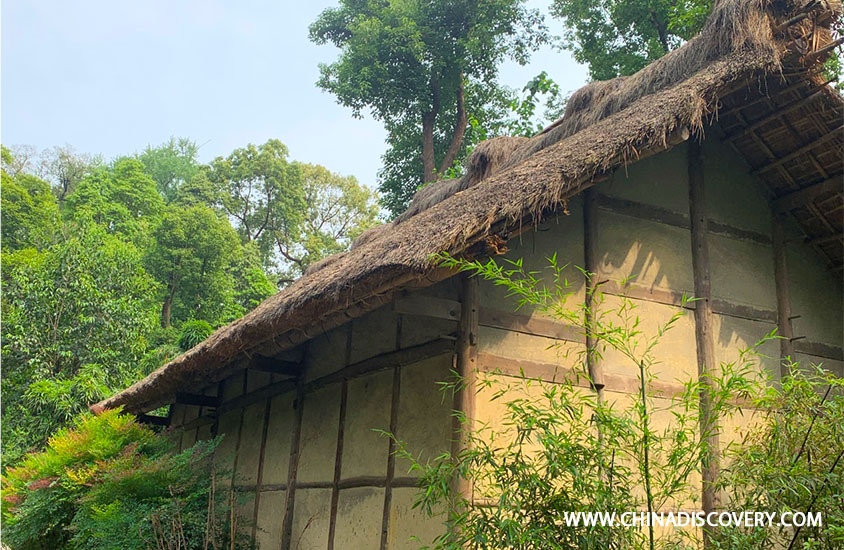 Thatched Cottage
Opposite the thatched cottage is a pavilion, people sit here and enjoy… In the center of the pavilion is a poem carved on the stele, describing delightful scenery here by Dufu:
Happy Rain on a Spring
Good rain knows its time right;
It will fall when comes spring;
With wind it steals in night;
Mute, it moistens each thing.
O'er wild lanes dark cloud spreads;
In boat a lantern looms.
Dawn sees saturated reds;
The town's heavy with blooms.
This is an English version translated by Xu YuanChong. This poem shows me a vivid picture and I can feel the same cheerful as Du Fu did when he saw the scenery with his own eyes.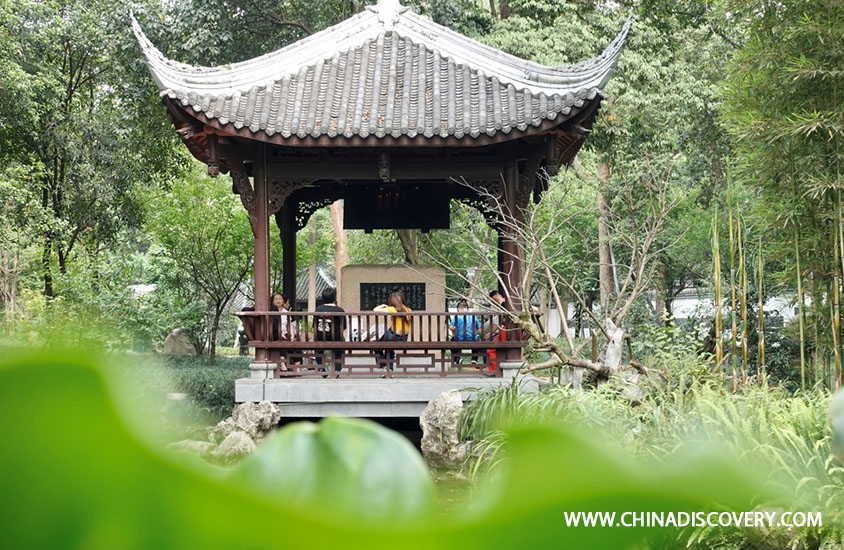 Beautiful Pavilion
Keeping on exploring, I got a chance to experience the charm of more poems and calligraphy through Thousand Poems Stele & Du Fu Poems' Calligraphy Woodcut Gallery.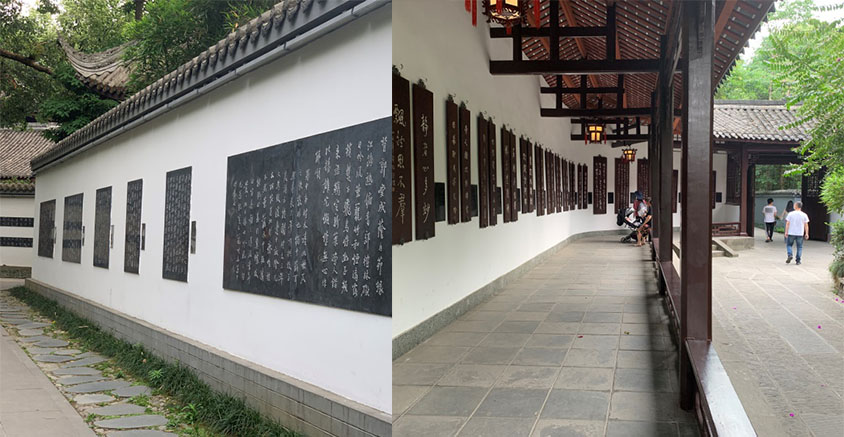 Poems' Gallery of Dufu
Different from any area in the Thatched Cottage, the red wall is conspicuous. Now, this wall is a hot spot for taking pictures and you will get a nice photo.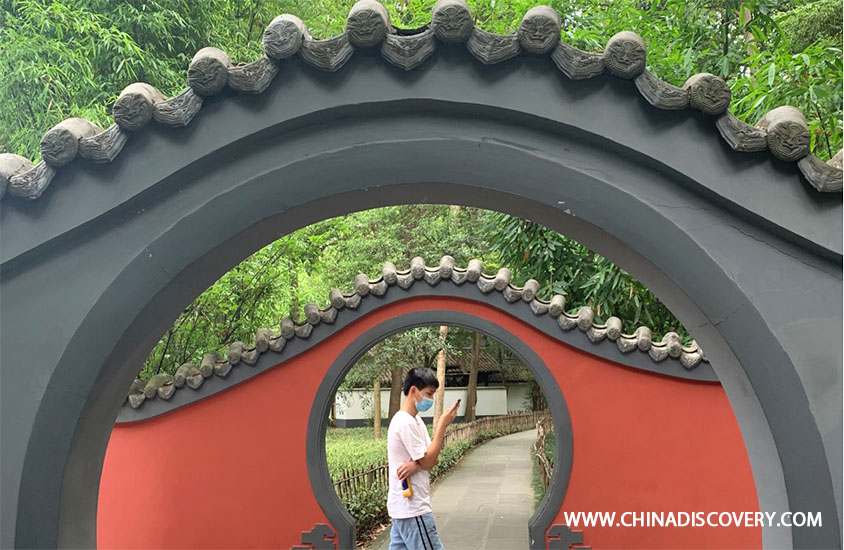 Red Walls and Traditional Round Doorframe
What does Du Fu look like? Each dynasty has its own imagination, and here is one turned into a statue.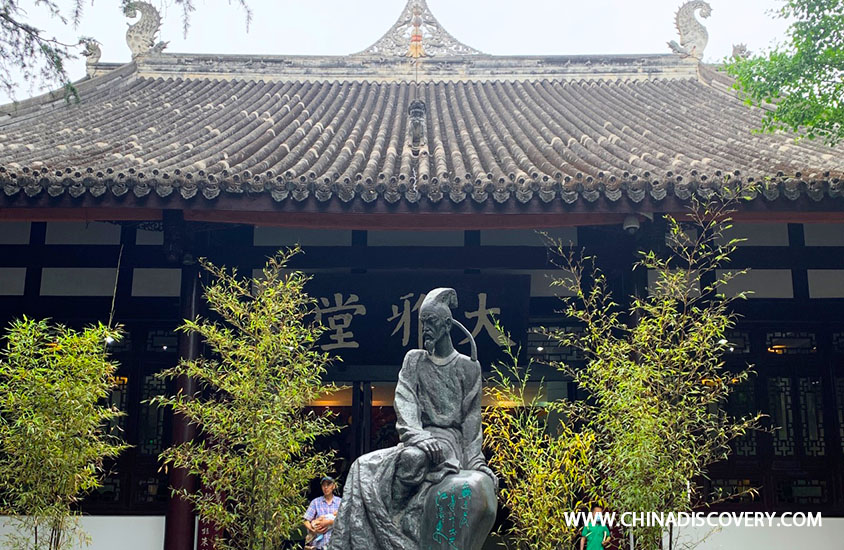 Statue of Dufu
Till now, I stayed inside for about 2 hours. Time to leave and I got out from the North Gate.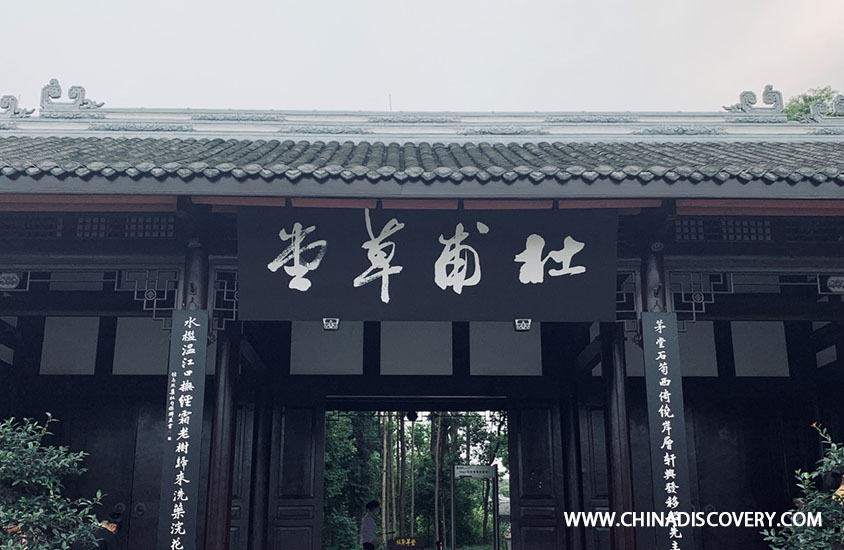 North Gate of Du Fu Thatched Cottage
To reach a conclusion, this is a valuable trip for me to know more about Dufu. If you are also curious about China's greatest poet Dufu, just come and have your own exploration!
Travel with Me
Hi, I'm Tracy. Are you interested in my Du Fu Thatched Cottage Tour? Feel free to contact me, and I will be glad to tell you more stunning stories about the places I have visited. Or, if you want to customize a tour on your own, I'm always ready to help at any time. With my passion, knowledge and understanding of the essence of travel, I promise I will try my best to make the tour memorable and meaningful for you.
Tracy

Travel Consultant
Recommended Tours
Top 3 tours chosen by most customers to explore in the best way. Check the detailed itinerary, or tailor your own trip now with us.
1 Day Chengdu Relaxing Panda Highlights Tour

Chengdu (Chengdu Banda Base, People's Park, Jinli Old Street)
3 Days Chengdu Highlights Tour plus Leshan Giant Buddha

Chengdu: Chengdu Panda Base, Leshan Giant Buddha, Jinli Street
2 Days Chengdu & Lifetime Panda Volunteer Tour

Chengdu / Dujiangyan Panda Base / Chengdu
Have a question? Get answers from our travel experts or guests
Your Question:

Your Name:

Your Email: