Travel with Rita: 5 Days Xiamen Tulou Tour with Family
Departure Date

2019-11-30

Travel Length

5 Days

Travel Theme

Culture, Village, Family, Architecture

Group Size

3

Travel Route

Chengdu - Xiamen - Gulangyu Island - Zhangzhou - Tianluokeng - Yunshuiyao - Xiamen - Chengdu

Highlights

Gulangyu Island, Tianluokeng Tulou Cluster, Yuchanglou, Yuchanglou, Yunshuiyao Village, Heguilou

Story Tags

#Xiamen#Tulou#Gulangyu#Yunshuiyao Village#Heguilou
This is my annual leave week. I was originally planning to do this trip with my parents, and considering it was getting colder at this time in Chengdu, we chose this city in the south part of China. However, my father was busy with his work and my mother didn't go separately without my father, then we decided to go with my husband and daughter. My husband happened can have the annual leave also like me. 
We chose to do the tour on our own. My husband and I were both busy with our work, and my daughter was in her first semester of kindergarten. We were happy that we could have 5 days to be together for a trip for some relaxing from our daily life. I booked the round way flights and also the hotels on the internet. We spent three nights in Xiamen city and one night in Tulou in Nanjing county. The first night in Xiamen, we stayed at Wanghui Hotel, which is a 3-star hotel, the room was small. The other two nights, we changed to a 4-star hotel, which named Xiamen Plaza Hotel. The night in Tulou, we stayed in a local homestay at Yunshuiyao Village.
It was rainy in Chengdu in the morning when we flew from Chengdu to Xiamen, when arrived in Xiamen after 3 hours flight, it was Sunny and warmer. The first thing for us was going to the hotel and changing clothes. We took a taxi from the airport to the downtown hotel, with 20 minutes driving. Xiamen is an island city, the airport is close to the central city. It is convenient and easy. And then, we had lunch at a restaurant outside the hotel. After that, we went to South Putuo Temple which first built in the Tang Dynasty. It is renowned for its collection of Buddhist cultural relics. Climbing on the Wulao Peak was a great experience, you could enjoy the bird's eye view of Xiamen University and Xiamen Port (better to do the hiking in the morning, for in the afternoon, it is not suitable for taking pictures). We then went to Baicheng beach for sunset. In the evening, we had some local seafood for dinner.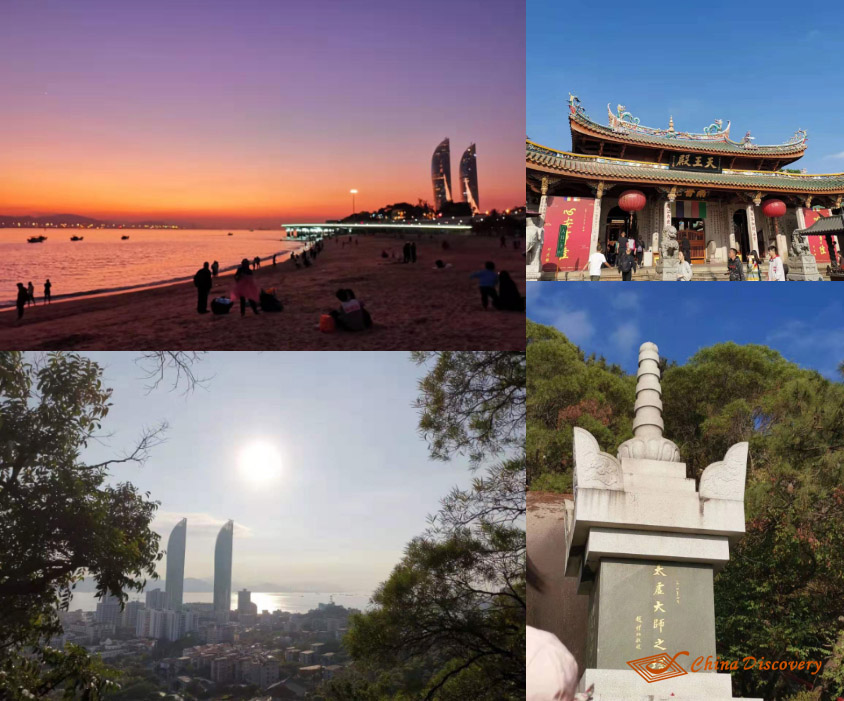 South Putuo Temple and Rosy Cityscape of Xiamen
The next day in Xiamen, we took a 10-minute boat from Cruise Center Xiagu Terminal to Sanqiutian pier for a trip to Gulangyu Island. Start to visit Sunlight Rock, the highest point of Gulangyu, to have a panoramic view of both Gulangyu and Xiamen. From there, we saw not only the beautiful scenery but also the busy business on Xiamen port and understood its busy trade on the see road, which we can't see in my city. We also visited Shuzhuang Garden, a beautiful seaside garden and the famous Piano Museum with a collection of 80-fold rare old pianos from all over the world, there's a piano performance from the staff on every half an hour. We visited Haoyueyuan also and leaned some of the great things of Zhengchenggong. We tried some local snacks on the island, like fish ball and fried glutinous pudding (麻糍), etc. Some of the restaurants had a history of over a decade years. On the boat back to Xiamen city, we enjoyed a beautiful night view of Xiamen. In the evening, we explored Zhongshan road which is a popular walking street in Xiamen city. It was a nice day!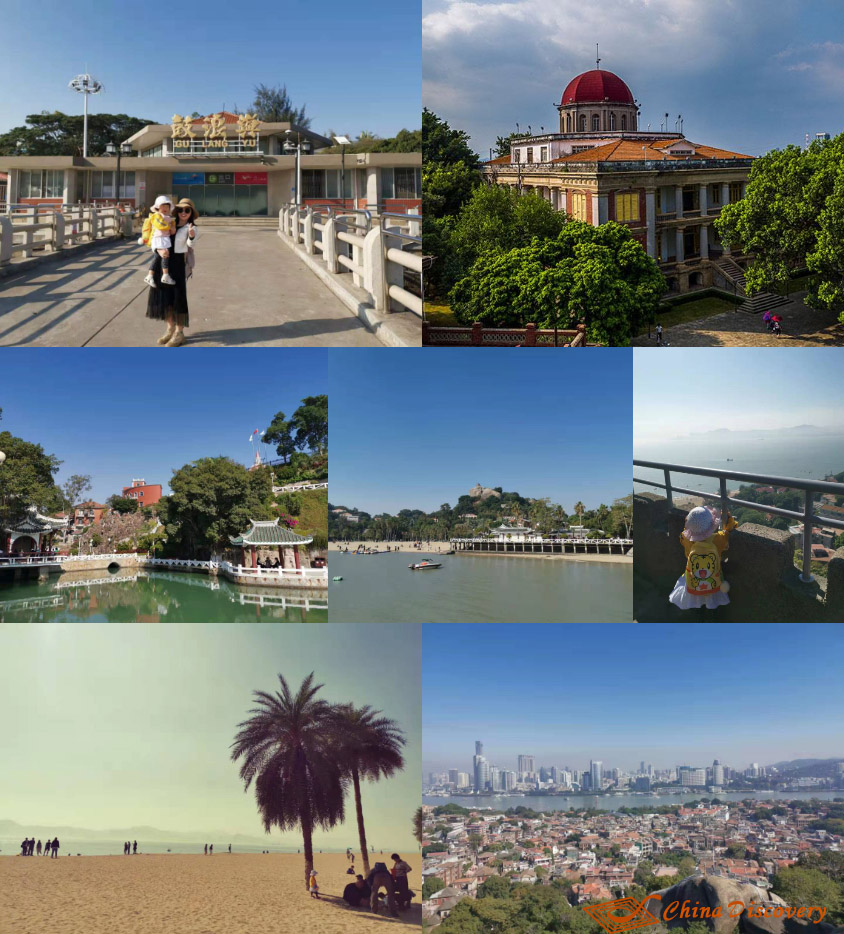 Arrival at Gulangyu and Panoramic View of Both Gulangyu and Xiamen
On the third day, we took a 50 minutes bullet train from Xiamen City to Nanjing County in Zhangzhou city. From Nanjing train station, we took a bus for 2 hours to reach the earth building scenic area. The Hakka People were driven south from the Yellow River plains by War in the late Tang and Early Song Dynasties. It is perhaps due to their experience of persecution, and their presence in a new land that they adopted a fortress-like style of rammed earth buildings called Tulou. We visited the Tianluokeng Tulou Cluster, Yuchanglou, and Taxia Village. We then went to Yunshuiyao Village overnight, where we stayed at a local homestay and enjoyed a peaceful night view. Tianluokeng Tulou Cluster is really beautiful from far see. Yuchanglou impressed me most for its longest history over 700 years and its special construction skills.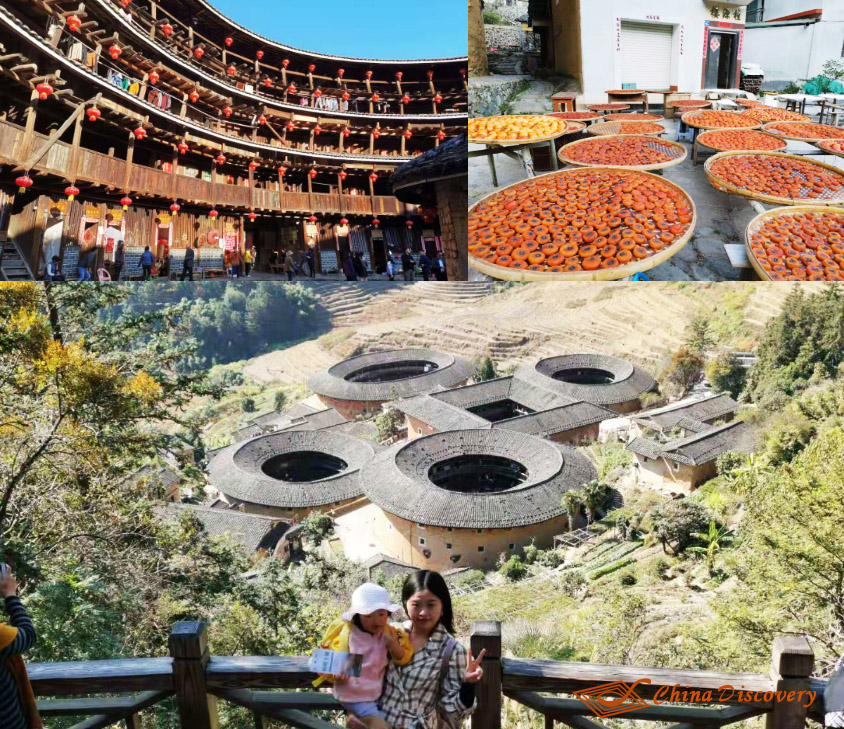 Tulou Scenic Area
On the fourth day, we played a visit to Heguilou, Yunshuiyao Village and Huaiyuanlou. Heguilou is the highest earth building. Huaiyuanlou is a drum shape building. Yunshuiyan connects Heguilou and Huaiyuanlou. Along the banks of the brook are ancient banyan trees, ancient buildings, and patches of farmland. This village had been a popular place for film making. We enjoyed the morning walking there and tried some local food also. In the afternoon, we took the bus and bullet train back to Xiamen city. Upon arrival, we went to the Hulishan Fortress. Where we learned more history of Xiamen city and realized its importance on the country's defense. This evening, we found a Xiamen local restaurant and tried some Minnan food. It was nice and worth to try.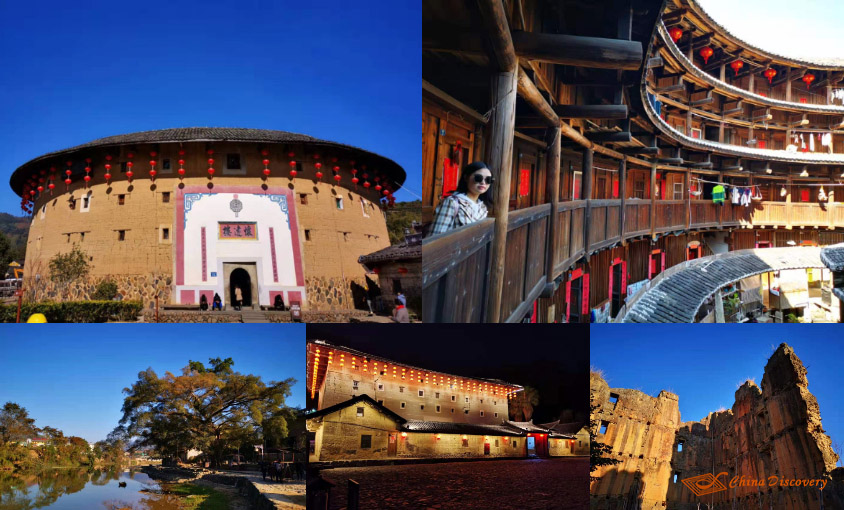 Huaiyuanlou, Yunshuiyao and Heguilou
The fifth day is time for leave, we packaged our luggage, checked out the hotel and hanged around for some Xiamen specialty before going to the airport. During these days, we saw many different style buildings, from the western style building and churches on Gulangyu Island to the Hakka People's local earth building, and also their culture and lifestyle. We did enjoyed it and understood the meaning of the "Each place has its streams in from all over the country; each place has its own way of supporting its own inhabitants". We went back to Chengdu, a big city in southwest China, where there're no sea and no sea business, but there're our home and life. There're hotpot and panda.
Travel with Me
Hi, I'm Rita. Are you interested in my Five Days Xiamen Tulou Tour? Feel free to contact me, and I will be glad to tell you more stunning stories about the places I have visited. Or, if you want to customize a tour on your own, I'm always ready to help at any time. With my passion, knowledge and understanding of the essence of travel, I promise I will try my best to make the tour memorable and meaningful for you.
Rita

Travel Consultant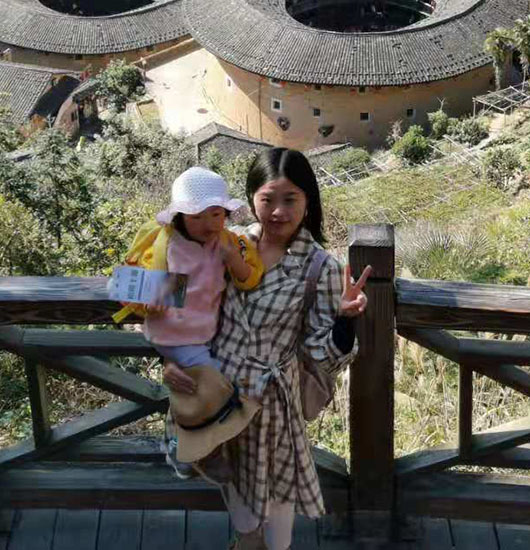 Recommended Tours
Top 3 tours chosen by most customers to explore in the best way. Check the detailed itinerary, or tailor your own trip now with us.
5 Days Xiamen, Fujian Tulou & Mount Wuyi Discovery Tour

Xiamen / Nanjing Tulou / Yongding Tulou / Xiamen / Wuyishan
3 Days Classic Xiamen and Fujian Tulou Tour

Xiamen / Nanjing Tulou / Yongding Tulou / Xiamen
5 Days Xiamen & Fujian Tulou Highlights Tour

Xiamen / Nanjing Tulou / Yongding Tulou / Xiamen
Have a question? Get answers from our travel experts or guests
Your Question:

Your Name:

Your Email: