Rita's 4 Days Lugu Lake Tour from Chengdu
Departure Date

2019-01-04

Travel Length

4 Days

Travel Theme

Nature, Culture, Family

Group Size

3

Travel Route

Chengdu - Lugu Lake - Chengdu

Highlights

Lugu Lake...

Story Tags

#Lugu Lake#Lugu Lake Tour #Lugu Lake Tour from Chengdu
Where is Lugu Lake?
Lugu Lake is located on the border of Yunnan Province and Sichuan Province, at an altitude of 2690 meters. We chose to drive from Chengdu and then drive back directly, it is a long distance of around 670km and suitable for us Chengdu local living people. If you want to visit Lugu Lake from Chengdu and will not go back, I suggest you to take a flight to Ninglang Luguhu Airport, or you can go to Lugu Lake from Lijiang city, with a distance of around 260km.
What is Lugu Lake?
Lugu Lake is an alpine lake located in a relatively low basin of the Hengduan Mountain System which causes for crustal movement to form a plateau karst down faulted lake. With an area of 58.8 square kilometers, Lugu Lake is in a shape of horseshoe which can be divided into Liang Lake Scenic Area and Cao Lake Scenic Area with one third in Yunnan Province and two thirds in Sichuan Province. The lake is composed of 5 independent islands, 4 peninsulas, 1 long island with sea dyke, 14 bays, 17 sandbanks and 21 bajadas.
There are many ethnic minority groups inhabited around the lake, such as the Mosuo, Norzu, Yi, Pumi and Tibetan. The most numerous of these are the Mosuo people, a sub clan of the Naxi people, which considered as "a live fossil for researching the marital development history of Human beings" and "the last quaint Realm of Matriarchy". Hence, Lugu Lake is called the "mother lake" by the Mosuo people and it becomes "The Kingdom of Women" and "Home of the Matriarchal Tribe".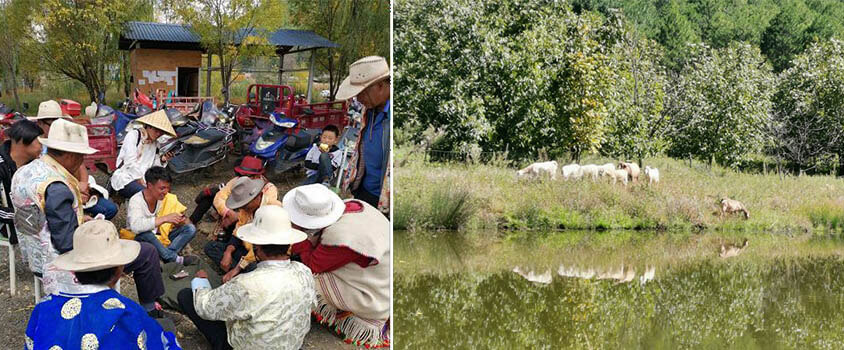 Local People playing cards & Animals on the lake bank
What to see at Lugu Lake?
Lige Peninsula
Most travelers regard Lige Peninsula as the most beautiful peninsula which is situated at the foot of the Gemu Goddess Mountain, embraced by water on three sides. Climb up to the observation deck that travelers can enjoy panoramic view of Lige Island stretching into Lugu Lake. Going ahead to the north is Lige Village embraced by water on three sides which is a fantastic place to watch sunrise.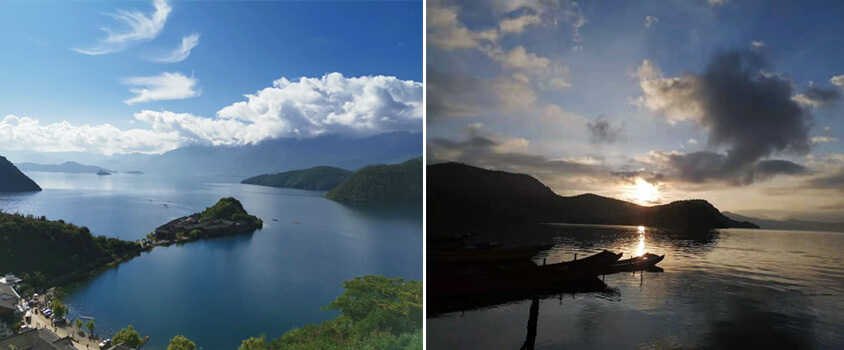 Lige Island in the morning and noon
Luoshui Village
Travelers can pay a visit to it with many wooden houses around the lake. Here, you can enjoy the bonfire camp organized by the local Mosuo people.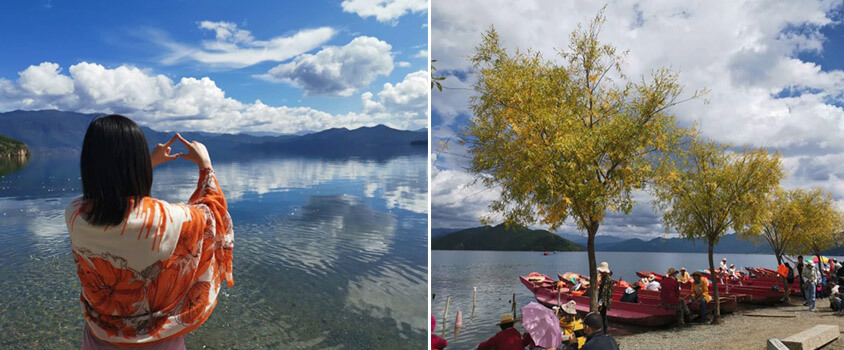 Beautiful view of Luoshui Village
Caohai Lake (Grass Sea) & Walking Marriage Bridge
Traveling to Lugu Lake not only takes you step into a mysterious land to explore the matriarchal society and know its "visiting marriage", but also feast your eyes with beautiful scenery of the Pearl of Plateau. The Seaweed flower on the lake looks like stars. And the Walking Marriage Bridge is a romantic bridge across on Caohai Lake area. It is the place where Mosuo people date each other. In the daytime, young men and women express affection through dancing or singing if you are interested on someone. The young men call his beloved one "Axia" and the young women call her beloved guy "Azhu". When the night falls, the "Azhu" come to Walking Marriage Bridge to meet their girls. Today, the used bridge is 300 meters long where you can take a walk with your darling hand in hand.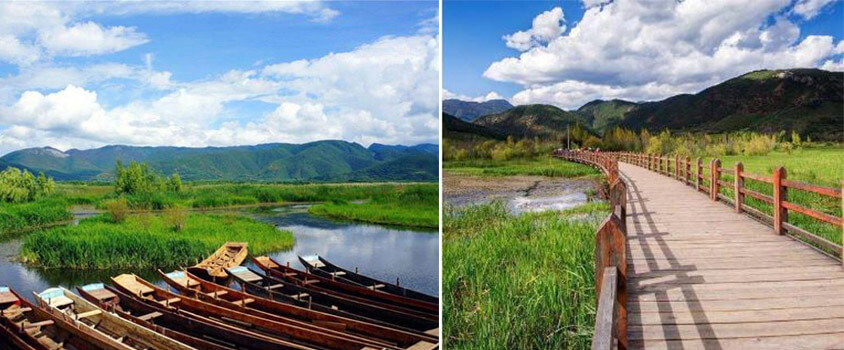 Beautiful View of Lugu Lake
Goddess Bay
Gemu Goddess Mountain, also called Lion Mountain, at an altitude of 3450 meters, is the holy mountain for Mosuo people. In the lunar calendar of July 25th, the local Mosuo people gather together to pay worship to this holy mountain which lasts for more than 1000 years. To get up Gemu Goddess Mountain, travelers can hike up or take cable car from Nisai Village. The highlight of Gemu Goddess Mountain is the Goddess Cave facing with Lugu Lake, offering an observation deck to have panoramic view of Lugu Lake. From the Goddess Bay, you can see the full view of Gemu Goddess Mountain.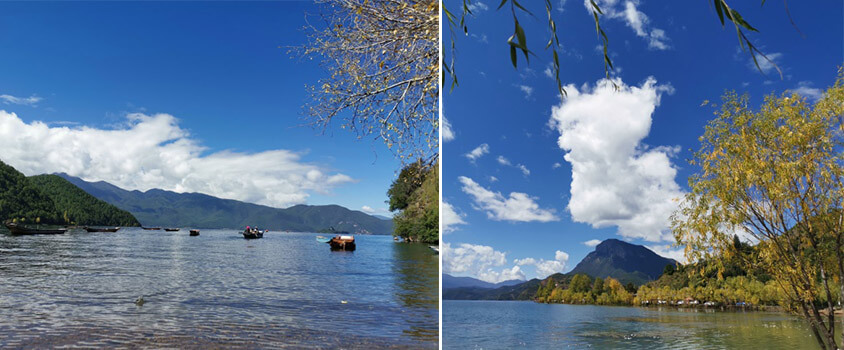 View from Goddess Bay
Mosuo Museum
Mosuo Museum, next to Mosuo Tusi Palace, is facing with Lugu Lake with beautiful environment. It is the only museum in China to present Mosuo people's history, culture and folk customs. Opened in 2013, it shows the Tusi System, Lamaism, Mosuo Intangible Cultural Heritage and the cultural treasures include stoneware, bronze ware, pottery, Tusi remains and Mosuo folk objects, etc.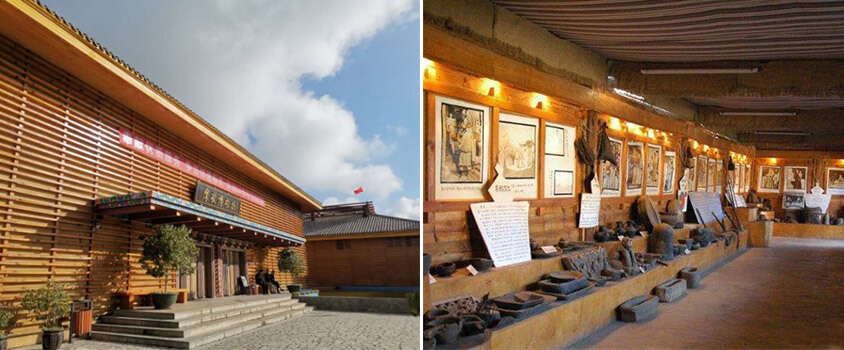 Mosuo Museum
Other Sights at Lugu Lake on Different Seasons
Spring: Emerald lake like a clear mirror with the surrounding peach flowers and pear flowers blossom happily, mountains reflecting in water, boats sailing quietly on the tranquil lake…
Summer: Pleasant and cool weather with gentle breezes blowing, mist floating in the midair after rainy, azalea in pink and white blossom in the mountain… Autumn: The surrounded mountains turn into a red and golden world with leaves changing, the glittering lake, the gorgeous sunglow, geese chirping in the sky. Galsang flower (Cosmos) at the Lake bank, which blooms on every September and October. This picture was taken by us when visiting on early October. We saw rainbows also in the evening.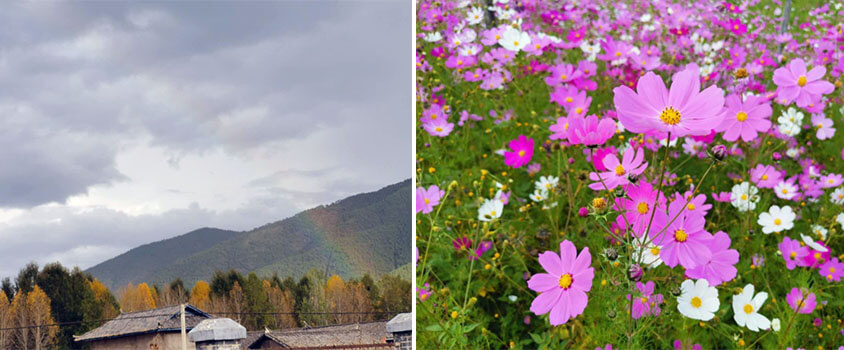 Beautiful View of Lugu Lake
Fantastic Experiences at Lugu Lake
Cycle around Lugu Lake
Cycling around Lugu Lake takes you view the mysterious Lugu Lake in all directions. It is about 60 kilometers altogether, taking about 7~8 hours. Your biking trip can do in clockwise from Luoshui Village, passing through Lige Village, Nisai Village, Little Luoshui Village, Dazu Village, Lama Temple, Gesa Ancient Village, Zhaojia Bay, Luowa, Nawa, Sanjia Village and getting back to Luoshui Village. Instead of consuming your energy, you can use a private car/van to cycle around which will be easy and energy-saving for you. (We chosen our own private car, it is very convenient, for there's parking lot at every sight-seeing spot along the lake bank)
Take a Canoe to Enjoy Beautiful Lake Scenery
It is a great pleasure to take the Mosuo special canoe (Zhu Cao Chuan in Chinese) sailing on the tranquil Lugu Lake. No matter you want to enjoy the idyllic lake scenery, or want to seize the last moment to capture sunrise and sunset, boating is the best choice for you. Travelers can take canoe at Lige Village to Lige Bay, Bird Island, Xiwae Island, Little Luoshui Village, Luoshui Village and Dazu Village; also from Little Luoshui Village to Bowang Island, Liwubi Island. Moreover, canoes are available at Caohai Lake to sail around. It is a good choice to watch sunrise at Lige Village and Little Luoshui Village and enjoy sunset at Goddess Bay (close to Caohai Lake). We took the one at Lige Village to Lige Bay with RMB50 per pax, by sharing the Canoe with others.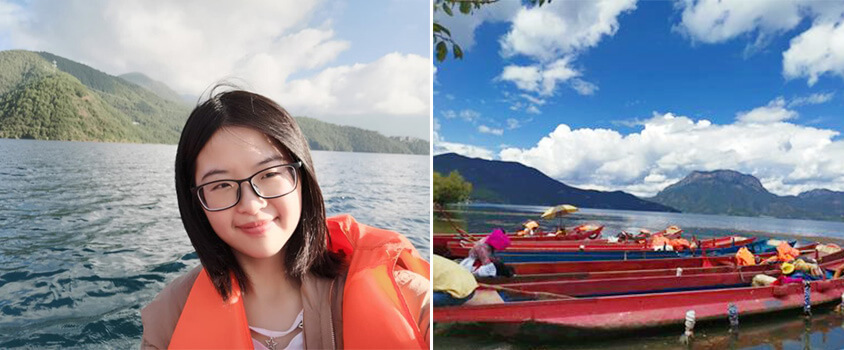 Take a Canoe to Enjoy Beautiful Lugu Lake Scenery
Attend a Bonfire Party in the Evening
It is said that in ancient times, in order to fight the invading enemies, the chieftain of Mosuo people called on members to ally at the entrance of the village, setting alight a bonfire, stamping and yelling to muster morale. When the enemies were eventually driven out of their home, Mosuo people again gathered around bonfires to celebrate the triumphs. Thereby, the earliest Jiacuo Dance began as a collective activity. Later, the bonfire party is originally used for young man to meet his ideal lady through dance. When a young man falls in love with a girl, he will scratch the girl's hand to invite her dance together. If the girl also has good feeling towards the young guy, the girl will response the man by scratch his hand back and tell her flower chamber to the guy to meet her at night. Nowadays, the bonfire party becomes a kind of entertainment for travelers and local Mosuo people to have fun together. The bonfire party usually begins at 20:00 at night at Little Luoshui Village and lasts for 1~1.5 hours. You can enjoy the sing and dance performed by Mosuo people. And also, join the dance and sing happily till the party ends. We spent RMB30 per person for it.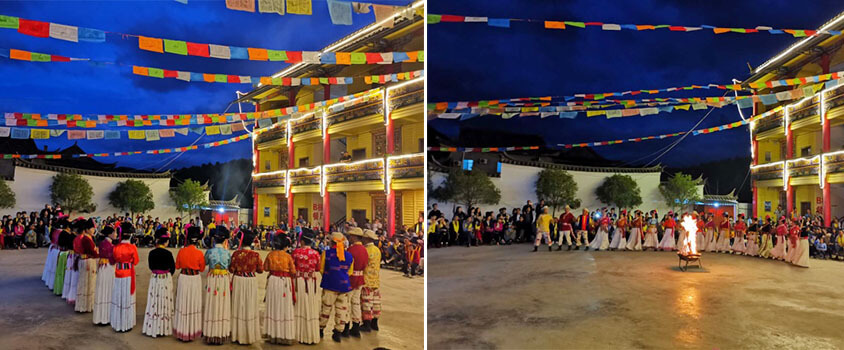 Attend a Bonfire Party in the Evening
Since Lugu Lake belonging both Sichuan and Yunnan Province, we can say this is our second trip to Yunnan (Surely, many Sichuan trips already), and we will possibly go to Yunnan for third or fourth time in the future. It is a good place with many beautiful places. First time, we took flight. Second time, we drove there. Next time, we will possibly take a high-speed train trip, not sure yet, but We are spiritually on the way already!
Travel with Me
Hi, I'm Rita. Are you interested in my 4 Days Lugu Lake Tour from Chengdu? Feel free to contact me, and I will be glad to tell you more stunning stories about the places I have visited. Or, if you want to customize a tour on your own, I'm always ready to help at any time. With my passion, knowledge and understanding of the essence of travel, I promise I will try my best to make the tour memorable and meaningful for you.
Rita

Travel Consultant
Recommended Tours
Top 3 tours chosen by most customers to explore in the best way. Check the detailed itinerary, or tailor your own trip now with us.
2 Days Magic Lugu Lake Tour with Mosuo Ethnic Culture

Lijiang / Lugu Lake / Lijiang
5 Days Lijiang Lugu Lake with Mosuo Matriarchal Society Experience

Lijiang / Lugu Lake / Lijiang
7 Days Yunnan Paradise Tour to Lijiang, Shangri-La & Lugu Lake

Lijiang / Lugu Lake / Lijiang / Shangri-La
Have a question? Get answers from our travel experts or guests
Your Question:

Your Name:

Your Email: