Travel with Rita: Family Visit to the Shunan Bamboo Forest
Departure Date

2017-10

Travel Length

2 Days

Travel Theme

Nature, Family, Food

Group Size

3

Travel Route

Chengdu - Shunan Bamboo Forest – Chengdu

Highlights

Chengdu, Shunan Bamboo Forest, etc.

Story Tags

#Shunan Bamboo Forest #Chengdu#Photography#Nature Tour
We chose to visit Shunan Bamboo Forest during the national holiday was because we would go to Yibin city for a wedding of my friend, which was on Oct. 03, 2017. So we planned to visit the forest the day before the wedding on Oct. 02, 2017, and to avoid the crowds, we got up early to start early. If you want to avoid the crowds, you can choose to visit before or after the holiday.
As a cultural landscape and virgin bamboo forest park, the Bamboo Forest is listed in National Scenic Spots, First National 4A Scenic Spots, and Top 10 Featured Scenic Spots. Scenes of famed Chinese movie Crouching Tiger, Hidden Dragon (卧虎藏龙) and the first scene shown at the opening ceremony of the 2008 Beijing Olympic Games were also shot here.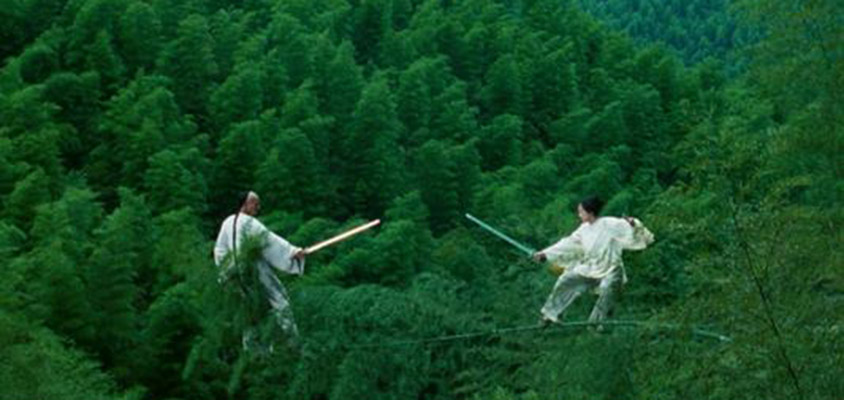 Crouching Tiger, Hidden Dragon
The Shunan Bamboo Forest is the oldest and largest bamboo forest in China which covers 120 square kilometers. It features the beauty of natural bamboo, a limpid lake, a winding path as well as numerous streams and waterfalls. It is about 330km from the capital of Sichuan Province - Chengdu and 230km from Chongqing municipality. Here below is the map of Shunan Bamboo Forest. If you are traveling with a private vehicle, you can drive into the scenic area to save energy and time. To avoid the crowds, we drove in from the east gate and drove out from the west gate (most visitors visit on the opposite way), and visited the scenic spots along the way.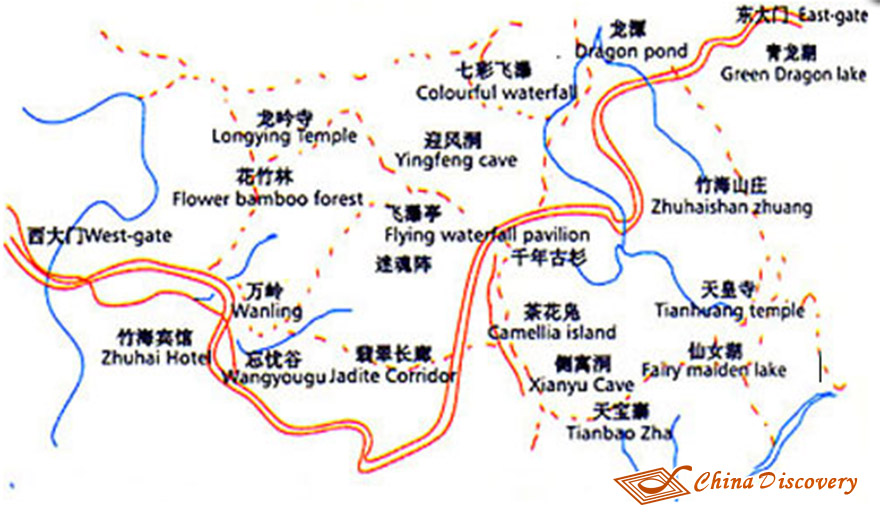 Shunan Bamboo Forest Tourist Map
We firstly visited the Green Dragon Lake, which is the largest lake in the Shunan Bamboo Forest, the size of which is 3 square kilometers. Getting a bamboo raft across Qinglong Lake, moving via hand-pulled rope by boatman is regarded as the overall highlight. Alternatively, sitting by the lake and taking a sip of local wine also makes you feel lots of fun. They were all optional and excluded from the entrance ticket.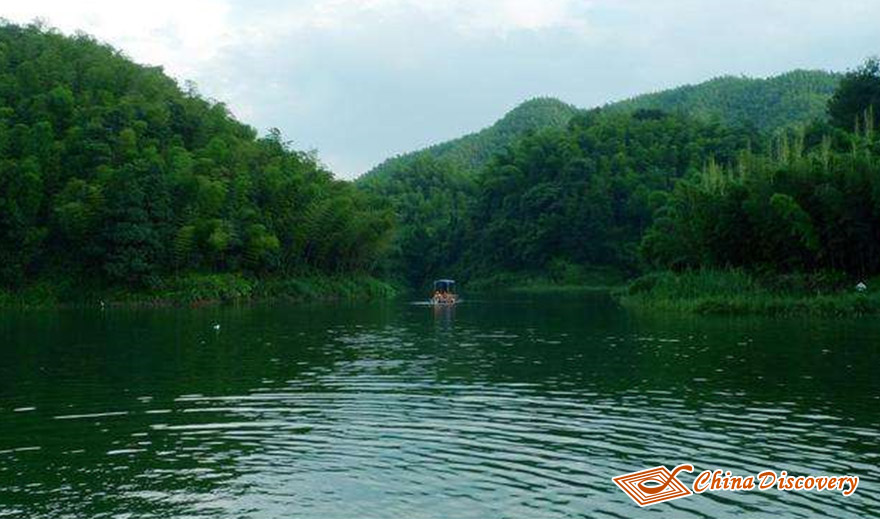 Green Dragon Lake
Then, we went on to the Rainbow Waterfall, which is also called the Come-down Stage. Tinkling spring makes a foaming waterfall when it flows through the fluctuating place of hills, which really enlivens the deep and serene bamboo forest. Among the waterfall of varied shapes, the most splendid one is Rainbow Waterfall. Rainbow Rainfall from Hulu Gorge is fell into 4 grades in Huilong Bridge with a drop of 200 meters. Blue sky and verdant bamboos are reflected in the still lake which maps with floating waterfall. I didn't know if it was because we visited it in the morning, we didn't see the rainbow but only the waterfall. Maybe next time, we can visit it in the afternoon.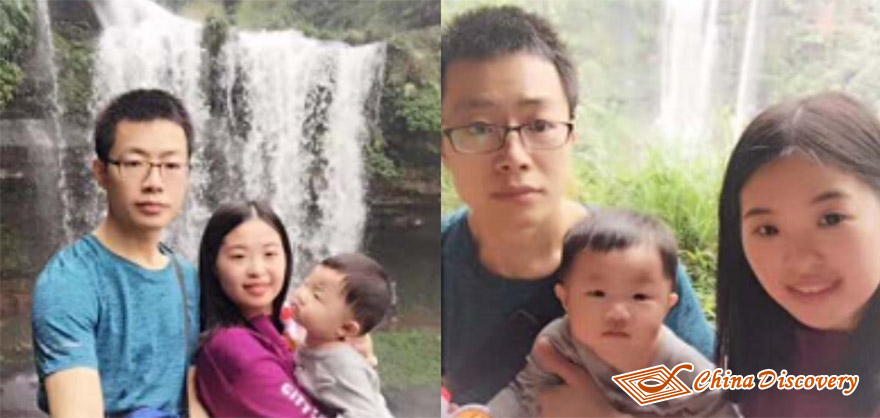 Family Photo Before Rainbow Waterfall
Keep on going, we then visited Xianyu Cave. This time, more walking is needed than before. It is located in a primitive grotto originally and only one steep and hard path leads here. Though it used to be a prosperous site for both Taoism and Buddhism, now all the pavilions no longer exist except several Buddhist statues. Luxuriant bamboo Forest stands above the cave while bamboo sea gorge under the cave. In 1900, it was designated as Sichuan Province Key Cultural Relic Protection Zone.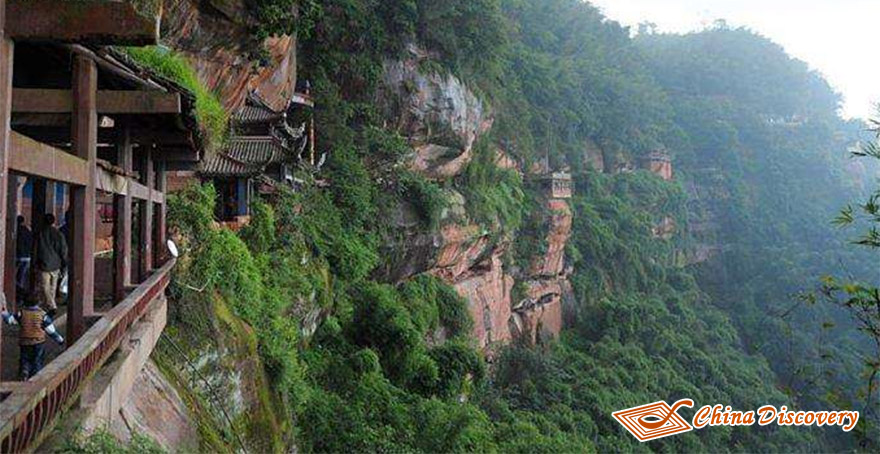 Xianyu Cave
The fourth-place we visited was Sea in Sea. On the right side of the road from Xianyu Cave to Emerald Corridor lies an artificial lake. A small island divides the lake into two parts. That lake is called Sea in the Sea because it's a little sea in the Shunan Bamboo Sea. There are tea houses, restaurants, and small inns scarred in the bank of the Lake.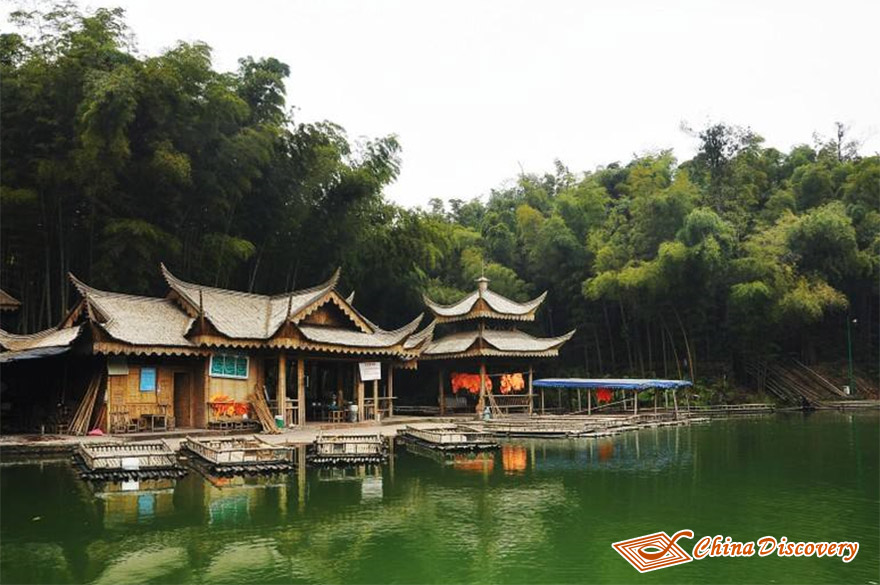 Sea in Sea
Then, we reached the Emerald Corridor. Bamboo Corridor is the most picturesque palace to take some great photos of. The road is paved with natural red sandstone which is shining with a subdued pinkish hue like light morning clouds. Two-lined dense old bamboos and new shoots blot out the sky, leaving the red-carpet road merged with green-screen bamboo forming stunning Emerald Corridor in Shunan Bamboo Forest.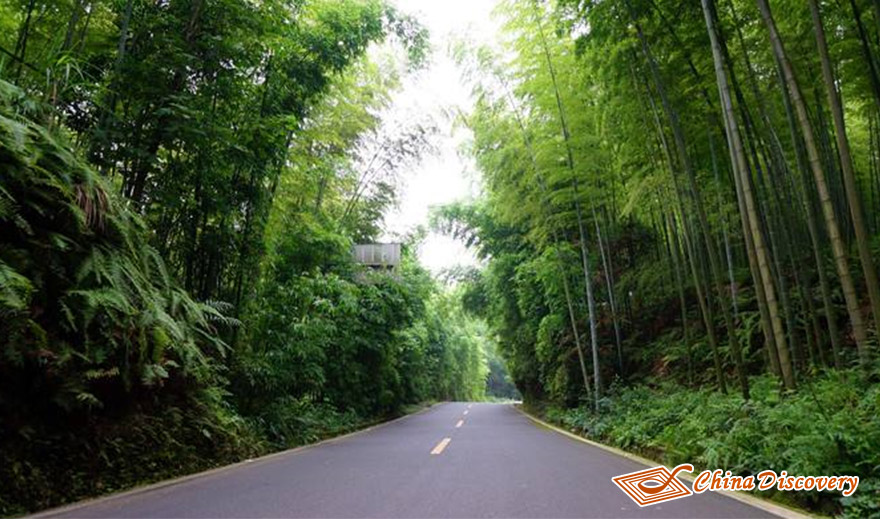 Emerald Corridor
We finally visited Wangyou Valley. Walking along with the stream, the thick bamboos, bubbling brooks, and splendid waterfall make you hesitate to leave.

Wangyou Valley
Since we would attend the wedding the next day and didn't plan to stay at Shunan Bamboo Forest overnight, but stayed in Yibin city, we left before the entrance closed. So we didn't go to the Guanyun Pavilion and Bamboo Forest Museum anymore. It is a natural oxygen bar and is worth more time, like spending one night there.
Tips
1. Don't miss the bamboo feast when visiting the Bamboo Forest. Whole Bamboo Feast shows local specialties include bamboo shoots, bamboo mushrooms, Bacon in bamboo forests, bamboo rice, bamboo tofu pudding, etc. It may be said that no bamboo, no feast. Tableful bamboos must make you start drooling. Since we were only two adults and one baby, we chose some of the dishes and tried them.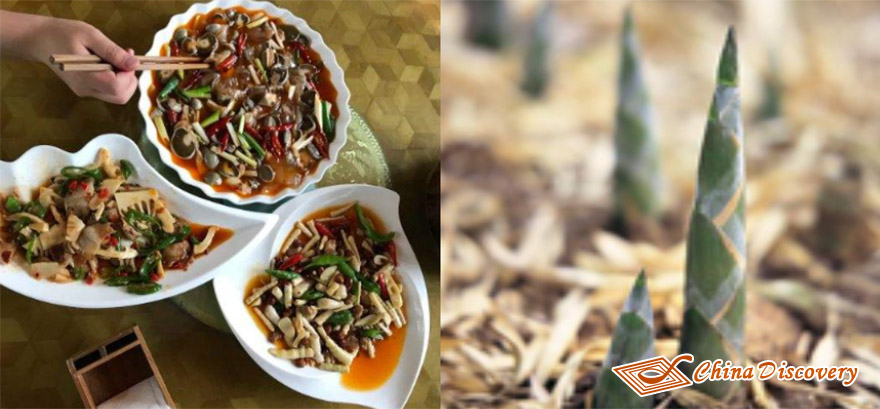 Bamboo Feast
2. If you have more time, you can visit Xingwen Stone Forest together with Shunan Bamboo Forest. Located in Xinwen County in Yibin and 60 km away from the Shunan Bamboo Forest, Xingwen Stone Forest is a National Scenic Area and World Geographic Park with a karst landform. Xingwen Stone Forest different from another karst landform in its long-stretched stone forest, hundreds of natural karst caves, and naturally formed pits which three are known as three wonders. Historically, Xingwen was the hometown of the Bo people (僰人), the disappeared race thousands of years ago. Nowadays, Xingwen Stone Forest still preserves historical relics and sites described as Bo's civilization.
Travel with Me
Hi, I'm Rita. Are you interested in my 2 Days Shunan Bamboo Forest Tour? Feel free to contact me, and I will be glad to tell you more stunning stories about the places I have visited. Or, if you want to customize a tour on your own, I'm always ready to help at any time. With my passion, knowledge and understanding of the essence of travel, I promise I will try my best to make the tour memorable and meaningful for you.
Rita

Travel Consultant
Recommended Tours
Top 3 tours chosen by most customers to explore in the best way. Check the detailed itinerary, or tailor your own trip now with us.
4 Days Classic Leshan Buddha & Mount Emei Tour from Chengdu

Chengdu / Leshan / Mt. Emei / Chengdu
4 Days Chengdu Essence with Shunan Bamboo Forest Summer Vacation

Chengdu / Shunan Bamboo Forest
5 Days Chengdu Jiuzhaigou Comfortable Tour

Chengdu / Huanglong / Jiuzhaigou
Have a question? Get answers from our travel experts or guests
Your Question:

Your Name:

Your Email: