Rita's 2 Days Mount Emei Winter Tour from Chengdu
Departure Date

2015-1

Travel Length

2 Days

Travel Theme

Nature, Hiking, Friends

Group Size

2

Travel Route

Chengdu - Mount Emei - Chengdu

Highlights

Mount Emei...

Story Tags

#Mount Emei#Emeishan #Emei Mountain#Emeishan Mountain
Mount Emei is located at the southwest of Sichuan Province, covering an area of 154 square kilometers. It belongs to Emeishan City and is 6km to the city center. It's listed as a World Cultural and Natural Heritage Site by UNESCO in 1996. The highest peak - Wanfoding of Mount Emei is 3099 meters above sea levels in altitude, and Golden Summit (3079.3m) is the highest spot tourist can reach. It is known as "The Fairest Mountain among The Fair Mountains in The World" for its majesty and beauty.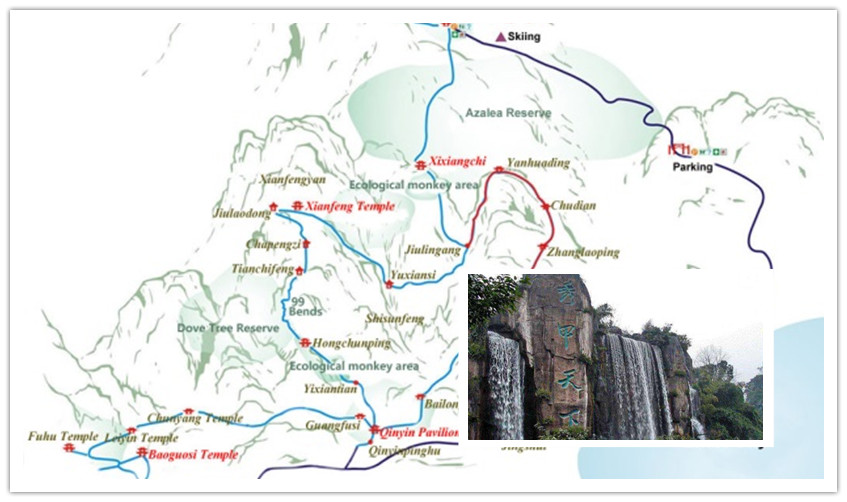 Mount Emei
As one of the Four Great Buddhist Mountains in China and the ashram for Samantabhadra Bodhisattva, Mount Emei is reputed for its profound Buddhism culture and it's the Buddhist sacred place in China. There are about 30 temples in the mountain at present, many Buddhist ceremonies are held here. Important temples are Baoguo Temple, Fuhu Temple, Qingyin Pavilion, Wannian Temple, Hongchunping, Xianfeng Temple, Xixiangchi Temple and Huazang Temple.
Mount Emei is also famous for its stunning natural scenery, and it's called plants kingdom, animal paradise and geological museum. Green trees can be seen all year round. Mount Emei is home to over 5000 kinds of plants and over 2300 kinds of wild animals, including some protective species, such as leaf butterfly, black stork, rana adenopleura, red panda, and tragopan temminckii. There are many monkeys in the mountain, and they often flock together to ask for tourists' food, which has become one of the features of Mount Emei.
Day1 High Speed Train from Chengdu to Mount Emei
Train Number: C6259
From -to: Chengdu south – Emeishan
Duration: 1 hour and 4 minutes (3:33 pm-4:37pm)
Accommodation: Xianyue International Hotel (Emeishan Xianyue International Hotel (Source Radon Hot Spring)
We took the high speed train from Chengdu to Emeishan in the afternoon. After checking out the train at 4:50pm, we took a taxi around 8 minutes from the train station to visit Baoguo Temple. The temple closes at 6:00 pm, we spent one hour there.
First built in Ming Dynasty (A.D. 1368 ~ 1644), Baoguo Temple is the first temple of Mount Emei, with an altitude of 551m. As the portal of the whole mountain, it's the center of various Buddhist activities, and the Emei Buddhist Association is also here. Baoguo Temple has five halls at present, and all of them are aligned along the central axis. The whole temple covers an area of 40,000m², and the halls were built along with shape of the mountain, thus the back halls are higher than the front halls. The Depository of Buddhist Sutras of the temple has stored many cultural relics, paintings and calligraphies, biological samples in the mountain and the panoramic model of Mount Emei, which provide rich information for those who want to get to know Mount Emei further.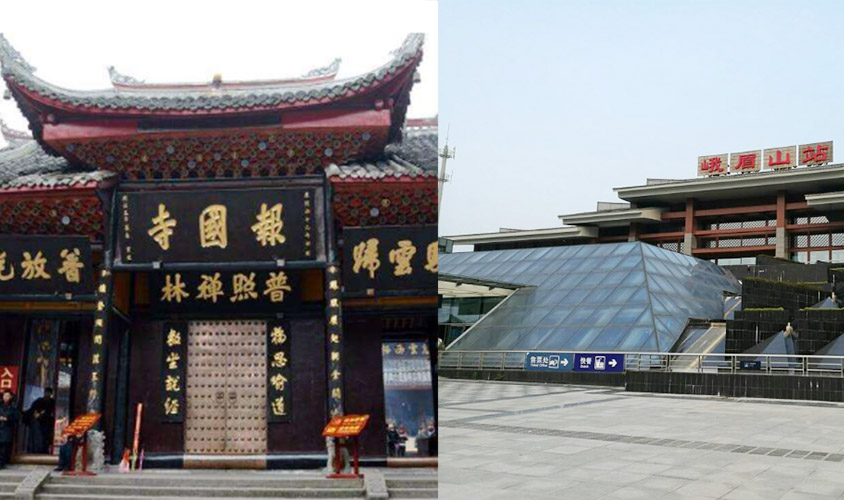 Emeishan Station & Baoguo Temple
Since our hotel in located near Wuxiangang parking lot, and the eco-bus closes at 4:00 pm, we were be driven to the hotel by the hotel boss with his own car. He said since it was the low season, he was willing to pick us up from the mountain foot. We enjoyed the dinner from the hotel and after dinner, we enjoyed a radon hot spring from the hotel.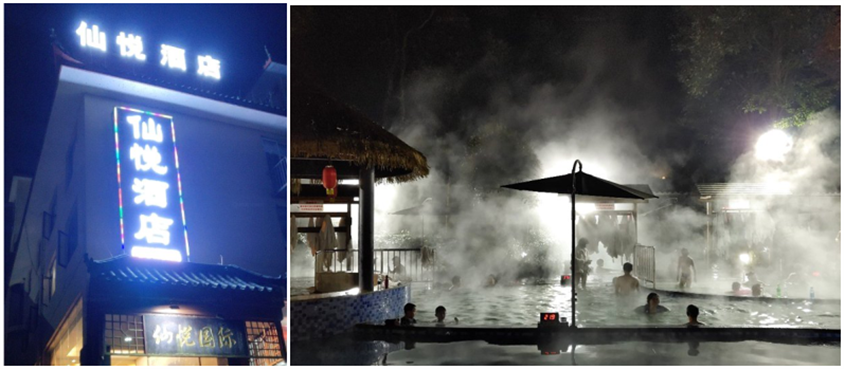 We enjoyed a radon hot spring at our hotel
Day2 Mount Emei Tour & Catch a Trin Back to Chengdu
We got up early in the morning to take the first eco-bus to reach Leidongping, which starts from Baoguo Temple Passenger Transportation Center at 07:00am and reached Wuxiangang Parking Lot at around 7:20am. We walked 15 minutes from the hotel to Wuxiangang Parking lot, so we didn't have breakfast at hotel, but had some bread and milk only. After 1 hour and 20 minutes' driving, we reached Leidongping Parking Lot at around 8:40am. Leidongping is located at the upper region of Mount Emei with an elevation of 2430m. Then we hiked from Leidongping Parking Lot to Jieyin Hall (30 minutes)and then to the Golden Summit (2 hours), which totally took around 2.5 hours.
Useful Travel Notes:
1. On the way from Leidongping to Jieyin Hall, there are covered with alpine azaleas. Early summer is the most beautiful time for the azaleas while bright purples and reds cover the ground during this time. There is an azalea tree which is 13m high with 2.7m diameter. The tree is over 450 years old and it's definitely the "Queen of Azalea".
2. Monkeys on Mt' Emei are used to tourists. They will jump from one tree to another at ease and may grab the food from your hands. So if you are not intended to feed them or are afraid of them, don't take any food on your hands and make sure your bag is zipped up. But if you are ok with the monkeys, here is the place you can have a lot of fun with them.
3. Some hiking sections are very steep. You have to walk carefully and slowly. However, don't worry too much as all steps are well-paved. After getting to Taizi Ping, the paths get flat with little uprising, leading you to Golden Summit along beautiful wild forest.
4. If you don't want to hike, but want to enjoy the beautiful scenery on the way, you can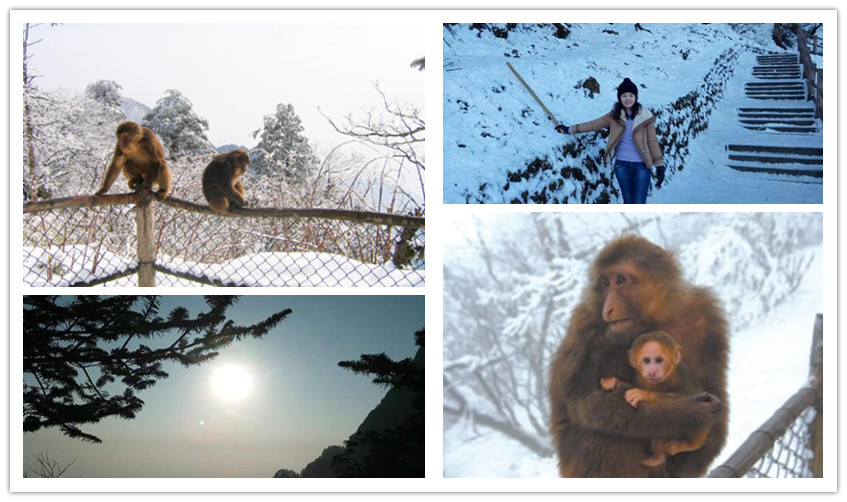 Monkeys and sun on the way from Leidongping Parking Lot to Jieyin Hall
We reached the Golden Summit at 11:10am. With an altitude of 3079m, Golden Summit is the second highest peak of Mount Emei and the highest part that tourists can get to. It's the symbol and essence of Mount Emei. On the summit, there is a bronze hall. When the sun shines on the bronze hall, its brightness dazzles the eyes just like the golden light, thus it is called Golden Summit. Stand on the Golden Summit and look afar, Chengdu Plain, Ming River, Qingyi River, Dadu River, Gongga Mountain and Wawu Mountain are all in view. The Golden Buddha on the summit is the tallest Samantabhadra (Puxian Buddha) golden statue in the world. The statue is 48m high and weighs 660 metric tons. It's a gilded bronze statue which is designed by famous designer Li Zuyuan in Taiwan. The statue has ten heads facing ten different directions in three layers, which symbolizes those Buddhas in previous, present, future life and ten practices and wishes of Puxian Buddha.
In the Golden Summit, travelers can also see the four wonders of Mount Emei: the Sunrise, Cloud Sea, Buddha's Halo and Holy Light.
The first view appearing in front of us was the towering multi-faced golden statue (48m) of Samantabhadra Bodhisattva. Here are some pictures of the Samantabhadra (Puxian Buddha) golden statue: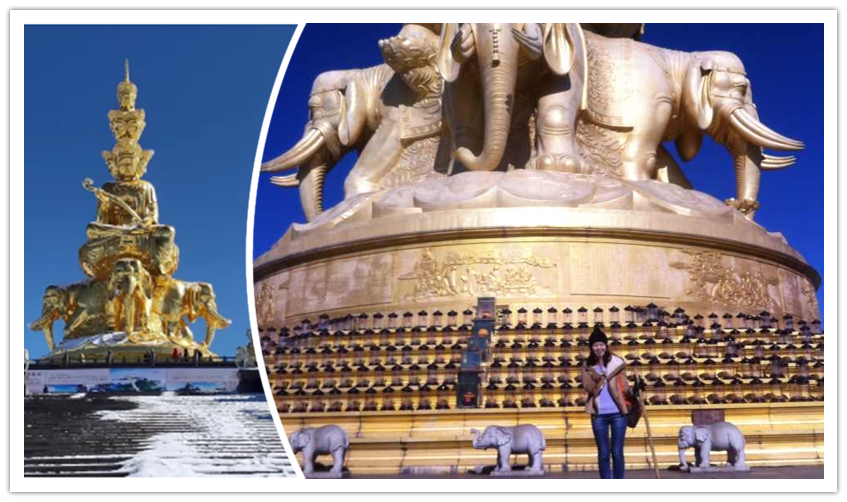 Samantabhadra (Puxian Buddha) golden statue
Next to the golden statue sits the bronze Huangzang Temple which is the first temple established on Mount Emei whose history can be traced back to 1st century CE.
Huangzang Temple
Note: Winter is the season that you most possibly to encounter the cloud sea. The best time to watch the cloud sea is from 9:00 to 10:00 in the morning or from 15:00 to 17:30.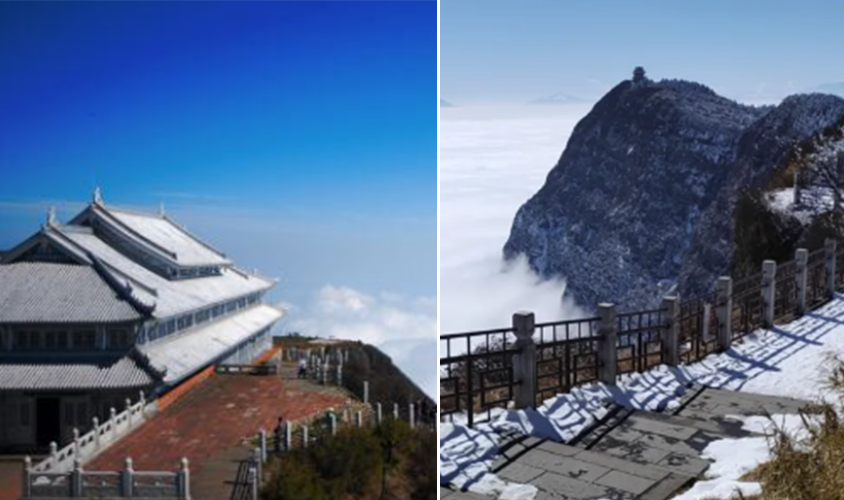 Cloud Sea and other views on the mountain top
We had some snacks at the temples for simple lunch, including the lunch time, we spent 2.5 hours on Golden Summit.
At around 1:40 pm, we were ready to descend by cable car to Jieyin Hall, and then hike back to Leidongping Parking Lot to take the Eco-Bus again back to the Baoguo Temple Passenger transportation center. We got down at 4:30pm.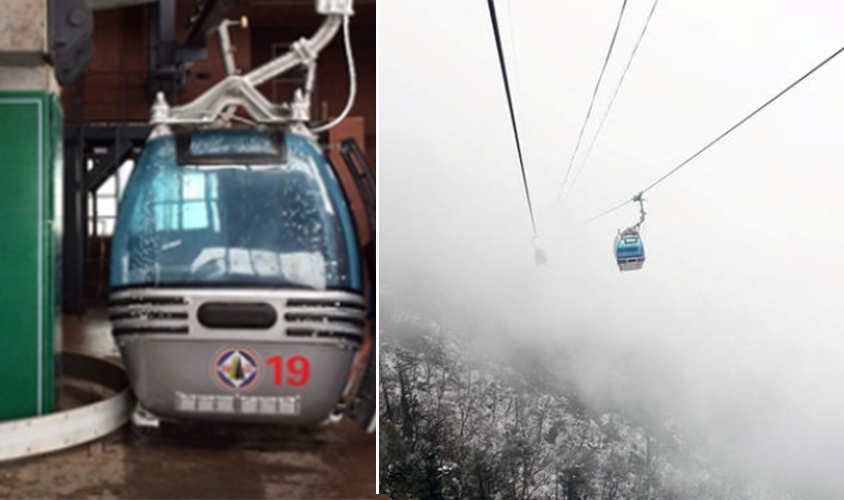 Mount Emei Cable Car
And then, we took a taxi from the tourist center to the high-speed train station to take the train back to Chengdu.
Train Number: C6264
From -to: Emeishan - Chengdu East
Duration: 1 hour and 10 minutes (5:23 pm-6:33pm)
Some Tips for the Winter Tour to Mount Emei
1. It is very cold in Mount Emei, especially at night and high altitude area. The temperature keeps drops down from the mid November, and it is recommended to wear overcoats, sweaters, winter coat, woolen jacket, gloves, down jacket and scarfs to keep warm, and a pair of hiking shoes or snow boots. As you are hiking upward to the top, you need wrap yourself with more warm-keep clothes. You can even bring a vacuum cup to fill it with hot water.
2. Besides the Weather-appropriate clothing and the necessities such as your passport, visa, credit card, etc. you need also pack some essential hiking gears: Hiking backpack, Hiking boots or shoes, Navigation (map, compass), Sunglasses (for snow blindness protection), First aid, warm paste, Knife or multi-tool, Necessary Food and Water Package for the emergent situation, Extra Food and water (optional, purchasable on the mountain but a little pricey with limited choices), Extra clothes for high altitude area and nighttime.
Travel with Me
Hi, I'm Rita. Are you interested in my 2 Days Mount Emei Winter & Hot Spring Tour from Chengdu? Feel free to contact me, and I will be glad to tell you more stunning stories about the places I have visited. Or, if you want to customize a tour on your own, I'm always ready to help at any time. With my passion, knowledge and understanding of the essence of travel, I promise I will try my best to make the tour memorable and meaningful for you.
Rita

Travel Consultant
Recommended Tours
Top 3 tours chosen by most customers to explore in the best way. Check the detailed itinerary, or tailor your own trip now with us.
4 Days Classic Leshan Buddha & Mount Emei Tour from Chengdu

Chengdu / Leshan / Mt. Emei / Chengdu
4 Days Chengdu Essence with Shunan Bamboo Forest Summer Vacation

Chengdu / Shunan Bamboo Forest
5 Days Chengdu Jiuzhaigou Comfortable Tour

Chengdu / Huanglong / Jiuzhaigou
Have a question? Get answers from our travel experts or guests
Your Question:

Your Name:

Your Email: