Rita's 1 Day Leisure Trip to Dujiangyan Irrigation System from Chengdu
Departure Date

2020-04

Travel Length

1 Day

Travel Theme

Food, Culture, History

Group Size

3

Travel Route

Chengdu - Dujiangyan

Highlights

Dujiangyan Irrigation System, Lidui Park, Dujiangyan City, Anlan Suspension Bridge, Yulei Mountain, Guanxian Ancient Town etc.

Story Tags

#Dujiangyan Tour#Visit Dujiangyan Irrigation System#Lidui Park#Sightseeing#Photography#Food#Cuture Tour
Dujiangyan Irrigation System is located at the west of Dujiangyan City, sitting on the Ming River in the west of Chengdu. The irrigation system was listed as World Heritage Site by UNESCO in 2000, and it's the oldest existing large-scale water project in the world. Dujiangyan Irrigation System is regarded as the forerunner of the world conservancy culture.
First built in the Warring States Period (BC475 ~ BC221) under the direction of Li Bing and his son, Dujiangyan Irrigation System has a history over 2200 years. Chengdu is called the "Land of Abundance", however, it suffered from floods and droughts frequently in ancient time. So in BC 256, Li Bing, as the governor of Shu (todays' Sichuan) in Qin State, based on the previous water control project, started to build the Dujiangyan Irrigation System under the help of local people. Since its establishment over 2200 years, Dujiangyan Irrigation System has played an important role in flood control and irrigation to Chengdu Plain, and it is the exact reason why Chengdu has become the "Land of Abundance" in today.
At present, the irrigation system benefits over 30 counties and cities, covering an area of one thousand hectares. In 2008, Dujiangyan City was located in the earthquake region of Wenchuan Earthquake. However, the original project of Dujiangyan Irrigation System survived the disastrous earthquake, which fully embodies the high architecture skill of ancient time. Now, the main attractions in Dujiangyan Irrigation System scenic area are Yulei Mountain, Erwang Temple, Fulong Temple, Anlan Suspension Bridge, Lidui Park, water projects, etc.
09:30am-11:10am, drive from Chengdu city to Dujiangyan
Dujiangyan city is located around 65 km from Chengdu city. Normally, we can reach in 1 hour and 20 minutes, since it is on the weekend, the traffic on the way is not good as weekdays, we used 20 more minutes this time. The second picture is the statue of Libing and his son in Dujiangyan city, the statue is to celebrate them.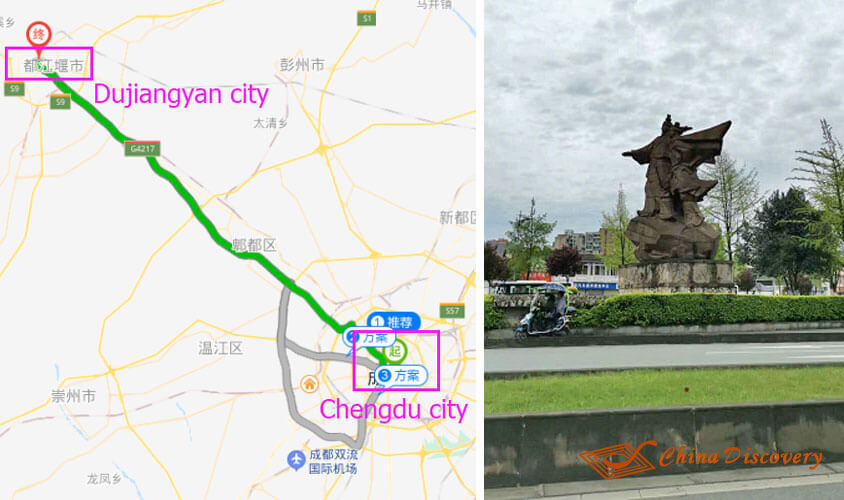 -Chengdu to Dujiangyan-
11:20am-12:30pm, lunch time
After arrival in Dujiangyan city, we decided to have lunch first and then get into the Dujiangyan Irrigation System. We chose to park and have lunch at Yoututou restaurant (尤兔头), which is very popular in Dujiangyan city, many travelers going there for food. Here below are some dishes we ordered for our family of three: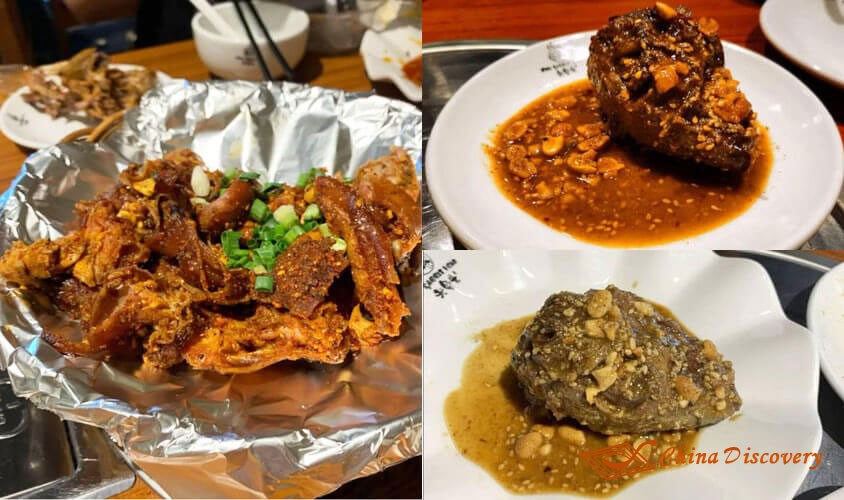 -Lunch at Yoututou Restaurant-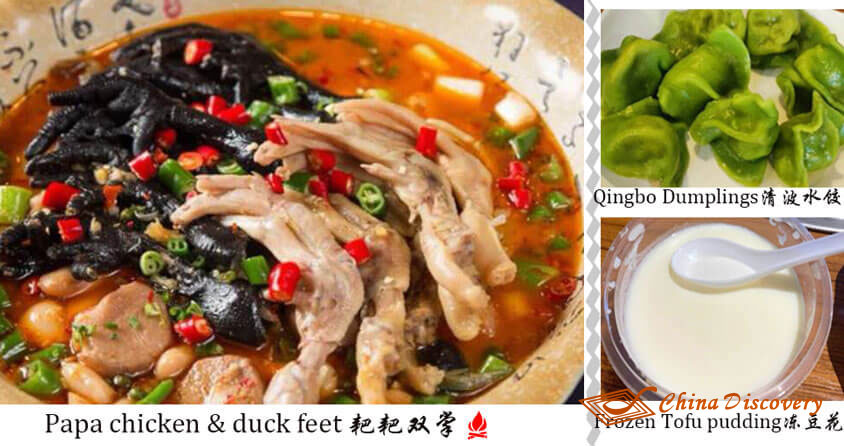 -Delicious Food & Desserts in Dujiangyan-
12:30pm-13:00pm, rest time
Rest on the car. Since we are going with the kid, we decided to rest for 30 minutes on the car to be well prepared for the visit in the afternoon.
13:00pm-13:15pm, driving from the restaurant to Dujiangyan Irrigation System
It is around 2.5 km from the restaurant to Dujiangyan Irrigation System scenic spot. Together with the parking time, we spend totally 15 minutes.
13:15pm-16:15pm, visit Dujiangyan Irrigation System
We visited from Lidui Park –Fulong Temple -Baopingkou –Feishayan –Yuzui -Anlan Suspension Bridge - Erwang Temple -Yulei Mountain – Nan Bridge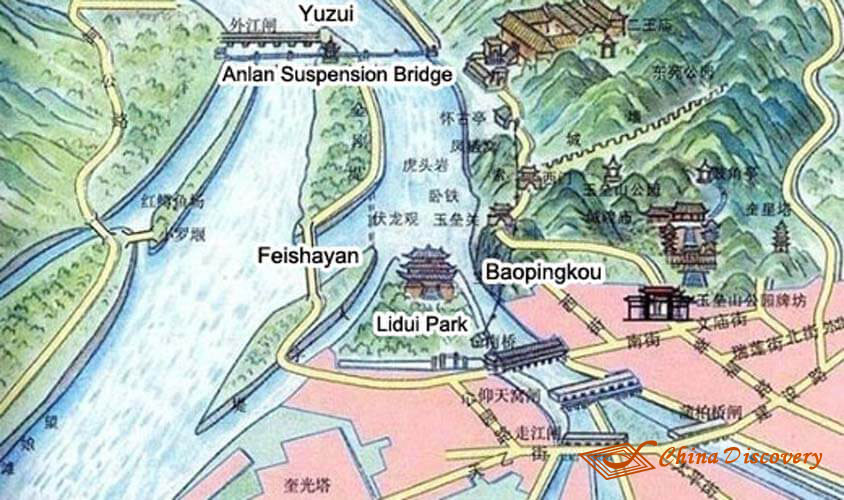 -Map of Dujiangyan Irrigation System Scenic Area-
Lidui Park, which is located near the entrance gate, built in year 1932, has been an important park and part of the irrigation system.

-Lidui Park-
Baopingkou, is a diversion project, which works as a control valve. It can control the water flow of Inner River automatically. The natural scenery of Baopingkou is stunning, and it's a famous attraction in ancient time.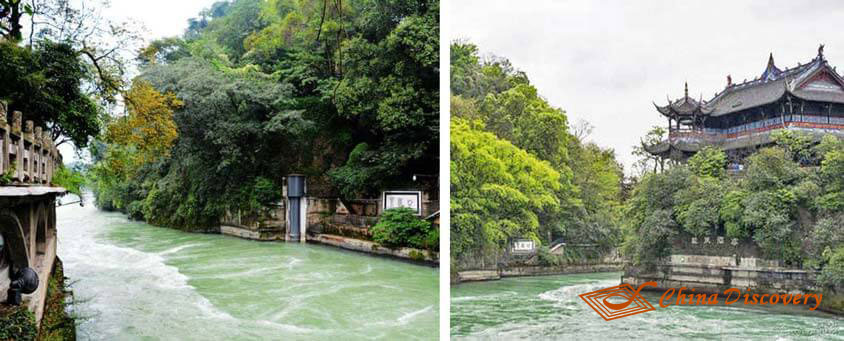 -Baopingkou-
Feishayan, is a flood discharge project, and it's the key to protect Chengdu Plain from flood. It mainly works as flood discharge, desilting and regulating water flow. When the water flow has excess the upper limit of Baopingkou, the excess water will overflow from Feishayan. The picture was taking in April when there's less rain and no flood.

-Feishayan-
Yuzui, was designed to divide the Ming River into two parts. The western part is called Outer River, which is used to drain off the floodwaters. The eastern part is called Inner River, which is used in irrigation.

-Yuzui-
Note: from Feishayan to Yuzhui, if you don't want to walk, you can take the suttle bus, which is RMB10 per pax. It can save you 20 minutes' walking time.
Anlan Suspension Bridge, is located on Yuzui and crossing the Outer River and Inner River, it is reputed as one of the Top Five Bridges in ancient China, and it's the most typical scenery of Dujiangyan. It was built before Song Dynasty (960 ~ 1279), and today's Anlan Suspension Bridge was rebuilt in 1974. When you walk on the bridge, the bridge will swing as long as there are someone swings it, and it's very excited. It's also a great place for photography, however, tourists need to take well care of their camera or phone when take photo on the bridge.

-Anlan Suspension Bridge-
Erwang Temple, is located at the hillside on the right bank of Ming River and it's used to commemorate Li Bing and his son. Now, in the main hall of the temple, there are sculptures of Li Bing and his son, and the stone wall here was inscribed with the water control words passed down from ancient time. Erwang Temple is a combination of temple and garden, and the eastern part is garden area, while the western part is the temple area. The whole area covers an area of 50,000 m2 while the architecture area is about 10,000 m2. Erwang Temple is also a great observation platform to overlook the panoramic view of the whole Dujiangyan Irrigation System.

-Erwang Temple-
Yulei Mountain, is sitting in the east side of Erwang Temple. Tall and lush ancient trees cover all over the mountain. There is a section of ancient Great Wall of Ming Dynasty on the mountain. On the top of the mountain, there is a pavilion called Yulei Pavilion. It's a pseudo-classic architecture and it has a great view for observing the whole view of Dujiang Irrigation System, even the scenery of Dujiangyan City.

-Yulei Mountain-
Guanxian Ancient Town of the Yulei Mountain, Dujiangyan was once called Guanxian on the history, this ancient town is located near Dujiangyan Irrigation system, if you have more time, you can spend some time to walk around it.

-Guanxian Ancient Town-
At the end, before leaveing, we came out from Nan Bridge, which was orginally built in Qing dynasty, but was broken during the earthquake on year 2008, was rebuilt after the earthquake. From Nan Birdge, you can have a last see of the Ming River before leaving.

-Nan Bridge-
During the visit, I told my 3-year daughter that the running water in Chengdu city is from Ming River, we use it to cook, to wash hand and to take shower etc., she said "really?" . She seemed remembered it and she said when she grown up, she would come to visit it again and again, with her friends. If there's no Dujiangyan Irrigation system, there's no the Chengdu plain which is known as the Land of Abundance now. We should learn it, know it, protect it and show it to others. Thanks Dujiangyan irrigation system, for watering us for lots of generations. If you are intrested in this water system, why not come and visit it?
Travel with Me
Hi, I'm Rita. Are you interested in my 1 Days Dujiangyan Tour? Feel free to contact me, and I will be glad to tell you more stunning stories about the places I have visited. Or, if you want to customize a tour on your own, I'm always ready to help at any time. With my passion, knowledge and understanding of the essence of travel, I promise I will try my best to make the tour memorable and meaningful for you.
Rita

Travel Consultant
Recommended Tours
Top 3 tours chosen by most customers to explore in the best way. Check the detailed itinerary, or tailor your own trip now with us.
1 Day Dujiangyan & Mount Qingcheng World Heritage Tour

Chengdu / Dujiangyan / Chengdu
2 Days Panda Volunteer Tour with Dujiangyan Highlights

Dujiangyang Panda Base, Mount Qingcheng, Dujiangyan Irrigation System
4 Days Chengdu & Dujiangyan All Bests with Panda Volunteer Tour

Chengdu / Dujiangyan / Chengdu
Have a question? Get answers from our travel experts or guests
Your Question:

Your Name:

Your Email: