Leo's 6 Days Trip to Gansu during National Day Golden Week
Departure Date

2020-09-29

Travel Length

6 Days

Travel Theme

Nature, History, Family

Group Size

2

Travel Route

Chengdu - Lanzhou - Zhangye - Chengdu

Highlights

Zhangye Danxia Landform Geopark, Matisi Temple, Pingshanhu Grand Canyon

Story Tags

#Gansu Tour#Zhangye Tour#Silk Road #Silk Road Tour#Nature Tour
2020 is a very special year for everyone in the world. In the past half year, I was unable to take any vacation due to Covid-19. Therefore, I decided to take a short vacation to Lanzhou and Zhangye, two attractive cities in Gansu as well as two important posts on the Silk Road, which is very popular this year for those expats living in China since the pandemic. I started my vacation from Sep. 29 from Chengdu to Lanzhou and got back to Chengdu from Lanzhou on Oct 4. As it's Golden Week, it would be much better (less crowded) if you could start your tour one or two days ahead.
Day 1 Chengdu to Lanzhou Sep. 29
There are two direct bullet trains available between Chengdu and Lanzhou, which takes around 7.5 hours. I chose to take train instead of the plane, because it's much cheaper during Gold Week. If it's hard to book train during Golden Week, you can book train via Guangyuan as there are more trains available between Chengdu and Guangyuan, Guangyuan and Lanzhou.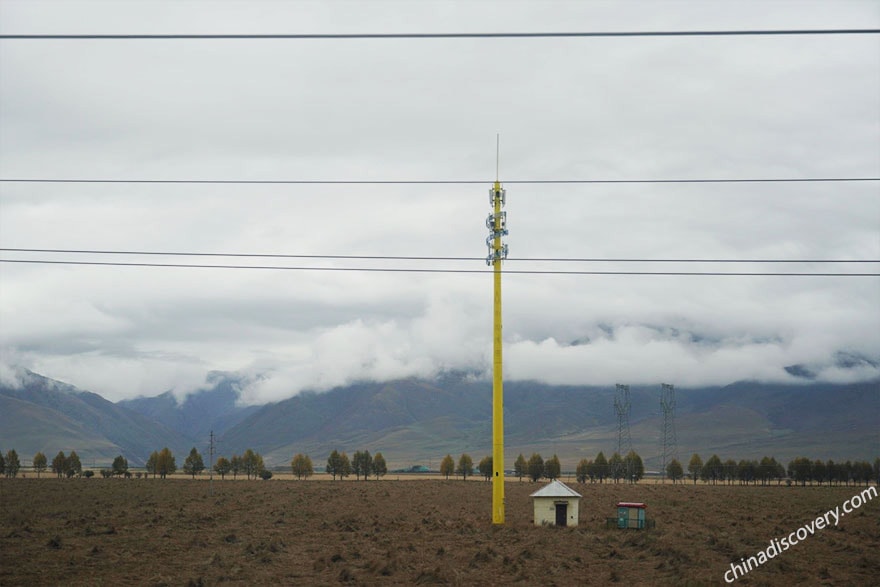 The Wonderful View Out of the Window of the Train
Day 2 Lanzhou to Zhangye Sep. 30
Today I caught a morning high speed train to Zhangye Upon arrival, our driver transferred us directly to our hotel Kaoshan Daying Leisure Mountain Villa, which was a very special experience and around 10-15 minutes walking from the west gate of the Rainbow Mountain.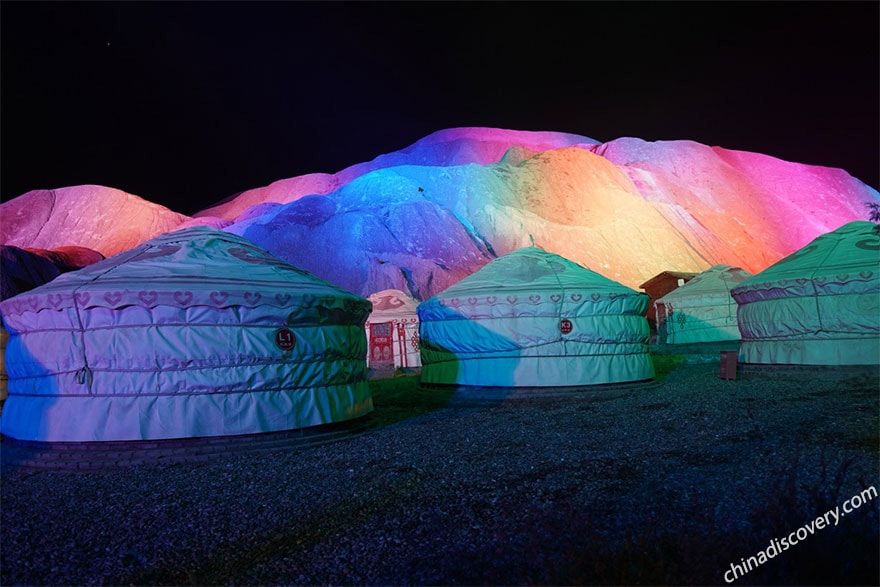 Kaoshan Daying Leisure Mountain Villa
After checking in and lunch, we headed to Zhangye Danxia Landform Geopark, which is a spectacular petrographic geomorphology landscape which is formed from red-colored sandstones and conglomerates. The Weather was cloudy but we also enjoyed the park very much.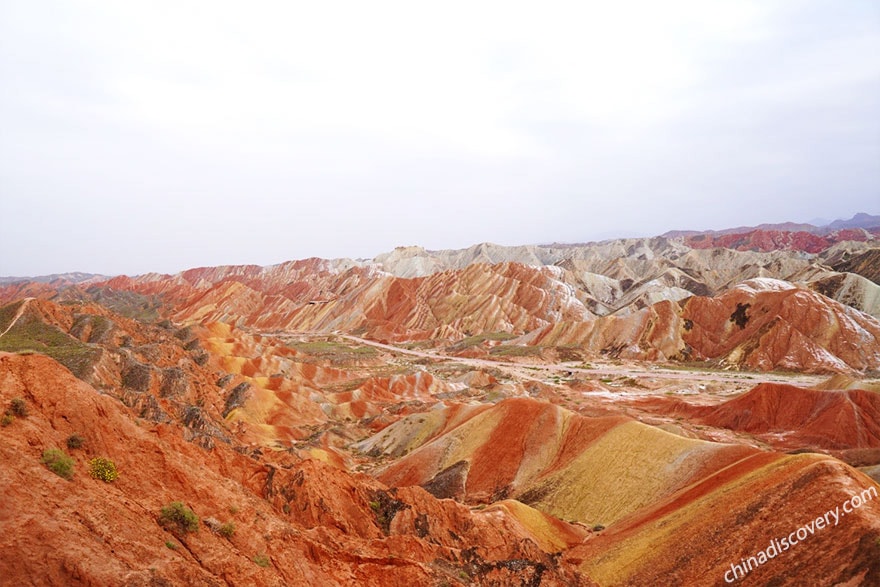 Beautiful Rainbow Mountains
In the evening, we had dinner (hot pot) in the hotel (you could choose hop pot or BBQ), I have to say that the beef is very good.
Day 3 Zhangye Oct. 1
After breakfast, we headed to Matisi Temple (Horse Hoof Temple), which blends Buddhist culture, grotto art, Qilian Mountain landscape and Tibetan culture together in a single site. The very special experience is to climb stairs inside the mountain and get through small openings from one temple to the next, finally to the top.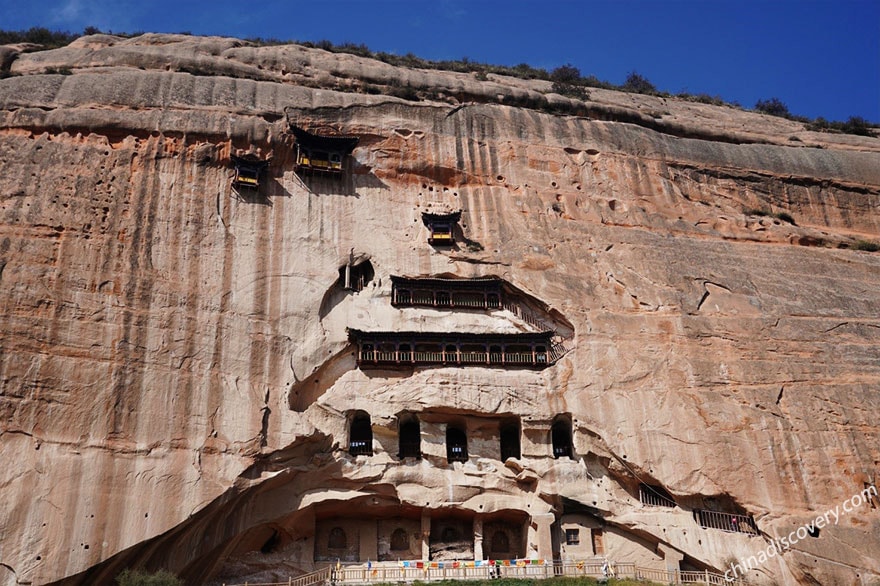 Matisi Temple in the Cliffs
In the afternoon, we took another visit to Pingshanhu Grand Canyon, located at 50km to the north of the Zhangye city, with the north-south width of 26km and east-west length of 40km. It is one of the world's five canyons, is equally famous as the Giant Canyon of the Colorado and the Great Rift Valley of the East African.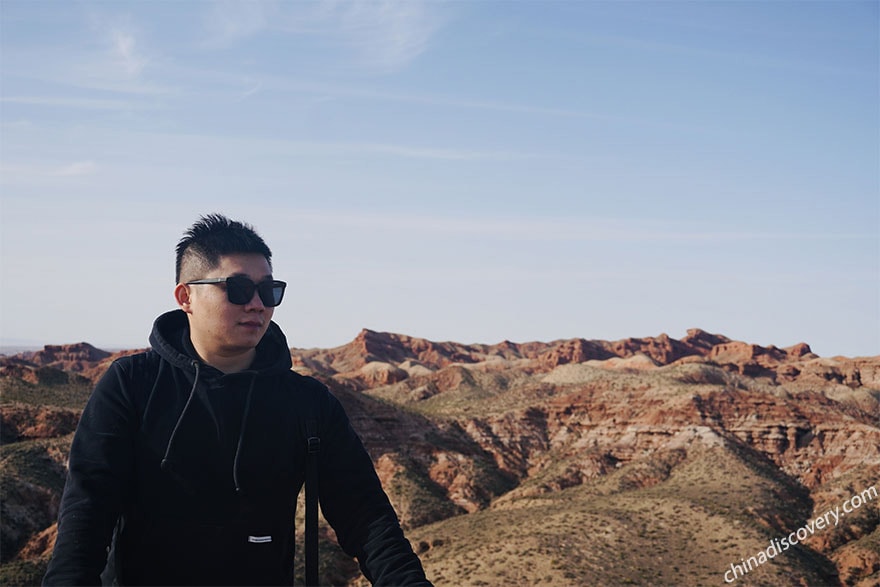 An Immersive Time in the Canyon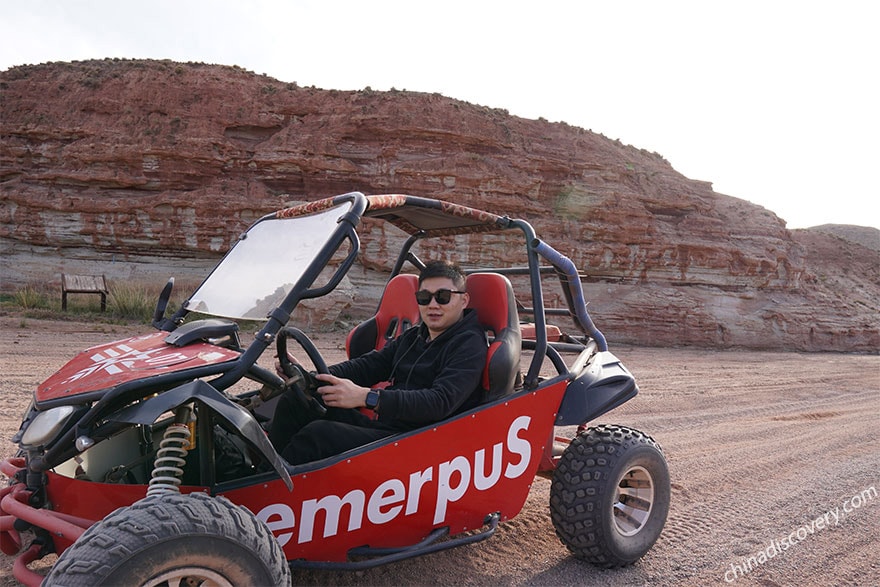 Experience Motorcycle Speedway
Tips: you can pay more to go down to the bottom of the canyon to experience more, like getting close to see the canyon and camel riding etc.
Day 4 Zhangye to Lanzhou Oct. 2
We got up early and spent some time in the downtown and then caught a high speed train back to Lanzhou. Along the road, you can see some snow mountains.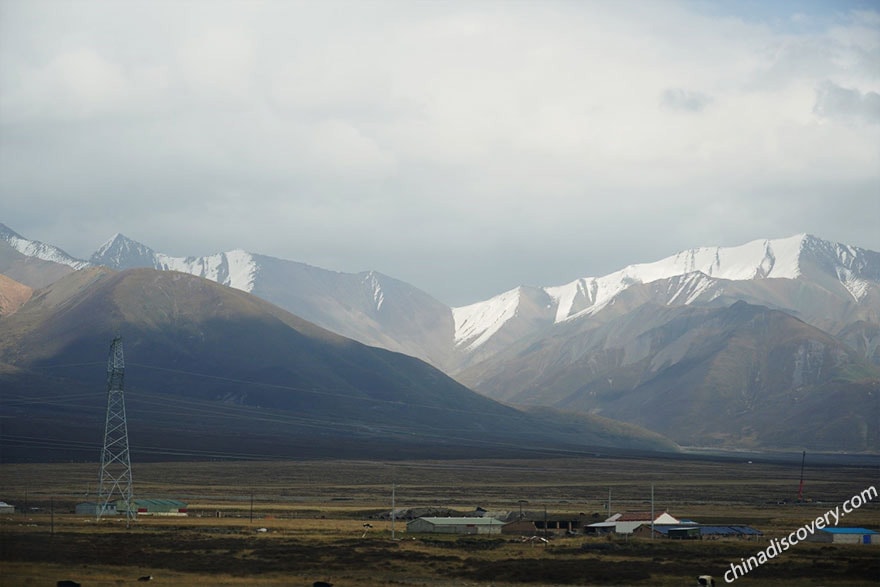 The Snow Mountains View We Enjoyed
In the evening, you could find some bars or visit some local night market, like Zhengning Road Night Market.
Day 5 Lanzhou Oct. 3
Today we got up a little late (for night views in Lanzhou) and had a very local breakfast, Lanzhou Noodles. Then taking a taxi to Gansu Provincial Museum, which is the best place to learn Gansu's history and culture in Lanzhou city. It has more than 350,000 collections and you can see the most famous bronze war, Ma Ta Fei Yan (马踏飞燕, Galloping Horse Treading on a Flying Swallow). We also learnt Buddhism Culture and Pottery Culture in different halls;.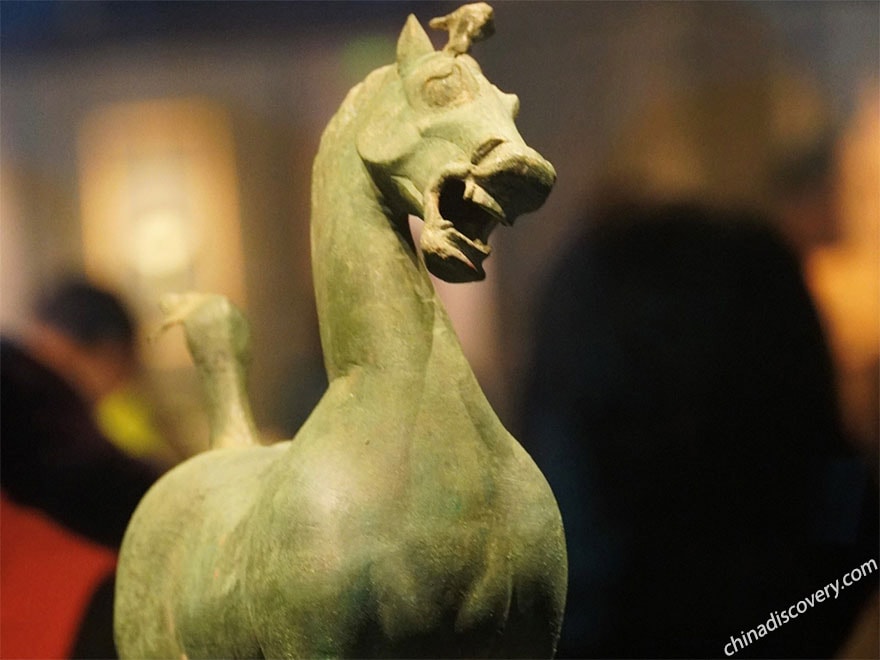 Treasures in the Museum
After a nice lunch near the museum, we took a taxi to visit the Yellow River Mother Statue, a lovely baby nestles against the chest of his loving mother. It is a work from a Gansu's female artist, praising Mother River who created Chinese civilization and nourished Chinese people.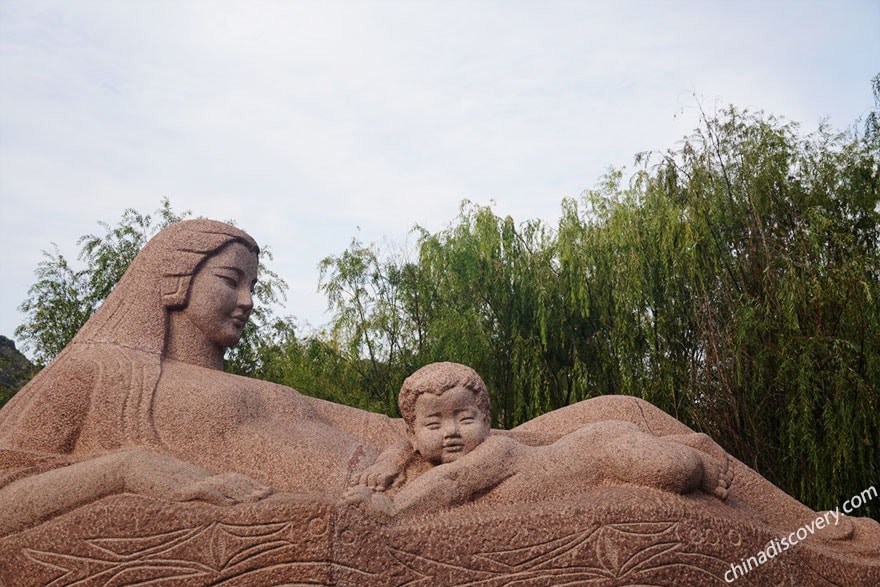 Yellow River Mother Statue
We walked along the river to Lanzhou Waterwheels Park (Lanzhou Shuiche Park).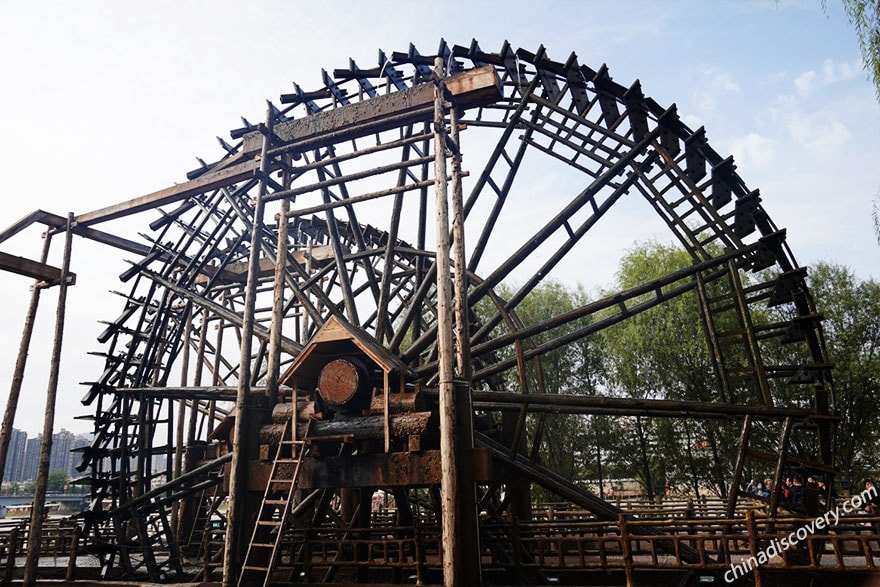 Lanzhou Waterwheels Park
In the evening, it's very nice to enjoy night views of the Lanzhou Yellow River Iron Bridge, also named as Zhongshan Bridge to memorize Sun Yat-sen.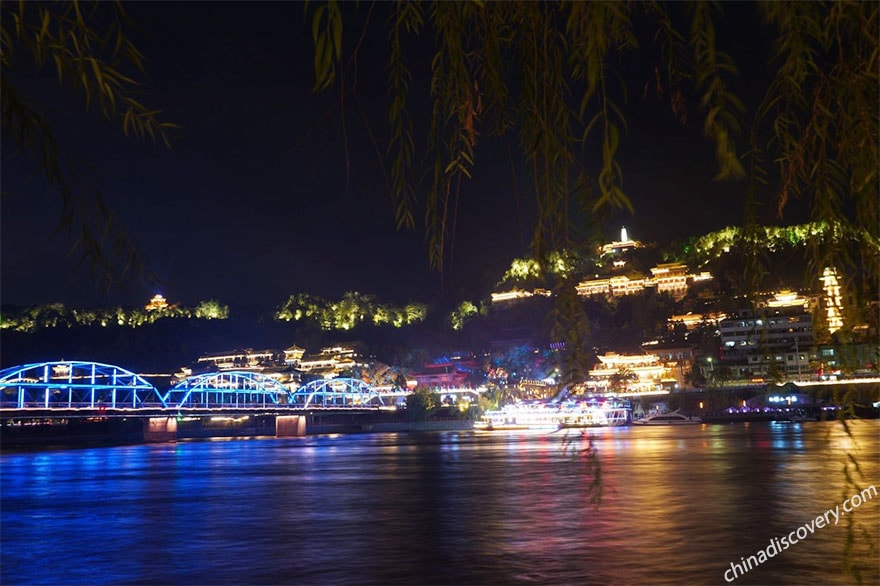 Lanzhou Yellow River Iron Bridge
Day 6 Lanzhou to Chengdu via Guangyuan Oct. 4
It's time to say goodbye to Lanzhou. We took high speed trains back to Chengdu via Guangyuan as direct tickets have been sold out.
Overall, it was a very nice trip during National Day Golden Week. I will go back to visit and learn more about Silk Road tours, from Jiayuguan, Dunhuang to Xinjiang etc.
Travel with Me
Hi, I'm Leo. Are you interested in my 6 Days Gansu Tour Experience? Feel free to contact me, and I will be glad to tell you more stunning stories about the places I have visited. Or, if you want to customize a tour on your own, I'm always ready to help at any time. With my passion, knowledge and understanding of the essence of travel, I promise I will try my best to make the tour memorable and meaningful for you.
Leo

Travel Consultant
Recommended Tours
Top 3 tours chosen by most customers to explore in the best way. Check the detailed itinerary, or tailor your own trip now with us.
6 Days Hexi Corridor Discovery Tour(Zhangye/Jiayuguan/Dunhuang)

Lanzhou - Zhangye - Jiayuguan - Dunhuang
5 Days Zhangye to Dunhuang Highlights Tour by Bullet Train

Zhangye / Danxia / Dunhuang
8 Days Qinghai Lake Zhangye Danxia Badain Jaran Desert Wonders Tour

Xining - Zhangye - Badain Jaran Desert
Have a question? Get answers from our travel experts or guests
Your Question:

Your Name:

Your Email: