Leo's 2 Days Side Trip to Leshan and Mt. Emei in November 2017
Departure Date

2017-11

Travel Length

2 Day

Travel Theme

Nature, Culture, Group

Group Size

2

Travel Route

Chengdu - Leshan - Mount Emei - Chengdu

Highlights

Leshan Giant Buddha, Mount Emei, Baoguo Temple, The Golden Summit, Sea of Clouds etc.

Story Tags

#Leshan Tour#Emeishan Tour#Visit Leshan Giant Buddha#Mount Emei#The Golden Summit#Sightseeing#Photography#Culture Tour
As a Sichuan local, it's my first time to go for the Leshan Giant Buddha and the Mount Emei since I was born. Finally I got the chance to witness their elegant view.
-Mount Emei Hiking-
It was a sunny weekend and I decided to do some hiking at Mt. Emei, before that, I would like to see Leshan Giant Buddha.
A long time ago, I heard some information that a toe of the Buddha can hold a hundred of people standing on it.
The Leshan Giant Buddha, which is inscribed on the list of the World Cultural Heritage by UNESCO in 1996 and about 160 kilometers from Chengdu and takes round 2 hour's driving, has now renovated and got a new look. From Chengdu, you can also take a bullet train which takes around one hour and it's very convenient if you travel by yourself. If you travel with your friends or family, we recommend you take our private vehicle which is more efficient and cost-effective.
Once you get to the Leshan Giant Buhhda, you have two choices to visit it, one is taking a boat and you can get a panoramic view of the buddha; the other is to climb the mountain and walk down a plank stairway to his feet from a Liliputian perspective. For the second option, we have some tips for you: It may takes more time due to very narrow road (2-3 hours for lining up if there are so many people in peak season). As you can see the picture above, I chose the first option.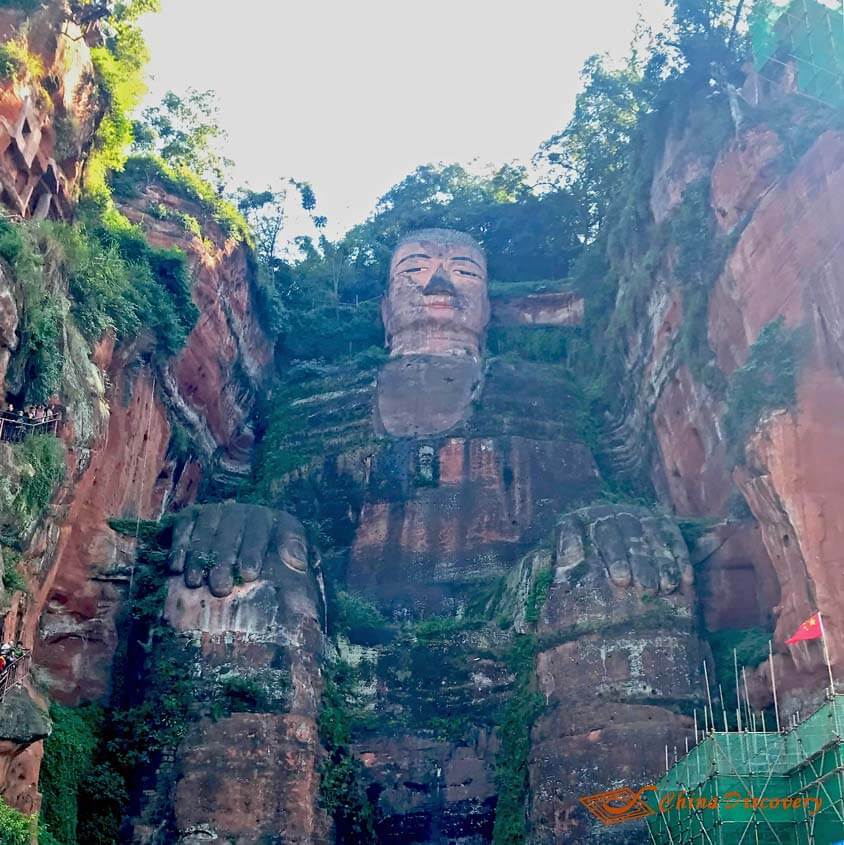 -Leshan Giant Buddha-
After the happy time for the Buddha, it's time for lunch. I highly recommend you to taste local food like Bobo chicken and sweet and Crispy Roast Duck.
In the afternoon, I headed to my final and most expected destination Mt. Emei. You can choose to take bullet train (RMB11 and around 15 minutes) or by bus.
Once I arrived the tourist centre which is very close (less than 1000 meters) to Baoguo Temple. For the accommodation, you can choose to stay at the foot of Mt. Emei or go up to stay one night to enjoy the sunrise (if weather permitted). There are more options at the foot of the mountain (4 star or 5 star hotels are available).
After visiting Baoguo Temple, I bought my tickets for Mt. Emei, which is one of the few World Heritage Sites of both cultural and natural heritages, Mount Emei is an enchanted combination of lush forest and cultural relics.
Firstly, I took an Eco-Bus which will take you up to Leidongping area in 1.5~2 hours. From here, you can choose to take cable car to the Golden Summit. I chose to do some hiking to the top.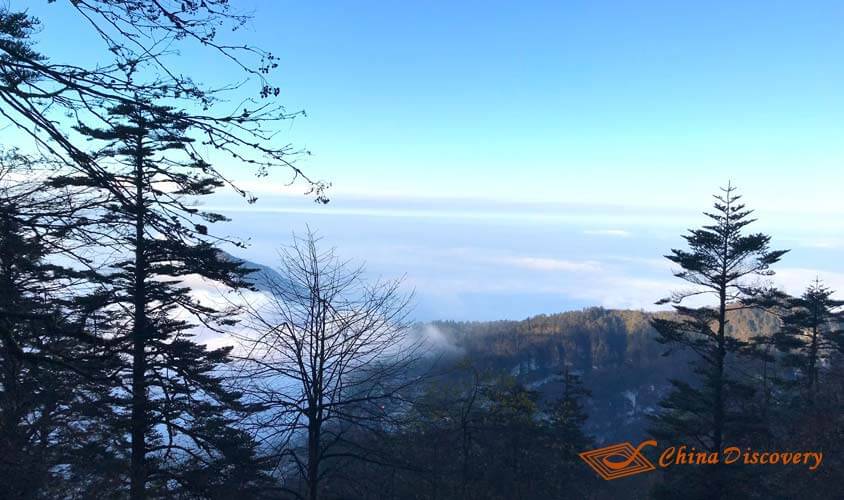 -Amazing View along the Way-
Along the road to the top, you can see amazing view which is worth.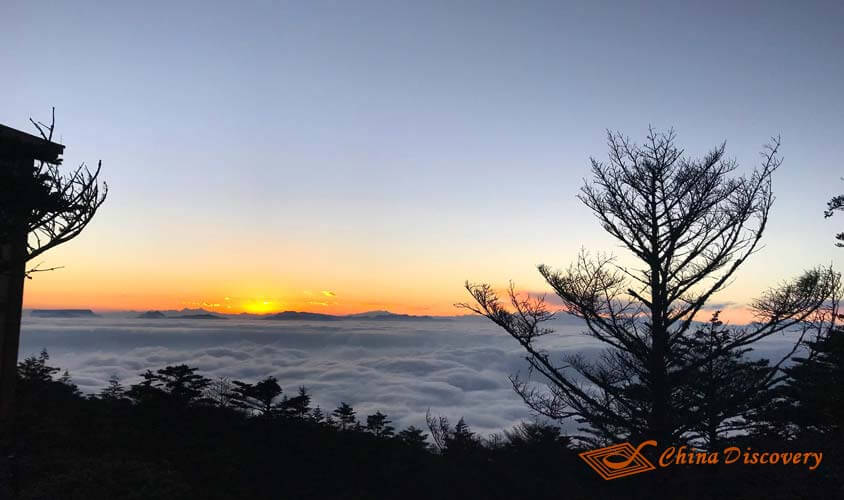 -Beautiful Sunset in Mount Emei-
I was lucky when I reached to the top as I got the chance to see the sunset.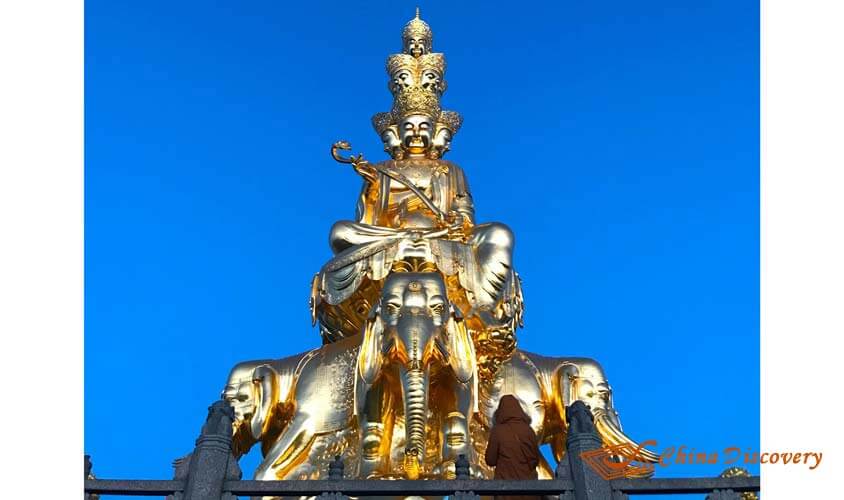 -The Golden Summit-
Finally, I reached the top of Mt. Emei and saw the Golden Summit.
Now, it's my time to relax. I enjoyed the unbelievable scenery, sea of clouds and sunset etc. Some tips for you: If you choose to stay on the mountain, please prepare some warm clothes as the temperature on the mountain is lower.
Next day, I got up a little later but still got the chance to see the sunrise, which is lucky to me.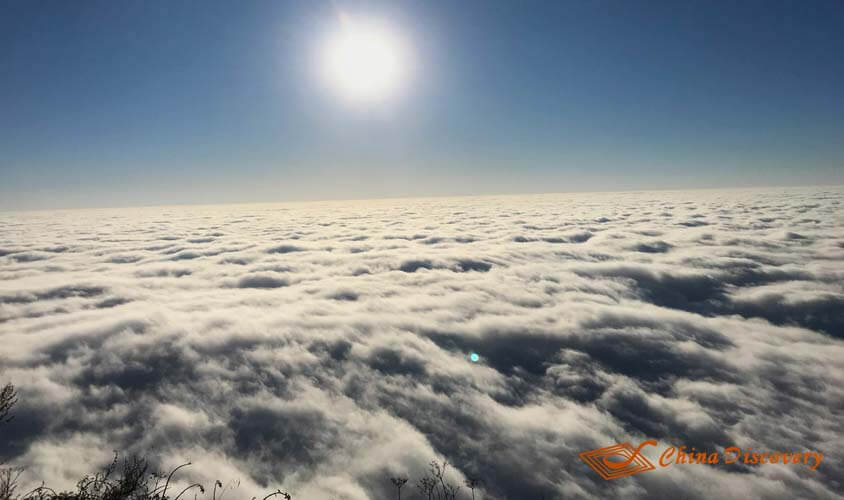 -Amazing Sunrise in Mount Emei-
Now, it's time to say goodbye to Mt. Emei. I came down with the same route. You can also take cable car down to Leidongping if walking is too much for you.
If it's your first time to Chengdu, Sichuan, it's better to stay more days to visit these two World Heritage Sites of both cultural and natural heritages. It's definitely worthy.
Travel with Me
Hi, I'm Leo. Are you interested in my 2 Days Leshan & Mt. Emei Tour? Feel free to contact me, and I will be glad to tell you more stunning stories about the places I have visited. Or, if you want to customize a tour on your own, I'm always ready to help at any time. With my passion, knowledge and understanding of the essence of travel, I promise I will try my best to make the tour memorable and meaningful for you.
Leo

Travel Consultant
Recommended Tours
Top 3 tours chosen by most customers to explore in the best way. Check the detailed itinerary, or tailor your own trip now with us.
4 Days Classic Leshan Buddha & Mount Emei Tour from Chengdu

Chengdu / Leshan / Mt. Emei / Chengdu
6 Days Leshan, Mount Emei & Panda Volunteer Tour

Chengdu / Leshan / Emei / Chengdu / Dujiangyan / Chengdu
Have a question? Get answers from our travel experts or guests
Your Question:

Your Name:

Your Email: