Leo's 2 Days Bipenggou Valley Summer Tour from Chengdu
Departure Date

2018-08

Travel Length

2 Days

Travel Theme

Nature, Hiking, Friends

Group Size

1

Travel Route

Chengdu - Taoping Qing Village - Bipenggou Valley - Chengdu

Highlights

Bipenggou Valley, Taoping Qing Village...

Story Tags

#Bipenggou#Bipenggou Valley #Taoping Qing Village #Bipenggou Valley Scenic Area
Titled as a National AAAA Scenic Spot and a national ecotourism demonstration site, Bipenggou Valley, core region of Miyaluo Nature Reserve, enjoys high reputation of being "Little Switzerland in Western Sichuan" with all year around stunning snow-capped mountain reflected in peaceful lakes. It is also one of the most ideal domestic destinations to appreciate red leaves in colorful autumn. Facing Mount Siguniang in the south, it is called a lovely shadow of Mount Siguniang where virgin forests, spectacular mountain waterfalls and glacier, cloud and mist floating among grotesque peaks harmoniously form a chromatic canvas. It's truly a hidden gem to please your eyes as well as a nice outdoor entertainment for hiking, polar expedition, skiing, etc.
Driving northwest about 3 hours from downtown Chengdu, you can get to Li County to visit Bipenggou Valley via Dujiangyan and Wenchuang. 2 days are suitable for such a trip, and Taoping Qiang Village and Ganbao Tibet Village are convenient to drop by en route. Stay overnight in Li County, and get to Bipenggou Valley (with an average elevation of about 2015m-5666m) next morning to enjoy a full day hiking and sightseeing trip. Scenic buses are available to save time and energy but hiking offers best views and experiences to discover tremendous step-by-step.
Day 1: Drive from Chengdu to Bipenggou Valley (with a Short Visit of Taoping Qing Village on the Way)
We set off from Chengdu downtown at around 08:00 and along the way, we had a stop at Taoping Qing Village, which is the world's most well-preserved residential complex of residential towers and residential buildings, and enjoys the name of "natural air conditioning". Its perfect underground water network, all-encompassing passages and the maze-like architectural art of the watchtower are known by Chinese and foreign scholars as "the living fossils of Qiang people's architectural art" and "the ancient oriental castle of the gods."
After lunch, we reached our final destination Bipenggou Valley and check in our hotel. For Bipenggou, it's better to leave two days for it and stay one night in Li County.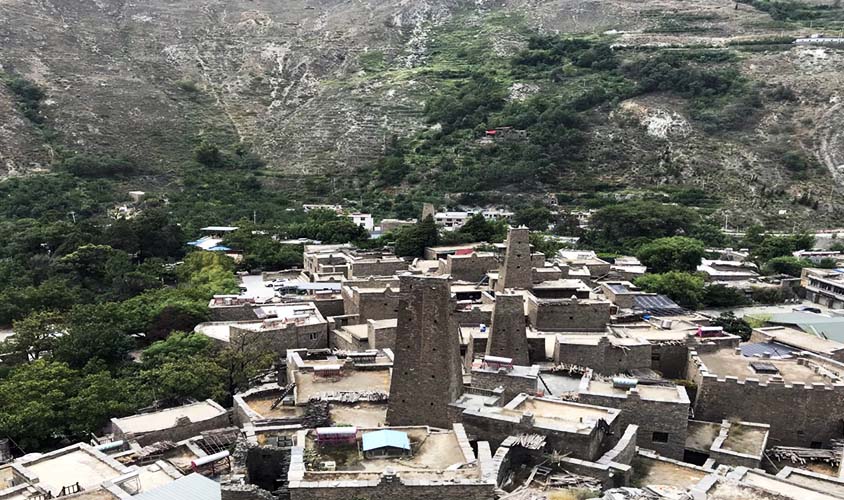 Taoping Qing Village on the Way from Chengdu to Bipenggou Valley
Day 2: Bipenggou Valley Tour & Drive Back to Chengdu
Next day, we headed to Bipenggou Valley from our hotel after breakfast. There are two options for you: one is taking sightseeing bus and the other is walking which we chose because you can see more natural views on the road;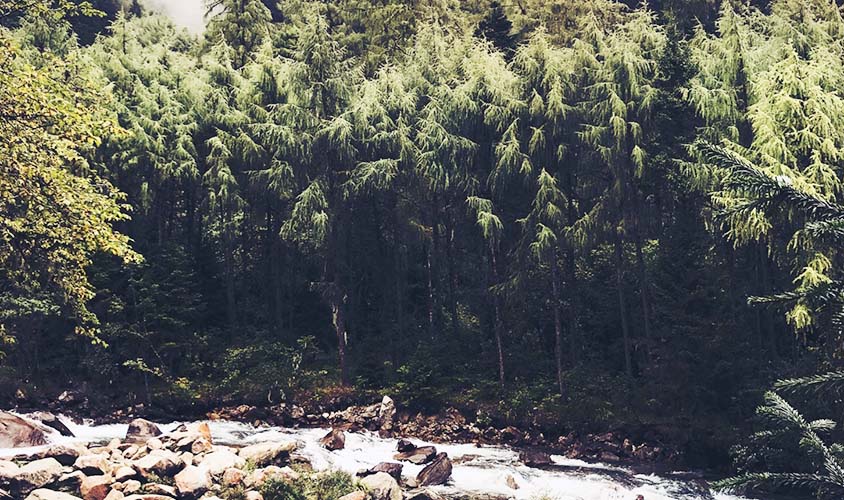 Hongshi Beach (Red Stone Beach)
Hongshi Beach (Red Stone Beach) along the road, the stones are not red naturally, this is a special kind of red moss that only survives at special altitudes and geological conditions.
Walking on the road, you can always see a stream which has beautiful natural views.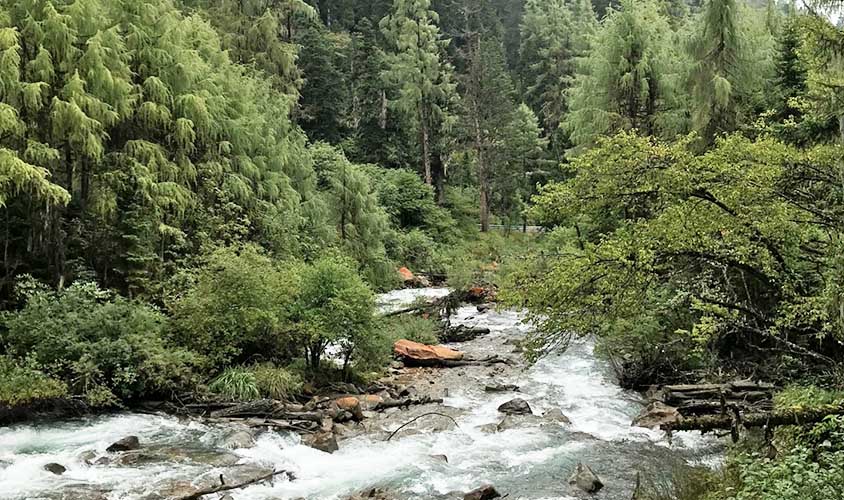 Stream at Bipenggou Valley
After walking some time, we reached the Longwang Lake and you can see Feiliu Waterfall.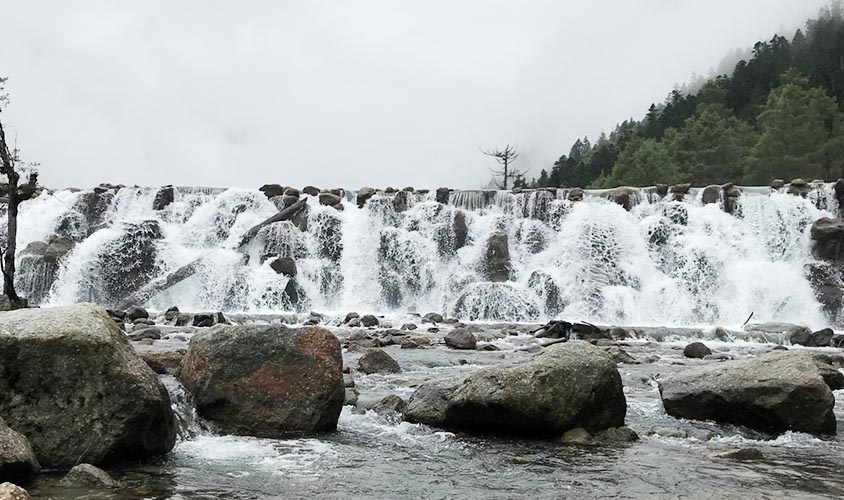 Feiliu Waterfall at Bipenggou Valley
Near the final destination, you can also visit Zhuoma Beach (卓玛滩).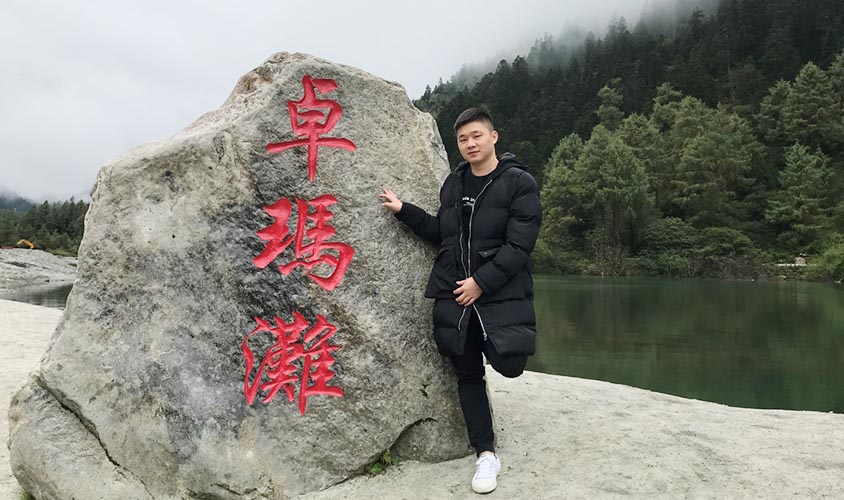 Zhuoma Beach at Bipenggou Valley
At around 11am, we reached our final destination Swallow Rock Nest (燕子岩窝), which is end of Bipenggou Valley.
The food at this part is very limited, it's better to take some bread etc.
Some Useful Tips of Visiting Bipenggou Valley
1) There is a big temperature difference between day and night so it's better to take some warm clothes;
2) The hotel condition in this part is very limited, also the food;
3) Sun-screen, sun glasses and umbrella will be helpful all the year around to protect from the strong sunlight.
Travel with Me
Hi, I'm Leo. Are you interested in my 2 Days Side Trip to Anren Ancient Town from Chengdu? Feel free to contact me, and I will be glad to tell you more stunning stories about the places I have visited. Or, if you want to customize a tour on your own, I'm always ready to help at any time. With my passion, knowledge and understanding of the essence of travel, I promise I will try my best to make the tour memorable and meaningful for you.
Leo

Travel Consultant
Recommended Tours
Top 3 tours chosen by most customers to explore in the best way. Check the detailed itinerary, or tailor your own trip now with us.
4 Days Mount Siguniang Classic Hiking Tour

Chengdu / Dujiangyan / Siguniangshan / Chengdu
5 Days Jiuzhaigou Huanglong Dujiangyan Tour by Private Car

Chengdu / Chuanzhusi / Huanglong / Jiuzhaigou / Dujiangyan / Chengdu
Have a question? Get answers from our travel experts or guests
Your Question:

Your Name:

Your Email: