Johnson's 6 Days Busy but Peaceful Yunnan Tour
Departure Date

2018-12

Travel Length

6 Days

Travel Theme

Nature, culture, Minorities, Friends

Group Size

2

Travel Route

Chengdu - Lugu Lake - Lijiang - Dali - Chengdu

Highlights

Lugu Lake, Lijiang, Dali, Lijiang Ancient Town, Jade Dragon Snow Mountain, Blue Moon Valley, Dali Old Town etc.

Story Tags

#Yunnan Tour#Visit Lugu Lake#Lijiang Tour#Dali Tour#Sightseeing#Photography#Nature Tour#Minorities Tour
2 Years ago, in winter (about the December of 2018), my friend and I come to Yunnan for holiday. Why we choose Yunnan? First, we always heard people talking about how colorful Yunnan is and the peaceful life there. Second, there is a new direct flight between Chengdu and Lugu Lake. That's why we decide to take a vacation and explore Yunnan.
Day 1`Lugu Lake arrival
After breakfast, we come to Chengdu Shuangliu International Airport to take a flight (about 45 minutes) to Lugu Lake. After arrival, we take the airport shuttle bus directly to our hotel. Our hotel is located just at the bank of the Lugu Lake with a real peace and original life.
After check in, we go around our hotel and have a nice lunch of local famous favor: steamed fish in stone pot. The fish is fresh from the lake and this cooked way is by the steam which is very fresh to us. And also, the fish test really wonderful! If you come there, I strongly suggest you to have a try!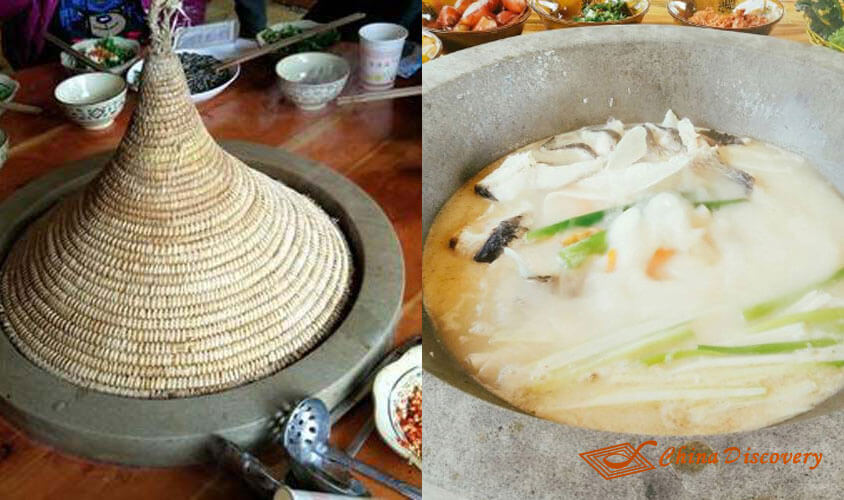 -Seamed fish in stone pot-
After the lunch, we decide to take a ride around Lugu Lake. There are many bikes are ready to be rent there, so we easily find one spot and get on riding! Honestly speaking, we are not so good at riding… but the beautiful scenery keeps us going. After a half way around Lake, we come back to hotel for rest.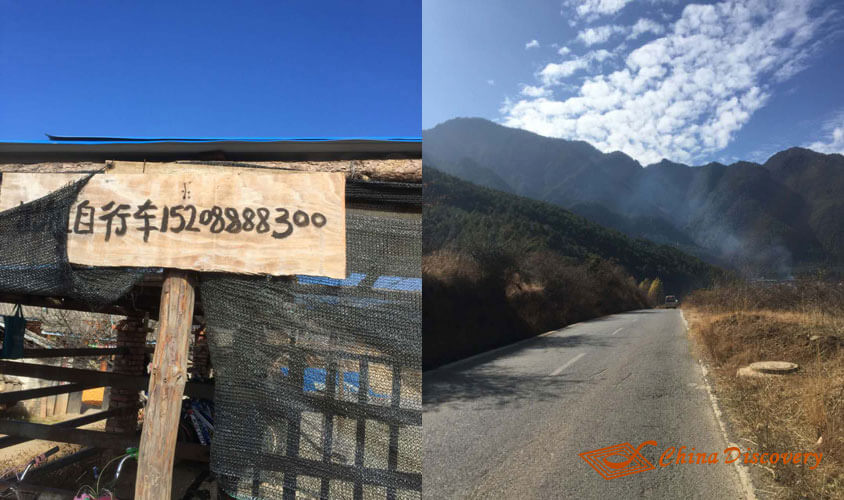 -Bicycle renting & road around Lugu Lake-
Day 2 Lugu Lake
This day, we get a lazy morning and then have a brunch. We take an easy way to view the beautiful Lugu Lake and try to recover from the ride yesterday… My friend, if you are not so good at riding, I suggest you to hire a car to take you around the Lake and I heard that costs not much (about 350RM for a round car trip).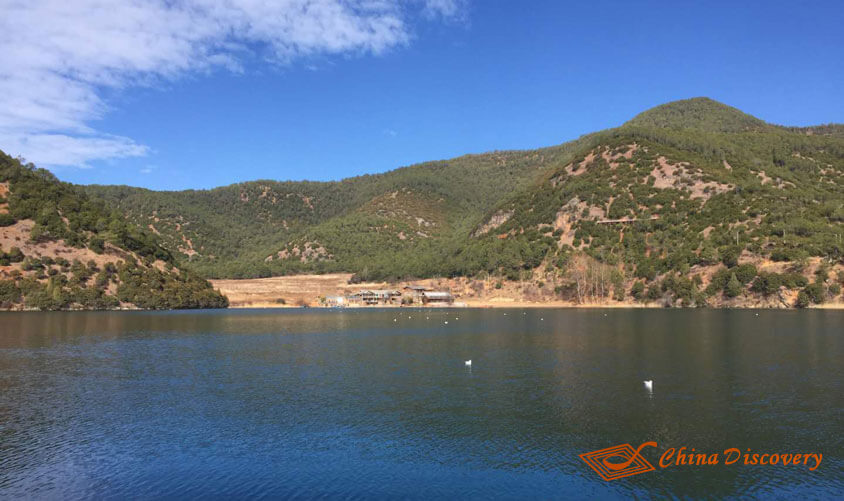 -Lugu Lake view from our hotel-
In the afternoon, we decide to continue to take a nice and easy way to enjoy our holiday. So, we come to the port to hire a boat to take us to one of the island of the lake. On the way to the island, you can many birds, the locals call them seagull. Because of the environment protect, policy, the seagulls are not afraid of humans at all, they fly with our boat along the way to the island. That's really nice experience.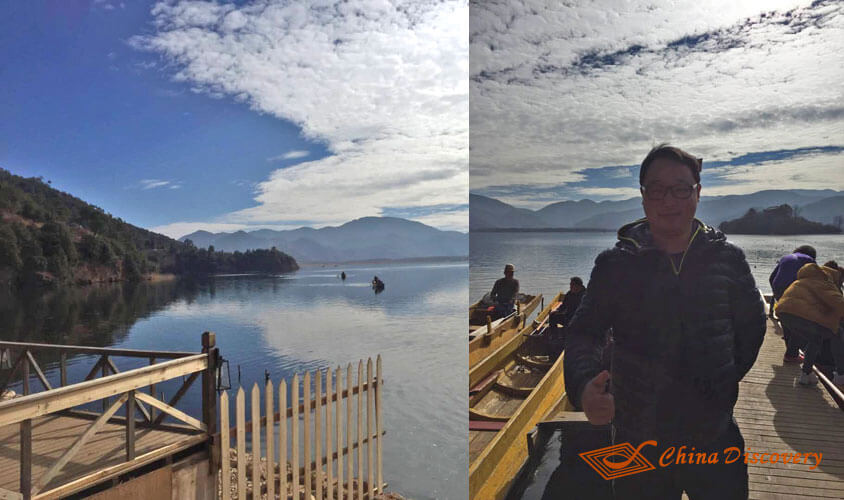 -Johnson is on the port of Lugu Lake-
We heard from the boatman that if you take some bread with you, you can feed the seagulls. After arrival, we buy some bread to feed our "flying partners"!
Well, this is a really small island but once you got on the small mountain, you can take a bird's view of the lake that will give you a whole beautiful picture of the lake.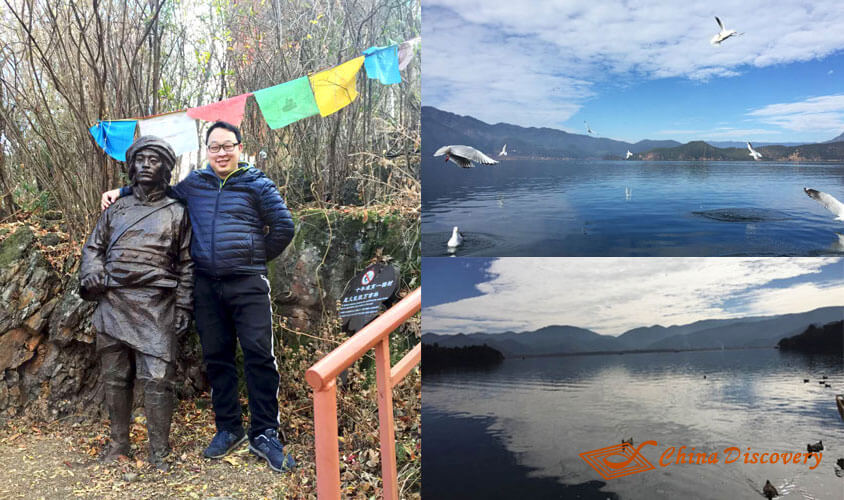 -The entrance of the Island-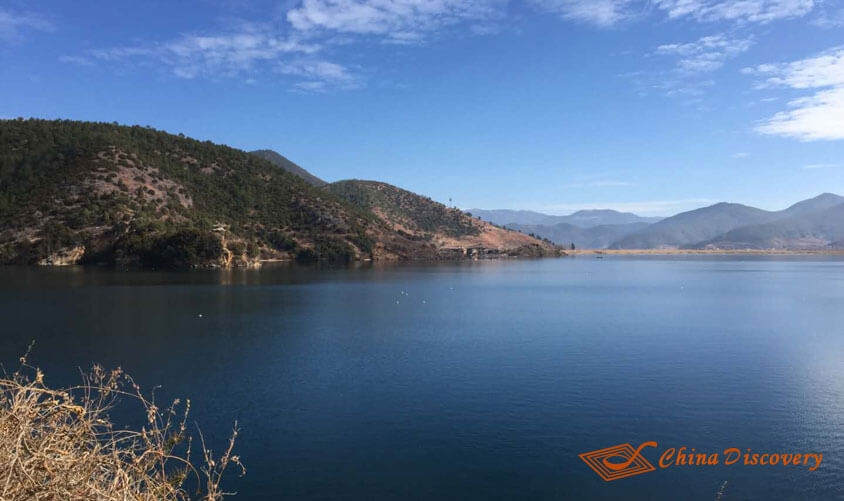 -Lugu Lake view from the Island-
After the boat trip, we come back to where we from and then we come back to hotel for dinner. In the evening, we join in a bonfire party with locals. They sing local songs and dance with a circle. It's a very standard show but you can join in and make friends with other travelers. That's most of the nightlife, the locals will do. Because there is no bars there but to us everything is fresh and interesting!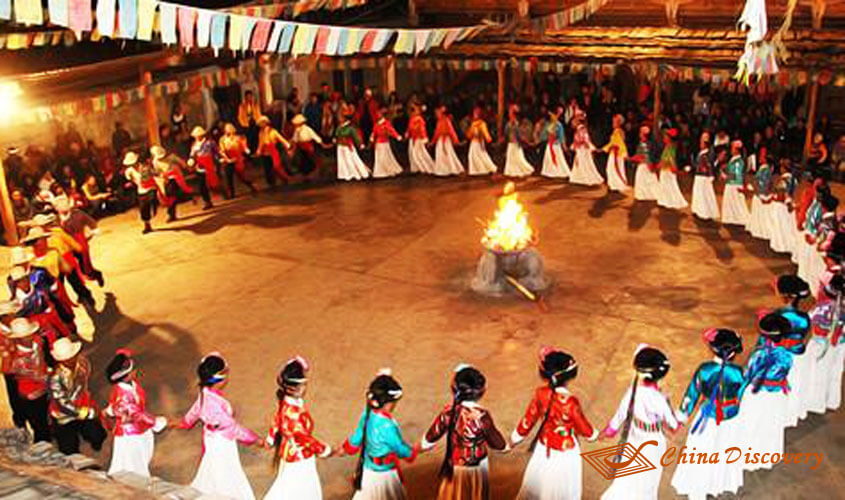 -Bonfire party-
Day 3 Lugu Lake to Lijiang
Today, we get up early and get on a bus to Lijiang. There is about 200 km far away from Lugu Lake to Lijiang but as all the road is mountain roads with turns and valleys, so it takes us about 5 hours to arrive in Lijiang. But on the way, you can see many valleys' view that's one of the nice things on the road.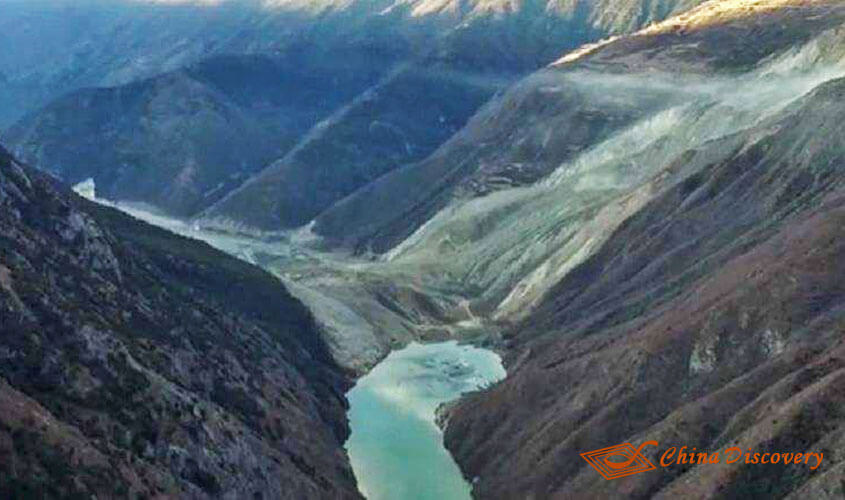 -Valleys on the way to Lijiang-
After arrival, we check in our hotel and went out for meals and take a stroll in this beautiful Lijiang Old Town.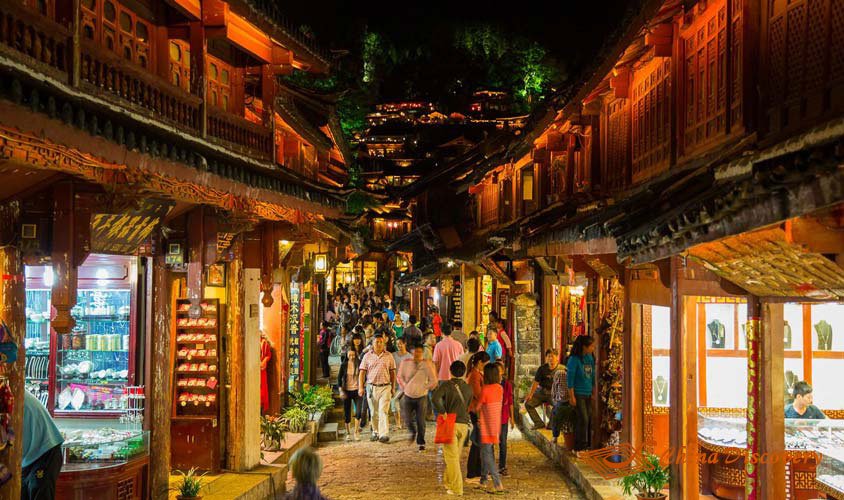 -Colorful Nightlife of Lijiang Old Town-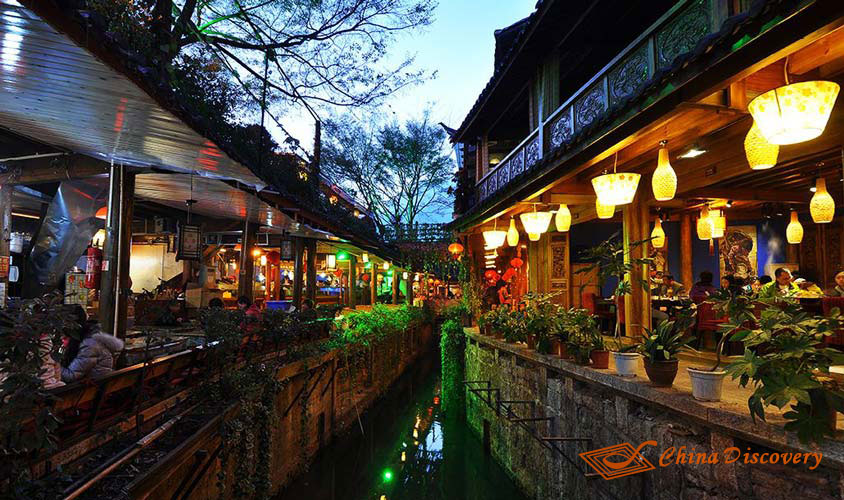 -Bars in Lijiang Old Town-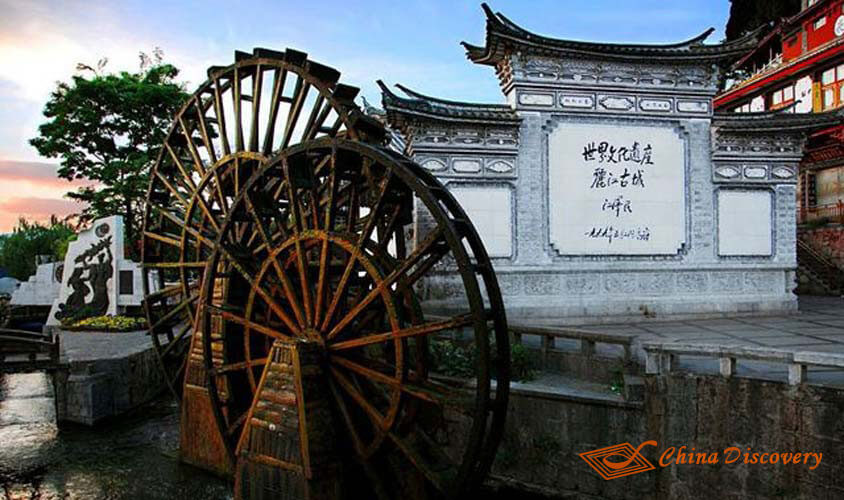 -Lijiang Old Town-
Day 4 Lijiang Jade Dragon Snow Mountain & Blue Moon Valley
Today, we get up early, after breakfast, we take shuttle buses to the famous Jade Dragon Snow Mountain.
You can already see the beautiful snow mountains in the parking lot. It's really breathtaking!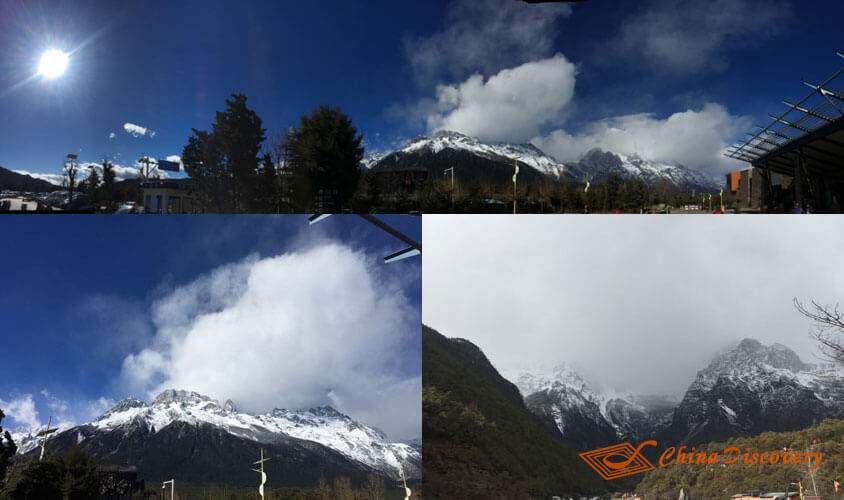 -The whole view of the snow mountain-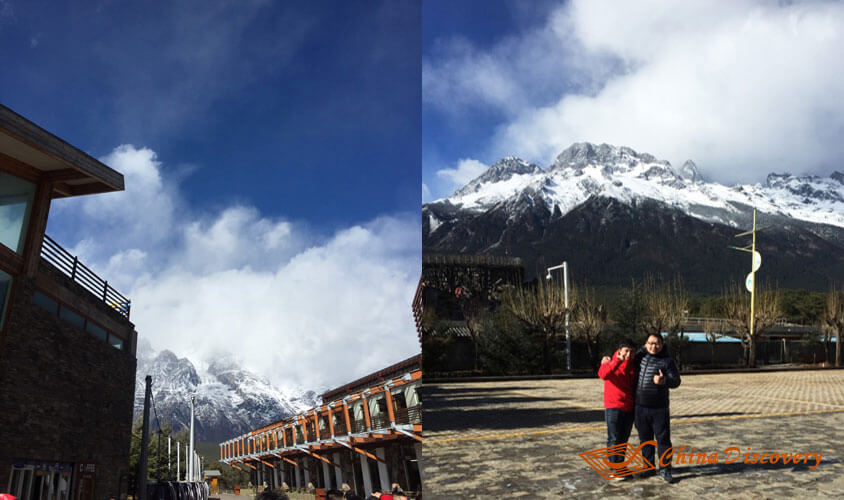 -My friend and I under the Jade Dragon Snow Mountain-
After taking some pictures, we get to the cable station to try to get on the top of the mountain. Unfortunately, there is a big wind on the day, so it's not safe to take the cable cars. So, we just walk and take some pictures around.
Then, we have a simple lunch and come to our next sites: Blue Moon Valley. I have to say, I you come to the snow mountain, this valley is a must-see. Words are weak. Let me show you pictures: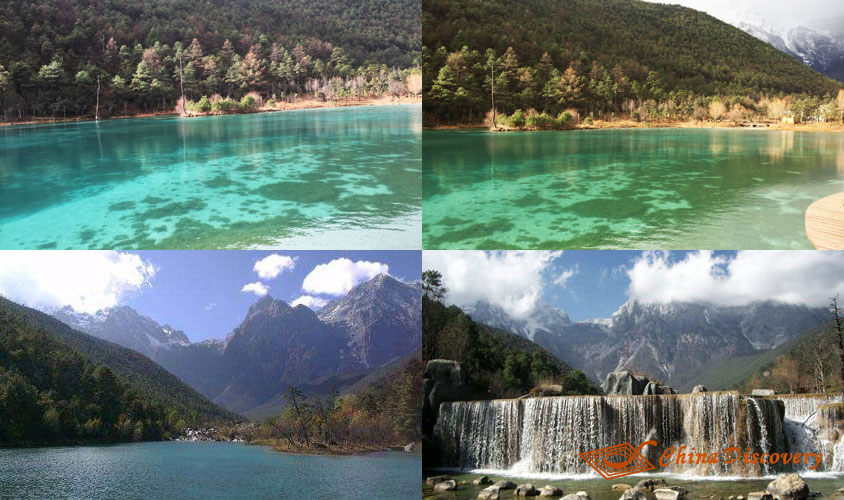 -Blue Moon Valley in Winter-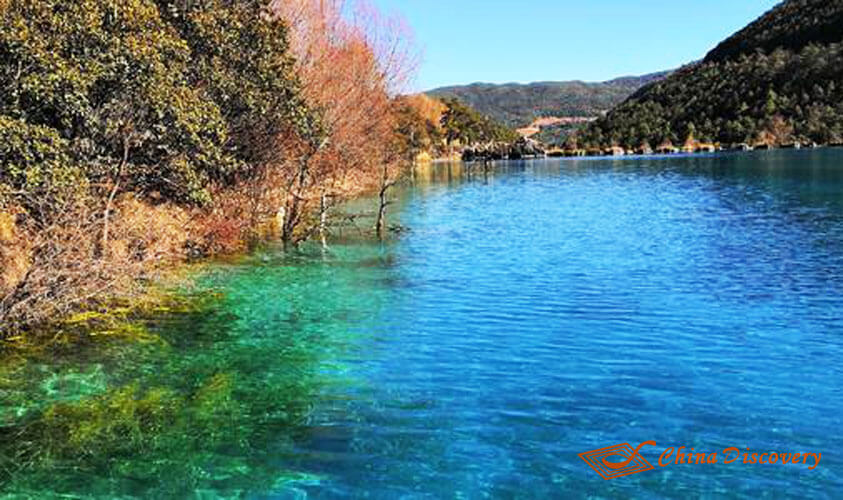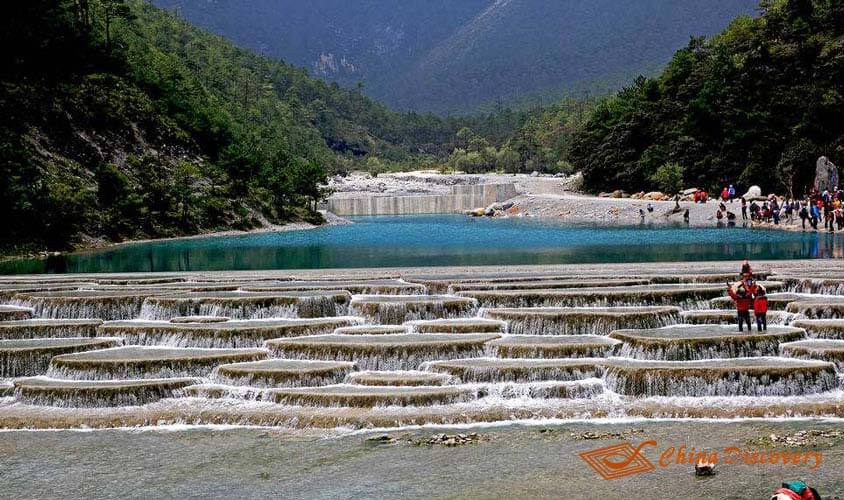 -Crystal Clear Water in Blue Moon Valley-
Day 5 Lijiang to Dali
We have a lazy day around Lijiang Ancient town this morning and then take a bus (about 2 hours) to Dali Old Town. We arrived at half afternoon, after check in hotel, we get out for meals and also explore this nice peace ancient town.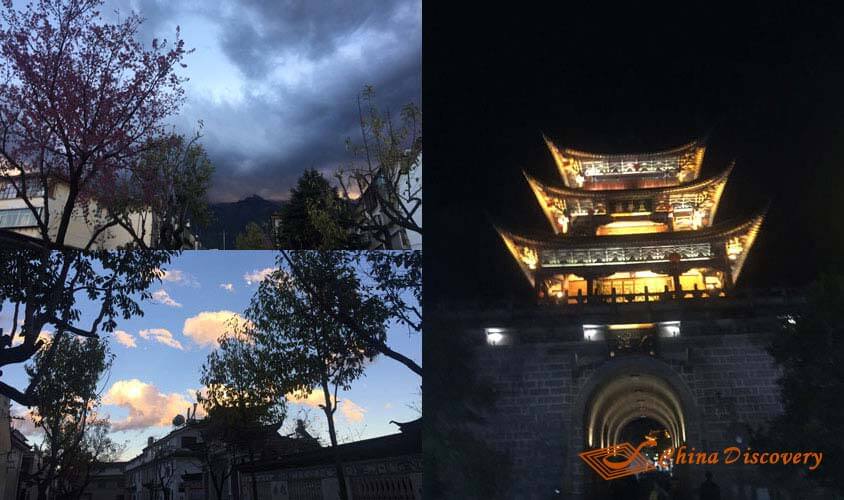 -Dusk View of Dali Old Town-
Day 6 Erhai Lake & Dali Departure
If you say that Lugu Lake is a delicate lady, well I will compare that Erhai is a strong Man. Erhai is much bigger and immense.
This day, we rent an electric-bike to ride around Erhai Lake. Image that, a quiet road, a beautiful Lake, sunshine with a motor-bike~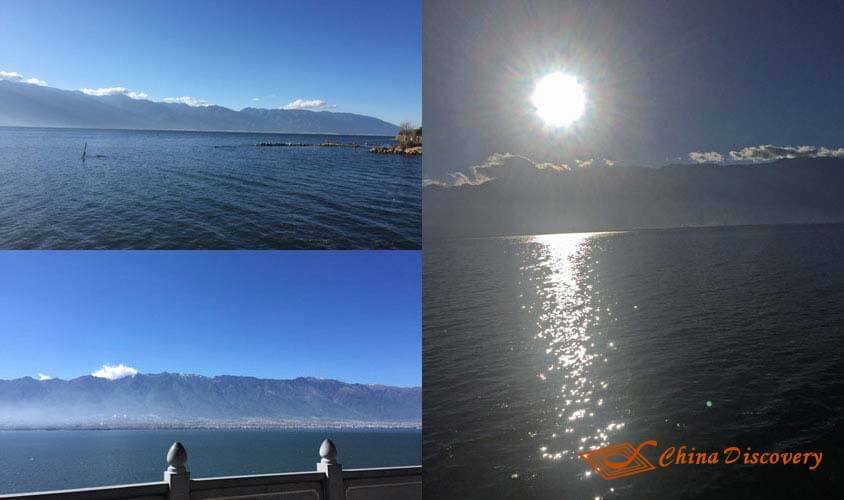 -The sun shines on Erhai Lake-
When we get tired and hungry, we find a nice and peaceful restaurant just on the bank of the lake.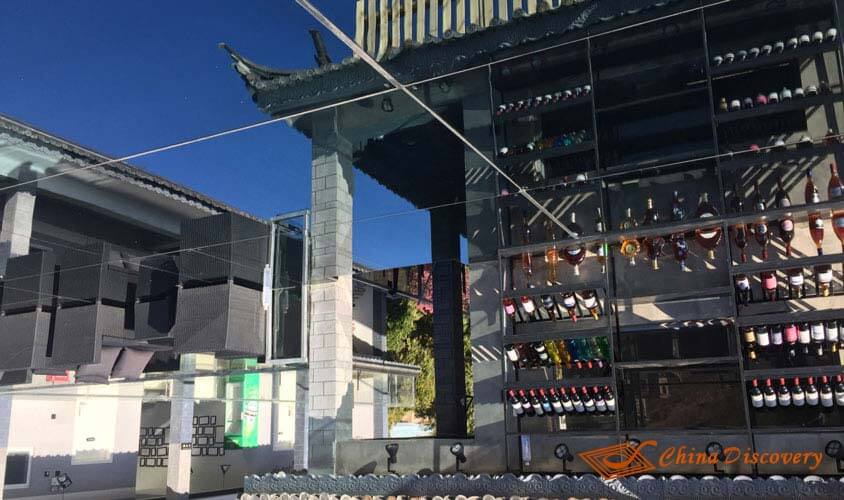 -The restaurant on the bank of Erhai Lake-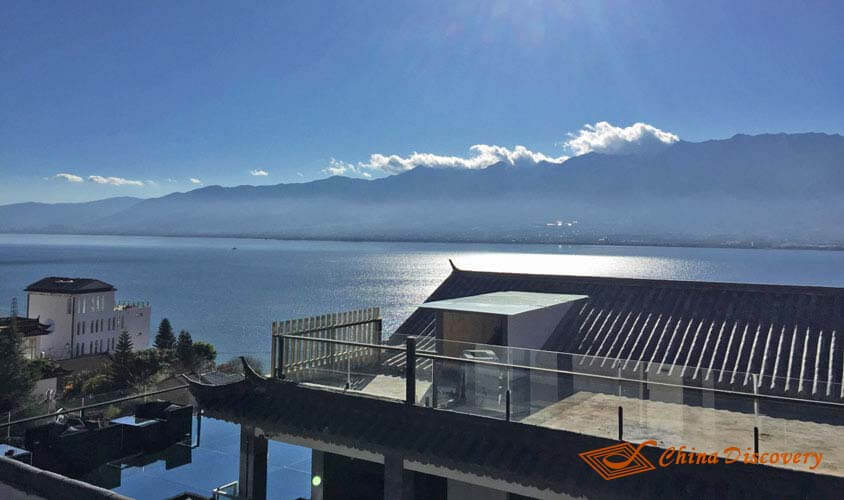 -Erhai view from the restaurant-
After the nice meal, we have to get back to the Dali Old Town to send back the bike and take our luggage and leaving for the airport for our flight. Our holiday was a little busy but as it's in winter not any national holidays, so not too much tourists but quiet place for us. If I get more time in the future, I'd like to take some days nice and easy in Dali. I heard that Dali is always sunny that over 300 days will be sunny day in Dali! That's really a magic for me because you know in Chengdu, there is less 100 days sunny in a year…
Travel with Me
Hi, I'm Johnson. Are you interested in my 6 Days Lugu Lake and Yunnan Explore Tour? Feel free to contact me, and I will be glad to tell you more stunning stories about the places I have visited. Or, if you want to customize a tour on your own, I'm always ready to help at any time. With my passion, knowledge and understanding of the essence of travel, I promise I will try my best to make the tour memorable and meaningful for you.
Johnson

Travel Consultant
Recommended Tours
Top 3 tours chosen by most customers to explore in the best way. Check the detailed itinerary, or tailor your own trip now with us.
2 Days Magic Lugu Lake Tour with Mosuo Ethnic Culture

Lijiang / Lugu Lake / Lijiang
7 Days Yunnan Paradise Tour to Lijiang, Shangri-La & Lugu Lake

Lijiang / Lugu Lake / Lijiang / Shangri-La
Have a question? Get answers from our travel experts or guests
Your Question:

Your Name:

Your Email: