Johnson's 4 Days Introduction Tour to Sanya
Departure Date

2018-06

Travel Length

4 Days

Travel Theme

Nature, Food, Solo

Group Size

1

Travel Route

Chengdu - Sanya - Chengdu

Highlights

Sanya, Sanya Bay, Yalong Bay, the Square of Dadonghai, Haitang Bay, Wuzhizhou Island, Fenjiezhou Island etc.

Story Tags

#Sanya Tour#Visit Sanya#Wuzhizhou Island Tour#Fenjiezhou Island Tour#Sightseeing#Photography#Nature Tour#Food Tour
My family and I are living inland for generations, so we are keen on traveling to the beach and sea. Sanya is regarded as the "Hawaii" of China, so I have come there several times in the shoulder season and also in holidays. Taking this opportunity, I want to make some introductions of Sanya to you and hope that can help you a little to schedule your tour to Sanya~!
Before, the beautiful words coming, I have to list some shortcomings of Sanya. First, as Sanya is very famous in China, so in holidays, especially in the National Holidays (usually Oct.1st to 7th) and Chinese New Year vocation, there are extremely crowded and the price of hotels will go crazy. Second, compare to the famous sea and beaches in Southeast Asia countries, especially like Thailand, Malaysia, I have to say, others are better than Sanya. Last, the consumption level in Sanya are also higher than other cities of China and much more higher than in Thailand…
So much for the shorts, let's concentrate more about the nice points. First, Sanya is located in Hainan Island. Hainan Island is located very south of China and Sanya is located in the very south of Hainan. In a word, Sanya is one of the few tropical cities in China, so it's very warm in the winter.
Second, Sanya is in China, it's much easier to come (you don't have to travel through countries) and also as a very famous travel destination, there are many direct flights from many cities of China.
Last but not least, there are very beautiful long beaches, blue sea, delicious sea food, various fruit, beautiful quiet islands…etc.
As a frequent traveler to Sanya, my friend, I have some suggestions for you to choose the hotels. Sanya has 4 famous bays for you to choose to stay.
First is Sanya Bay which is the closest place to Sanya downtown (where real local people live). The hotels here are very economy and there are close to downtown, so it's very easy to find food, shopping and also the food's price is in a very reasonable way. And you can see 2 famous islands from there, the West Island and the East Island. (If you want, you can take shuttle ship to West Island for a tour or some water exercises like diving). Besides, the beach is long and you can enjoy the most beautiful sunset in Sanya. Image, at sunset, the red clouds are spraying all over the sky, there is sonorous and powerful rhythm of fishermen from far away…It's a good place to choose hotel for budget travelers.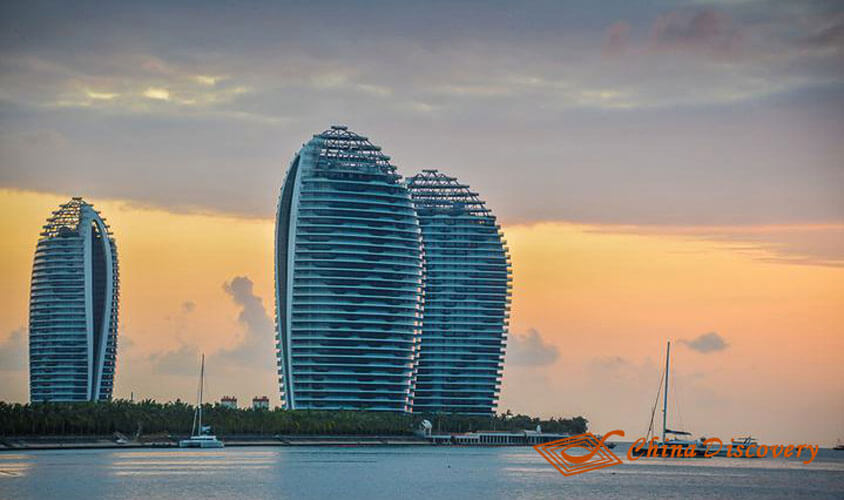 -Sanya Bay-
Second is Yalong Bay which has the most beautiful beach in Sanya and also you can do many water activities like water-motor, diving, sailing..etc. If you are looking for high quality hotels, I really suggest you to stay there. There are many 5-star hotels along the coast and those hotels all have private beaches. Image, take a glass of champagne on the balcony of your hotel face the sea breeze…(Oh, my… I can stay for my whole holiday at there.) But the shorting coming is also obvious. The Yalong Bay is very far away from downtown (about 20-30 km), so the cost for food and shopping is a little hard to find, for some area, you may have to choose to eat at your hotel. And also the cost for the food, shopping, hotels are very expensive comparing with Dadonghai and Sanya Bay. So, I also suggest you to buy some supplies before you come to the hotels of Yalong Bay. In a world, I think it's a nice place for the travelers who pursuit for high quality tours.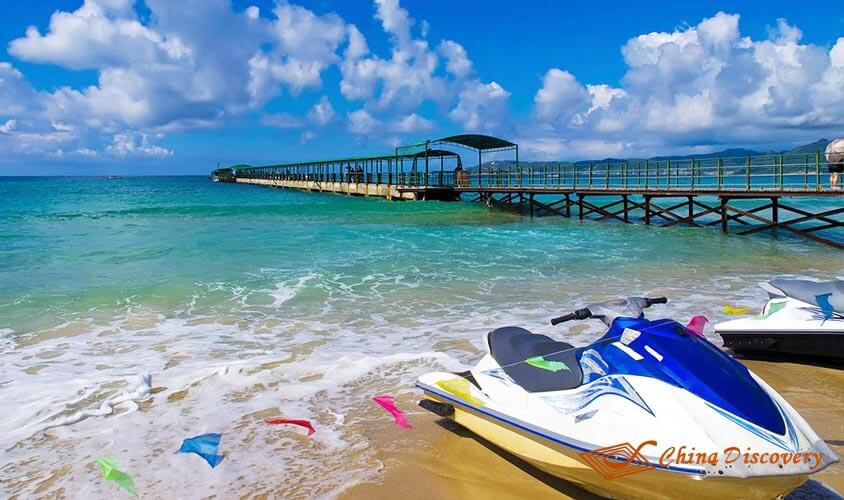 -Yalong Bay-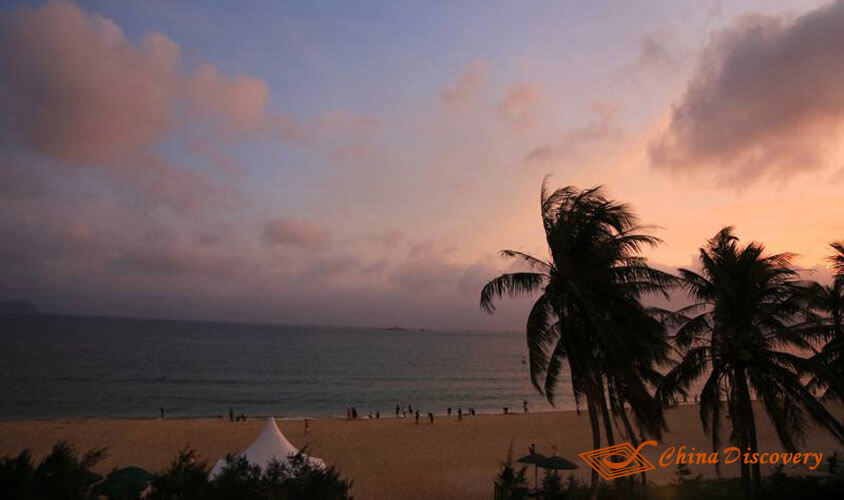 -Yalong Bay-
Next is Dadonghai which is a about few miles away from downtown but there are still some shops and restaurants. The price there is a little higher than in Sanya Bay but not too far away like in Yalong Bay. The beaches are also very similar like Sanya Bay (long beach with coconut tree) but Dadonghai is very close to the Luhuitou Peninsula which is a very good place to see the sunrise. And by the way, the Dadonghai is very convenient to other places like Yalong Bay, Tian Ya Hai Jiao, or the Li Miao Village (not very close but connect with shuttle bus).
If you want to make a compromise to choose hotel between Sanya Bay and Yalong Bay, I will suggest you to choose to stay in Dadonghai.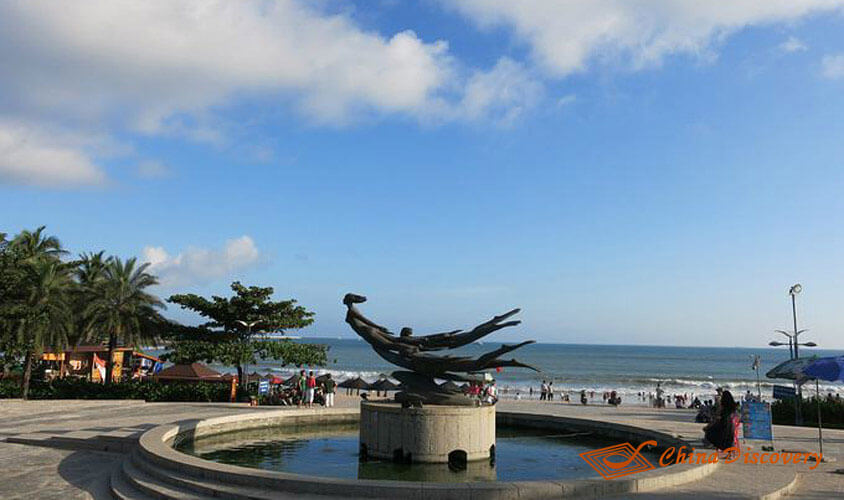 -The Square of Dadonghai-
The last is Haitang Bay which a new district of Sanya. As a new are and far away from downtown (50-60 km), so there is very quiet and also it has very log coast. And there are also many new 5-star hotels there but the price is better than in Yalong Bay (Except the most luxurious hotel: Atlantis Sanya which is also in Haitang Bay).
And the so-called the most beautiful island: Wuzhizhou Island is very close to Haitang Bay, if you want, you can take ferry for a tour there. Also, the duty-free stores of Sanya are very close to Haitang Bay (about a few miles and I believe there are shuttle bus from hotels there.)
And the so-called the most beautiful island: Wuzhizhou Island is very close to Haitang Bay, if you want, you can take ferry for a tour there. Also, the duty-free stores of Sanya are very close to Haitang Bay (about a few miles and I believe there are shuttle bus from hotels there.)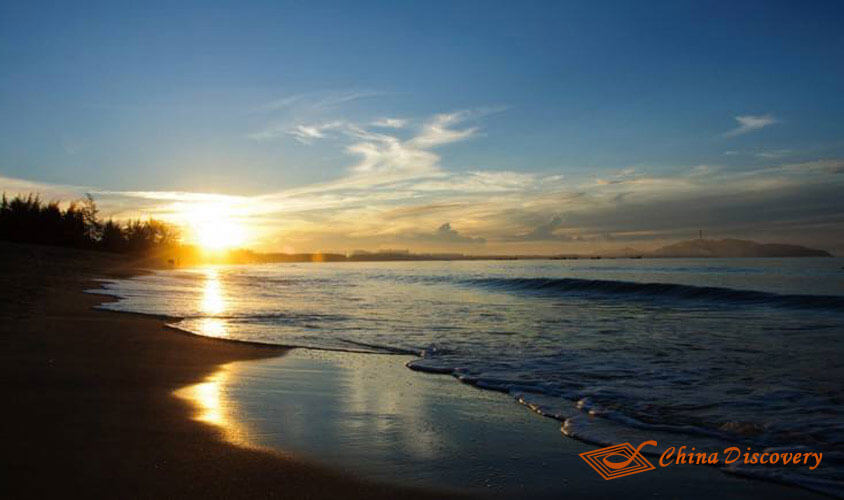 -Haitang Bay-
And also, if you'd like to stay on islands and enjoy the rest of the time, the Wuzhihou Island and Fenjiezhou Island are also good choices. But the price on the hotels on the 2 islands is a little high.
Ok, it's too much for the introduction! Now, my friend, I will show you my real tour experience of Sanya.
Day 1 Sanya Arrival from Chengdu
On Jun .14th, 2018, in the afternoon, I finished my work and go directly to the airport to take the flight to Sanya. The flight takes me about 2.5 hours and it will take another hour for me to take the shuttle bus to Sanya downtown. So actually, I arrive very late in the evening. I have chosen an apartment hotel in Dadonghai, as you know it's very convenient to take shuttle bus to each tourist sites. Although it's an apartment hotel, but I have a big balcony face the sea, so I'm OK with it.
Day 2 Sanya downtown to Xiao Dong Hai Anantara hotel
Wake up in the morning with sea breeze! It's a little cloudy but take a look from the balcony that vast expanse of the sea makes me feel extremely relaxed and piece. That's what I want!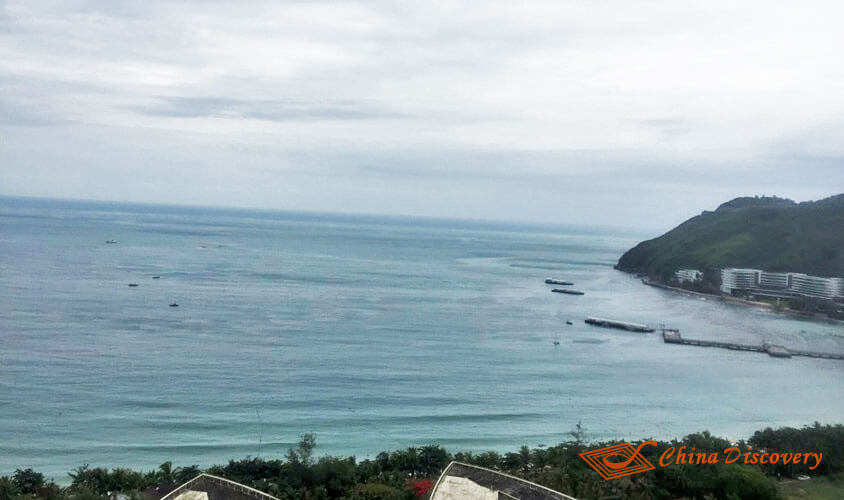 -Sea view from the apartment hotel balcony-
I quickly dress up and check out. I need to change to another hotel where I'll stay for the rest days.
As the hotel I come to is in a quiet place without many shops, so I go around the downtown area and buy some supplies. For the shopping of food, I especially recommend the tropical fruit in Sanya. Because of the climate, Sanya has extremely rich fruit supplies in the whole year. You could find various delicious, fresh and cheap fruits in the local market, like pitaya, Mangosteen, litchi…etc.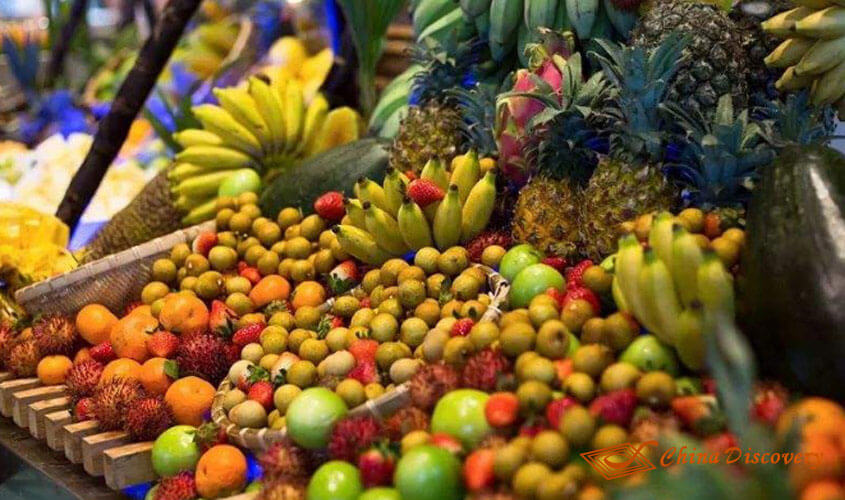 -Tropical fruit in Sanya-
After the shopping, I take a taxi to go to my hotel. Like I mentioned, most of the hotels located around the 4 bays. But as a frequently traveler, I almost come to all the 4 bays and I want to have some really quiet time from the busy life, so I choose a place (Xiaodonghai) that very few tourists know Anantara Sanya Resort & Spa: which is about 4-5 km from Dadonghai, on the half of the mountain Luhuitou. As it's location is not so good to all the sites, so the hotel's price is very reasonable comparing with other high quality 5-star hotels in Sanya.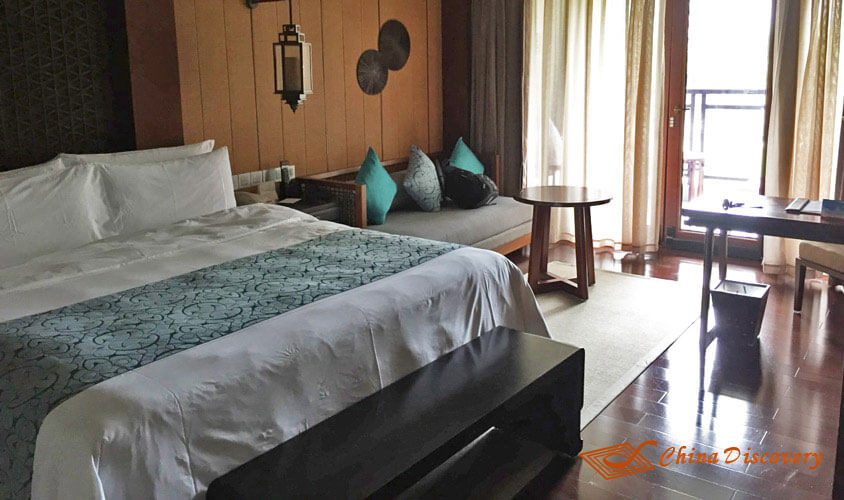 -Hotel room of Anantara Sanya Resort & Spa-
I arrive a little early but because of the plentiful of the rooms are available, so the waitress still let me check in. I get my room card quickly and check in.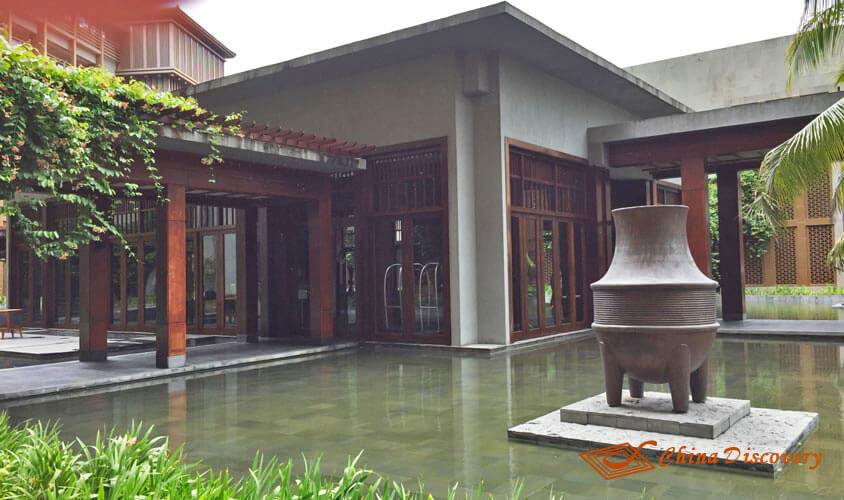 -Anantara Sanya Resort & Spa-
After a little break, I go to the hotel restaurant to have a wonderful lunch.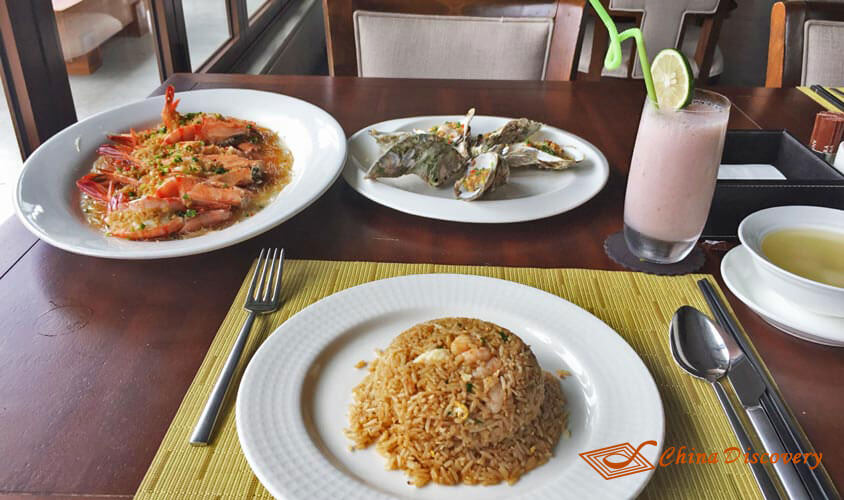 -Lunch in Anantara Sanya Resort & Spa-
After lunch, I go from the back door of the hotel to stroll on the hotel's private beach. Honestly speaking, it's cloudy, so not so bright but so piece and far away from crowd. So, I enjoy a nice and peace full afternoon.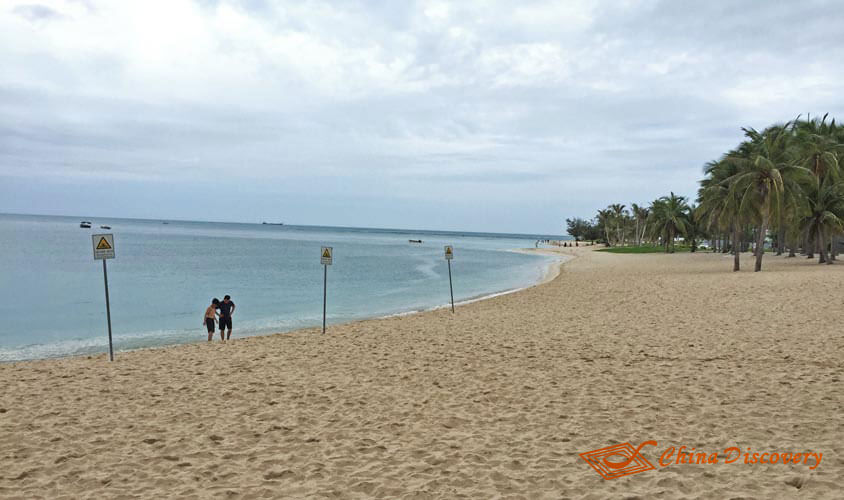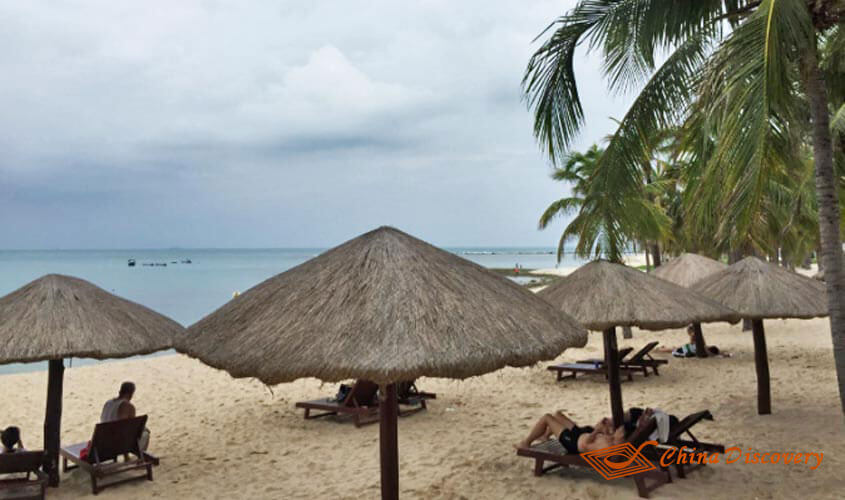 -The backdoor beach of the hotel-
After the relaxing time on the beach, I come for a swim. The hotel's pool is just along the way to the beach.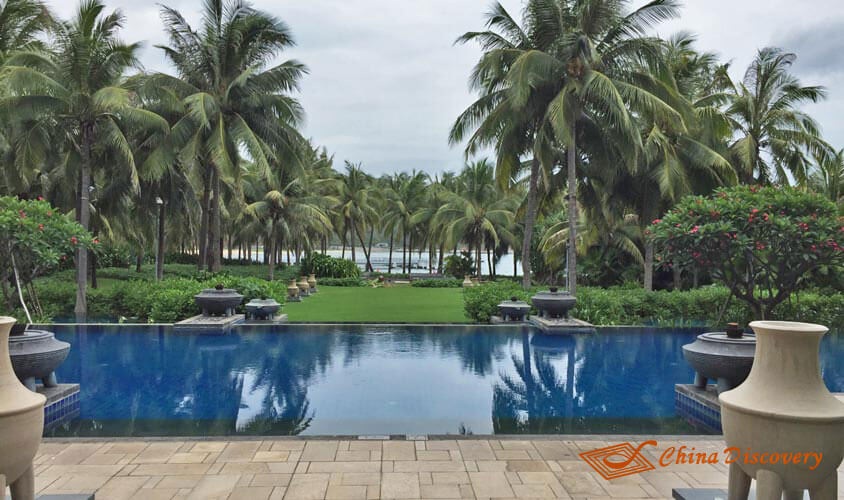 -The swimming pool is along to the beach-
After swimming, I come back to hotel room, get dressed and then come to enjoy a nice buffet dinner at the hotel.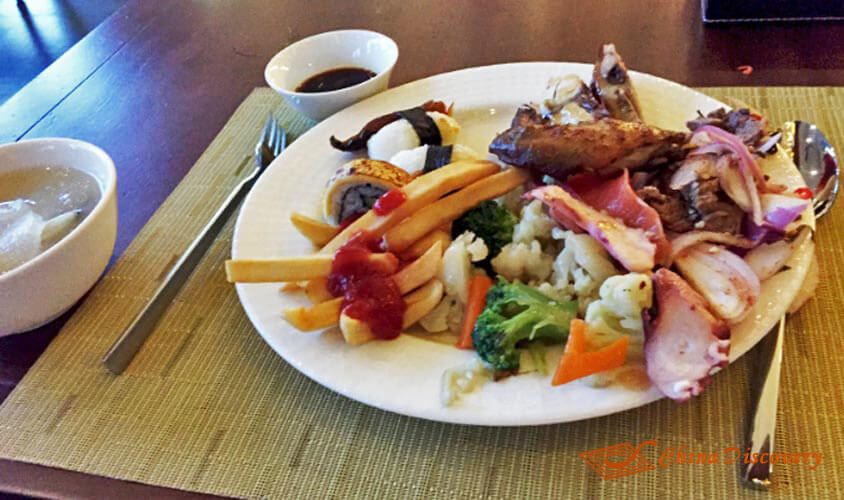 -Buffet dinner at Anantara Sanya Resort & Spa-
As the Anantara hotel is famous for the SPA and I wonder how wonderful it is, so after dinner, I come to the SPA to try one. Honestly speaking, the SPA is very good and as it's not in the high season, so for the standard SPA, the price is reasonable. (Suggest you to book on the internet and call them to order an appointment in advance, if for the high season.)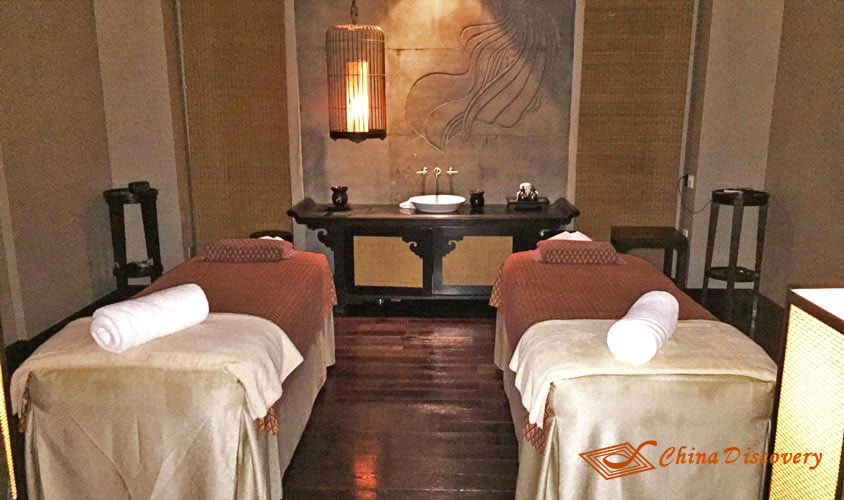 -SPA room of the hotel-
After the SPA, I went out for a stroll on the beach. There is a coral reef not far away from the beach. After the evening ebb, the rocks come out, and there are many sea crabs, shells and small fishes exposed in the rock. I can't help feeling like a child to catch many crabs.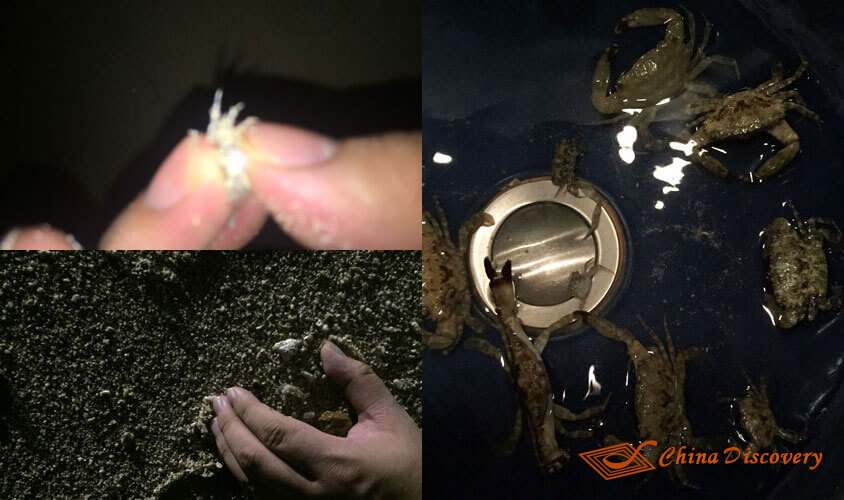 -Catching crabs-
What a day!
Day 3 Wuzhizhou Island Tour
Today, I decide to come to visit the so called most beautiful island: Wuzhizhou. I get up early, have a breakfast and then take the hotel shuttle bus to downtown and then take another shuttle to Wuzhizhou Island.
-Breakfast at hotel-
After a long queue (about 2 hours), I finally get on the ferry to the Island. After about 15 minutes, I finally get on the island. I must say, it's really worthy waiting in a long queue. There are shuttle buses to each sites on the island, so it's very convenient to visit all the sites.
There is a very famous love story about Wuge and Zhimei of the Island, so there many couples come there each year to enrich their own ones. If you are looking for a good place with your partner, this island is a good choice for you.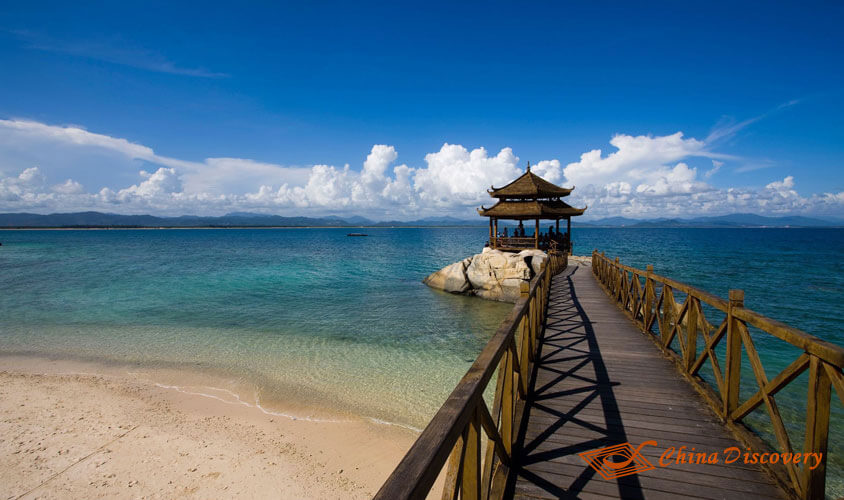 -Wuzhizhou Island -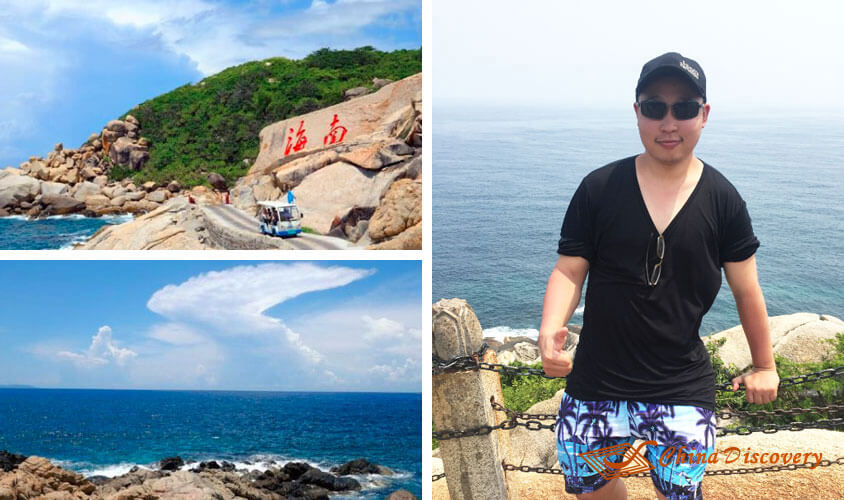 -Johnson is on the mountain of the Wuzhizhou Island-
Day 4 Fenjiezhou Island Tour
The other day, I come to another famous island: Fenjiezhou which is a little far away from Sanya. But there is one shuttle bus to the Island from downtown each day, so I get lucky to get the bus directly to the port (about 1.5 hours) and then take a ferry to the island for about 10 minutes.
Because each side of the island has obvious different color depth of the sea water, so the island gets its name: Fenjiezhou (Dividing Island in English).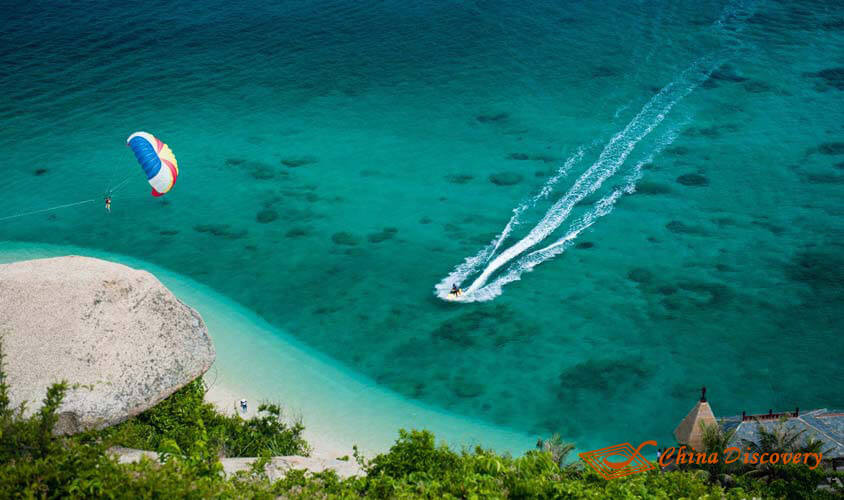 -Fenjiezhou Island-
There are 2 famous sites of the island. One is a very big ocean park on the island, you can see various sea fishes, sharks…etc. And also there are shows of seals, dolphins about each 2 hours.The other one is the fishing club where you could hire a ferry sailing out for fishing.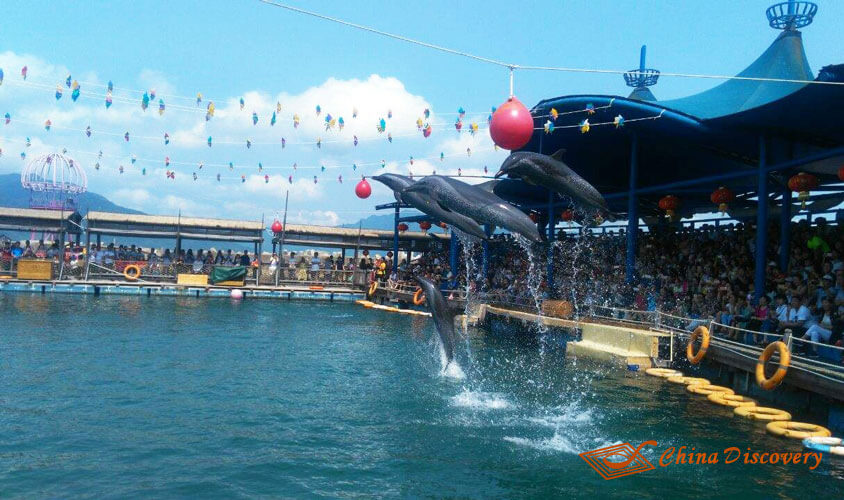 -Dolphin Show in the Ocean Park-
Besides, full of water activities, like diving, fishing, surfing, boating, riding…etc. So, if you travel with kids, I strongly suggest this island.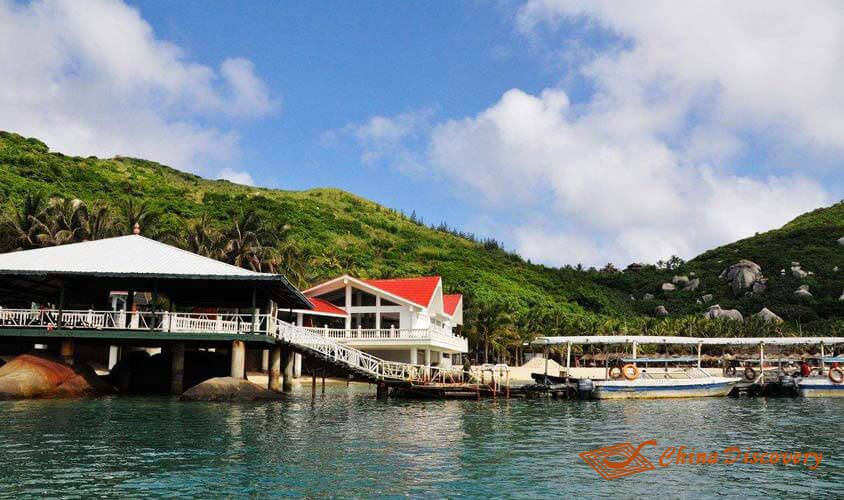 -Fishing Club on Fenjiezhou Island-
Travel with Me
Hi, I'm Johnson. Are you interested in my 4 Days Sanya Leisure Tour? Feel free to contact me, and I will be glad to tell you more stunning stories about the places I have visited. Or, if you want to customize a tour on your own, I'm always ready to help at any time. With my passion, knowledge and understanding of the essence of travel, I promise I will try my best to make the tour memorable and meaningful for you.
Johnson

Travel Consultant
Recommended Tours
Top 3 tours chosen by most customers to explore in the best way. Check the detailed itinerary, or tailor your own trip now with us.
Have a question? Get answers from our travel experts or guests
Your Question:

Your Name:

Your Email: