Johnson's 2 Days Weekends Tour to Langzhong
Departure Date

2017-05-29

Travel Length

2 Days

Travel Theme

Culture, Food, Family

Group Size

3

Travel Route

Chengdu - Langzhong - Chengdu

Highlights

Langzhong Ancient City, Huaguang Tower, Fengshui Hall, Zhongtian Tower, Gongyuan, Zhangfei Temple etc.

Story Tags

#Langzhong Tour#Visit Langzhong#Langzhong Weekends Tour#Sightseeing#Photography#Culture Tour#Food Tour
As one of the four ancient cities in China, Langzhong Ancient City is located in the northeast of Sichuan Province which is surrounded by water on three sides and backed by mountains on the other side. The ancient city of Langzhong has been known as "the fairyland of langyuan" since ancient times. It has a history of more than 2300 years and also was the capital of Ba in the Warring States period.
So we decide to take a weekend tour to this historic ancient city from Chengdu.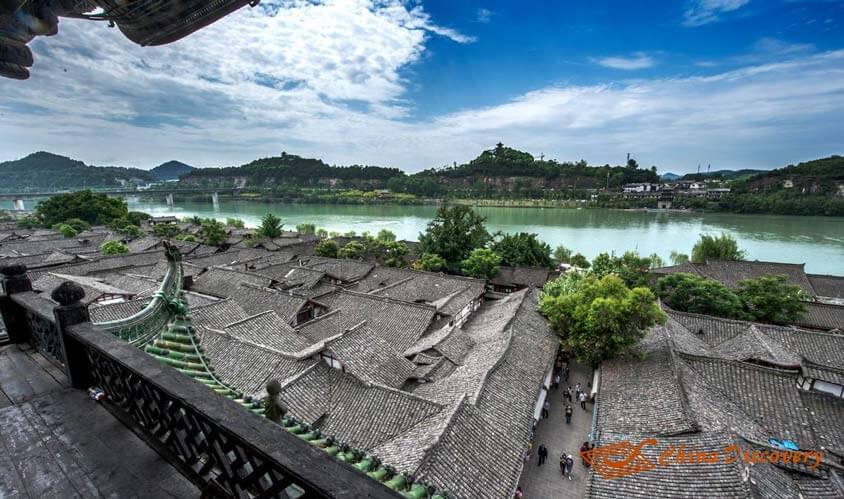 -Langzhong Ancient City-
Day 1
In the morning, we drive about 2.5 hours and finally arrived in Langzhong. By the way, now the transportation is very developed, there are many bullet trains to Langzhong city, so my friends, if you want to take tour there, you can take bullet trains from Chengdu(2.5h), Chongqing(2h), Xian (3.5h) and Lanzhou (4h)…etc.
We come directly to our hotel and check in. Our hotel is just in the ancient city, actually there are many ancient style hotels, guest houses. You can choose one you like and stay for a few days for a peaceful time!
From the perspective of tourism, the landscape of Langzhong ancient city can be divided into four parts: the ancient city of Langzhong, the ancient city of Nanjinguan, Mount Jinping and the White Tower.
Our tour start from the Langzhong Ancient city which is just our hotel located. The main scenic spots in the ancient city include: Huaguang Tower(华光楼), Fengshui Hall(风水馆), Zhongtian Tower(中天楼), Gongyuan(贡院), Zhangfei Temple(张飞庙),Confucian Temple...etc.
As it's a just weekend side trip, we haven't visited all of them but just pick some that we are interested to visit.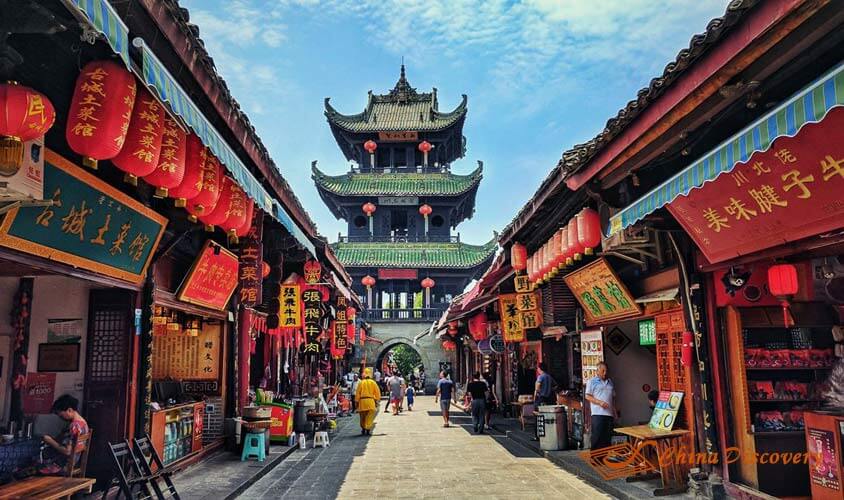 -Huaguang Tower-
Huaguang Tower praised as the "No.1 tower of Langzhong" to see the old gate tower kept from Qing Dynasty with beautiful green tires and flying eaves.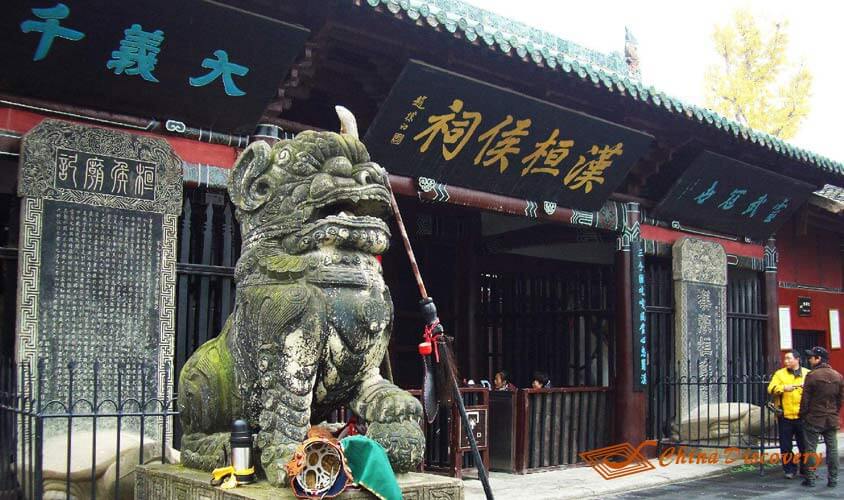 -Zhangfei Temple-
Zhangfei Temple is built in memory of the famous General Zhangfei in Three Kingdoms. As general Zhangfei has garrisoned Langzhong for 7 years, so there are many stories and legends about him and that becomes a port of the culture and custom of Langzhong.
-Gongyuan-
Gongyuan or so called Examination Compound which is the largest examination hall from Qing Dynasty in whole China to learn the imperial examination system in the past old era and the real outstanding record of Langzhong as hometown of many first and successful scholars.
Langzhong Ancient City is also well-known for its food culture. There are some snacks full of the folk customs of the ancient city, such as cattle and sheep noodles, hanging soup noodles, northern Sichuan Jelly, Zhangfei Beef and so on. After the visit, we feel a little hungry, so we look around and find many tasty snacks.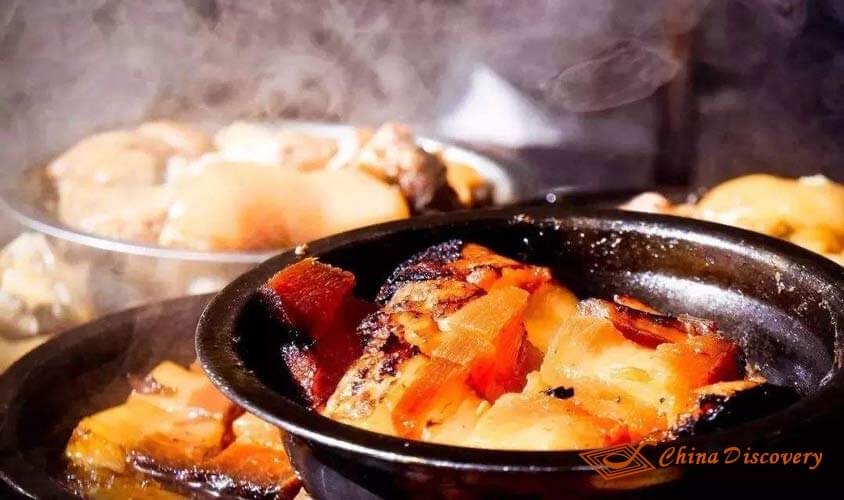 -Snacks in Langzhong-
We stroll around the ancient city until late afternoon and take a ferry to Nanjinguan ancient town which used to be a prosperous port but now it becomes an entertain place with many bars and restaurants. We have a dinner there.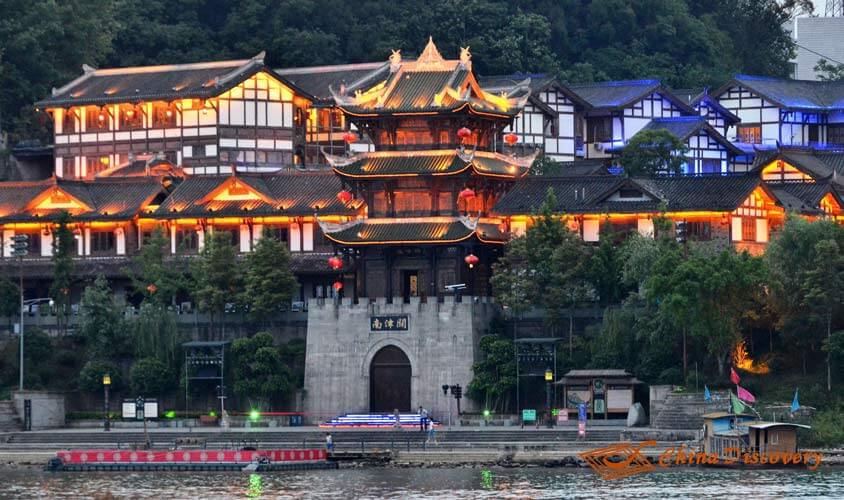 -Nanjinguan-
In the evening, we go to see the show: Langyuan Wonderland (《阆苑仙境》) in Nanjinguan. "Langyuan Wonderland" is based on folk customs, relying on the moving stage, moving audience and dreamy scene, so that the audience can fully appreciate the infinite charm of folk culture in northern Sichuan and enjoy the wonderful magic of fairyland on earth.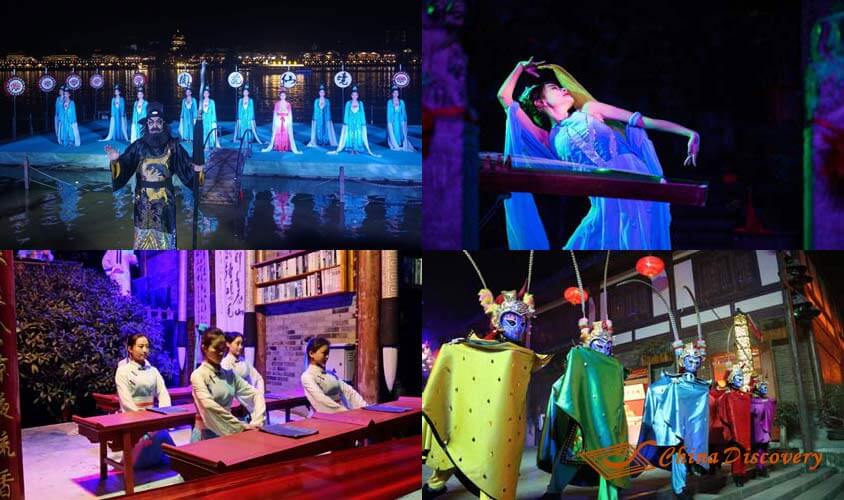 -"Langyuan Wonderland" Show-
The show is very interesting. You can not only enjoy the dreamy performances and music but also know some history, culture, and custom of the north of Sichuan.
Day 2
As you know, one side of the Langzhong Ancient City is a mountain called Jinping, so we decide to climb the mountain to have a panoramic view today. The mountain is across the river of Langzhong ancient town. We take a ferry there and walk about 1 hour to get to the top. By the way, the road and stairs to the mountain top is not sharp, and you will pass through the lotus pond, Guanxing Tower…etc, so it's a nice walk and climbing in the morning But if you don't want to walk, there are shuttle buses for you in the entrance.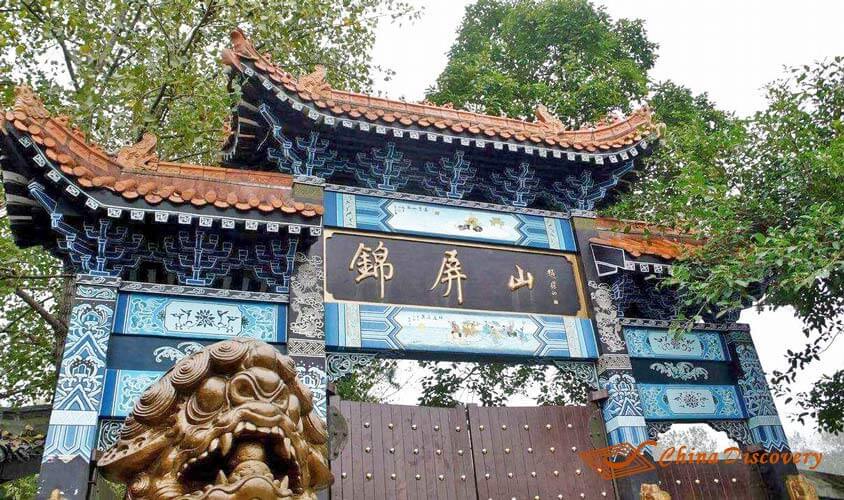 -Mount Jinping-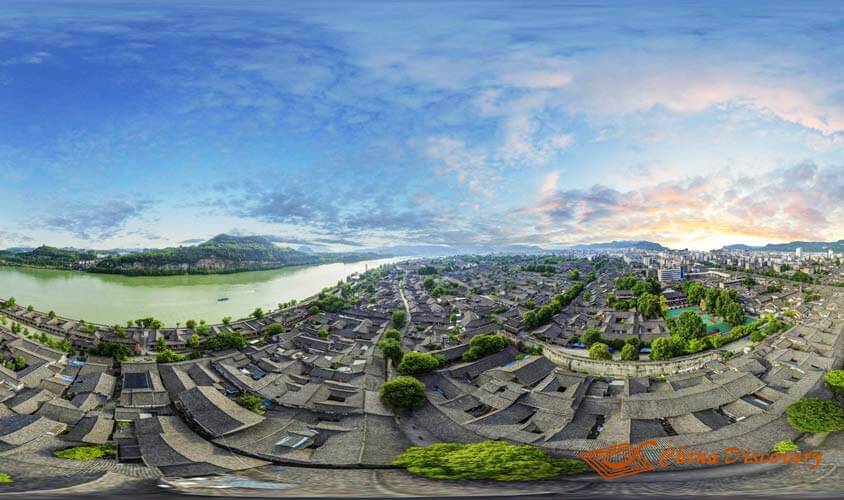 -Panoramic View of Langzhong-
After that, we go downhill and move back the Nanjinguan (yes, the Nanjinguan ancient town is just at the food of Mt. Jinping) to have lunch and then drive back to Chengdu.
Travel with Me
Hi, I'm Johnson. Are you interested in my 2 Days Langzhong Weekends Tour? Feel free to contact me, and I will be glad to tell you more stunning stories about the places I have visited. Or, if you want to customize a tour on your own, I'm always ready to help at any time. With my passion, knowledge and understanding of the essence of travel, I promise I will try my best to make the tour memorable and meaningful for you.
Johnson

Travel Consultant
More Travel Stories of Our Experts
More Travel Stories of Our Customers
Recommended Tours
Top 3 tours chosen by most customers to explore in the best way. Check the detailed itinerary, or tailor your own trip now with us.
2 Days Classic Zigong Tour

Chengdu / Zigong / Chengdu
2 Days Classic Tea Culture Tour with Giant Panda Visit

Chengdu / Mengdingshan / Chengdu
3 Days Chengdu & Langzhong Ancient City Tour

Chengdu / Langzhong / Chengdu
Have a question? Get answers from our travel experts or guests
Your Question:

Your Name:

Your Email: