Travel with Jack: 3 Days Zoige Grassland Summer Trip
Departure Date

2014-06

Travel Length

3 Days

Travel Theme

Nature, Culture

Group Size

4

Travel Route

Chengdu - Wenchuan - Songpan - Zoige - Chengdu

Highlights

Zoige Grassland, Huahu Lake, Chuanzhusi, Songpan Ancient Town

Story Tags

#Zoige Grassland#Ruoergai Grassland #Huahu Lake #Chuanzhusi #Sichuan
Day 1 Chengdu – Wenchuan - Songpan - Chuanzhusi (around 6 hours)
My first trip to the west of Sichuan came in 2014 and it takes about 2 hours to Wenchuan and on the way, you can see one big statue for the man dealing with the flood in the ancient times.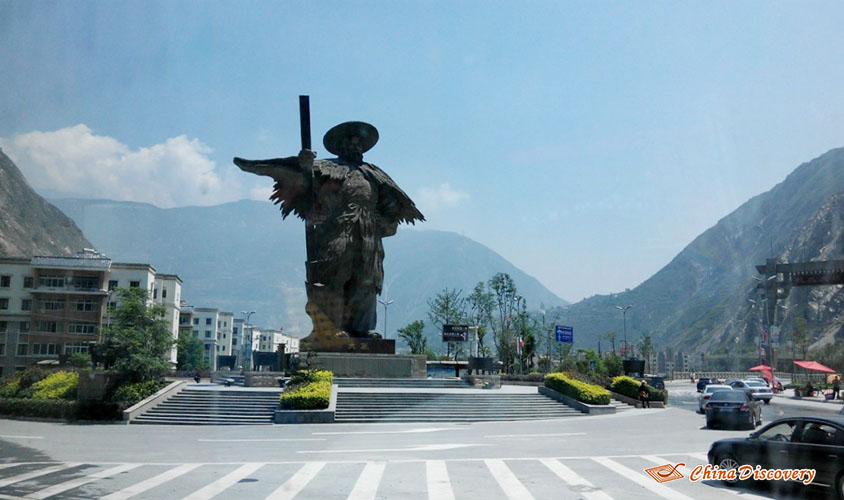 Big Statue Seen on the Way to Wenchuan
You will visit Diexi Lake and Songpan Ancient Town along the way before you arrive in Chuanzhusi.
Diexi Lake is suited in Maoxian County, Aba Tibetan and Qiang Autonomous Prefecture, Sichuan Province. It lies at the foot of Minshan Mountain and upper reaches of Minjiang River. Diexi Lake is attractive and famous for its beautiful lake surrounded by green forests, hills and grass, the unique local folk customs of Qiang people and the tragic story behind this beautiful lake.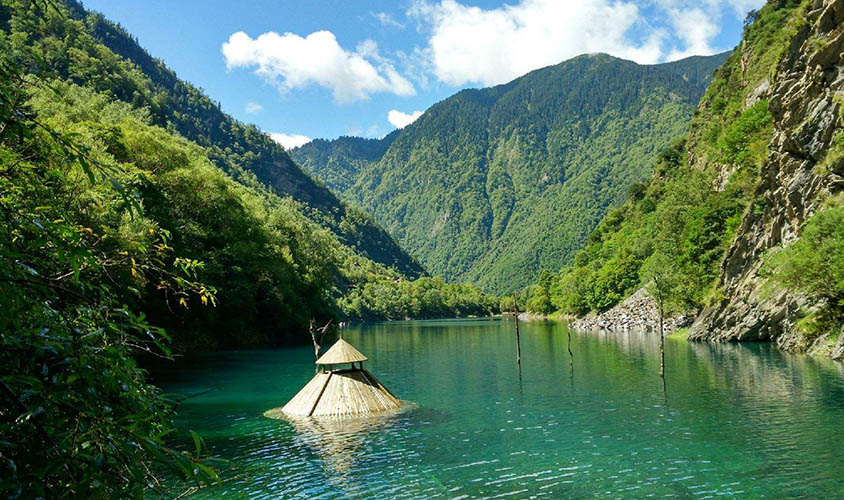 Diexi Lake
Songpan Ancient Town, known as Songzhou Town in ancient times, is located in northeast of Aba Tibetan and Qiang Autonomous Prefecture, Sichuan Province. It was built in Tang Dynasty and has a long history of being regarded as the "West Portal of Sichuan" as an important military base and trading center for horse and tea exchange because of its unique geographical location. Nowadays, Songpan has gained its reputation and attracted a lot of tourists every year as one of the most interesting historical towns in Sichuan Province.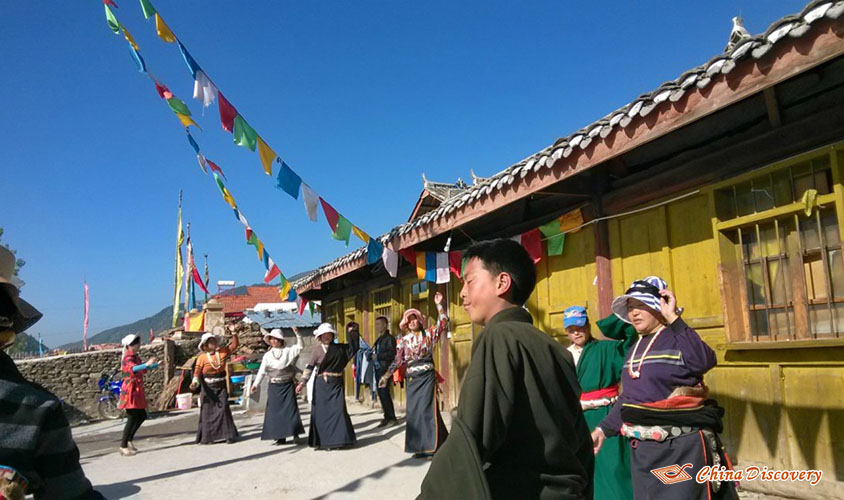 Songpan Ancient Town
The final destination today is Chuanzhusi. At an altitude of 2980 meters it is a peaceful, exotic town with a mix of Tibetan culture, beautiful natural scenery, ancient city, and convenient modern facilities.
√ 7 Days Jiuzhaigou Ruoergai Prairie Langmusi Tour with Chuanzhusi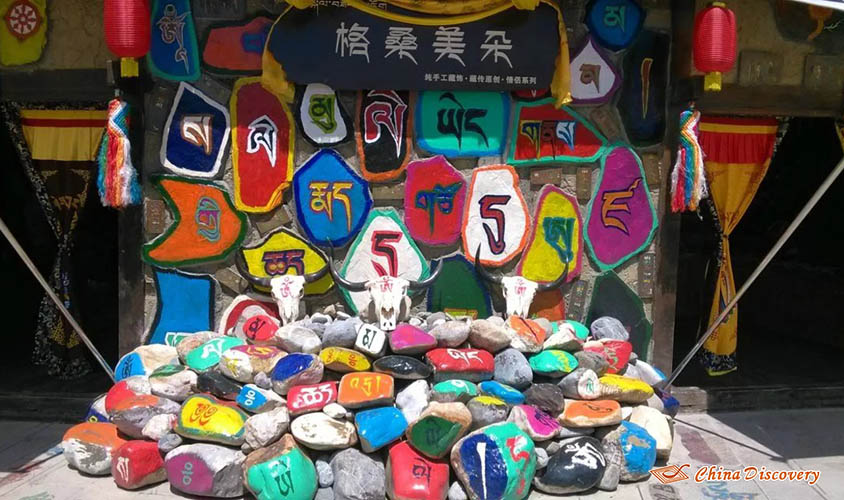 Religious Handicrafts in Chuanzhusi
The town is a colony for several minority groups, including Tibetans, Qiang people, Hui people and Han people. The Tibetans, Chuanzhusi's largest ethnic group, have been living here for centuries and still keep the Tibetan traditions. Therefore, making a trip to Chuanzhusi, you can experience authentic Tibetan foods, architectures, temples. music, dance.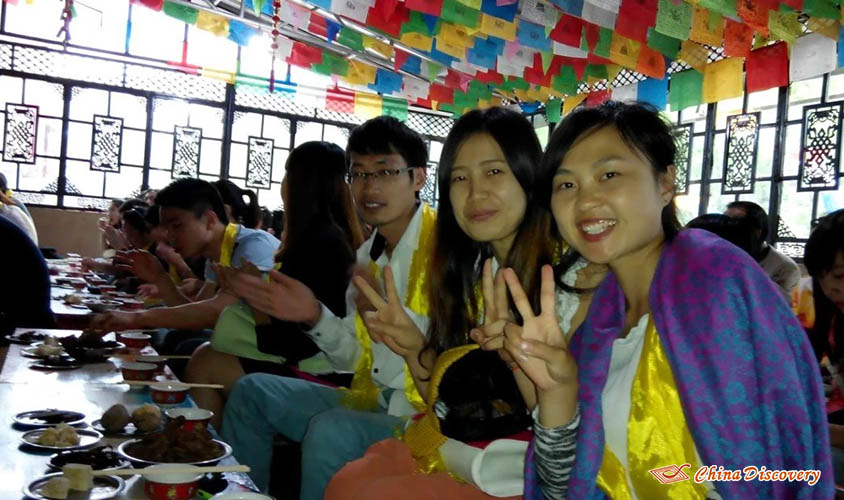 Enjoying Local Meal with Friends
The accommodation is very basic due to the backward condition but it is clean and it is worthwhile to see the local performance.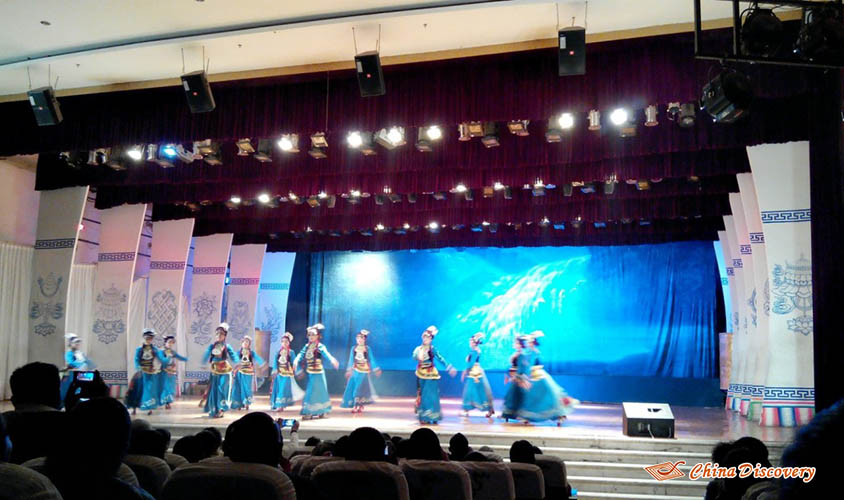 Watching Local Performance after Dinner
Day 2 Chunazhusi - Huahu Lake - Ruoergai Prairie
Joining in a group means there is no flexibility for timetable, we got up at 7:00am for breakfast and set off 30 minutes later, finally we reached the Huahu Lake at 10:00am or so.
Huahu Lake is also called Flower Lake which actually is a magnificent wetland embedded in Ruoergai Grassland in northwest Sichuan Province. Featured for flowers, grasslands, swamps and lakes, it was once rated as the most beautiful wetland in China by "National Geographic". During the summer, the lake is full of flowers while red leaves add to its beauty in autumn. Cattle and sheep can often be found here in groups making it a great place for photography too. It is said that the reason why it is called Flower Lake is because the lake looks like a petal from a bird's eye view.
√ 6 Days Hongyuan & Ruoergai Photography Tour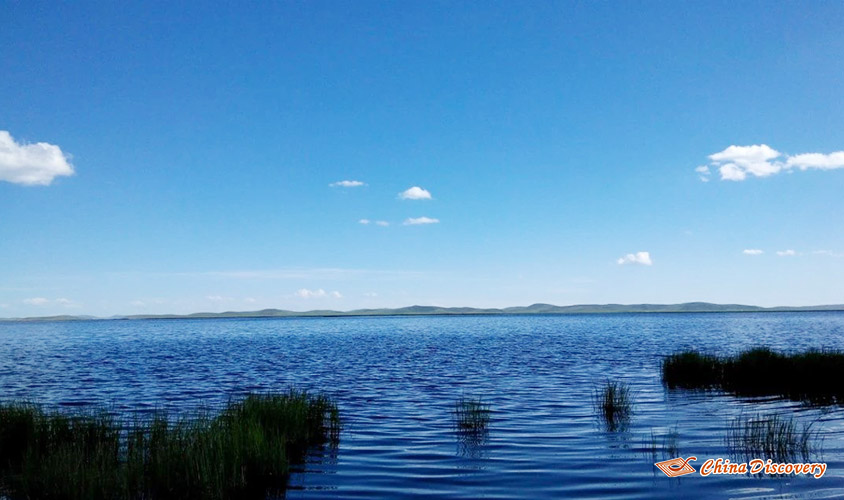 Huahu Lake
Flower Lake about 25 miles northwest of Ruoergai County. It is a vast lake dotted in the wetland areas. Every August, the grass in it comes into beautiful blooms, which gives the lake its name. The calm water sparkles in the sunlight. Although it looks shallow, the lake has a deep marsh below the surface. Across the lake, there is a wooden bridge designed for visitors to take pictures. The blacked-necked cranes, one of the rare birds in China, fall in love with this fairyland and make it their home for a long time.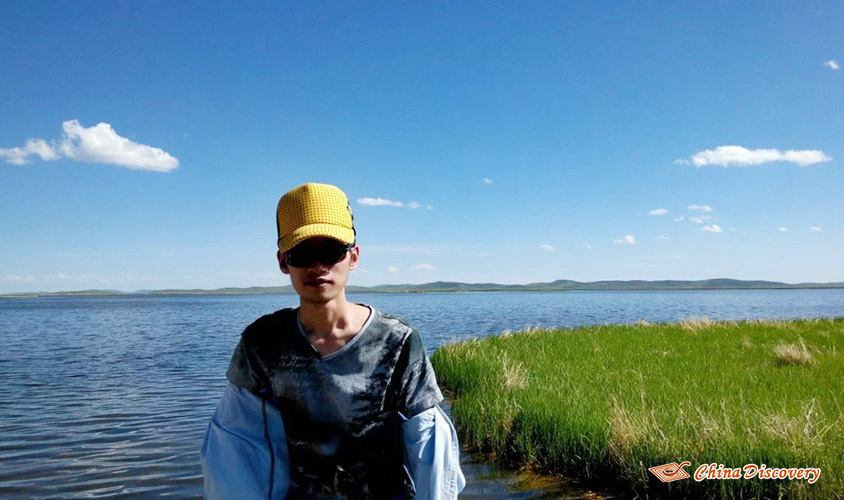 Me Taking a Picture at Huahu Lake
Located in the northwest of Sichuan Province, Ruoergai Grassland covers four counties- Ruoergai, Aba, Hongyuan and Rangtang. Covering over 13,745 square miles, it is the vast home of Zang (Tibetan) People who mainly live on stock farming.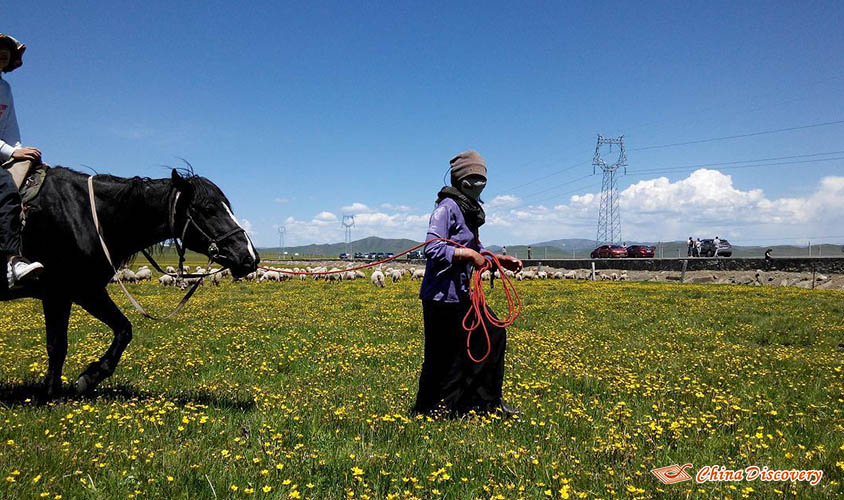 Riding a Horse on Zoige Grassland
This charming grassland is endowed with a unique peace and harmony. Even the Yellow River turns its first bend here to glance at its beauty. Countless small lakes are scattered all over like stars. Galloping a horse across the vast land, you will feel that you are the master of this amazing land. The wind brings you a good smell of grass. At sunset, the shepherds call back their sheep and cows. The poetic idyll resounds everywhere creating the most wonderful melody in the grassland.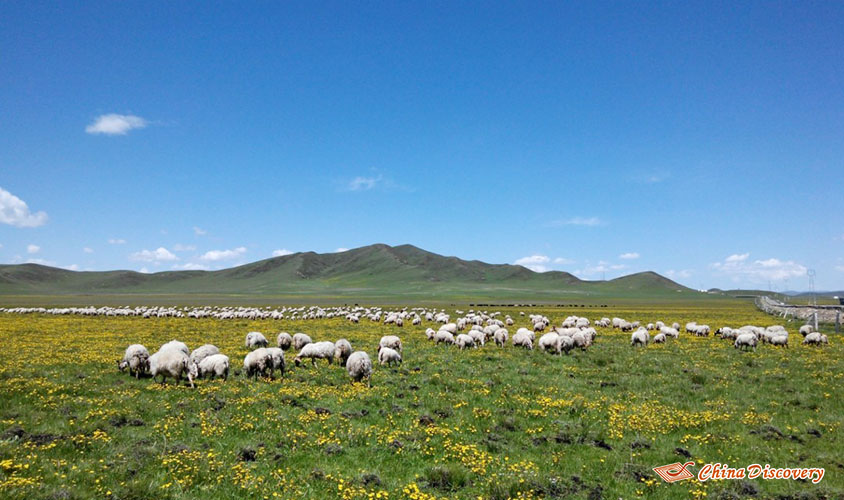 Flock of Sheep on Zoige Grassland
The best time to visit the grassland is the summer time in May to June. During that time, everywhere is green and it is the flower phase. Besides, in the middle September, the leaves begin to turn red and red color spread from the top of the mountain to the bottom of the valley. One will surely be absorbed by the wonderland.
Day 3 Zogie Grassland - Moon Bay - Chengdu (6 hours)
It takes 2 hours to moon bay and the broad grassland spreading on the dreamlike ground looks like a supple green carpet, and crystal water paints a beautiful crescent-shaped on it. I will come back someday.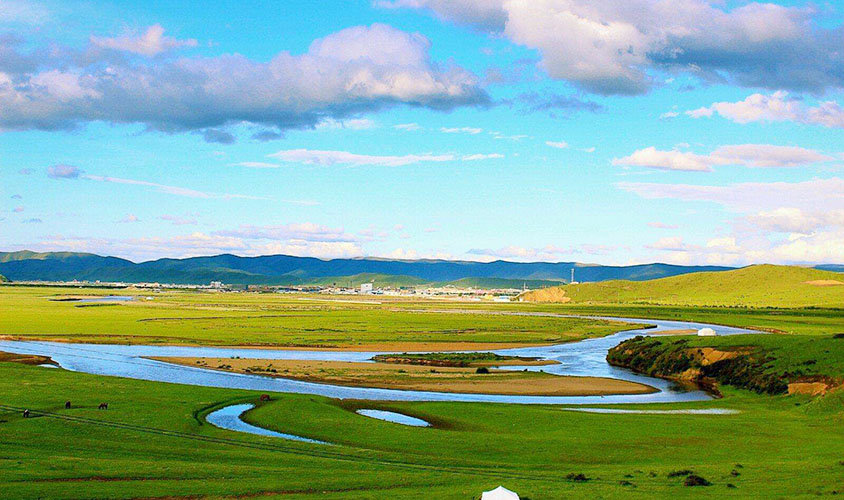 Moon Bay
Travel with Me
Hi, I'm Jack. Are you interested in my 3 Days Zoige Grassland Tour? Feel free to contact me, and I will be glad to tell you more stunning stories about the places I have visited. Or, if you want to customize a tour on your own, I'm always ready to help at any time. With my passion, knowledge and understanding of the essence of travel, I promise I will try my best to make the tour memorable and meaningful for you.
Jack

Travel Consultant
Recommended Tours
Top 3 tours chosen by most customers to explore in the best way. Check the detailed itinerary, or tailor your own trip now with us.
7 Days Sichuan Discovery Tour

Chengdu / Leshan / Emei / Chengdu / Jiuzhaigou
6 Days Hongyuan & Ruoergai Photography Tour

Chengdu / Huanglong / Jiuzhaigou / Ruoergai / Langmusi / Tangke / Hongyuan
7 Days Jiuzhaigou Ruoergai Prairie Langmu Temple Tour

Chengdu / Chuanzhusi / Huanglong / Jiuzhaigou / Ruoergai / Langmusi / Hongyuan / Chengdu
Have a question? Get answers from our travel experts or guests
Your Question:

Your Name:

Your Email: