Jack's 2 Days Trip in Xi'an - Starting Point of Silk Road in China
Departure Date

2017-12

Travel Length

2 Days

Travel Theme

Culture, Nature

Group Size

2

Travel Route

Chengdu - Xi'an - Chengdu

Highlights

Terracotta Warriors, Muslim Quarter, Ancient City Wall, Giant Wild Goose Pagoda

Story Tags

#Terracotta Warriors#Muslim Quarter #Ancient City Wall #Giant Wild Goose Pagoda #Xi'an Trip
The Xian Chengdu high speed train started to work from Dec of 2017, which makes it much easier for the people in the two cities to travel and taste the local food because it only takes less than 4 hours single way.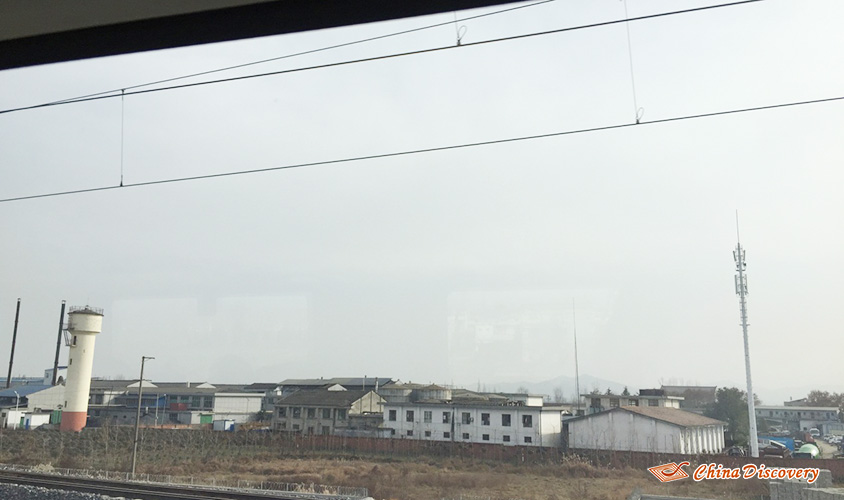 On High Speed Train from Chengdu to Xian
Personally, I am not so interested in something like the museums or temples but Xian has been the ancient capital of many dynasties, so it is a good way to kill time on weekend and the first touch is Muslim street that is well known for different snacks.
Xi'an was the starting point of the ancient Silk Road 1,000 years ago in the Western Han Dynasty (206 BC-9 AD).
A number of merchants and overseas students from the Arabic countries and Persia went to Xi'an for business and studying since the Western Han Dynasty (206 BC-9 AD); they settled down on the present Muslim Street, and they were called the Hui people by the locals.
√ 3 Days Classic Xian Tour (Flight/Train Pickup)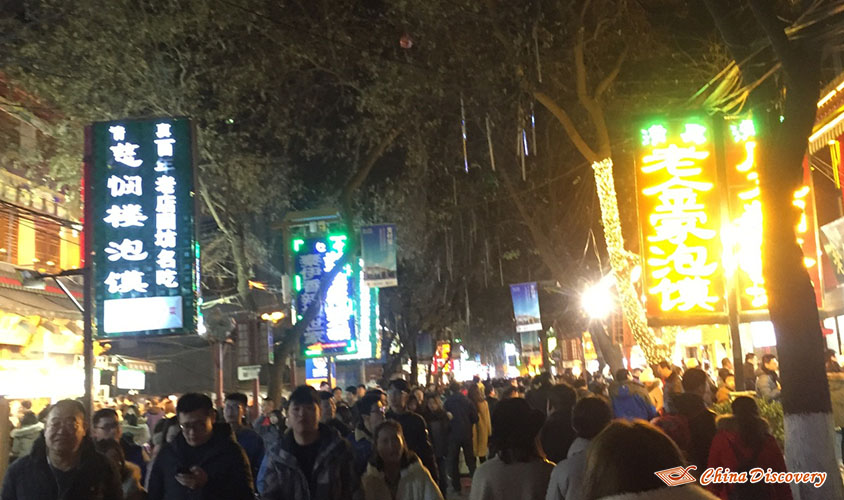 Muslim Street
Must try dishes are roujiamo and yangrou paomo and after hot pot dinner, we went to watch the Tang Palace Dance Show and read the story of "the empress of great Tang Dynasty"
The show takes you to a magical journey through the ancient and prosperous Tang Dynasty in Chang'an, currently known as Xi'an at the heart of Shaanxi province. The story is told through impressive acting, dance and singing accompanied by a live traditional orchestra. This performance is a visual feast that represents beauty extending as far as the Silk Road itself.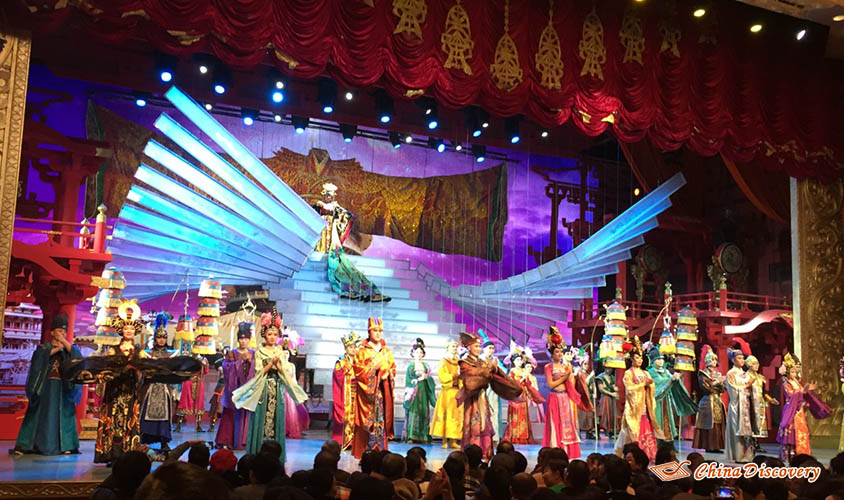 Tang Palace Dance Show
Grand Dynasty Culture Hotel has good location for walking but the breakfast is not as good as other 4 star hotels I have ever stayed in.
There are many people lining up for the 2000 free entrance ticket daily to Shaanxi History Museum and we did not go inside given the limited time.
The Shaanxi History Museum in Xi'an, regarded as 'the pearl of ancient dynasties and house of Chinese treasures', gives a miniature overview of the thousands of years of Chinese history and the splendid ancient cultures of olden times.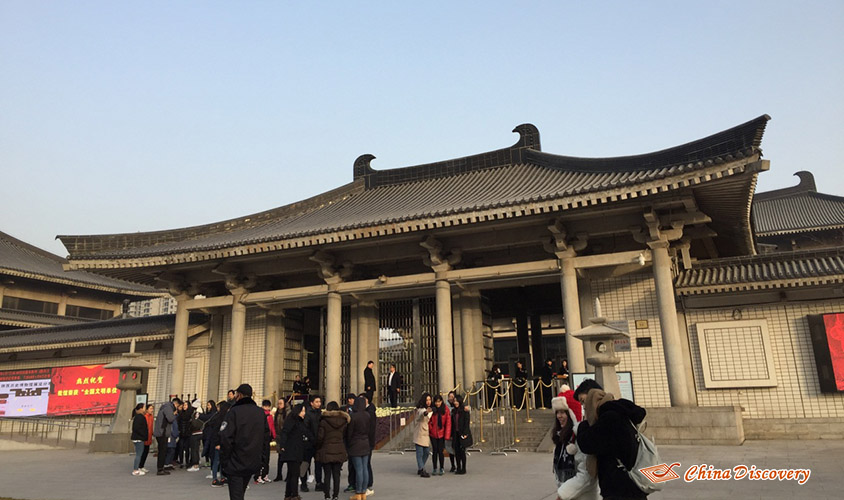 Shaanxi History Museum
What close to the museum is the Da Cien (mercy and kindness) Temple, Located at 4 kilometers from the city center, it is one of renowned Buddhist temples in China, where the landmark of Xi'an, Giant Wild Goose Pagoda, is situated.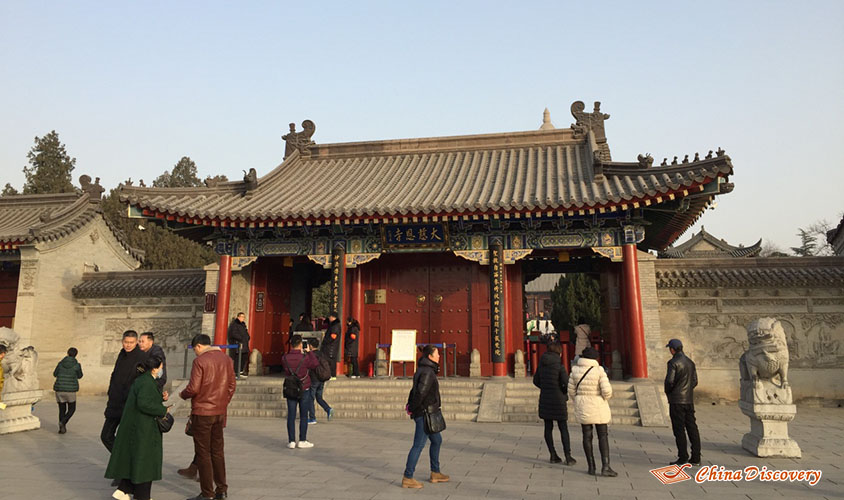 Da Cien Temple
As the symbol of the Xi'an, Giant Wild Goose Pagoda is a well-preserved ancient building and a holy place for Buddhists. Standing in the Da Ci'en Temple complex, it attracts numerous visitors for its fame in the Buddhism and its simple but appealing style of construction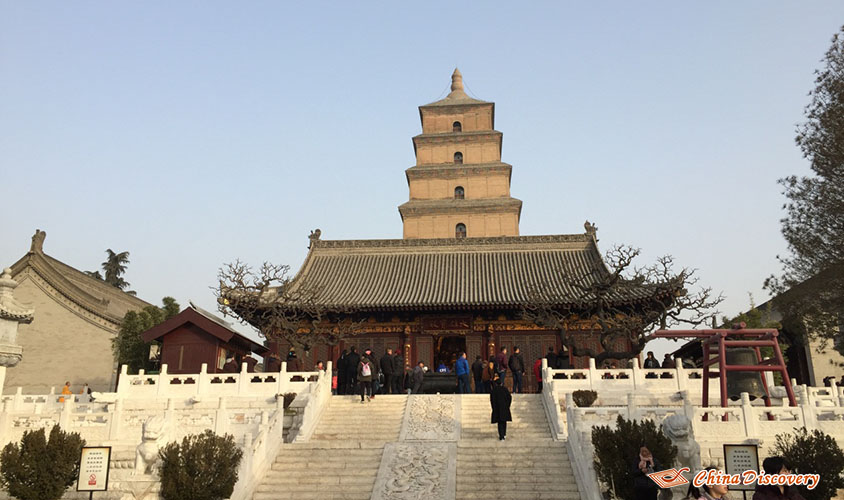 Giant Wild Goose Pagoda
The Terracotta Army is a super large collection of life-size terra cotta sculptures in battle formations, reproducing the huge imperial guard of Emperor Qin Shi Huang, the first emperor of the first unified dynasty of Imperial China.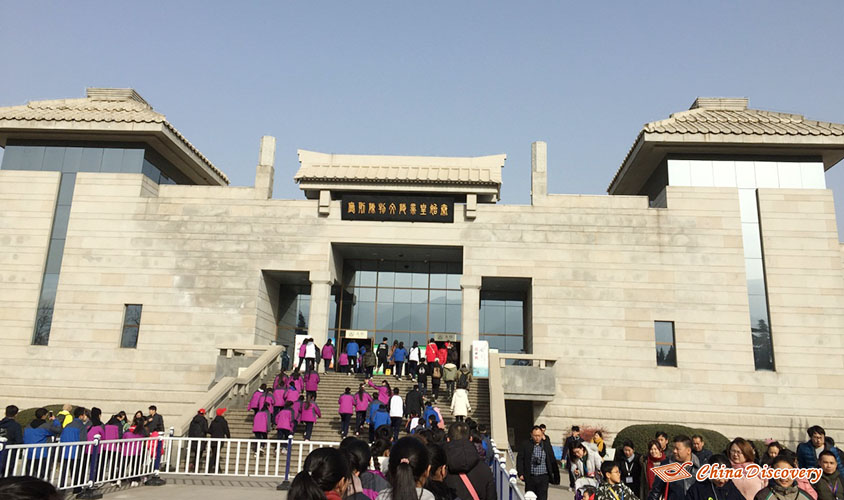 Qin Terracotta Warriors and Horses Museum
It consists of 3 pits and Bronze Chariots and Horses. Two large scale-models of bronze chariots came unearthed about 20 m east of Emperor Qin Shihuang's mausoleum. They were tagged Chariot No. 1 and No. 2 respectively. Bronze Chariots and Horses are the biggest items of bronze ware ever found in the world.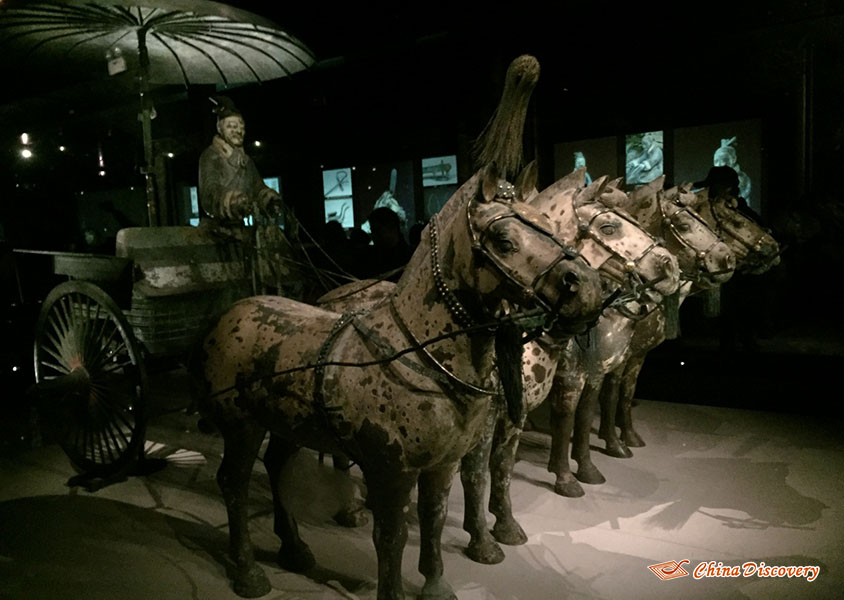 No. 1 Bronze Chariot, the Leading Chariot of Emperor Qin Shi Huang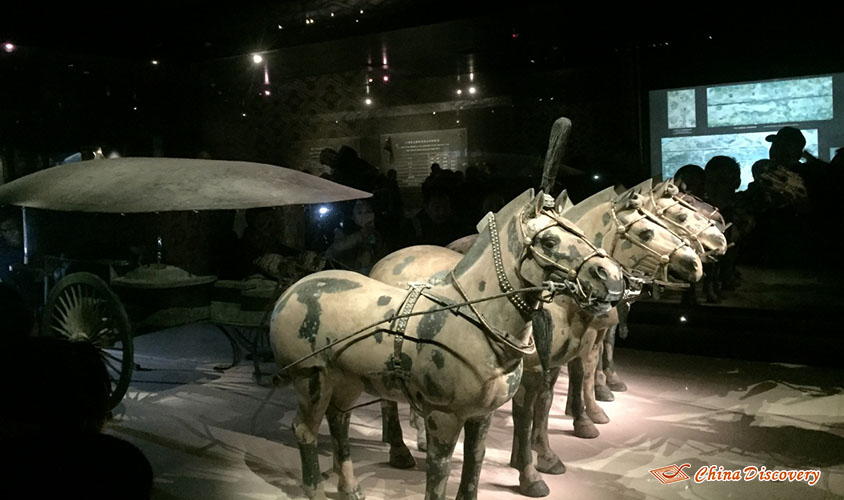 No. 2 Bronze Chariot, Emperor Qin Shi Huang's Seat, Stable and Comfortable
The central part of Pit 1 is the main force of army which has 36 columns warriors with 178m long. Totally owns 50 battle chariots and 4000 infantries, they stood in a good order according to the military formation. Some warriors wore robes, some wore armors, all of this were according to their rank or army services. Meanwhile, each battle chariots equipped with three warriors, one was the horse drive and other two were the warriors with weapons in hand.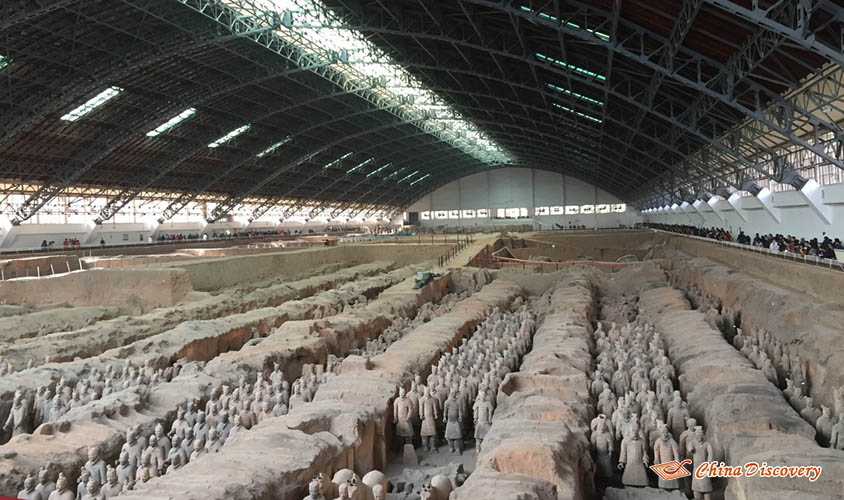 Terracotta Warriors
Xian's Ancient City Wall is the most complete ancient city wall in China and is one of the largest ancient defensive works in the world. The night view is unbelievable although it is not the best time for bike ride.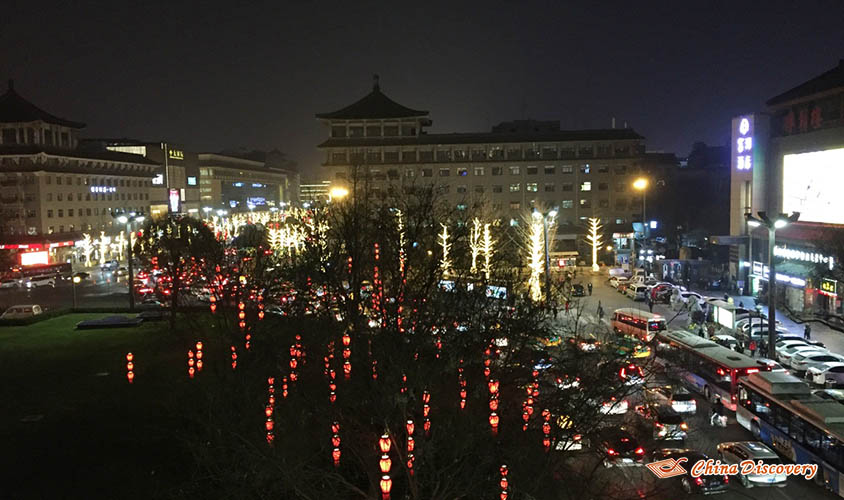 Seeing Xian City from Ancient City Wall
It is a pity that we do not have enough time for Mountain Hua and actually it is my highlight in Xian. 2 years passed by, I still do not go for many reasons even if there is direct train from Chengdu. We have much free time this year due to the COVID 19 but our income is greatly affected, so,most of us have to save for the house loan. Hopefully we can go back to normal life soon.
Travel with Me
Hi, I'm Jack. Are you interested in my 2 Days Xi'an Tour? Feel free to contact me, and I will be glad to tell you more stunning stories about the places I have visited. Or, if you want to customize a tour on your own, I'm always ready to help at any time. With my passion, knowledge and understanding of the essence of travel, I promise I will try my best to make the tour memorable and meaningful for you.
Jack

Travel Consultant
Recommended Tours
Top 3 tours chosen by most customers to explore in the best way. Check the detailed itinerary, or tailor your own trip now with us.
4 Days Xian Highlights Tour with Mount Huashan Hiking (Most Recommended)

Xian / Mount Huashan
Have a question? Get answers from our travel experts or guests
Your Question:

Your Name:

Your Email: