Travel with Jack: A Paradise Closest to Chengdu - Bipenggou
Departure Date

2019-7

Travel Length

2 Days

Travel Theme

Nature, Culture

Group Size

1

Travel Route

Chengdu - Taoping Qiang Village - Bipenggou Valley - Chengdu

Highlights

Taoping Qiang Village, Bipenggou Valley

Story Tags

#Bipenggou#Bipenggou Valley#Taoping Qiang Village#Wenchuan
General Introduction of Bipenggou
Location: it is about 200 KM from Chengdu, the capital of Sichuan Province and around 20 KM from Li County, Aba Tibetan and Qiang Autonomous Prefecture
Value: as the world natural relics and 4A national senic spot, it is one of the famous places in China to watch malpe
Climate: a transition in Subtropical Monsoon Climate and Continental Plateau Climate
Best Season to Visit: Bipenggou is very nice all the year around but when it comes to the best season, it must be autumn from early September to late October because the weather is cool and moderate with lots of colorful leaves
Recommended Time for Visit: 1 day or 2 days in a slow space
Open Time: 07:00-16:00 with a permission of 80RMB
Detailed Chengdu Bipenggou Tour Itinerary Day by Day
Travel Route: Chengdu - Wenchuan - Taoping Qiang Village - Bipenggou Valley
Set off from Chengdu at about 08:30 AM and on the way, we passed by Yingxiu town, Wenchuan County where the massive and enormously devastating earthquake occurred on May 12 in 2008. It is the epicentre of the magnitude-8.0 quake and near the city of Dujiangyan, about 80 KM west-northwest of Chengdu, the provincial capital. The death number is huge and millions of people were made homeless by the quake.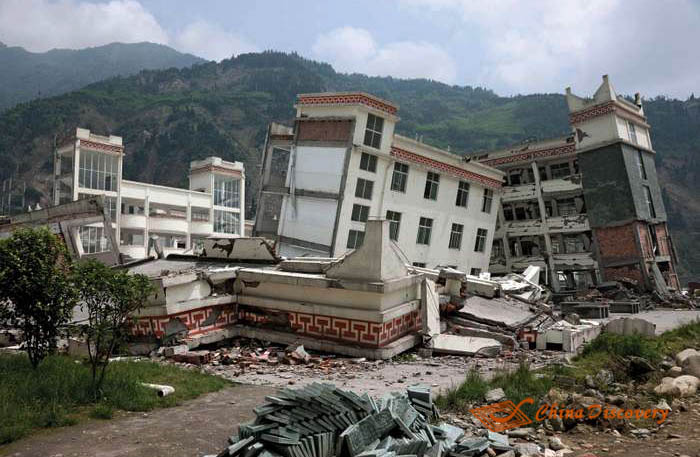 Earthquake Debris in Yingxiu, Wenchuan
Then we had a layover in Taoping Qiang Village at around 11:00 AM.
Driving about 180 KM northwest from Chengdu, you can arrive at Taoping Qiang Village, which is a hot tourist spot on your way to Bipenggou Valley. This village is the most well-preserved building group of watchtowers and folk houses all over the world, and it was built in 111 AD as the county pass and key defense area in West Han dynasty according to historic materials. Strolling in the village, you will be astonished by the so solid houses that compose like a maze. Visiting Taoping Qiang Village, you can experience its more than 2000-year history, see the original and pure life of Qiang people, and enjoy the local fantastic songs and dance, especially the multi-voice of high artistic value, also the talented Qiang embroidery of long history is another shining star of Qiang people.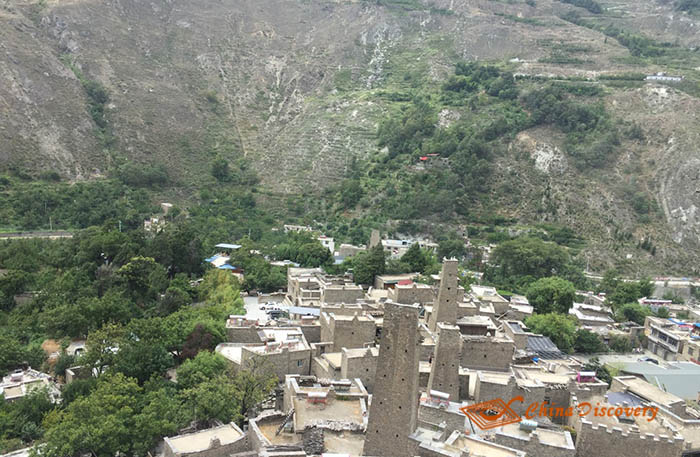 Architectural Feature of Taoping Qiang Village
This village can be called the only one wonder of architect worldwide, because it was built without drawing, calculation, suspension wiring, and other basic construction methods and still stands steadily before us. Choosing the mud, stone and other materials on the nearby mountains, Qiang people built their houses in solid condition that can resist many earthquakes. Various from a few meters to tens meters, the Qiang watchtowers are standing here like soldiers who are protecting the safety of the whole Taoping Qiang Village.
Due to the typical Qiang style buildings and the unique road structure of complexity, Taoping Qiang Village is called the "Mysterious Oriental Castle" and the "Living Fossil of Art of Qiang Buildings". Linked by countless paths, the village is not easy to visit alone for the first time. It's like wandering in a maze, so if you walk here without the guidance of local people, you are inclined to lose your way. And it is very interesting to move from one house to another, because two family share one wall and many houses become a whole.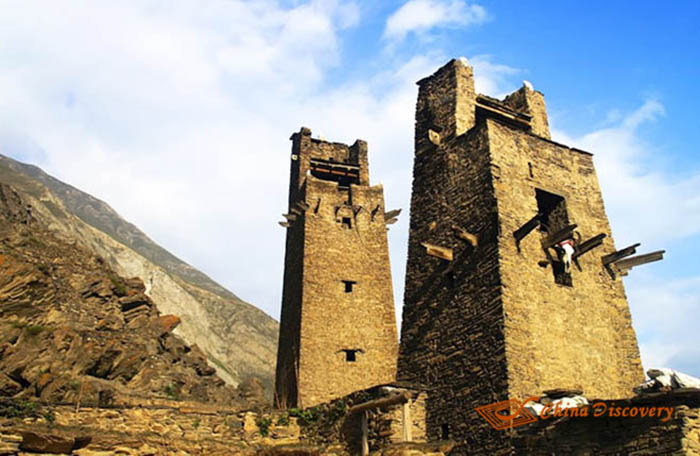 Watch Towers in Taoping Qiang Village
The vegetables in these areas are fresh and fruit is also very sweet with enough sunshine and big temperature difference between day and night. After lunch, we enjoyed the landscape which was amazing with blue sky, white could and green mountains.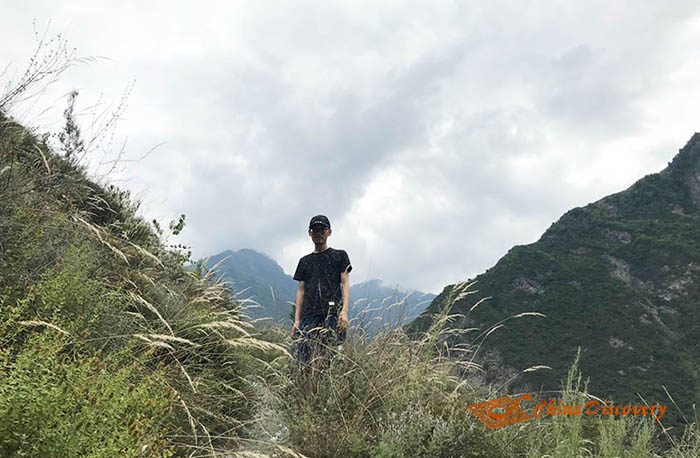 I Climbed a Hill where is Overgrown with Weeds
We reached our destination Bipenggou Valley finally, and there are two options: take sightseeing bus or walking which I chose because you can see more natural views on the road.
Hongshi Beach (Red Stone Beach) - There are many red stones distributed in the area elevated between 3,000 ~ 4,500 meters. The stones are not red naturally but covered with red colored moss which can only survive at high altitude area. Hongshi Beach is the best place to enjoy a magnificent view of red stones of Bipenggou Valley.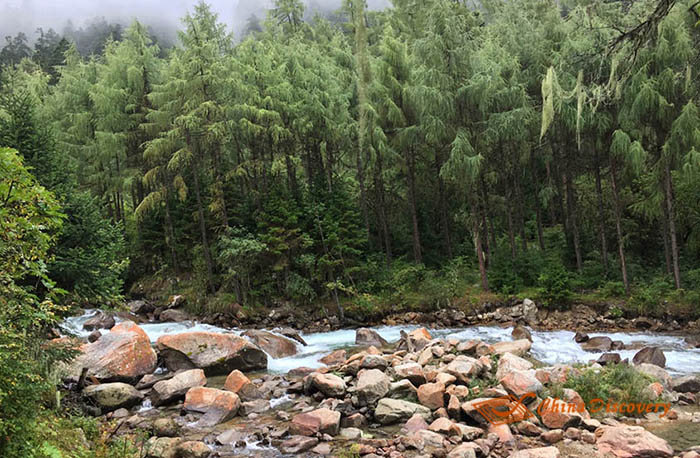 Read Stone Beach Covered with Amazing Red Stones
Longwang Lake (White Dragon Waterfall, altitude: 2,950 meters) – It get its name from the local people who believed that Dragon King living under the lake. The road passing through the lake separates the lake into two. The larger one just like a huge mirror mounted on the spectacular gorge. Around Longwang Lake, you can see many other gorgeous lakes.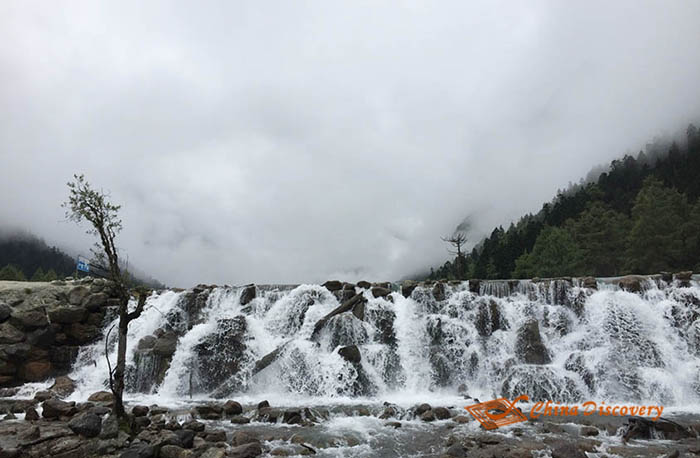 White Dragon Waterfall in a Misty
It is attractive for young people, especially for students graduated from university. I do not have my gap year but have experienced similar one.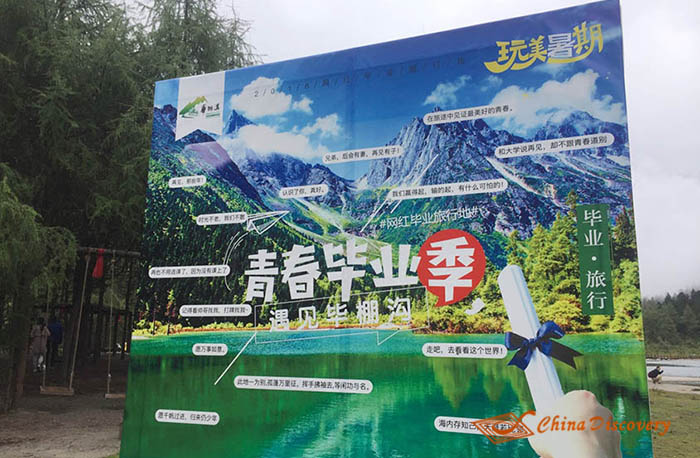 Summer Holiday Billboard for the Graduates
Everything there is beautiful with vibrant bush, red stone , and pure water if you have some difficulties , it is a good place to relax and rebuild confidence because every problem will go away on a certain day.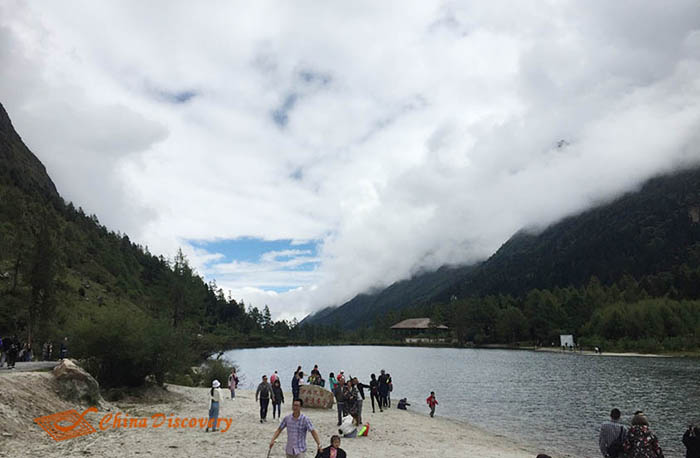 Cloudy but Still Impressive Bipenggou Valley
Useful Bipenggou Valley Travel Tips
1. Wear and Pack Properly
The temperature of Bipenggou Valley is about 10~20°C lower than Chengdu. It has an average temperature of 15 °C in summer, -3°C in winter and about 8°C in spring and winter. After the sunset, the temperature always drops sharply. It's necessary to bring an extra coat even in summer. Thick jacket and waterproof shoes are a must in winter. Sun-screen, sun glasses and umbrella will be helpful all the year around to protect from the strong sunlight.
2. Avoid High Altitude Sickness
Because of its altitude between 2,000 meters and 5,000 meters, some travelers may suffer from high altitude sickness while traveling Bipenggou Valley. But don't worry about it too much. A good and relaxed mood will be helpful to alleviate the discomfort caused by high altitude. You are also suggested to keep warm, drink more water and avoid strenuous exercise. If it's your first travel to high plateau area, you can prepare a small box of oxygen with you in advance.
Travel with Me
Hi, I'm Jack. Are you interested in my 2 Days Bipenggou Tour from Chengdu? Feel free to contact me, and I will be glad to tell you more stunning stories about the places I have visited. Or, if you want to customize a tour on your own, I'm always ready to help at any time. With my passion, knowledge and understanding of the essence of travel, I promise I will try my best to make the tour memorable and meaningful for you.
Jack

Travel Consultant
Recommended Tours
Top 3 tours chosen by most customers to explore in the best way. Check the detailed itinerary, or tailor your own trip now with us.
4 Days Mount Siguniang Classic Hiking Tour

Chengdu / Dujiangyan / Siguniangshan / Chengdu
5 Days Jiuzhaigou Huanglong Dujiangyan Tour by Private Car

Chengdu / Chuanzhusi / Huanglong / Jiuzhaigou / Dujiangyan / Chengdu
Have a question? Get answers from our travel experts or guests
Your Question:

Your Name:

Your Email: