Felix's 2 Days Casual Trip for Magnificent Wonders in Mount Emei
Departure Date

2020-05

Travel Length

2 Days

Travel Theme

Nature, Religion, Family

Group Size

4

Travel Route

Chengdu - Mount Emei - Chengdu

Highlights

Mount Emei, Leidongping, Jieyin Hall, Golden Summit, Huazang Temple

Story Tags

#Sichuan Tour#Mount Emei#Sightseeing#PhotographyNature Tour
As one of the few World Heritage Sites of both cultural and natural heritages, Mount Emei is an enchanted combination of lush forest and cultural relics. It is one of the Four Great Buddhist Mountains in China, also the home to 5000 kinds of plants and over 2300 kinds of wild animals.
As the Labor Holiday's coming, I planned a tour to visit Mount Emei with my family.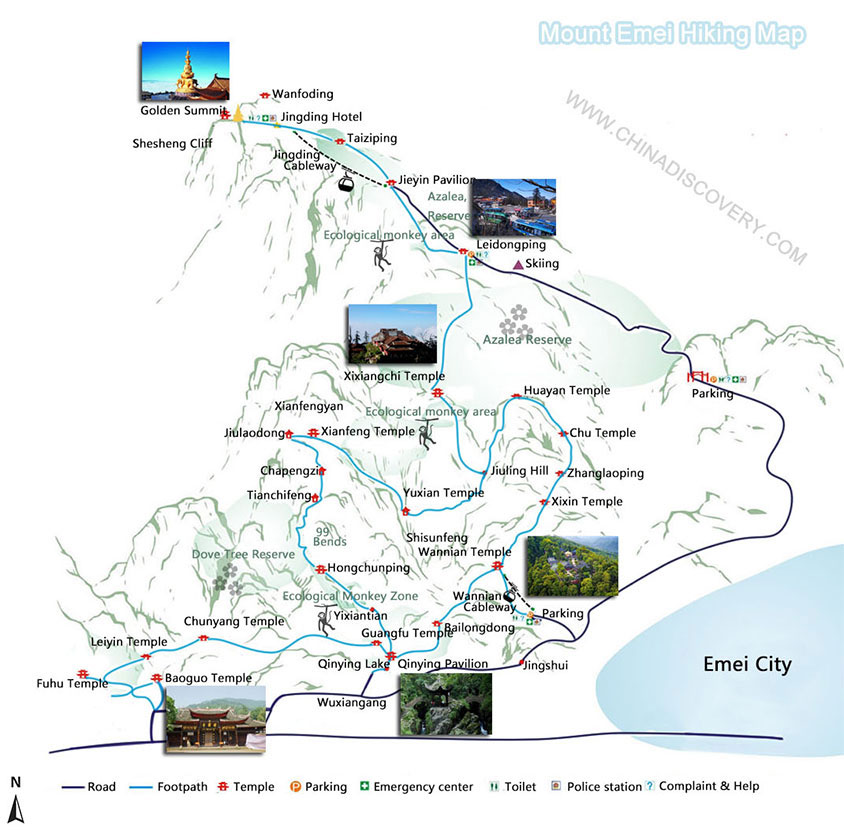 -The map of Mount Emei-
Day 1 Chengdu - Emei - the Golden Summit
On May 1st, we took high speed train (1 hour) from Chengdu to Emeishan Railway Station, where we can also book tickets for the shuttle bus to Mount Emei.
We chose the eco-bus which could take us up to Leidongping (2430m) directly, and we could have lunch and rent down jackets there. On the way to Jieyin Hall, you might be able to see wild monkeys if the weather is great, but keep cautious because they might be offensive.
As soon as we arrived at Jieyin hall (2540m), it stared to rain, so my mom took the cable car up and waited us near the station. Meanwhile, my elder sister and I kept hiking. And then, we headed for the Golden Summit together.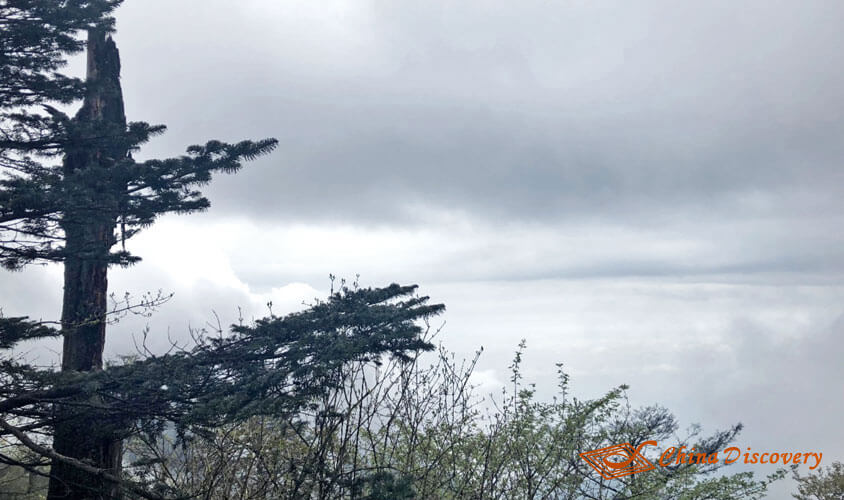 -Gorgeous view on the way-
Minutes later, we arrived at the Golden Summit. Since it's too foggy, they decided to go back to hotel and have a rest, while I went for the scenery alone.
The first view appearing is a towering multi-faced golden statue (48m) of Samantabhadra Bodhisattva. Next to the golden statue sits the bronze Huazang Temple which is the first temple established on Mount Emei whose history can be traced back to 1st century CE. You can stroll around the Golden Summit to explore Buddhist architecture and tradition, and enjoy panoramic view of Mount Emei and surrounding.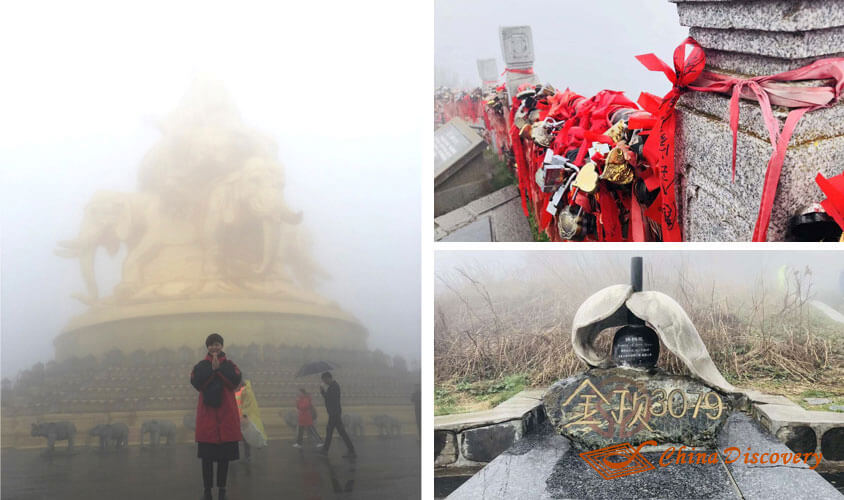 -The towering multi-faced golden statue of Samantabhadra Bodhisattva in foggy day-
The weather was quite bad so I went back to hotel early. And it made me a bit worried if there would be a sunrise in the next morning.
Day 2 the Golden Summit - Emei - Chengdu
Luckily, it stopped raining at midnight, and we got up early to see the magnificent wonder of Cloud Sea and Sunrise!
-Sunrise in the early morning-
With the sky getting clearer, the awesome view showed in front of us! After the sightseeing around 1.5 hours on the Golden Summit area, we went down to Leidoping and took eco-bus again back to the tourist center.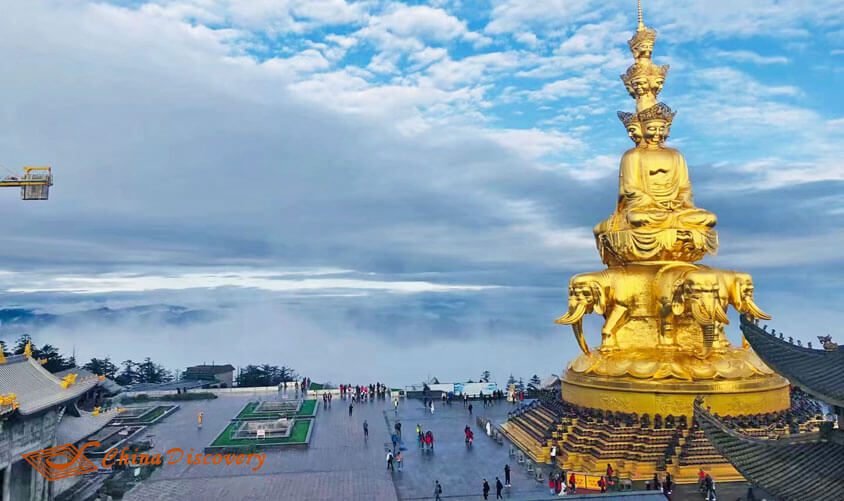 -Cloud Sea-
-The Golden Summit in sunny day-
We went to downtown by bus and enjoyed the delicious Chuanchuan as lunch, and I would give it a high recommendation if you want to try local food.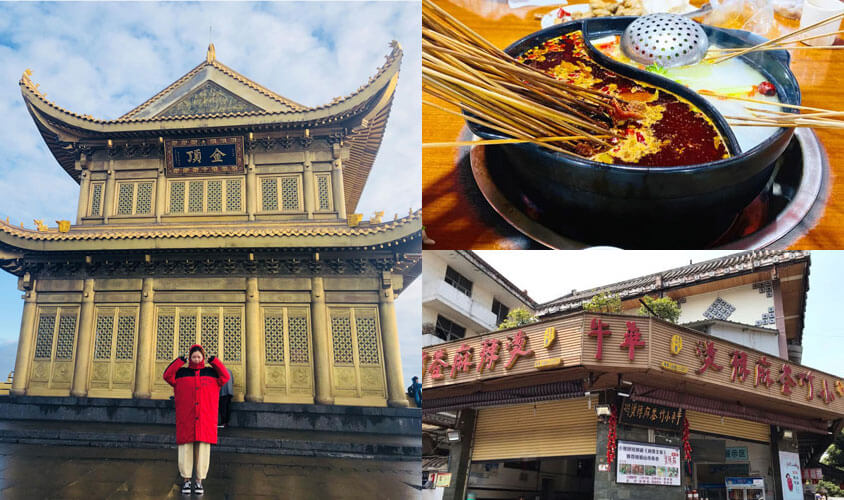 -Double-flavored hot pot Chuanchuan-
Then it's time to go back to Chengdu!
Travel with Me
Hi, I'm Felix. Are you interested in my 2 Days Mount Emei Tour? Feel free to contact me, and I will be glad to tell you more stunning stories about the places I have visited. Or, if you want to customize a tour on your own, I'm always ready to help at any time. With my passion, knowledge and understanding of the essence of travel, I promise I will try my best to make the tour memorable and meaningful for you.
Felix

Travel Consultant
Recommended Tours
Top 3 tours chosen by most customers to explore in the best way. Check the detailed itinerary, or tailor your own trip now with us.
2 Days Mount Emei Leshan Giant Buddha Smart Tour

Chengdu / Mount Emei / Leshan Giant Buddha / Chengdu
7 Days Sichuan Discovery Tour

Chengdu / Leshan / Emei / Chengdu / Jiuzhaigou
Have a question? Get answers from our travel experts or guests
Your Question:

Your Name:

Your Email: