Felix's 1 Day Dujiangyan Panda Volunteer Trip Story
Departure Date

2019-04-20

Travel Length

1 Day

Travel Theme

Panda, Volunteer

Group Size

3

Travel Route

Chengdu - Dujiangyan Chengdu

Highlights

Feeding Panda, Making Panda Food

Story Tags

#Panda Tour#Chengdu Tour#Dujiangyan Tour#Chengdu Panda Base
There are three Giant Panda Bases where you can join the panda volunteer tour, but Bifengxia Panda Base in Ya'an and Shenshuping Panda Base in Wolong County are both a little bit far away from Chengdu downtown area which usually take around 2~3 hours to get there.
I got up at 5 am, and went to the Dujiangyan Panda Base with my colleagues Sean and Amanda by car which only took us about an hour. It had been raining for a when we arrived with no umbrella, so we bought some disposable raincoats and reusable rain boots at the store which is located at the tourist center.
Useful Links: How to Get to Dujiangyan Panda Base | Panda Volunteer Program at Dujiangyan Panda Base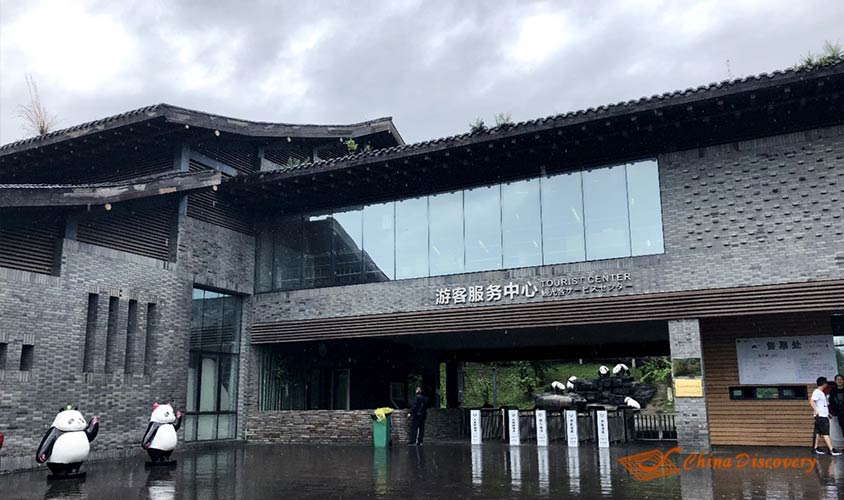 The Gate of Dujiangyan Panda Base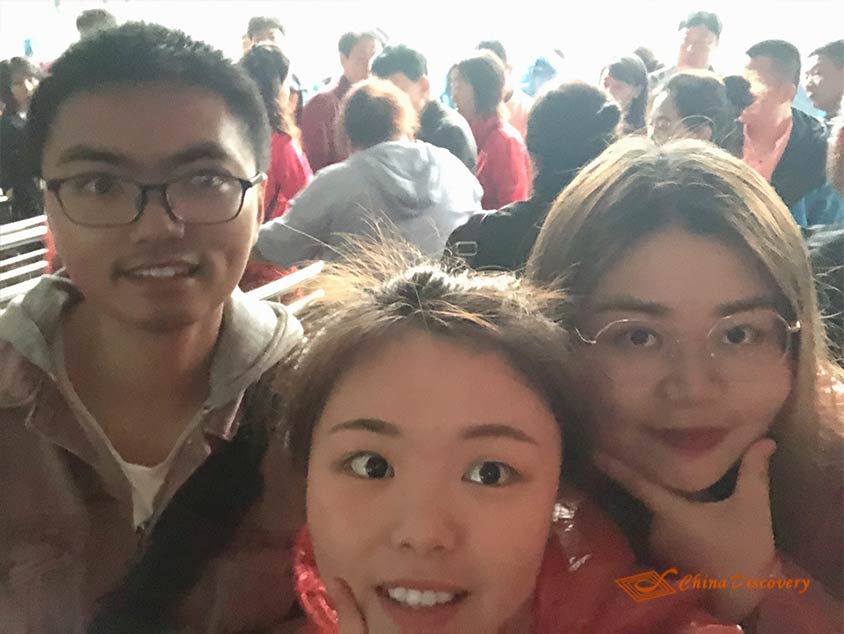 Our Selfie at the Ticket Barrier
Usually, we will start with doing some volunteer work, but the schedule was changed due to the rain.
Firstly, we stored our packages in the lockers, put on the volunteer overalls (polo shirts in summer and jumpsuits in winter), learn the safety announcement and sign the security agreement.
After that, we watched a documentary that shows the scientific facts about the endangered species, to understand how humans protect them and how we may live in harmony with them. Then we could personally prepare food for the pandas and also design the panda cake, which is definitely interesting!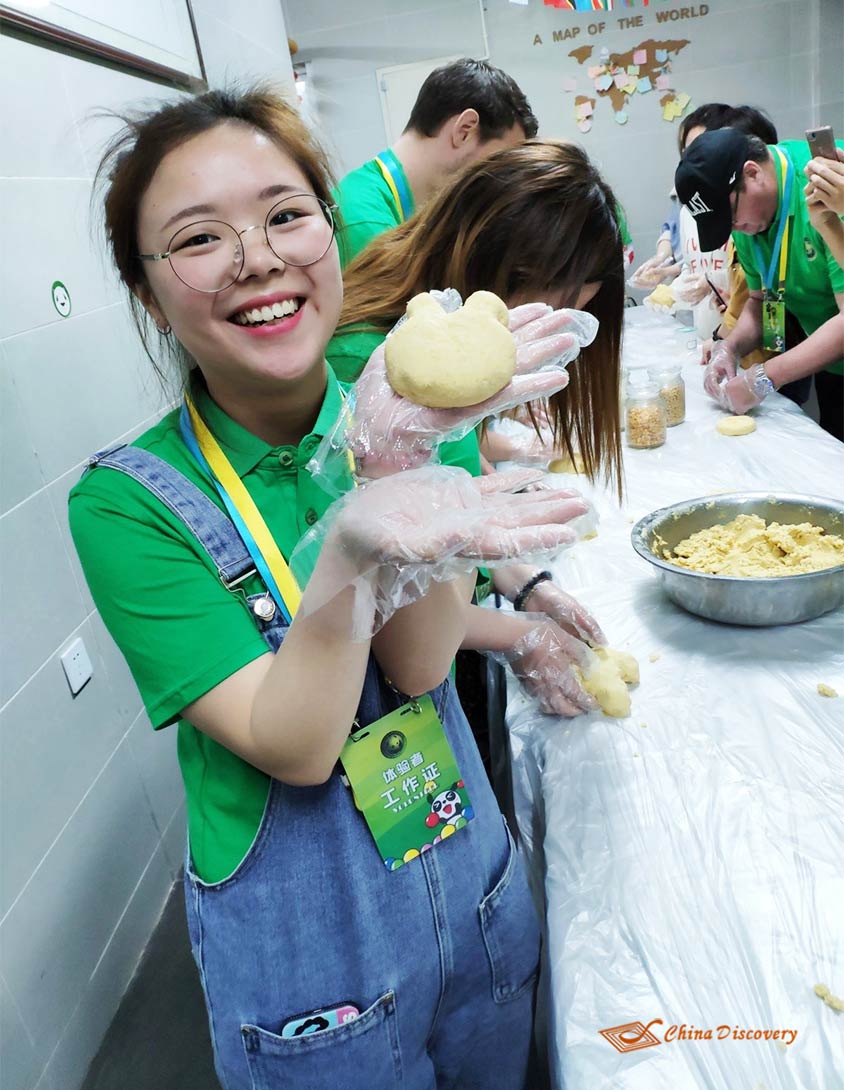 I was trying to make a panda-shape cake
The cakes were finished, and it's almost the time for pandas to have lunch, we fed the giant pandas with panda cakes (maybe made by ourselves) or other food, like carrots, bamboo shoots and apples. We learnt more about their diets and had very close interaction with the cute bears.
As the pandas felt satisfied and happy, the sky was clearing up gradually.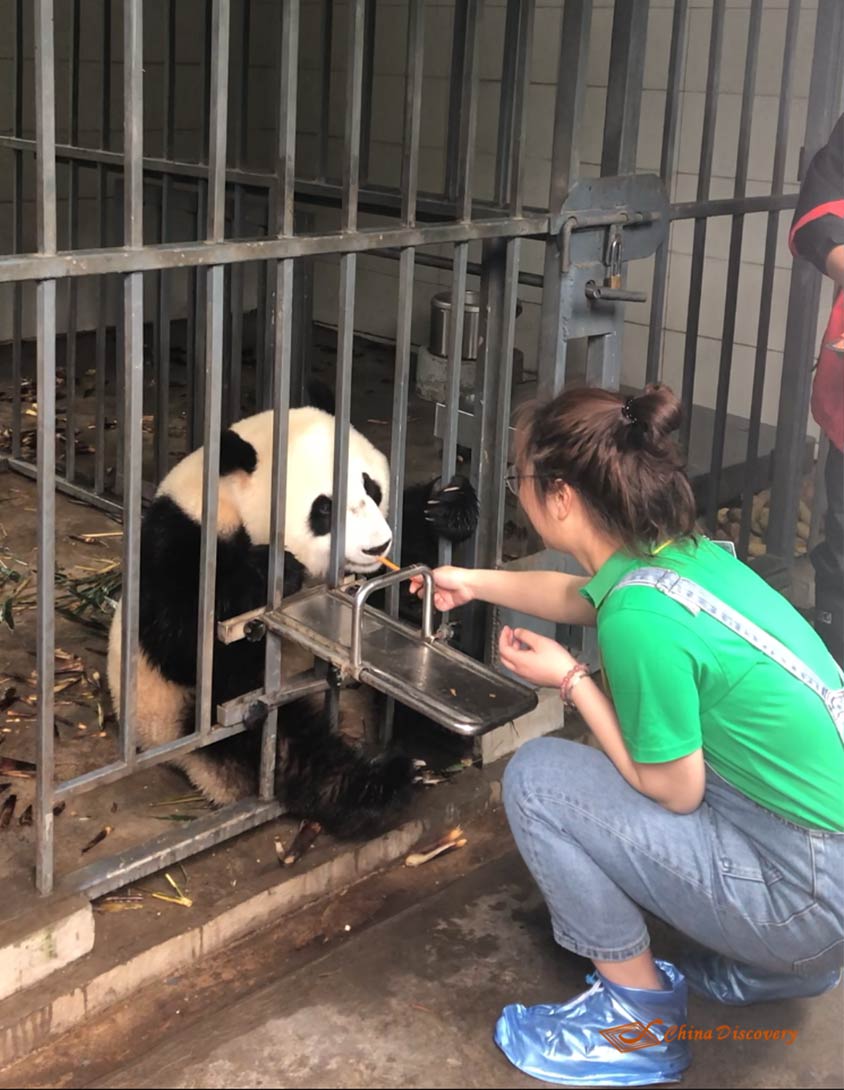 I was feeding the adorable pandas
Then it's our turn to have lunch with the staff and other volunteers in the restaurant where offer several kinds of Chinese dishes and you could choose any three you want to try.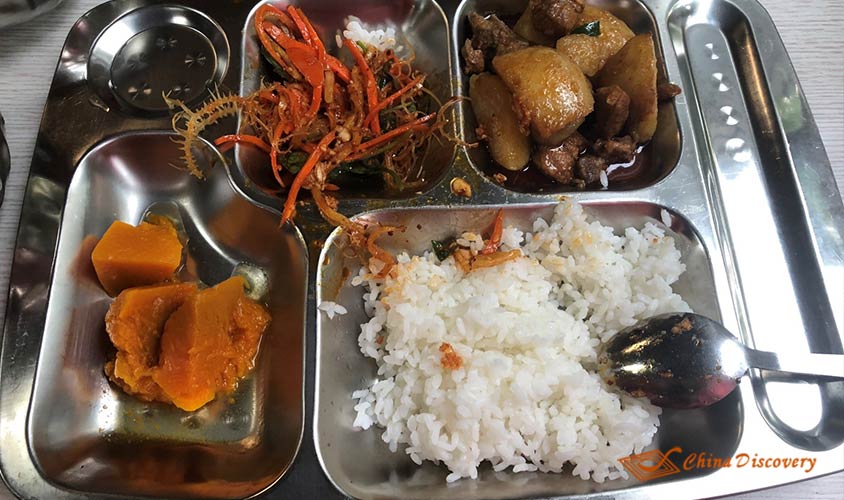 My Delicious Lunch
After lunch time, we decided to take a visit to other panda enclosures, walk around the panda base for more giant pandas. It was quite engaging to walk along the road. We saw pandas sitting on the grass, climbing trees, playing together and even fighting. Be sure to bring your camera to take fascinating photos and videos of them.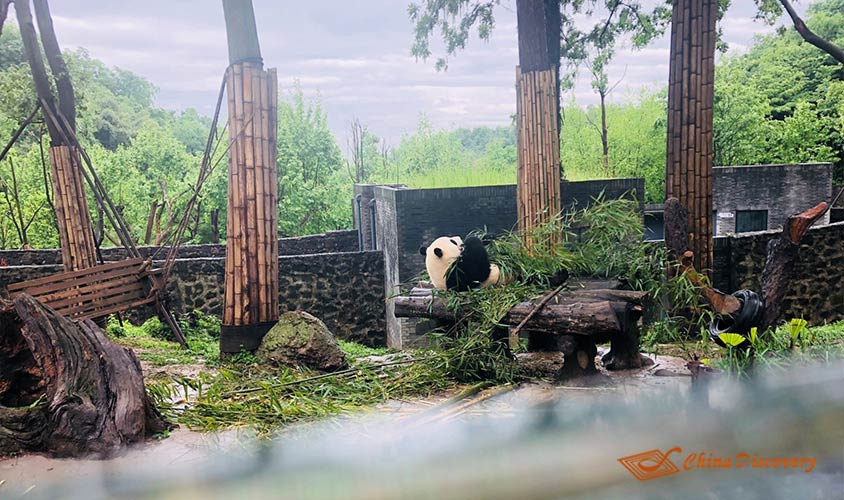 Lying panda was enjoying bamboo shoots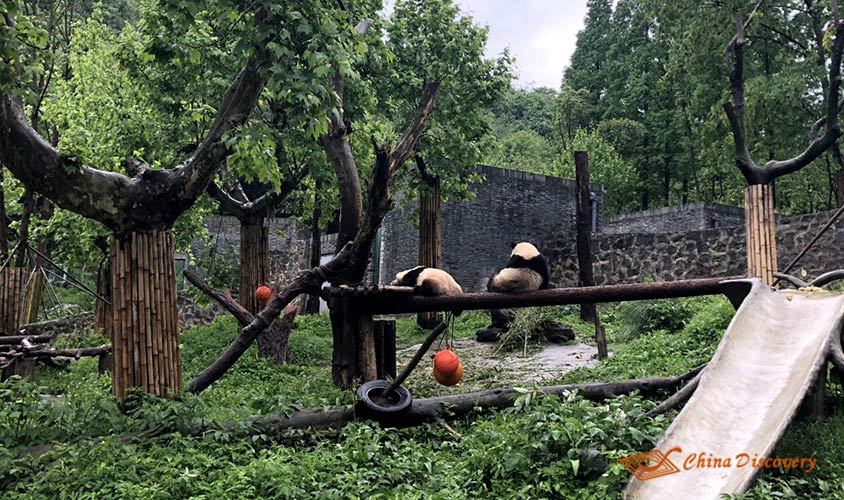 Relaxed pandas sit as a lady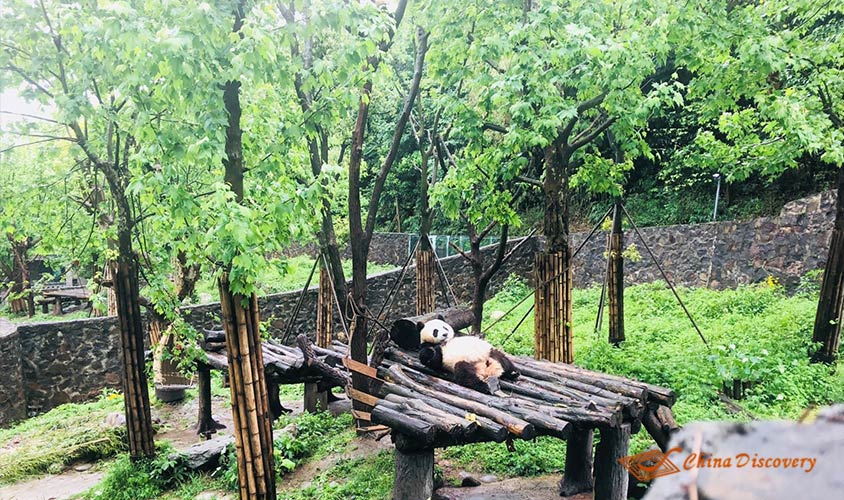 Lying panda was saying Hi to tourists
We started the volunteer work around 1 pm, including carrying out old bamboos, picking up droppings, cleaning up panda enclosures, carrying in fresh bamboos leaves and shoots, etc. It's rewarding that we could do something to help the staff take care of pandas, but be sure to keep distance with them because they are aggressive. And then we fed the panda again.
The whole tour ended around 4 pm, we were rewarded the panda volunteer certificates and some souvenirs, after that we went back to Chengdu with full of happiness in heart.
If you're a panda fan, come and join the amazing 'labor' tour!
Travel with Me
Hi, I'm Felix. Are you interested in my Dujiangyan Panda Volunteer? Feel free to contact me, and I will be glad to tell you more stunning stories about the places I have visited. Or, if you want to customize a tour on your own, I'm always ready to help at any time. With my passion, knowledge and understanding of the essence of travel, I promise I will try my best to make the tour memorable and meaningful for you.
Felix

Travel Consultant
Recommended Tours
Top 3 tours chosen by most customers to explore in the best way. Check the detailed itinerary, or tailor your own trip now with us.
1 Day Dujiangyan Panda Volunteer Tour

Dujiangyan
2 Days Panda Volunteer Tour with Dujiangyan Highlights

Dujiangyang Panda Base, Mount Qingcheng, Dujiangyan Irrigation System
4 Days Chengdu & Dujiangyan All Bests with Panda Volunteer Tour

Chengdu / Dujiangyan / Chengdu
Have a question? Get answers from our travel experts or guests
Your Question:

Your Name:

Your Email: