Dalian Map: Latest English Dalian China Map 2022
The unique location of being encircled by water along a coastline of 1,906 kilometers (1,185 miles) endows Dalian City fantastic beaches and awe-inspiring sea views. The mournful wars happed here need no further to be mentioned, however, the beautiful early-20th-century architectures and a mixed flavor of different countries give you unique feels.
To help you get a clear mind about Dalian city and the attractions, we have collected some very useful Dalian maps. The following Dalian Maps, including Dalian China Map, Dalian City Map, Dalian Tourist Map, Dalian Metro Map, etc. will help you plan a better tour to this coastal city Dalian.
Where is Dalian on Map? - Dalian China Map
Dalian is a coastal city in Liaoning Province of Northeast China, with a driving distance for about 378 kilometers (4 hours around) to Liaoning's Capital Shenyang. There are also high speed trains running between them, which needs only 1.5~4.5 hours. High Speed train from Beijing to Dalian takes 4~5 hours.
Dalian Tourist Map - Dalian Attractions & Tourist Tips on Map
Highlights in Dalian include Xinghai Square, Charm of the Sea Square, Dalian Shengya Ocean World, and Dalian Golden Pebble Beach International Tourist Resort, etc.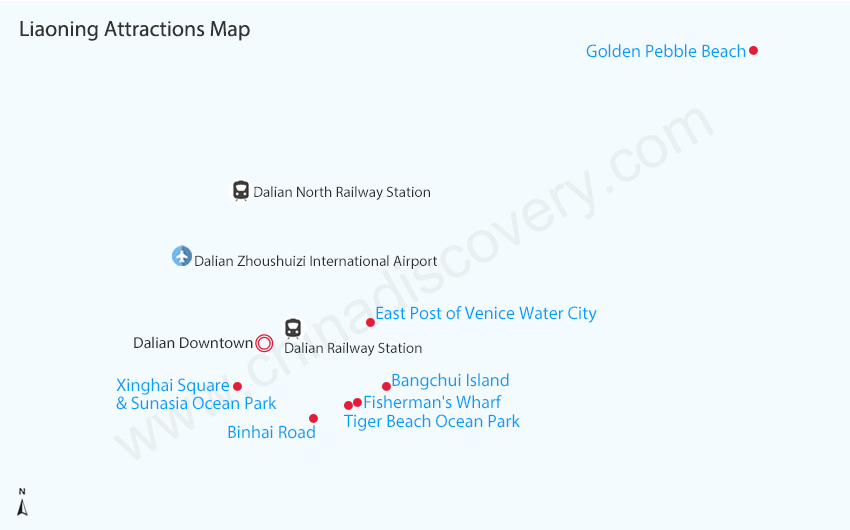 Dalian Tourist Map
Dalian Transportation Map – Flight, Train & Metro
Dalian is accessible by flight, train and cruise. You can check Dalian Transportation to get more details.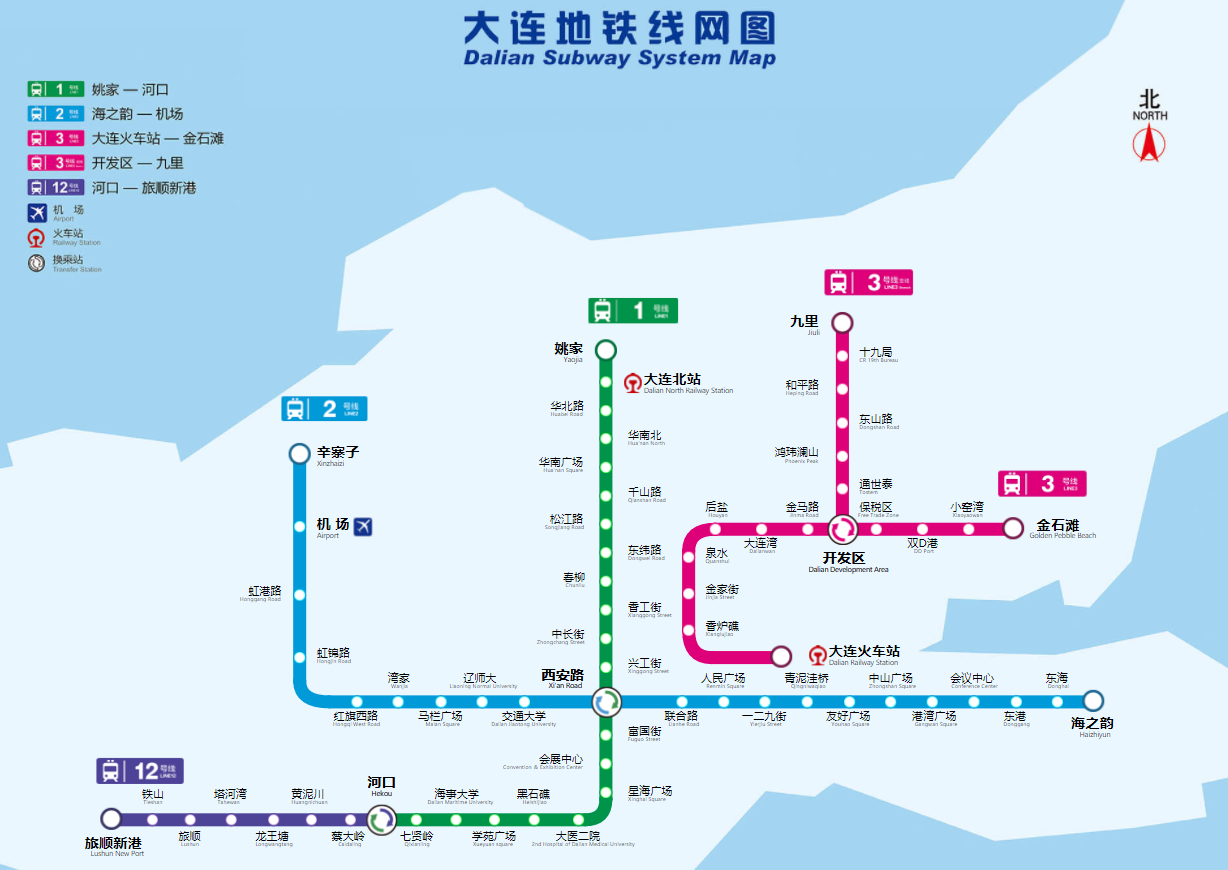 Dalian Metro Map (Updated in October 2021. Check its latest lines at official website.)
How to Plan a Dalian Tour?
Best Time to Visit Dalian: April to October
How to Get There: Flights from Beijing (1.5~2 hours), Shanghai (2 hours), Guangzhou (4 hours), Harbin (4 hours), etc. and bullet train from Shenyang (1.5~4.5 hours), Harbin (3.5~5 hours), Beijing (4~5 hours), etc.
Visitors usually spend 1~4 days in Dalian. Those who are coming to Dalian in hurry, they spend 1 day around to have a rough trip to its coastline. Some prefer Golden Pebble Beach, while some may visit Xinghai Square and Sunasia Ocean Park.
>> 1 Day Golden Pebble Beach Day Tour
If you have 2 days in Dalian, you are suggested to spend your first day at Xinghai Square and nearbys and the next day to meet with the best seascape in Dalian and have fun at Tiger Pebble Beach Ocean Park.
>> 2 Days Dalian Family Tour with Essence of Dalian
A 3 Day Dalian Tour will cover almost all the major highlights in Dalian, including its best coastal scenery and ocean parks. If you have 3 days around, you are high suggested to take such a trip.
>> 3 Days Best Dalian Tour with All Dalian Highlights
If you want more Dalian surprises, you can also add Bangchui Island into your trip, which used to be the summer retreat for national leaders of China.
In addition, you are highly suggested to extend your trip to more destinations in Dongbei Region, including 3~6 days to Harbin, 2~4 days to Changbaishan, 1~2 days to Shenyang, 1~2 days to Jilin, 1~3 days to Changchun, etc. Have your preferences? Contact us to get a tailor-made trip!
>> 8 Days Northeast China Tour with Harbin Ice & Snow Festival
Travel Dalian with China Discovery
We always welcome visitors from all over the globe to visit and have fun in the romantic Dalian! If you have such a plan, you can feel free to tell us your favorites of the city, your group size, interests and any specific needs, we can CUSTOMIZE a Dalian Tour for you! If you go with us China Discovery, we will take care of all your details, including the accommodation, airport pick up and drop off, local specialty, tickets, visiting routes and itineraries and more. You can just spend your every spare moment to indulge in the coastal landscapes and ocean parks activities! If you are interested, please contact us and let our experienced travel consultant help you!
Recommended Dalian Tours
Top 3 Dalian tours chosen by most customers to explore Dalian in the best way. Check the detailed itinerary,or tailor your own trip now with us.
8 Days Northeast China Tour with Harbin Ice & Snow Festival

Harbin / Jilin / Changchun / Shenyang / Dalian