Club Med Guilin - Where Nature & Art Meet
3 Nights Club Med Guilin All-inclusive Package (2023 Labor Day Holiday)
(The following price range is for one person, based on sharing a standard double-bed room for two people)
Prices from only (per night): ¥953/adult; ¥763/teenager; ¥572/kid
(check-in dates: Apr. 29 to May 3, 2023)
* A teenager is defined as any one between 12 and 17 years old on their check-in date.
* A kid is defined as any one between 4 and 11 years old on their check-in date.
Club Med Guilin about 25 kilometers (50 minutes' car driving distance) south from Guilin city center is one of the most spectacular Club Med resorts in the whole world. Also, this spot is the most idyllic and beautiful resort to indulge into the peaceful natural karst landscape and feel the harmonious combination with contemporary sculpture arts of local and international artists. Covering a wide and picturesque area of up to 46 acres with mushroom-like hills and winding Li River, Club Med Guilin not only has been highly commented as the top must-experience accommodation in Guilin for the globally famous dreamy idyllic Guilin sightseeing, but also is a superb satisfying happy paradise to immerse into the leisure and sweet vacation with lots of fun and joy and the warm company of professional Club Med G. Os during those diverse stretches and activities, especially with your family members! More than 20 kinds of interesting fun indoor and outdoor activities, events and lessons, multiple exquisite restaurants and drinking bars, four types of accommodation, different specially designed facilities for kids at various ages, and so forth make Club Med Guilin where happiness is for all people! Enjoy, Savor & Release!
Prizes & Awards
2021 Travelers' Choice by TripAdvisor.com
Green Globe Certification 2020
Annual Conference Hotel of China Travel Industry Awards and China Travel & Meetings Awards
Premium Travel Award - Premium Selected Family Fun Resort of The Year 2019-2020
All-inclusive Package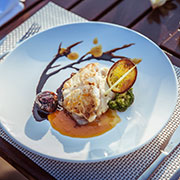 Full-day Gourmet Dining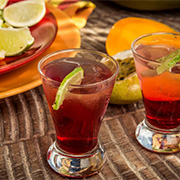 Premium Open Bars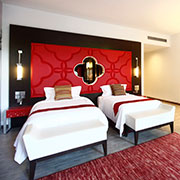 Accommodation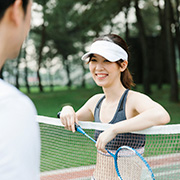 Diverse Sports & Activities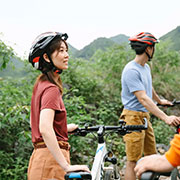 Day & Night Entertainment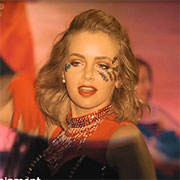 Night Parties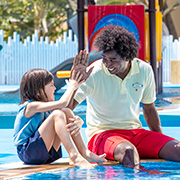 Kids' Club (4-17 years old)
Activities & Fun
Activities & Sports
Kids Club & Fun
Wellness & Release
Club Med Guilin prepares more than 20 types of wonderful activities and sports on land and water for you to immerse into the great happiness at the Karst hill surrounded wonderland from morning to night time. Just play to the most!!
Golf School
Climbing School (indoor & outdoor)
Cycling / Mountain Biking School
Tennis
Basketball
Badminton
Archery
Taichi / Yoga
Dancing Lessons
Creativity Workshop
VR Games
Circus Activities
Guided Tour of the Park (1 hour)
Karaoke
Singing & Dance Performance
Interactive Works & Games
Parties
Restaurants & Bars
Club Med Guilin designs totally four various restaurants and three different bars at the resort. A large array of mouth-watering international dishes, snacks, alcoholic and soft drinkings alcoholic are offered in a large amount for your tasting fulfillment.
The Atelier: The main restaurant serves outstanding abundant international flavored buffet and Chinese special cuisines with choices of Sichuanese, Cantonese, Hainan regional flavors. The fine terrace facing the garden and emerald mountains gives you an enjoyable dining environment.
The Lotus: like the name, the Zen feel themed restaurant provides exquisite Chinese and western dishes for your enjoyment of a quiet food experience. (need reservation in advance)
The Mongolian Restaurant: Mongolian barbecue with various tastes are served there for a special try.(need reservation in advance)
The Noodle Bar: this smaller diner will satisfy you when you want to treat your stomach between the meals. Local special Guilin Rice Noodles and other special Chinese noodle dishes are recommended at the great ambience of The Courtyard. Open from 2 pm to 6 pm and 9 pm to 11 pm.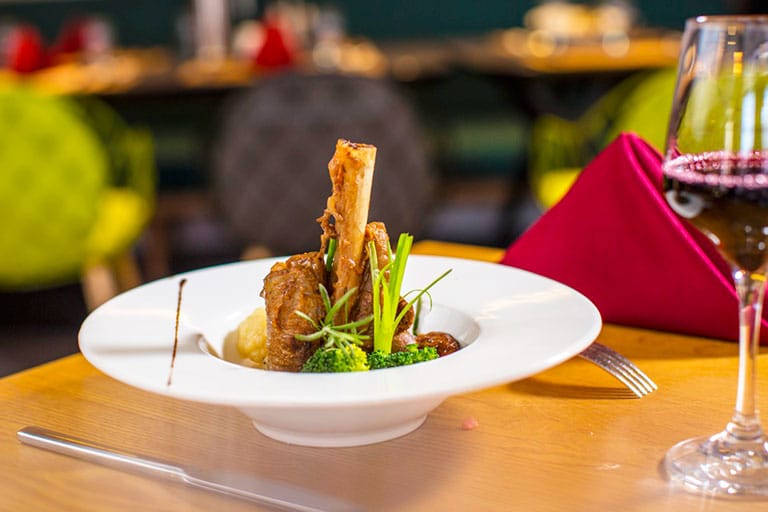 The Atelier Bar: the main bar offers more than 50 types of alcoholic drinks and soft drinks for various levels of age. Live band performance and dancing floor help you enjoy the relaxing hours with the wines and music with your family, loved ones, friends, etc.!
Poolside Bar: have a comfortable drink with some snacks at the bar beside the swimming pool backing the tranquil mountainscape. Open based on the operating time of the swimming pool from May to October.
Moon Bar: this relaxing bar in the HOMA building is great to enjoy a cup of refreshing afternoon tea or a glass of red wine in the quiet terrace. Open from May to October for tea time.
Note: the legal drinking age (for alcohol consumption) in China is 18 years old and above.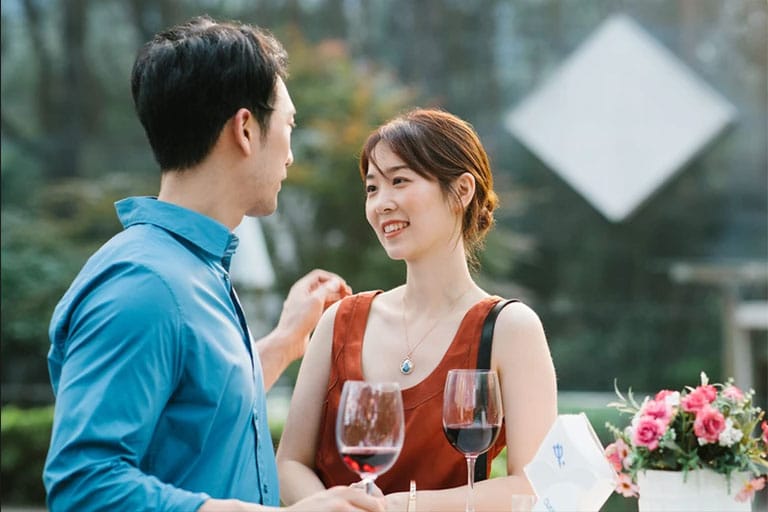 Accommodation
Club Med Guilin specially designs mainly four types of accommodation with great facilities and decoration for the cosy sleeping and nice relax during the vacation in Guilin. Contemporary artworks by famous artists can be found throughout the garden for a great visual enjoyment.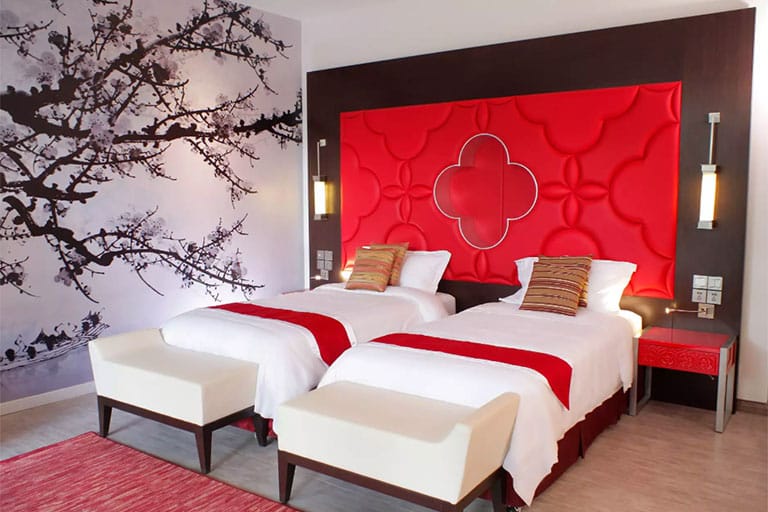 Superior
Size:

27m²

Balcony:

N /A

Capacity:

2 adults + 1 kid (below 12 years old)
Superior Room - Mobility Accessible for 2 adults and Interconnecting Superior Rooms for 6 people are available.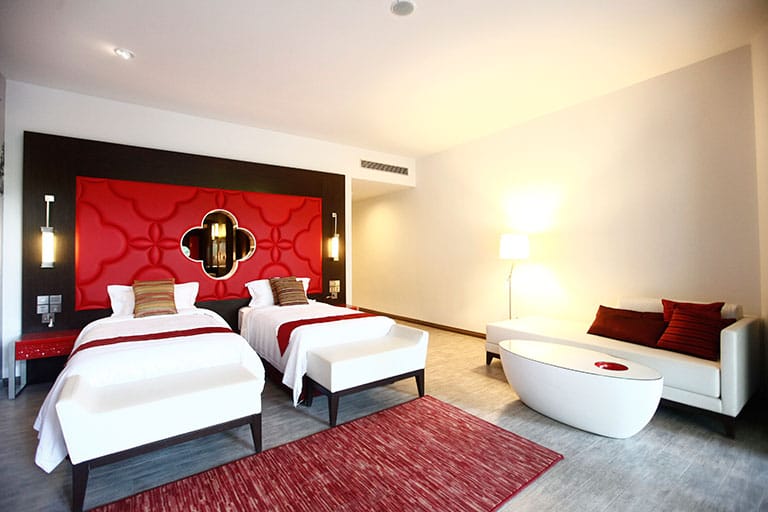 Deluxe Room
Size:

47m²

Balcony:

N/A

Capacity:

2 adults + 1 kid (below 12 years old)
Interconnecting Deluxe Rooms - Balcony for 6 people are available.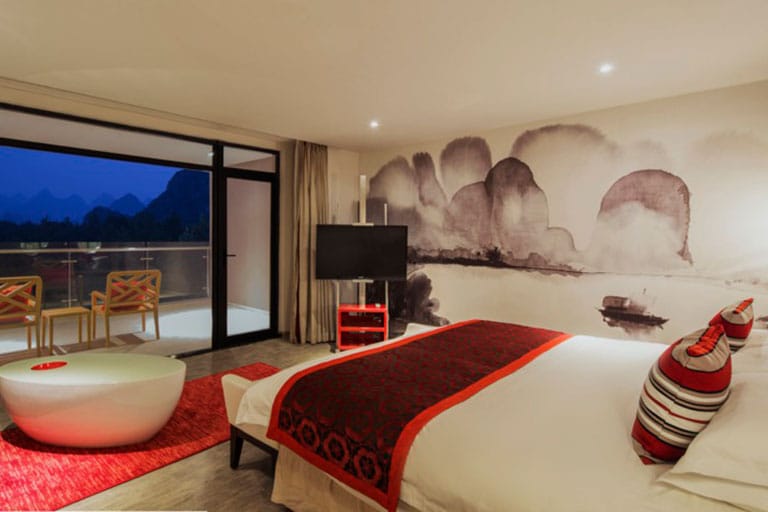 Deluxe Room - Balcony
Size:

46m²

Balcony:

Yes

Capacity:

2 adults + 1 kid (below 12 years old)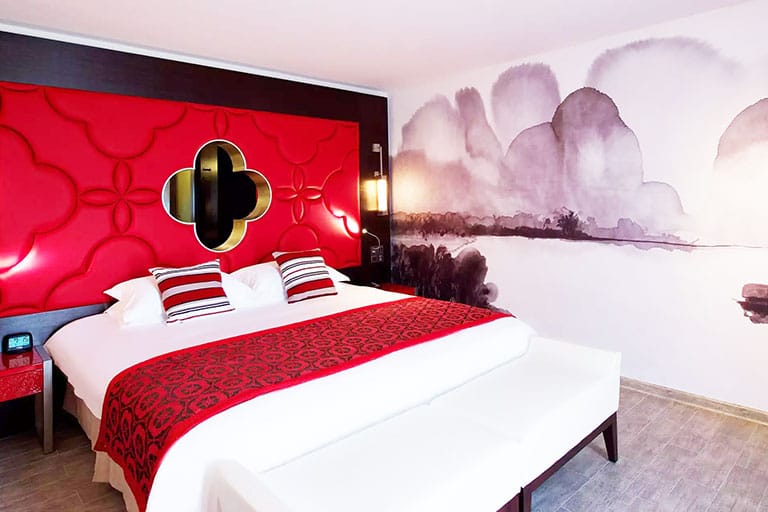 Suite
Size:

70m²

Balcony:

Yes

Capacity:

2 adults + 1 kid (below 12 years old)
Suites Interconnecting with Superior Room for 6 people is available.
Facilities & Services
Room Amenities

Domestic Direct Dialing (extra fee)

International Direct Dialing (extra fee)

Wi-Fi

Air-Conditioner

Private Bathroom

24 Hours Hot Water

Shower

Shampoo

Hair Dryer

Bath Robe

Slippers

Mirror

Safe Box

Desk

Sofa

Baby Bed (need pre-booked)

Club Med Baby Welcome

Umbrella

Ironing Facilities

Socket

Electric Kettle

Free Drinks

Ice Bucket

Fridge

Ironing Facilities

TV

Tea/Coffee

Mini Bar
Hotel Facilities

Chinese Food

Western Food

Indoor Swimming Pool

Outdoor Swimming Pool

Gym

Conference Room

Business Center

24 Hours Reception Desk

Coffee Maker

Shops

ATM

Lobby Bar

Reading Room

Public Resting Area

Elevator

Smoking Area

Garden

Golf Court

Bar

KTV

Casino / Chess Room
Hotel Services

Foreigners' Service

Credit Card Payment

Wake-up Service

Child Care Service

Laundry Service

Luggage Service

Concierge

Airport Pick-up / Drop-off (extra fee)

Travel Consulting Service

Cleaning on demand
Select Your Club Med Guilin Vacation
Check the price of each day at below and pick your arrival and departure dates to book Club Med Guilin!!
Referential Currency: 1 USD= RMB
Year
Month
Sun.
Mon.
Tues.
Wed.
Thur.
Fri.
Sat.
Price Notes:
The above price range is for one person, based on sharing a standard double-bed room for two people.
The above prices are not the final price. Please enquire about the exact price according to your date of payment, check-in time and number of nights. As the price may change anytime, particularly during China's Labors' Day Holiday, China's National Holiday Golden Week, Spring Festival, winter and summer vacations, it is highly recommended make an early booking and payment to get a better price.
It is suggested to pay in China Yuan (¥). If you pay in other types of currency, the final payment amount will be changed based on the practical exchange rate on your payment date.
Single-guest booking charges a supplement fee.
Price Guide
What's Included

Accommodation of selected room and selected nights;
Three meals and drinks at the restaurant during the stay;
All-day drink and snack service at the bar during the stay;
The more than 20 kinds of activities and sports selection during the stay;
Night parties based on the schedule of the resort during the stay;
All-day performances based on the schedule of the resort during the stay;
Wi-Fi access at the resort;
Child-caring service for children above 4 years old during the stay;
What's Excluded

Sports, activities and lessons with extra payments by Club Med Guilin;
Visiting outside Club Med Guilin with extra payment;
Supervision service at the "Petit Club Med" for children of 2-3 years old;
Mini Club Med Cookery Lessons by Club Med Guilin;
Specific imported and domestic wines and liquors with extra payments by Club Med Guilin;
Guilin pick-up and drop-off service;
Transfer to / off Guilin.
Terms & Conditions
The cancellation charge depends on when we receive your cancellation notice or letter, providing that we have received your full payment / deposit for the resort. And the cancellation policy follows the cancellation policy of Club Med. Details as below:
More than 15 days before arrival date
Fully refund
8-14 days (both inclusive) before arrival date
Charge 40% of total amount cancellation fee
(as non-refundable deposit)
1-7 days (both inclusive) before arrival date
Charge 80% of total amount cancellation fee
On arrival date
Charge 100% of total amount cancellation fee
Ignite Your Guilin Club Med Vacation with a Popular Tour
Guilin has long been one of the four best travel destinations in China. The fabulous karst landscape of lovely mushroom-like hills everywhere and the winding belt-like river makes Guilin a real wonderland in the fairytale. Moreover, idyllic countryside view, colorful karst caves, fantastic rice terraced fields, interesting towns and villages, and so on attract an enormous amount of travelers to Guilin every year. Therefore, it is much more appealing to wander around the wonderful Guilin than just sitting and playing in the Club Med Guilin with the karst surrounding. Take the best combo to visit the top highlights in Guilin in 3-6 days, covering the essences in the downtown, Yangshuo and Longsheng, with fun hours and nights at Club Med Guilin!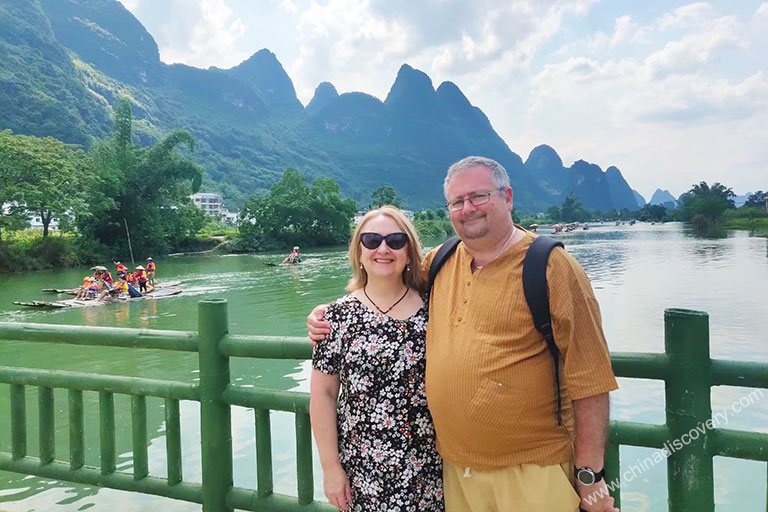 Location: Southwest China
Best Time to Visit: all year round, especially April to November
Top Highlights: Li River, Yulong River, Elephant Trunk Hill, Longji Rice Terraces, Moon Hill, etc.
Recommended Trip Length: 3-6 days
Most Popular Guilin Club Med Resort Tour Package
Location & How to Get There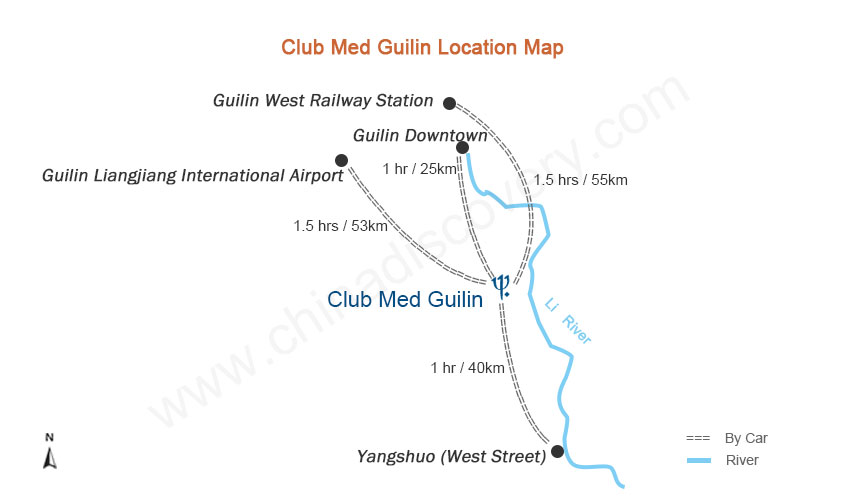 Address:

Leyuan Road, Yanshan District, Guilin, Guangxi, China
(中国广西壮族自治区桂林市雁山区乐园路)
Transportation from (by car)

Guilin Downtown: 1 hour;

Guilin Liangjiang Airport: 1.5 hours;

Guilin West Railway Station: 1.5 hours;

Yangshuo West Street: 1 hour
Private Transfer Service (extra charge)

China Discovery offers local private transfer service for you to arrive at the Club Med resort easily with the non-smoking air-conditioned private vehicle with speed, comfort and safety, which needs extra payment. Please tell your travel expert when booking the resort.
Useful Club Med Guilin Tips
1. Check in after 15:00 pm and check out before 11:00 am (breakfast and lunch included);
2. Teenagers arrive at the resort without at least one adult guardian accompany will be rejected to check in;
3. Activities, sports, entertainments, night shows, parties and other experiences at Club Med Guilin are changeable in different season. Please choose your interested items according to the practical arrangement;
4. Some restaurants, bars, swimming pools and other public areas could be closed sometimes, like off season.
More Club Med Vacation Ideas
Recommended or Similar Tour Packages You May Also Like
Top 3 tours chosen by most customers to explore in the best way. Check the detailed itinerary, or tailor your own trip now with us.
4 Days Guilin Highlights Tour (Li River, Yangshuo & Longji Terraces)

Guilin / Yangshuo / Longsheng
5 Days Classic Guilin Tour with Club Med Resort

Guilin / Yangshuo / Guilin
7 Days Best Guilin Zhangjiajie Landscape Exploration

Guilin / Zhangjiajie
Have a question? Get answers from our travel experts or guests
Your Question:

Your Name:

Your Email: