Qingdao 144-Hour Visa-Free Transit for Air & Cruise Travelers
Can I go to Qingdao without applying for a Chinese Visa?
Normally, a valid Chinese Tourist Visa (L Visa) is required for travelling to Qingdao. But tourists eligible for the 144-Hour Visa-Free Transit Policy are allowed to enter and tour Qingdao not exceeding 144 hours (6 days) without holding a Chinese Visa.
Besides, cruise group travelers successfully obtained Shanghai's 15 Day Visa-Free Group Tour can also visit Qingdao & other destinations in Shandong, Beijing, Tianjin and many coastal cities visa free as long as holding related documents.
Qingdao had been implemented 72-Hour Visa-Free Transit Policy for qualified air visitors since November 16, 2015. From January 1, 2019, Qingdao extended it to 144 hours with more favorable terms. That is, visitors from appointed 53 countries can get visa-free transit in Qingdao and visit Shandong Province (including Qingdao, Jinan, Mount Tai, Qufu…) for up to 144 hours, as long as he/she takes a valid international travel document and connecting flight or cruise ticket to a third country/region with confirmed date and seat. This new policy saves more than your time, money and energy, but also offers great opportunity of making a Qingdao tour with more wonderful destinations in Shandong.
Please note that, only visitors meeting all the following requirements are allowed to apply for the 144-Hour Visa-Free Visa when transiting in Qingdao.
Requirements include:
1. Hold citizenship of the designated 53 foreign countries, including US, UK, Canada, Australia, Russia, Singapore, and so on;
2. Take a valid passport or international travel document with remaining validity of at least 3 months;
If you've obtained a regular Chinese Visa, but want to use visa-free entry this time, please tell the immigration officer when applying temporary entry at the port of entry.
3. Hold a departing flight or cruise ticket with confirmed seat and departure date to a third country or region within 144 hours;
Before arrival, your passport and flight or ship ticket should be got ready for being checked at the border port.
4. Enter and exit through one of the 2 designated ports in Qingdao;
Entry & Exit Ports in Qingdao (2): Qingdao Liuting International Airport (IATA: TAO), Qingdao International Cruise Home Port.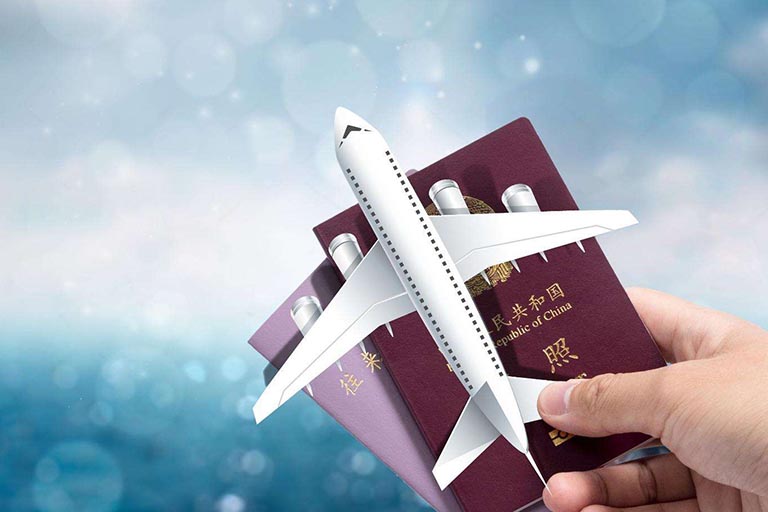 Requirements for Qingdao 144 Hour Visa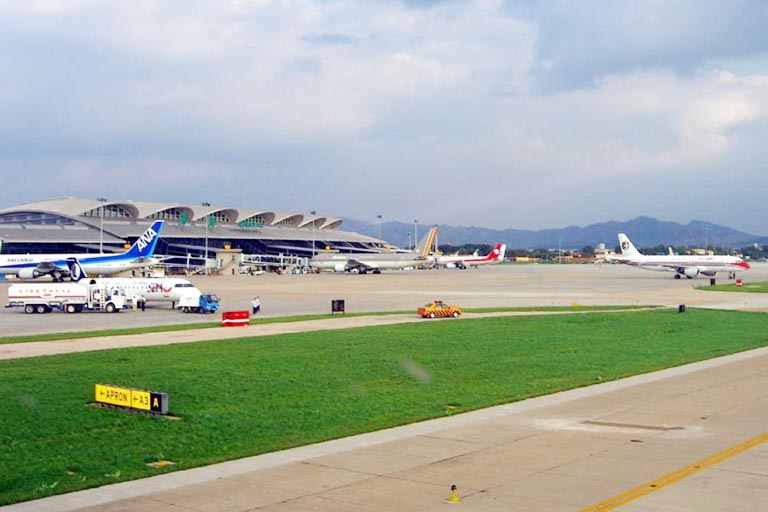 Qingdao Liuting International Airport
The 144-Hour Visa-Free Transit Policy of Qingdao only applies to ordinary passport holders from the following 53 foreign countries. Visitors not on the list should apply for an appropriate Chinese Visa or China Transit Visa (G Visa) prior to departure based on your purpose of visiting Qingdao. You can click step-by-step Chinese Visa Application Guide to know how to get a visa for China.
Continent
Number
Transit Visa Free Countries
Europe
39
Countries under Schengen Visa Agreement (24):
Austria, Belgium, Czech, Denmark, Estonia, Finland, France, Germany, Greece, Hungary, Iceland, Italy, Latvia, Lithuania, Luxembourg, Malta, Netherlands, Poland, Portugal, Slovakia, Slovenia, Spain, Sweden, Switzerland.
Other Countries (15):
Russia, United Kingdom, Ireland, Cyprus, Bulgaria, Romania, Ukraine, Serbia, Croatia, Bosnia and Herzegovina, Montenegro, Macedonia, Albania, Monaco and Belarus.
America
6
United States, Canada, Brazil, Mexico, Argentina, the Republic of Chile.
Oceania
2
Australia, New Zealand.
Asia
6
South Korea, Japan, Singapore, Brunei, the United Arab Emirates, Qatar.
Note: 1.) Even though you come from one of the above nations, you need to satisfy all other requirements to apply for the visa-free layover stay in Qingdao. The final result depends on the immigration officer's examining on your submission. 2.) If you hold passport with validity less than 3 months, or got visa denied stamp, or had illegal entry, exit, stay and employment in China in the past 5 years, your visa-free transit will be refused. 3.) Visitors who stayed longer than the permitted 144 hours and visited else places will get penalized.
1. About Travel Route
Qualified air/curise ransit routes examples:
By Cruise: Australia --> Qingdao --> Tokyo
By Flight: Hong Kong --> Qingdao --> Seoul
2. About Departure Ticket
Please make sure you already booked air or ship ticket departing from Qingdao to a third country/region within 144 hours. E-ticket will be checked by the immigration officer at the entry port. To ensure you have greater chance of getting 144 hours, we suggest you leave several days for the layover.
3. About Port of Entry and Exit
Transiting visitors can only get in and exit via Qingdao Liuting International Airport and Qingdao International Cruise Home Port.
Qingdao Liuting International Airport (青岛流亭国际机场, IATA: TAO)
Location & Transportation: Qiandiankou Village, Jiaodong Street, Jiaozhou City, Qingdao, Shandong (山东省青岛市胶州市胶东街道前店口村); about 27 km, 1 hour's drive to downtown Qingdao (May Fourth Square), 36 km, 1.5 hours' drive to Laoshan Mountain and 25 km, 1 hour's drive to Qingdao Beer Museum.
Qingdao International Cruise Home Port (青岛国际游轮母港)
Location & Transportation: Qiuxian Road, Shibei District, Qingdao, Shandong (山东省青岛市市北区邱县路); about 10 km, 30 minutes' drive to downtown Qingdao, 30 km, 1 hour 15 minutes' drive to Laoshan Mountain, 5 km, 20 minutes' drive to Qingdao Beer Museum
Useful Links: Qingdao Liuting Airport & Flights | How to Get to Qingdao
4. About Stay Area
After entry from air or cruise port in Qingdao, foreigners are allowed to tour and stay within administrative region of Shandong Province only, which consists of 16 cities including Qingdao (Laoshan Mountain & Badaguan Scenic Resorts), Jinan (Baotu Spring), Tai'an (Mount Tai), Qufu (Temple of Confucius), Weifang, Yantai, Weihai, etc.
5. About Visa-Free Length of Stay
The visa-free 144 hours stay officially counts from the 00:00am the second day after arrival, instead of the date you land at the airport or go ashore on Qingdao International Cruise Home Port, or the issued date of your temporary entry permit.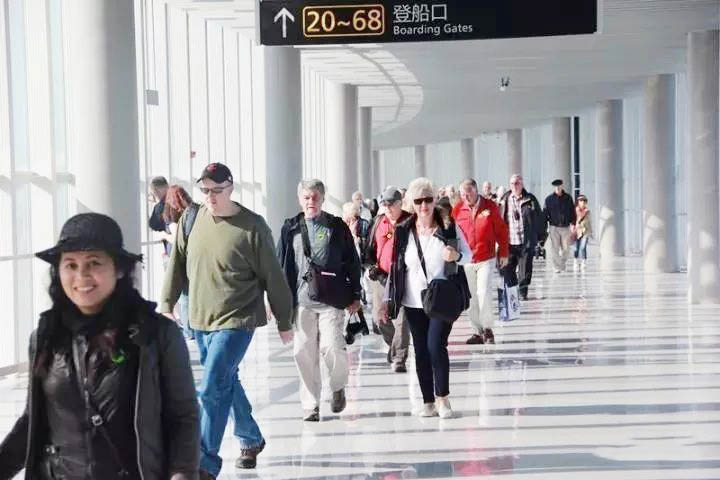 Foreign Curise Tourists Got Ashore at Qingdao International Cruise Home Port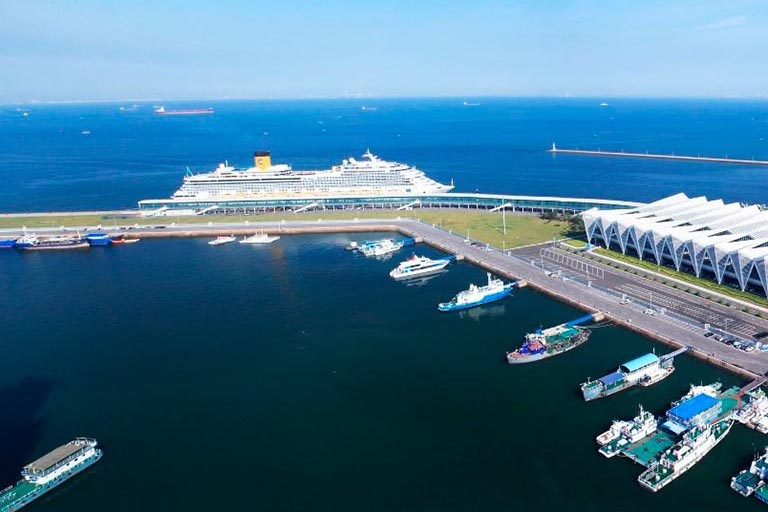 Qingdao International Cruise Home Port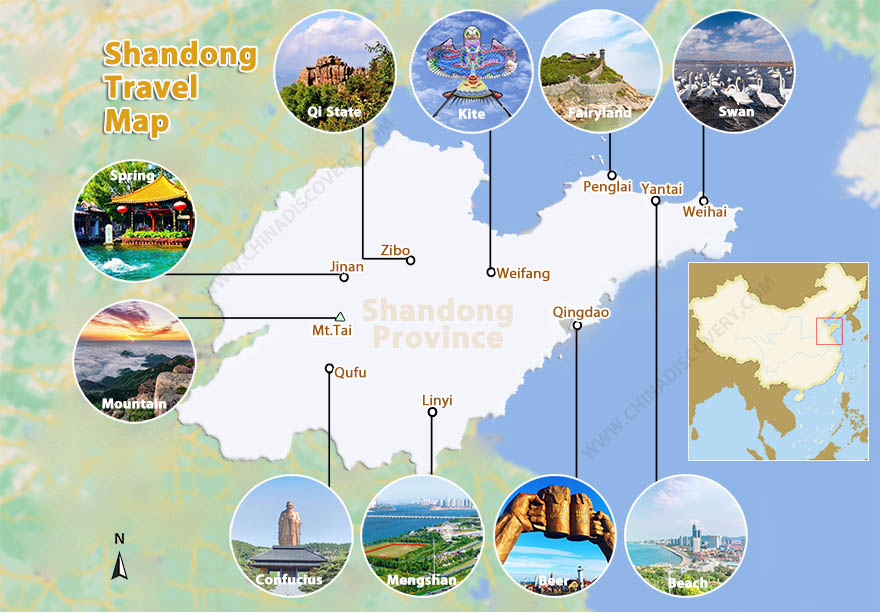 Shandong Province Map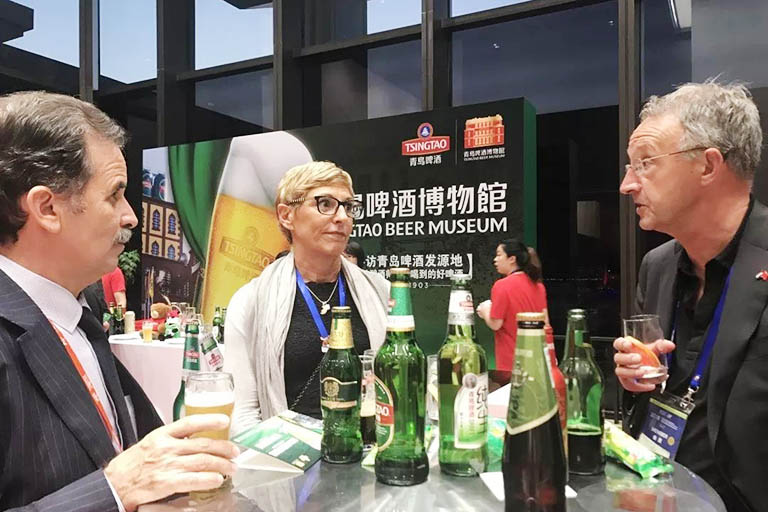 Foreign Tourists Enjoyed Tsingtao Beer Museum Night Activity in Qingdao
Tips: 1.) Temporary accommodation registration is required done within 24 hours after entry. If you stay in hotel, the hotel staff will register for you, if not, you and your host should get to the Public Security Bureau to complete the procedure. 2.) If you will have to stay a longer period, please go to the local security for further help.
If you want to know whether you're qualified for applying for the 144-Hour Visa-Free Transit, you are free to contact us to confirm.
Step 1 - When boarding, inform the air or ship carrier that you will apply 144-Hour Visa-Free Transit in Qingdao. The staff will deliver your planned temporary entry to the Immigration Authority at entry port in Qingdao.
Step 2 - Upon arrival, prepare your valid passport & connecting ticket, and fill in the Arrival Card at specialized desk. Follow guide to 144-Hour Transit Visa Exemption counter, wait and submit application with your passport and ticket to onward destination.
Step 3 - After checking your documents and application, the Exit & Entry Immigration Officer will decide to grant the 144-Hour Visa-Free Transit to you or not. If application is approved, the officer will affix a Temporary Entry Permit on your passport, which means you success in getting 144-hour visa-free travel to Qingdao and Shandong.
The permit will mark important details, including the area of stay, stay period and your port of entry.
Step 4 - Go through customs and immigration formalities. Later you can leave Qingdao Liuting International Airport or Qingdao International Cruise Home Port, visit Qingdao and any place in Shandong for up to 6 days.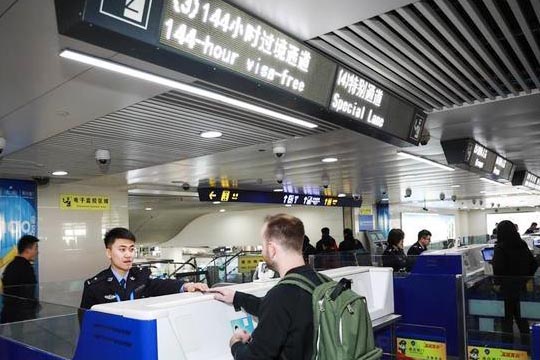 Traveler Was Applying for Qingdao 144 Hour Visa Free Transit at Qingdao Airport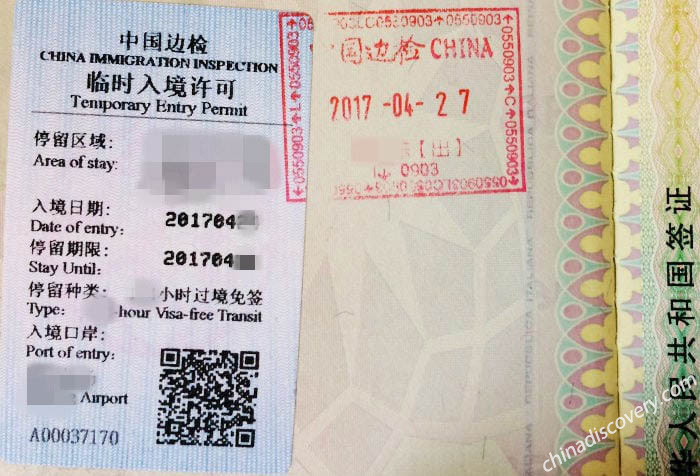 Temporary Entry Permit Issued for 144 Hour Visa Free Transit (click to enlarge)
Generally, your Qingdao and Shandong visa-free layover tour can be arranged based on your personal interests and time. As a beautiful costal city in eastern Shandong Province, Qingdao is most recommended for 2 days' highlights exploration, with both charming seaside landscape and unique beer culture. If you prefer an in-depth Qingdao tour, you can take 1 more day to visit more attractions and experience diverse charm of Qingdao. Top must-sees in Qingdao include Qingdao Beer Museum, Badaguang Scenic Resort, Qingdao No.2 Bathing Beach, Xiaoyushan Park, May Fourth Square, etc.
☞ 2 Days Qingdao City Short Stay
☞ 3 Days Qingdao Highlights Tour with Laoshan Mountain
☞ 3 Days Qingdao Beer & Seaside Tour
Shandong owns not only refreshing coastal scenery, but also some remarkable UNESCO World Cultural Heritages, such as Mount Tai and San Kong (Three Confucius Sites) and many other marvelous attractions. Just two separate day trips, you can make a hiking trip on Mount Tai in Tai'an and take a Confucian cultural encounter in Qufu. Love scenic coastal scenery? It's prevalent to take 2 more days to visit Weihai, Yantai and more coastal destinations in Shandong and savor a relaxing and joyful sightseeing journey. Rest assured that, 6 days is enough to view the major essence of Shandong.
☞ 4 Days Qingdao Qufu Mount Tai Essence Tour
☞ 4 Days Jinan Mount Tai Qufu Cultural Tour
☞ 5 Days Qingdao Weihai Yantai Coastal Tour
☞ 6 Days Best of Shandong Tour (Jinan/Mount Tai/Qufu/Qingdao)
>> Popular Qingdao Tours | Top Things to Do in Qingdao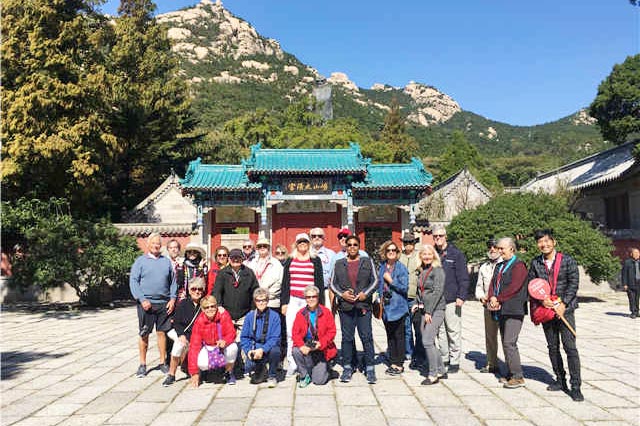 Cruise Tourists Visited Laoshan Mountain Visa Free
Spectacular Scenery on Mount Tai
Temple of Confucius in Qufu
China Discovery is a professional and experienced travel companion who offers high-value and worry-free tours for you. We not only design ideal itinerary covering sightseeing, dining, transfer and hotel, but also can provide any support you need for travel to China. No matter you are considering use 144-Hour Visa Free Transit in Qingdao, China or want to get a normal China Visa to visit Beijing, Shanghai, Xian, or more else destinations in mainland China, we are always ready to help, from pre-arrival preparation, application guide, every details required for getting a China Visa to tour service during the trip.
Please feel free to contact us to join in our top popular Qingdao tours, or let us customize a once-in-a-lifetime trip to China for you with your Chinese Visa.
Qingdao Travel Guide
Recommended Tours
Top 3 tours chosen by most customers to explore in the best way. Check the detailed itinerary, or tailor your own trip now with us.
3 Days Beijing Round Trip Highlights Tour from Tianjin Cruise Port

Tianjin International Cruise Port - Beijing - Tianjin City - Tianjin International Cruise Port
5 Days Essence of Tianjin Beijing Tour - East Meets West

Tianjin / Beijing
Start planning your tailor-made holiday to China by contacting one of our specialists. Once inquired, you'll get a response within 0.5~23.5 hours.
Customize a Trip
Have a question? Get answers from our travel experts or guests
Your Question:

Your Name:

Your Email: