Latest China Visa News Updated on March 15, 2021:
1. New visa policy to mainland China for foreigners in Macau
According to official notice on March 15, foreigners reside in Macau, permanent and non-permanent both included, can apply for all types of Chinese Visa to visit China. All applicants must provide a proof of at least 28 days' continuous stay in Macau before submitting the application. Besides, foreigners who have been vaccinated the Chinese-made COVID-19 Vaccines, finished 2 doses or over 14 days after the first dose, and take a valid certificate of vaccination issued by Macau Health Bureau can also apply for all categories of visas to visit China.
Please note that, all qualified applicants are required to fill out an application and make reservation for specific submission date online. For more helpful details, please refer to the official website (http://www.fmcoprc.gov.mo/eng/lsfw/zytz/t1860982.htm) for further guidance and check.
2. Transit and transfer flights from Hong Kong International Airport to other Chinese cities remains unavailable at present.
3. Since November 2020, Chinese Embassy in UK, France, Russia, Belgium, Philippines, India, Ukraine and Bangladesh have announced that, non-Chinese nationals' entry into China will be suspended if he/she comes from above countries though holding a valid Chinese Visa or Residence Permit. Visitors from other countries can refer to entry news updated on September 23, 2020.
4. From 00:00 September 28, 2020, foreign visitors holding valid Chinese residence permits in three categories (work, personal matters and family reunion) can enter China without reapplying for a China Visa. For those whose residence permit already expired after 00:00 March 28, 2020, and purpose of visiting remains the same can submit the overdue permit and related materials to apply for a new China Visa.
5. China's temporary suspension of entry policy issued on March 26 continues to take effect. That is, Tourist Visa, the On-arrival Visa, 24/72/144-hour Transit Visa Free... will all be suspended during the coronavirus period. You can enter China if you belong to one the three situations: hold diplomatic, Service and Courtesy, C Visa; granted China Visa for scientific/technological matters, urgent humanitarian needs and new Chinese Visa issued after March 28, 2020.
China Discovery will still focus on and update the visa and entry policy of China for you!
When applying for China Visa, based on personal travel plans, all applicants will fill in proposed number of entries to mainland China, either 1 entry (within 3 months), 2 entries (valid for 3 to 6 months), and multiple entries (for 6 months, 1 year and above) and special notes on the China Visa Application Form. The embassy visa officer will give a final number of entry by considering your application materials and intended purpose to mainland China.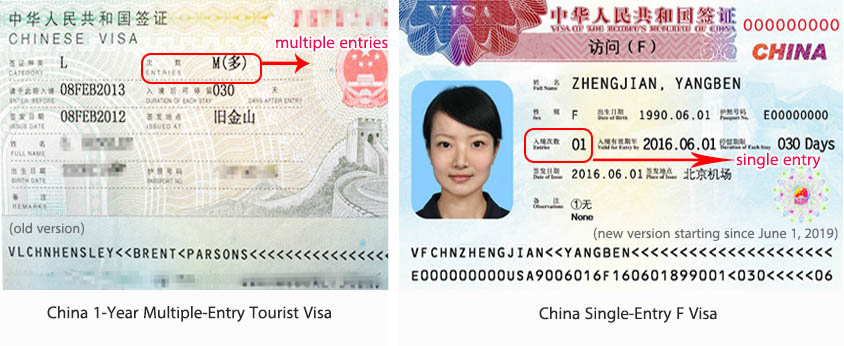 Samples of China Single-Entry and Multiple-Entry Visa
Once successfully issued, the "Entries" is stamped clearly in Arabic numerals with proper visa type, validity, issuance date and personal information on the China Visa page. (understand all China Visa informations here) "01 (壹)" means single (one) entry, "02 (贰)" stands for double (dual) entries, "M (多)" means multiple entries. Literally, you're allowed to enter China 1, 2 or many times as long as the visa is still valid. A China Visa will become invalid if the number of entries have been used up, or the entry date expires (even there is entry times left). A new trip to China requires a new China Visa with valid entries.
☞ What is Single Entry Visa in China?
China Single-entry Visa is a one entry visa allowing only one entry and one exit out of China. It is usually issued for short-term visitors to destinations in one single trip (e.g. Chinese Tourist Group Visa for no longer than 30 days, Shenzhen 5-Day Special Econonic Zone Tourist Visa) and special long-term types of China Visa (such as China Z/X1/J1/Q1/S1/D Visa with a stay over 180 days.) According to individual case, some foreigners may granted China Single-entry Tourist Visa or Non-commercial Visit (F) Visa with a validity of 3 months.
International tourists wishing to visit Forbidden City in Beijing, famoud Bund view in Shanghai, amazing Terracotta Warriors Army in Xian or idyllic countryside scenery in Guilin... in a single trip may apply a single entry visa while submiting application overseas.
If you want to get to Tibet from Nepal, you must apply and obtain a single-entry Group Visa from Chinese Embassy in Kathmandu. Without it, you can NOT board a flight to Lhasa or go throgh overland trip via Gyirong Border Port.
Related Tour: >> 8 Days Tibet Classic Tour from Kathmandu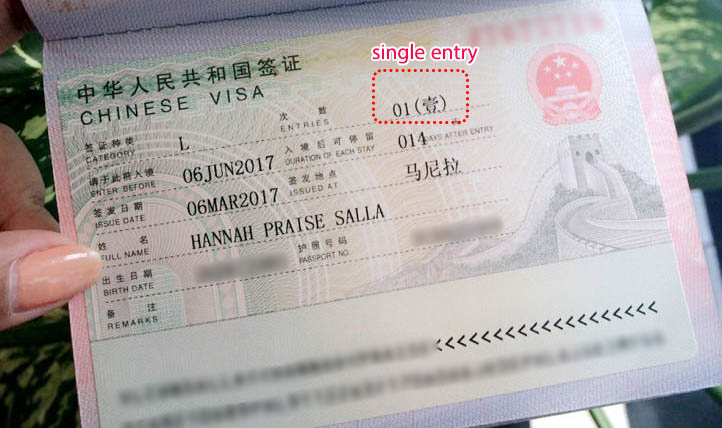 China 3-Month Single-Entry Tourist Visa Issued in Manila
☞ What to Notice about China Single Entry Visa?
Short-term tourists or business visitors or travelers for other aims shall exit before the permitted stay period ends. Another entry without a valid China Visa is strictly forbidden. Long-term Single Entry Visa holders, like the Z Visa, are required to apply for a China Residence Permit from the Exit & Entry Administrative Department of local Public Security Bureau where you will stay, within 30 days after entry.
☞ China Single Entry Visa Fee
The Single-entry China Visa cost differently for lots of factors, including your citizenship, where you submit application to (embassy, consulate or China Visa Application Service Center), which service you use, etc.
Nationality
Apply in Which Country
Number of Entry
Regular Application
Express Service
Rush Service
US Citizens

US
(submit to Chinese Embassy/Consulate)


Single Entry
USD 140
USD 165
USD 177
Canadian Citizens
USD 80
USD 105
USD 117
Other Citizens
USD 30
USD 55
USD 67
Note: For US and Canadian passport holders, China Visa Application fees for single entry, double or multiple entries and all types (3 months, 6 months, 1 year and even 10 year) are the same, third countries shall pay differently for each type of entries. For submission direct to embassy, applicants only need to pay visa application fee, while apply through service center, you need to pay additional service fees.
☞ What is Double Entry Visa for China?
China Double Entry Visa is a kind of visa given two/dual entries for aliens to mainland China. Easy to understand that, holding a China double-entry Visa, you can enter and exit, and enter again before the expiration date. No need to apply a visa for the second visit. It's much convenient and time-saving if you do plan another travel in China.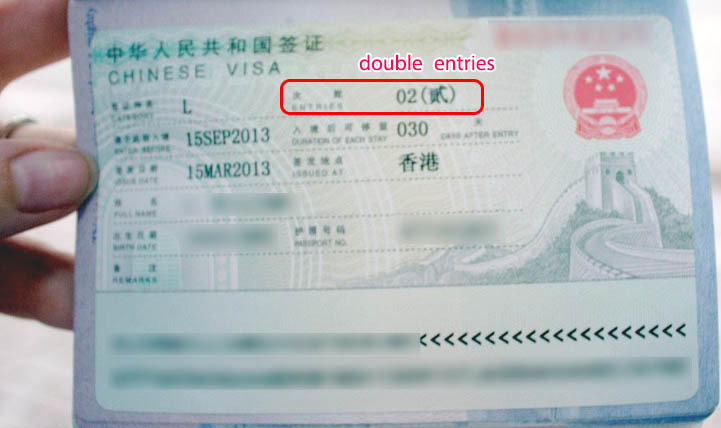 China 6-Month Double-Entry Tourist Visa Issued in Hong Kong
☞ Single Entry or Double Entry?
When thinking about which type of entry visa to apply, you must plan your travel route in advance. Hong Kong and Macau are regarded as third regions from mainland China. Therefore, if you attend Canton Fair in Guangzhou and have a possible travel to Hong Kong or Macau, you're suggested to obtain a China Double-entry Visa if will return to mainland China later. Similarly, a Double-entry Visa is needed if you will return to mainland China and depart for a international destination. (e.g. Flight: US --> Beijing --> Singapore --> Beijing --> US; Curise: Japan --> Tianjin --> Xiamen --> Hong Kong --> Bangkok.)
☞ Cost of Double Entry Visa to China
Nationality
Apply in Which Country
Number of Entry
Regular Application
Express Service
Rush Service
US Citizens

US
(submit to Chinese Embassy/Consulate)


Double Entries
USD 140
USD 165
USD 177
Canadian Citizens
USD 80
USD 105
USD 117
Other Citizens
USD 45
USD 70
USD 82
Note: For US, UK, Canada, Australia passport holders, a double-entry short-term visa costs mostly the same as a single-entry visa.
☞ What is Multiple Entry Visa for China?
A China Multiple-entry Visa refers to the holders can enter mainland China many times during the validity. It can be issued to short-term (3 months, 6 months) or long-term (1 year, 2 years, 5 years and 10 years) visitors. As long as the visa is still valid, there is no limitation of the number of entries. For foreign travelers who may frequently visit China, the Multiple-Entry Visa is the most recommended and best choice, cause you can visit mainland China more than twice in different trips.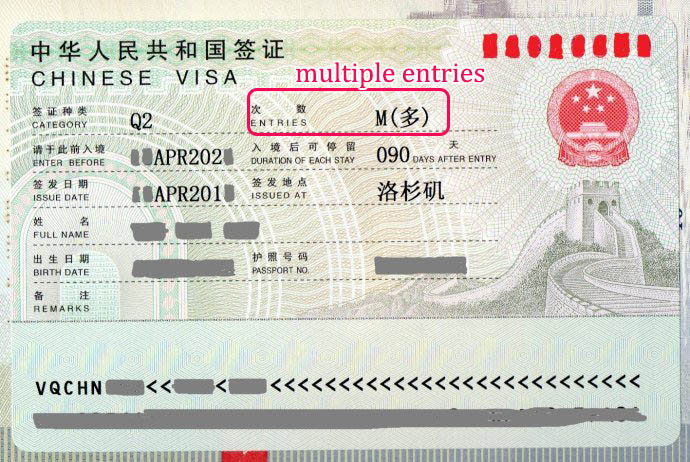 China 10-Year Multiple-Entry Q2 Visa
☞ How Do I Get A Multiple Entry Visa for China?
The application requirements and materials remain the same as a normal short-term visa application. To increase the chance to get a China Multiple-entry Visa (maybe a Toursit L Visa, Business M Visa), you shall make a clear statement on the application form, provide previous record to China (visas, photos...), which may help to explain your willingness to visit China often. We suggest you better prepare former visit evidence as much as possible.
☞ China Visa Multiple Entries Fees
Below are schedules of China Multiple-entry Visa fees in US, you can check on the offcial website of Chinese Embassy in your country or guide page on www.visaforchina.org..
Nationality
Apply in Which Country
Number of Entry
Regular Application
Express Service
Rush Service
US Citizens


US
(submit to Chinese Embassy/Consulate)

Multiple Entries (for any types & duration)
USD 140
USD 165
USD 177
Canadian Citizens
USD 80
USD 105
USD 117
Other Citizens
Multiple Entries (for 6 Months)
USD 60
USD 85
USD 97
Multiple Entries (for 12 Months & above)
USD 90
USD 115
USD 127
● China 5-Year Multiple-Entry Visa
Ethic Chineses (foreigners of Chinese origin) living abroad can apply 5-Year China Q1/Q2 Visa from overseas Chinese Embassy or apply 5-Year Residence Permit after entry in China.
>> British citizens can also apply the 5-Year China Visa for tour (L Visa), business (M Visa), short-term family reunion (Q2 Visa) and private affiairs (S2 Visa), if he/she once granted Chine 2-Year Multiple Visa 2 times or more, or got a China 2-Year or longer Visa once and visited China more than 3 times during recent 2 years.
>> Americans studying in China may apply 5-Year China Student (X1) Visa.
>> Officially invited foreign experts & scholars, recoginized high-level talents can get China Visa on Arrival at border ports, and then apply 5-Year China Visa or Residence Permit, or the longest 10-Year China Talent (R) Visa from local Public Security Bureau.
● China 10-Year Multiple-entry Visa
Currently, only US, UK, Canadian, Argentinean passport holders are eligible to apply for 10-year multiple-entry China Visa, including the Tourist L Visa, Business M Visa, Family Reunion Q2 Visa and Private Visit S2 Visa. Each country has specific requirements to apply, for example, to apply a 10-year China Visa, an American needs a valid passport with more than 1 year's validity, a British shall obtained 2-year or 5-year multiple-entry China visa before, Canadians will be issued visa valid no longer than the passport validity.
Tips: Argentine citizens can only apply 10-year Tourist & Business Visa with a maximum stay period of 90 days each visit.
How Much is A 10 Year Visa to China?
Americans and Argentineans have to submit application directly to Chinese Embassy in US or Argentine respectively. So just visa application fees would be occured. While Britishs and Canadians must submit though China Visa Application Center, additional service fees will be charged by the center.
Nationality
Where to Submit
Visa Type & Validity
Visa Cost (Application Fee+Service Fee)
Duration of Stay (maximum per entry)
Payment


US Citizens

Chinese Embassy/Consulate in U.S.A


10-Year Multiple-Entry
China L/M/Q2/S2 Visa
Regular: USD 140;
Express: USD 165;
Rush: USD 177





L/M Visa: 60 days;
Q2 Visa: 120 days;
S2 Visa: 90 days.
Credit Card (Master/Visa Card);
Cash Cheque (Money Order/Cashier's Cheque);
Company Cheque.

Canadian Citizens

China Visa Application Service Center

10-Year Multiple-Entry
China L/M/Q2/S2 Visa
Regular: CAD 162.15
Express: CAD 228.79
Rush: CAD 274.3.



Cash, Debit Card

British Citizens

China Visa Application Service Center
5-Year Multiple Entries
Regular: GBP 236
Express: GBP267
10-Year Multiple Entries
Regular: GBP 321
Express: GBP 352
Argentinean Citizens

Chinese Embassy in Argentine
10-Year China Multiple-Entry Tourist/Business Visa
Regular: ARS 5750
Express: ARS 6700
Rush: ARS 7150
China L/M Visa: 90 days
Deposit Receipt to Embassy Appointed Banks
Note: Under special situation, the duration of stay per entry can be extended for foreigners of Chinese origin up to 180 days.
Q1: Can I get a 10-year visa for China?
Only citizens from certain countries (US, UK, Canada, Argentine) can apply China 10-Year Multiple Visa for specific purposes. Even you're qualified, the final decision is made by the visa officer, and the result is not always guaranteed.
Q2: I got a double entry visa to China. The visa is valid from March 20 to June 20. I entered China two times already before May 20. Can i use the visa to enter China later?
No, you can't. The entries permitted to you has been used up, so your visa became void even it's still during the validity period.
Q3: How to get Hong Kong Multiple-entry Visa?
Foreigners of 170 countries are visa exempted to Hong Kong for 7 to 180 days for multiple trips. Others can apply a Hong Kong Multiple-entry Visa from Chinese Embassy abroad, remember to request a multiple-entry visa if you want one. How to Apply for Hong Kong Visa >>
Q4: How to Understand the " Entry Before Date" on (old version) China Visa?
Usually, a China Visa starts to be valid since issued. The "Enter Before" is the last entry date (24:00 UTC+8). The new version is marked as "Valid for Entry By", which is the deadline for entry to China. A China Visa would be expired after passed that date.