Chinese Visa Introduction - How to Read A China Visa
Who can Apply for Chinese Visa in this COVID Period? To prevent the spread of COVID-19, over 100 nations worldwide has carried out entry restrictions on foreign visitors. In this difficult time, Chinese Embassies abroad only accept application for necessary economic, trade, scientific research and urgent humanitarian needs. If you have any visa issues, such as applying for a Chinese Visa, returning back to China for family reunion, please contact Chinese Embassy or consulate in your country for latest news and further help. We will also pay close attention to the visa policy and keep updating. We want to back to normal life as much as you do. May you stay healthy. And, very appreciate your understanding and patience!
Foreigners holding ordinary passport are required to obtain a valid visa to visit China, unless you meet relevant policies of Chinese Visa Exemptions. According to different purposes & ways of visit, there are two visa forms, including individual visa stamped on passport (most common) and Group Visa on paper sheet (special form).
After you successfully obtain a Chinese Visa, you must pay attention to the definitions, read all details carefully, especially the visa category, number of entry, issued validity and duration of stay. To ensure your trip to China, you shall fully understand each section of information.
China Visa on Passport
A Sample of Chinese Tourist (F) Visa (New Version Used Since June 1, 2019)
1. Category (签证种类) - Chinese Visa Types
Chinese Visa contains diplomatic, courtesy, service and ordinary visa, according to different identity and types of passport they hold. For ordinary visa, there are totally 16 kinds of visas for mainland China, besides Hong Kong Visa and Macau Visa and Tibet Travel Permit. More about Chinese Visa Categories >>
Normally, a single English letter is stamped on the top left of the visa page, and it stands for the corresponding visa category. It's very important to figure out which kind of visa to apply for before submission, and check after you get the Chinese Visa. If you apply a visa not in accordance with the purpose of visiting, your entry will be refused.
Major types of Chinese Visas:
"L" = China Tourist Visa (visit China for travel)
"M" = China Business Visa (visit China for commercial & trade activities)
"C" = China Crew Visa (visit China as foreign crew members of international transportation and their accompany family members)
"D" = China Resident Visa (to reside in China permanently)
"F" = China Non-commercial Visit Visa (go to China for exchanges, visits, study tour, etc)
"G" = China Transit Visa
"Q1/Q2" = China Family Reunion Visa (to visit family members in China, who are Chinese citizens or foreigners holding China's permanent residence)
"S1/S2" = China Private Visa (visit family members who are working, studying in China for private matters)
"X1/X2" = China Study Visa (for study in China)
"Z" = China Work Visa (to work in China)
2. Entries (签证的入境次数)
The entries refers to how many times you can enter China during the period of validity. China offers 3 entry options to meet foreigners' different needs of visiting, including regular single-entry, double-entry and multiple-entry visa. (The very less-known Zero-entry Visa is an exit visa, not allowing any entry.)
Applicants can choose the number of entries when filling in visa application form. But the final number of entries and duration of stay are determined by the Chinese Embassy and Consulates aboard.
Notes: You have to apply for a new Chinese Visa if you are in the following 2 situations: 1.) the entry times have been used up; 2.) the visa has expired. Your entry would be rejected if holding a expired visa, even there are entries left.
① Single-entry Chinese Visa
The Single-entry China Visa allows visitors to enter China only once. It is valid for 3 months from the date of issue. Holders can stay up to maximum 30 days within mainland China. If you want to re-enter China, you must apply for a new Chinese Visa.
Pattern on Passport: 01 (壹)
② Double-entry Chinese Visa
Foreigners holding the Double-entry Chinese Visa can get into mainland China twice. The period of validity is 3 to 6 months from the date of issuance, with duration of each stay 30 days.
Please note that Hong Kong and Macau SARs owns separate policies of visa or entry permit. So you will need a double-entry or multiple-entry Chinese Visa, if you firstly visit mainland China, then to Hong Kong or Macau and later come back to mainland China again.
Pattern on Passport: 02 (贰)
③ Multiple-entry Chinese Visa
A multiple-entry China Visa is the most popular option, because it permits the visitor to enter and exit China as many time as he/she likes within the validity. You can apply for multiple entry visa for 6 months, 1 year, 2 year, 5 year and above ( up to 10 years in countries like US, UK, etc). Visa fees will be charged differently.
Attention that the permitted duration of each stay vary from different types of Chinese Visas. For example, Canadian citizens can stay up to 60 days each visit for China L & M Visas, and 120 days for China Q2 Visa. And there is no limitation to the gap between two individual entries.
Pattern on Passport: M (多)
3. Valid for Entry By (签证的有效期) - Chinese Visa Validity
The "Valid For Entry By" means the expiry date of the Chinese Visa, it is the deadline you can enter China. The exact expiration is 24:00 of China official time (Beijing GMT+8:00). The complete period of validity counts from the "Valid For Entry By" date and lasts the days issued to you. The validity vary from visa types and number of entries, usually is 3 months, 6 months, 1 year and more. Visitor can NOT enter China if the time has passed as indicated on the visa.
Format on Passport: YY-MM-DD
4. Duration of Each Stay (停留期限) - Days After Entry
On the right section next to "Valid For Entry By", "Duration of Each Stay" means the maximum number of days visitors are allowed to stay in China per entry. It is calculated from 00:00 on the day after entry into China, till to the 24:00 (Beijing GMT +8:00) of last permitted day. And it counts every time you enter China, not calculated.
The"Duration of Each Stay" differs by the visa types. The duration ranges from a few days, to 30 days, 60 days, 90 days, 120 days and 180 days at most. A regular stay for the Tourist (L) Visa is 30 days. If you want to stay longer than the issued duration, you need to apply for China Visa Extension from public security authorities at least one week before the expiration date. Overstaying is against the laws of China.
"000" days is a special note for certain long-term Chinese Visas, like China Work (Z) Visa, China Study (X1/X2) Visa, China Foreign Journalist (J1) Visa & China Resident (D)Visa. It doesn't mean the bearer can't stay in China or they can stay in China without limitation of length of duration. They are required to apply a residence permit in the local Public Security Bureau within 30 days upon arrival. Their accurate duration of stay will be specified on the residence permit.
5. Others Information on China Visa Page
● China Visa Number: It consists of 8 digit numbers, 1 capital Latin letter and 7 Arabic numerals. It's one and only code representing you Chinese Visa.
● Date of Issue: It is the date when your Chinese Visa is issued, and your visa validity starts from that day.
● Place of Issue:It is printed a city/region name in Chinese, which is the location of Chinese Embassy or Consulate.
● Full Name, Sex, Date of Birth and Passport Number are also crucial personal information should be stamped correctly.
China Tourist Group Visa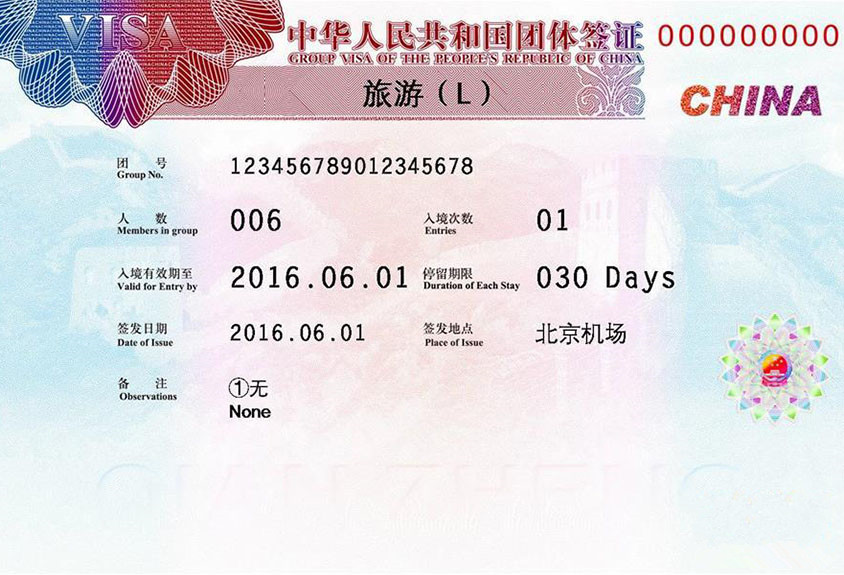 Sample of New Chinese Tourist Group Visa
China Tourist Group Visa is a special kind of Chinese Visa, which issues to a tour group with at least 5 members and organized by a local travel agency. The old Group Visa, unlike the regular individual visa printed on passport, it was on a sheet of paper, listing related personal information about all tourists, including applicants' name, gender, nationality, date of birth, passport number, passport validity and procession/occupation. From June 1st, 2019, a New China Group Visa form has been started as like the regular Chinese Visa
All group tourists have to enter into and exit from China at the same port and same time. Tourist wishing to travel to Tibet from Nepal, whether by overland driving or by flight, must apply for a Group Visa from Chinese Embassy in Kathmandu, Nepal.
Related Kathmandu Lhasa Tours:
>> 8 Days Tibet Classic Tour from Kathmandu
Trave China with China Discovery
China Discovery is a professional and experienced travel companion who offers high-value and worry-free tours for you. We not only design ideal itinerary covering sightseeing, dining, transfer and hotel, but also can provide any support & help you need to travel to China. With a Chinese Visa, you can freely travel to many cities in mainland China, among all, Beijing, Shanghai are used as gate way cities, Xian, Guilin, Chengdu are also excellent destinations to discovery different regional culture, history and local customs in China.
You may choose from our most popular China tours, or just contact us, tell your interests and travel plans, we could customze a perfect China tour as you like.