China Visa Free Cities and Regions - Visit Major China Destinations Without Visa
Notice on Latest Visa and Entry Policies for Foreigners Entering China - Updated on April 25, 2023:
1. From April 29th, all travelers to China can use Covid-19 antigen tests taken within 48 hours before boarding instead of nucleic acid tests, and airlines will no longer verify pre-boarding testing certificates.
2. In order to further facilitate the entry and exit of Chinese and foreign personnel, it has been decided to make the following adjustments to the visa and entry policies for foreigners entering China, effective from 00:00 March 15, 2023 Beijing time:
1). The entry function of visas which were issued before March 28, 2020 and still valid will be restored.
2). Overseas visa offices will resume issuing various types of visas (including Tourist Visa) for foreigners to travel to China, with specific requirements detailed in the visa application guidelines of Chinese embassies or consulates.
3). Port visa offices will resume issuing various types of port visas for lawful purposes.
4). The policies of visa-free entry for Hainan, Shanghai International cruise arrival, Guangdong for Tourist group entry of foreigners from Hong Kong, Macau, and ASEAN tourist groups entering Guilin, Guangxi will be restored.
3. Attention on China Group Visa on Arrival in Nepal: needs minimum 4 applicants, and no maximum limit. All applicants from one list must all come to the Visa Center for application.
China Discovery will keep focusing on the updates of the latest Chinese visa and entry policy! You can also call 86 010 12367 (Official telephone number of China National Immigration Administration) to check further information. Welcome to join in our Facebook Groups to catch up with the latest news!
Invitation letter is a vital document for Chinese visa application. If you travel with us, we will not only create a valuable tour for you, but also provide you an invitation letter if you request, which will help you obtain your visa successfully. Start customizing your tour in China now!
We are one of the few China travel agencies who have kept active and received lots of feedbacks and reviews during pandemic years

Yaser
"Hello Mr. Wonder, We have arrived safely to Kuwait and are now cherishing our memories of China. The service of the guides was generally very good. They gave us insight into the history..."
read more »
Reviewed on May 29, 2023

Ilia G
"I have purchased a private tour from Lijiang to Shangri-la with a driver in the first week of May, 2023. Tracy Tan (I do not know her Chinese name, unfortunately) from China Discovery..."
read more »
Reviewed on June 7, 2023
Are you thinking it's really troublesome to obtain a visa for Beijing or Shanghai in China? You get the right place here! Taking advantage of China's different visa-free policies is an excellent way to enjoy a China tour without visa, because it ideally saves lots of your time, money and energy making paperwork before departure.
Currently, China provides transit visa exemption (TWOV), firsthand visa-free entry and a few special visa waiver programs in different cities and regions. Just go through related requirements, a fast and convenient entry, a "no-visa" trip to China is at your fingertips.
Top tourist destinations like Beijing, Shanghai, Guangzhou, Shenzhen, Chengdu, etc are supporting international transit travelers to enjoy a transit visa-exempted layover tour for 1 to 6 days (144 hours). Downtown sightseeing and iconic visiting of Great Walls, Giant Pandas..can be easily achieved. Hong Kong and Macau SARs (Special Administrative Regions), Hainan Province even allows direct visa-free month-long holiday for certain visitors.
Looking for the most suitable city applicable to the free visa? Follow us to find the perfect one matching your travel plan.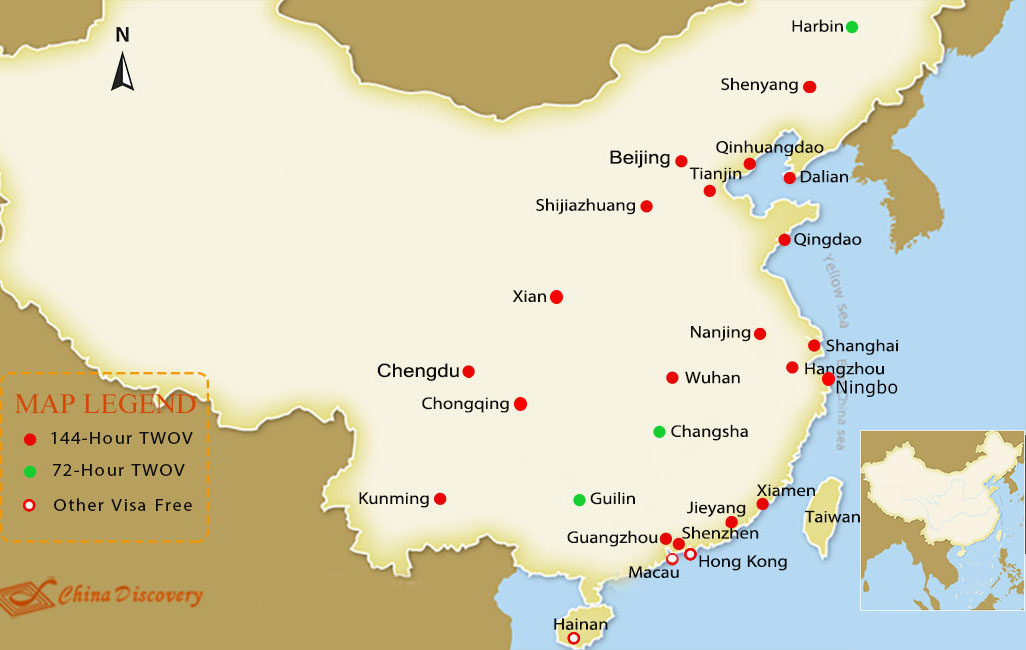 China Visa-free Destinations
Entry Port: Guilin Liangjiang Airport
Destinations: Guilin, Yangshuo, Longsheng
Highlights: Li River Cruise, Yangshuo Biking, Longsheng Rice Terrace, Feed Flute Cave...

Situated in Guangxi, Guilin has been long world known as a beautiful destination with amazing Karst scenery and terrific countryside walking experience.During 72-hour stopover tour in Guilin, it's highly recommended to view the moving painting by a Li River Cruise, take a Yangshuo Biking, or spend some days on beautiful lined rice terrace in Longsheng. Tourists can fly to Guilin from Kuala Lumpur, Seoul, Bangkok, and else cities in South and Southeast Asia.

Entry Port: Harbin Taiping Airport
Destination: Harbin
Highlights: Ice and Snow World, Yabuli Ski Resort, Zhongyang Pedestrian Street, Saint Sophia Cathedral...

Harbin is the capital city of Heilongjiang Province, serving as transportation hub in Northeastern China. Notable as "Ice City", Harbin is a super popular winter destination where you can experience skiing, view large-scale and lifelike ice sculptures, buildings in Baroque style, and touch the real Frozen world. Harbin Airport currently runs flights to South Korea, Japan, Russia, Singapore, Vietnam, mainly to destinations in Southeast Asia and North America.

Entry Port: Changsha Huanghua International Airport
Destinations: Changsha, Zhangjiajie, Hengyang, Yueyang, Any City in Hunan Province
Highlights: Zhangjiajie National Forest Park, Fenghuang Ancient Town, Mt. Heng

Changsha is the capital city of Hunan Province, known for the Mawangdui Tomb of Han Dynasty and current transportation hub in China. Most tourists travel to Zhangjiajie from Changsha, or transfer to Fenghuang Ancient Town or other destinations within Hunan. You can fly to/off Changsha from Mandalay, Kuala Lumpur, Seoul, Bangkok, Frankfurt, Osaka, Singapore, Tokyo, etc.
Most Read Articles about China Visa
Below are some most useful articles for you to better understand China Visa and detailed guide for China Visa Application, Visa-Free Transit policy. For further informations about China Visa, you can contact us for help if you have any question.