How to Get from Zhangye to Urumqi: By Flight or By Train
The famous ancient "Silk Road" started from Xian, passed by Lanzhou, Zhangye, Jiayuguan, Dunhuang in Gansu, linked Urumqi and many places in Xinjiang, and ultimately going to Central and West Asia. Tracing the original route and visiting different landscape, historical sites in Northwestern China has been a unusual adventure to unlock the mysterious ancient civilization. If you are planning such a trip from Zhangye to Urumqi, check the following transportation to find the best and most convenient option for your Urumqi tour.
Where is Urumqi? How Far is Urumqi from Zhangye?
Urumqi (乌鲁木齐) is the capital and transportation hub of Xinjiang Uygur Autonomous Region, which is located in the Northwestern China, central of Xinjiang, and the heart of Eurasia, north foot of middle Tianshan Mountains, south of Junggar Basin. It is known as a important gateway city to the west in China and a city farthest from the sea in the world. In Xinjiang, Urumqi is surrounded by Turpan City (吐鲁番市), Bayingolin (Bayinguoleng) Mongol Autonomous Prefecture (巴音郭楞蒙古自治州) and Changji Hui Autonomous Prefecture (昌吉回族自治州).
Zhangye (张掖) is a prefecture level city in northwest of Gansu Province and middle of Hexi Corridor. It is located next to the Jiuquan City (酒泉) and about 500km/6 hours' drive of northwest of Lanzhou (兰州).
Since Xinjiang borders Gansu in the northwest, Urumqi is also situated in the northwest of Zhangye. The driving distance between Zhangye and Urumqi is: nearly 1,400 km/ 16 hours.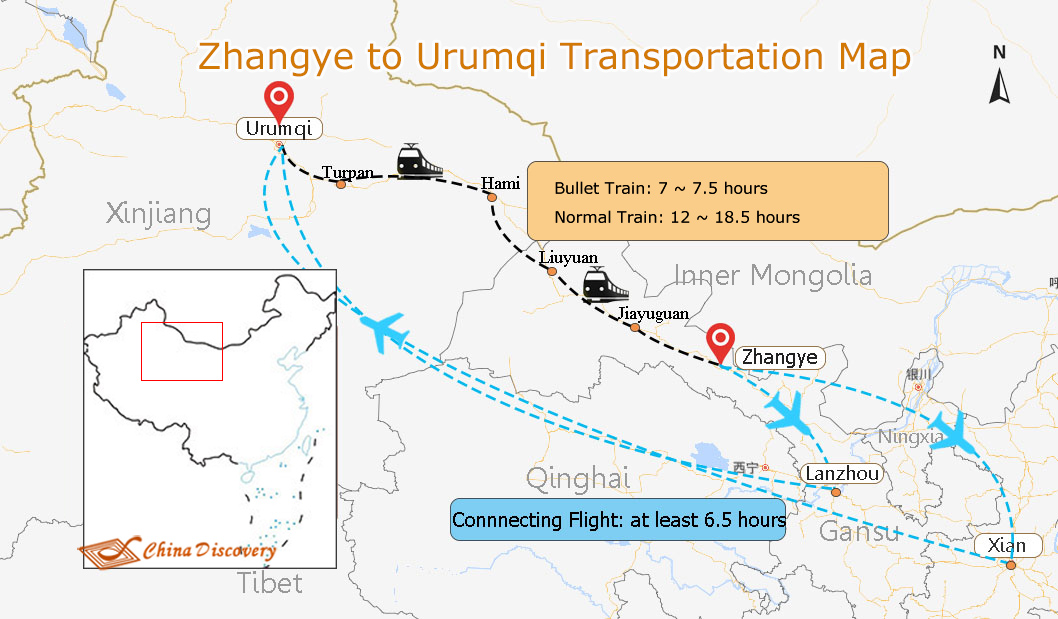 Zhangye and Urumqi Location and Transportation Map
1. Travel from Zhangye to Urumqi by Train - Recommended
Compared with long journey of driving and flight with extra transfer, taking a direct train to get to Urumqi from Zhangye is the most popular choice. You can choose from nearly 30 trains daily, including faster bullet trains and cheap but slower normal trains. During the train journey, you may visit Jiayuguan and Turpan, two famous tourist destinations to appreciate unique landscape in Northwest region of China.
● Zhangye to Urumqi Bullet Train - The Fastest Option
Railway Length: about 1,301 km/ 808 mi
Journey Time: about 7.5-8.5 hours
Based on the Lanzhou Xinjiang High Speed Railway, Zhangye sends about 4 bullet trains from Zhangye West Railway Station (张掖西站) in Zhangye to Urumqi Railway Station (乌鲁木齐站) in Urumqi. The bullet trains (all are D trains) are scheduled in the afternoon every day, from about 12:30 to 15:30. First Class Seat and Second Class Seat are provided on board.
Useful Links:
◆ Zhangye West Railway Station | Urumqi to Zhangye Bullet Train Schedules
China Train Travel Guide
Recommended Silk Road Bullet Train Tours:
>> 10 Days Qinghai and Gansu Highlights Tour
>> 15 Days Classic Ancient China Silk Road Tour with Bullet Train Experience
● Zhangye to Urumqi Normal Train - The Cheapest Way
Railway Length: about 1,030-1,694 km/ 640-1,053 mi
Journey Time: about 11-17.5 hours
Moreover, there are more than 20 ordinary trains departing from Zhangye Railway Station (张掖站) to Urumqi Railway Station (乌鲁木齐站) in Urumqi, Xinjiang. The whole train trip need more than half a daytime, and most are overnight trains arriving in Urumqi next day. On the normal trains, better book a Soft Sleeper, rather than a Hard Sleeper or Hard Seat.
Our Suggestion: Bullet train is a good choice to save time and experience new and better facilities. Normal train is suitable for budget travelers with enough time and less care about the simple and basic travel conditions.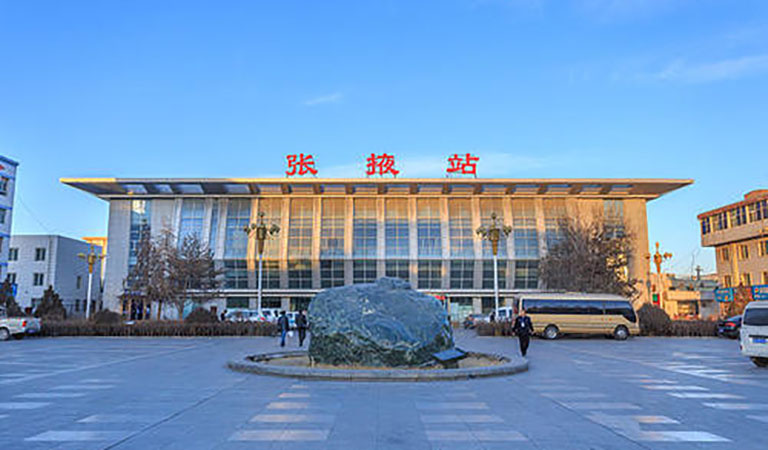 Zhangye West Railway Station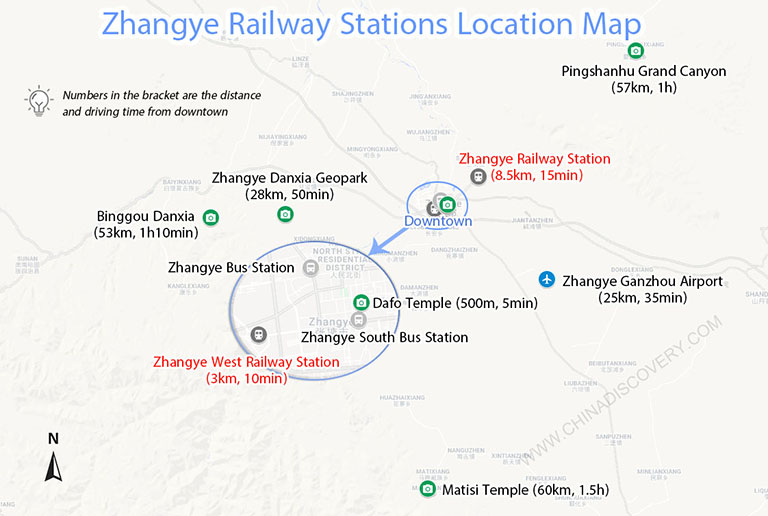 Zhangye Railway Station Location Map (Click to Enlarge)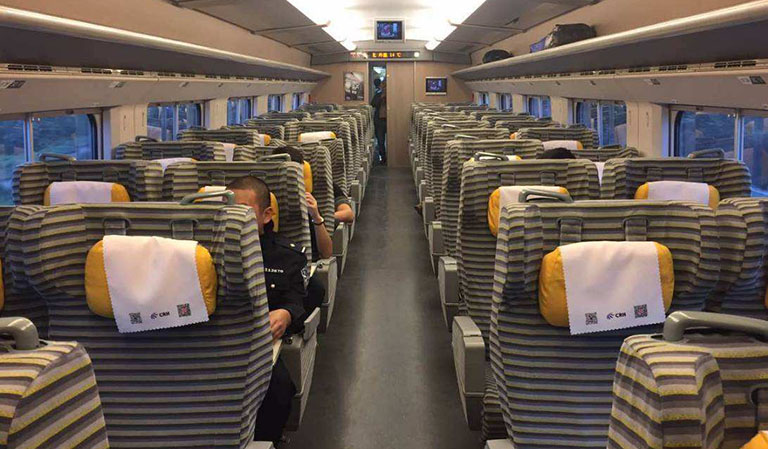 Bullet Train First Class Seat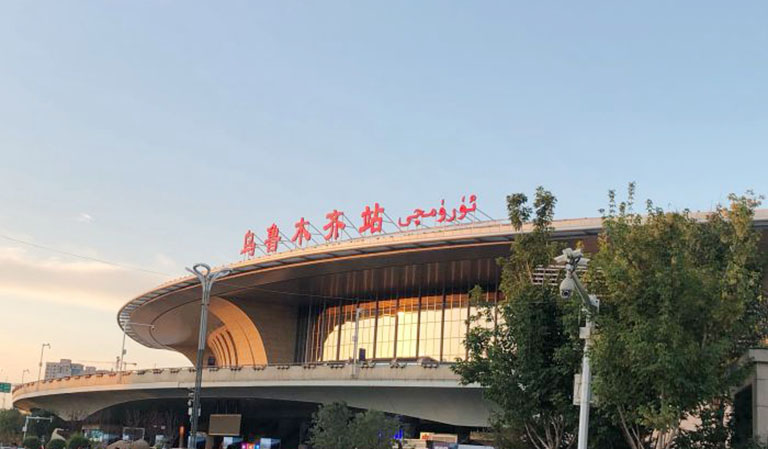 Urumqi Railway Station
Check the following real-time Zhangye to Urumqi Train Timetables:
Referential Currency: RMB=1USD
Train No.
Departure / Train Staiton
Duration
Seat Type / USD Price / Availability
Note: Train information is subject to final confirmation due to the delay of data occasionally.
2. Travel from Zhangye to Urumqi by Flight - Time-consuming Plus Layover
So far, there is no non-stop flights flying from Zhangye to Urumqi, except a few daily connecting flights, since Zhangye Ganzhou Airport (张掖甘州机场, IATA: YZY) only has direct flights between Lanzhou and Xian. The air travel from Zhangye Airport to Urumqi Diwopu International Airport (乌鲁木齐地窝堡国际机场, IATA: URC) takes at least 6.5 hours. (Note: If you are going to fly to Zhangye from other cities in China, then you need a layover or transfer in Lanzhou or Xian first.)
Our Advice: If you have to or insist on taking a flight to get to Urumqi (Xinjiang) from Zhangye (Gansu), please be prepared the waiting hours at the airport and going through related procedures.
Below are some Zhangye to Urumqi flight schedules for your reference:
Flight Route
Airline Cpmpany & Flight No.
Type
Departure & Arrival Time
Duration
Frequency
Zhangye Ganzhou Airport (YZY)
→
Urumqi Diwopu Airport (URC)
Chengdu Airline+Urumqi Air
EU2272+UQ2522
connecting Flight
12:25-23:55
11 hours 30 minutes
daily
Chengdu Airline+Sichuan Airline
EU2272+3U8062
connecting Flight
12:25-18:55
6 hours 30 minutes
daily
Southern Airline+Urumqi Air
CZ3206+UQ2520
connecting flight
14:55-21:20
about 6.5 hours
daily
How to Plan A Zhangye Urumqi Tour
Exploring the ancient "Silk Road"has always been an incredible travel to witness and talk to diverse nature, culture and history of China. Even in the neighboring areas between Gansu and Xinjiang, Urumqi reveals another different look of Northwestern China not similar with Zhangye in all sides.
Zhangye is recommended for a quick visit between Dunhuang and Lanzhou. Among all the top things to do, make half an day to the colorful Danxia Landform Geopark, an amazing creation by nature, where thousands mile of "Rainbow Mountains" spreading far. If time allows, get to Mati Temple to see the Buddhist grottoes carved by the ancients, to Giant Buddha Temple to view the biggest Reclining Buddha in the world, or watch a local night show for leisure.
Useful Links: Popular Zhangye Tours / Zhangye Travel Guide / Zhangye Attractions
Recommended Zhangye Tour: 3 Days Zhangye Danxia Classic Tour
Urumqi usually is used as the first stop for a Xinjiang tour and a transfer hub to Kashgar, Turpan and else cities in Xinjiang. The special location and geographic features makes Xinjiang rich in natural sightseeing, like alpine snows, mountain forest, grassland, etc., and mixed ethnic culture and customs. When you are in Urumqi, don't miss the breathtaking beautiful Tianshan Tianchi Lake and busy Grand Bazzar - the largest bazzar in the world. Besides, Xinjiang Regional Museum is a good start to know the local culture and history. Sports lovers may be have fun in the Silk Road Ski Resort with friends and families.
Useful Links: Popular Urumqi Tours / Urumqi Travel Guide / Popular Urumqi Tours
Recommended Urumqi Tours:
>> 3 Days Urumqi City Short Break
>> 4 Days Urumqi Tianchi Lake Leisure Tour
>> 4 Days Urumqi Folk Custom Tour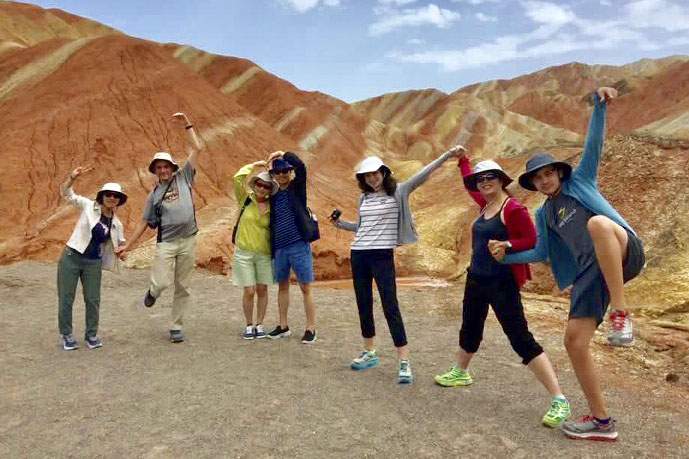 Our USA Family Customers Enjoyed Trip to Zhangye Danxia Geopark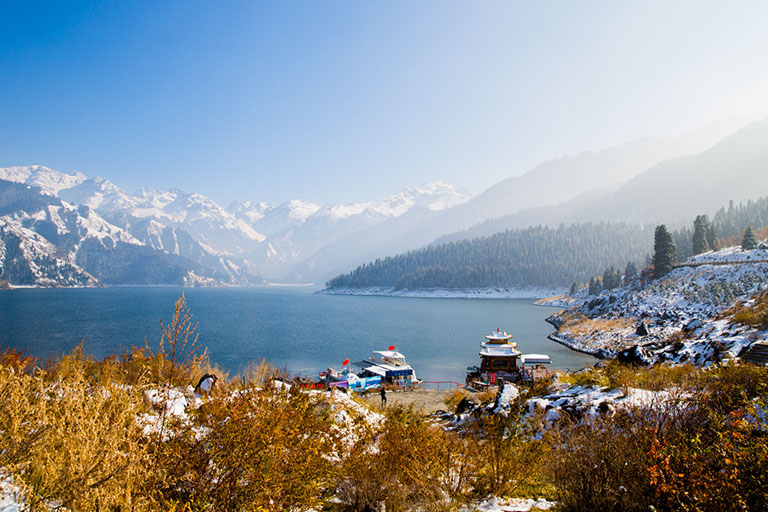 Snowy Tianchi Lake in Urumqi
Travel Zhangye & Urumqi with China Discovery
China Discovery is a professional, reliable and experienced travel companion offering best tour services for our guests. We not only provide travel guide and tips online, but also try our best to make sure you enjoy your China travel, supporting you on Chinese Visa application, transportation, sightseeing, accommodation, dining and more details. Travel with us, we will use the best convenient transfer and local vehicle to ensure you travel worry-free! You may select from our popular tour packages, or contact us to customize a special one based on your own hobbies, budget and itinerary.
Recommended Xinjiang Silk Road Tours:
>> 15 Days Classic Ancient China Silk Road Tour with Bullet Train Experience
>> 9 Days Taklamkan Ancient Silk Road Tour
>> 9 Days Kanas Lake Fairyland Tour from Urumqi
Most Popular Zhangye Tours
Useful Zhangye Travel Guide
Zhangye to More Silk Road Destinations
Recommended Xinjiang Tours
Top 3 Xinjiang tours chosen by most customers to explore Xinjiang in the best way. Check the detailed itinerary, or tailor your own trip now with us.
11 Days In-depth Wild Silk Road Adventure Tour (Cultural Relic & Unrivalled Landscape)

Lanzhou - Zhangye - Jiayuguan - Dunhuang - Turpan - Urumqi - Kashgar
10 Days Classic Silk Road Tour (Xian/Dunhuang/Turpan/Kashgar)

Xian / Dunhuang / Turpan / Urumqi / Kashgar
15 Days Classic Ancient China Silk Road Tour with Bullet Train Experience

Kashgar - Tupran - Dunhuang - Jiayuguan - Zhangye - Xian - Beijing
Start planning your tailor-made holiday to China by contacting one of our specialists. Once enquired, you'll get a response within 0.5~23.5 hours.
Customize a Trip
Have a question? Get answers from our travel experts or guests
Your Question:

Your Name:

Your Email: