Jiuhuashan (Chizhou) High Speed Train
Dedicated to Ksitigarbha Bodhisattava, Mount Jiuhua (Jiuhuashan) is one of the Four Sacred Buddhist Mountains in China together with Mount Emei, Mount Wutai and Mount Putuo. Many travelers are attracted there to explore Chinese Buddhist culture, admire amazing natural landscape as well as stretch their legs and do some trekking.
Located in Chizhou, Anhui province, Mount Jiuhua can be reached by both flights and high speed trains. Chizhou Jiuhuashan Airport now has flights from/to Beijing, Shanghai, Xian, Guangzhou, Chengdu, Hangzhou, Shenzhen, Kunming, Jinan, Dalian and Nanjing. Compared with flights, high speed train is more chose by tourists. You can enjoy the larger space, more advanced facilities and beautiful moving scenery out of the window. Choosing a business class, you will get an unbelievable luxurious train journey.
High Speed Trains from/to Jiuhuashan
There are several cities operating over 50 high speed trains to Chizhou Railway Station, including, Beijing, Shanghai, Hefei, Nanjing, Suzhou, Jinan, Tianjing, etc. Check the following most high speed trains connecting Jiuhuashan.
Chizhou Railway Station is the only high speed railway station served in Chizhou. It is located in Yongming Road, Guichi District, Chizhou City (池州市贵池区永明路), about 7km (about 20 minutes' driving) to the downtown area and about 45km (about 1.5 hours' driving) to Mount Jiuhua Scenic Area. Near Chizhou Railway Station, you can find a bus station from which there are sightseeing buses transferring to the scenic area.
How to get from Chizhou Railway Station to Mount Jiuhua Scenic Area
By Tourist Bus: There are direct tourist buses offering free transfer from Chizhou Railway Station to Jiuhua Scenic Area for passengers who would purchase the sightseeing bus ticket of Mount Jiuhua. You can get on the tourist bus near the exit of Chizhou Railway Station and purchase it just on the bus. The sightseeing bus ticket fare is about CNY 50, and it is a necessity for many leisure hikers. The operation time of the direct tourist bus is from 9 am to 5 pm with the departure interval of every 1 to 2 hours. Besides, if you are not going to take the sightseeing buses in the scenic area. There are also direct buses serving you to the scenic area from about 7 am to 5 pm with a fare of about CNY 12 per person. The departure site is also about 100 meters around the exit of the Railway Station
The two kinds of direct tourist buses may usually take about 40min to the parking lot of Mount Jiuhua Scenic Area.
By City Bus: There are also few city buses departing from the bus stop or Chizhou Railway Station to Jiuhuashan from about 6:30 am to 3:30 pm and the bus ticket is CNY 5 per person. Since there are lots of stops on your way to the Jiuhuashan and it takes more than 70min to reach the mount Jiuhua. Though the ticket fare is cheap, it is less recommended.
Jiuhuashan High Speed Train Map
● Shanghai Jiuhuashan High Speed Train
Railway Stations: Wuhan / Hankou – Shiyan
Distance: 522km (324miles)
Duration: about 3.5 ~ 4 hours
Shanghai, one of the most developed cities as well as one of the top tourist destinations in China, is a must-be-visited city. It is well-connected with many foreign cities by international flights, so you can reach Shanghai conveniently. Here you can catch a glimpse of China's present and future – towering skyscrapers, charming cityscape, various theme parks, etc. Of course, there are also many old buildings and historic sites for your discovery.
After your journey in Shanghai, you can take high speed train to Jiuhuashan. There are about 10 high speed trains to Chizhou operated by Shanghai Railway Station and Shanghai Hongqiao Railway Station. The earliest train departs from Shanghai around 05:50 and the latest train departs around 17:10. The whole train trip takes only about 3.5 ~ 4 hours. The trains will usually stop at some other tourist destinations like Suzhou, Nanjing, Wuhu, etc. You can spend several day touring these cities and then take a high speed train to Jiuhuashan.
Helpful Links:
Shanghai Jiuhuashan Train Route Maps | Shanghai to Jiuhuashan Train Schedule | Jiuhuashan to Chizhou Train Schedule
Related Tours:
>> 4 Days Mount Jiuhua Buddhism Tour with Shanghai Essence
>> 6 Days Shanghai, Mount Jiuhua & Huangshan Tour
Shanghai Jiuhuashan High Speed Train Route
Shanghai Railway Station
● Beijing Jiuhuashan High Speed Train
Railway Stations: Beijing South – Chizhou
Distance: 1211km (752 miles)
Duration: about 6.5 hours
As the old and present capital of China, Beijing offers too many wonders: both historical and present, both manmade and natural. The cant-be-missed UNESCO World Cultural Heritage sites include Great Wall, Forbidden City, Summer Palace, Temple of Heaven and Ming Tombs. If you want to visit Jiuhua Mountain, taking a high speed train is recommended for a unique experience.
There is 1 daily high speed train running from Beijing to Chizhou. It starts from Beijing South Railway Station at the afternoon (around 15:00) and arrives at Chizhou Railway Station at night (around 21:30). Within 6.5 hours, you can transfer between Beijing and Chizhou.
Beijing South Railway Station
● Nanjing Jiuhuashan High Speed Train
Railway Stations: Nanjing South – Chizhou
Distance:
211km (131 miles)
Duration:
about 1.5 ~ 2 hours
Nanjing, China's ancient capital city for 6 dynasties is the capital of Zhejiang Province. It provides travelers a deep insight to the old and early modern history of China. There are still many historical sites well preserved, like Zhonghua Gate, Confucius Temple, Presidential Palace, etc.
From Nanjing, there are over 15 high speed G-trains and D-trains running to Chizhou and all of them departing from Nanjing South Railway Station. From about 8 am to 7 pm, there is more than 1 high speed train available in almost every hour. The high speed train trip from Nanjing to Chizhou cost no more than 2 hours.
As an important stop along Beijing Shanghai High Speed Rail, Nanjing can be reached easily by high speed train as well. You can take Nanjing as a transfer city as well.
Nanjing South Railway Station
● Hefei Jiuhuashan High Speed Train
Railway Stations: Hefei South – Chizhou
Distance: 150km (93miles)
Duration: about 1.5 hours
Hefei is the capital city and the traffic center of Anhui Province. With Feishui River running through the city, Hefei is blessed with good natural scenery and reputed as Green City and Garden City.
Hefei Railway South Railway Station operates about 10 high speed trains (both G-trains and D-trains) to Chizhou Railway Station. The earliest train departs Hefei around 06:51 and the last train departs around 20:20. Usually, there is 1 high speed train available in almost 2 hours. It takes only 1.5 hours to travel between them.
In addition to Jiuhuashan, Hefei operates high speed trains to many cities, including Xian, Guangzhou, Xiamen, Changsha, Huangshan, etc. So you can travel from these cities to Hefei firstly and then transfer to Jiuhuashan. Many travelers like to travel Huangshan and Jiuhuashan together to admire the natural beauty and Buddhist culture and they usually use Hefei as a transfer city.
Hefei South Railway Station
High Speed Train Travel with China Discovery
Apart from Jiuhuashan, there are many other attractive destinations equipped with high speed rails and can be reached by high speed trains. We China Discovery are very willing to help you with the high speed train tickets booking, tour customization and local guide and transfer arrangement, so you can be able to experience the superb bullet train in style and enjoy all the highlights of your ideal destinations in China without any worry. If you are interested, please feel free to contact our professional travel consultants who are here ready to build your own tour to best suit for your needs and likes.
How to Plan Your Mount Jiuhua Tour
How to Get to Mount Jiuhua: Take a flight to Chizhou Jiuhuashan Airport or take a high speed train to Chizhou Railway Station from Beijing, Shanghai…; Drive about 2 hours from Huangshan.
Best Time to Visit Jinan: Mid-March to Mid-November, because the temperature is comfortable with the best scenery; many Buddhist festivals and ceremonies are held.
Top Places to Visit on Mount Jiuhua: 99-Meter Ksitigarbha Bodhisattva, Longevity Palace, Huangcheng Temple, Tiantai Peak, Tiantai Temple…
No matter you're a Buddhist follower or sightseeing tourist, 2 days is most suitable for a Mount Jiuhua tour. Detailed attractions and tour order can be flexibly arranged based on personal interest, time and energy.
If you specially visit Mount Jiuhua for Buddhist pilgrimage, then Buddhist temples are the must-visits. On your arrival day, you can visit the 99-Meter Golden Statue of Ksitigarbha Bodhisattva at the north foothill. In and around Jiuhua Street, you can visit Huangcheng Temple - the first Buddhism temple of Mount Jiuhua, Incarnation Grand Hall which enshrines the flesh body of Ksitigarbha Bodhisattva, Zhantanlin Temple with massive delicate carved architectures and Zhiyuan Temple - the largest temple with the most complete layout, etc. On the second day, you can get to Longevity Palace to worship the incarnation of famous Chinese monk Haiyu (Wuxia) and Heavenly Terrace Peak (Tiantai Peak) where the highest temple - Tiantai Temple lies.
✔ 2 Days Mount Jiuhua Buddhism Tour
If you're also a traveler fascinated by natures and physical condition permits, then you can view charming mountain landscape in the Flower Terrace Scenic Area with a special Hanging Plank Road hiking experience.
✔ 2 Days Mount Jiuhua Scenic Hiking Tour
✔ 4 Days Mount Jiuhua Buddhism Tour with Shanghai Essence
After your Mount Jiuhua tour, Mount Huangshan, just 2 hours' ride away, is a popular UNESCO World Cultural & Natural Heritage worth your exploration with another 2 days. Chinese ancient culture buffs also like to visit Hongcun, Xidi and other ancient Huizhou-style village around the Mount Huangshan. If time allows, you may extend trip further to Wuyuan and Jingdezhen in neighboring Jiangxi, Mount Putuo and other famous Buddhist mountains and many more major tourist destinations in China.
✔ 5 Days Huangshan Tour & Buddhist Pilgrimage to Mount Jiuhua
✔ 5 Days Buddhism Tour to Mount Putuo & Mount Jiuhua from Shanghai
✔ 6 Days Shanghai Mount Jiuhua & Huangshan Tour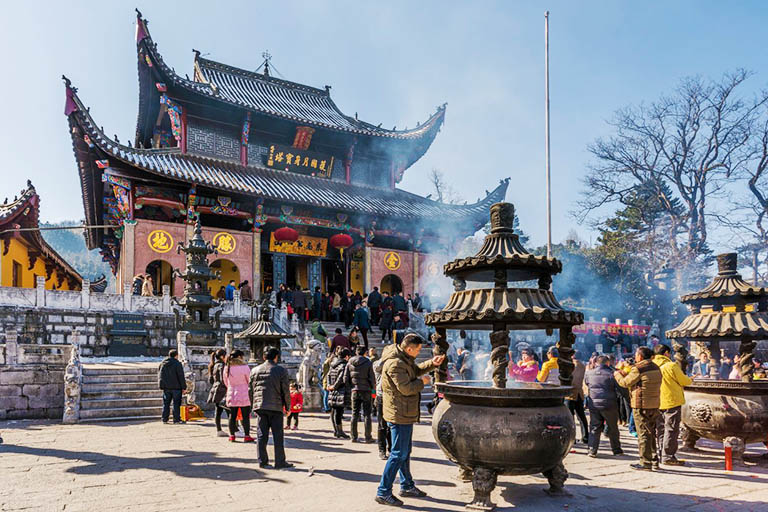 Pilgrims in Incarnation Grand Hall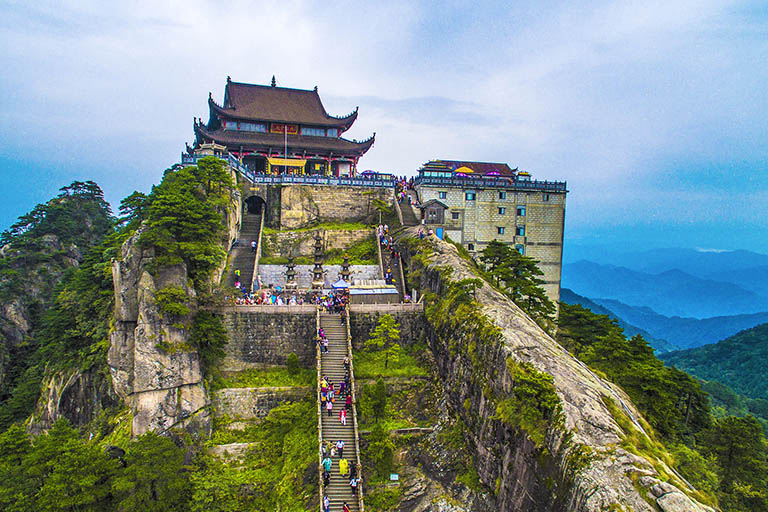 Tiantai Temple on Heavenly Terrace Peak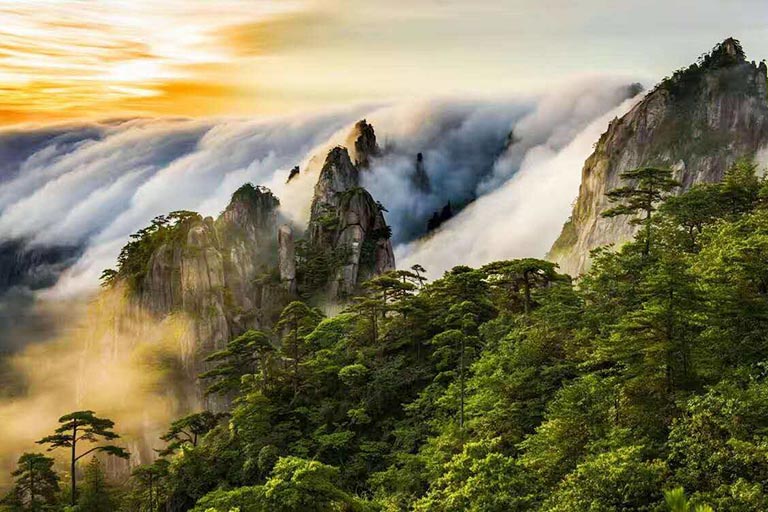 Dreamlike Scenery of Mount Huangshan
Travel with China Discovery
China Discovery is an experienced, professional and reliable travel companion devoted to offering high-quality and the best tour services for all travelers to China. In order to have a hassle-free travel and focus on the trip itself, it's highly recommended travelling with China Discovery. So, you can enjoy convenient airport pick-up and drop-off service and transportation to all scenic spots in a safe, clean, comfortable, air-conditioned and non-smoking vehicle. Also, we will arrange knowledgeable local tour guide, excellent accommodation and dining arrangements to ensure you rest well and get better understanding of Buddhist of Mount Jiuhua. You may select a favorite from our most popular Mount Jiuhua tours or contact us to design a unique itinerary according to your personal time and preference.
Mount Jiuhua Travel Guide
Extension Readings of High Speed Train Travel in China
Recommended Tours
Top 3 tours chosen by most customers to explore in the best way. Check the detailed itinerary, or tailor your own trip now with us.
2 Days Mount Jiuhua Buddhism Tour

Mount Jiuhua
6 Days China Mountains Tour with Classic Shanghai

Shanghai / Jiuhuashan / Huangshan
4 Days Mount Jiuhua Buddhism Tour with Shanghai Essence

Shanghai / Mount Jiuhua
Start planning your tailor-made holiday to China by contacting one of our specialists. Once inquired, you'll get a response within 0.5~23.5 hours.
Customize a Trip
Have a question? Get answers from our travel experts or guests
Your Question:

Your Name:

Your Email: