Urumqi Railway Station: Location, Transportation, Trains and Maps
At present, there is only one train station serving visitors to Urumqi, that is Urumqi Railway Station (乌鲁木齐站). It is known as the new high speed train station by the locals. Opened in 2016, the station is the west railway terminal station of the Lanzhou-Xinjiang High Speed Railway (also called Lanzhou-Xinjiang Passenger Railway, Lanxin High Speed Railway), and the biggest integrated transport hub and rail transfer center in Xinjiang. It operates both high speed trains to Urumqi from Zhangye, Jiayuguan, Dunhuang (Liuyuan), Hami, Turpan and normal trains from Beijing, Shanghai, Chengdu, Guangzhou, Kashgar, Altay, Yining, etc. Besides, it runs fast inter-city trains between Urumqi and Korla, Khorgos, Karamay, Bortala, Kuytun and other cities in Xinjiang.
If you're planning a train trip to Urumqi or want to get around Xinjiang from Urumqi by train, below is the most useful Urumqi train travel guide for you. You can check all available Urumqi bullet trains, normal trains and intercity train schedules, and detailed train station transfer tips here.
Major High Speed Bullet Trains to Urumqi Railway Station (from Cities out of Xinjiang)
Urumqi Railway Station covering a total area of 100,000 square meters has 18 rail tracks and 16 platforms. It's the west end of the Lanzhou-Xinjiang High Speed Railway, which connects Gansu's Lanzhou and Urumqi of Xinjiang in northwestern China. Thus, tourists can take high speed bullet trains to Urumqi from Lanzhou, Zhangye, Jiayuguan, Dunhuang (Liuyuan) of Gansu, Xining of Qinghai, Hami (Kumul), Turpan, Shanshan of Xinjiang and other connected Chinese cities along the Silk Road, like Xian. Likewise, you can leave Urumqi and continue your Silk Road adventure by the bullet train (running speed: 200 km/h).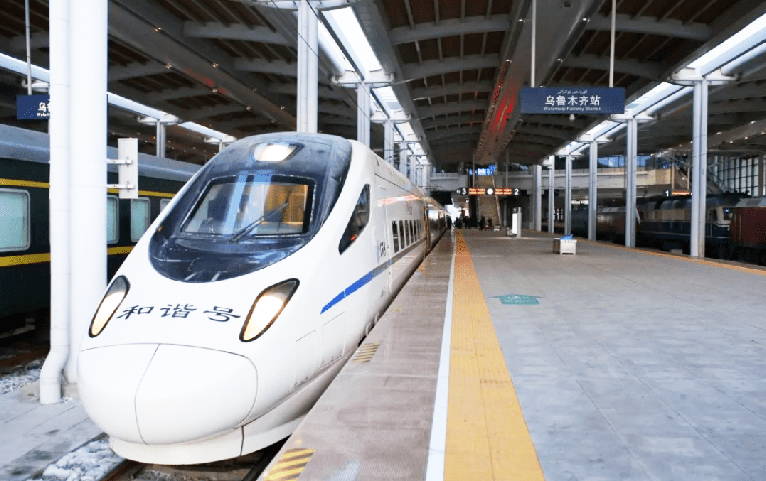 A Bullet Train was Departing from Urumqi Railway Station
The following are the most popular high speed bullet train routes of Urumqi Railway Station. If you're in a city out of Xinjiang and want to get to Urumqi by the bullet train, find a suitable train below.
Urumqi High Speed Bullet Train Schedules:
Note: The above train schedules are listed for reference only. If interested, you can contact us to check the latest train number, departure time and duration for your Urumqi train travel.
Major Normal Trains to/off Urumqi Railway Station from Cities out of Xinjiang
Meanwhile, Urumqi Railway Station is the terminus of the Lanzhou-Xinjiang Railway which has been extended westward to Alashankou, a border pass between China's Xinjiang and Kazakhstan. So, there are normal speed trains getting to Urumqi Railway Station. They from Beijing, Shanghai, Chengdu, Hangzhou, Chongqing, Guangzhou, Shenzhen, Lanzhou, Kunming, Zhengzhou, Nanjing, Jinan, Hankou (Wuhan), Fuzhou, Changchun, Nanning and cities at long distances. Nearly all of them are overnight trains running at a speed of 120 km per hour.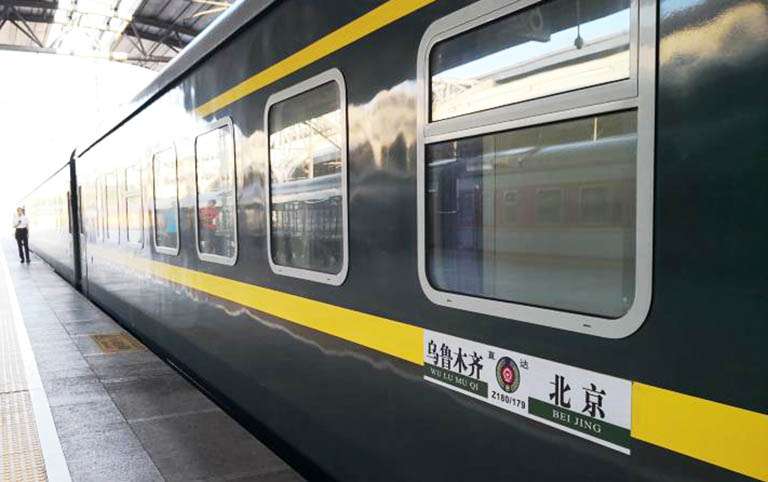 Beijing to Urumqi Overnight Train
Urumqi Railway Station Normal Train Schedules:
Warm Tips: 1.) The train time is subject to change. Please contact our travel expert for updated information. 2.) Three kinds of tickets are sold on the normal trains: Soft Sleeper, Hard Sleeper and Hard Seat. If you determine to make a slow-paced train travel to Urumqi, the Soft Sleeper Berth is the most recommended.
Xinjiang Trains of Urumqi Railway Station - Intercity Trains, Fuxing Trains, Normal Trains
In May 2014, Xinjiang opened a "Northern Xinjiang Star" Intercity train line to link Urumqi and Karamay, Kuitun (Kuytun), Shihezi and Yining (Ili) in Northern Xinjiang. In October 2015, another intercity rail - "Southern Xinjiang Star" started running between Urumqi and Korla (库尔勒),the second-largest city of Xinjiang and the government seat of Bayingolin Mongol Autonomous Prefecture. Later in August 2019, China self-developed Fuxing Train, same model running on Beijing-Shanghai High Speed Railway was put into operation between Urumqi and Korla. More destinations including Yining (Ili), Kuytun, Usu (Wusu), Karamay, Khorgos and Bortala soon run the faster new Fuxing Trains (C Trains), whose running speed is 160 km per hour. The intercity trains and the Fuxing Trains have greatly shortened the travel distance and time among the destinations for the locals and tourists, and offers an interesting, special and more comfortable way to travel around Xinjiang.
The following is the most helpful train travel routes and timetable for you to make a train trip around Urumqi.
Tips: If you are quite interested in the Fuxing Train in Xinjiang, you can experience a short section in the Urumqi surrouding cities. Though some remote areas can be reached by train, but it requires extra transfer to the tourist attraction and downtown accommodation area. Chartered Bus and private drive is more convenient and efficient to get around Urumqi and Xinjiang.
Urumqi Railway Station Location and Traffic
Urumqi Railway Station Address: No.1 Gaotie Beiliu Road, Tunhe District, Urumqi, Xinjiang 乌鲁木齐市头屯河区高铁北六路1号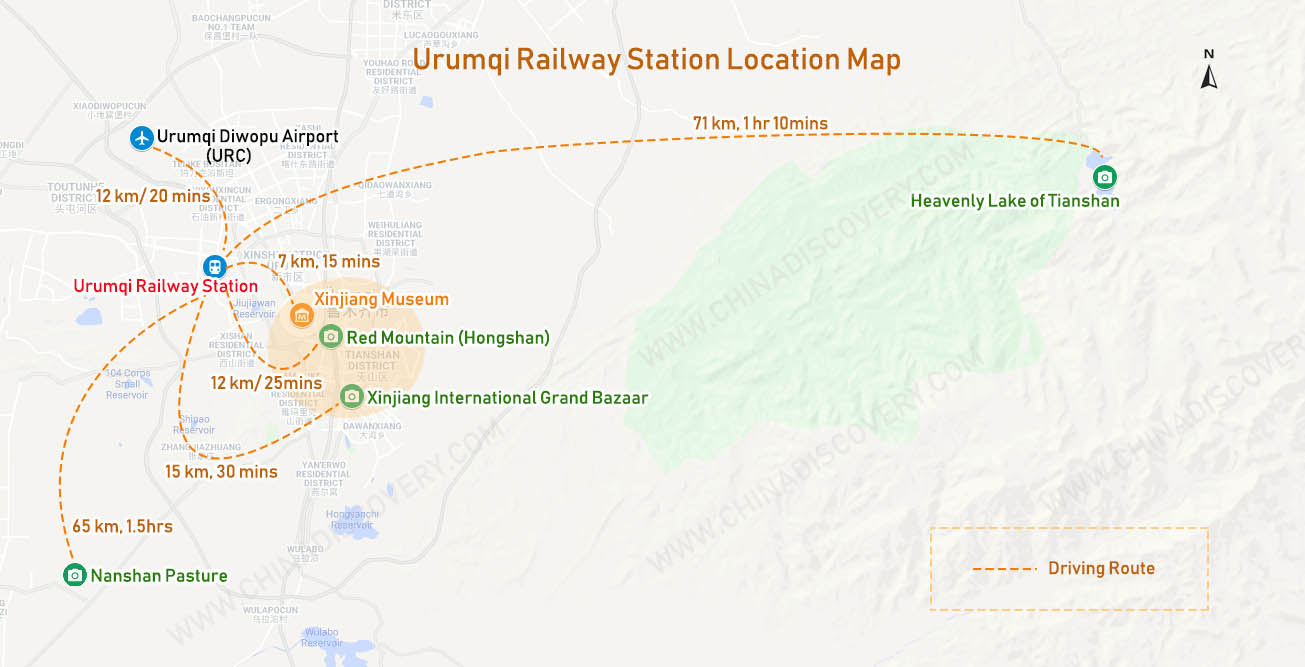 Urumqi Railway Station Location Map (Zoom in to enlarge map)
Urumqi Railway Station Traffic Distances & Times:
● Urumqi Railway Station to Urumqi City Center: about 10 km, 20 minutes' drivie, 1 hour by BRT, 1 hour 10 minutes by city bus (extra transfer is needed)
● Urumqi Railway Station to Urumqi Diwopu International Airport: about 12 km, 20 minutes by driving, 1 hour by airport express, 1.5 hours by Urumqi city bus (need additional transfer)
● Urumqi Railway Station to Xinjiang International Grand Bazaar: about 15 km, 30 minutes by driving, at least 1 hour by city bus
● Urumqi Railway Station to Xinjiang Uygur Autonomous Region Museum: about 7 km, 15 minutes by driving, around 1 hour by BRT or public bus
● Urumqi Railway Station to Tianchi Lake (Heavenly Lake): nearly 71 km, at least 1 hour 10 minutes by driving
● Urumqi Railway Station to Nanshan Pasture (Nanshan Ranch): almost 65 km, 1.5 hours' driving
● Urumqi Railway Station to Hongshan (Red Mountain) : almost 12 km, 25 minutes' driving
How to Plan A Urumqi Xinjiang Tour
How to Get to Urumqi: Fly to Urumqi from Beijing (4-4.5hrs), Shanghai (5.5hrs), Guangzhou (5hrs), Shenzhen (5.5hrs), Xian (3.5hrs)..., or take a high speed bullet train from Dunhuang (4hrs), Zhangye (7-7.5hrs), Turpan (1hr), etc.
Best Time to Visit Urumqi: May to October when the temperature is comfortable and the seasonal scenery is very beautiful.
Top Places to Visit Urumqi: Tianchi (Heavenly Lake) of Tianshan Mountains, Xinjiang International Grand Bazaar, Xinjiang Regional Museum, Red Hill Park, Nanshan Pasture.
Most travelers start a Xinjiang tour from Urumqi and take Urumqi as the transfer center of visiting the Northern Xinjiang. Usually, tourists spend one day exploring Urumqi's highlights in the down area, including the Xinjiang International Grand Bazaar, Red Hill Park and Xinjiang Regional Museum. Making a day trip to Tianchi Lake is a popular itinerary if you won't visit Kanas. Nanshan Pasture is a good summer resort worthy of your visit if you happen to visit Urumqi in summer.
☛ 3 Days Urumqi Tour including Heavenly Lake and Mummy Visit
Xinjiang is vast and beautiful. The Northern Xinjiang is most known for the natural beauty while the Southern Xinjiang is characterized rich cultural and historical treasures. Depending on your time and personal interests, you can extend trip to more destinations, such as the Turpan, fairyland Kanas Lake and Hemu Village in Altay, incredibly beautiful Sayram Lake, Wu'erhe Ghost City in Karamay, Ili (Kalajun Grassland, Narati Grassland, Guozigou...) in Northern Xinjiang, and travel further to the Southern Xinjiang's Kashgar and vicinal Tashkurgan, Taklamakan Desert, Bosten Lake, Tomor Peak, Kuqa, Khotan, etc. You can pick up some highlighting places for a week's travel or haven an in-depth discovery for up to one month.
☛ 8 Days Urumqi Turpan Kashgar Xinjiang Tour
☛ 9 Days Kanas Lake Fairyland Tour from Urumqi
Northwest and Southwest China are two mysterious regions travelers love to visit. Following the ancient Silk Road from Xian to Xinjiang is also a popular travel route. It's highly suggested that you visit Xinjiang with Dunhuang, Zhangye, Jiayuguan along the ancient Silk Road, or with the holy land of Tibet (Lhasa, Shigatse, Mount Everest, Mount Kailash, Nyingchi...). The nature scenery and distinctive culture will impress you deeply. China Discovery provides not only all-inclusive Xinjiang tours, Silk Road tours, but also can help you customize a wonderful trip on your own.
☛ 10 Days Classic Silk Road Tour from Xian
☛ 11 Days Wild In-depth Silk Road Adventure Tour
☛ 15 Days Classic Ancient China Silk Road Tour with Bullet Train Experience
Heavenly Lake (Tianchi) of Tianshan Mountains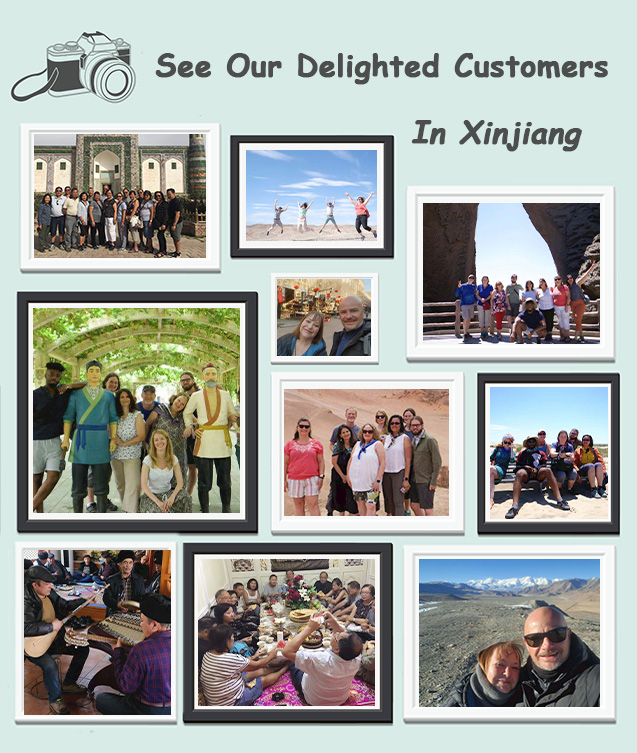 Click to Check Our Customers' Xinjiang Travel Photos>
Keep Reading About Urumqi
China Train Travel Guide
Recommended Urumqi Tours
Top 3 Urumqi tours chosen by most customers to explore Urumqi in the best way. Check the detailed itinerary, or tailor your own trip now with us.
11 Days In-depth Wild Silk Road Adventure Tour (Cultural Relic & Unrivalled Landscape)

Lanzhou / Zhangye / Jiayuguan / Dunhuang / Turpan / Urumqi / Kashgar
8 Days Classic Xinjiang Tour including Urumqi Turpan Kashgar Tashkurgan

Urumqi - Turpan - Kashgar - Tashkurgan
13 Days In-depth Xinjiang Silk Road Adventure Tour

Urumqi / Turpan / Korla / Kuqa / Taklimakan Desert / Minfeng / Hongtan / Kashgar / Tashkurgan
Start planning your tailor-made holiday to China by contacting one of our specialists. Once inquired, you'll get a response within 0.5~23.5 hours.
Customize a Trip
Have a question? Get answers from our travel experts or guests
Your Question:

Your Name:

Your Email: