Silk Road Map 2024 - useful maps of Silk Road routes
The Silk Road stretches about 7,000 kilometers, connecting most lands of Asia and Europe. Generally, the silk roads include the land silk routes and maritime silk routes. The silk road (the land silk road) was a vast network of trade routes that spanned the entire continent of Asia from China's Chang'an, connecting parts of north Africa and the Mediterranean sea area. The maritime silk road spreads outward from the South China Sea, with several branches connecting North Korea, Japan, Ryukyu, and other countries on today's Indochina Peninsula, Southeast Asian coastal islands, South Asia, Central, and Western Asia, North Africa, and Europe. It is not easy to "follow" the Silk Road on the map, because there are several main routes that also have many branches. Don't worry, we will make your study easier. Following are our Silk Road map to trace back to the glorious ancient times.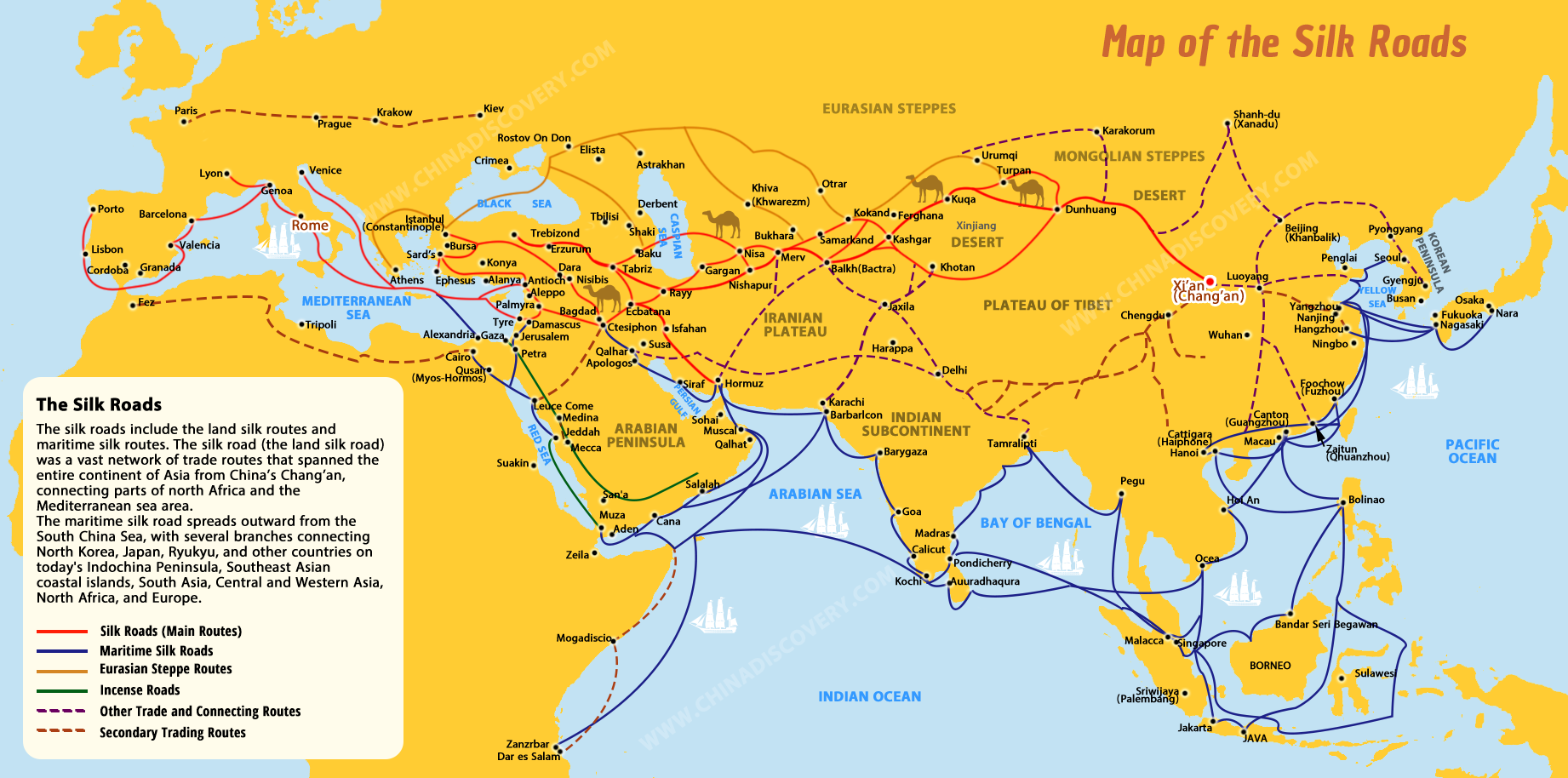 World Silk Road Map (click to enlarge)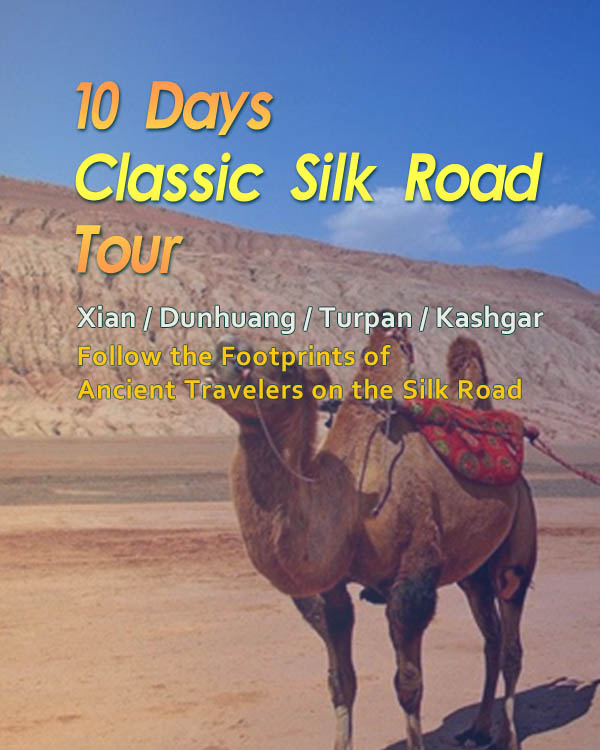 China Trip Destinations Along the Silk Road
Covering a vast area in western China, the silk road has left countless ancient relics, stunning landscapes, and delicate treasures for visitors to appreciate and explore. If you are planning a trip along the silk road in China, the following map will be very useful with the must-visit silk road cities marked.
How to Plan a China Silk Road Travel
Major Destinations to Go: Xian, Luoyang, Dunhuang, Zhangye, Jiayuguan, Lanzhou, Qinghai, Urumqi, Turpan, Kashgar, Kucha, Hotan, Tianshui, Ningxia...
Top Tourist Attractions to Visit: Xian Terracotta Warriors, Dunhuang Mogao Caves, Zhangye Danxia Landform - Rainbow Mountains, Qinghai Lake, Heavenly Lake, Jiaohe Ancient City, Kashgar Old Town, Karakul Lake...
Best Time to Go: Generally, months from April to October are the best time, because the temperature is moderate and pleasant, the weather is good and the natural scenery is the most beautiful during this period.
The ancient Silk Road is a long tourist travel route involving lots of Chinese destinations, mostly located in Northwest China. A Silk Road travel can be flexibly customized according to travelers' length of vacations, departure city, individual preferences and budget. It can take a few days to a few weeks and months.
If you have a tight schedule with only several days (4 ~ 5 days), you're advised to make a brief Silk Road tour from the starting point - Xian, and visit Luoyang nearby or Dunhuang, the legendary treasury of Buddhist art, history and culture. If you have visited Xian and would like a deeper exploration, then Gansu's Hexi Corridor (Zhangye, Jiayuguan and Dunhuang) - essence of ancient Silk Road is the best recommendation and a classic trip takes about 6 days.
☛ 6 Days Zhangye Jiayuguan Dunhuang Discovery Tour
☛ 5 Days Silk Road Tour from Xian to Dunhuang by Flight
☛ 5 Days Luoyang Xian Tour by Train
Travelers with 7 ~ 8 days can visit more Silk Road destinations. You can explore the Hexi Corridor with neighboring Qinghai, enjoy beautiful Qinghai Lake and other stunning landscapes and cultures, or travel farther to Xinjiang, unveil the mysterious Western Regions in top destinations - Turpan, Urumqi and Kashgar. Depending on your pace, you can even take some side trips, such as travelling to Karakul Lake from Kashgar.
☛ 7 Days Miraculous Land Tour from Dunhuang to Zhangye Xining
☛ 8 Days Classic Xinjiang Tour including Urumqi Turpan Kashgar Tashkurgan
A holiday of 10 ~ 15 days and a longer length is suitable to cover major destinations along the Silk Road in China. You can flexibly arrange an itinerary based on your interests. The most classic Silk Road tour covers Xian, main destinations in Hexi Corridor and Xinjiang, and takes just 10 days. Qinghai and Ningxia are popular regions for an in-depth Silk Road adventure. If time allows, you can visit the holy land of Tibet (Lhasa, Shigatse, Mount Everest, Mt.Kailash...) which has impressive Buddhist and Tibetan culture and plateau vista, and other destinations in China to experience the vast and diversity of China.
☛ 10 Days Classic Silk Road Tour (Xian/Dunhuang/Turpan/Kashgar)
☛ 11 Days In-depth Wild Silk Road Adventure Tour
☛ 12 Days Epic Silk Road Tour including Qinghai Lake and Zhangye Danxia
☛ 15 Days Classic Ancient China Silk Road Tour with Bullet Train Experience
☛ 19 Days Silk Road & Tibet In-depth Tour
Our customers Cameron Family from New Zealand visited Terracotta Warriors in Xian in July, 2021.
Our customers Erin family from USA visited Zhangye Danxia Geopark in Gansu in August, 2020.
Kashgar Old Town ©骆小洛的世界 / mafengwo
Travel to Silk Road with China Discovery
Since most destinations along the ancient Silk Road are located in the remote Northwest China and some attractions are scattered far from the cities, it's best to travel with a local professional travel agency, like China Discovery, to enjoy a Silk Road adventure. We will not only help you plan a suitable travel itinerary, but also arrange all the services you need, including tour guides and drivers, transfer vehicles, hotels and tickets, meals, etc., to make sure you make an educational cultural and historical travel with relaxing visual enjoyment. You can find more inspiration from our Most Popular China Silk Road Tours or contact us to customize a special one.
China Silk Road Travel Guide: