What You Must See in Chengdu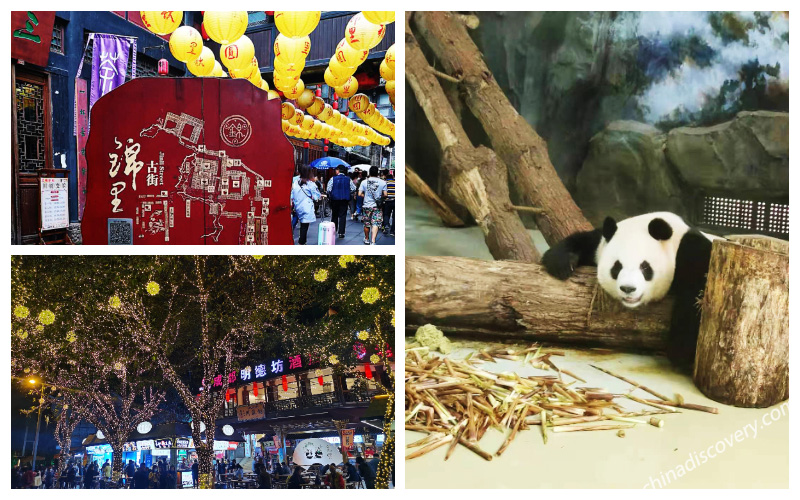 Top Attractions in Chengdu City
Chengdu is a worth-visiting destination to sightsee as well as experience. Undoubtedly, a trip to Chengdu without A Panda Visit is not complete. These cutest animals are China's best National creatures gaining the hearts of numerous people among the world. In Chengdu Panda Base, you can enjoy most Giant Pandas and their raccoon-like cousins – Red Pandas. Spend one nice morning observing they sleeping, playing and chomping bamboos. Another recommended site is People's Park where local people always hang out sipping tea as well as reading, chatting, dancing. Want take a glimpse of Chengdu's slow-paced living life? Don't miss it. You are also strongly suggested to take a leisurely stroll in Jinli Old Street and Kuanzhai Alley– Chengdu's two oldest pedestrian streets with ancient buildings, souvenir shops, streets food, etc. If you prefer some historic and cultural attraction, just go to Wenshu Monastery for a suck of Chinese Buddhism, go to Wuhou Temple for a learning of history of Three Kingdoms, go to Dufu Thatched Cottage for a better understanding of the story of one of China's greatest poet and go to Jinsha Site Museum for an exploration of the great archaeological discovery.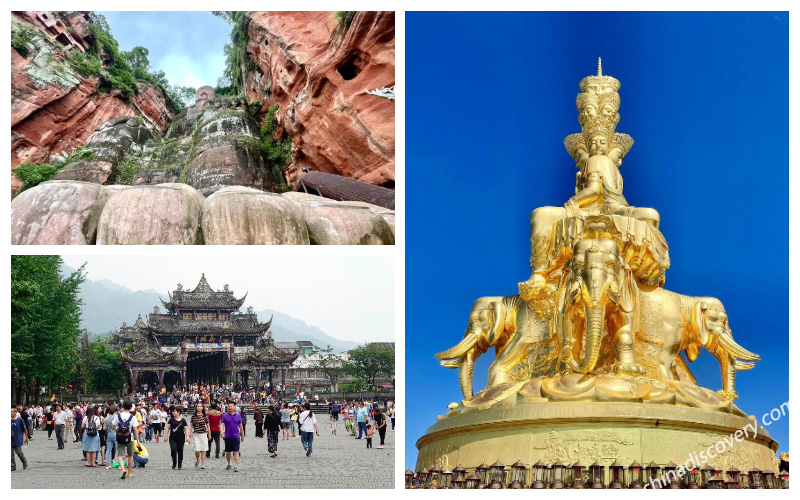 Top Attractions Around Chengdu
Do not spend all your time in city, there are much more to see in the suburb. There are several UNESCO World Cultural Heritages waiting. You can seek for Chinese Taoist mystery and feast your eyes on the beautiful mountain scenery in Mount Qingcheng, just about 1.5 hours' driving away from Chengdu City. Visiting nearby Dujiangyan Irrigation System allows you to get an answer to why Chengdu is called Land of Abundance. If you travel there during 4th April ~ 1st May usually, you are able to enjoy some shows to tell the story of Li Bing – the builder of Dujiangyan Irrigation System. Within two hours' driving from, you can also reach the world's tallest and largest Buddha statue – Leshan Giant Buddha – carved directly into the red sandstone cliff. Just get amazed by its magnitude from a Lilliputian perspective. Keep driving about 30 minutes from Leshan, you can get to Mount Emei - one of the Four Great Buddhist Mountains in China and home to 5000 kinds of plants (more than the total plants of Europe) and over 2300 kinds of wild animals. Hiking to the Golden Summit, you can get an opportunity to see the exquisite giant gold statue as well as rare scenery - Sunrise, Sunset, Cloud Sea, Light of Buddha, etc.
What You Must Do in Chengdu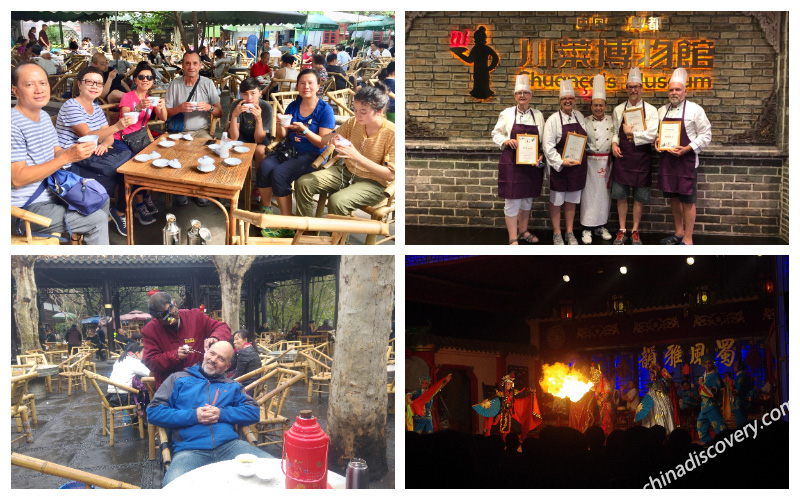 Interesting Activities in Chengdu
Apart from lots of places to go, you also have different things to do in Chengdu. As the First City of Gastronomy in Asia, Chengdu offers a various taste. If you are interested in various kinds of tastes, don't forget to try some Sichuan food. Recommended food includes Hotpot, Mapo Toufu, Kung Pao Chicken, Twice Cooked Pork, etc. For authentic Sichuan food lovers, you are suggested to enjoy a cooking class experience in Sichuan Cuisine Museum. Chengdu's nightlife is famously colorful and interesting. You are strongly suggested to appreciate the night view of Anshun Bridge, which becomes a wonderful photography site now. If you want seek hunt for something more interesting and meaningful, don't miss watching the wonderful Sichuan Opera show in Shu Feng Ya Yun. The show is combined with face-changing, shadow puppetry, hand shadows, acrobatic, etc. It is also available enter the dressing room to see the actors making up. It is also interesting to take part in some local people's activities, like drinking a cup of tea, playing Mahjong, square dancing, and so on.
Chengdu is also equipped with several green ways for biking lovers, so it's easy to have an enjoyable biking experience. For trekkers, you can stretch your legs in Qingcheng Mountain, Emei Mountain, Xiling Snow Mountain.
Join in Panda Volunteer Program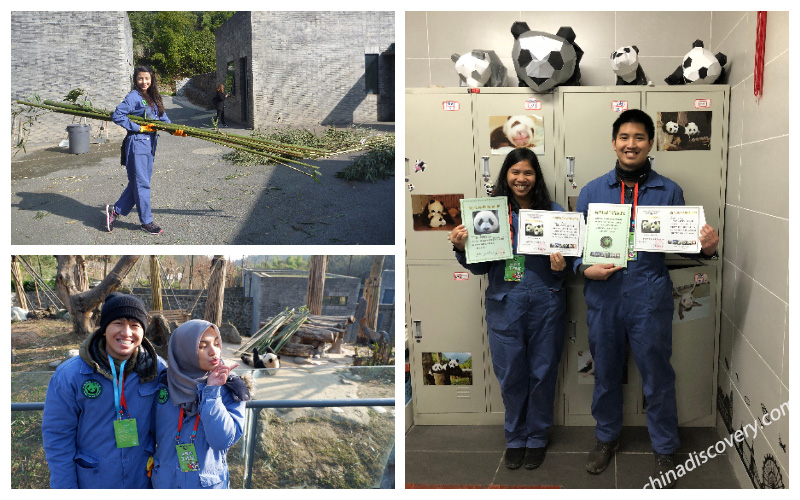 Panda Volunteer Experience of Our Clients
For panda fans, only watching them is not enough. You may want to get a closer sight with them, like making them food and feeding them. Yes, it's possible. Travelers choose a lifetime panda volunteer in three natural panda bases – Dujiangyan Panda Base, Yaan Bifengxia Panda Base and Wolong Shenshuping Panda Base where you can take care of the giant pandas and have conservation with them. During the program, volunteers will see as many pandas as possible, as well as be an honorable panda keeper to carry bamboo, wash the enclosures, feed panda with panda cake or other food, watch a panda documentary, prepare food for panda, etc.
For travelers who have interest in volunteering with red pandas (the lesser panda or red bear-cat), you are suggested to reach Wolong Hetaoping Panda Base for the one full day red panda volunteer program which you can also catch the rare opportunity to take photos with one of the gentle red pandas! Read more about Panda Volunteer Program>
How to Organize Chengdu Itineraries
▶ Recommended 1 Day Chengdu Itineraries – Focus on the Best
If you have only one day to travel Chengdu, just focus on the best essence of Chengdu. What you can't miss in Chengdu must be Giant Pandas. Spend one morning staying with these cutest animals and observing their daily activities. Then you can have a leisurely afternoon to explore the Chengdu's local culture – laid-back living life, featured Sichuan food culture. If you want something more awe-inspiring, it's also available to travel to Leshan Giant Buddha (about 2 hours' driving from Chengdu city) to see the world's tallest Buddha statue. Check below 3 most recommended 1 day Chengdu itineraries or visit Chengdu Day Trips for more experiences.
▶ Recommended 2 Days Chengdu Itineraries – Travel Chengdu at a Leisurely Pace
Traveling Chengdu in 2 days is strongly recommended to all travelers, especially first-timer. You can explore Chengdu city at a relaxing and comfortable pace. Highlights of Chengdu city – Giant Pandas, People's Park, Wenshu Monastery and Jinli Old Street can be covered in one go. Besides, you can choose to spend more time discovering the mystery of Leshan Giant Buddha or have a side trip to the surrounding old towns (like Huanglongxi and Luodai). Below are most recommended 2 days Chengdu itineraries:
2 Days Best Chengdu Leshan Giant Buddha Tour

Chengdu / Leshan Giant Buddha / Chengdu

This 2 days tour with unique itinerary will take you to enjoy an in-depth exploration of Leshan Giant Buddha as well as the best of Chengdu. You will have a full day to discover the mystery of Leshan Giant Buddha and appreciate his magnitude from different angles – close sight, panoramic view and distant view and in two different ways – hiking and boating. Subsequently, drive back to Chengdu and immerse yourself in the relaxing & pleasurable time of Chengdu – to stay with the most attractive Giant Pandas and experience the slow-pace life in Chengdu's popular sites, like People's Park, Wenshu Temple and Jinli Old Street. A lot of fun is ready for you.

Check Details
2 Days Xiling Snow Mountain Ski Tour from Chengdu

Chengdu / Xiling Snow Mountain / Chengdu

Xiling Snow Mountain with the awesome largest alpine ski resort in entire southern and western part of China is one of the most popular winter destinations to play with pure snow to the most! And this 2-day Xiling Snow Mountain itinerary is the most classic trip to indulge into the exciting skiing at your favorite speed and other various types of entertainments like snowmobile, sledging, snow tubing, bounce-flying, etc. on the thick and soft snow world to show all your sports talents. Join us now to start your winter hurtling on the white amusement park!

Check Details
2 Days Leisure Chengdu Private Tour with Panda Visit

Chengdu: Jinli Street, Giant Panda Base, Wenshu Temple

See the Chengdu's treasure Giant Panda is the number one task of your Chengdu tour, which usually only needs a morning to finish. How to make fully use of your rest time in Chengdu? Don't worry, there are many things to see and to do. Chengdu is not only the city of panda, but also known for its laid-back living style. This tour will help you accomplish your panda dream, also take you to dig beneath the modern surface of Chengdu to reach the best part of the city's history and culture, with the most highlighting sights covered in a leisure trip. It is the best trip for the first-timers.

Check Details
▶ Recommended 3 Chengdu Itineraries – In-depth Chengdu Trip
3 days allows tourists to explore Chengdu city and surrounding highlights better. Essence of Chengdu city can be swept in 1 ~ 2 days, another 1 or 2 days gives you an opportunity to have more enjoyable activities, like joining in Panda Volunteer Program, have a Sichuan dishes cooking class, watching Sichuan Opera, etc. Of course, a short trip to Leshan Giant Buddha is accessible as well. Below are most recommended 3 days Chengdu itineraries:
3 Days Chengdu Highlights Tour plus Leshan Giant Buddha

Chengdu: Chengdu Panda Base, Leshan Giant Buddha, Jinli Street

Chengdu is a super city to deliver travellers end up fun, and 3 days is a perfect time to tour Chengdu at a comfortable pace. This tour covers the highlights tour of Chengdu as well as airport/train station pick-up and delivery service. In these three days, you won't miss the world's most loveable animal – Giant Panda and the Chengdu's iconic site - People's Park to experience Chengdu's typical laid-back living style. Moreover, enjoy a convenient visit to somnolent-looking but inspiring Leshan Giant Buddha which is acknowledged as World Cultural Heritages by UNESCO.

Check Details
3 Days Chengdu Family Tour with Sichuan Opera Show

Chengdu / Pixian / Chengdu

This 3 days Chengdu tour is meticulously designed for families with the very young. All the itineraries are planned to offer you a quality time with your kids and you will learn and experience together.Your great journey starts from a joyful visit to China's priceless treasure – Giant Pandas to the discovery of unique local culture – featured Sichuan cuisine, mysterious face-changing performance, laid-back Chengdu living style, etc. All of these experiences help you get a better understanding of why Chengdu gets its nickname of the City of Abundance. Just take this meaningful trip with your children now!

Check Details
3 Days Chengdu City Break including Panda Volunteering Experience

Chengdu

Modern and ancient, bustling and pacific, crowded and isolated - Chengdu is one of its kind. In this tour, you will explore all of them, from the cute Giant Panda to the Old Jinli Street, experience Sichuan tea culture, taste Sichuan cuisine.

Check Details
▶ Chengdu Itineraries for more Days – Extend your Trip to Other Surrounding Destinations
If you have more days, extend your Chengdu tour to other Sichuan's UNESCO World Cultural Heritages sites, including world's largest Buddha Statue – Leshan Giant Buddha and beautiful Emei Mountain, etc. Below are 3 most recommended Sichuan tours:
4 Days Classic Leshan Buddha & Mount Emei Tour from Chengdu

Chengdu / Leshan / Mt. Emei / Chengdu

A great tour of a visual feast to explore two magnificent World Heritage Sites around Chengdu - Leshan Giant Buddha and Mount Emei in a leisure way, also visit the adorable Giant Pandas in Chengdu Research Base of Giant Panda Breeding and get other Chengdu highlights. Airport (train station) pick up and drop off, English-speaking guide, private cars are covered.

Check Details
7 Days Sichuan Discovery Tour

Chengdu / Leshan / Emei / Chengdu / Jiuzhaigou

This is the best tour of Sichuan's BESTS, strongly recommended for the first-timers, best deal for normal travelers, families with kids, seniors and couples. Stunning scenery, treasured culture, turbulent history - the land of Sichuan has the perfect set of ingredients such as Giant Pandas, gastronomy city, Jiuzhaigou splendors, Leshan Giant Buddha & Mount Emei, and this Sichuan Discovery tour is the recipe that brings them all together with more than a dash of comfort. At the same time, it is a trip of heritage. There are 4 UNESCO World Heritage Sites awaiting your exploring - Jiuzhaigou Valley, Huanglong Valley, Leshan Giant Buddha and Mount Emei, which bring you cultural comfort, natural visual feast and experience of diversity.

Check Details
5 Days Chengdu Jiuzhaigou Comfortable Tour

Chengdu / Huanglong / Jiuzhaigou

If you're always keen on exploring the heavenly beauty and digging fantastic culture, this is the best trip for you. Explore the two most popular tourist destinations in Sichuan - Chengdu and Jiuzhaigou on this air-land combo tour. Start in Chengdu, where you will encounter with the Giant Panda families closely, enjoy a cup of green tea in a local park and hunt for Sichuan snacks at Jinlin Old Street. Then escape to the flight trip to Jiuzhaigou where you will explore Jiuzhaigou Valley and Huanglong Valley. They are two neighbors of World Heritage Sites. After Jiuzhaigou trip, you can either fly back to Chengdu or fly to other travel destinations instead, such as Beijing, Xian, etc.

Check Details
Chengdu Travel Useful Tips
① Best time to visit Chengdu and helpful wearing ideas.

- Chengdu enjoys a subtropical monsoon climate with distinct four seasons – warm spring, hot summer, cool autumn and cold winter. The annual average temperature is 16°C / 61°F. It is available to visit Chengdu all the year around, but the best periods are from March to June and September to November when the temperature is most moderate.
- Wearing Ideas: Shirts, long skirts and thin sweaters, windbreakers, casual clothes are recommended for spring travel and autumn travel in Chengdu. Sun block shirt, sunhat, cotton and linen shirts, thin T-shirts and other breathable clothes are recommended for summer travel in Chengdu. Winter coats, leather jackets, down coats, woolen hats, scarfs, gloves, sweaters and snow boots are recommended for winter travel in Chengdu.

② How to Get to Chengdu

- Chengdu can be reached easily by flight or high speed train from many big cities of China, including Beijing, Shanghai, Hong Kong, Guangzhou, Xian, Chongqing, etc. Besides, there are also frequent international or regional flights from San Francisco, Singapore, Melbourne, Kathmandu, Paris, Amsterdam, Bangkok, Kuala Lumpur, Seoul, Tokyo, Hong Kong, Taiwan, etc. and some non-scheduled flights from Sydney, Dubai, Frankfurt, Madrid and Moscow to Chengdu.

③ Where to Stay in Chengdu

- In Chengdu, there are lots of different kinds of hotels ranging from international brands to boutique style and providing you easeful stay. First-timers are strongly suggested to accommodate in the downtown area with most convenient transportation, shopping malls and great restaurants. China Discovery only uses those hotels with convenient amenities, fine services and great reputations. Most of them are located in the city center, quite close to Chunxi Road, Jinli Old Street and Peoplel's Park, where you can dine, shop and go around conveniently.

④ Needed Visa for Chengdu Travel

- We suggest you apply for a China Tourist Visa (L Visa) so that you can extend your tour to other worth-visiting destinations, like Beijing, Xian, Shanghai, Guilin… For just a short stay in/around Chengdu, tourists from appointed 53 countries with valid travel document & connecting flights to a third country/region can enter Chengdu via Chengdu Shuangliu International Airport and stay in Chengdu as well as Leshan (Leshan Giant Buddha & Mount Emei), Ya'an (Bifengxia Panda Base), Yibin (Shunan Bamboo Forest) and some other cities (Jiuzhaigou Valley not covered) up to 144 hours without a Chinese visa.
Travel China from Chengdu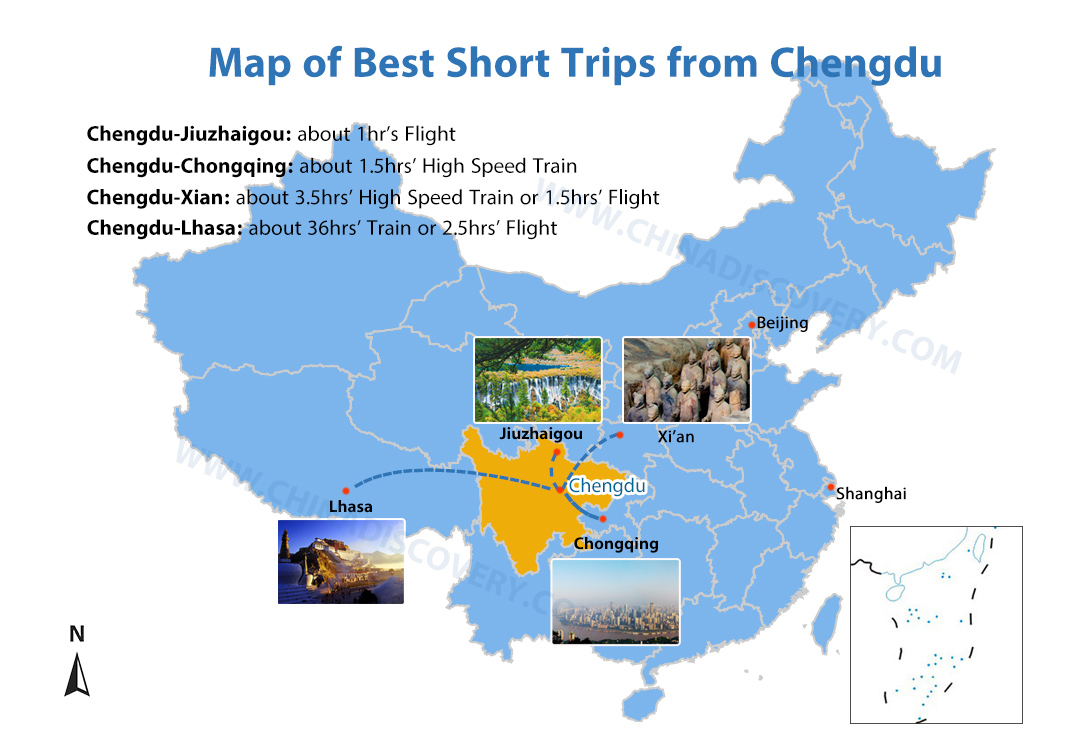 Map of How to Start A China Tour form Chengdu
In fact, Chengdu is usually regarded as another "starter city of China" after Beijing and Shanghai. Fishing your Chengdu tour and surrounding visits to Dujiangyan, Leshan and Emeishan, you really get a ton of choices to extend you Chengdu experience. The fairytale Jiuzhai Valley comes first if you want to indulge yourself in the breathtaking natural scenery. Many travelers also take a 1.5 hours' high speed train to Chongqing and start a comfortable Yangtze River cruise, etc. With the operation of Xian Chengdu high speed train, many travelers choose to travel from Chengdu to Xian and explore this city with lots of cultural treasures. Besides, Chengdu is the best gateway to Tibet – the roof of the world where you can see the magnificent Potala Palace, holy Tibetan Monasteries, sacred plateau lakes, majestic Mount Everest, etc.
Chengdu is a hub for flights within China and easy to get around. Therefore, you can easily travel from Chengdu to Beijing, Shanghai, Yunnan, Guilin, Zhangjiajie, etc. Check all at China Tours from Chengdu or choose one of our best-selling 3 Chengdu China tours:
6 Days Classic Chengdu & Lhasa Highlights Tour

Chengdu / Lhasa
9 Days Pandas Terracotta Warriors Great Wall Encounter by High Speed Trains

Chengdu / Leshan / Emeishan / Xian / Beijing
10 Days Classic Sichuan & Yunnan Highlights Tour

Chengdu / Leshan / Mount Emei / Lijiang / Shangri-La / Kunming
Useful Chengdu Travel Guide
Popular Chengdu Tours